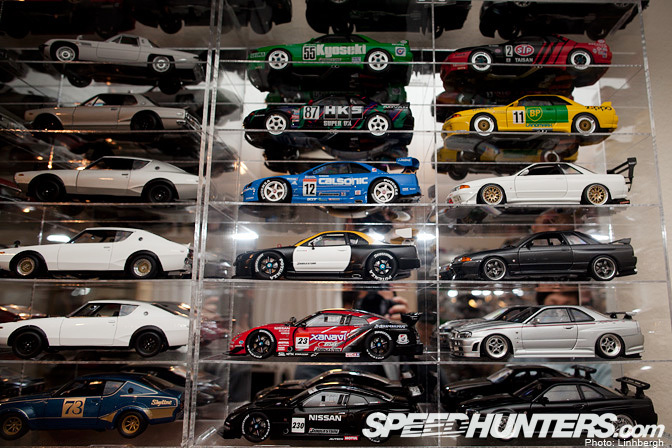 When all the various Speedhunters were talking about this month's 'collectables' theme, I knew I had to make a stop by an old Miata acquaintance of mine, Chris Lee.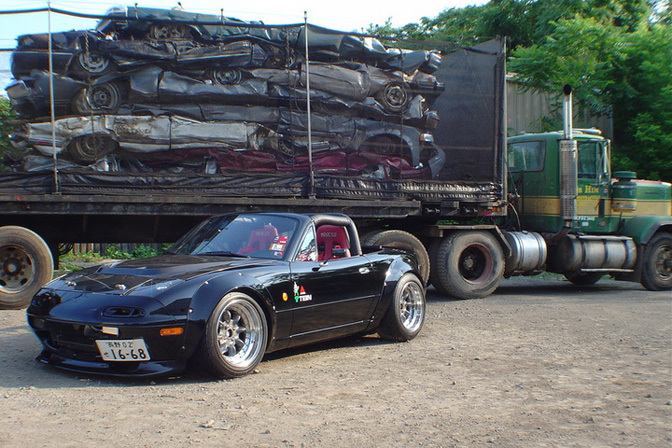 Many of you might not know of Chris Lee, but will a good portion of you will instantly recognize his black wide body 1995 Mazda Miata which can be seen throughout the automotive internet.
When he's not tinkering/getting frustrated with his Miata, he spends his time collecting 1:18 die cast scale models. Over the years, the number of scale cars in his collection has went deep into the triple digits.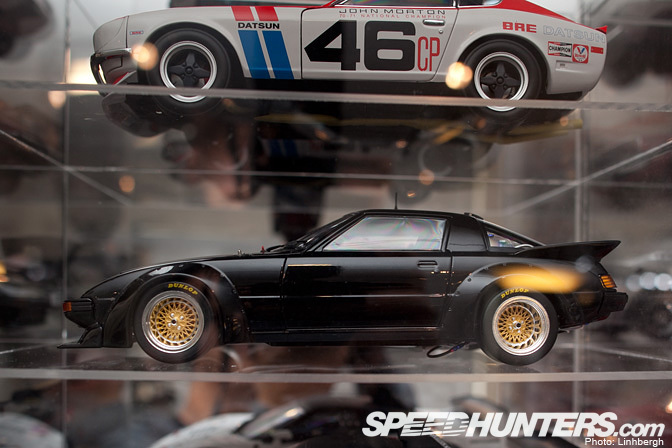 Chris has many rare 1:18 die cast models throughout his collection, but the true gems are the ones that he has taken apart and customized from the ground up. This widebody SA22 FB RX-7 is a perfect example.
Most of Chris' modified models are scale versions of what he would like to build in real life if money was not object.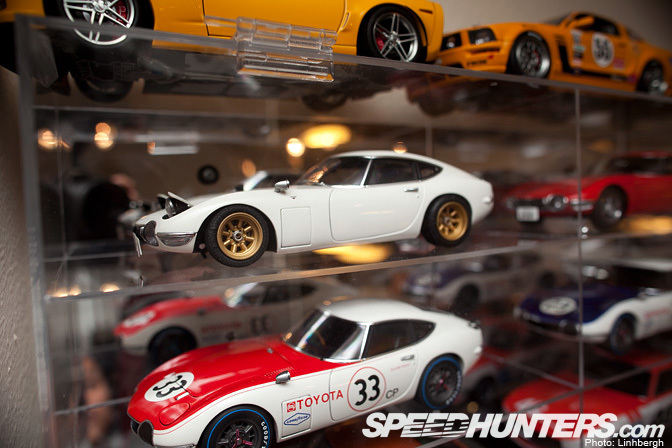 The great thing about modifying these die cast models is the fact that you can do whatever you wish to them. As you can tell, Chris loves cars with a mega slammed ride height and wheels that are perfectly flush with the fenders. When was the last time you saw a really slammed Toyota 2000GT on Watanabe wheels?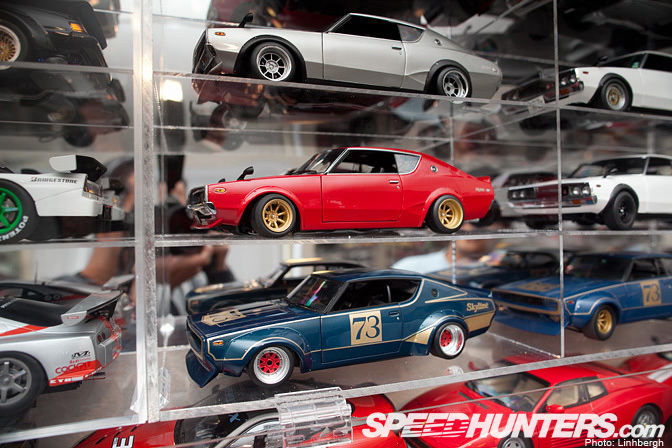 Here's Chris' bosouku car collection.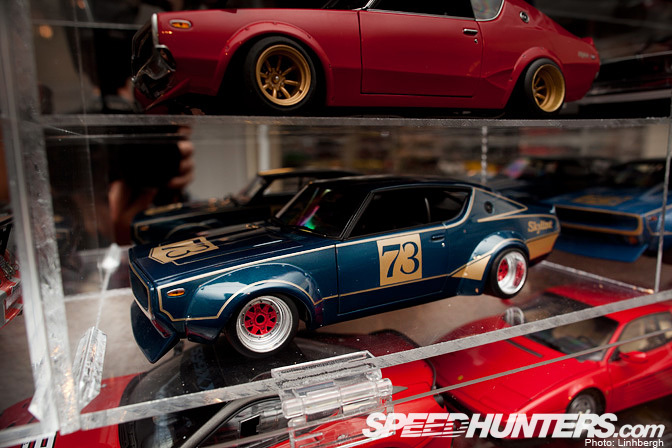 I just love this boso style Skyline with red SSR MkIIIs.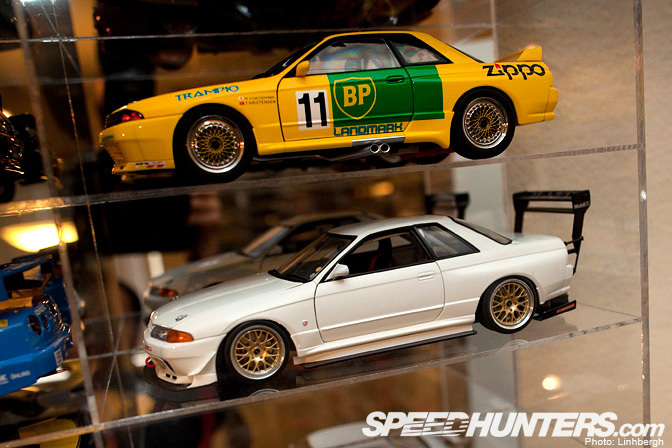 Check out this amazing time attack style R32.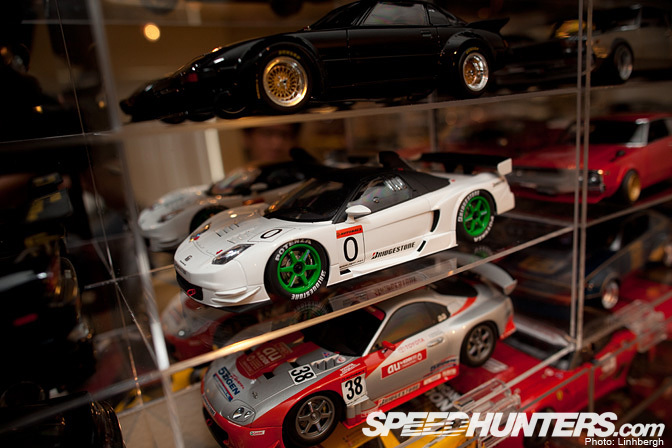 Takata Green wheels with a white NSX is a combination that can never go wrong.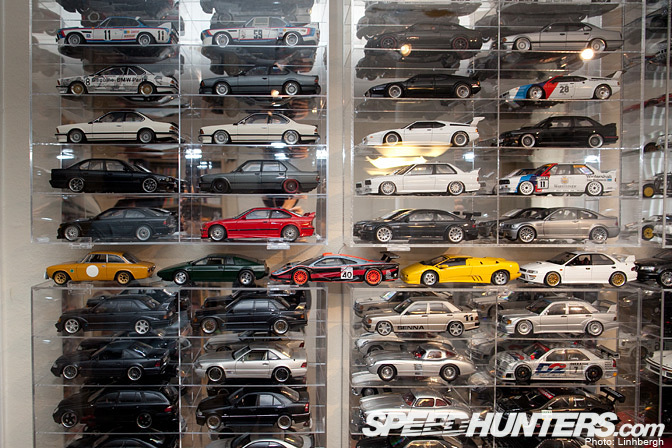 Chris not only has Japanese die cast cars, but cars from all over the globe. This is his European collection.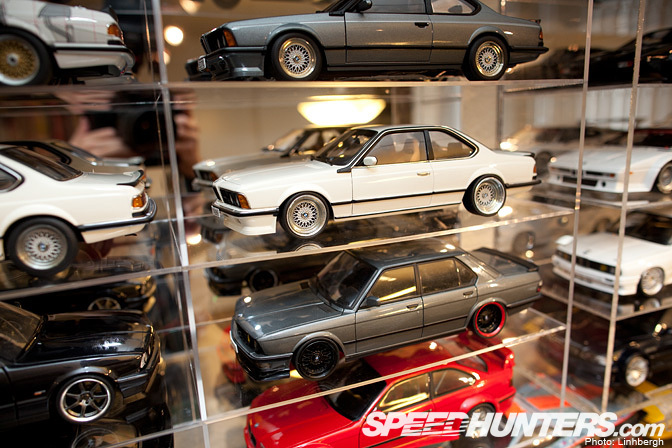 Chris' love of mega slammed cars reflects to his European cars also. This BMW E24 6 series on super wide BBS is amazing…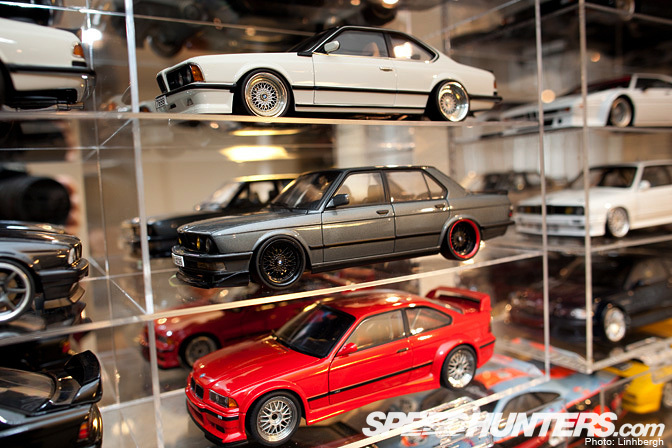 …as well as this E28 5 series…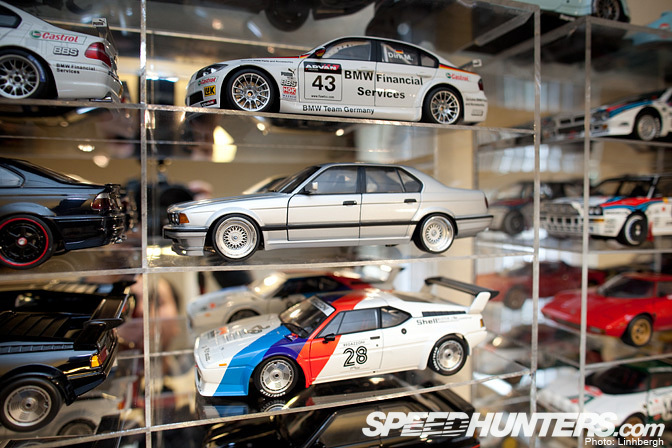 …and this E32 7 series.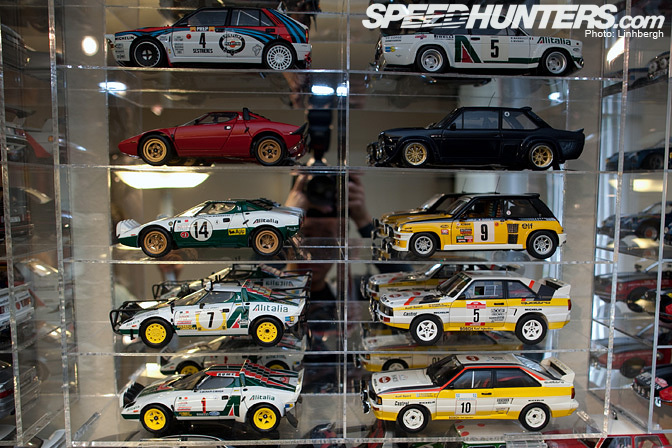 Here's the rally car collection.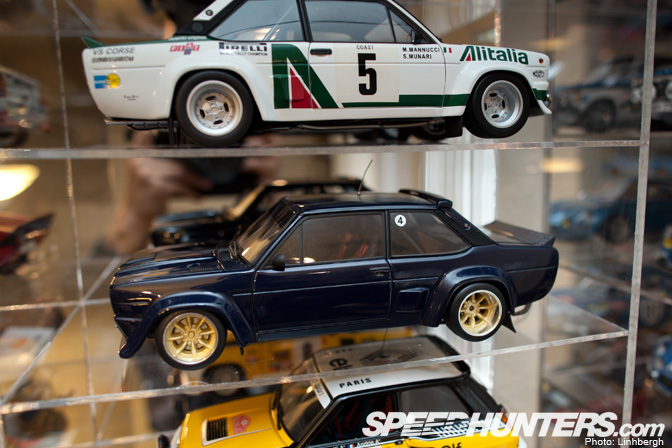 If this widebody Fiat 131 Abarth on Panasports was a real car, I would drive it. The car was originally a WRC model which Chris customized to a street version.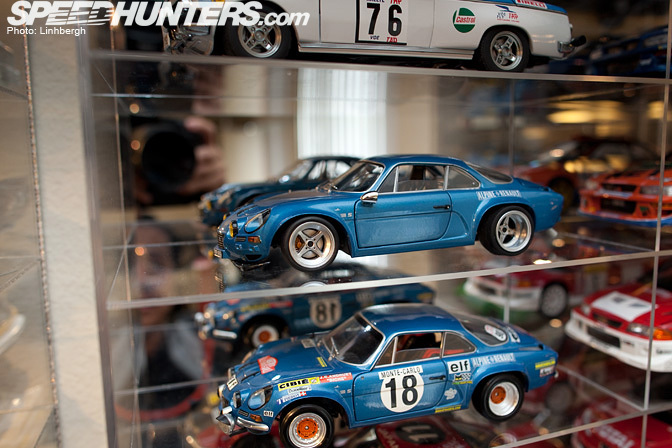 We're so used to seeing Renault Alpines plowing through the european countrysides in the dirt, mud, and snow. But what if someone built one for the street that was really low with a love for Work Equip 01s? Chris Lee has envisioned just that.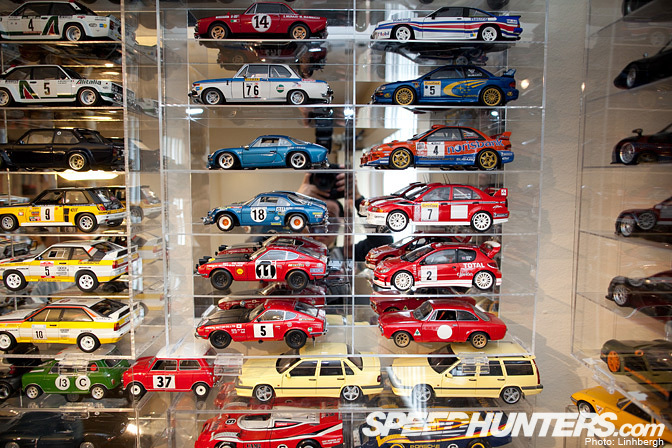 More rally cars.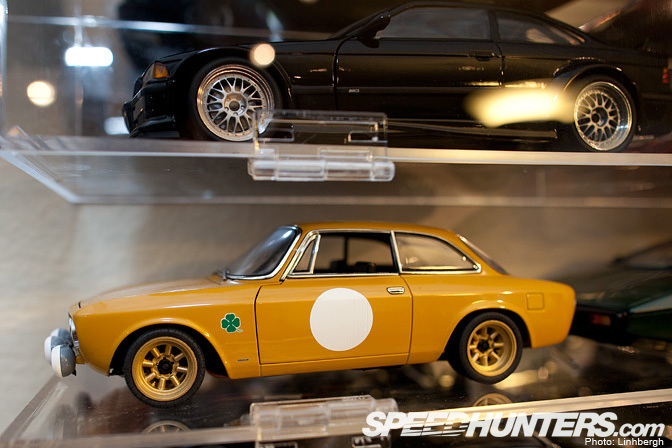 An Alfa Romeo GTA on Watanabe R Types.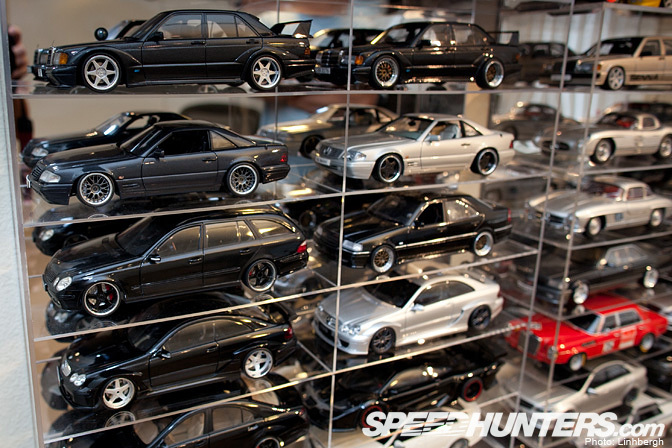 Here's the Mercedes section.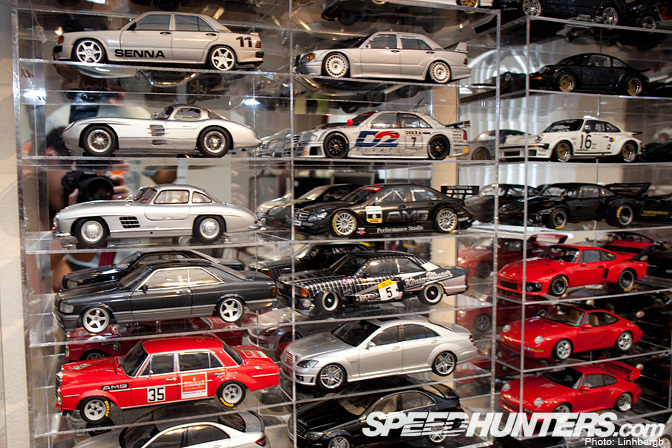 More Mercedes.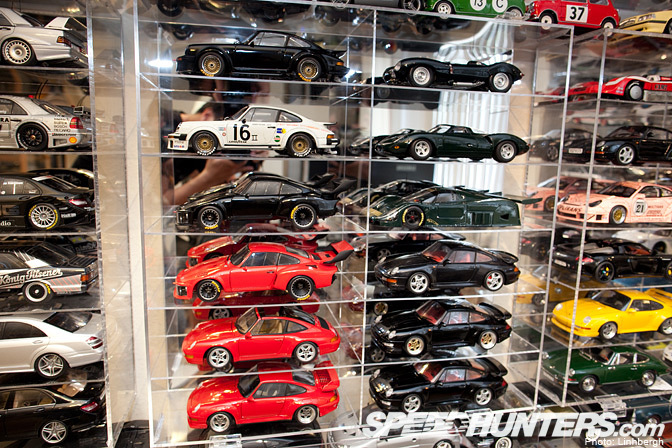 To the right of the Mercedes section is the Porsche collection as well as some Jaguars.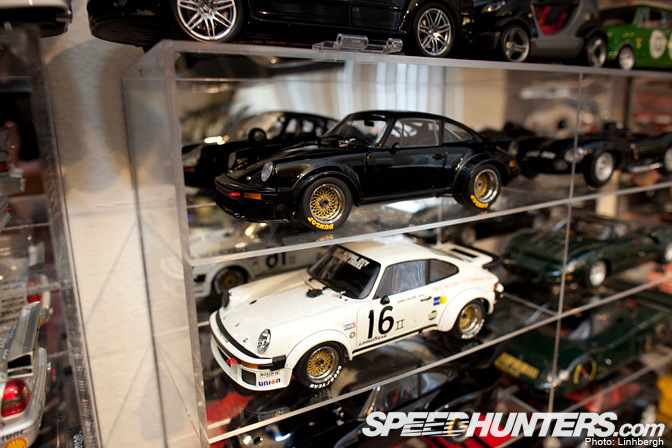 Both of these Porsche 934s are drool worthy.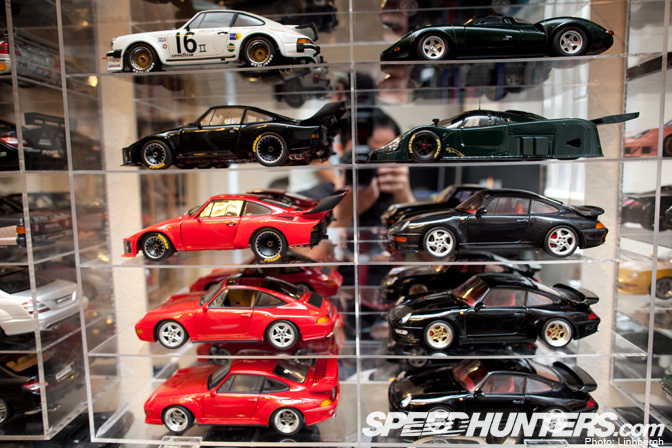 …and here are some more Porsches.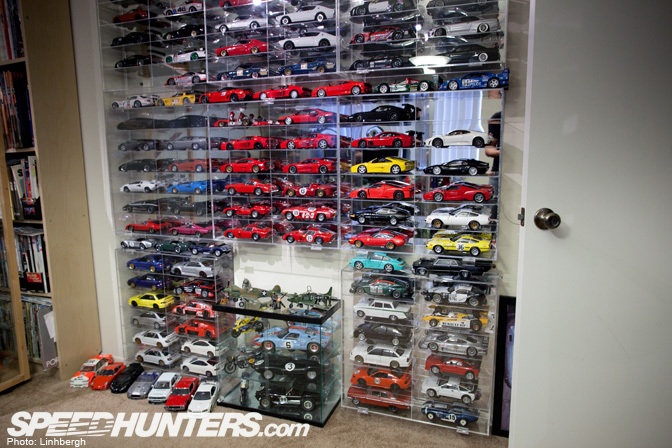 A quick glance at this section, you'll see the Ferrari section. But if you take the time to study the photo even more, you'll see just how wide of a range of cars Chris has. You can spot some Lamborghinis, American cars, classic F1 race cars, and even some World War 2 fighter planes.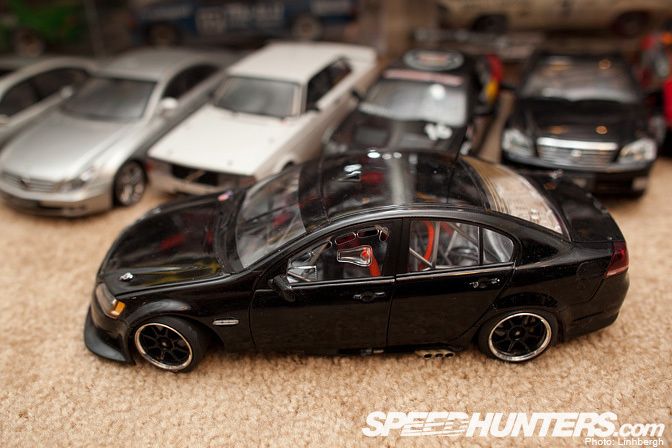 This Holden Commadore was originally a V8 Supercar but has since been transformed into a street going version. This model is an unfinished model.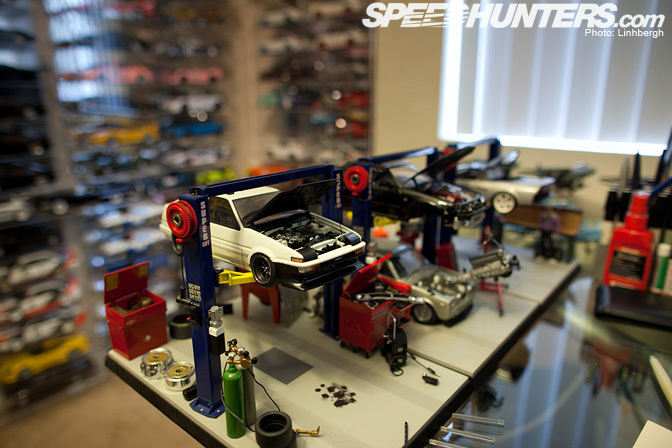 All of this 1:18 die cast model collecting started back in 1998 when he attended CCS (College for Creative Studies) as a transportation design major.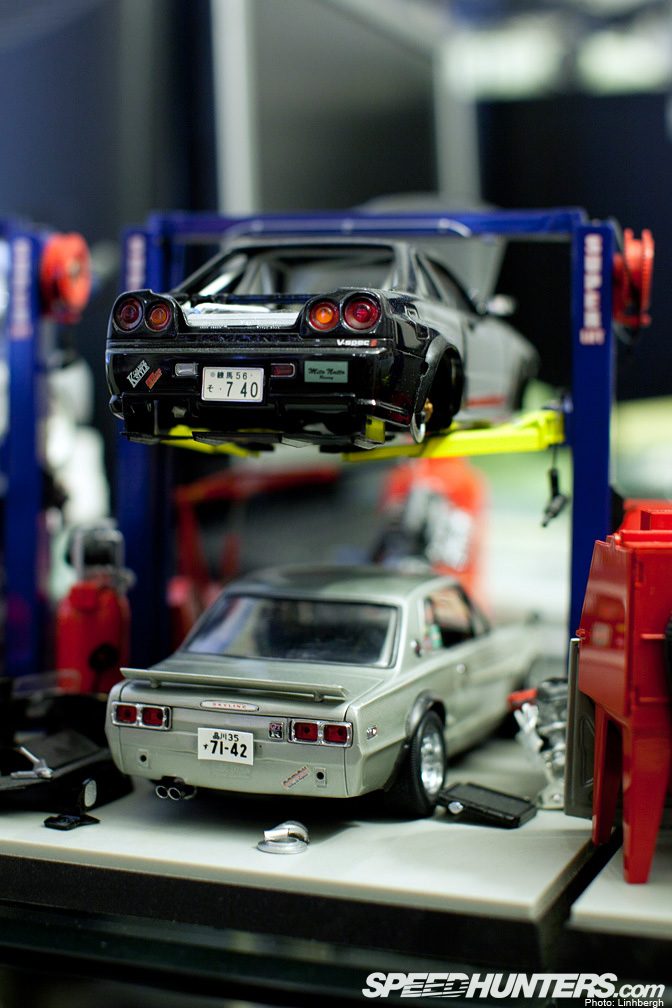 One of his professors assigned a project to the class to go buy a 1:18 die cast model which will help each student study and understand perspective as well as scale. This got Chris interested and also jump started to collection.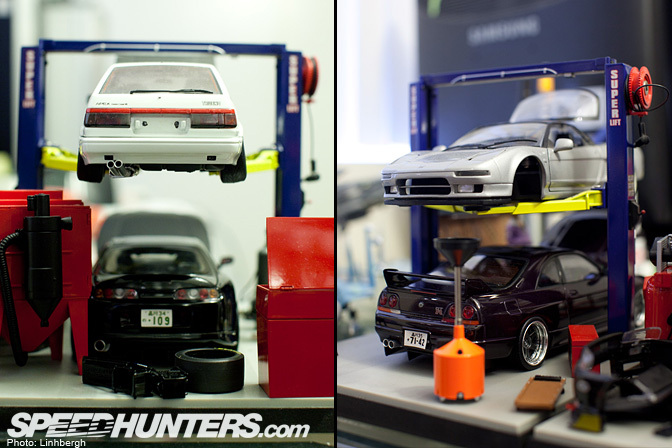 They didn't make too many 1:18 die cast cars back in 1998, but his really hobby took off took off when many new manufacturers joined the game. Now, there are many different options and each one being very accurate to scale.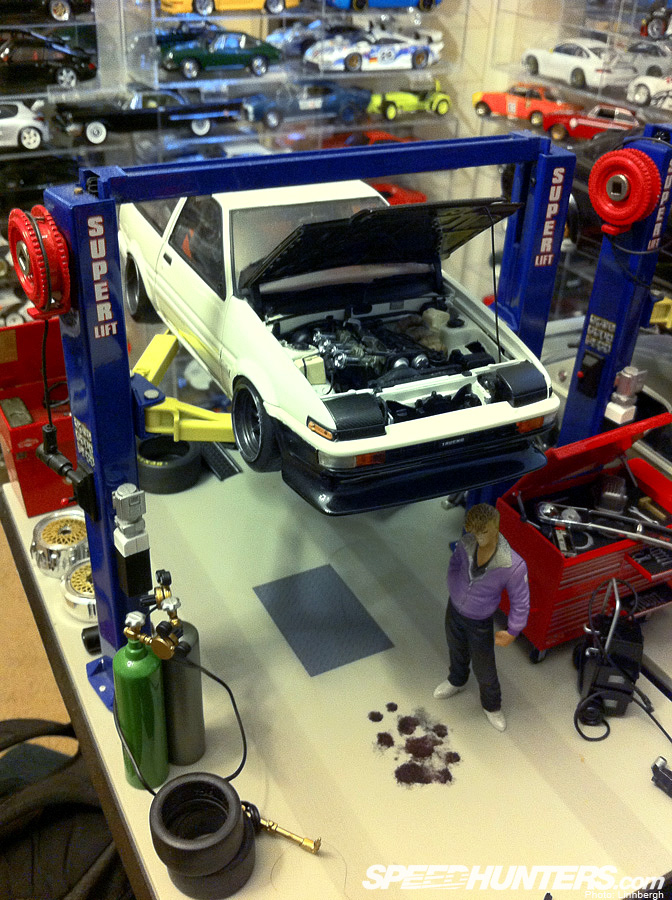 The detail Chris puts into these models is amazing. I just love the oil drips on this scale shop floor.
For those of you that follow us on our Facebook page, you may remember this purple jacketed guy as Scale Cool Guy.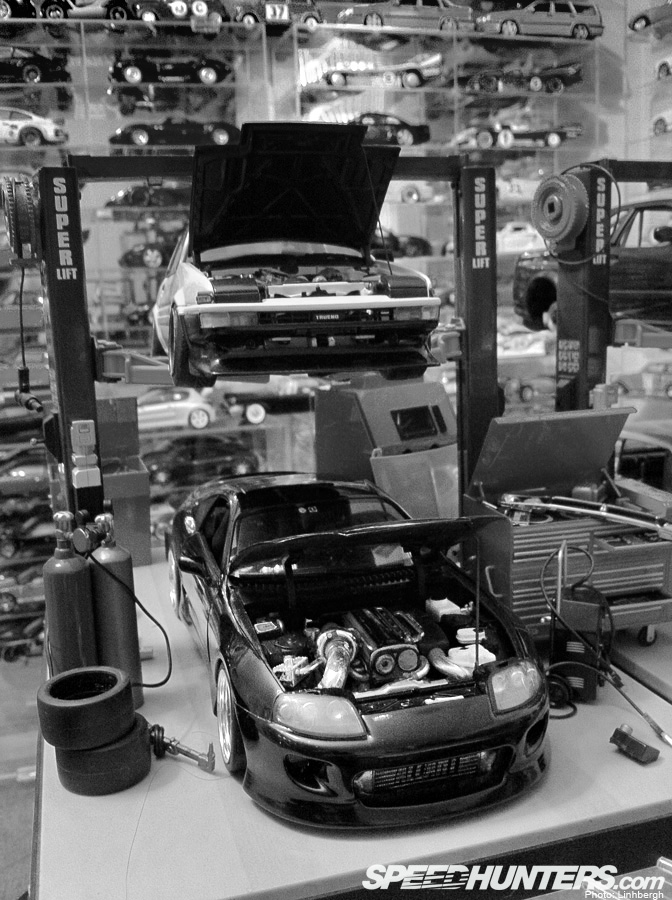 Chris mentioned that these models can't be obtained from any store nor can people buy parts to modify their own. Each car has been hand crafted and parts hand made.
For example, some of the wheels originated from bigger scale models but fit perfectly on these 1:18 models. Some wheels weren't wide enough for Chris' taste so he has widened the barrels himself. For the wheels to fit as perfectly as they do in their respective fenders, Chris grinds down each fender so the widened wheels (with tires) will fit just right.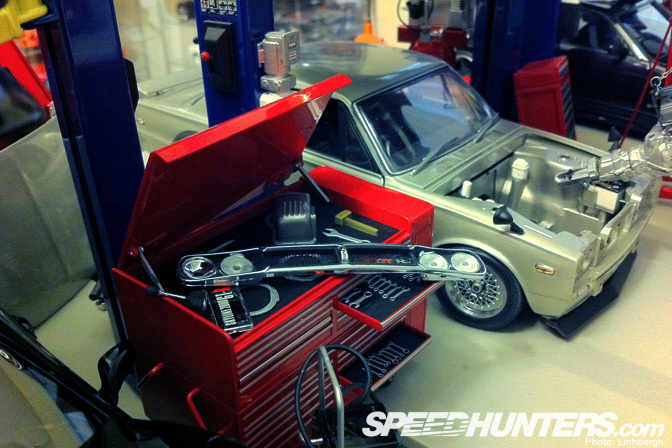 When Chris modifies these models, he just doesn't glue on the wheels and call it a day. He always makes sure everything functions like it should. Suspension is lowered and wheels are changed, but these models still maintain all its functions and is still able to roll.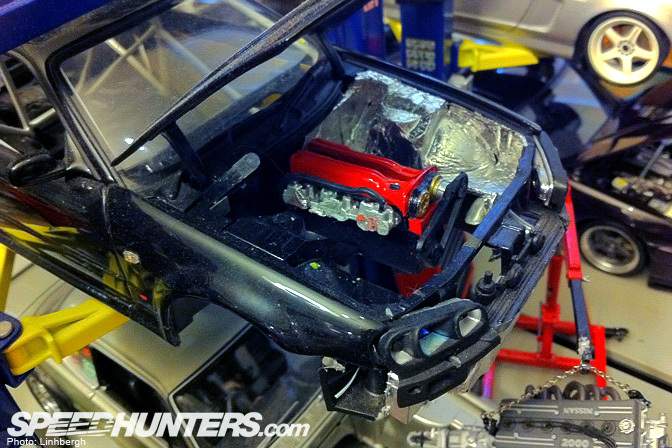 When he customizes engine details like the turbos or putting in a set of ITBs, he makes sure it's believable and make sense. Since he does modify 1:1 cars, that knowledge trickles down when it comes to modifying die cast models.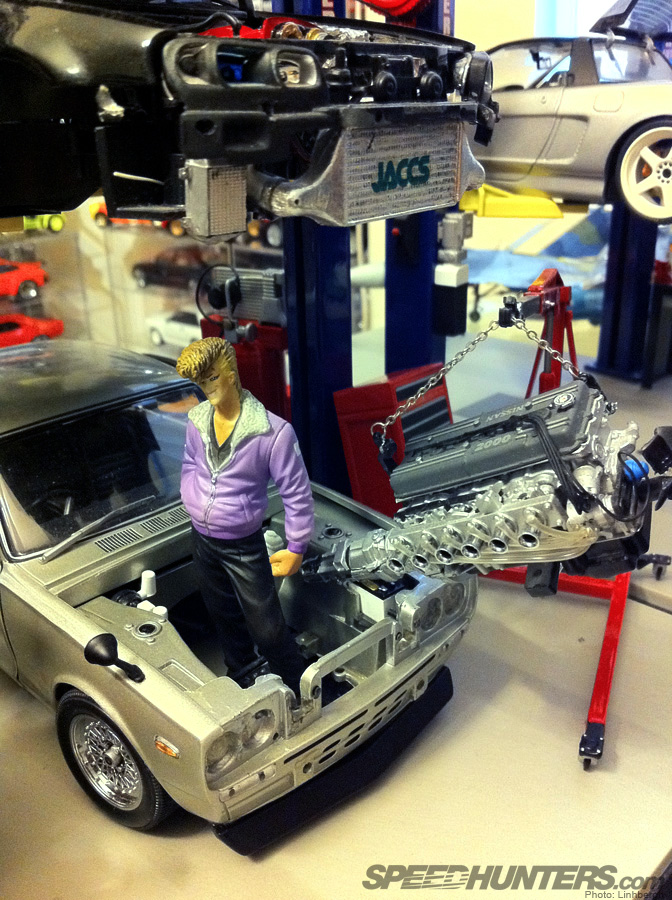 Chris also mentioned that he has put enough money into his collection to buy a brand new entry level Ferrari. But would he sell his whole collection to own a Ferrari? Not in a million years.
Scale cool guy approves.
Next, we'll take a more detailed look at some of his favorite customized models.
-Linhbergh