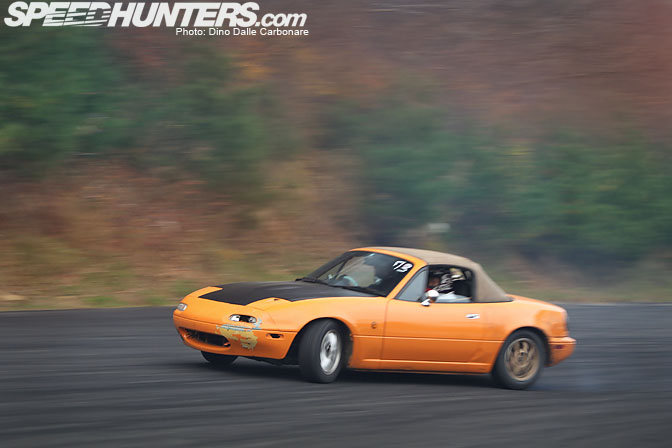 It's time to take a final look at more drifting action from the Autumn Drift Matsuri now, as we wrap up the coverage of what has been one of the most exciting drift events of 2010.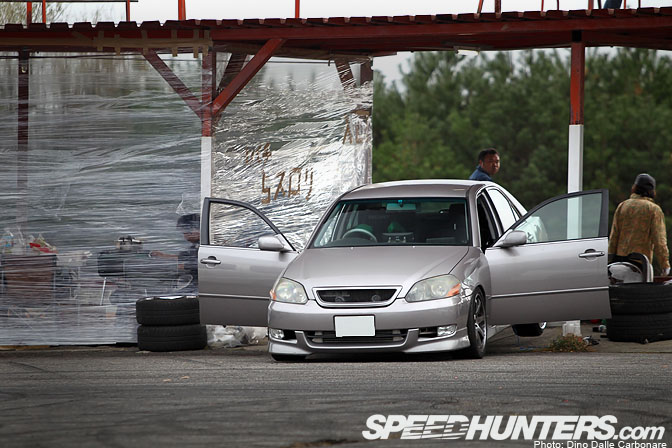 You would assume that after the late night drift action things would have been slow to pick up on Sunday morning, but with as many as 300 cars in attendance there was always something going on out on the tracks.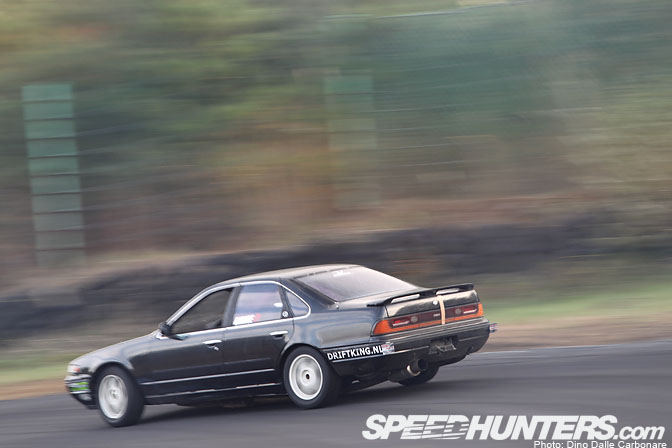 I was impressed to see so many cars had survived the night and were still in one piece.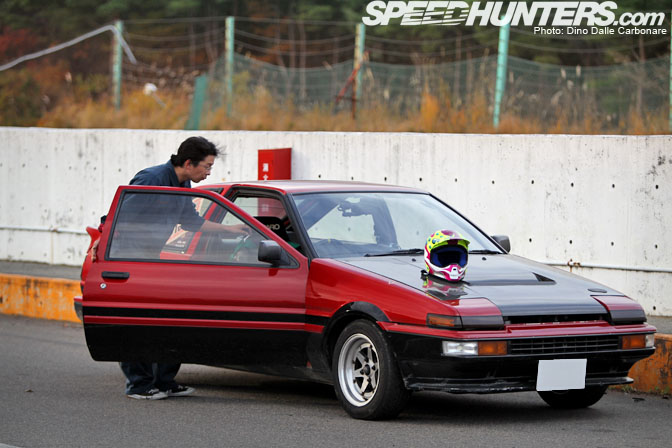 I also spotted a few cars I hadn't seen the previous day, as more drifters joined the day at the discounted price that is charged for those that drive only during the Sunday.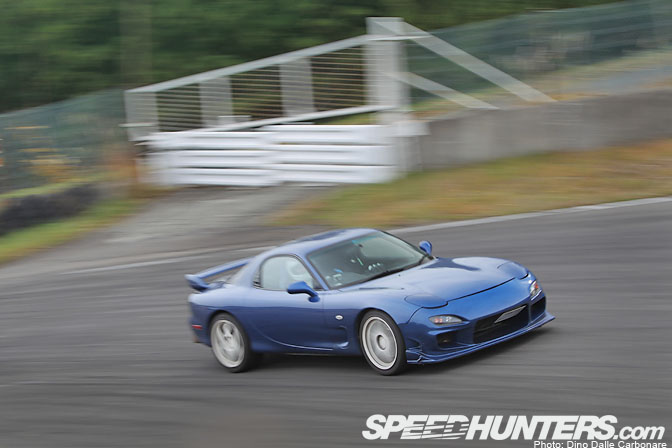 Drifting isn't obviously for everyone as you can usually see in the Higashi course. The entry fee for the event is such a good deal it also attracts those wanting to practice their grip driving techniques. Apparently this gives them a lot more time out on track than if they were to participate at the Grip Matsuri, which is always held on the weekend following the Drift Matsuri.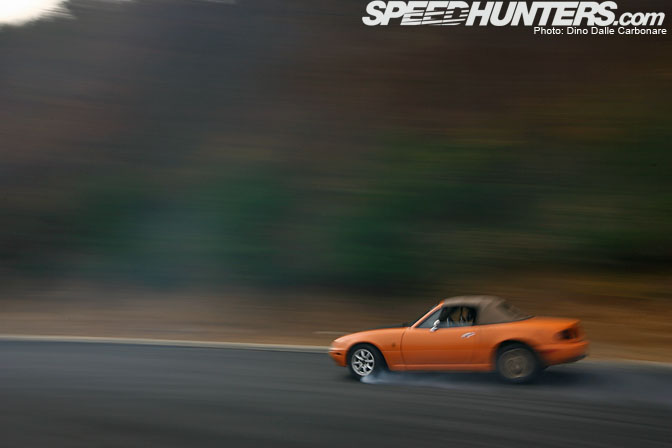 Back up in Kita things were beginning to get exciting…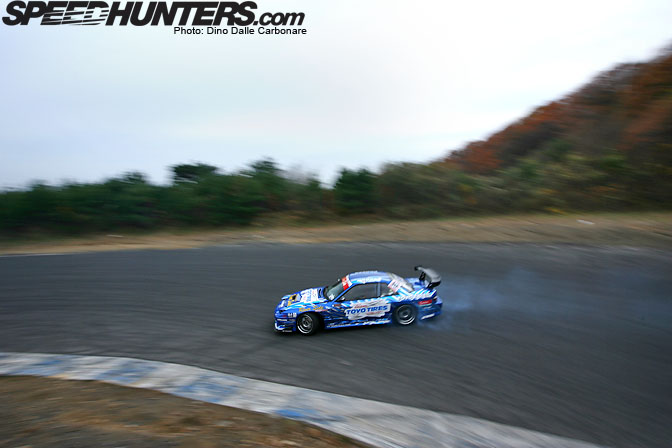 …as the guys from River Side showed up with Kuroi's old RB26 powered S13 D1 machine, practicing entries into the first corner along with Christian Pickering in his silver River Side S13.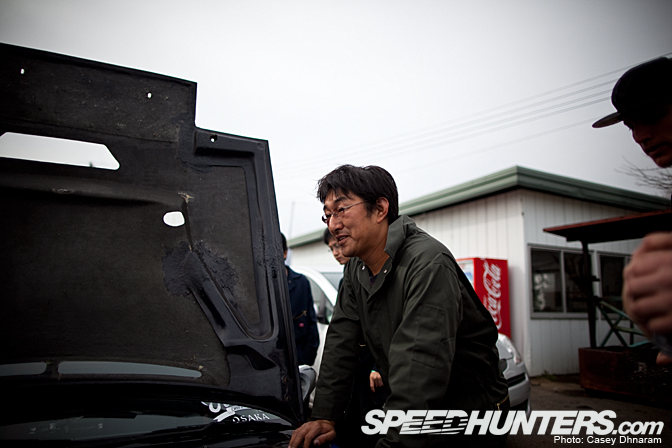 Kuroi's legendary machine was attracting big crowds as it came in after an outing at the Driftland course. It was feared the car had developed issues with the fueling system but after a quick check it was only low on fuel!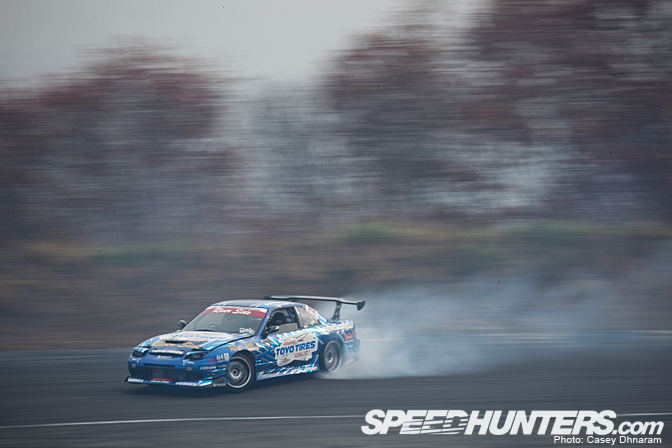 So out it went again!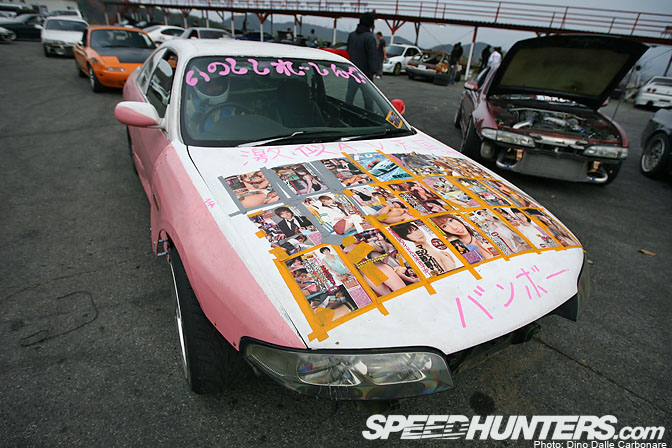 How about this for imaginative decorations!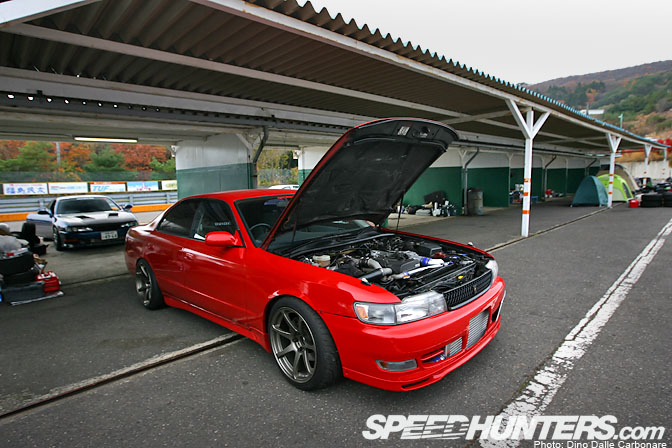 After taking a look at some of the cool cars, like this JZX90, in the Higashi paddock it was time for the Nishi Short course to be opened…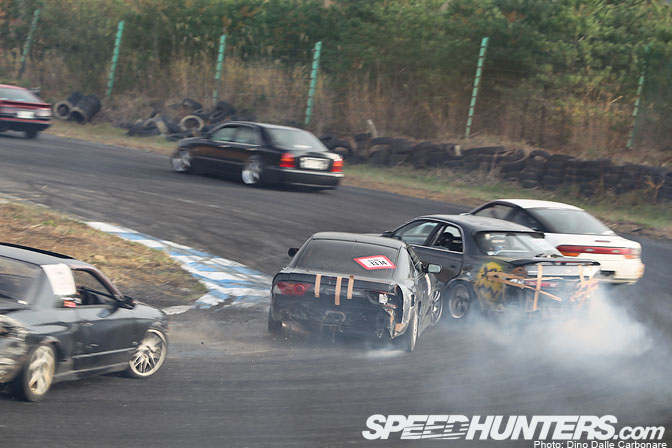 …so I made my way down. The mayhem had already started with a crazy amount of cars already out for a play. As people looked on from the banking behind the hairpin corner some of the drivers were managing to hold five, six and even seven car tandem runs! But with everyone driving so close to each other…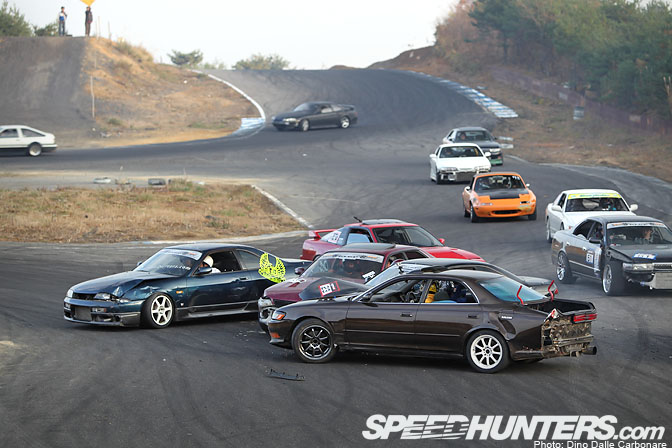 …it was only a matter of time until someone spun! You can barely see it, but that is Chris's poor S14 squashed in the middle of the pileup.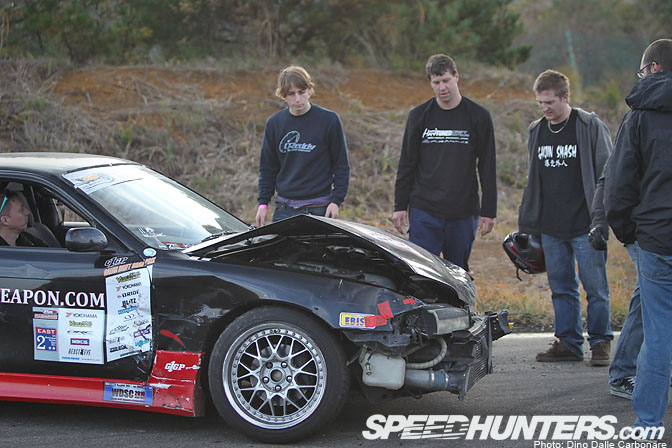 Mr. DeJager wasn't even at the wheel when it happened but apparently the damage wasn't too bad, mostly cosmetic and the car is already on its way to getting fixed up!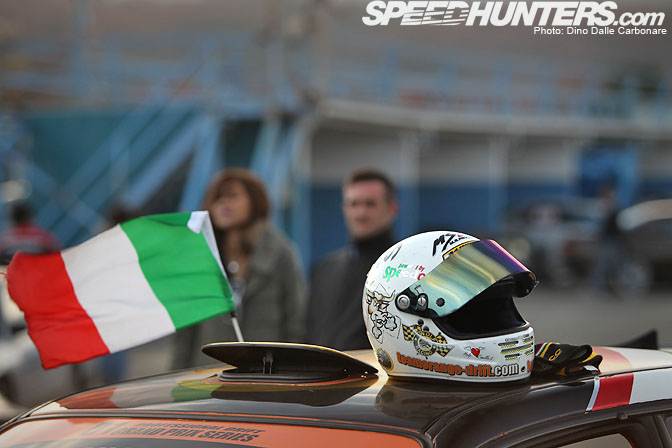 Federico showed up in his Team Orange D1 Impreza…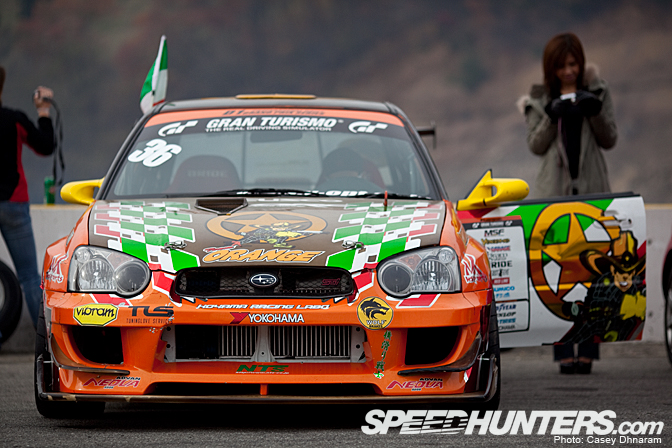 …ready to get some more action in before the day came to an end.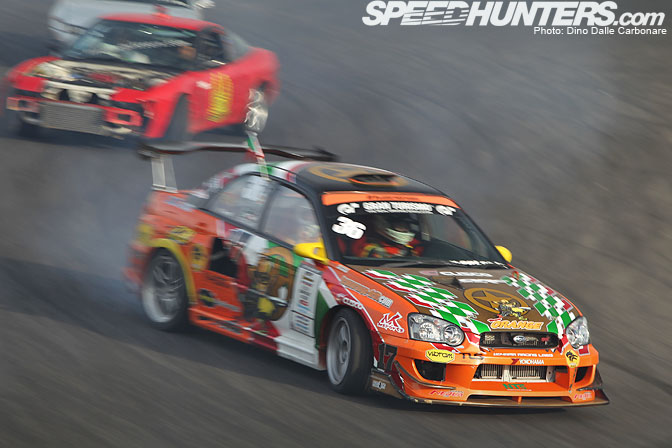 It's not everyday that you see D1 machines out at Matsuri, and at this one there were two! Pretty wild!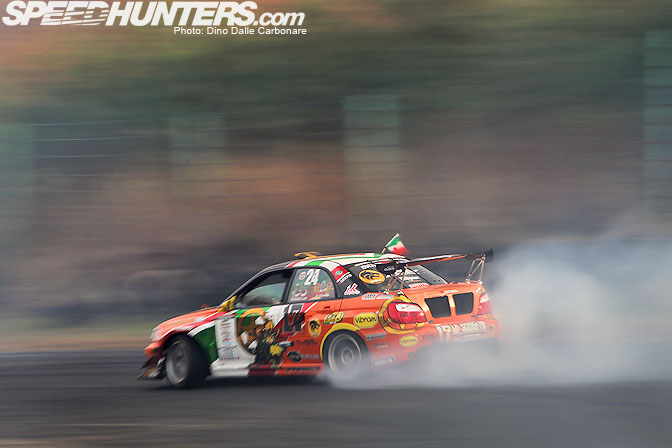 Federico took me out for a few laps of the Nishi course. As ever, riding in properly set-up professional drift machines definitely makes a difference, compared to your regular Matsuri missiles. Every time Federico stepped on the gas the car slid sideways smoothly and as he did his thing through the course it all felt so responsive and controlled. An amazing ride!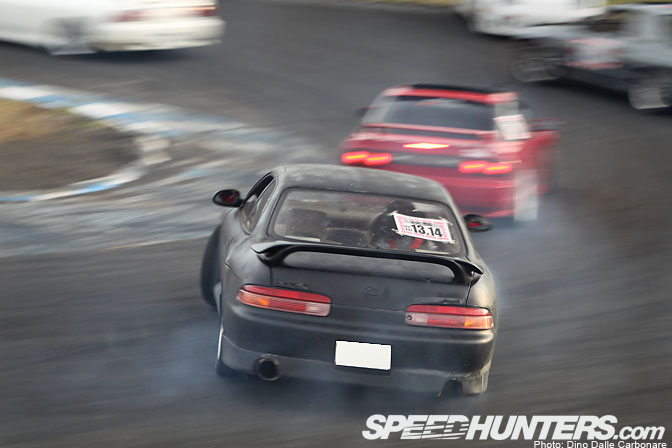 It all continued until 4:30 pm, when all of a sudden…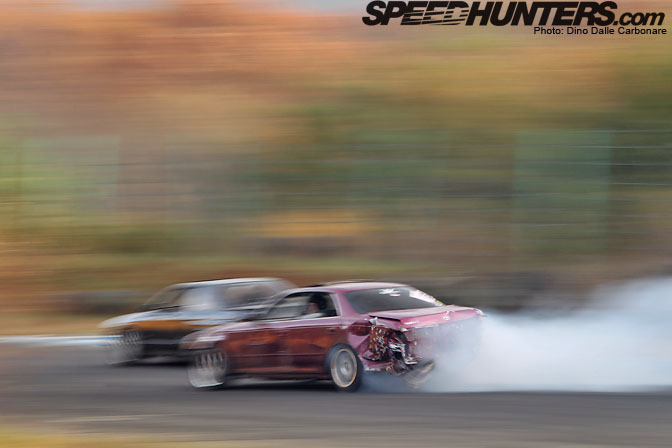 …the concoction of howling engines and shrieking tires faded away, replaced with silence, something I hadn't heard since early Saturday morning.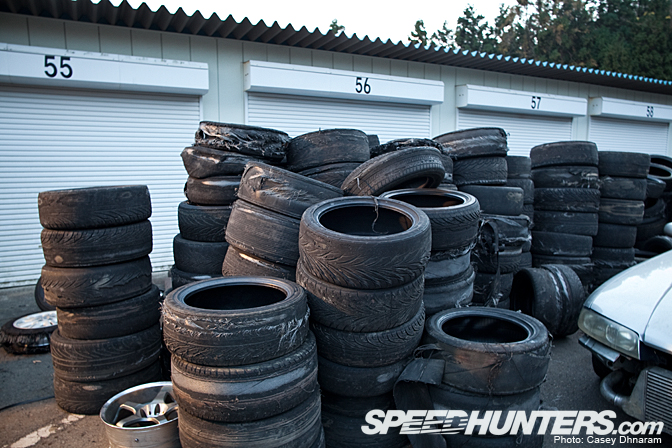 All that was left up at Andy's garages were a bunch well-thrashed cars and the "odd" delaminated tire.
So that is all the Drift Matsuri action we are going to get until the end of April 2011! Five months might seem like a long time but I'm sure there will be plenty of grassroots drifting events to keep us entertained during the off-season.  Thanks to all the participants that made this particular event so special. Hope to see you all in 2011!
2010 Autumn Drift Matsuri Part 1
2010 Autumn Drift Matsuri Part 2
2010 Autumn Drift Matsuri Part 3
-Dino Dalle Carbonare