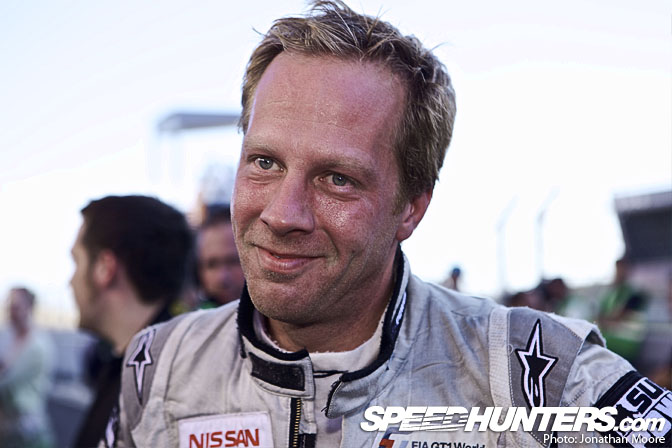 Welcome to my blog following my trip to the sunny Algarve. One of the bonuses that comes with racing in a world championship is the chance to get away to places that are hotter (and dryer) than the UK and Northern Europe – and Portugal is certainly one of them.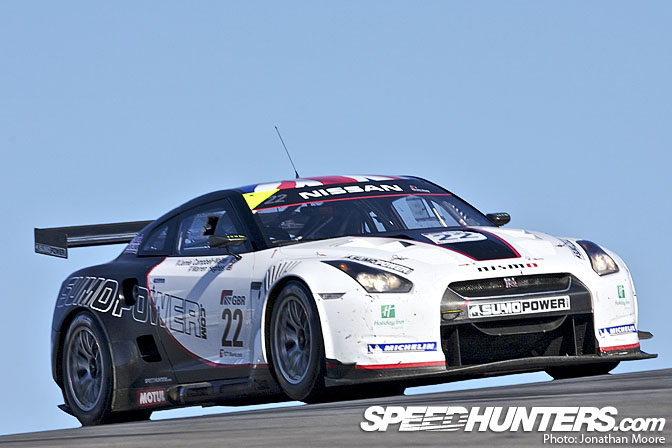 Therefore, the weekend at the Autódromo Internacional do Algarve was a welcome change from the conditions we experienced three weeks beforehand at the Nürburgring.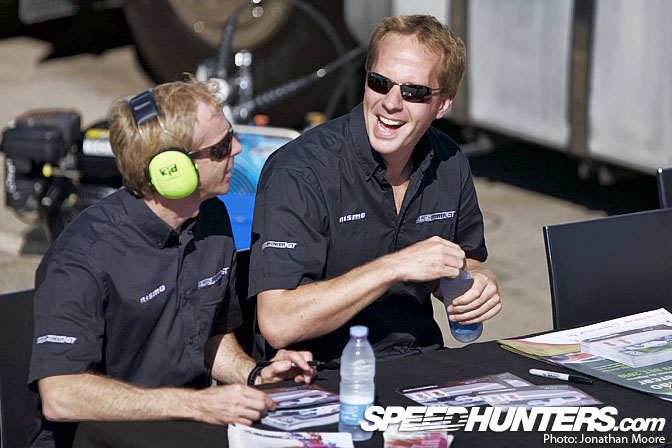 As usual, my race weekend started with a flight – this one from Gatwick to Faro – where I was to wait for my team-mate Warren Hughes – who was due to fly in from Newcastle half an hour later. But with a delay of nearly two hours, I spent longer than I had expected at the airport. After a 45-minute drive we arrived at the circuit and were straight into some PR stuff with an autograph session taking place at Portimaô Marina.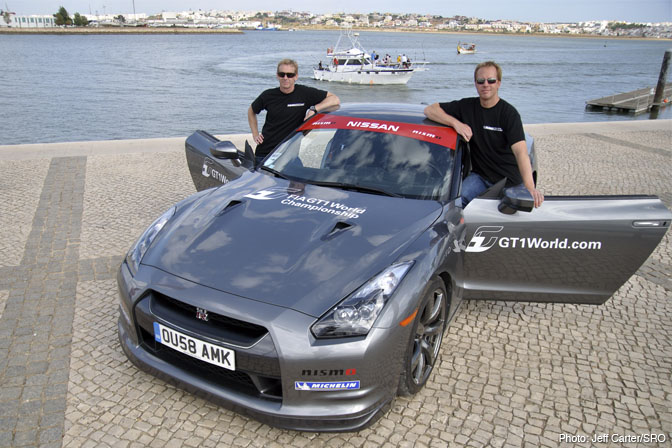 We were asked to drive there in the circuit's Safety Car, a Nissan GT-R (what else!) and told to follow a police car that would lead us and some GT3 cars the few miles, in convoy, to the marina. As you can imagine, the temptation not to follow the clearly defined instructions of: "please can you all drive sensibly, in a line, one-after-another" was a little too great and, by holding back a little as the police car shot-off ahead, we did have one-or-two drag races with the GT-3 cars – which we won of course!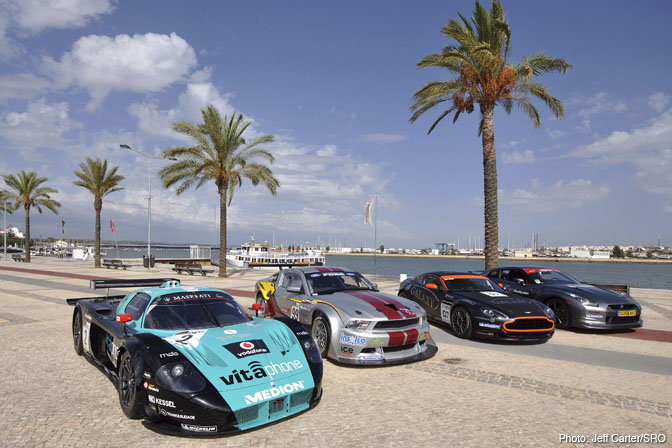 The autograph session went well and afterwards, in the nearby car park, we were asked – yes asked – if we would be kind enough to do some doughnuts. Well what would you do? We didn't want to disappoint, so with a few of the GT3 lads we duly obliged – until we all disappeared in a cloud of blue-tinted smoke.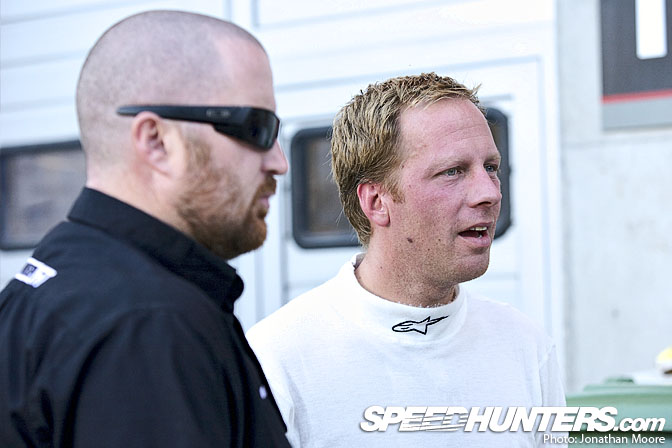 After we got back to the circuit and returned the Safety Car all in one piece, Wazzer and I headed back to the team hotel to relax. Perhaps I relaxed a little too much, as I fell asleep on the bed and 9.00pm and didn't wake up until 4.00pm – fully clothed. Now I haven't done that since I was a teenager!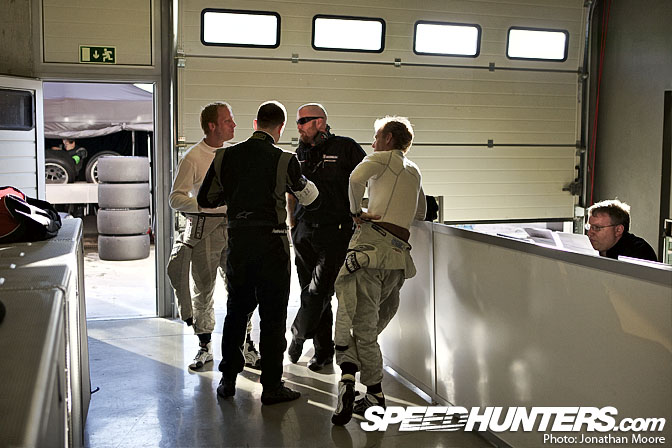 The serious side of the weekend started on Friday morning with the usual signing-on and drivers briefing, where the subject about driving standards raised its head again. I'm always pleased about this, as we all want a clean race and it sounds like the organisers do too, bearing in mind the penalties they are threatening to apply if anyone is found to crash into other people due to over enthusiasm, too much aggression or just sheer lack of talent.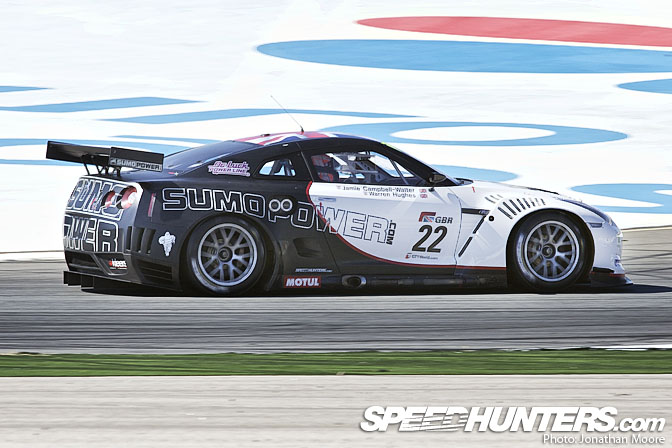 Surprisingly it had rained on Thursday evening and then overnight, so when we first went out on the track it was wet and we couldn't use slicks. For me this was quite a good thing as, out of all the Sumo Power GT drivers, I'm the only one not to have driven this circuit before. Therefore, I could put in a few laps and learn the track without having to dive into our allocation of slick tyres – the regulations only allowing us to use four per car for the whole weekend.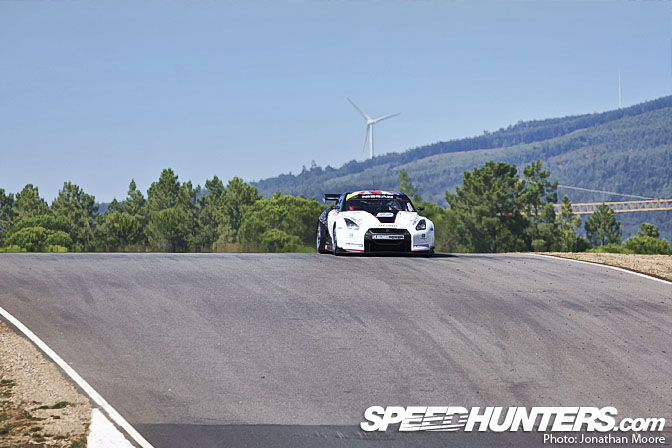 Before I got here I had been told and had read about the Algarve track's distinctive features. As it's been built on a green-field site on the hills north of Portimaô, the track follows the undulating terrain of the area. So basically…it's a roller-coaster! There are inclines and drops, but most significant are the blind crests just before bends. I have to admit that once you get to know your way around it's great!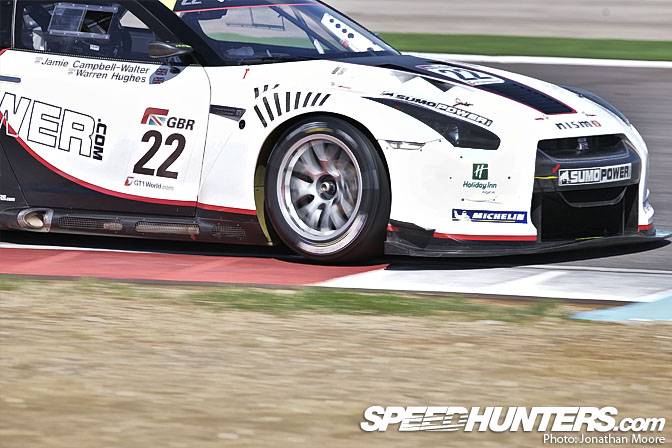 I managed to get a few dry laps in during the Free Practice session and then again in the afternoon's one-hour 20-minutes of Pre-Qualifying. Unfortunately we were a bit off the pace, the set-up of our car not best suiting the circuit. However, our team-mates Michael Krumm and Peter Dumbreck in car 23 were more than happy and setting times within the top four places.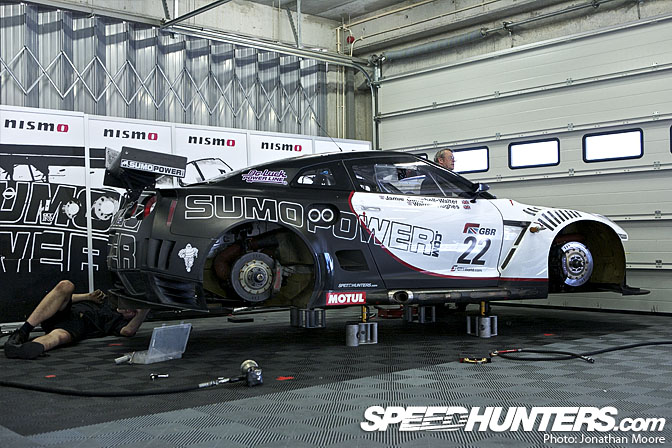 It was therefore decided that our car would be reconfigured to use the same set-up as car 23. This meant a late night for the lads, but they always get the job done and when I arrived at the track on Saturday morning no.22 was all ready for the qualifying session which started at 10.30am.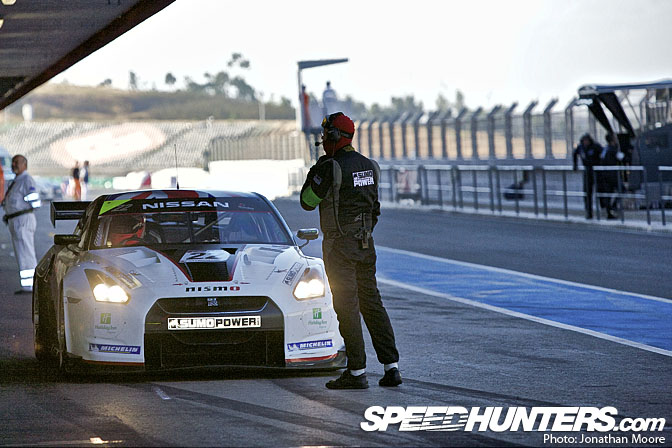 As I may have explained before in one of my blogs, qualifying for GT1 is like F1, with three sessions: The fastest 16 cars go through the Q2 and then the fastest eight go through to Q3. Following our disappointing qualifying performance in Nürburgring, the whole team was eager to do all we could to get through the Q3 with both cars.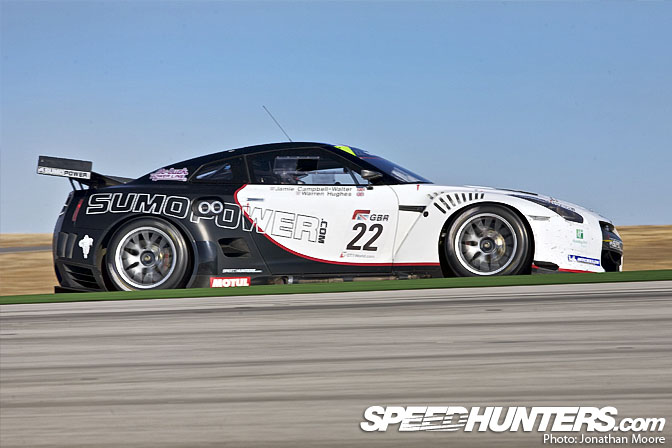 Because Warren and I were driving our car for the first time with its 'car 23' inspired set up, the plan was for me to go out and do a few laps in Q1 and then come into the pits, have any changes that may have been needed done and get a new set of tyres fitted before putting in a quick lap. But it didn't work out like that.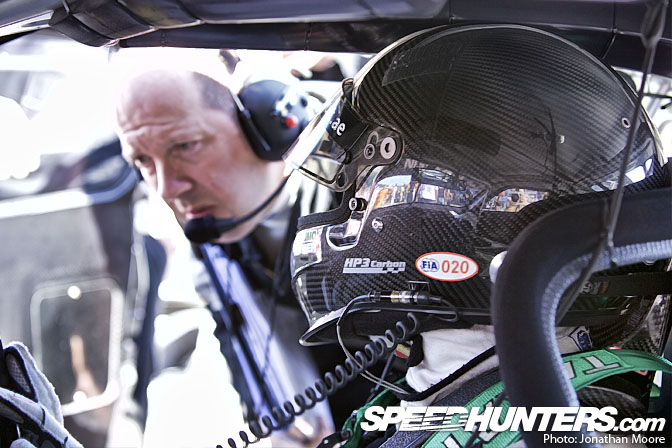 I got as far as turn three on my out-lap and then the cockpit started to fill up with smoke. I quickly checked the gauges and warning lights and everything was fine. A few seconds later the car became almost impossible to steer and I realised that it was a power-steering problem.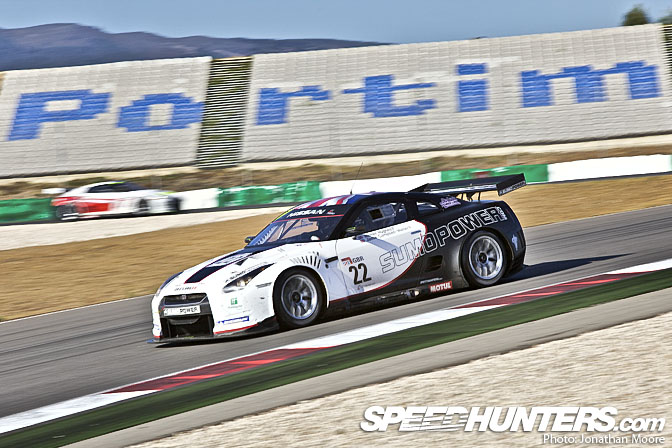 I hauled the car round the rest of the lap and back to the pits and, after a lot of frantic activity, I was back on track again. The trouble was, there was only six minutes of Q1 left and any chance of a reasonable time had literally gone up in smoke!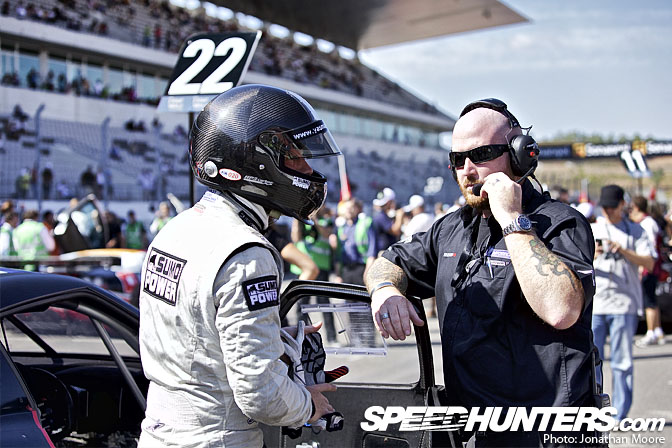 So there we were again at the back of the grid and with it all to do in the race. On the plus side, our counterparts had done really well and qualified in P3 for the first race. As it turned out, the Ford GT in P2 was penalised following post-qualifying scrutineering when it failed the stall test. This is when the air intake is blocked off whilst the engine is running. If it doesn't stop, then it means that air is getting in from somewhere else and that could provide a power advantage.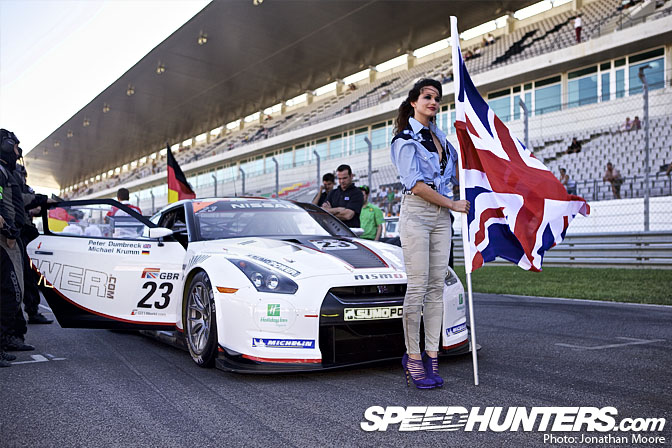 The upshot of this meant that the Ford had to start at the back of the grid. This elevated us to P22 and Michael and Peter up to P2 – the first ever front-row start for Sumo Power GT. I have to admit, that because we'd not had much time in the car, Warren and I were a bit concerned about having to get used to the new set-up during the race. But as soon as the green lights came on our worries were over, as it was brilliant!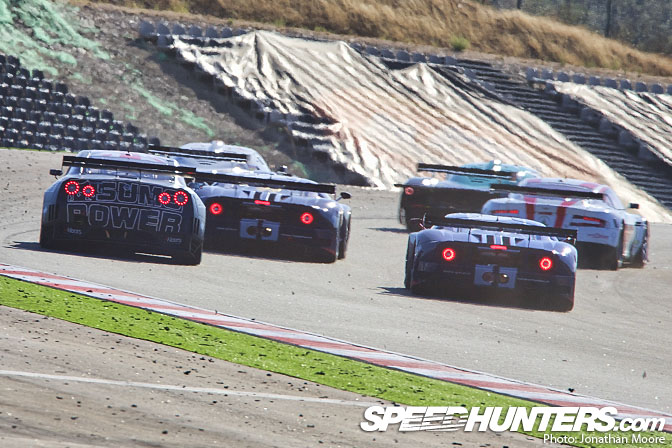 Warren got to grips with things straight away and went on an overtaking rampage, getting past cars at a rate of almost one per lap. Therefore, when he came into the pits halfway though the race and I stepped into the car, we were up to 12th place. Fantastic!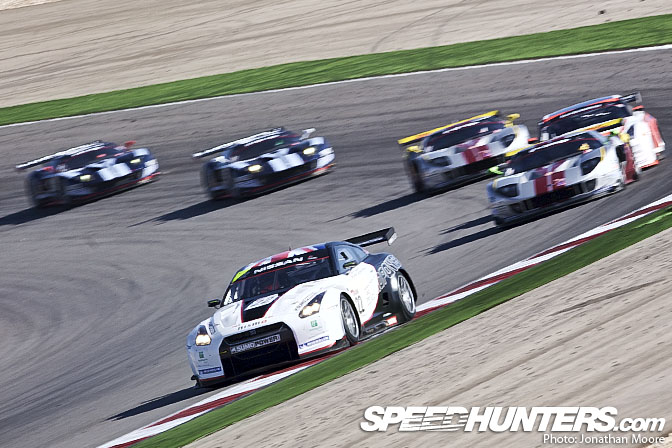 As soon as I left the pit lane I could feel how good the car was and I carried on from where my Geordie mate left off. I ended up getting past another three cars and crossed the line in ninth. We had therefore achieved a rise of 13 places. Not a bad day's racing I have to say.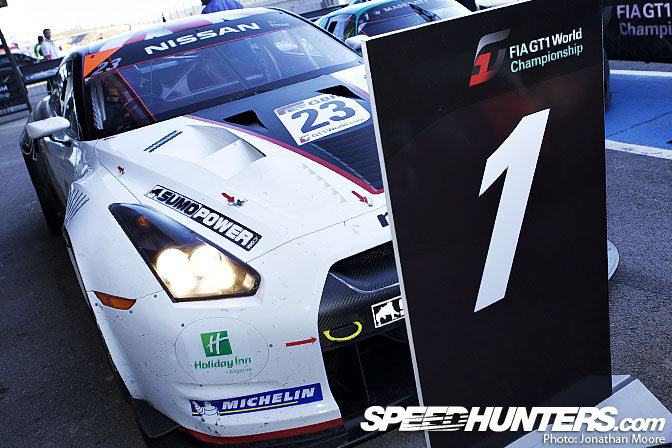 However, whilst Warren and I were pretty chuffed about our progress, Michael and Peter were over the moon with theirs. Starting from second on the grid, Michael held on to second place all the way to his pit stop. Peter then got in and with five of the 34 laps to go he went past the Corvette ahead of him and into the lead.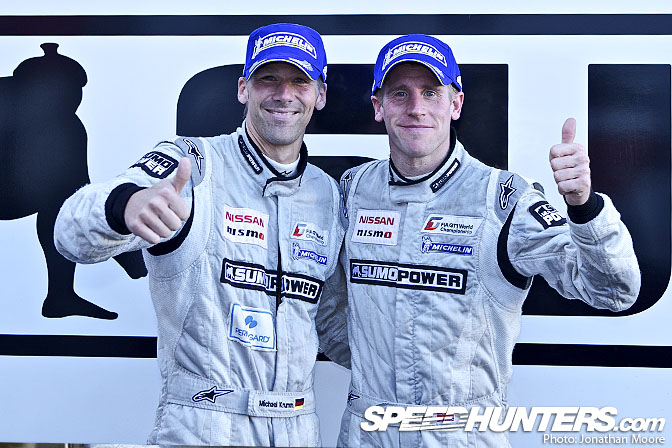 Although being chased by a Maserati towards the end, he went onto take his and Michael's first win of the season. That's one for each of us now.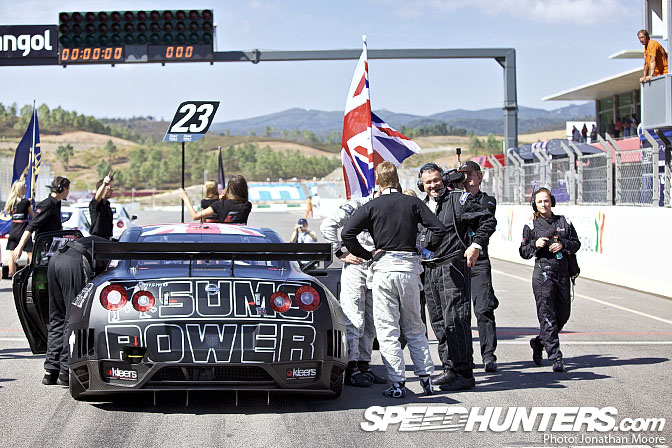 After this the whole team was really pumped about our chances in the main race on Sunday. We were on P9 and Peter and Michael were on P1. The team's first pole position this season! Unfortunately, Warren and I's upbeat disposition was soon shattered when an Aston punted me up the backside whilst I was happily going round the first corner trying to keep out of trouble.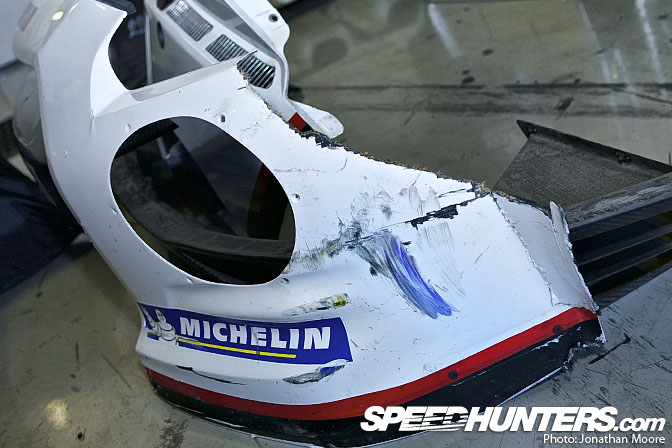 The impact spun me left and into a car alongside me, the consequent contact damaging my Nissan's front steering….and that was that. 300 yards and my race was over.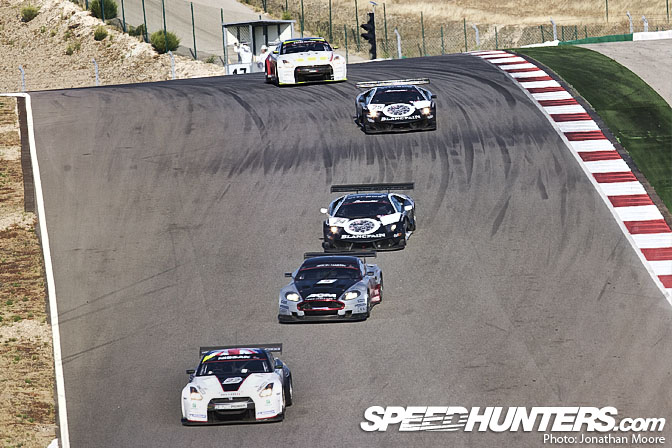 This brings me back to what was said in the drivers' briefing about driving standards. But this was another incident that seemed to go unnoticed. Something has to be done, otherwise the races will become demolition derbies. It was a very frustrating end to what could have been a successful event for us. As the car was going so well, Warren and I reckoned we could have got onto the podium with it – even from P9.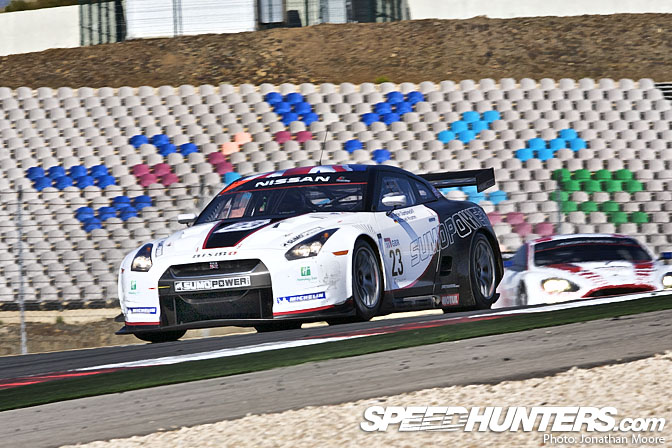 Again, Peter and Michael delivered a copybook performance. Peter made a perfect start and, when he came into the pits was still in the lead and over a second ahead. But then, as Carl (one of our tyre men) went to change the fourth wheel, the union connecting the air-line to the nut-gun fractured and, as it became disconnected, the pipe flailed around like a rampant snake! The team managed to get another gun into his hand and Michael was away – albeit after losing 16 seconds and seven places!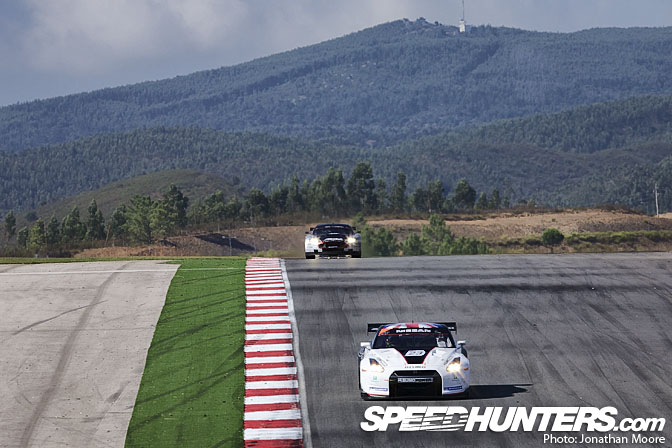 Krumster drove another blinder and forced his way back to fourth, so not all was lost by a long way. Even though Warren and I didn't score any points, the others managed to get enough to see Sumo Power GT move up to third in the Teams' Championship standings. That and the win on Saturday pleased the boss James Rumsey, which meant that all in all, it was a good weekend for the team.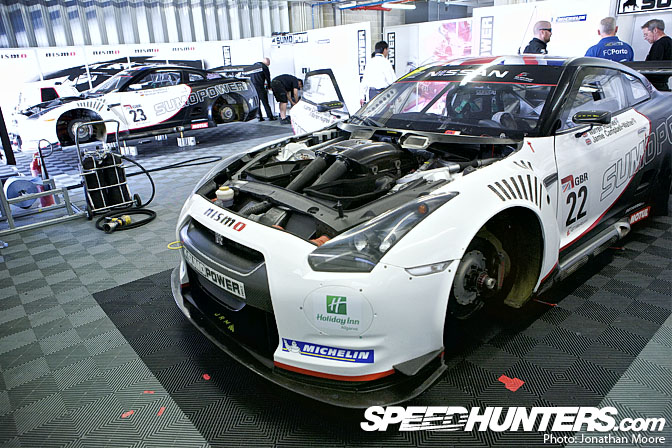 All we have to do now – as we've been trying to do all season – is to get both cars up there in the top five, rather than just one. The next race is at another new circuit: Navarra in northern Spain. Therefore, we don't really know how our Nissans will perform there, but at least it's going to be the same for everyone else. I look forward to blogging again in a few weeks time!