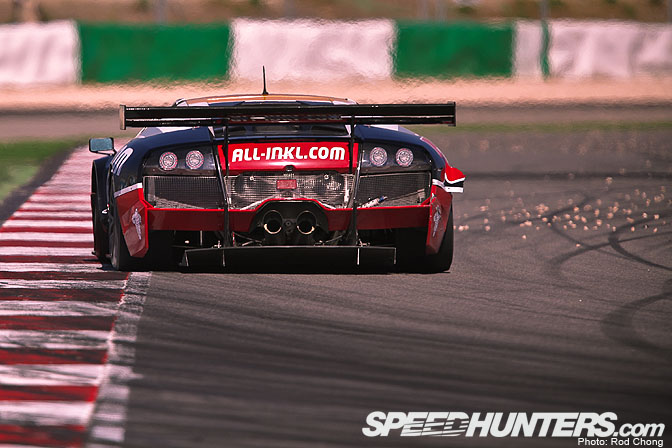 Let's continue on with our coverage from the GT1 and GT3 championship's visit to Algarve Circuit in Portugal. Since this is Interview month, Jonathan and I will both be chatting together about our thoughts from the event.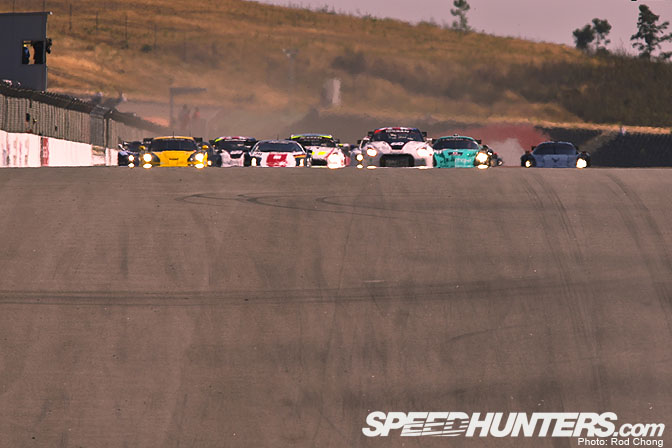 Rod: I have to say that shooting the start of race two was utterly spectacular. The sheer force of this wall of GTs blasting straight at me was utterly astounding.

Jonathan: Yep – the rolling starts are always amazing. I'd say that the only thing that comes close is the start at Le Mans. It's just the sheer power on display: the cars are brutal! The starts are my favourite part of the GT1 races: they deliver all the emotions you can imagine in one short 10-second blast: excitement, terror and everything in between!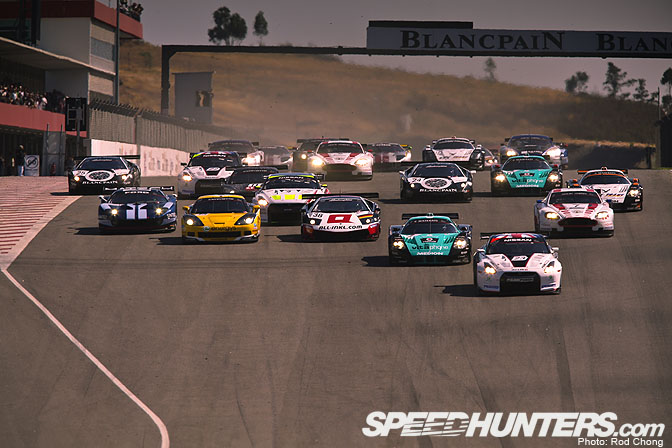 Rod: So Jonathan are you feeling the GT1 World Championship these days? We both have a history of being hard core sports car fans, but personally speaking I'm far more enamored with GT racing these days than prototypes. What about you?

Jonathan: Absolutely. I couldn't like the cars more. I felt big love for prototypes in their glory days at the end of the '90s and into the 2000s, but as they're been regulated down more and more I think they're becoming less exciting to look at. And rear deck vertical fins for next year? No thanks.
Rod: all the Le Mans glory days of the late 1990s… sigh….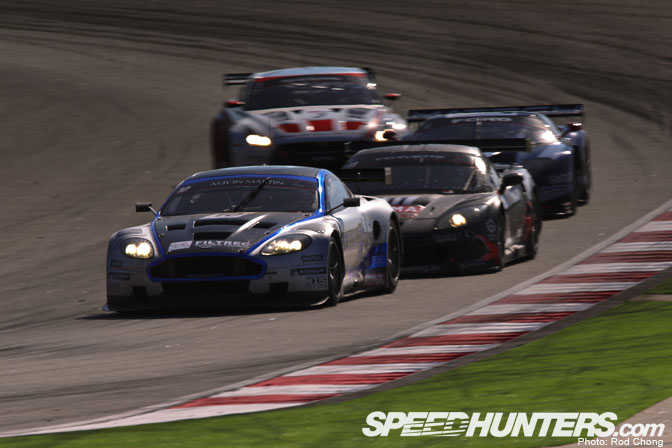 Rod: I think for me, the appeal is that these are still real cars. Sure they are also pure bred racers, but they still look like street machines in some fashion… they are bloody quick too.
Jonathan: Definitely. In general these are all cars that are just steroidal versions of cars you can see on the street. I like to see pumped-up racing cars, which is why I've always been a bigger fan of GTs than touring cars. I want huge wings! Enormous wheel arches! Power and noise! GT1 delivers all that and more.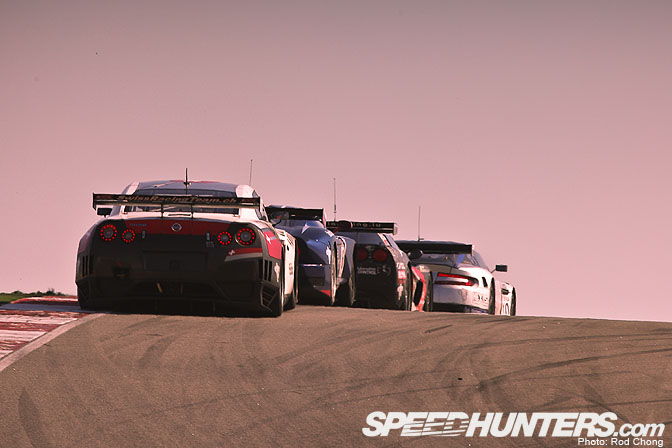 Rod: The sound of these cars is also a huge appeal too… especially the variety of engine notes… not to mention the volume!

Jonathan: It's a sensory overload when you're up close. But as you say, it's the variety of sounds that seals the deal. You know what's coming, that's for sure, from the Pod Racer whump of the Nissans to the screaming' V12 in the Lamborghinis. Aural heaven!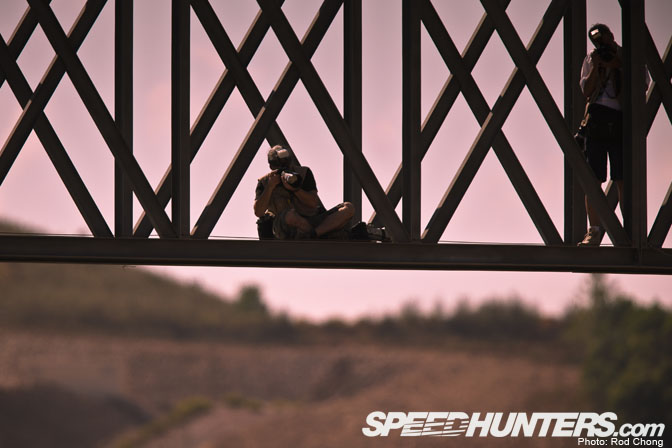 Rod: Having fun up on the bridge? I've never seen anything like this at a circuit before. Didn't make it up there myself.

Jonathan: That bridge is the photographers equivalent of driving a GT1 car. Terrifying and exciting in equal measures. Usually bridges are either covered up or no-go zones, but here the bridge was open – literally – and right across the track. Linhbergh and me have got a separate piece to post just on the bridge!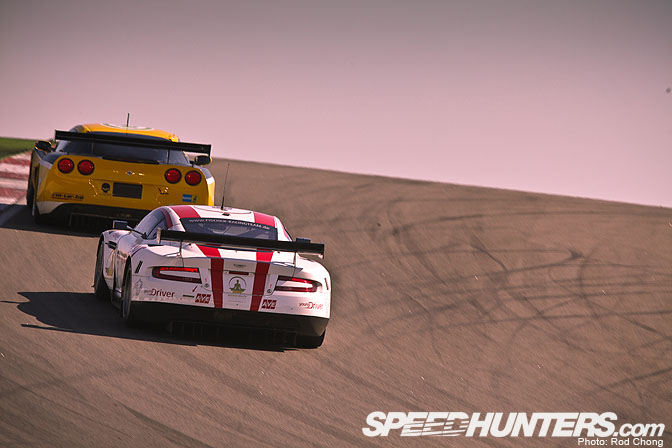 Rod: Algarve was an rather impressive facility with some extreme elevation changes. I'd love to drive this track in a video game!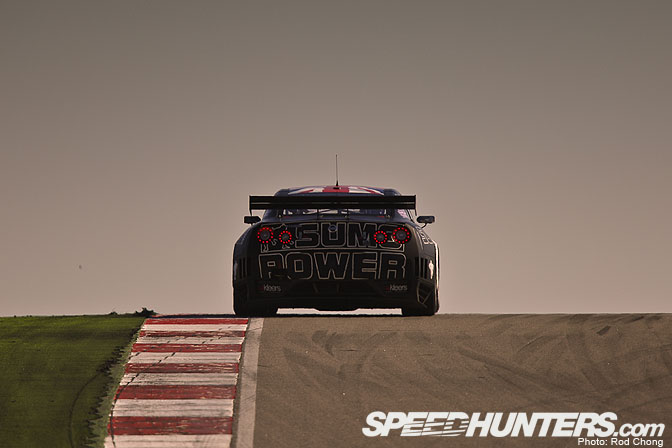 Rod: It was possible to find some very formal graphical photography compositions. Horizon: Car: Sky… I spent a lot of time trying to perfect this shot so I could see UNDER the car for a split second.

Jonathan: The track definitely allowed us to get shots that most tracks just don't have: skylines, oblique pans with the cars half-obscured by crests, cars going up, cars going down – and round, quite often! With all the gradient it was easy for drivers to get things wrong – bad for them, great for us! Looks there could be some drift drivers in the making in GT1.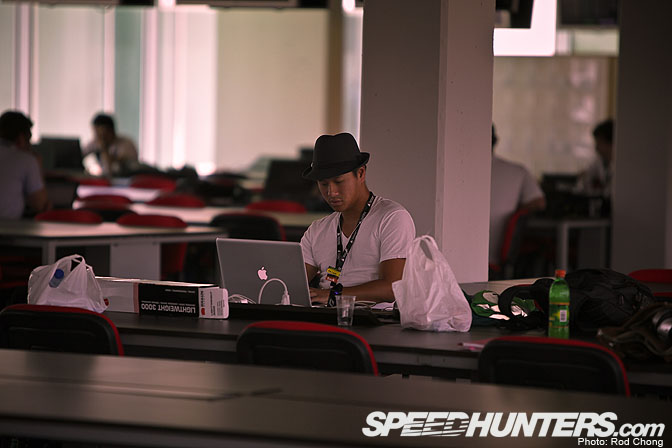 Rod: Here's a shot of Linhbergh in the Algarve press center. I think in this shot he was working on the Top 16 report from Sonoma.
Jonathan: Ah, it's all about multi-tasking. A Speedhunters work is never done!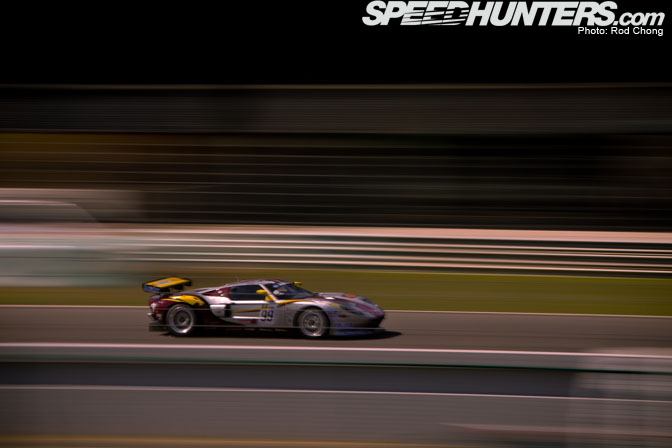 Rod: I took this shot out of the window in the press center. It offered some good views over the circuit… on one side you could see the main straight.

Jonathan: When I got to the track it looked like the media centre was slap bang in the middle of no-mans land, but it tuned out to be perfectly positioned.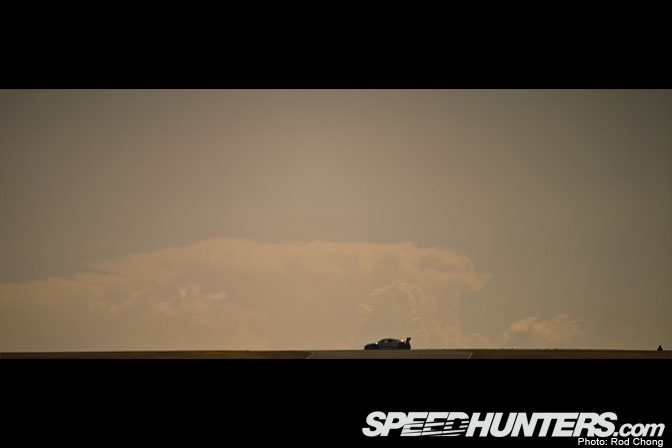 Rod: And on the other side you could see the track weaving up and down the local Portuguese hillsides.

Jonathan: It wasn't quite 180 degrees, as you couldn't see the lowest point of the track around turns 1-4, but you got good views of the top end of the track and the crazy elevation changes.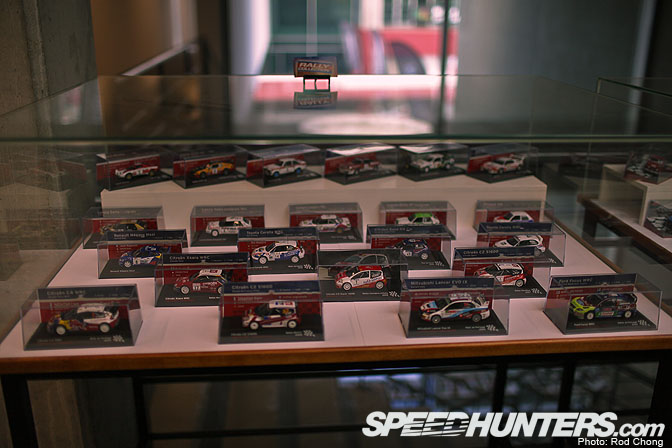 Rod: at the entrance to the press area was this curious display of die cast collectables.

Jonathan: Ha, as soon as I walked in I was thinking that this was your idea of heaven! How is your collection these days?
Rod: it keeps growing hahaha. My local shop just got in someone's personal collection of hand made 1/43 DRM Group 5 models. Uber rare and uber expensive.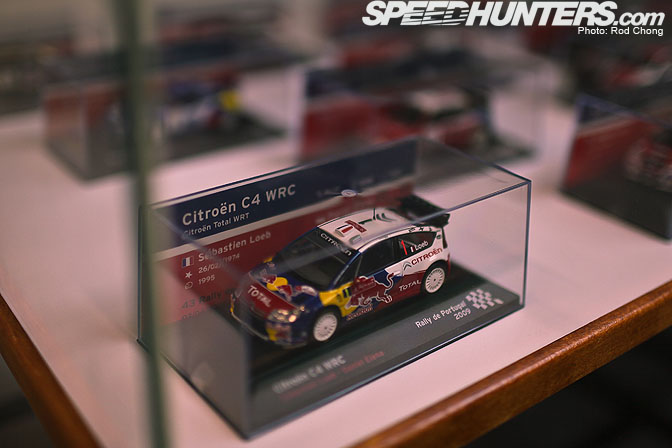 Rod: Most of the models looked like fairly recent purchases.

Jonathan: It was a bit strange: there wasn't any obvious sign saying that you could buy them or anything. Which was probably just as well for the sake of our wallets.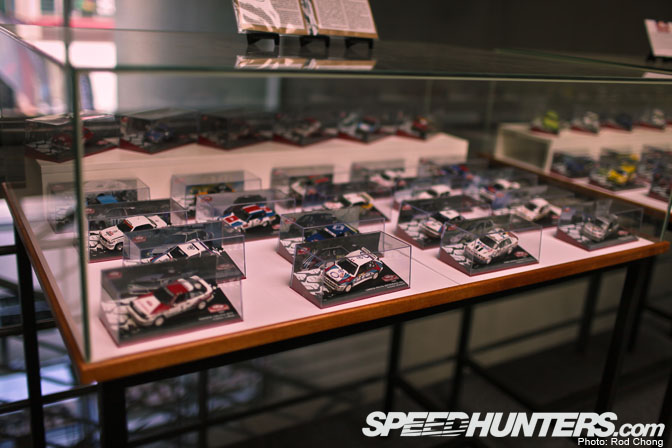 Rod: Each of the display cases showcased a different theme. This is the WRC display.

Jonathan: It was a pretty eclectic display: those Group B cars were pretty tempting.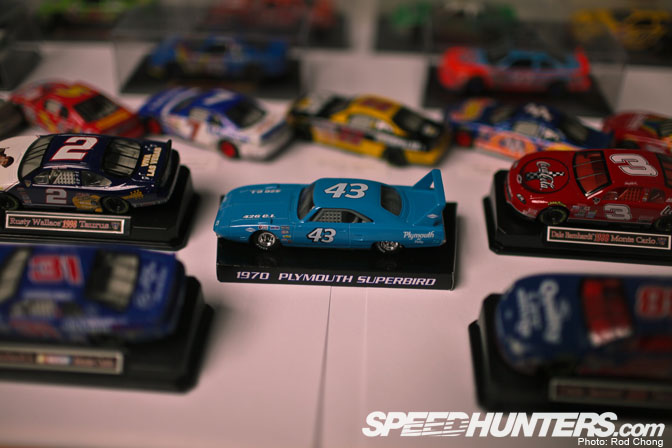 Rod: I was somewhat perplexed by the NASCAR display, which was right next to a massive collection of modern Indy Cars. Who ever built this collection must love American racing.

Jonathan: There were some 1/18th drag cars as well!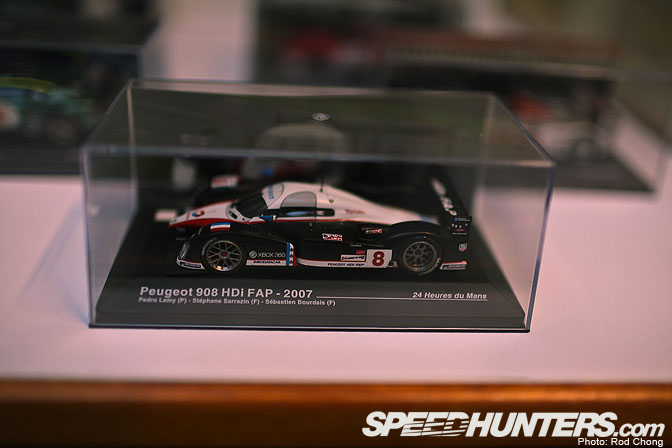 Rod: There was also a big case of Le Mans machines.

Jonathan: And again a wide range of models from across the years.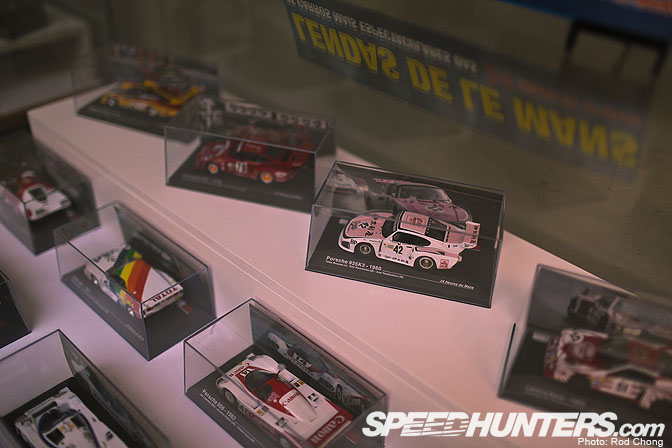 Rod: My eye was instantly drawn to the Group 5 machines. There are a couple cars I NEED in this display including the pink Kremer car, the Barbour 935 and that ORECA BMW M1 Group 5…. argh!

Jonathan: Ah yes, thank god that security guard was always there… I think she saw the look in your eye! Of course, I was tempted by the red 1980 Lancia Beta Monte Carlo.. Must… Stay… Strong…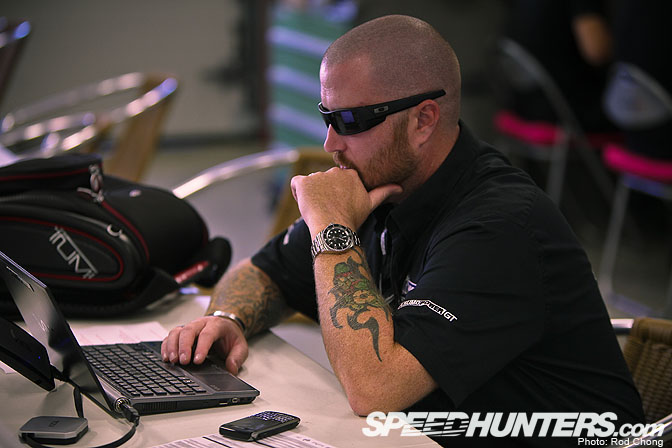 Rod: We've become rather friendly with the Sumo Power team since the beginning of the year. This is James who must certainly be the coolest team boss in the history of GT Racing…. ever…

Jonathan: They're a great bunch of guys, and real racers. The mechanics are pretty much all veterans of circuit racing, so Sumo Power have picked their people carefully: they're no bunch of newcomers from that point of view. They're got god knows how many years of experience across everyone, and an impressive quartet of drivers.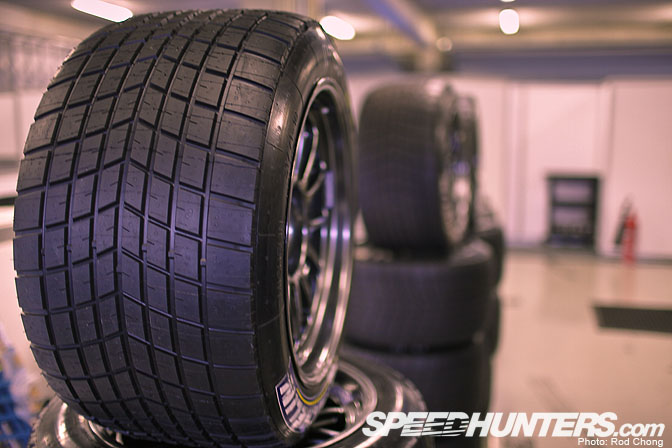 Rod: Check the meats that get bolted to the GT1 spec R35s. I'd love to see someone try and stuff these onto a street spec GT-R. That would be killer.

Jonathan: Ha! Turning circles and parking might be a bit tough! It's interesting that the two Sumo Power cars use different rims: Rays on #22 and BBS on #23.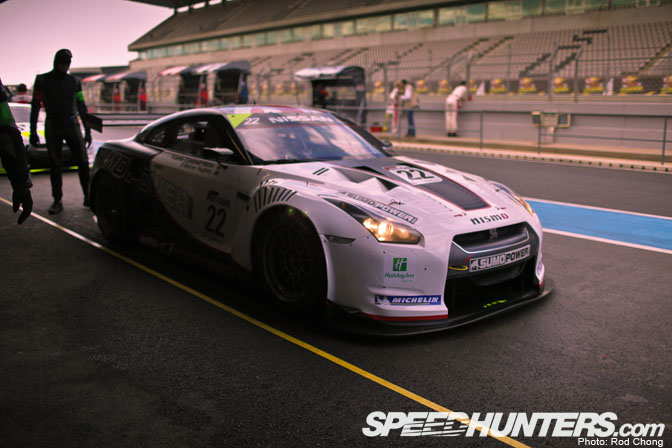 Rod: I suppose we've become a bit biased towards Sumo Power can't
we? I just LOVE this car and can't help but take a million photos of it each time I visit a GT1 race.

Jonathan: Well, love isn't blind here: they're amazing looking – and sounding – racing cars. So different from the others. It might suffer from having such a big frontal area, but I think it just adds to its imposing looks.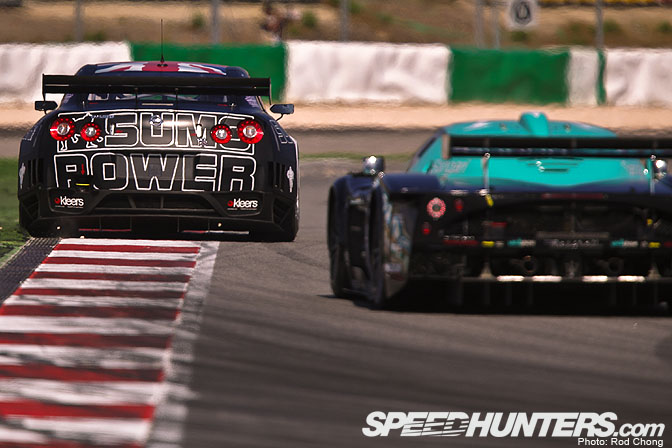 Rod: I was the one doing the live facebook updates from trackside and was beside myself in excitement as the GT-R lead the first half of Sunday's GT1 race.

Jonathan: That was a hell of a race – it was crippling that the race was thrown away due to a failure of an air-gun at the pits stop. Nothing that the drivers could have done, which makes it so frustrating. They did well to recover to fourth though.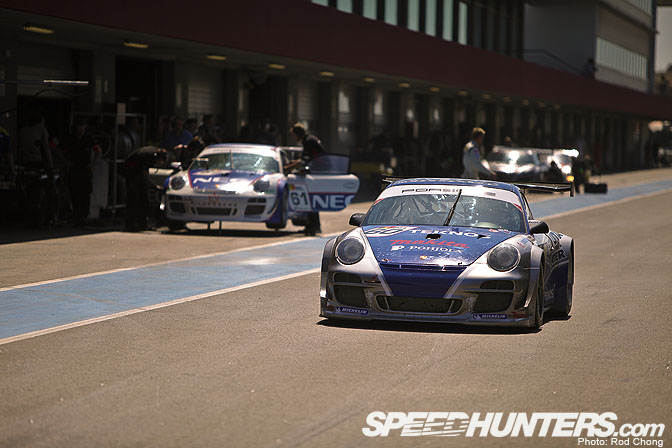 Rod: I spent at least half of my time at Algarve hanging out in the pitlane as the rest of you guys were off shooting trackside.

Jonathan: The pit-lane is home to the mechanics for the weekend: speak to any crew-member about the actual track and they'll likely not have a clue! It's a confined space to work in, especially with big GT cars.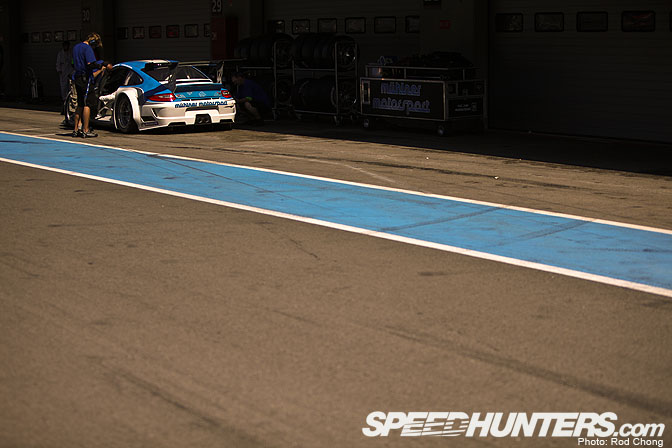 Rod: It's an interesting place to stay for a full practice or qualifying session as its a chance to observe various teams' inner workings.

Jonathan: It's tough for the support series, like this GT3 Porsche: the team are squeezed into a five-foot corridor outside the GT1 garages. Some teams do allow the other crews into their garages to look at their timing and scoring screens, but not all of them!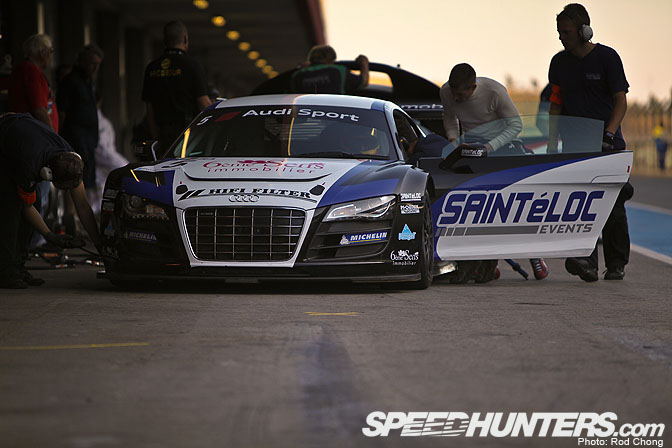 Rod: You can also get right up close to the cars in a "hot" track session.

Jonathan: You can really see the anatomy of a pit-stop. I love it when you see the drivers being bodily thrown out of the car by the co-driver!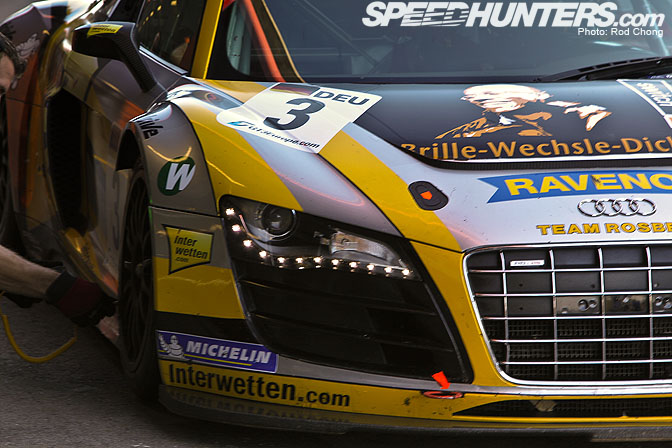 Rod: You definitely have to have your wits about you while shooting in the pitlane as cars are moving all around. Your peripheral vision and auditory senses need to be on high alert.

Jonathan: You have to have eyes in the back of your head: the pit-lane goes from dead calm to a frenzy of activity in seconds, so you have to keep your wits about you. You need to act with confidence so the pit-crews don't get jumpy: they absolutely hate it when they see people aimlessly wandering around the hot pit-lane, and have no problem with pushing people out of the way as their car comes in. They're stopping people getting hurt, but what they find annoying is having to effectively babysit the media…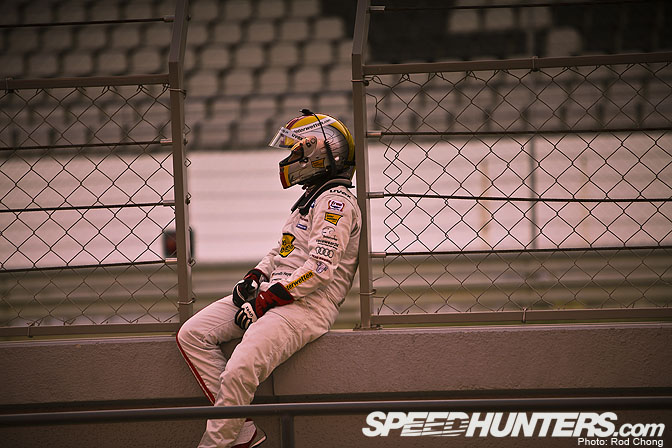 Rod: Here one of the Audi drivers takes a moment to observe the competition.

Jonathan: The start-finish lines are pretty much always one of the fastest parts of a track: the cars fire by at top whack. I've no idea how the drivers manage to see their signaling boards – or how the team manage to pick up on small details on the car when it's traveling past so fast!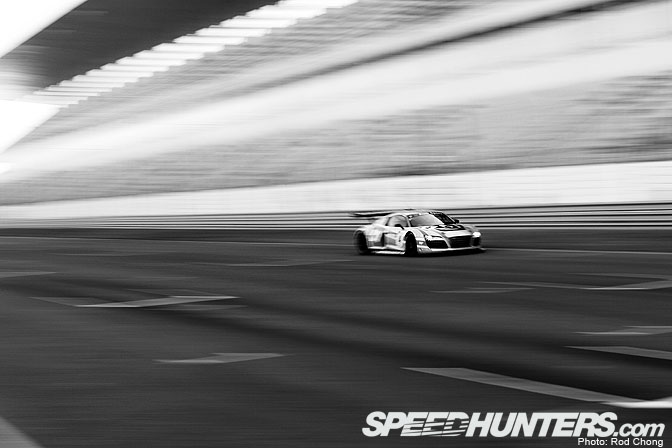 Rod: I also took some time to stick my camera out of the camera holes to try my hand at some pans… What do you think Jonathan?

Jonathan: Fast pans on the pit-straights can look great with grandstands in the background: some of my favourite shots from this year were the night-time shots from the main straight I got at the Dubai 24 Hours at the beginning of the year.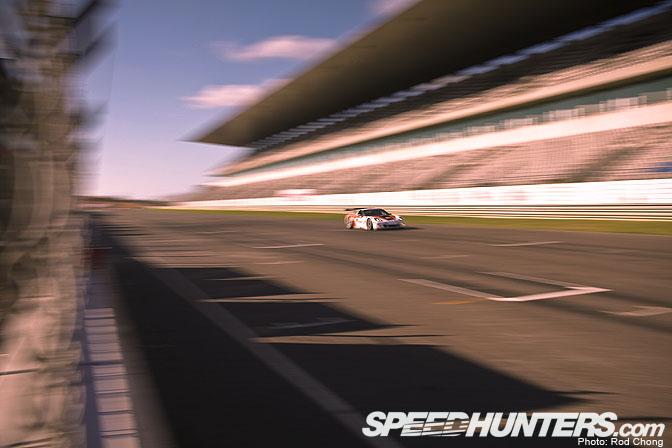 Rod: Am I improving as a photographer?

Jonathan: I'm not one to judge other people's shots! I think photography is a very personal thing, like any creative art. Personal satisfaction means so much: sometimes a technically average shot can sum up an emotion or an event. I've got appalling shots that I can't bear to dump because they encapsulate a particular moment for me.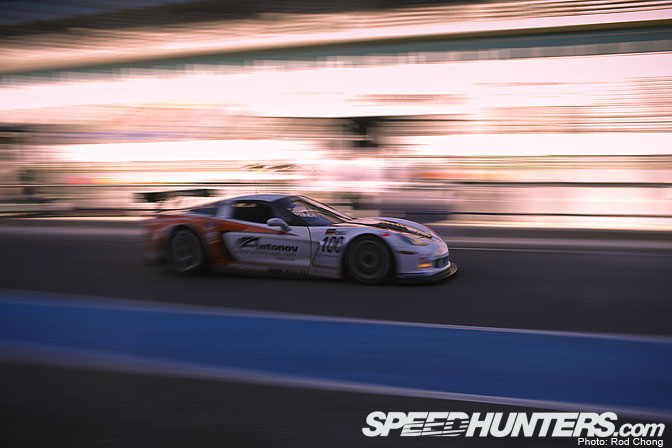 Rod: Maybe? I found some new settings in Lightroom that have transformed the visual styles a bit here…

Jonathan: Colour balance is an interesting thing with digital: I think it's one of the things that balances the whole film versus digital argument. After all, what was using different kinds of film except to achieve different effects? Digital RAWs are just a canvas.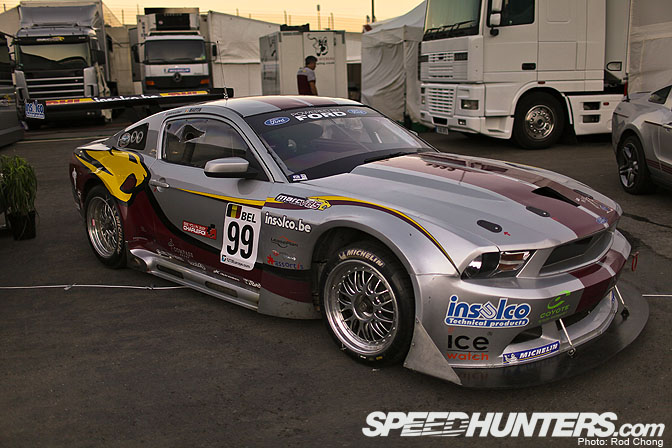 Rod: Linhbergh absolutely hates this GT3 spec Mustang, but I quite like it… I just wish it was out on track.. oh well… let's hope that the car gets properly developed for the 2011 season.

Jonathan:  Ah, I'm back in love with big, brash US muscle cars. When it has been running it's been pretty quick and sounded perfect, but it's had a lot of technical issues and problems. I'm not so keen on the Marc VDS livery though.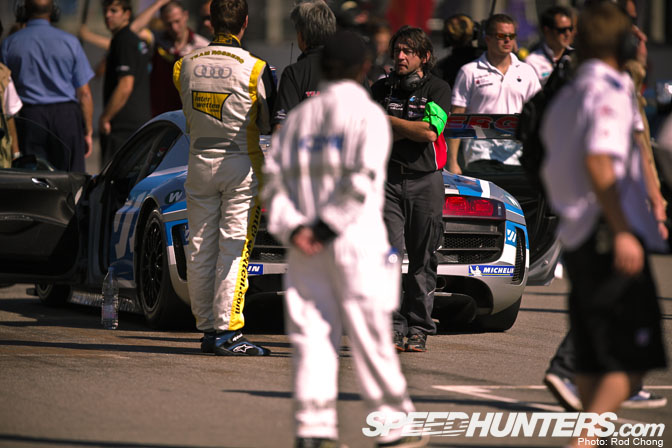 Rod: I quite enjoy watching Martin Brundle's Formula One gridwalks and sometimes imagine my own photographic gridwalks in this light… It's without the massive crowds of screaming F1 fans, but a lot of other elements are in common.

Jonathan: Yep, I love Brundle's little grid skits. It's not that much less crowded on the GT1 grid itself though! Like in the pit-lane, you have to be incredibly aware of what's going on around you, with the crews carrying out final checks, cars cruising into position silently with their engines off. It's an exciting place to be!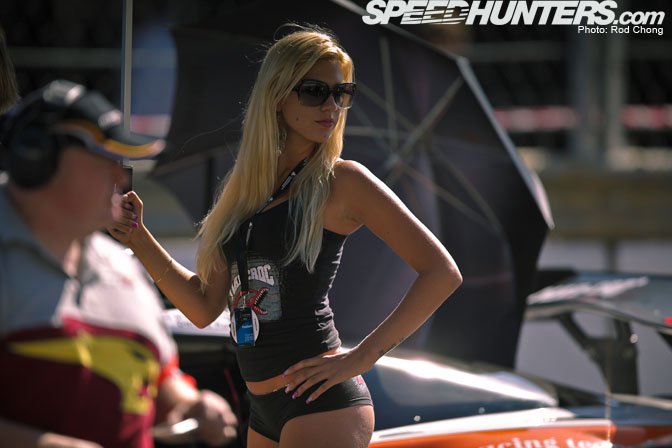 Rod: There are some rather scantily clad girls about… I personally find this outfit a bit OTT, but that might be my own conservative nature at play here.

Jonathan: Hehe… Personally I think more is less! If there's got to be eye-candy I prefer the girls to be wearing stuff that doesn't basically display their complete anatomy. Maybe I'm getting old. Or it's working with too many girls and not wanting to risk being hit…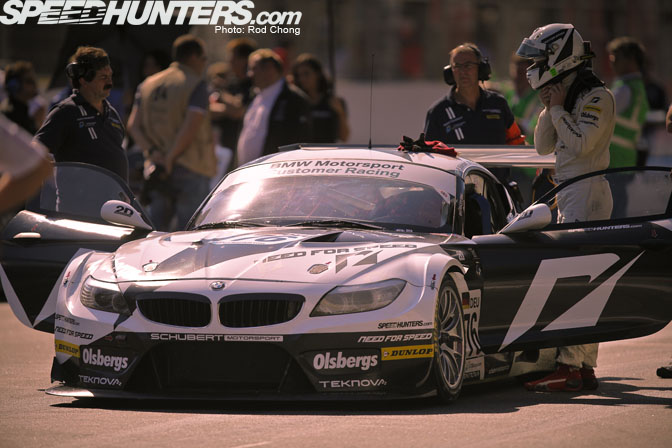 Rod: We also get to chat with our own racing drivers as they get ready to race…

Jonathan: Patrick and Edward are great sports: they always take the time to chat even right before the race, when there's probably the most things going round their heads. It feels good to be able to wish them luck just before they go into battle.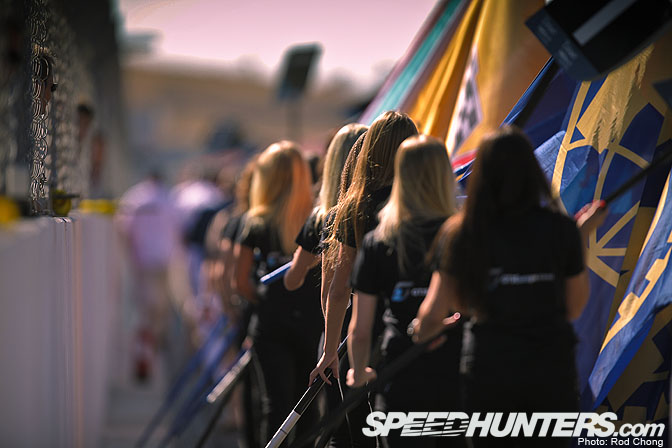 Rod: … before you know it warning bells are going off and it's time to clear off the grid.

Jonathan: As a photographer I hate this moment: it's a game of chicken as to when you need to get away from the grid and run down to the first corner.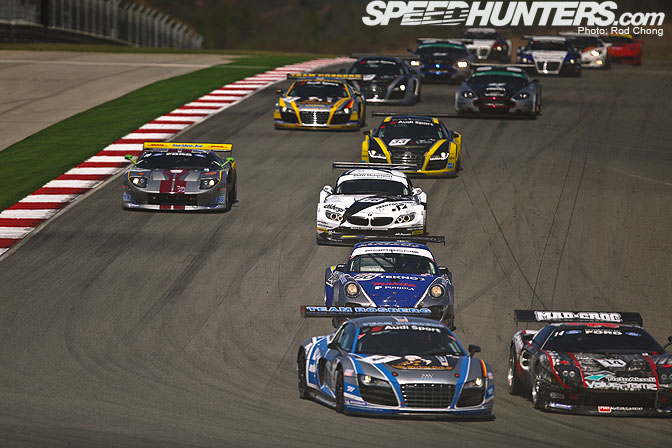 Rod: Race Start! I find that it's often hard to know exactly what bit of race action to focus on… do you keep the lens focused on a wide shot or focus on the lead cars as they complete the corner in front of you? In this case I waited for the Team NFS car to appear before tracking it through the corner.

Jonathan: It all depends on how far the snappers' pit is from the track: but more often than not I use a smaller lens and go wide. That means that you can also capture any accidents that happen as they hit the first corner – something is always pretty likely to happen!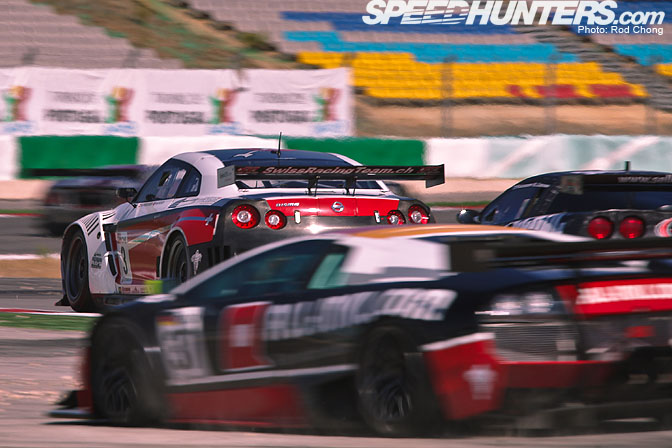 Rod: Over to the GT1s… After the race start on Sunday I hung around the first corner for a while and managed to catch a bit of racing dramatics.

Jonathan: There's a bit of a photographers' ritual with starts: there's the big scrum to get the best spot to cover the start, and then a case of who decides to leave first. After two laps? Three? Normally you'll find the majority will leave when the season-pass photographers move on!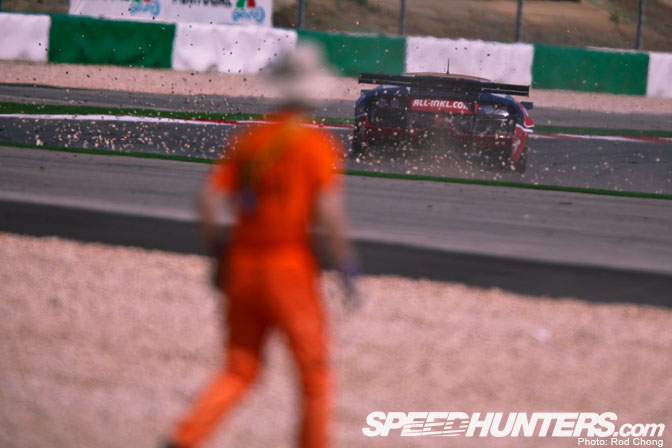 Rod: This shot shows good detail for how much junk gets pulled on to the course from the gravel traps… this Lambo had just been freed from the kitty litter and proceeded to spread it all over the racing surface.

Jonathan: It's a tough call isn't it, like when cars are spewing oil but the driver drags the car back round the track to the pit-lane. You understand why they do it, but I bet other drivers hate them for it. Off line is a mess of gravel and tyre debris, making it lethally slippery – and more difficult to overtake.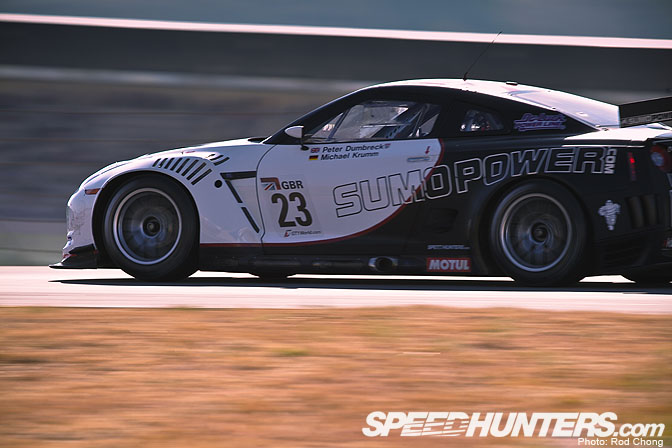 Rod: I was pretty gutted when Sumo lost the race win on Sunday due to a faulty air run… Such deep sadness.

Jonathan: Yep, total frustration. But again, the team kept their heads up and could be really pleased with the pace of the car.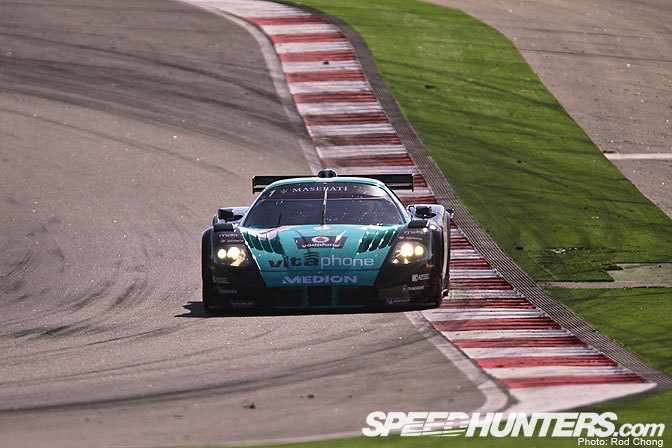 Rod: So that left the Maserati MC12 to take the win.

Jonathan: Again. These boys are almost guaranteed to pick up another championship. They're past-masters at winning: it's what they do. Even if they're not always the fastest, they're always up front.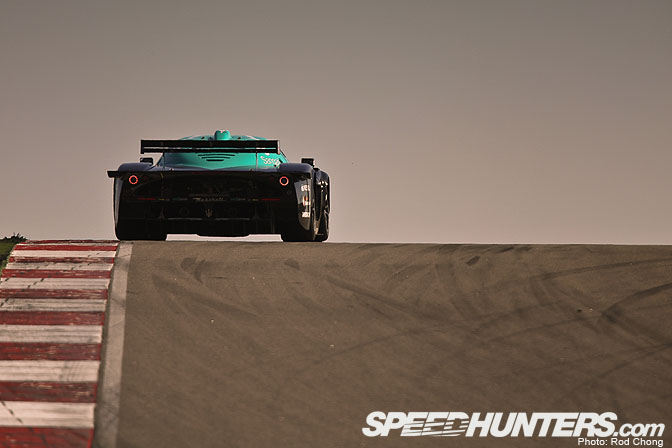 Rod: I think this is a majestic car, but at the same time It's a bit like the big Goliath that the other machines need to beat. More often than not it's near the front of the grid and in the hunt for overall victory.

Jonathan: Exactly. The only thing that spoils its looks for me is the puny rear wing, but when they had the full-width version originally they destroyed everyone, all the time.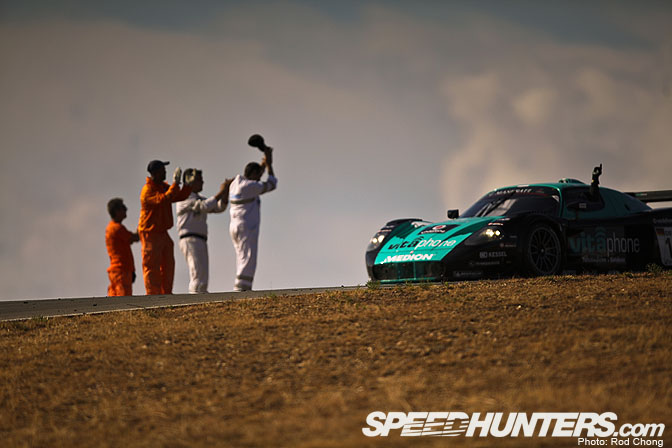 Rod: The Algarve track marshals didn't seem to mind though… BTW m8 did you notice the Toyota people hanging around the press area?… I am praying they commit the LFA to the GT1 series next year!  I need to hear than singing V10 in person… especially in GT1 spec!

Jonathan: The marshals had it tough: there were very few huts for them to shelter from the sun. Marshals are the unsung heroes of motorsport! But yes, a Toyota would be most welcome: though for me I'd prefer something a bit more 'real' than the LFA. We'll see what is conjured up in the next six months! There could be some exciting things coming in GT1!