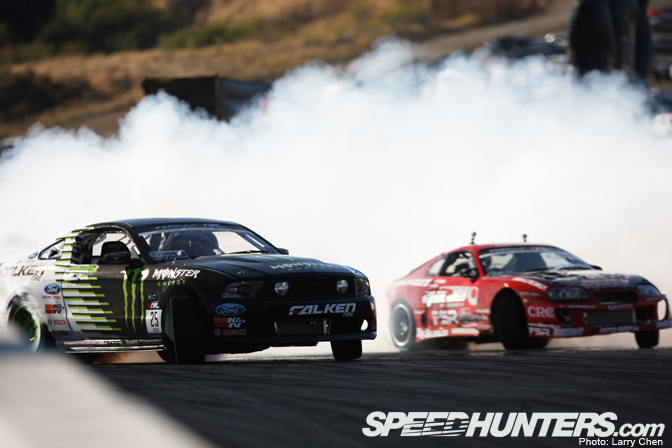 Sonoma usually isn't the most exciting of stops on the FD calendar, but this year it proved that it can, indeed, bring it. Let's go straight into looking at the top 16. Once again, Rod and Larry are commenting in addition to myself.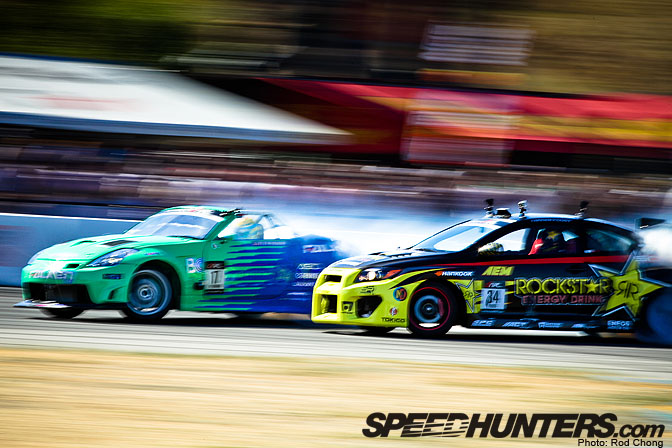 Linhbergh: Top 16 started off with quite a bit of pomp and circumstance with Tyler McQuarrie and Tanner Foust thundering across Infineon Raceway as they helped melt the ice caps a bit faster by smoking up rubber as much as they can. Tyler went wide as he followed Tanner thus giving Tanner the win.
Larry: Does anyone actually know what inhaling all this tire smoke does to us? What if Linhbergh and I lose our eye sight from shooting all this drifting? How will I be able to tell what long sleeved shirt to wear?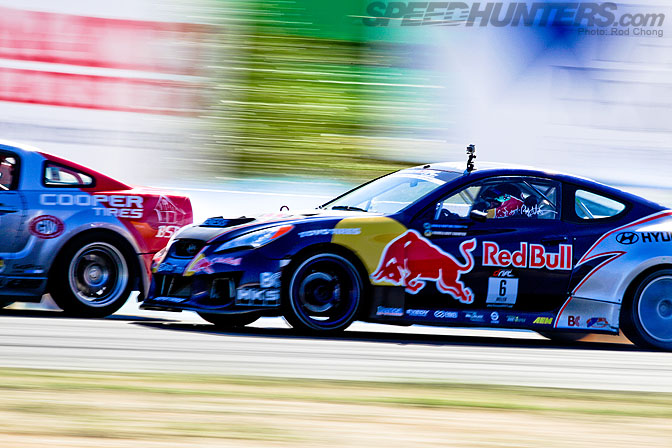 Linhbergh: Next up was Rhys Millen and Tony Brakohiapa. Rhys was his usual consistant and competitive self and put in two solid runs.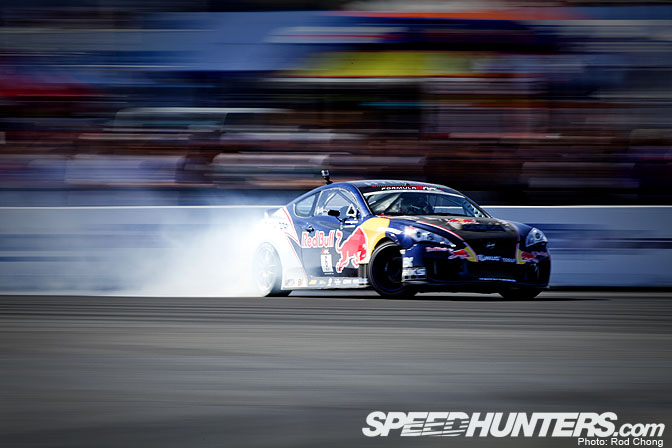 Linhbergh: The judges awarded Rhys with the win.
Rod: And Linhbergh chose my images to run yippie!
Larry: Rhys won with the help of his Lamda.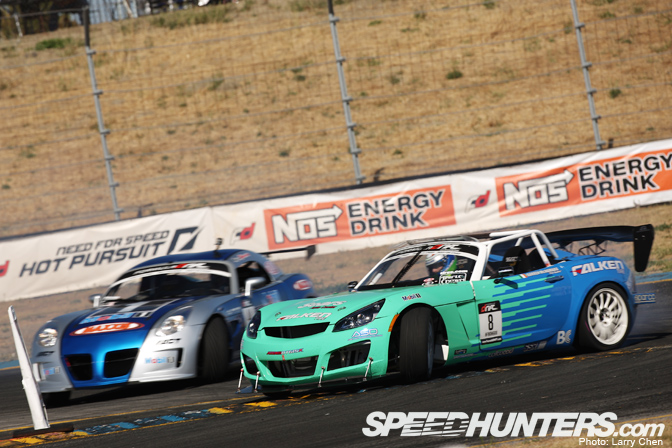 Linhbergh: If you've never seen Darren McNamara or Ryan Tuerck's little rocket ships in person, then its hard to imagine just how hard these two cars accelerate and how fast they change direction. Professional drift cars have come a long way from the street-style s-chassis that dominated not too long ago and these two cars are quite a testament to the sport's progression. With that in mind, it's quite something to see these two cars battle it out. The driving was mind blowingly fast. Of course, one of the drivers had to give and this time, it was Darren. The blue and silver rocket ship powered by Ryan Tuerck's right foot moves on to the top 8. 
Rod: Aren't they cute? Although they are mighty fast, these two machines are also a bit twitchy on the edge too. This makes their performances perhaps a bit less consistent than some of the other longer wheel base machines.
Larry: Did you guys ever have a car that you didn't really care about at all but for some reason you always got tack sharp photos of for no reason? For me it was Rhys' little Solstice. I actually miss that little rocket car.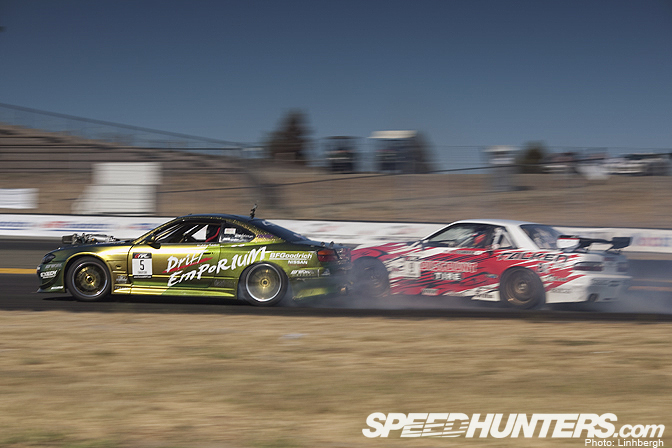 Linhbergh: Daijiro Yoshihara has been solid and consistant all season long. He continued that trend with the battle of the S-chassis V8s with Michihiro Takatori. Dai once again proved again that a cooler hairstyle goes a long way and moves on to the top 8.
Though, the question of the century to ask is how Dai does not have helmet hair at events!
Rod: He must be in possession of some kind of magic JDM Hair product. Seriously though, the Dai's V8 Bunny shows that a well tuned, V8 powered, mid level chassis build can still win in Formula D. 
Larry: Dai's car has a little vanity pouch that is ziptied onto the driver door roll cage bar. It has all his hair products in it along with his cell phone and his hat/visor. No toothbrush though. He likes to keep it JDM.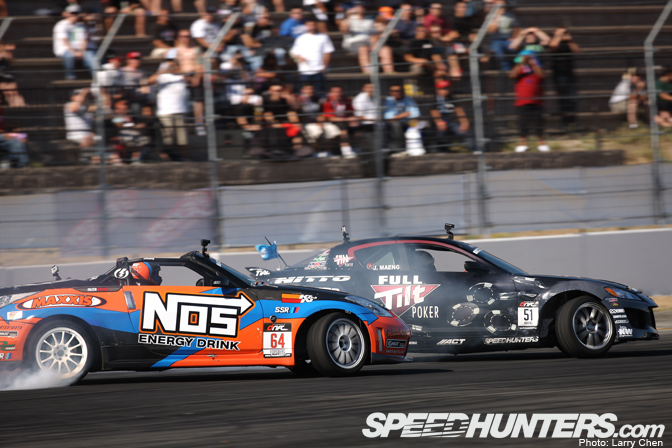 Linhbergh: It's hard to couple Joon Maeng's nicest-man-of-the-millennia personality to his insanely loud rotary with an even louder backfire noises. The car literally hurts your ears as it passes by. There are three cars that stick in my mind, this year, that literally hurt without ear plugs: the ALMS Corvette Racing Corvette, the BMI Racing RX-8 and Joon's Full Tilt Poker/Bergenholtz racing RX-8. That being said, you think Chris Forsberg's CORR V8 would be able to compete with Joon's spinning triangles on a noise level, but the RX-8 walks right over it. Sadly though, Joon was walked over all by Chris in the top 16 battle. 
At least Joon wins in the destroying-eardrums engine noise department, right? :p
Rod: Chris was looking pretty unbeatable at this stage! I'm sure that Bergenholtz must be getting higher presentation scores since they added their new backfire feature too BTW.
Larry: Joon muttered the "D" word in his helmet after he lost. Darn!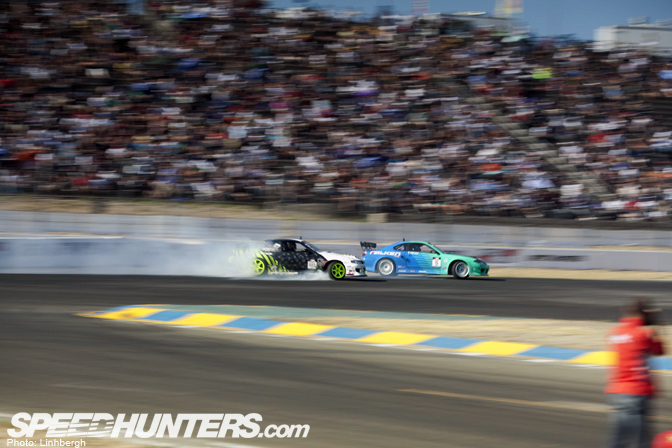 Linhbergh: Next up was Matt Powers and James Deane. Matt put up a great fight, but had too many corrections and thus gave James the win.
Rod: James was running some excellent consistent lines throughout the competition and was always going to be tough to beat.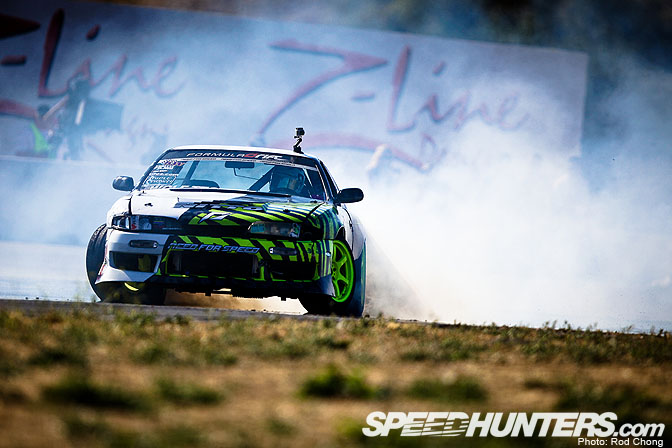 Linhbergh: It was great to finally see Matt compete in the top 16 though. It seems as though his car is getting higher and higher each round. Is his strive to do well in FD winning over his riceness? Maybe, just maybe. I'm not sure how I feel about that though….
Rod: Ride height aside, I'd like to be more afraid of Matt's car. Perhaps he needs to add a backfire function.. or some antilag? Or external speakers that play hair metal perhaps.
Larry: Matt can learn something from Olympic swimmers. He can probably save 10kg just from shaving his chest hair.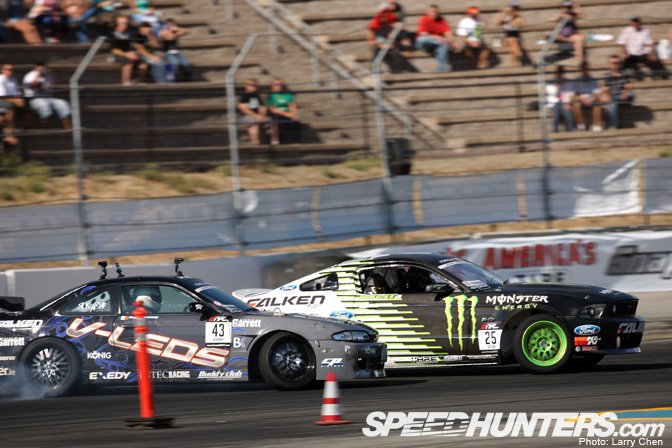 Linhbergh: The battle between JR and Dean Kearney was the most controversial battle at Sonoma. From my perspective in the middle of the field, I saw Dean drive a bit off track on the first run with Vaughn…
Rod: Is Dean also British, Linhbergh?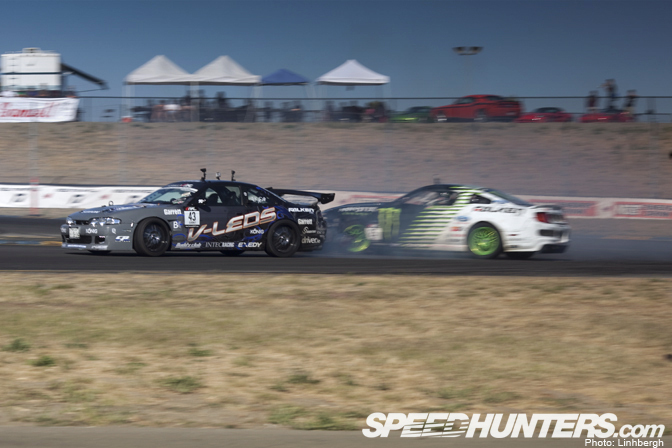 Linhbergh: Then Vaughn's chase run, Dean slowed down way too much on the tight hairpin which resulted in The Monster Energy Drink/Falken Tire Mustang to run into Dean's car.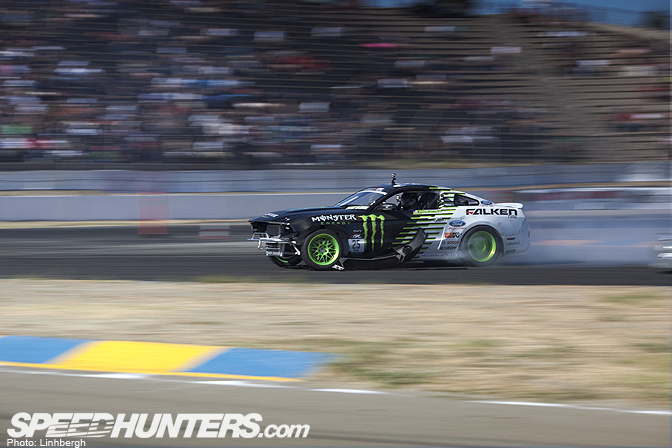 Linhbergh: The combination of Dean driving a bit off track and him parking his S14 on the hairpin gave JR the win. From my middle of track vantage point, the battle seemed pretty clear. But both runs can look completely different from the grandstands or while viewing from the DriftStream. Rod and Larry, what did you guys think of this battle?
Rod: Based on their radar guns, the judges thought it was a brake check… I don't have much else to add really.
Larry: This was the second time I got to see JR's mustang with no front bumper. The first time I expected to see some alien technology behind that bumper but I was surprised to see a bunch of hamsters running on wheels.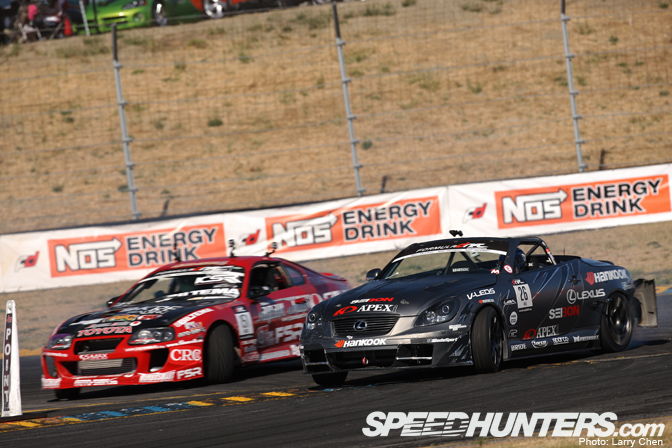 Linhbergh: This was last battle of the top 16. It was great to finally see the SC430 in the top 16. Goes to show the progress the team and Ryuji Miki have made on developing the car since its debut in New Jersey. But sadly, the Lexus couldn't compete against Fredric Aasbo and his Supra which seems to be running on nothing but just hopes, dreams, and an unrelenting determination to win. 
Rod: Jarod keeps saying that the Supra is held to gether with bits of tape, but I'm not sure that Fredric would agree with that!
Larry: Yeah. Jarod doesn't see that Scandinavian giant holding that Supra together with his bare bear hands. While drifting, he has to hold on to the roof like he has a queen sized mattress poorly strapped to it.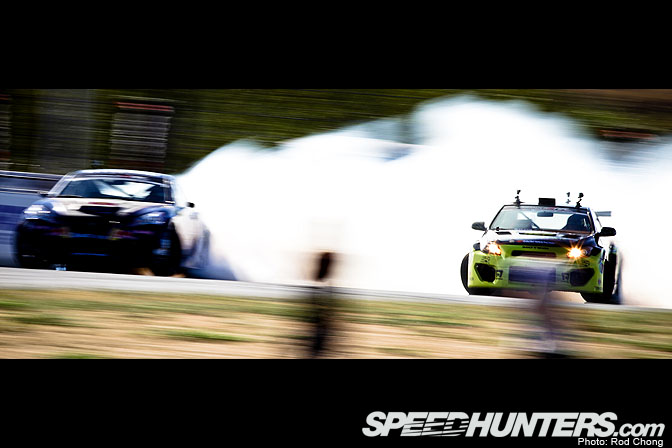 Linhbergh: Rhys Millen and Tanner Foust. Tanner proved to be the bigger giant by putting in two solid runs after Rhys straightened out on his first run. 
Rod: Feel the blur.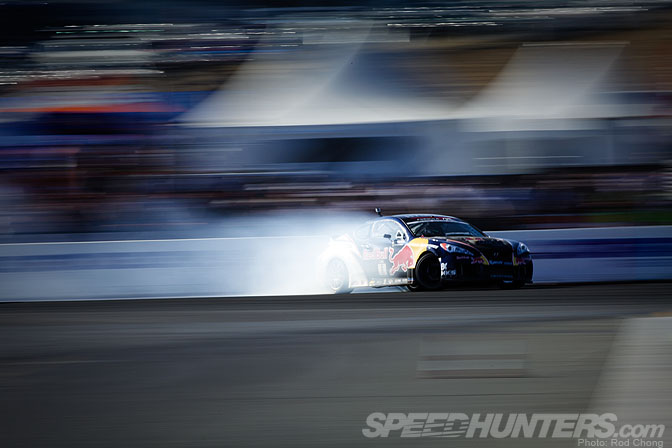 Linhbergh: As we now start to close the 2010 season, the question that pops into mind is if we're going to see Rhys and his Hyundai next year. He seems to have lost interest in the sport. Thoughts?
Rod: I don't really have much insite into where Rhys is at in regards to drifting but in chatting a bit with him he seems quite excited to get involved with Rallycross next year. Racing to a finish line seems to be quite an exciting idea for him ATM.
I think this is one of my best ever drift shots BTW. Give me a call Rhys and we can talk about a price….
Larry: I don't know if that the car isn't as good anymore or if everyone else is just getting better.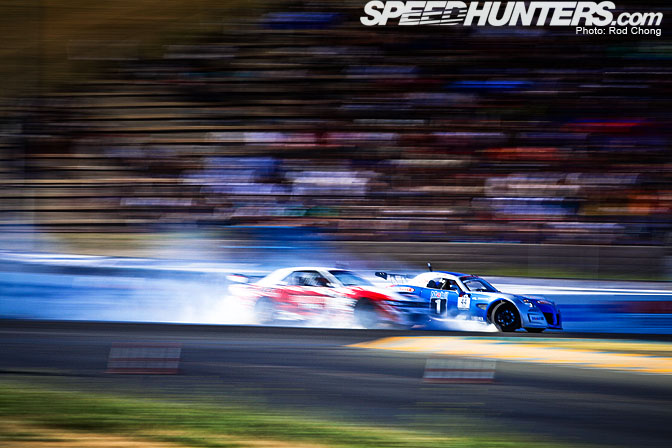 Linhbergh: Just like the top 16, the Great 8 started with the resonating thunder of two monstrous V8s echoing across the Northern Californian wine country. Die-hard grassroots drift fans must hate how the sport is progressing into V8s. But when you're there in person and hear the throaty motors rumble across the track, its hard not to fall in love with it. But I have to admit that it is very sad to the variety of cars and motors, that was once a part of the sport and the reason why we all originally fell in love with drifting, disappear. The sweet sound of a naturally aspirated 20v 4A-GE, the smooth notes of a 2JZ, the ear piercing quad rotor 26b or even the ever-so recognizable SR20 are all sounds that have become endangered in the sport. 
Rod: At least in Formula D anyway. These engines are still around though, they just don't win that much. I will say this though: Drifting still has a huge variety of chassis setups and Formula D leads the way in this regard.
I'd also like to request a moment of silence for us to appreciate the above photo together.  It depicts the exact moment that Dai touched Ryan while decelerating into the second rear clipping point. It was a high drama moment and somehow both cars managed to avoid spinning.
Larry: I agree with Rod. In fact, I am planning to go to the Scion dealership right now to pick up a rear wheel drive TC.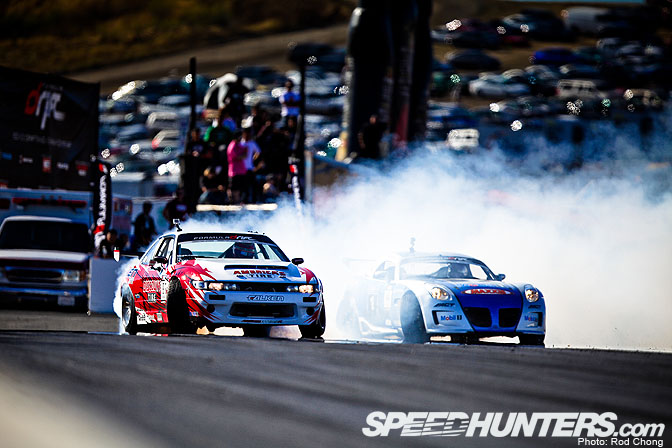 Linhbergh: During the first run in the battle between Dai and Ryan, Dai drove extremely close to Ryan who then called for 5 minutes. In the next run, Tureck proves his might and the judges award him with the win.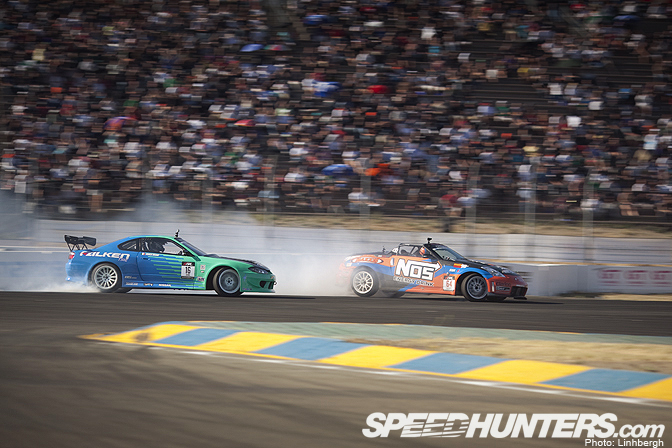 Linhbergh: The next battle consisted of Chris Forsberg and James Deane. Both drove superbly well during both runs which resulted in a too-close-to-call situation. A OMT was given. 
Rod: This photo gives a sense of the crowd sizes at Formula D events.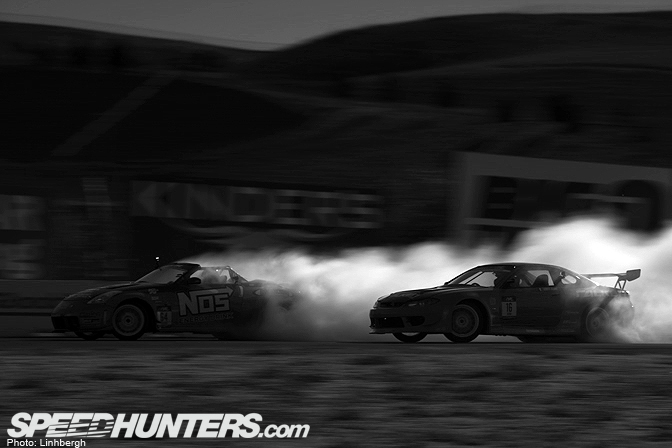 Linhbergh: In the OMT battle, Chris put in two solid runs so he moved on to the top 4. 
Rod: That's a great photo, young man!
Larry: Now you're too good for color photography? Steve Chow shoots in color!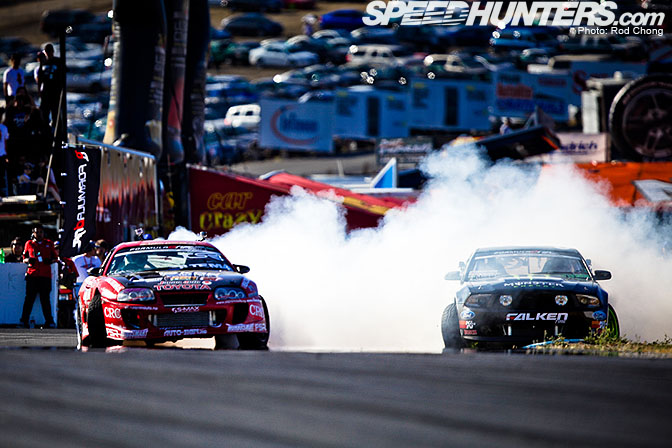 Linhbergh: It seems that the battles between Fredric Aasbo and Vaughn Gittin Jr. are becoming the to-watch battles this season. They both have super aggressive driving styles and know how to put on a great show. During their top 8 battle, both drove their hearts out but in the end, the man in the Mustang moved on to the top 4. 
I can't wait to see what's in store for Aasbo for the 2011 season. 
Rod: Hopefully something exciting… Notice how Fredric's bumper is flexing from the wind…
Larry: At this point, he's holding his roof on with his right arm while his left arm is through the firewall past the engine bay holding that front bumper on. I wonder what he's steering with….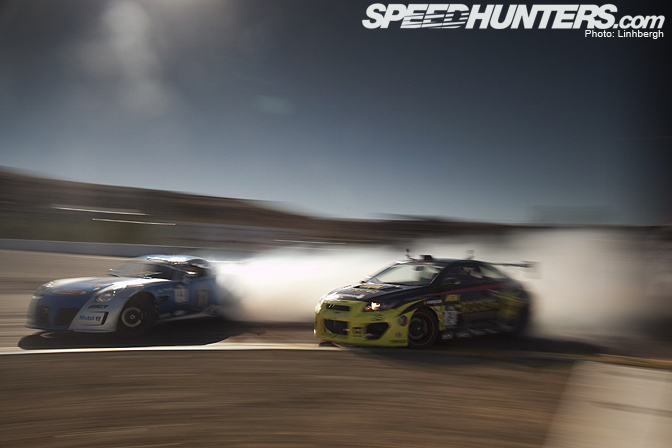 Linhbergh: Now we're into the top 4. In the battle between the Mobil 1 Solstice and the Rockstar Scion TC, the Solstice proved to be the stronger car and moves on to the final battle.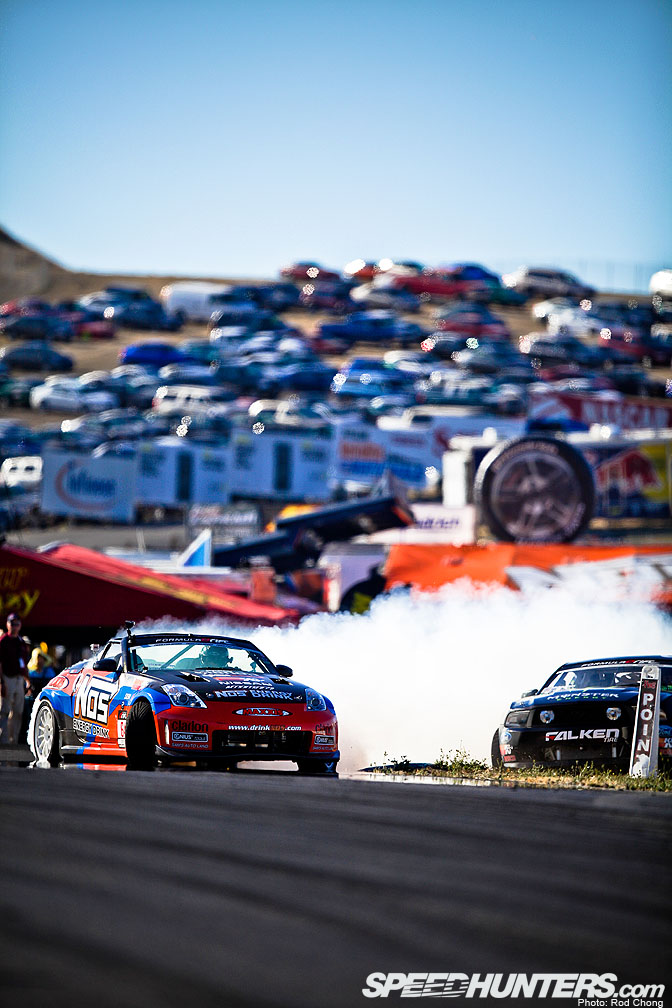 Linhbergh: Chris Forsberg and Vaughn Gittin were up next. Chris followed insanely close to JR in the second run, but then hit the dirt. That was the kicker for the judges and so JR moves on to the final battle with Ryan Tureck. 
Rod: I'll also mention how aggressively JR followed Chris into the second clipping zone. He seemed to be able to close in on Forsberg at will.
Larry: Chris was cheating anyways. Who's ever heard of a rear wheel drive convertible 350z?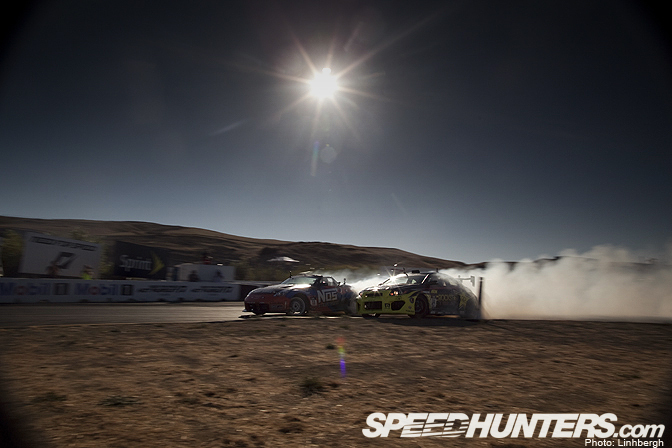 Linhbergh: The battle for 3rd was an insane battle to watch. I don't think I've seen cars drive as close and as hard all season long!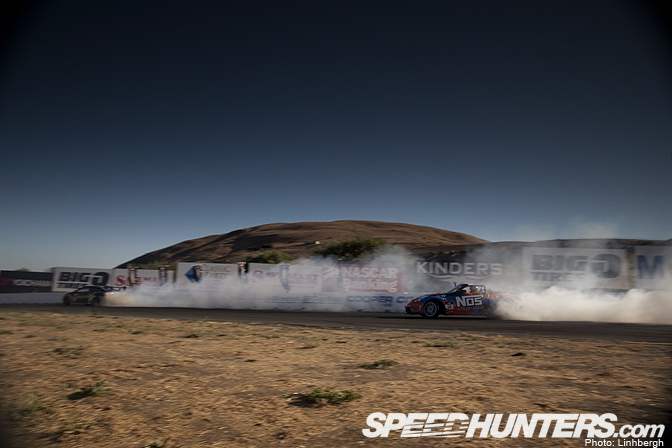 Linhbergh: In the end, Tanner "the Robot" Foust proved that he was programmed to win and only win. A humanoid like Forsberg couldn't compete with such mechanical precision.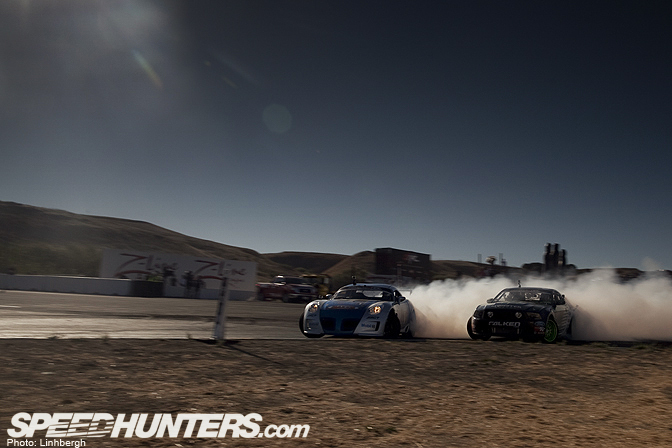 Linhbergh: The final battle came so soon and ended before any of us media guys realized it. 
Rod: What? Speak for yourself m8.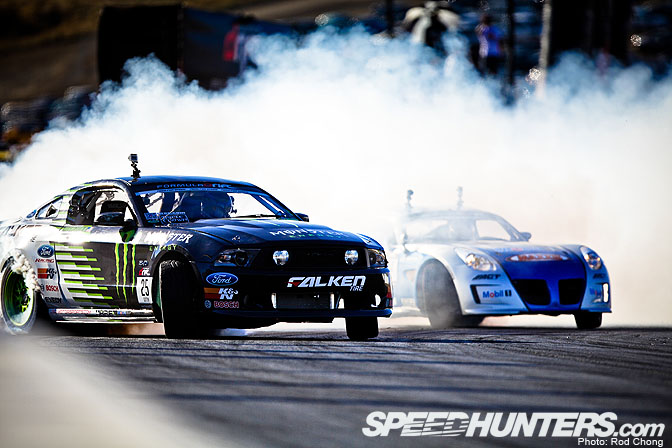 Linhbergh: These two guys are currently on top of their game. But Vaughn once again showed everyone just how hungry he was for that championship. After an impressive battle, the judges gave JR the win –this second win this year!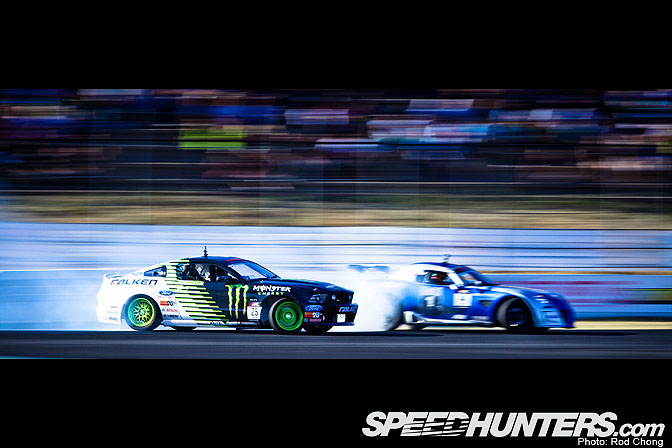 Rod: Hang on there son… I want to show the Speedhunters readers the kind of attack runs that JR was doing on Ryan… check the photo…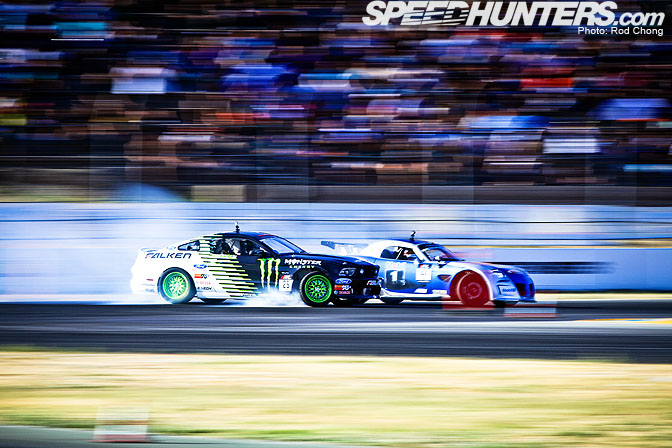 Rod: And now look here… Moments later, JR is literally placing his door right next to Ryan's. And remember this is while decelerating from a near-to-100 mph entry. This shows two things:
1: JR's amazing car control
2: the trust that exists between these two drivers.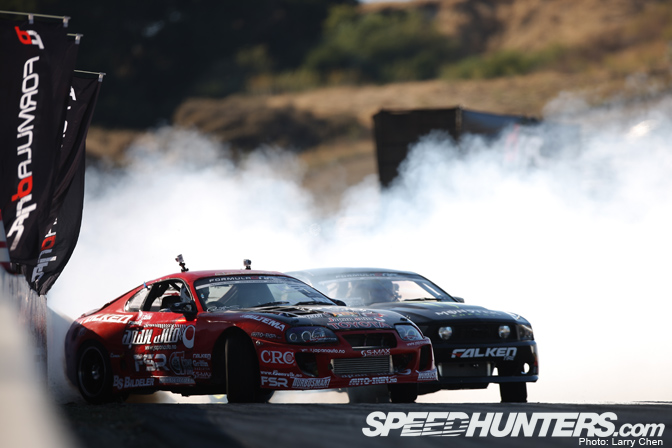 Rod: Sorry had to add a Larry photo to this thread here…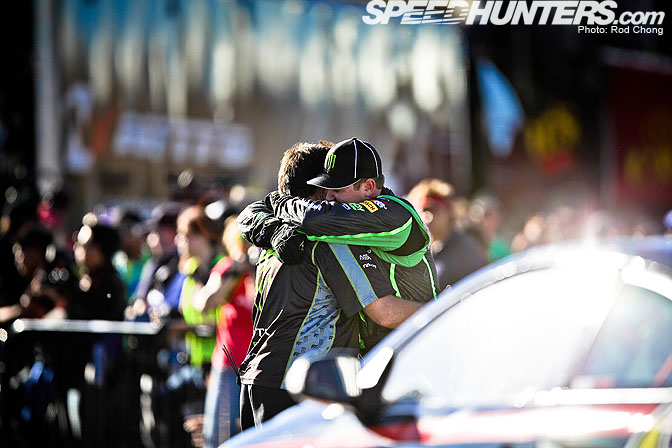 Linhbergh: Sonoma is my least favorite event on the FD calendar, but this year was much more enjoyable than years previous. Maybe it was the fact of how much the driving level has leveled up, or how much these cars have become such rocket ships over the course of a year, or the fact that we media guys have built up such a camaraderie in the media pits that any event becomes such a pleasure to attend. But Sonoma proved to be a great event.
Its hard to believe that Irwindale is right around the corner. My short shorts are shaking with anticipation. 
Rod: that is a disturbing thought bleck… In the meantime though, we have some GT1 cars to shoot.
Larry: I think that Sonoma will be the only stop this year that didn't have any full on wrecks.