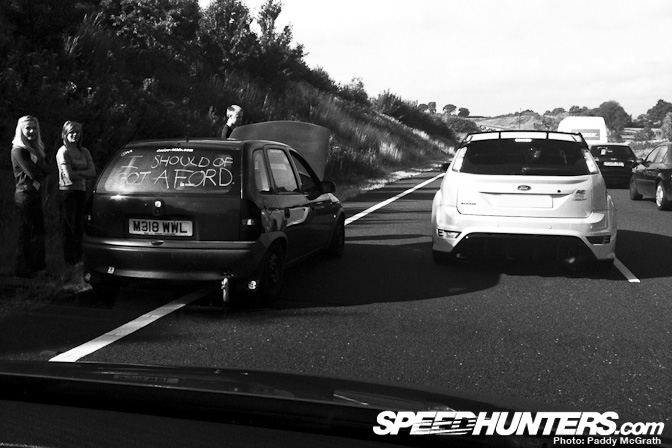 After the positive feedback we received on last months RSOC meet, I took to the road and seas on Saturday morning once again. This time the destination was Silverstone in the Northampton countryside. The event was the annual Ford Fair show, a gathering of some 3,500+ Ford cars from all generations and styles. This was my maiden trip to Ford Fair, a show I had been urged to visit for years previously but never had the chance or means to make it over.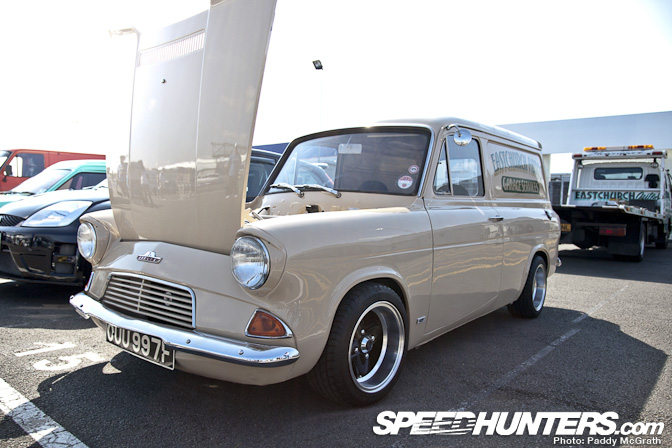 The show is a one day event and being on my todd, I made the decision early Sunday morning to cover what I could as best as I could rather than trying to shoot all 3,500+ cars on exhibit. This Anglia van was one of the first to catch my eye. Clean finish and Pinto powered.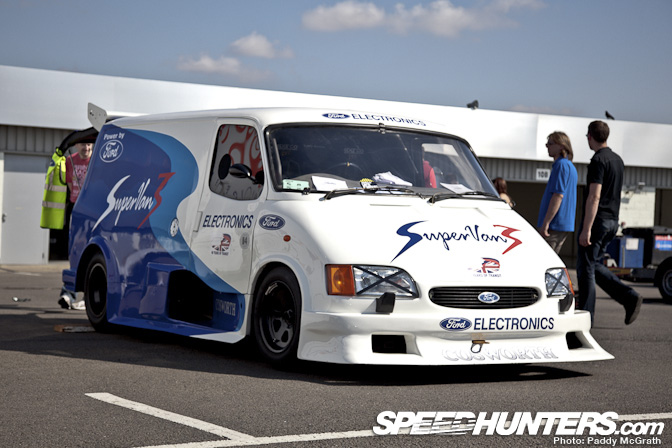 This is surely one of the first times a Transit van has made it onto Speedhunters. However, there is a good reason for it …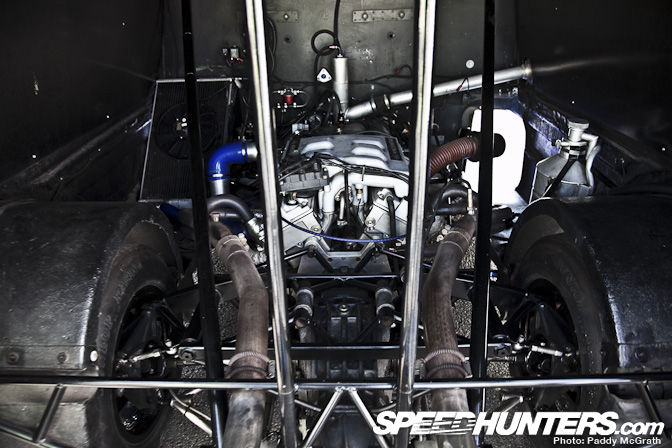 In place of the usual assortment of tradesman's tools was this Cosworth V6. Supervan by name and nature.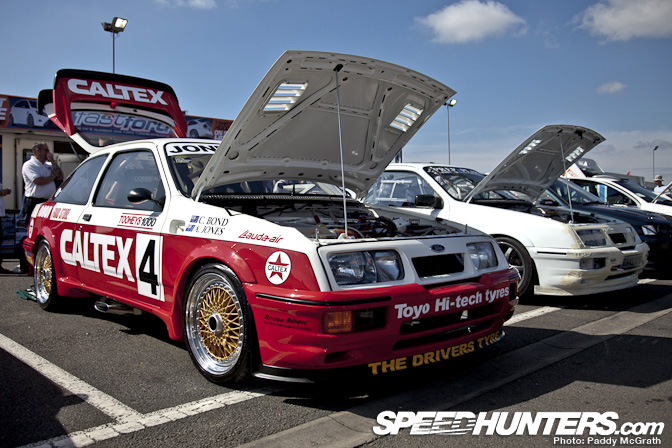 The Fast Ford magazine stand was in the pit area as at one time or another, the cars on the stand were out on track. It's great to see them still being used for what they were intended.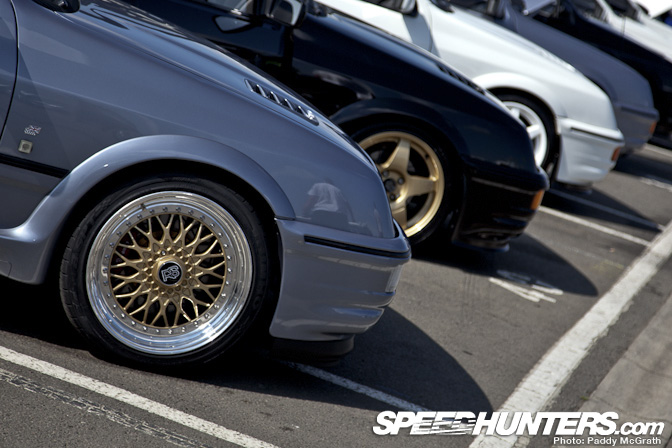 The layout of the show was very good, with most models being grouped together as much as possible. Here is a lineup of Sierra RS Cosworths.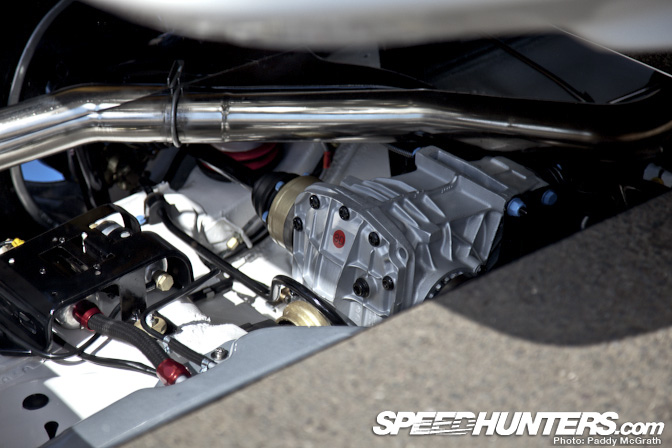 The attention to detail on some of these rebuilds was incredible, I've never seen an undercarraige so clean before !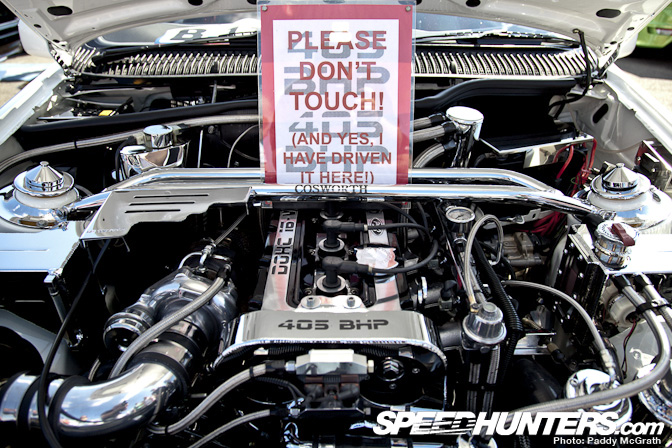 For example check out this Sierra Cosworth in the Concours area.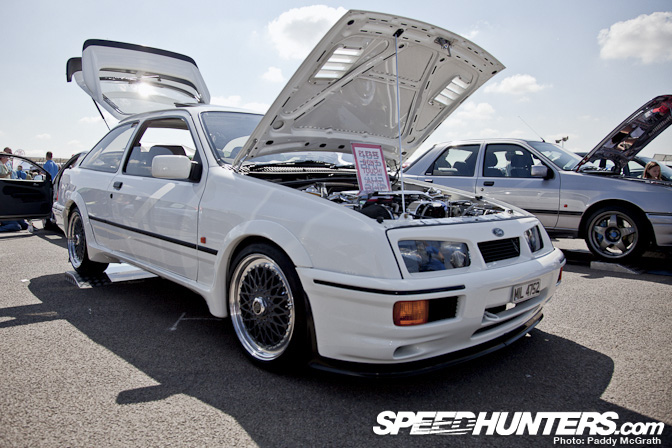 It looked absolutely brand new, inside and out.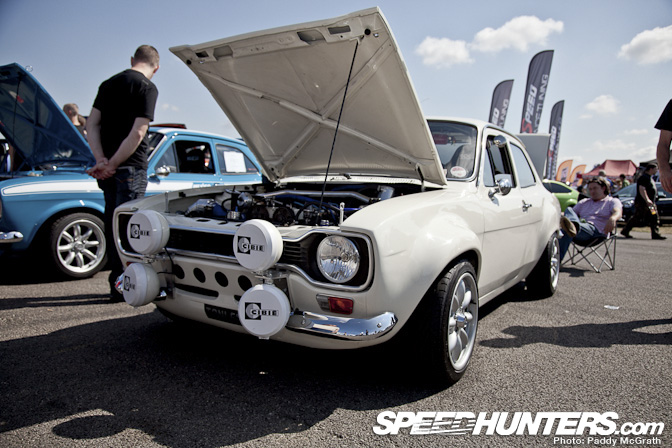 This MKI Escort was YB Cosworth powered.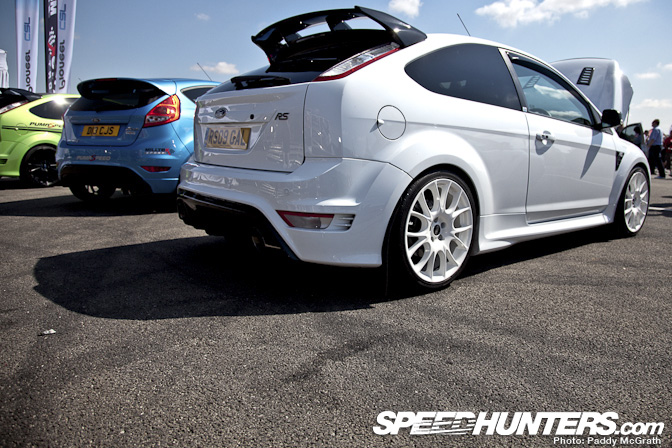 This was one of the first of the new RS Focuses I've seen with aftermarket wheels, in this case a set of white BBSs. I'm looking forward to seeing what some of the established tuning houses manage with this platform.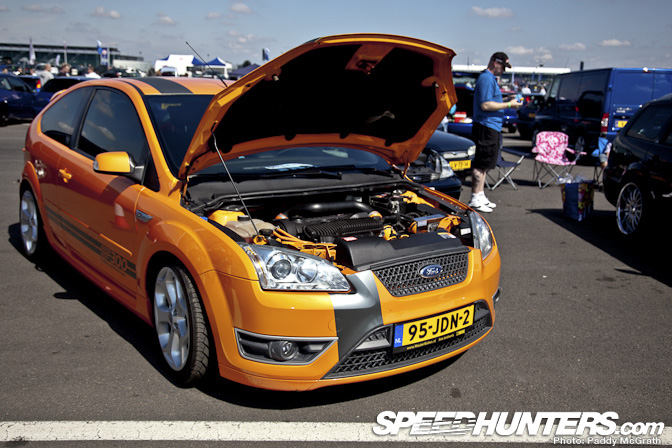 Every UK car show I've attended always has a contingent of Dutch owners in attendance. This suitably orange Focus ST had covered some serious miles to make it to the event.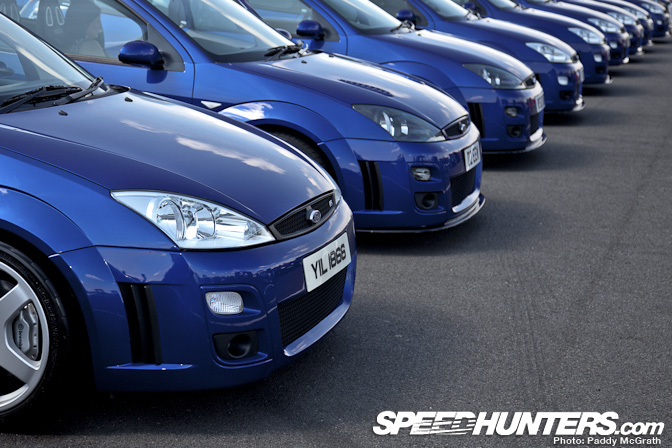 The original Focus RS MKI was very well represented. I love how on first look they all look identical but on closer examination they each have their own little quirks and modifications.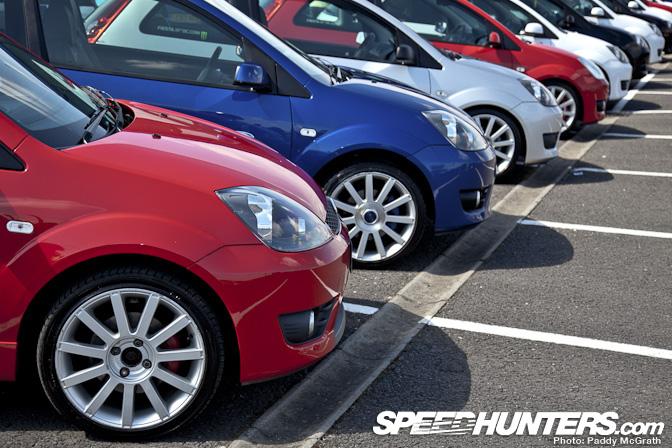 The MKVI Fiesta ST is a popular car with young drivers in the UK. A 2.0 Duratec engine and a capable FWD chassis makes it a great, fun car to drive.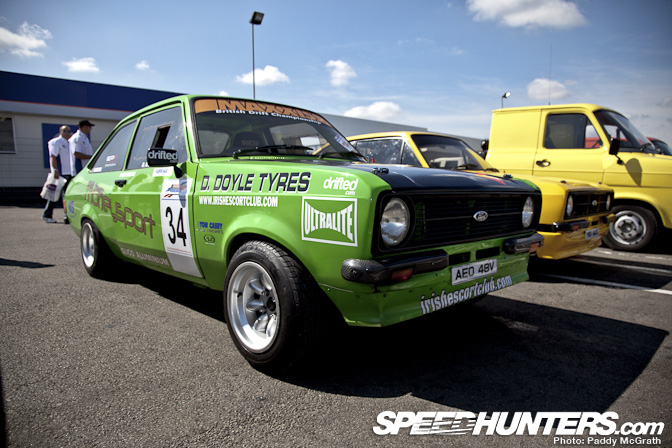 BDC regular Declan Munnelly was present for a demonstration run in his Vauxhall powered MKII Escort.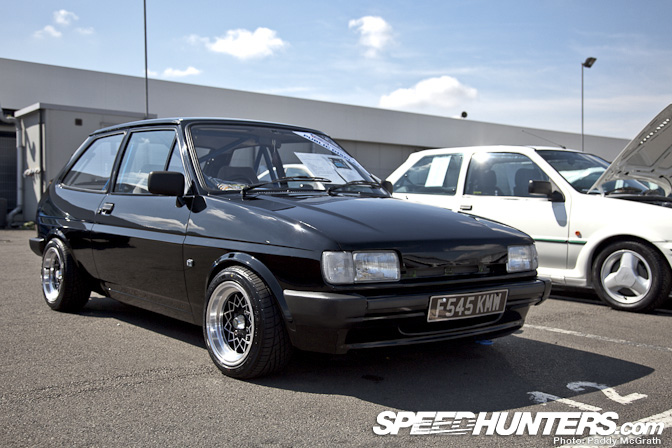 This MKII Fiesta has taken some styling cues from the euroscene.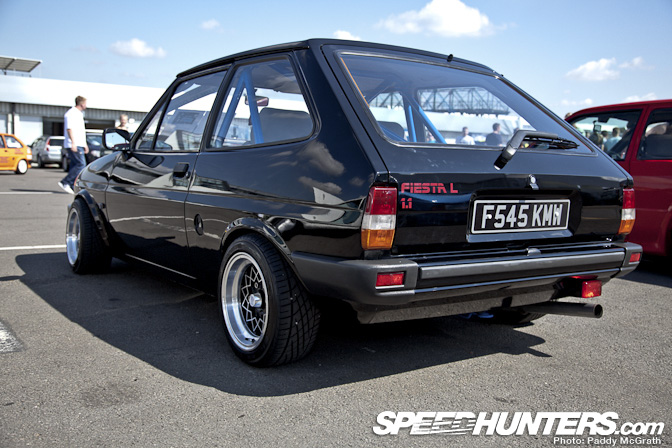 Disregard the badges, this is no 1.1L shopping car. This stripped, slammed and caged Fiesta has a 2.0 Zetec engine under the bonnet.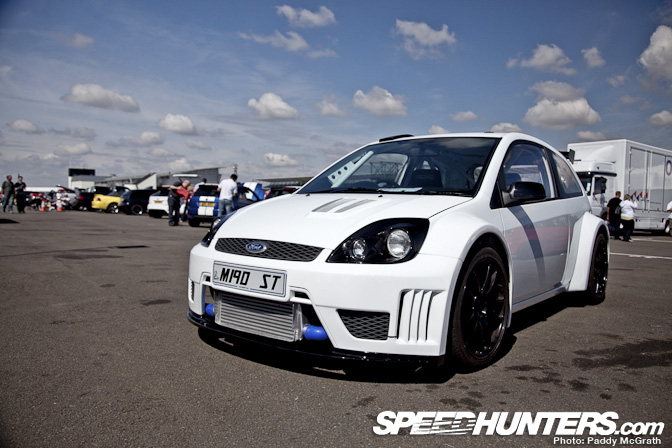 I'll be preparing a spotlight on this ST Fiesta later in the week …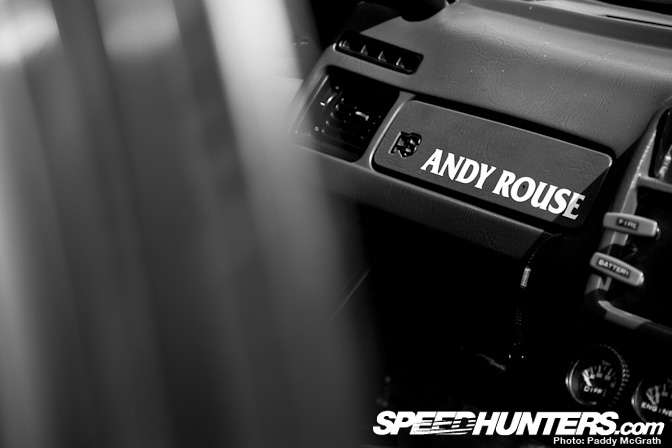 I'll also have a spotlight on a special Ford – The above should be a clue as to what car it is …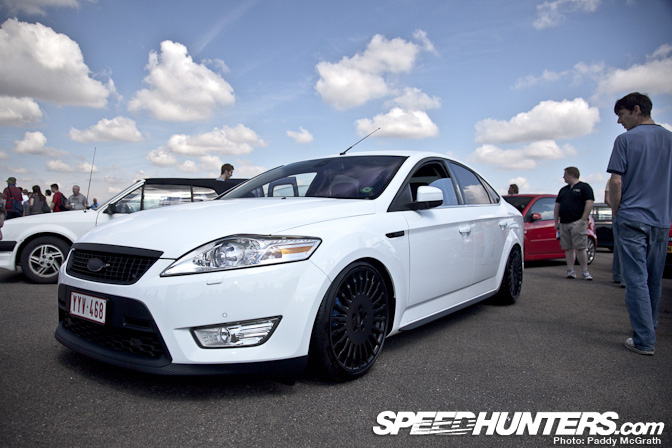 I really liked the look of this new shape Ford Mondeo. An example of how even a mundane everyday car like the Mondeo can be transformed with some appropriate wheels and lowering.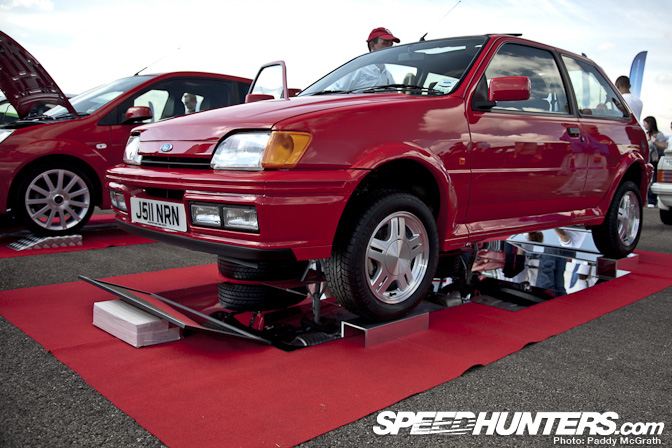 This Fiesta in the concours area was disgustingly clean.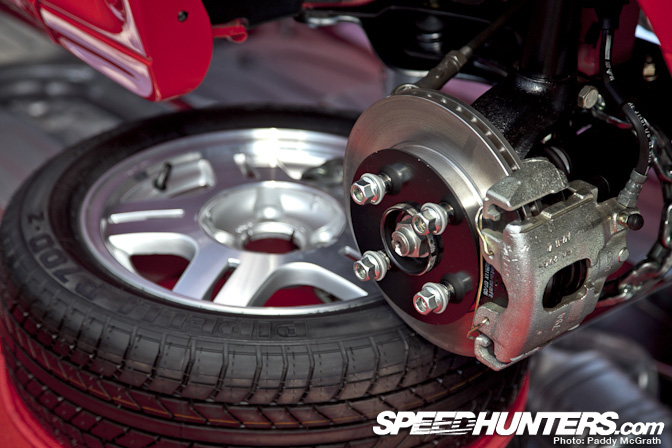 It made me want to go home and clean my van.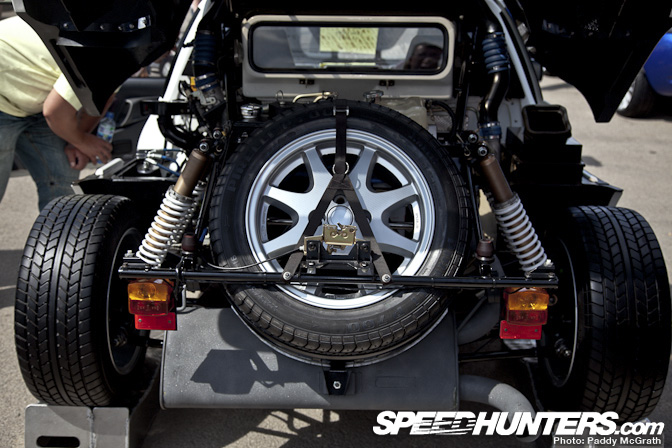 Now this was special …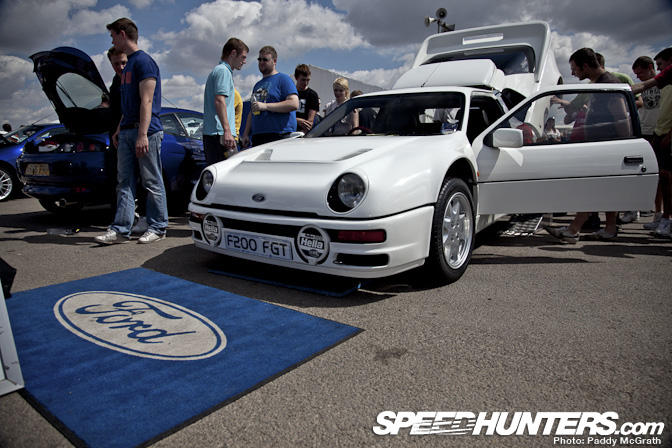 According to the owner, it's the only RS200 that's never been fettled with. It's exactly as it was the day it left the factory. That's it's original paint. Insane. I later heard it had won the best car in the concours category and no surprise either.
I'll be back in the next post with more closeups on some of my favourite cars of show along with a look at the on track action.
Paddy