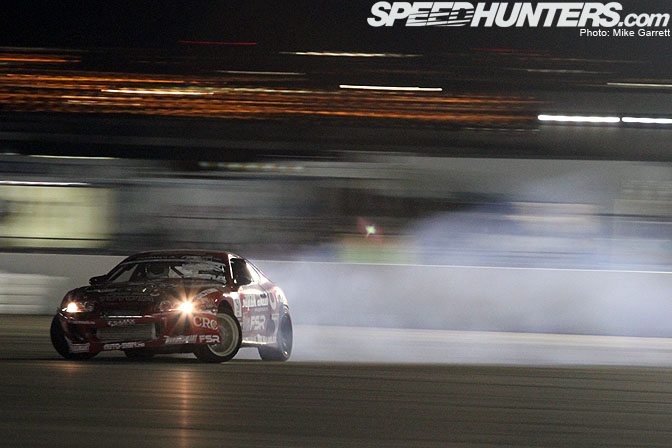 Good morning, Las Vegas.
I just woke up after spending a late night at Las Vegas Motor Speedway for the first day of Formula Drift Rd.5 and wanted to share a bit of the evening's action with you.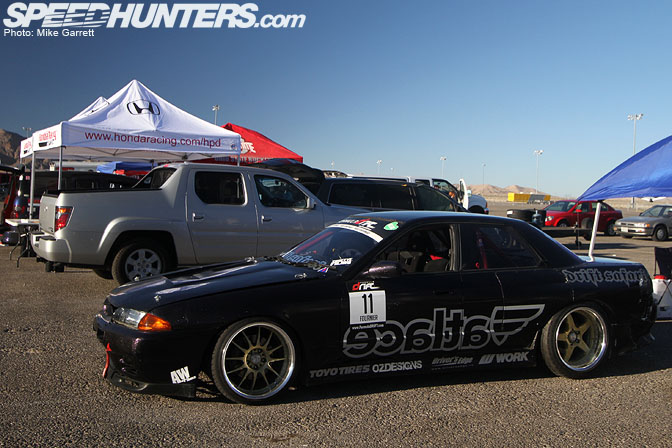 I battled the traffic up Interstate 15 yesterday and arrived at the track in the late afternoon, with the temperature sitting somewhere around 107F. Even hotter if you consider the blacktop…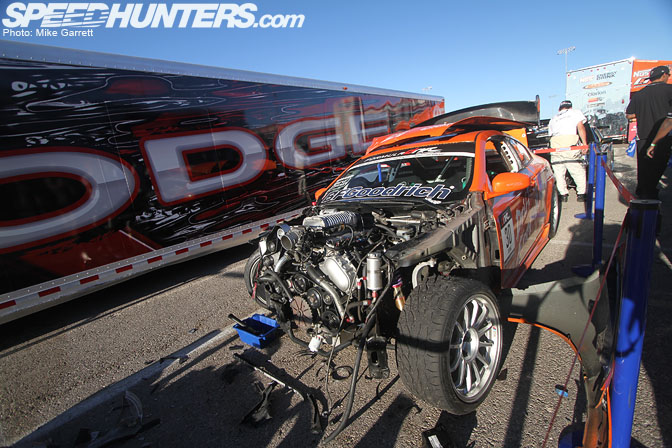 The unforgiving parking lot course had already claimed a few victims before I arrived. This is what Forrest Wang's G35 looked like after a run in with the K-rail.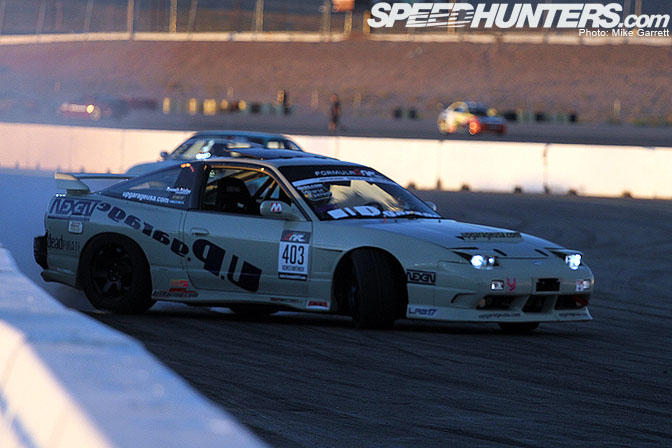 There's very little room for error in Vegas, and you have to give mad respect to thevdrivers who are willing to put it all on the line. Here we see the S13 of Nikolay Konstantinov, who made the trip down from Washington.
As the sun creeped behind the mountains to the west, the conditions became much more pleasant. Still hot, but much more manageable for both man and machine alike. As spectators began to fill the stands, it was time for qualifying.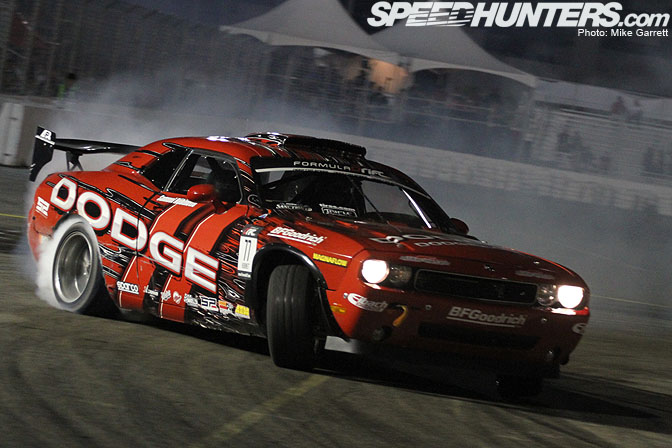 Samuel Hubinette would end up with the day's top qualifying run, a 93.5. A second after I snapped this photo, I got a nice mouth full of roasted BFG…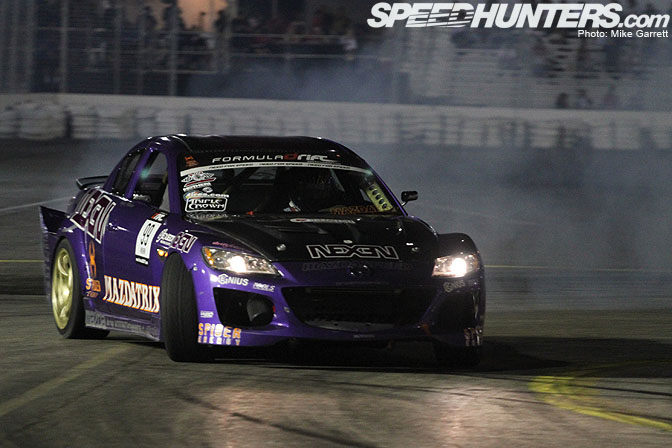 Next up would be Kyle Mohan, who took second with a 91.2. A very strong showing for the Mazdatrix RX8.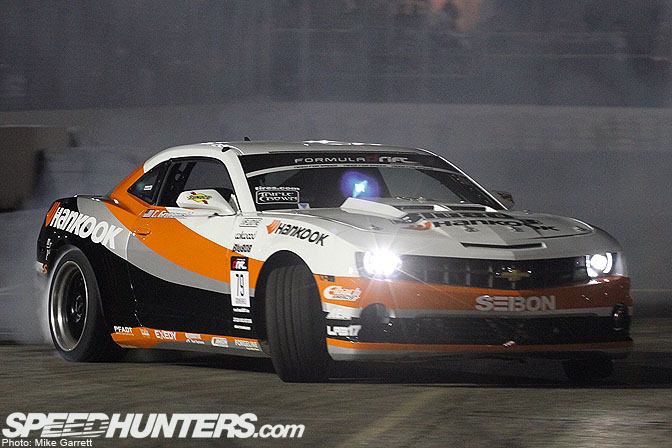 Conrad Grunewald was on fire last night as well, taking the third spot with an 89.4.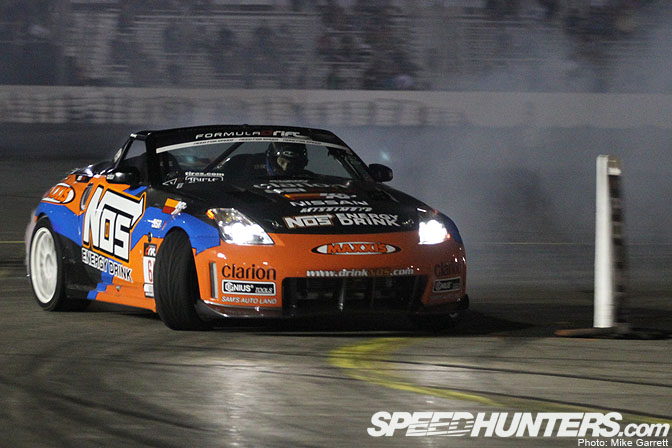 Chris Forsberg's 350Z is sporting a new engine setup for this event, and that extra power most likely helped him on his 88.9 point run – good for the fourth spot.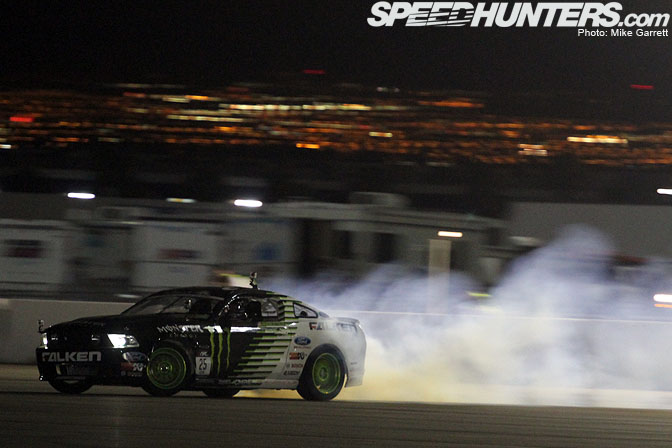 Hoping to defend his first place position in the season standings, Vaughn Gittin Jr. qualified fifth with an 88.2.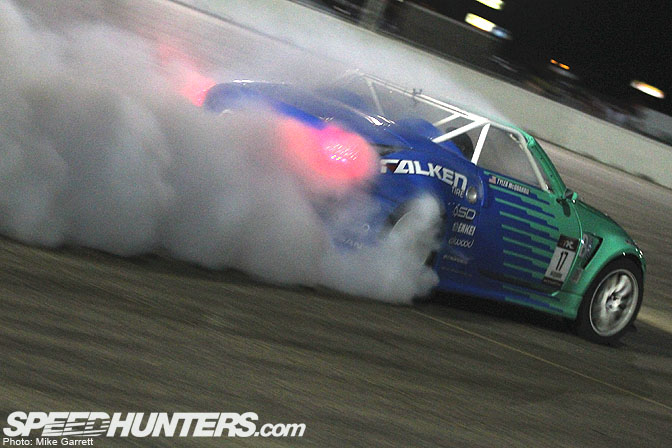 Tyler McQuarrie is still looking for his first podium of the season, and his sixth place 87.1 point run might help him in that category.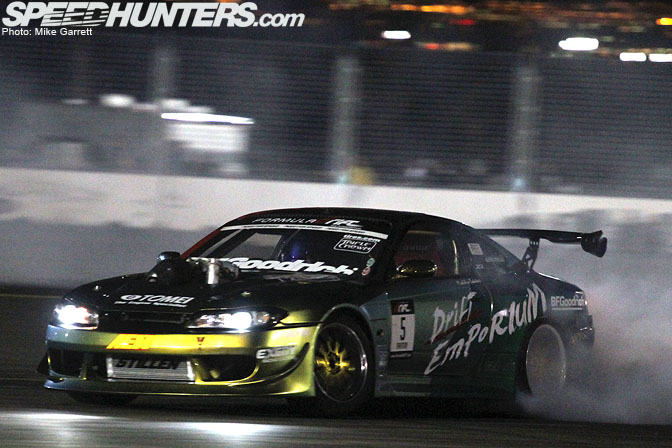 Michihiro Takatori has been driving rather well as of late. He took the seventh spot with an 86.3.
Fellow Japanese countryman Dai Yoshihara finished right behind in eighth with an 86.2.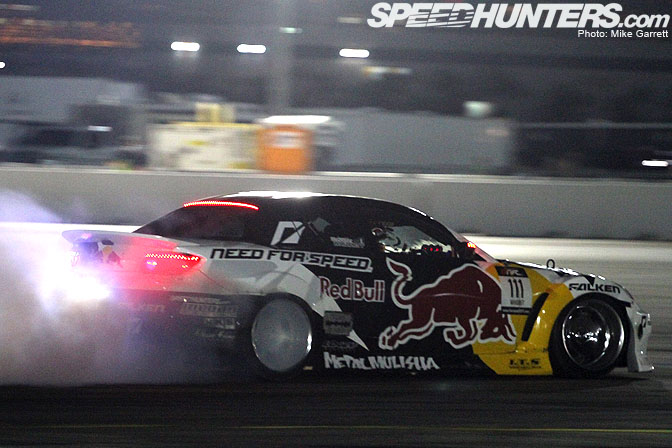 Mad Mike has been getting better and better each event. Last night saw his best qualifying run of the year, an 86 that was good for the ninth spot.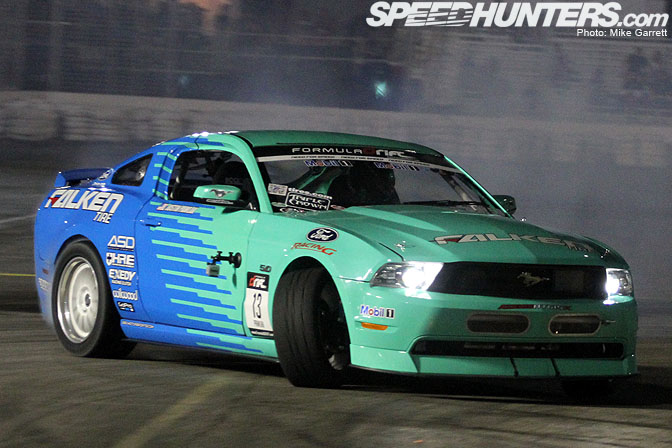 Rounding out the Top 10 is Justin Pawlak, who put his Brostang in tenth with an 83.8.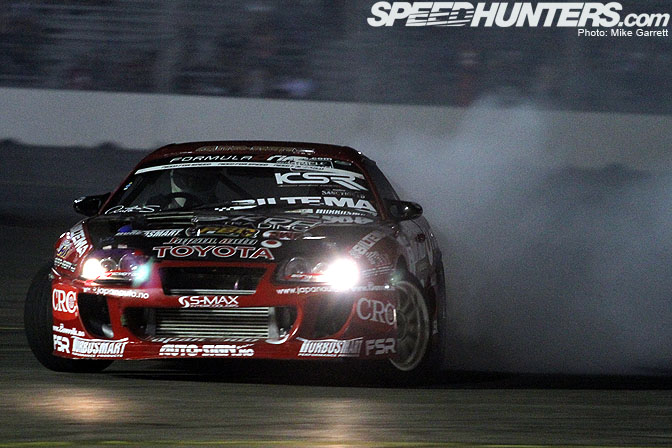 Fredric Aasbo qualified in the 20th spot with a 73.2. Can't wait to see what happens tonight in tandem.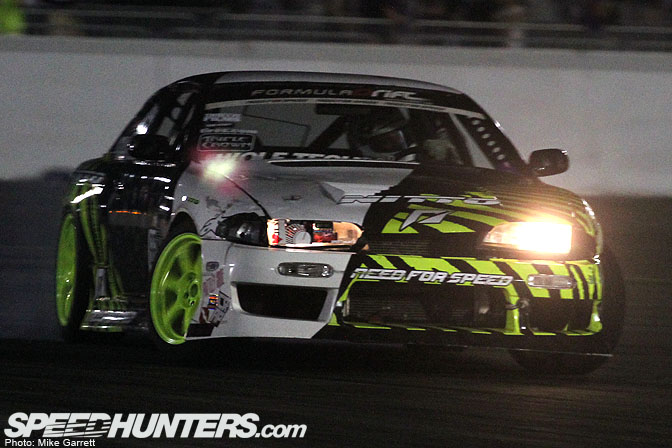 Matt Powers made the show again, with his 71.6 point run putting him in the 23rd spot.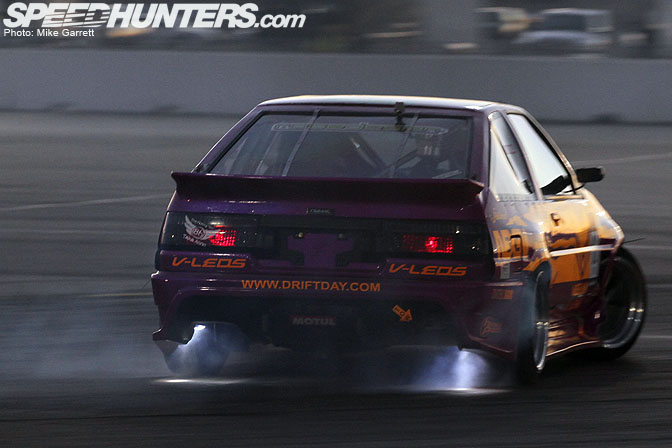 It was great to see Taka Aono and his AE86 back out after the hard hit he took in Seattle. He'll be competing tonight after qualifying in the 25th spot.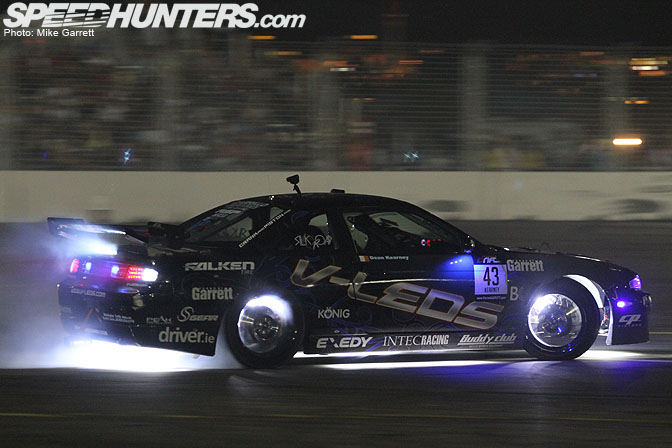 Because most of this event is held after sundown, some of the cars have been turned into rolling light shows – such as the S14 of Dean Kearney. Hey, it is Vegas after all.
OK, time to grab some lunch and get ready for another night of action.
-Mike Garrett