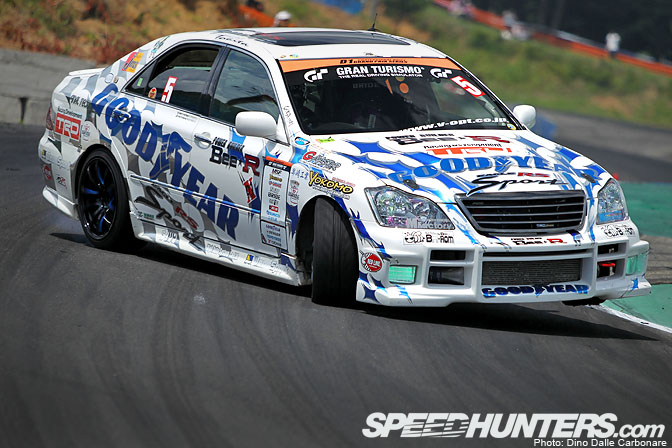 This opening picture of Tokita on two wheels is an indication of just how hard everyone was driving this past weekend at the D1 Grand Prix double round in Ebisu Circuit. Following a couple of crashes on Saturday due to the faster line that was introduced for the day, it was decided to revert back to the regular kink for Sunday's Round 6. This however, didn't really seem to slow many drivers down, as everyone was out to impress the crowds with some on-the-limit drifting.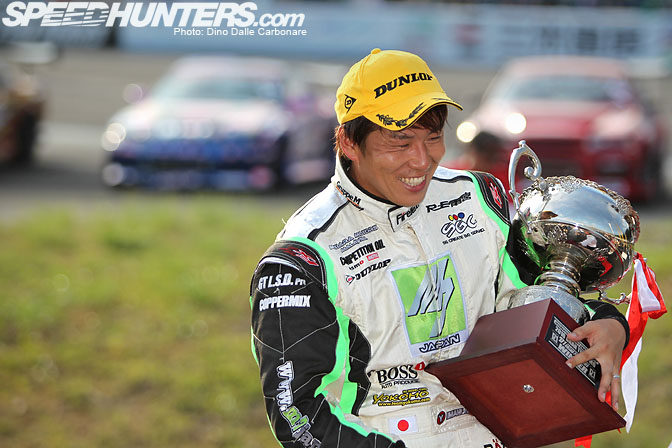 After taking the win on Saturday Hibino was on a high and performed beautifully throughout the Best 16 rounds managing to get into the final. But after a hard fought battle against Imamura he just couldn't manage to keep up with the M7 S15 Silvia. Imamura is going straight for his third championship title in Fuji Speedway with a 31-point lead over Suenaga in second position. M7 Japan has got to be happy with that!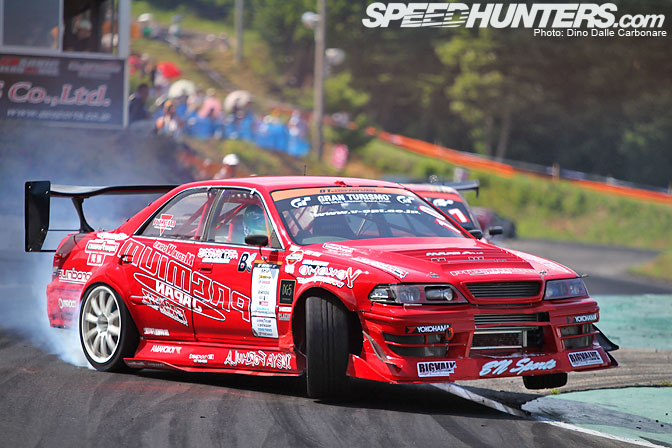 On top of the incredible entries drivers like Saito, Hibino and Nakamura were getting, the most talked about event of the day was without a doubt…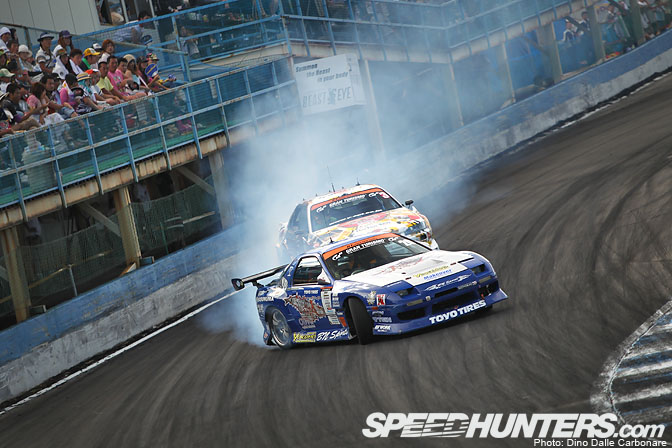 …Nomuken's massive crash in the Best 16 round during his run against the Drift Samurai. A split second after this shot his Blitz ER34 suddenly straightened up and headed straight for the tire-wall.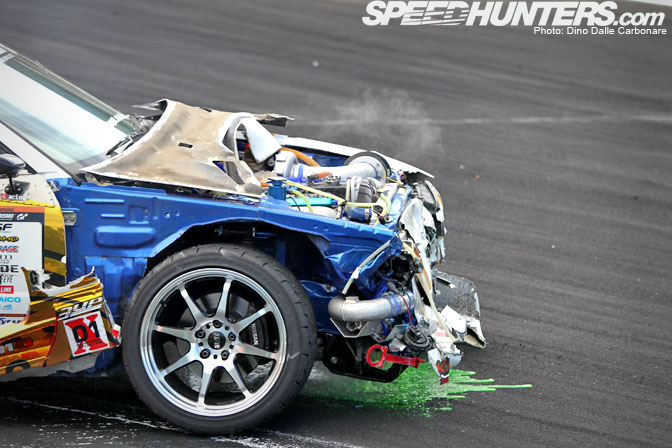 This is what the front of the Skyline looked like 2-seconds later.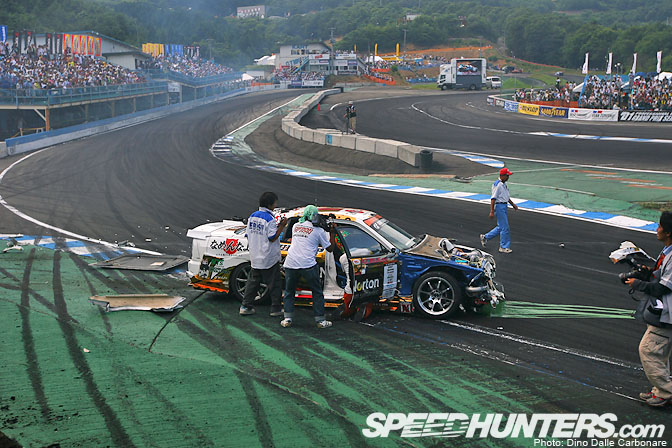 You can see the straight tire marks he left behind in the far left of the frame as he locked both front wheels. I literally saw his helmet hit the steering wheel hard upon impact. It was a very hard hit.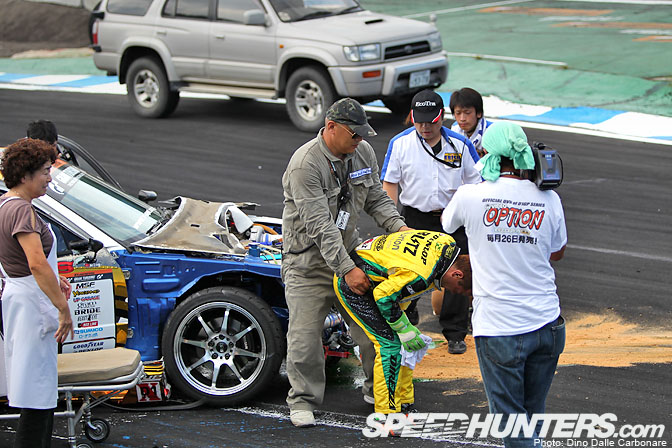 It took a while for the medical assistance to arrive and get the dazed Nomuken out from the drivers seat. He immediately began stumbling towards the judges to give them an apologetic bow! He was then placed on a stretcher and taken to the makeshift medical area in one of the Minami pit buildings. It was good to see that he wasn't severely hurt, as there were a couple of minutes of silence after the impact where everyone was wondering if it was serious or not.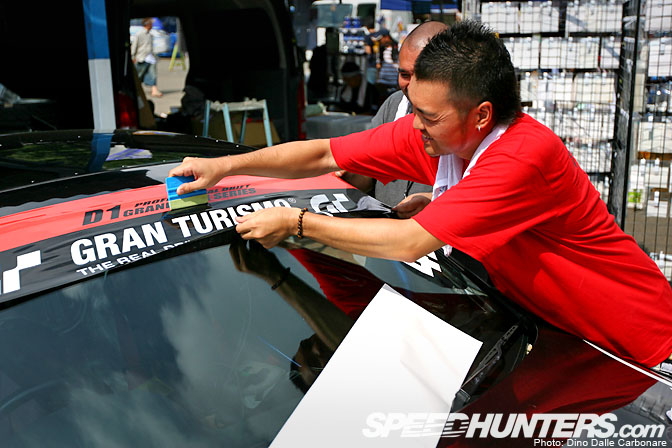 Robert Nishinda was on a roll for Round 6 putting down two very solid and aggressive runs during the morning qualifying, allowing him to get into the Best 16. Here he is putting the sponsor banner on his Soarer a few minutes before the afternoon action got under way!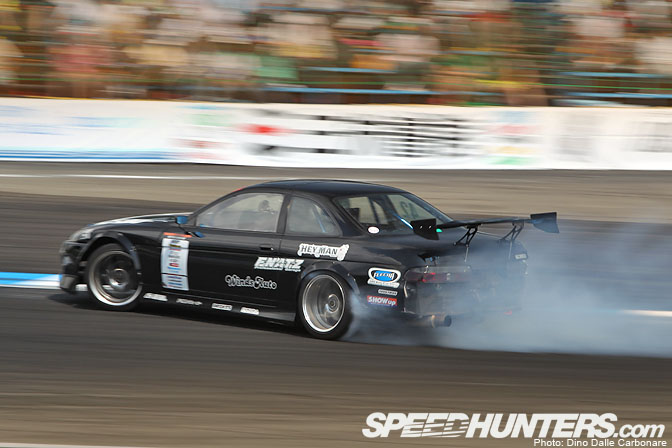 His style was very much like Saito's, lots of angle, lots of throttle and tons of speed. Unfortunately he met Hibino right at the start and was unable to keep the crazy AE86 driver from moving into the Best 8. Better luck next time Robbie!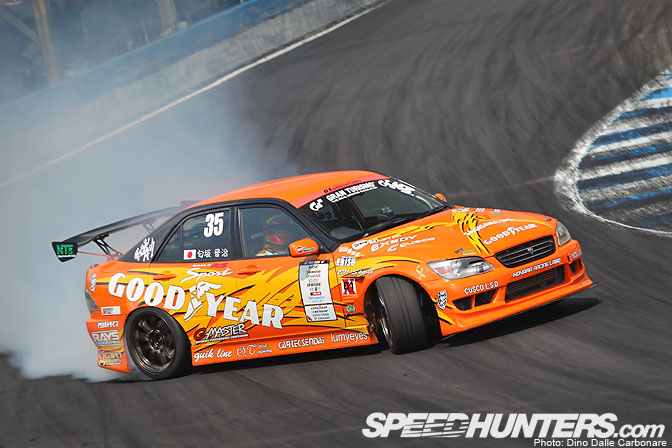 I think it would be a pity not to show some of the cars that didn't make it into the tsuiso runs like Sagisaka's super-clean 2JZ powered Altezza…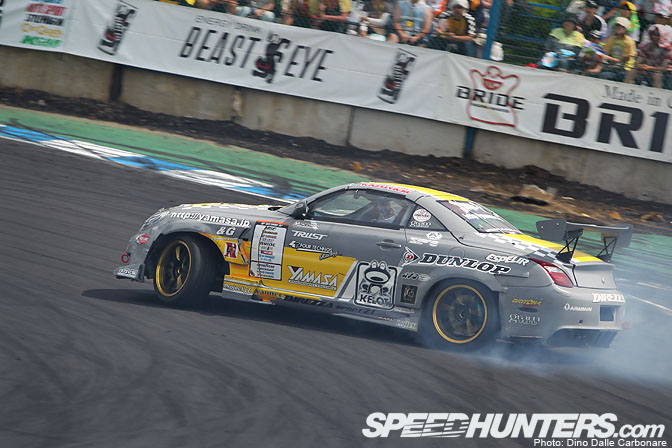 …and Matsukawa's SC430.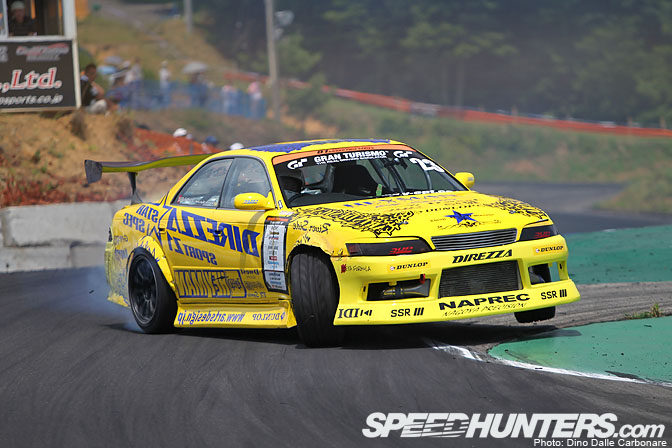 Two wheels in the air!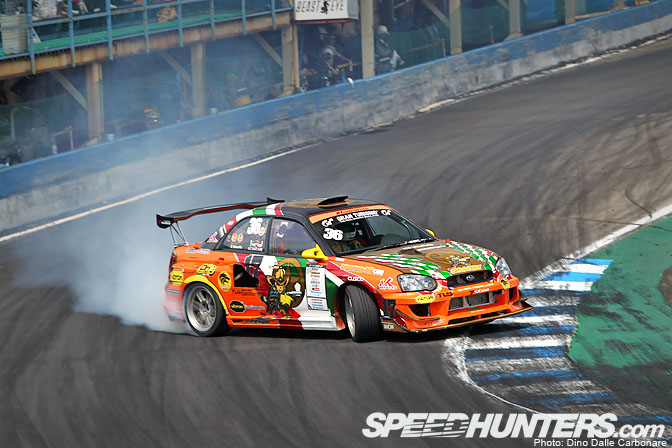 Federico was happy he had been progressively improving throughout the weekend and is already looking forward to coming back to Japan for the final D1 round in Fuji Speedway in October.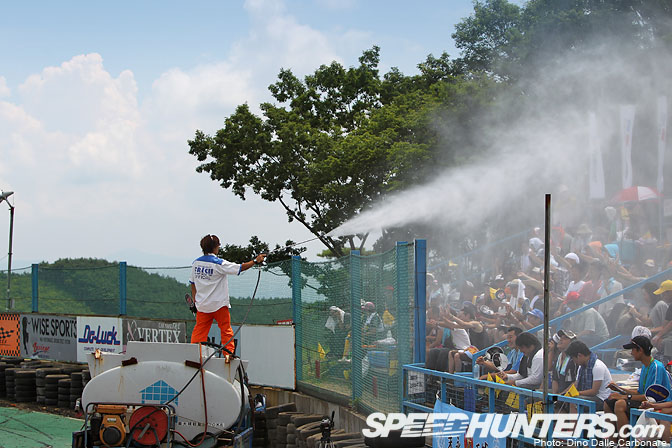 Ebisu circuit on-track cooling service! It was even hotter on Sunday and crowds were literally baking under the sun.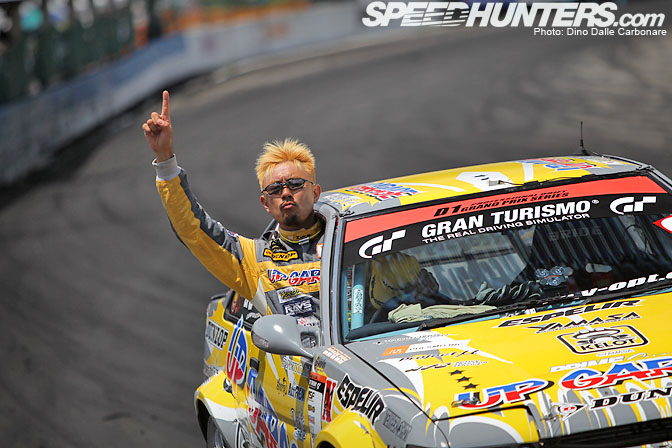 Hibino putting on his war face!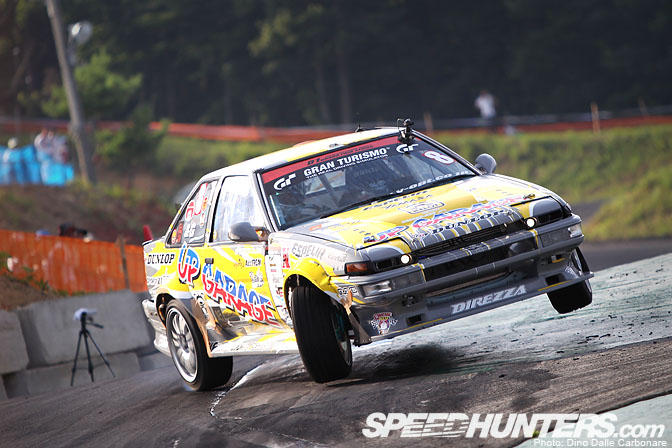 Combine a light car and silly speeds and this is what you get, 4-wheels in the air! He did this twice during the Best 16 and since we were finally able to shoot from inside the pits I was able to sometimes catch the cars in the air. It's absolutely crazy seeing this stuff 30 feet away from you!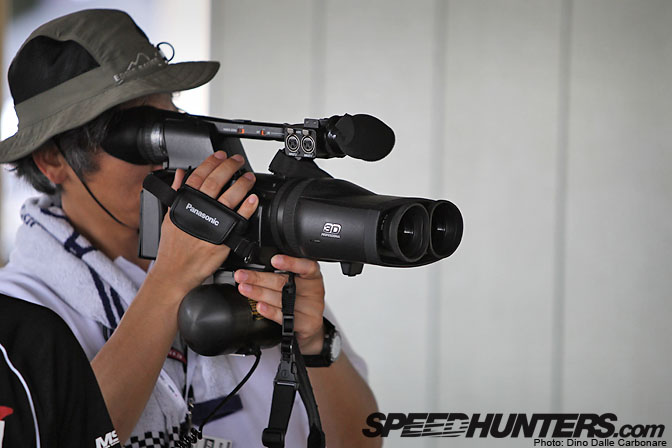 It looked like the Video Option guys were experimenting with 3D cameras during Round 6. I spotted this cameraman filming the cars as they lined up in the pits…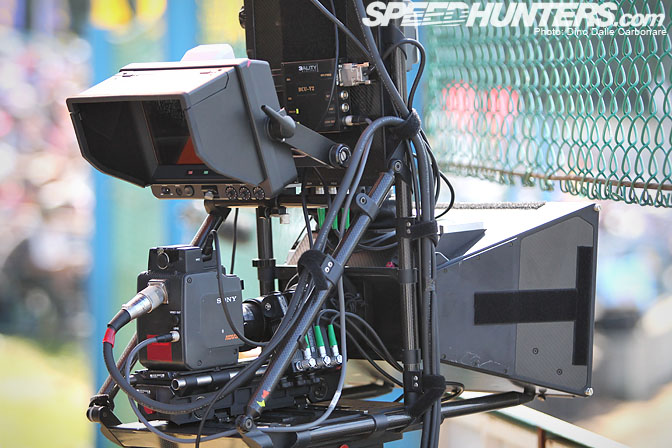 …as well as this monstrosity filming from the main judged corner. An interesting set-up made up of two cameras filming through a periscope-like layout. I'm pretty sure the operator caught Nomuken's crash perfectly as it happened right in front of the camera! Can't wait to see what the 3D action will look like. Maybe next month's Video Option DVD will include 3D glasses!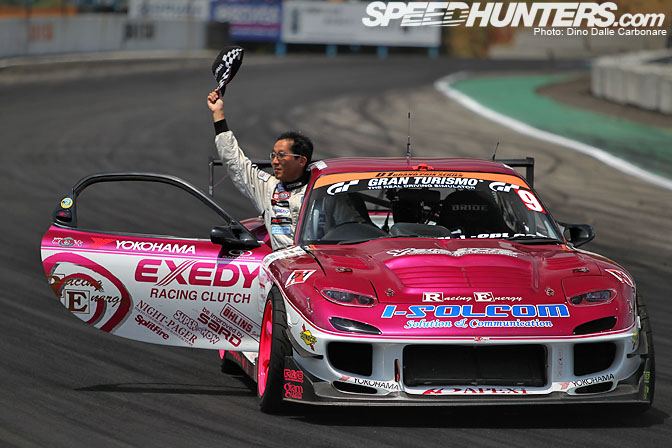 R-magic driver Takayama has been working hard to extract more performance out of his FD and has really been doing much better at recent rounds.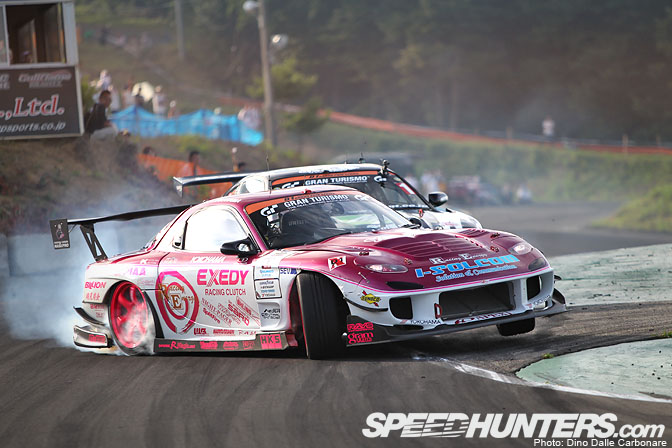 I was really surprised just how much his rear suspension compressed in this shot! Talk about pushing over the limit!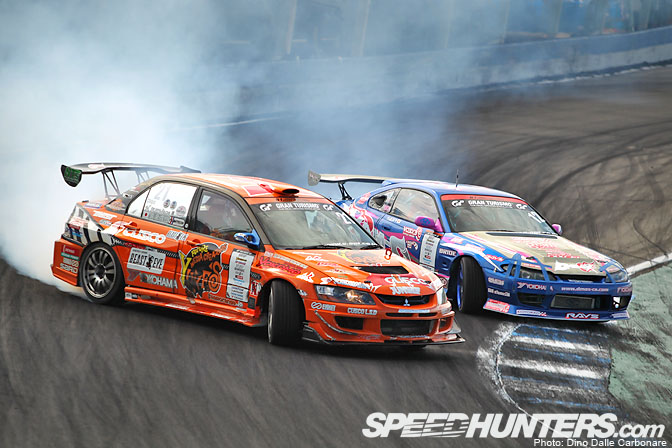 Naoto Suenaga showed everyone just how consistent he is this past weekend. After his epic battle against Saito the previous day in Round 5 he ended up qualifying again for the Best 16 and going up against Nakamura in his first battle. These guys went at it so hard it was impossible to pick a winner and the judges ended up calling "one more time" three times! Nakamura had to bow out to Suenaga as he moved into the Best 8 where he then beat his brother in the RE-Amemiya FD! Unfortunately he was unable to better Hibino's performance in the semi-final. Still, thumbs up for a great show!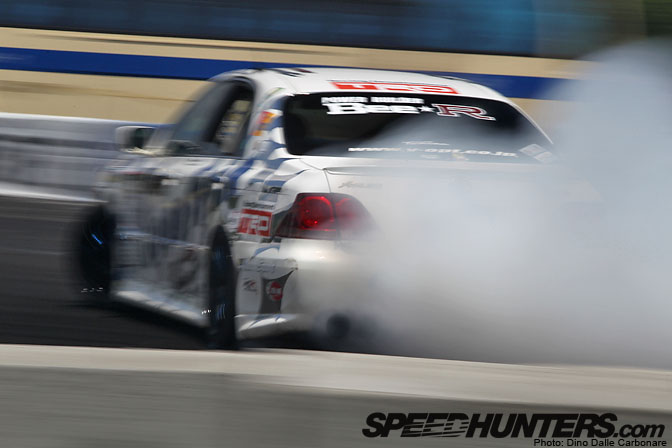 Tokita's smoke machine.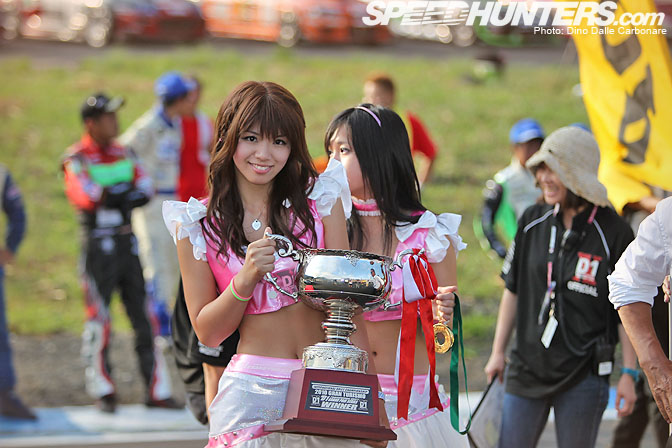 One of the D1 image girls holding Imamura's first place trophy.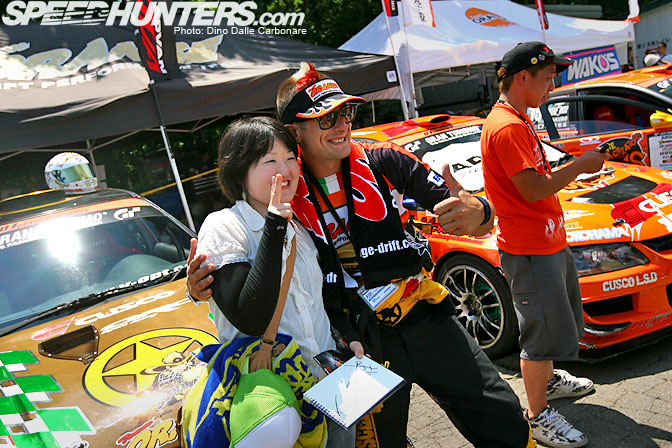 Federico "The Sheriff" doing his bit with the fans!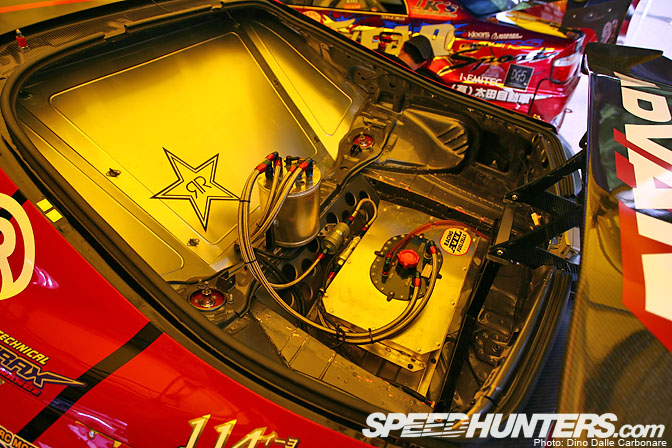 A look into the back of Orido's Supra.  ATL fuel cell and a custom collector tank….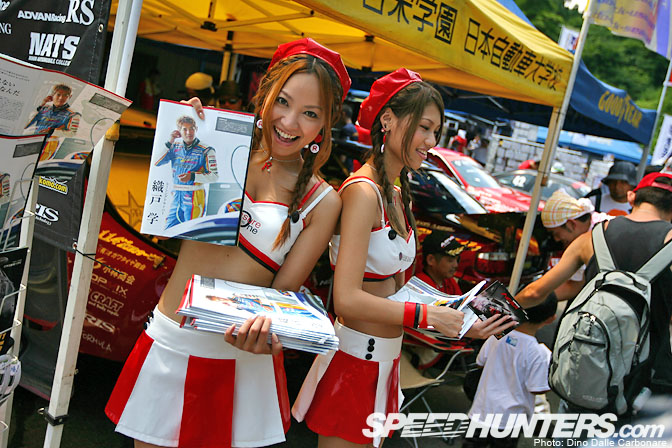 …but I was more interested in the "PR side" of his team!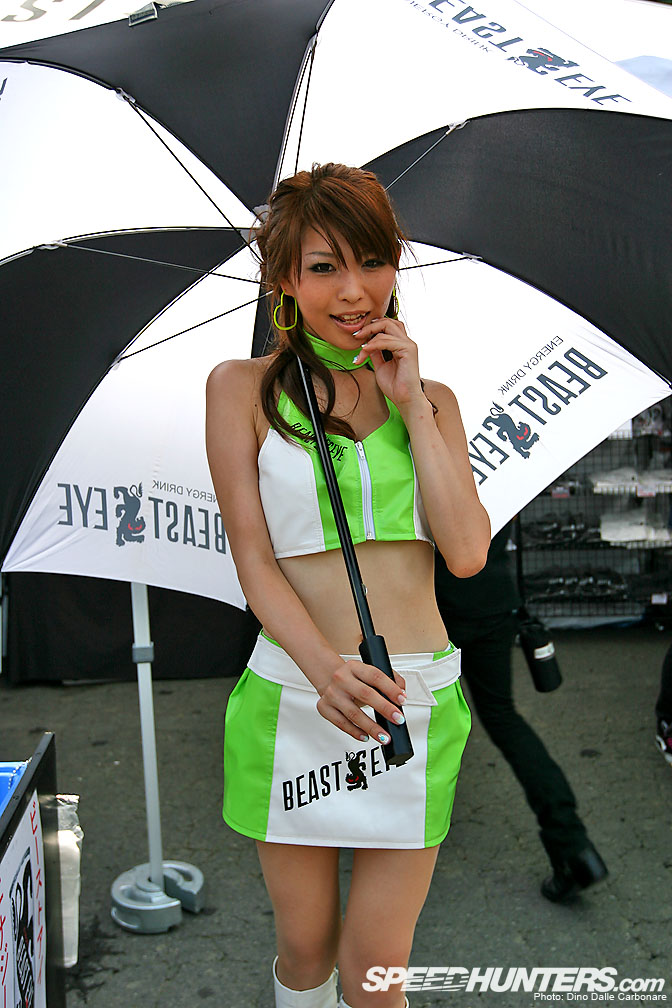 It's just so easy to get distracted in the pits at D1 events sometimes.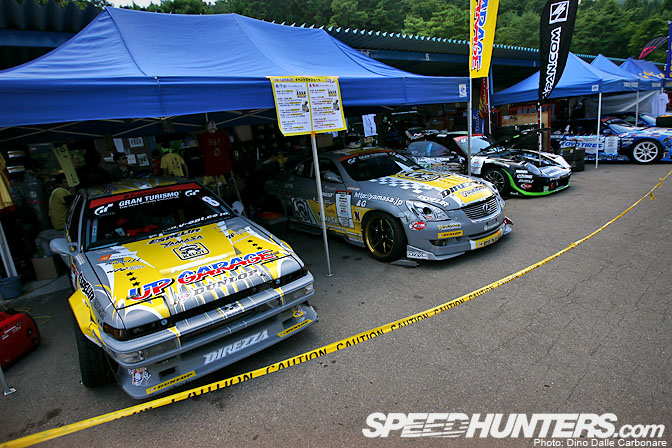 I've got a second collection of shots coming up from Round 6, including more action, jumps and additional behind the scenes footage. Stay tuned!
-Dino Dalle Carbonare