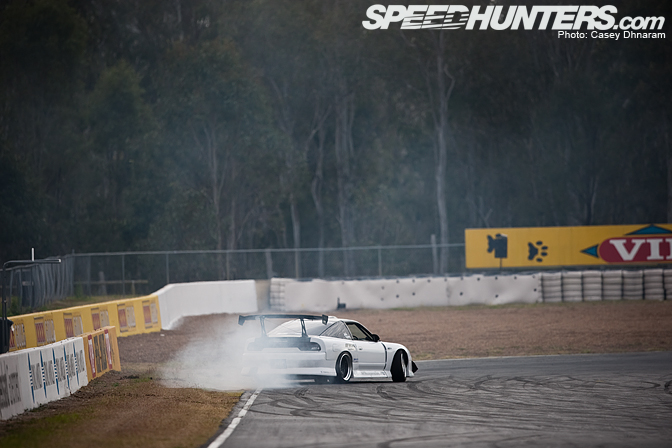 Drifting events are increasing by the month in Brisbane, Steve's
monthly drift sessions are by far a favorite of mine to shoot. Waking
up at 5:30AM on a dark, freezing winter day is a breeze when you have
mornings like this ahead of you!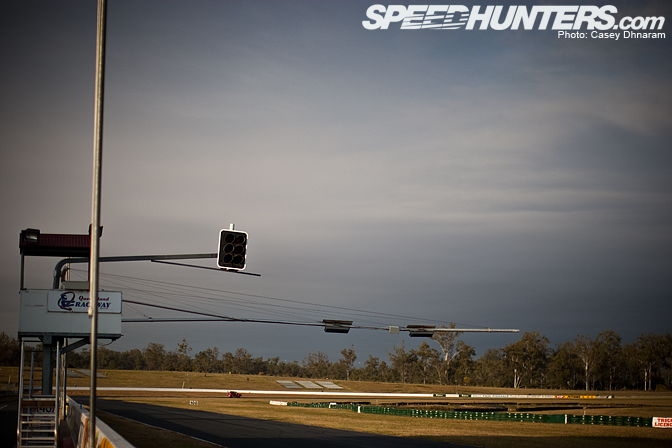 The predicted forecast was for heavy rain throughout the day, that is definitely what it seemed to look like when I first arrived at the track, however this didn't seem to affect the number of drivers that had turned up!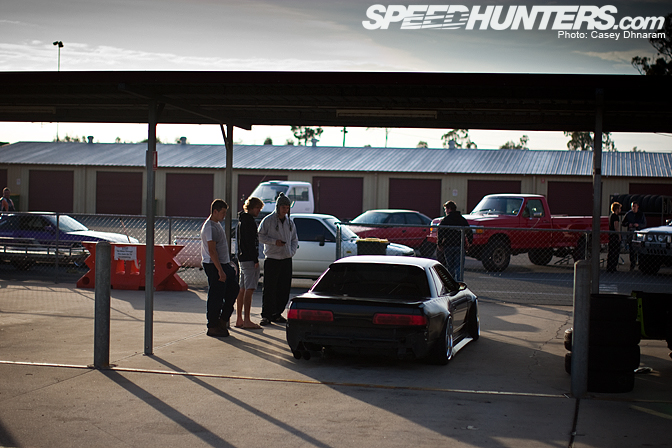 Observing the pits it seemed to be a huge turnout, with only 3 spots left over from the day.
Here is Todd's S13 awaiting to hit the track… Still without a rear bumper.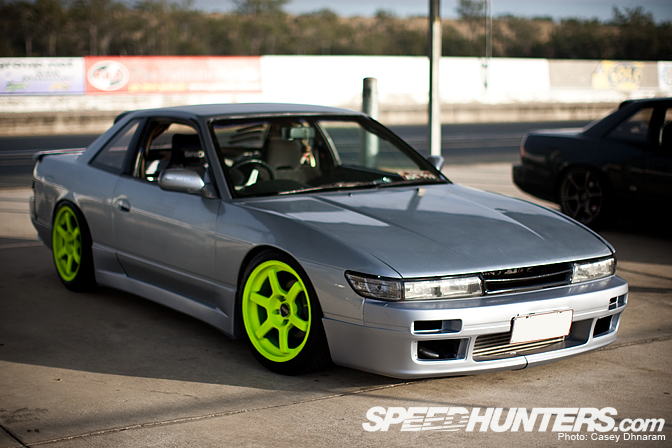 Hughsey's S13 also looking very stylish in the pits, with a new choice of rim color too!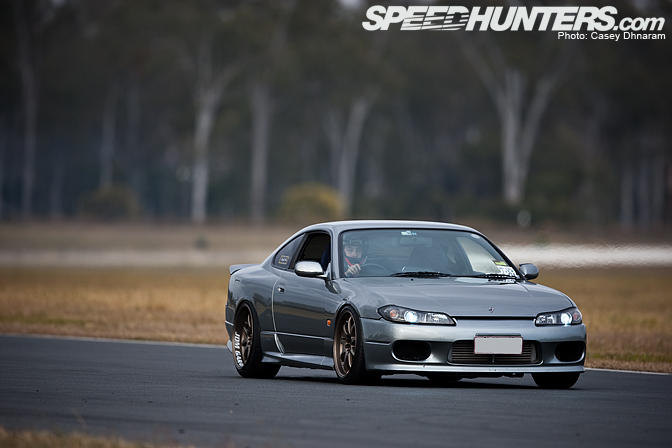 Zac was one of the first to hit the track, lining up well before the start line to gain more speed for the entry. The car was looking very clean.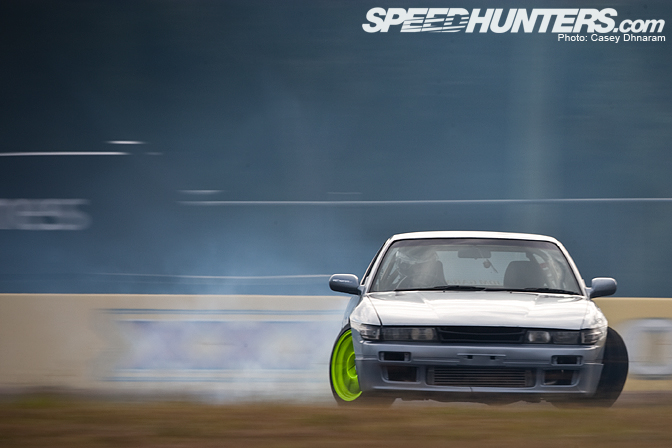 This photo was taken a couple of laps prior to Hughsey's accident. Hughsey and Lachlan's accident caused the drift day to a pause which brought all the drivers together for a second briefing on safety.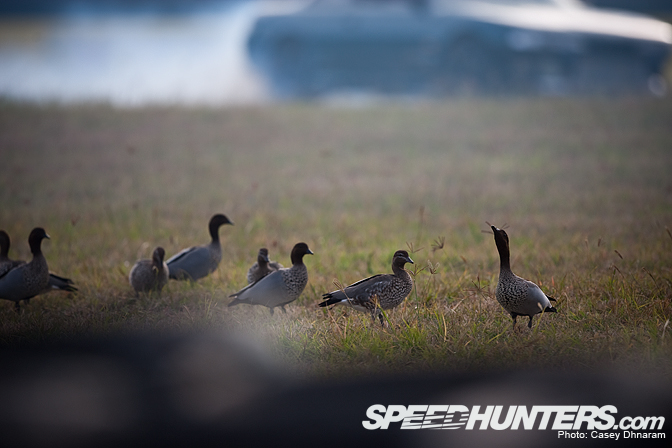 Despite all the noise, the ducks didn't seem to mind.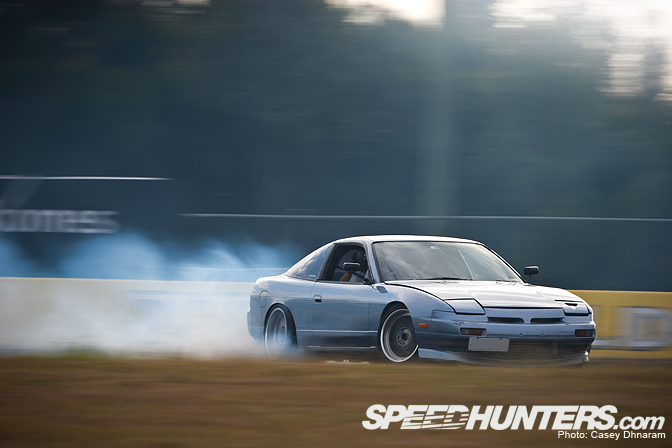 JDM Garage are one of the companies that style their cars in a respectable manner.
This is Glen's 180SX… it was his first time out this year after blowing his previous SR20. But he was back out in force with a rebuilt motor which didn't take him long to get used to!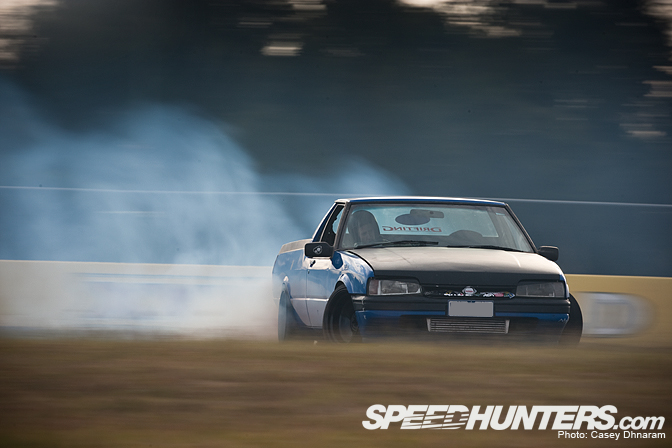 Recently moving up from Melbourne, Victoria, is John and his Ford ute. I have to say its always a pleasure speaking with John, he has such a friendly personality and is very easy to get along with! The car is just shy of 300 rw/kw, it would be a handful to drive.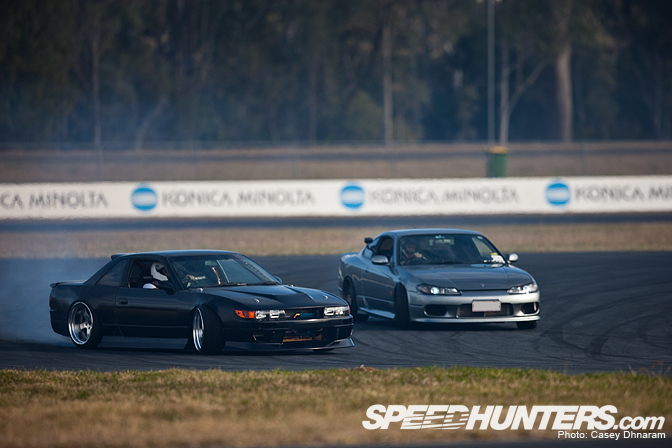 Oh… the housemates! Back in force.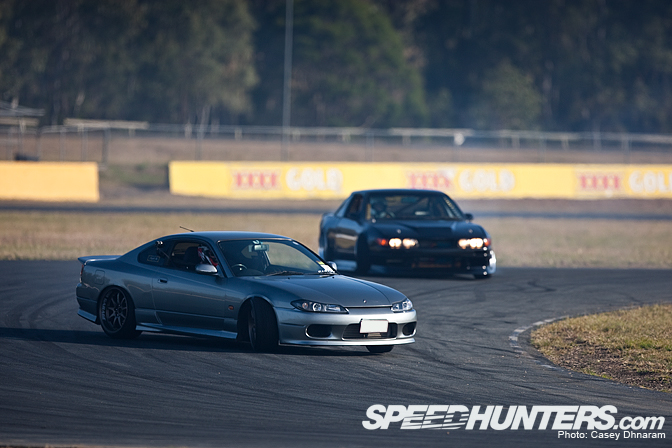 …Zac's turn…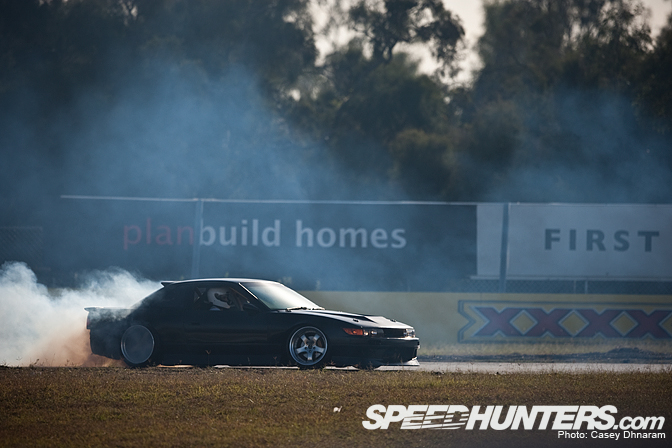 …then Todd again.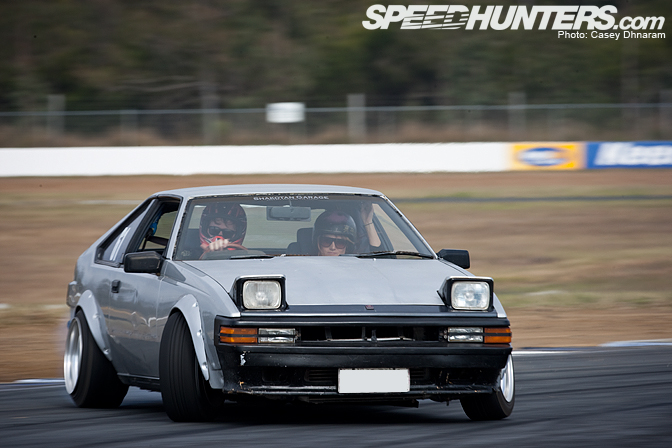 A car that really caught my eye over the day was John's Celica/Supra. It was running massive wheels front and rear!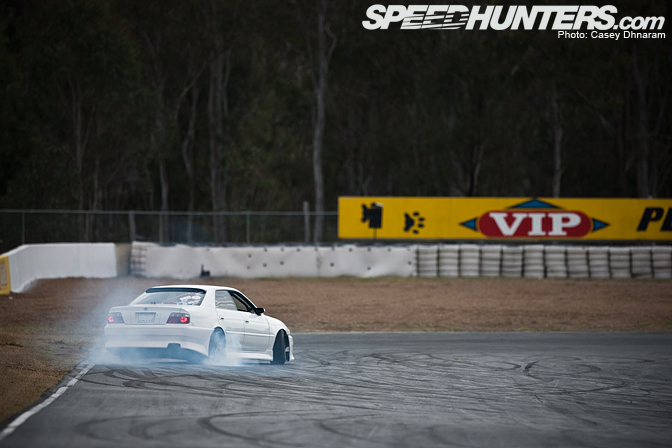 Kyrin with his JZX100 looked super hot entering down into turn 3. The car has a new and improved motor pushing 307 rw/kw.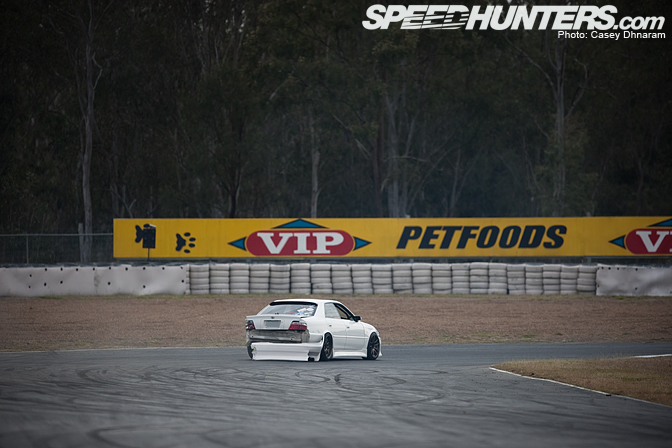 Unfortunately, he pushed a little too much. Kyrin clipped the wall on his next run. Luckily the chassis has not been bent and the car is repairable. Shortly after taking it into the pits and removing the rear bar, he didn't hesitate to get back out there and give it another go!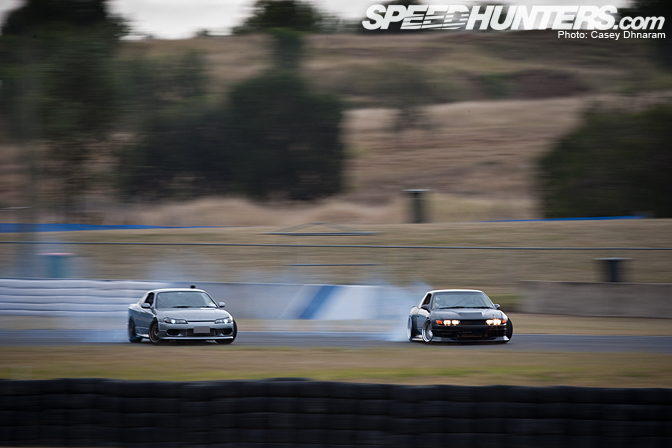 Everywhere I looked, these guys would seem to pop up.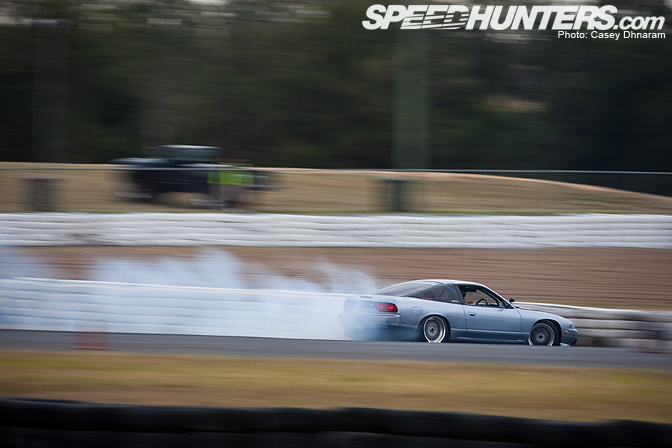 Glenny entering the crossover, such a beautiful 180SX.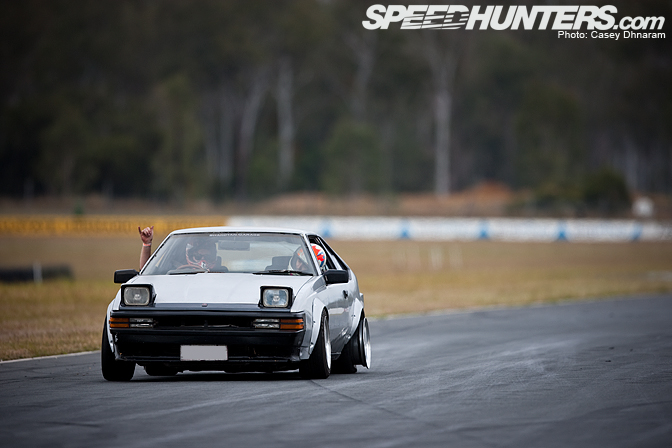 Here's John rolling down the back straight with the tire off the rear rim.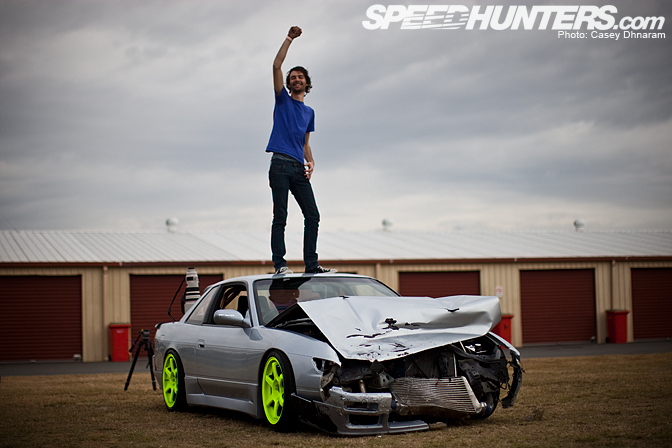 Crashing at 70km/ph approximately resulted in this. Walking away with a sore neck and a swollen knee. It's a miracle the boys weren't majorly injured.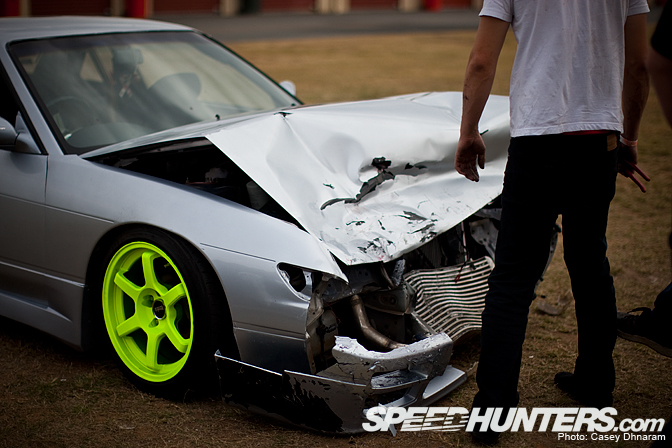 … A closer look.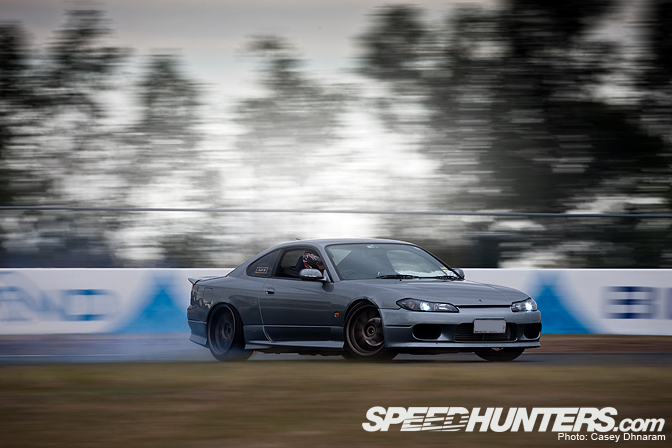 Zac's new DMAX rear wing just finishes off this S15. It's always a pleasure shooting Zac's car.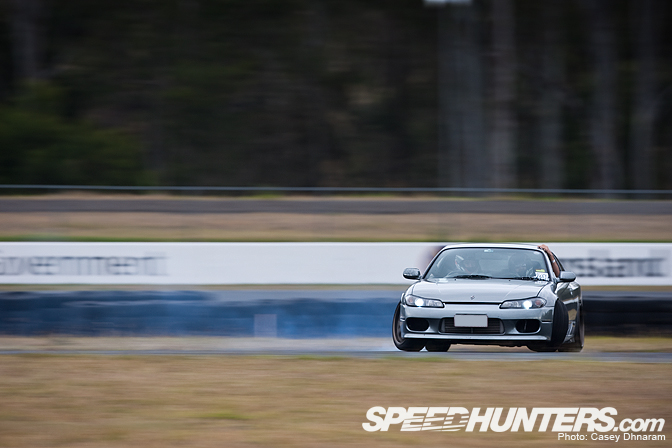 Speaking with Zac a day before the event, explaining to me how he has lowered the car. Later that night, the chassis managed to shave down the entire loom which led to all the lights on the car. Luckily, Zac managed to get from his house to the city the night before the event without getting pulled over by police.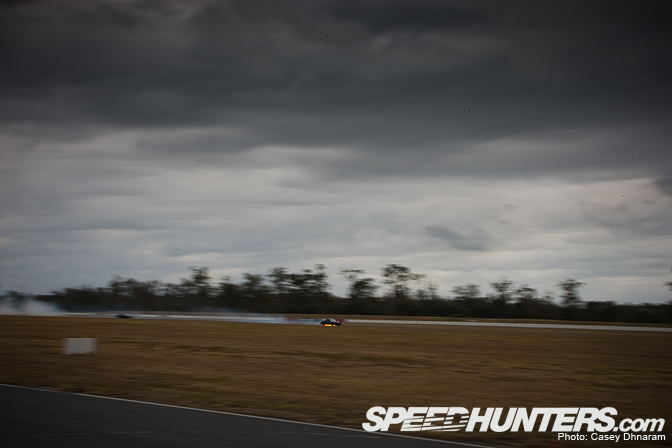 With all the carnage in the morning, things just weren't looking any better for this street 180SX catching fire down the back straight, luckily they put the fire out and no one was injured.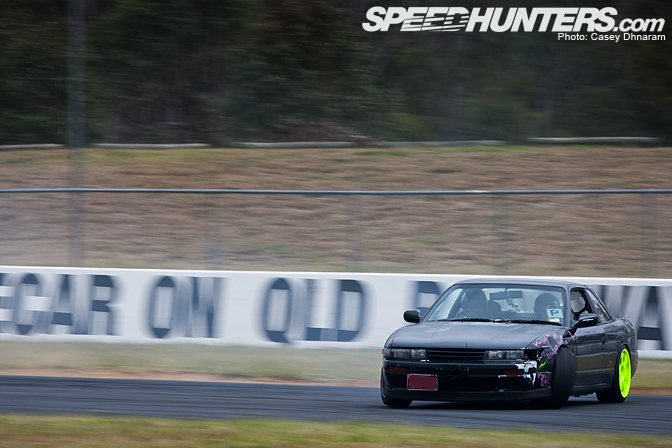 Here is Morgan Downling in his naturally aspirated S13 Silvia. He ran out of tires by midday. Who would've thought a naturally aspirated car would run
out of tires? Morgan ended up borrowing Hughsey's wheels for the last
hour of the day. The neon wheels really stood out on Morgan's black car.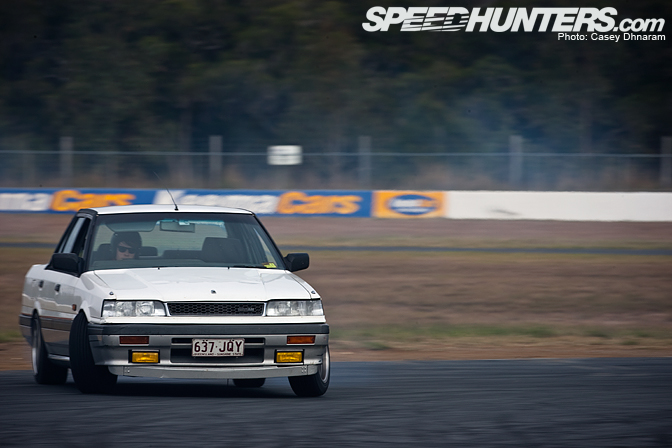 Another naturally aspirated driven car is Nick Rombouts and his R31. I highly respect Nick and his car. Driving every track day possible with a smile on his face!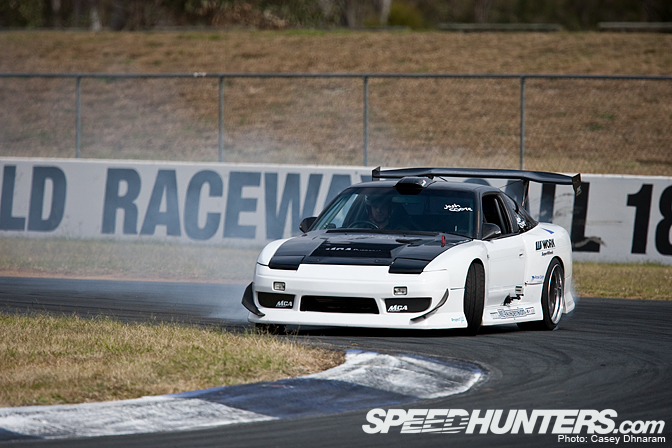 Last but not least, here is Josh Coote testing new suspension setups and just having some fun!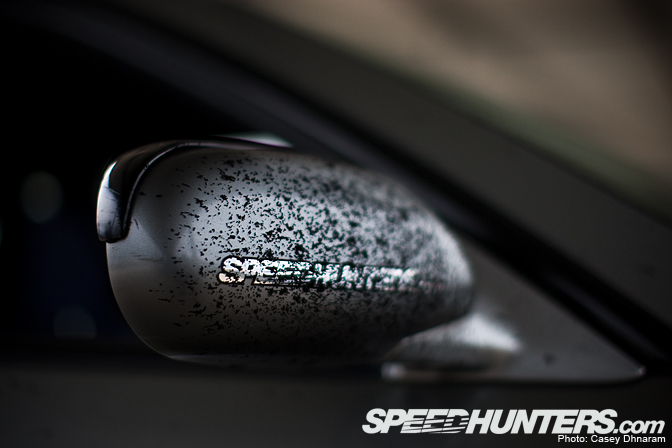 The look of a Speedhunters sticker after a drift day! I'm not quite
sure this was a good place to put the sticker? Although it does look
pretty cool!
"These are the days I live for," a quote from Zac Seaton (S15), Well and truly sums up the day in whole. The community is growing and becoming more like a family rather then a random group of people. 
 – Casey Dhnaram.