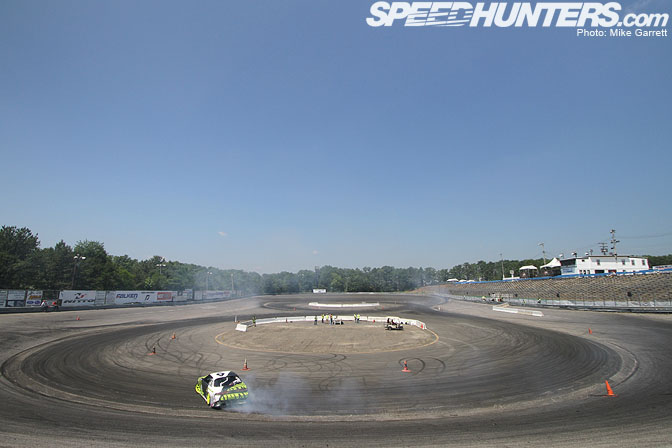 Man, it seems like it was just a few weeks ago when we were sweating our behinds off at Formula Drift Atlanta. Oh wait, that was just a few weeks ago. Anyways, the 2010 FD season rolls on this weekend, into the land of the roadside diner, Springsteen, and the fist pump.
Here's a little look at what went down today at a very hot and humid Wall Speedway.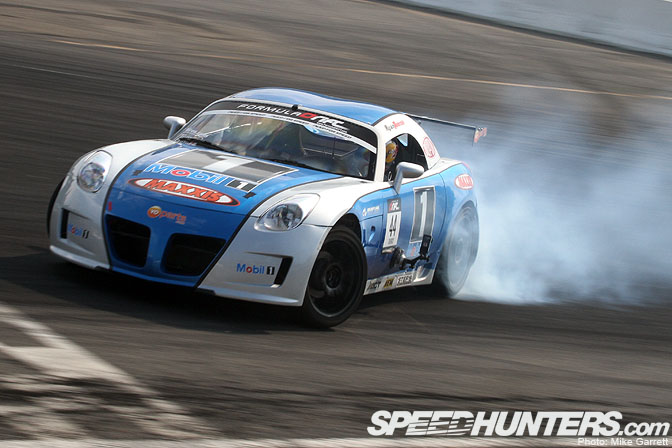 There have been a lot of times when Ryan Tuerck appears unstoppable, and this afternoon was one of them. He was the day's top qualifier in his Pontiac Solstice.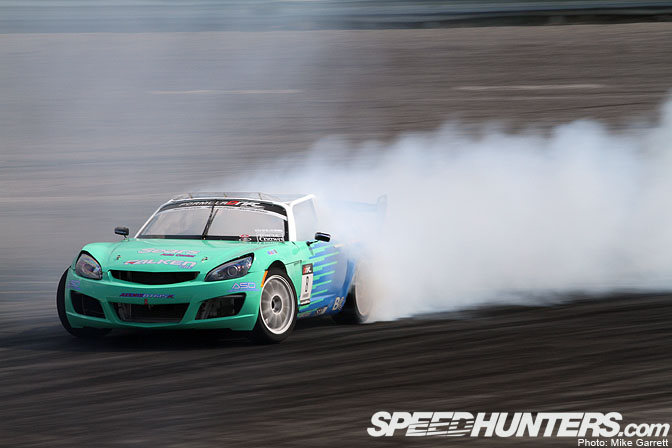 Qualifying right behind in the second spot is last year's FD Jersey winner, Darren McNamara.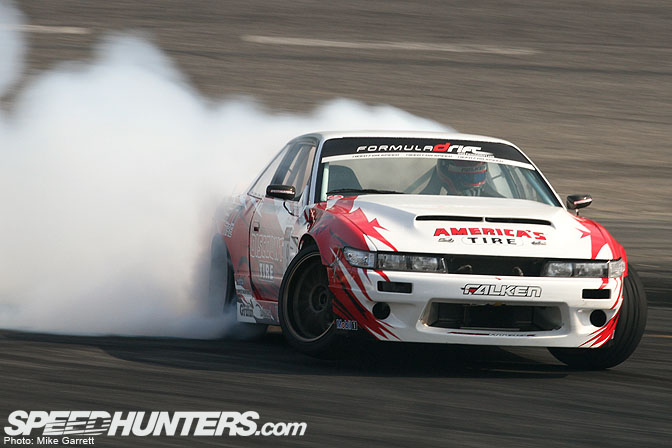 Dai Yoshihara is here in Jersey looking for a repeat of his victory at Road Atlanta. He spun on his first run resulting in zero, but made up for it in his second, qualifying third overall.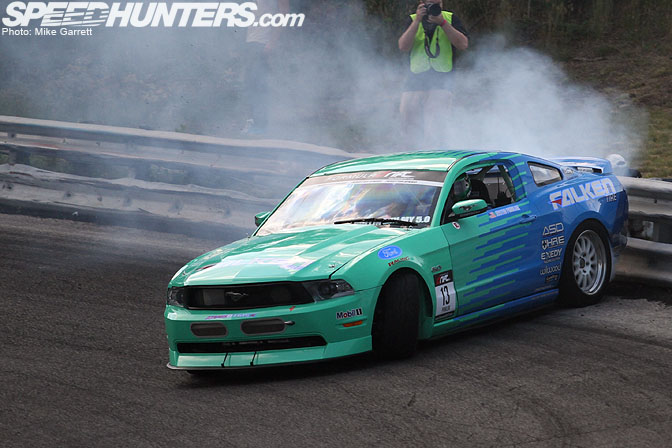 Justin Pawlak was rocking faces all day long, putting the back end of his Falken Mustang right against the guardrail. This showmanship earned him fourth overall.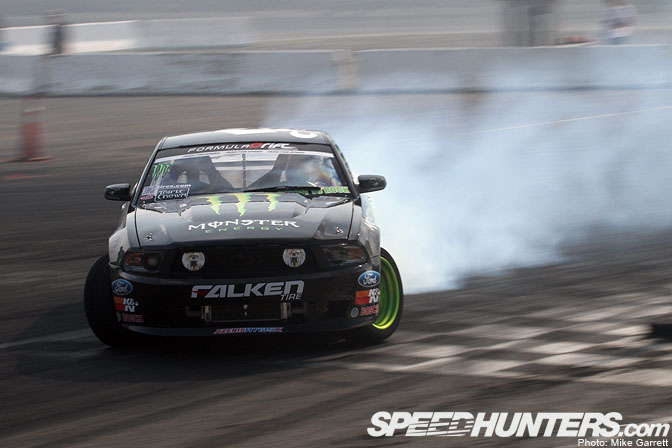 And speaking of the Brostangs, current points leader Vaughn Gittin Jr. was right behind, qualifying fifth.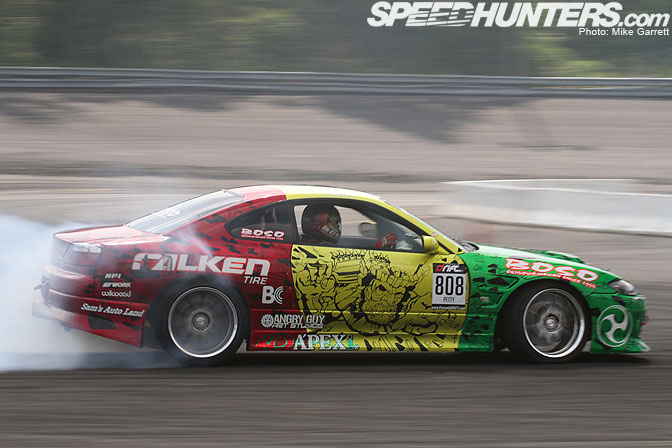 Next up, yet another Falken as Ross Petty puts his S15 in sixth.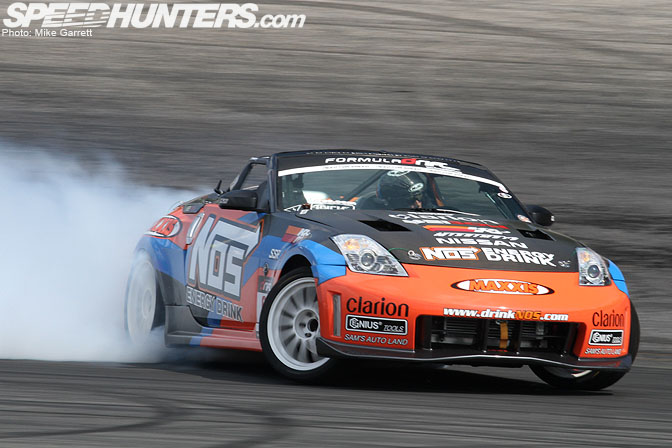 Chris Forsberg had a solid first run, earning him the 7th qualifying spot…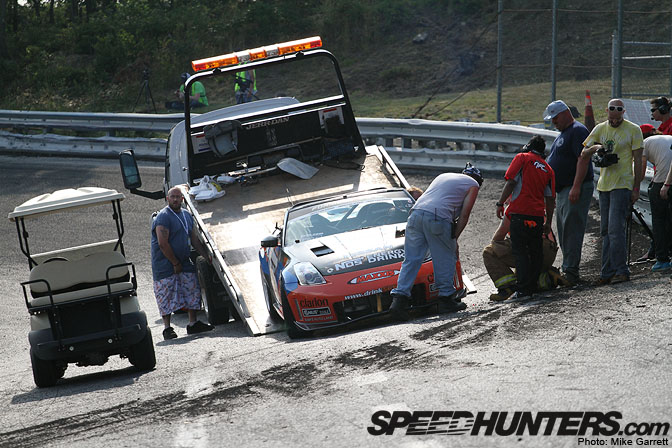 …which was good because during his second run, he hit the wall and banged up the front end of his car. Doesn't look like it should be too tough to fix though.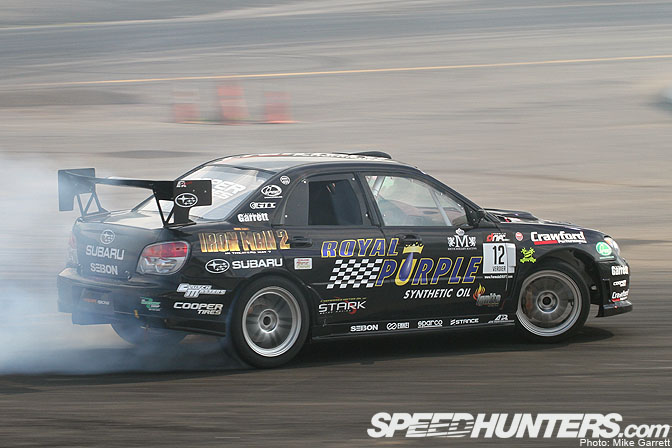 Meanwhile Stephan Verdier takes the eight spot in his Impreza.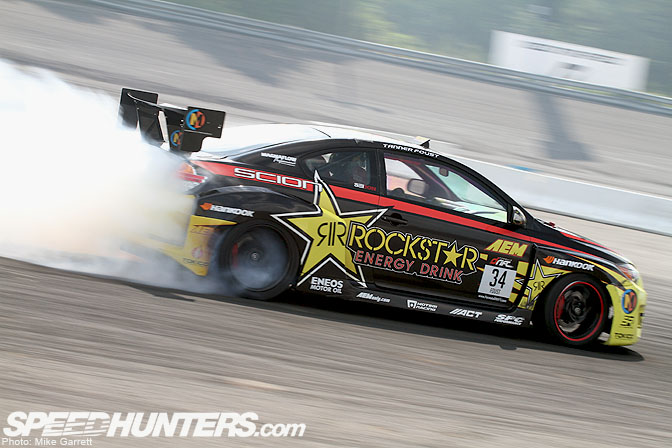 You can't really expect this guy not to be in the Top 10, can you? Tanner Foust takes ninth in his Scion.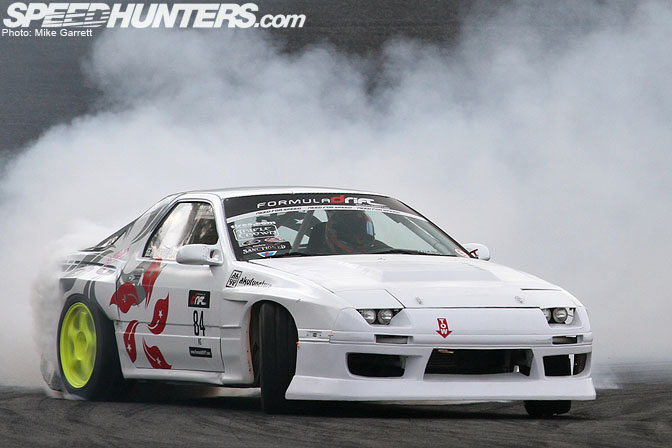 Rounding out the Top 10 is rookie Charles Ng, who had some fantastic runs in his V8-powered FC.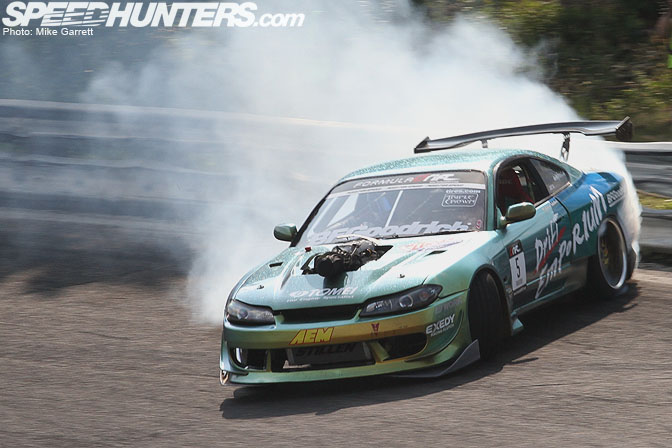 Here we see Michihiro Takatori with a great run through the bank. He'd end up qualifying 11th.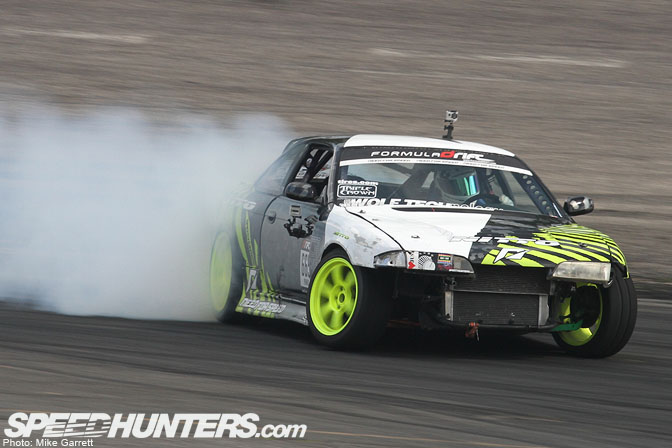 We can't forget about our Team NFS players either. Matt Powers goes into the show in 17th spot…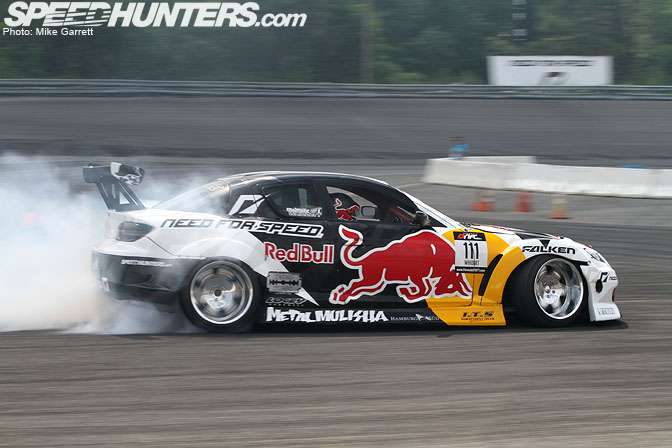 …while Mad Mooooiiikkkeee Whiddett secured 22nd.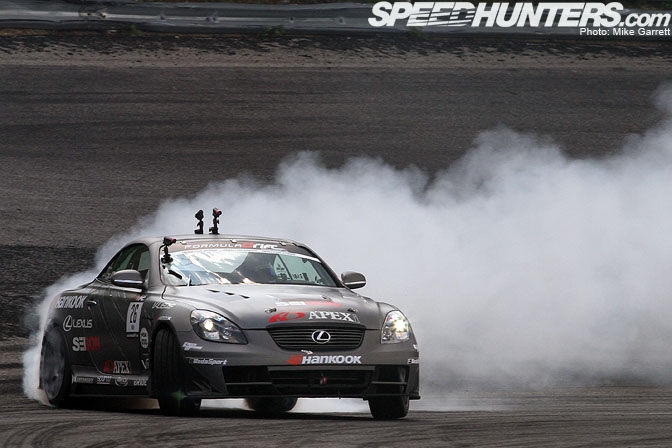 This event also marks the debut of Ryuji Miki's new Lexus SC430, which took the 27th spot. What do you think?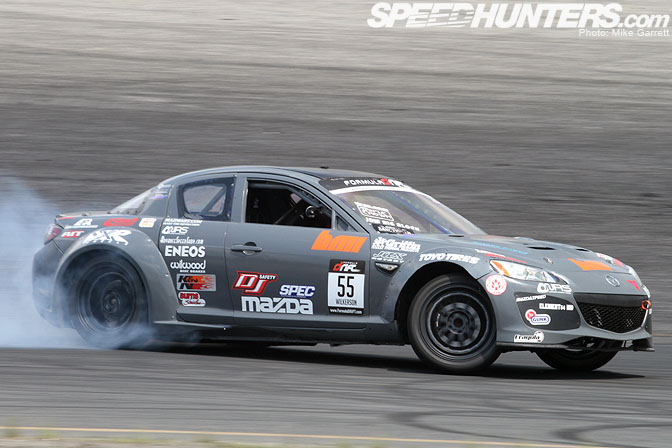 It was also nice to see Brian Wilkerson and the BMI Racing crew finally make Top 32. The four-rotor RX8 just made it in, qualifying 30th.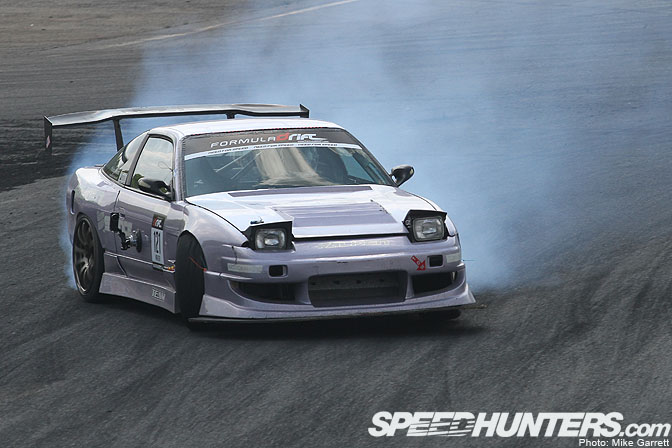 I'll finish with this shot of privateer driver Russel Walker, who brought his S13 all the way from Texas. He just missed the Top 32, but still put on a great show.
OK that will do it for now. Time for some dinner and some rest before tomorrow's main event.
Here are the complete Top 32 results-
1. Ryan Tuerck
2. Darren McNamara
3. Daijiro Yoshihara
4. Justin Pawlak
5. Vaughn Gittin
6. Ross Petty
7. Chris Forsberg
8. Stephan Verdier
9. Tanner Foust
10. Charles Ng
11. Michihiro Takatori
12. Tyler McQuarrie
13. Samuel Hubinette
14. Kyle Mohan
15. Ken Gushi
16. Dean Kearney
17. Matt Powers
18. Matt Walden
19. Forrest Wang
20. Rhys MIllen
21. Tony Brakohiapa
22. "Mad" Mike Whiddet
23. Conrad Grunewald
24. Cyrus Martinez
25. Doug Van Den Brink
26. Bill Sherman
27. Ryuji Miki
28. Robbie Nishida
29. Michael Essa
30. Brian Wilkerson
31. Dennis Mertzanis
32. Andrew Picard
-Mike Garrett