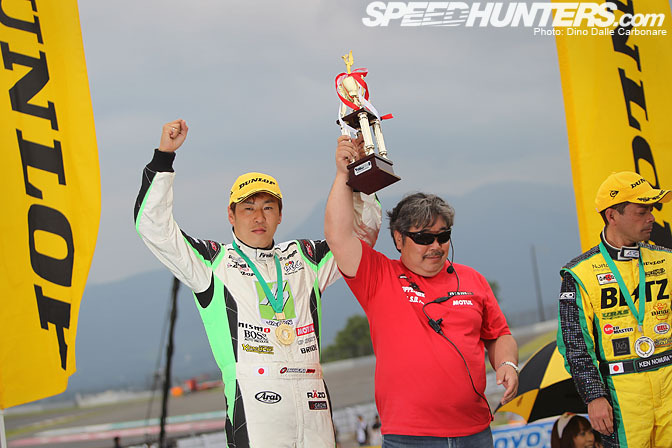 The Dunlop people must have been very happy yesterday with the one-two finish from both of their top sponsored teams. Yoichi Imamura in his M7 Boss S15 grabbed the victory after beating Ken Numura hands down in a pretty straightforward final battle of what was a great actin-packed weekend. The pressure was on for most of the seeded drivers after their dismal performance on Saturday, where it looked like most were suffering from mid-season blues!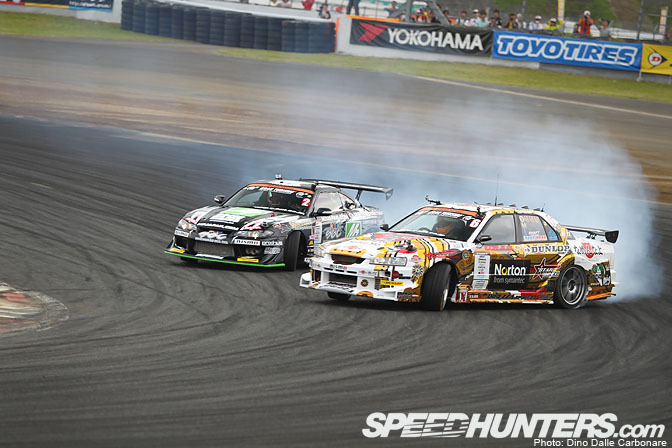 But they had to step their game up for Sunday as tons of fans had made the trek down to Fuji Speedway to see some proper high-speed D1 action!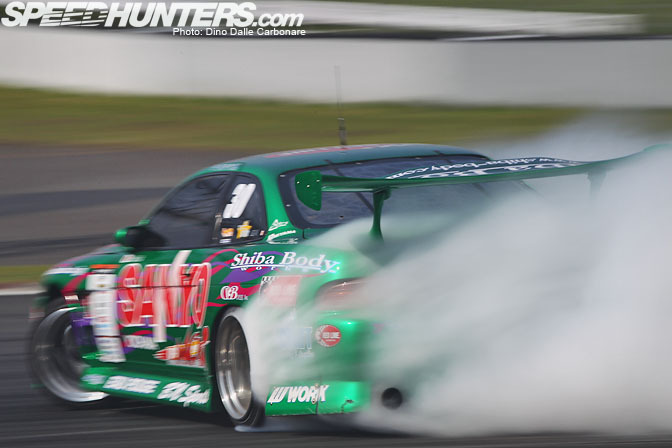 They certainly weren't disappointed as every driver was pushing well beyond the limit, throwing their cars sideways at barely believable speeds. The biggest spectacle however is always the pedal-to-the-metal exits to get that all-important tire smoke to pour out of the wheel arches. Here is Ginushi with his 4-Real Works Soarer showing how it's done!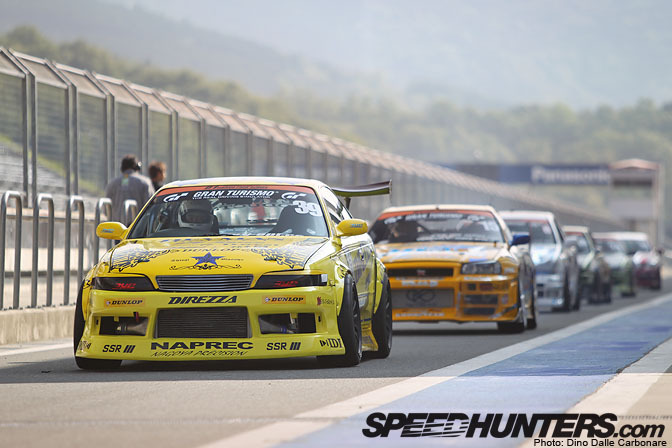 I caught most of the cars lining up in the pits early in the morning right before heading out for the short practice session. Fuji is a massive circuit and it literally takes a good 15 minutes to walk from the pits to the inside of the hairpin. Needless to say, I got a good workout over the week-end!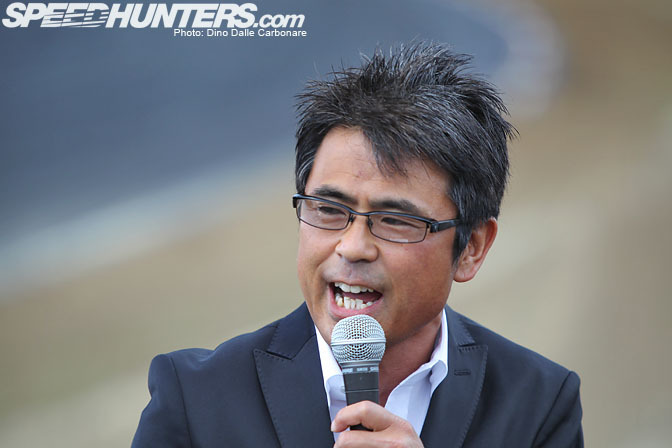 The opening ceremony is a very important part of each D1 round as Mana-P takes lead role in presenting each key member of the judges as well as the drivers that have qualified.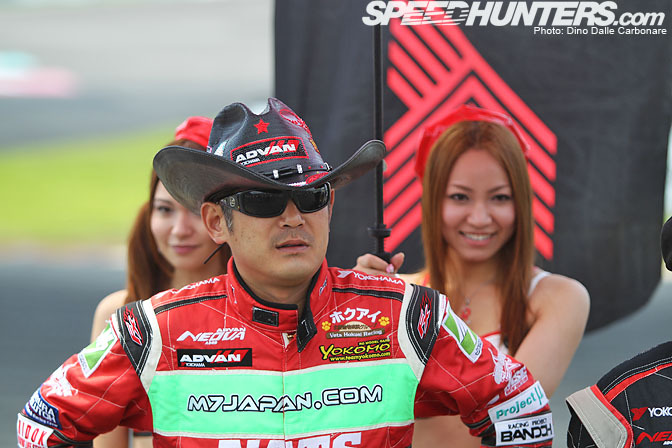 When it comes to popularity nobody comes close to Orido, he is the the D1 superstar! His trademark cowboy hat is becoming a hot seller at the Ridox stand and I spotted quite a few spectators wearing them over the weekend.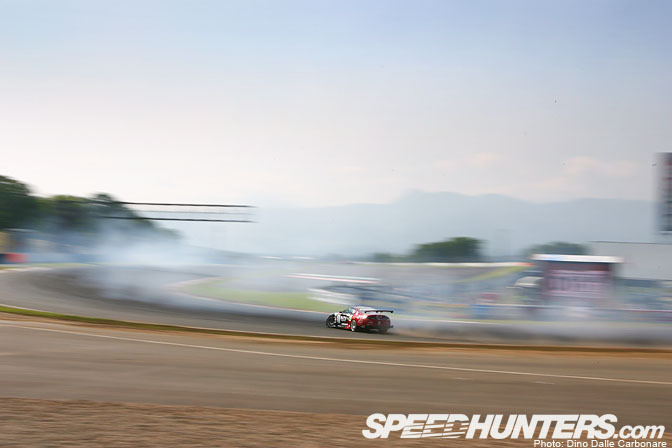 He was really getting the best of his rebuilt Supra, qualifying in 6th position, ready to get some battles on in the Best 16.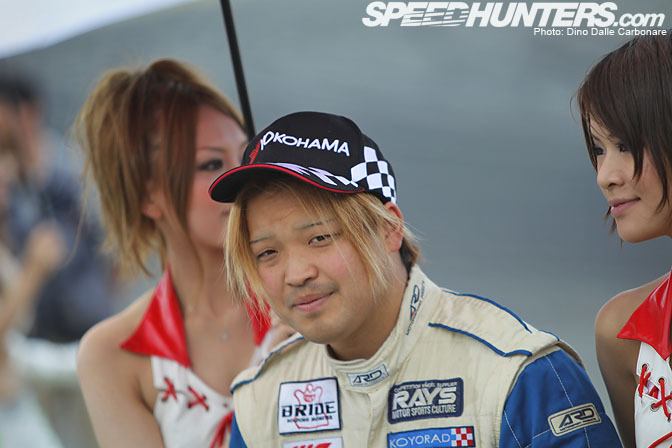 Nakamura, who managed to finish in second position on Saturday, was just not impressing the judges yesterday. He ended up in 21st place; so no Best 16 battle for him this time round.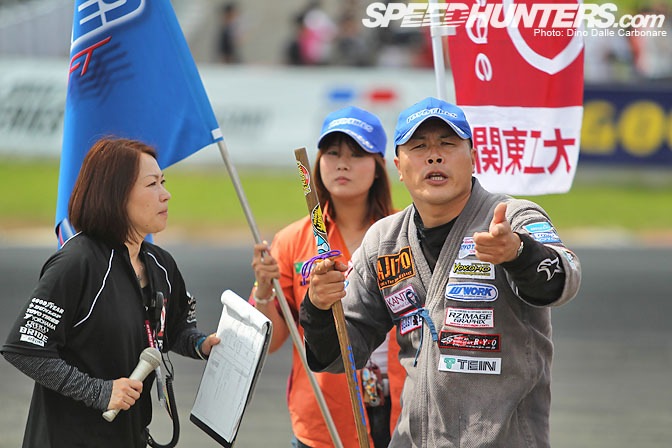 Imamura Takahiro, aka Drift Samurai, went from first position on Saturday to 11th place. You gotta love this guy's poses!!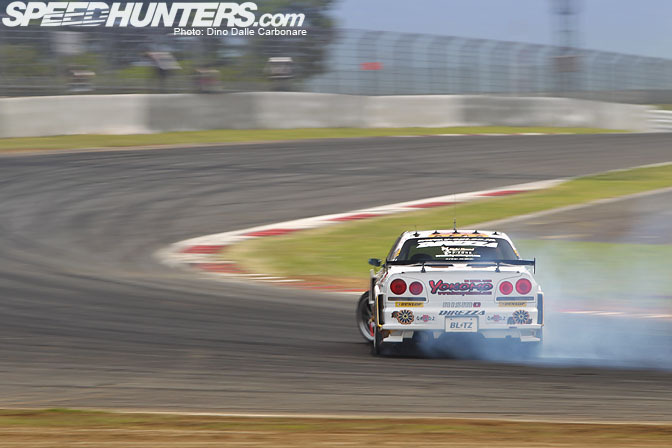 After a very poor performance on Saturday that saw him not even qualify, Nomuken nailed his solo run in the morning grabbing second place with 99.90 points.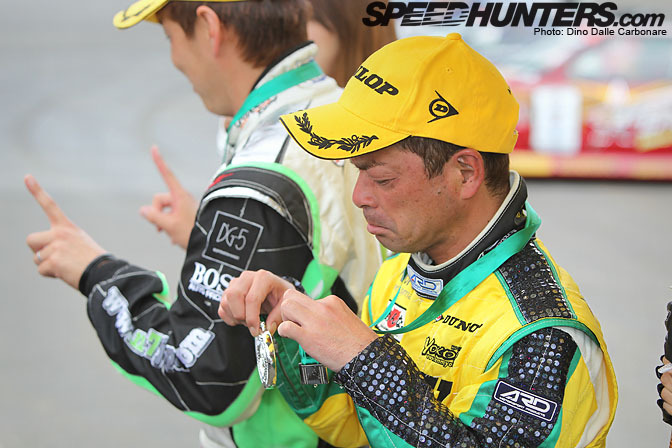 Here he is confused at why his second place medal broke on the podium at the end of the day!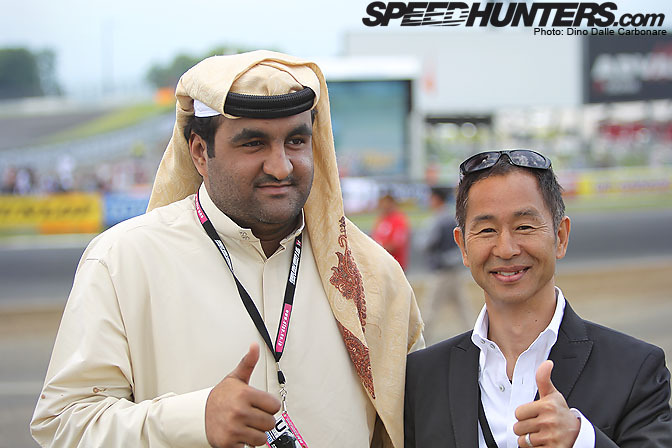 It seems D1 might be heading to the United Arab Emirates later this year. Organizers from Abu Dhabi were over to get a feel for this new kind of motorsport, checking out the action over the two days at Fuji. I for one can't wait to see D1 cars blast through the corners of the Yas Marina F1 circuit! This is something everyone is looking forward to!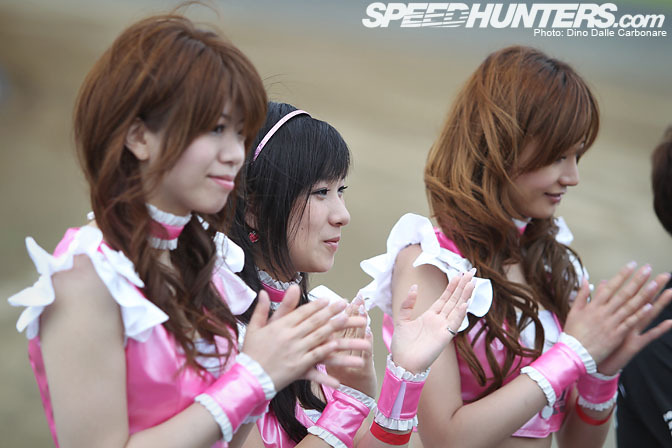 D1 wouldn't be complete without the race queen presence. I wonder if the girls will also be shipped over to Abu Dhabi LOL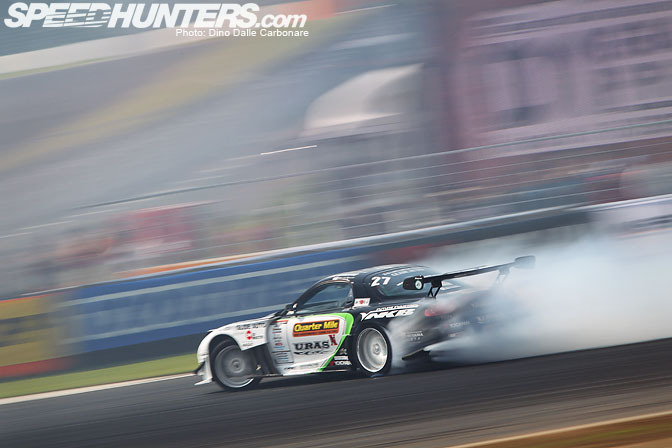 Fujinaka's FD is quick becoming my favorite car in D1. The 4-rotor turbo engine sounds so damn good at full rpm! I want to see him up against Yoshioka and his soon to be finished 4-rotor RX7 at Okayama in three weeks! They will have to provide spectators with ear plugs!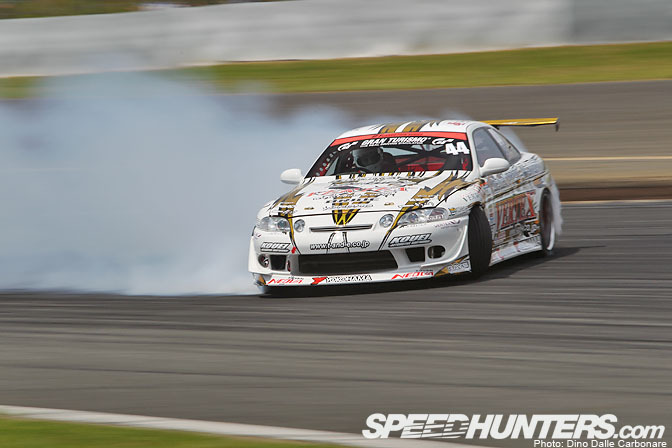 Paul Vlasblon, here with his loaner T&E Soarer, along with Mike Pollard and Robbie Bolger ended up at the bottom of the points ranking. It seems they were just not impressing the judges enough. I'd like to see these guys compete in D1 with their own cars and a limitless supply of tires so they can have more time and chance to practice and prove themselves!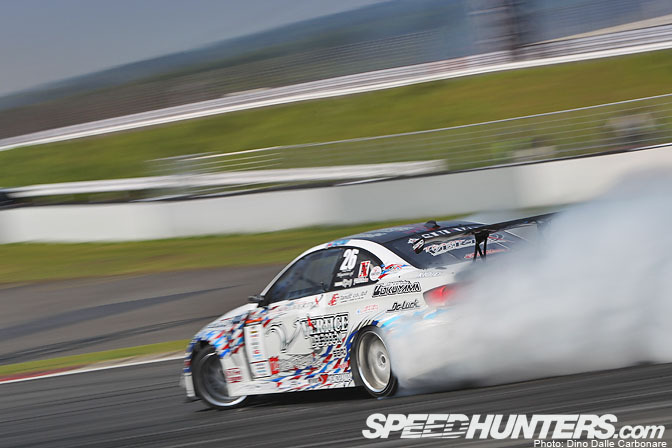 Ueno, despite using every last horse his 2JZ BMW develops, didn't make the Best 16 cut ending up in 26th place.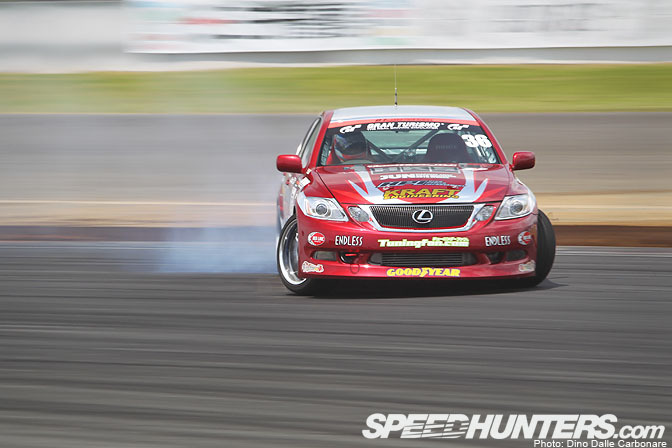 It was much the same story with Hirota and his Auto Service Mori 2JZ GS350. He screwed up his solo run and was out of the competition. I hope we can see him get into the Best 16 in Okayama! We'll be taking a more detailed look into this new D1 machine this week so stay tuned.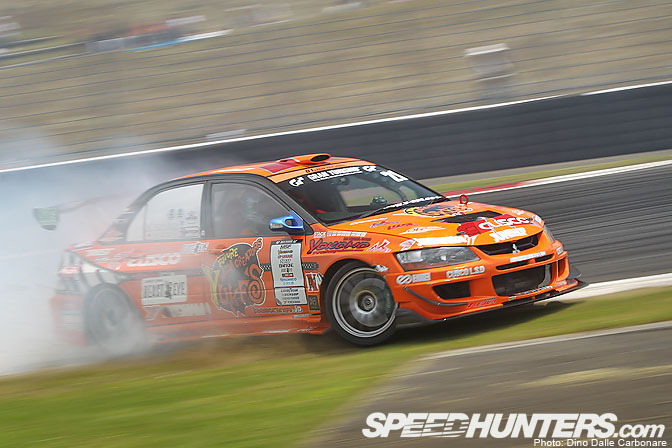 It was all over for Suenaga the moment he cut the apex too tight, ending up on the grass. He finished in 28th place.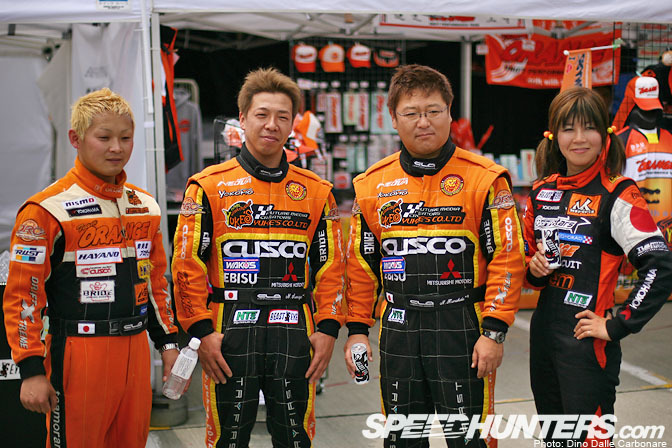 The complete Team Orange, including the latest addition Oshima on the left, and Sumika on the right who participates in the D1 Venus Challenge series.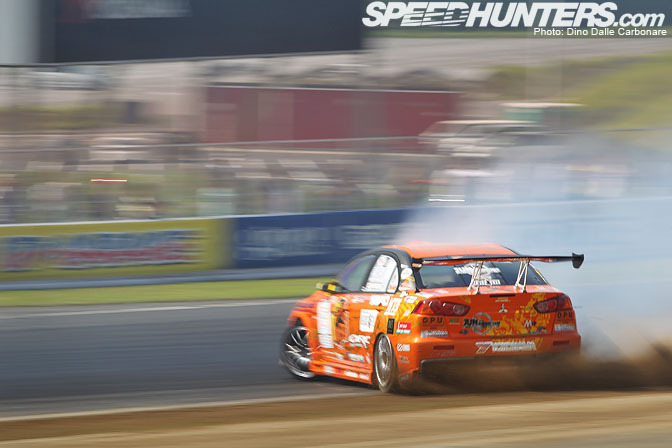 Kumakubo's constant mistakes caused him to miss the Best 16 cut by two places, ending in 18th position. I'm sure he will do much better in Okayama.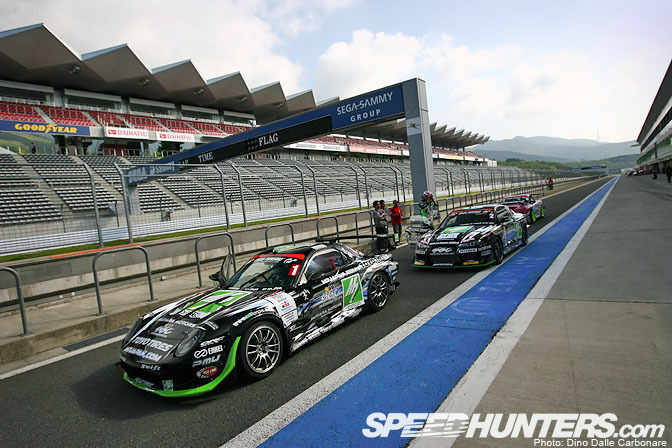 The two M7 cars, now wearing identical livery.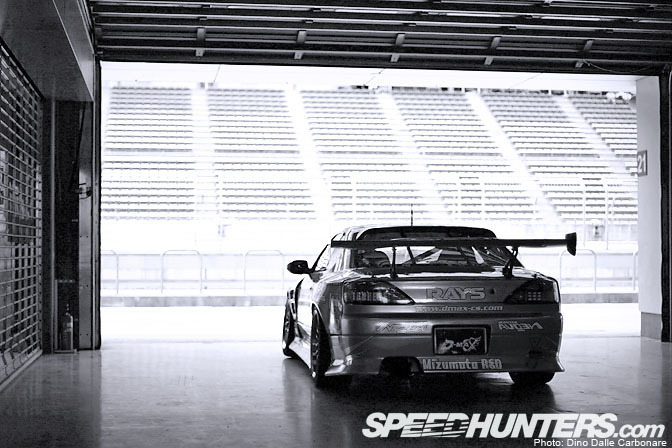 Before the Best 16 got started in the afternoon I had a walk through the pits bumping into Nakamura and his S15…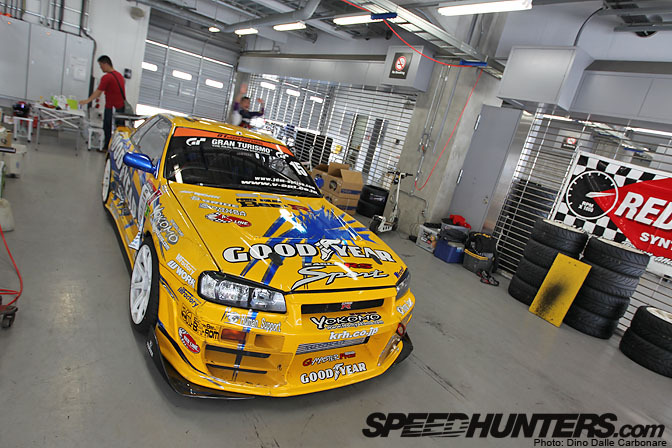 …and Tezuka's Bee-R BNR32. It was the car that actually let him down. It progressively started to run rougher and rougher until the engine let go altogether. Imai-san from Bee-R said it will be getting an all-new RB26.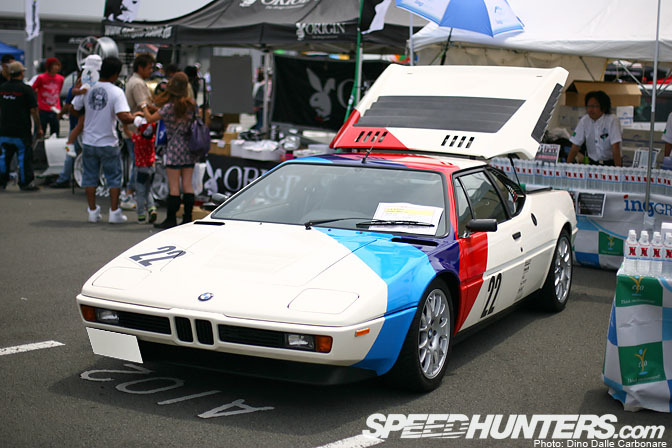 One of the stands on the paddock was Vanadium Fuji water, who had this hot BMW M1 on display.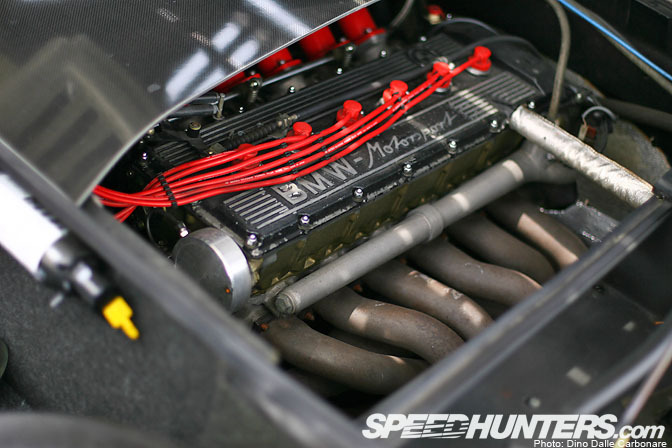 Couldn't pass up the chance to drool around it for a while and checking out the mid-mounted 3.5L straight six lump.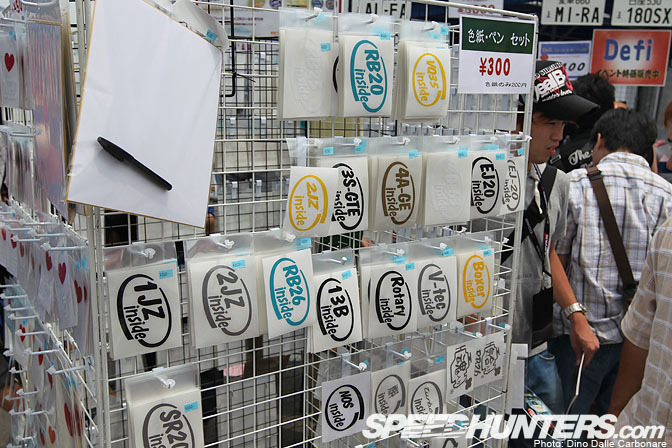 What motor powers your car?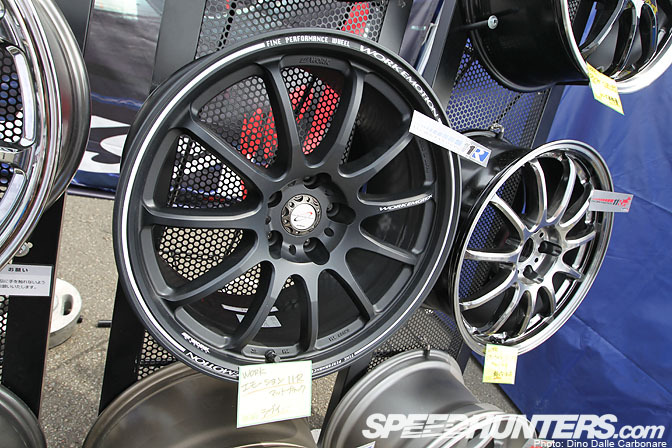 In the quest to find suitable wheels for my Legacy Wagon I always check out ever wheel displays at events which is where I found these very nice Work Emotion 11R rims finished off in matte black. Very hot!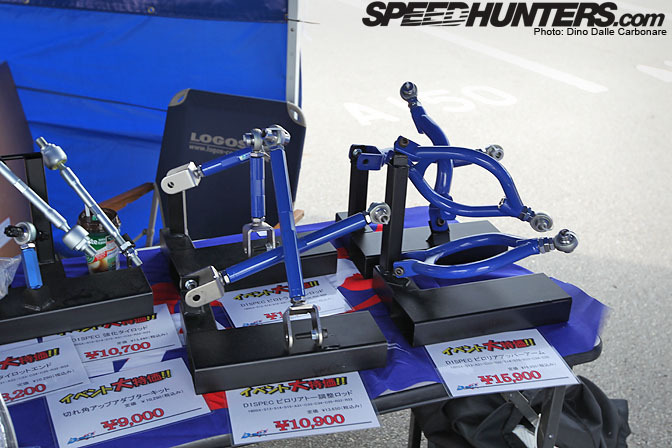 D-Max always has an impressive selection of suspension arm components on display at drift events. This is the perfect place to get some advice on what to fit to your car from people in the know.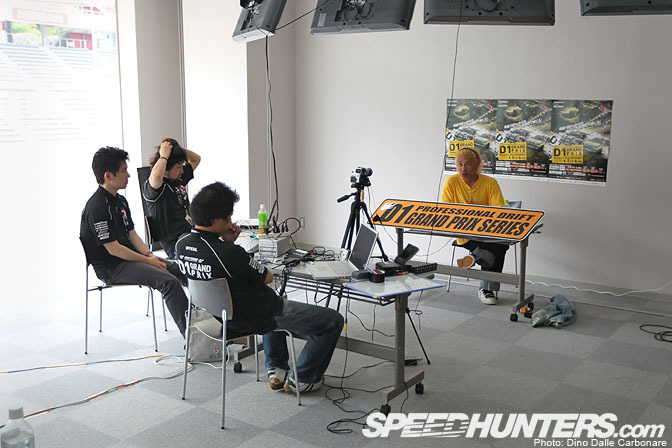 Here is Bomber doing what he does best, talking! He set up camp in the press room doing a live-feed and talk-show for the D1 mobile website.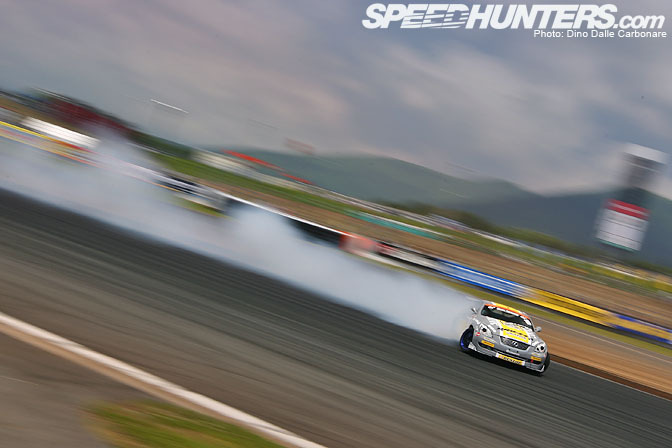 I was so disappointed for Matsukawa as he ended up in 17th place, 1 position short from making it into the Best 16.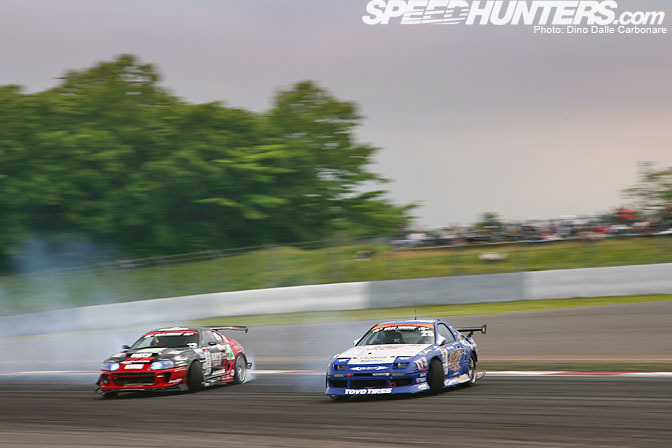 Orido went on to beat Imamura in this Best 16 battle. But fear not, a Samurai never gives up, he will be back in Okayama to prove himself again!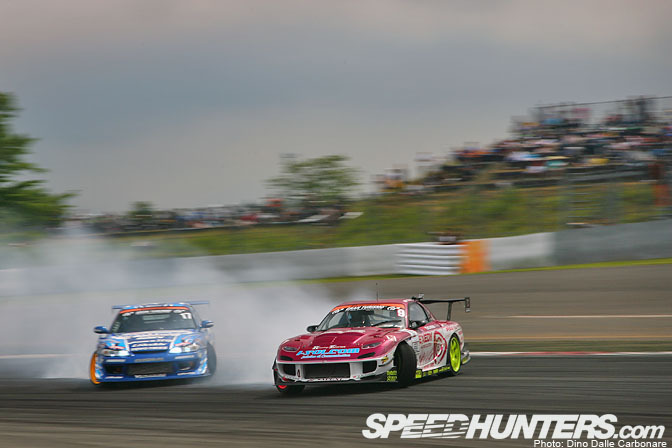 Sakuma won his first battle against Takayama in the R-Magic FD, and ended up getting beaten by Nomuken in the Best 8 tsuiso.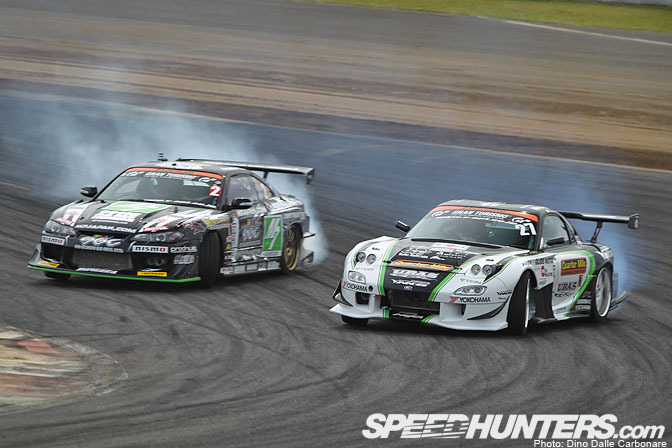 Don't miss Part 2 of the D1 round in Fuji, which will be packed with more action and behind the scenes coverage.
-Dino Dalle Carbonare