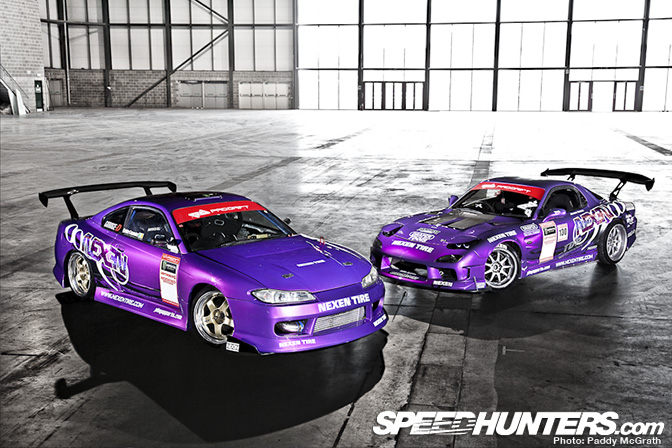 For 2010, Irish drifting regular Christy Carpenter has joined forces with teenage drifter extraordinare James Deane on the European Nexen team. After unveiling his S15 last season and event after racking up a series of strong qualifying and overall positions, Christy wasn't happy with the troubles the car's then engine were giving him. When the car was first built it featured an RB26, but constant issues saw Christy swap to the respected 1JZ Toyota engine.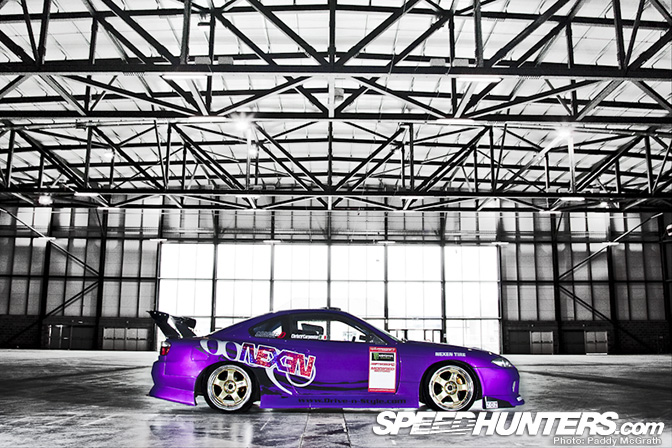 You may remember that last season the car was entirely white but I'm of the opinion that the Nexen purple really suits the lines of this S15. A random fact, the first car to wear the Nexen purple you see here was Dennis Healy's SR20 AE86 drift car. The colour can now be seen on Nexen backed cars around the globe.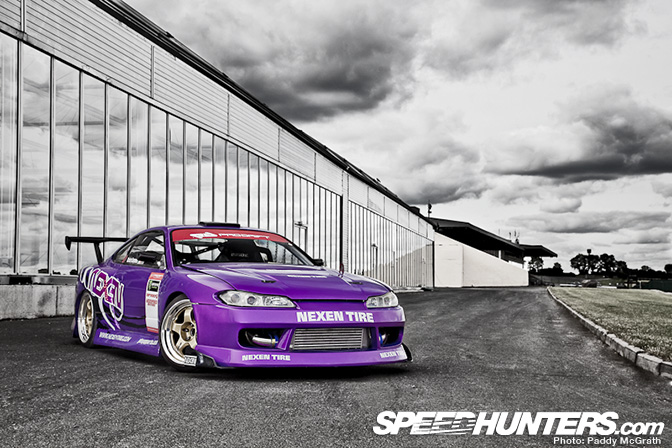 The car wears a full BN Sports Blister kit with a VS Racing carbon vented bonnet.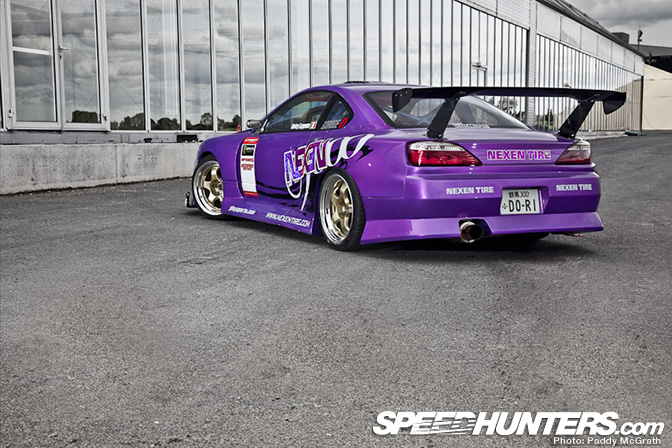 The rear wing is a custom Garage BB GT Wing which stands tall over the Wise Square 50/50 rear lights.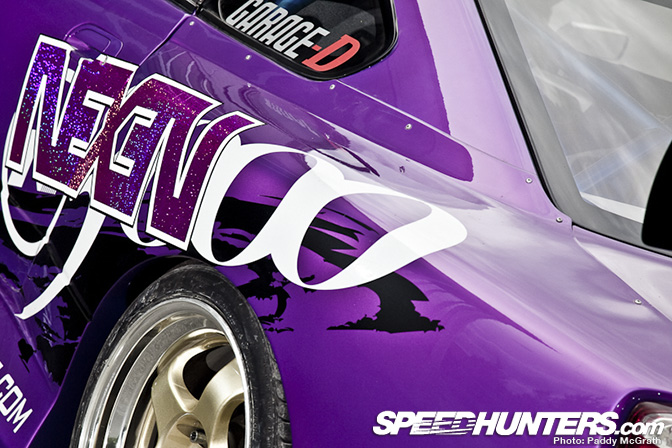 Filling an arch thats covered with a blister kit is always going to be a challenge.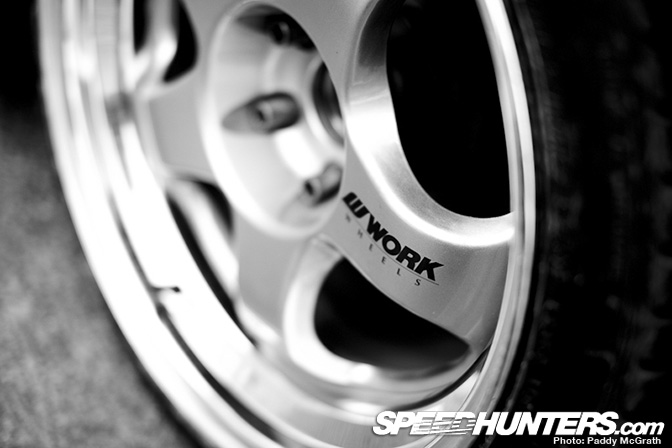 The choice of 18" Work Meister S1 wheels was a sensible one as they really compliment the entire car.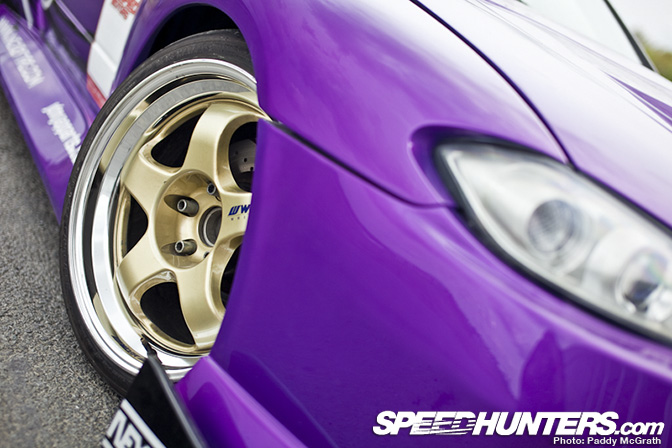 Hiding behind the Meisters are a full set of R34 GT-R Brembo calipers with Red-Dot discs and Project Mu pads. Drift car's don't need great brakes to perform as the speeds are relatively slower in comparison to traditional grip racing but the use of this setup illustrates to how serious a standard this car has been built.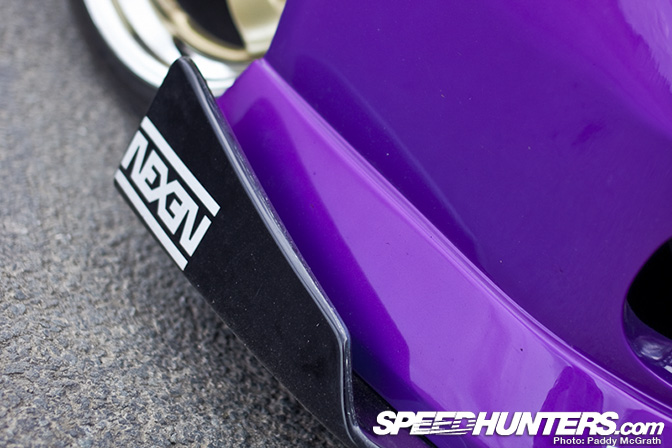 The front canards are Origin items.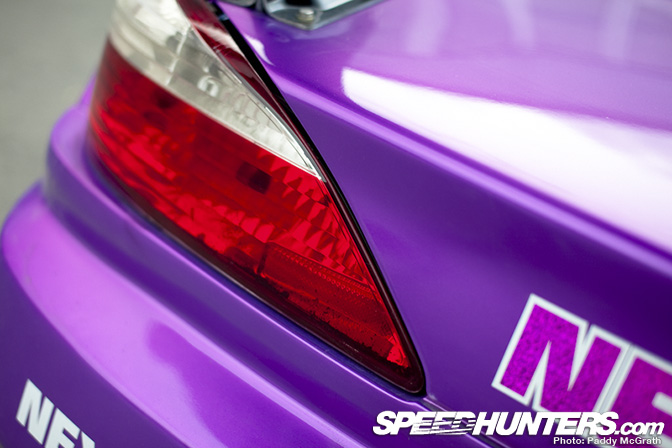 A closer look at the Wise Square rear lights.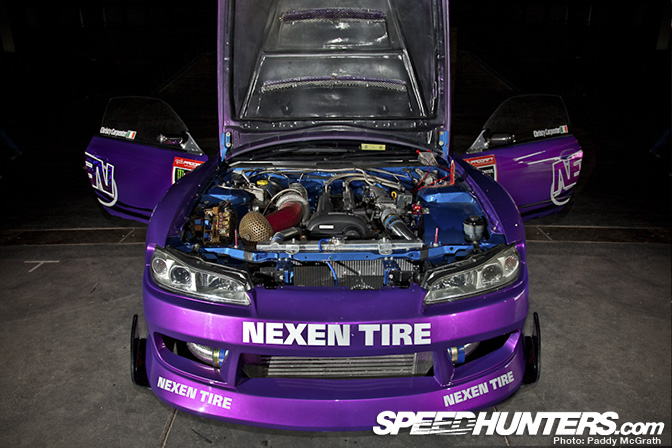 The 1JZ now sits where the RB30 used to. It's a VVTi unit from a JZX100 and was built by DeaneMSport.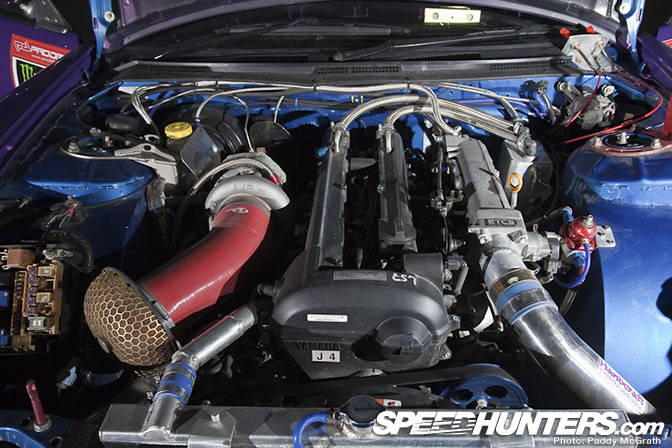 I've included the full spec list of the engine at the end of the post as it's honestly too long to list here. However here are the highlights : GT35R turbo, HKS 264 cams, 620.8BHP and 543.6 ft/lbs with custom headwork and mapped by Trackday Performance.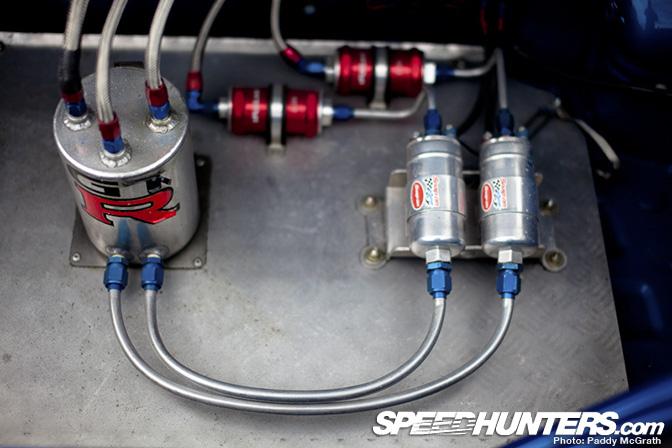 The fuel is fed by two Bosch fuel pumps and SARD 1000cc injectors. The GT-R badging on the swirl pot is a reminder of the legacy of this Nissan. That and the fact it has R33 GT-R V-Spec shafts and differential amongst other GT-R goodies.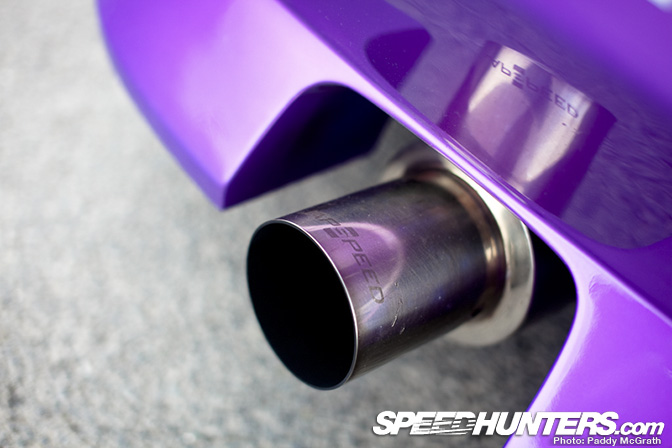 The exhaust is a custom Japspeed item.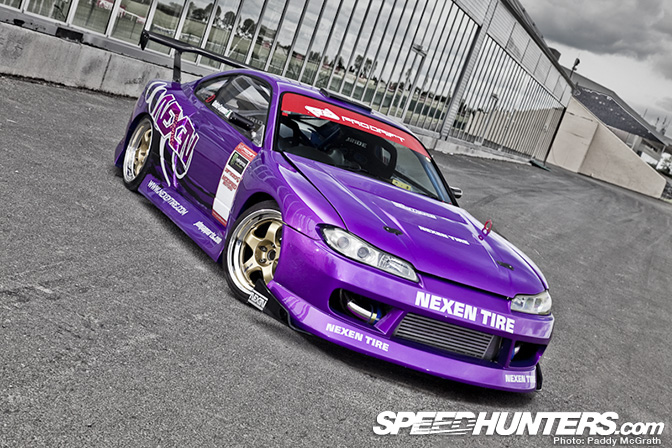 The important bit's you can't see are the Ikeya Formula pillow adjustable lower arm kit, tie rods and tie ends, tension rods, adjustable rear lower arm kit, toe rods, traction rods and rear camber arms. Good Road Japan front knuckles, URAS steering rack spacer, TEIN Drift Master adjustable coilovers with Tein adjustable top mounts and Swift Racing springs just about completes this cars handling package.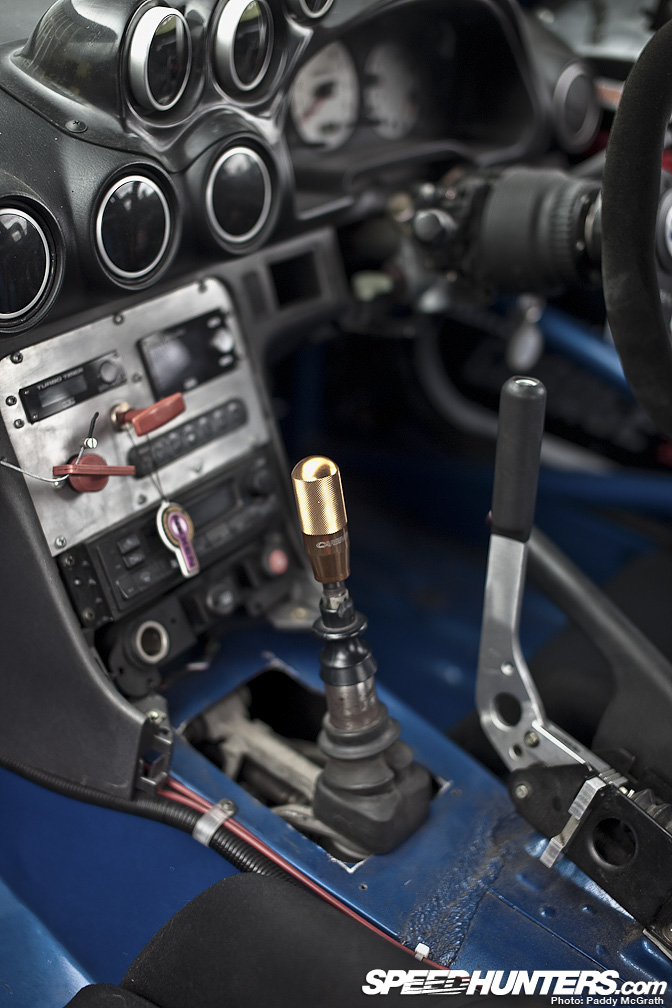 On the other end of the golden gearknob is a six speed Getrag Supra gearbox which is mated to the engine with an Exedy hyper twin plate clutch. Just behind it is a Wilwood hydraulic handbrake.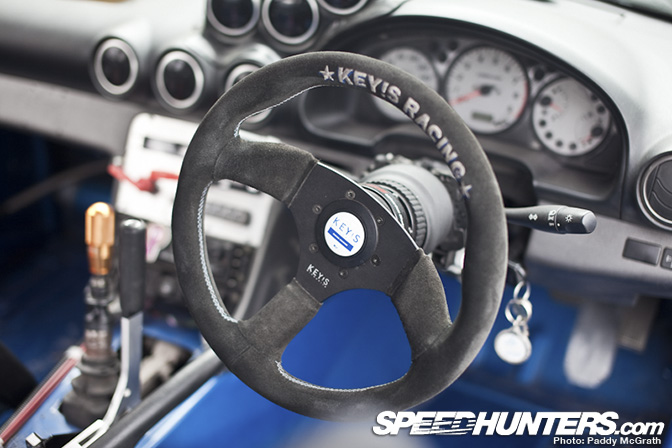 A Keys Racing wheel with Keys Racing snap off kit provide the control. A setup of six Defi gauges help Christy keep an eye on essential levels, temperatures and pressures.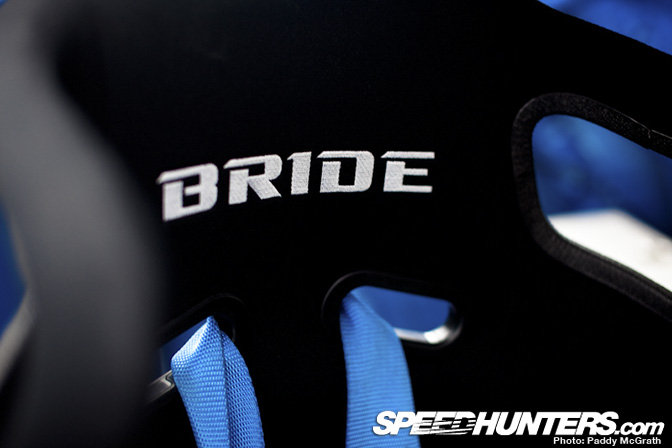 Bride Gardis 111 FIA seats are in place for both Christy and a passenger.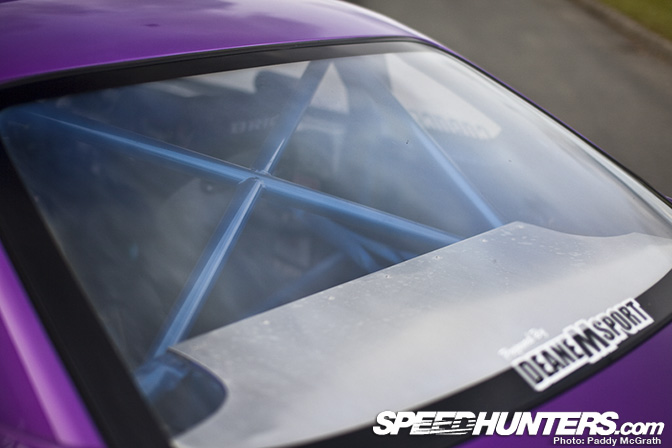 Continuing the safety theme, a custom weld-in cage was designed and built by Garage D. In fact Julian & Co at Garage D are also responsible for the front and rear custom tubs, the custom gearbox tunnel and fully seam welding the shell.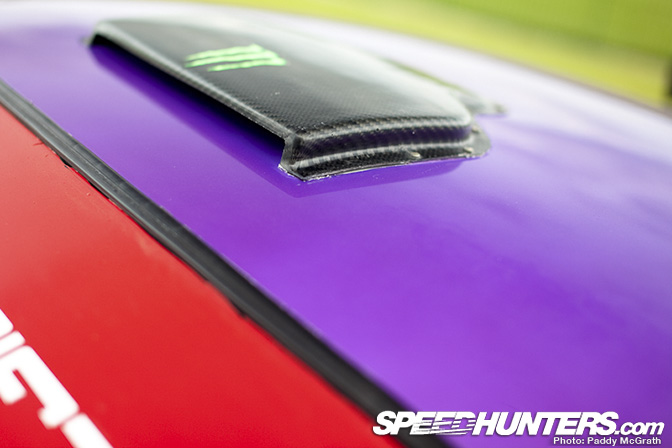 The carbon fibre roof vent provides fresh air whilst Q'ing for runs as the lightweight polycarbonate windows can't be lowered.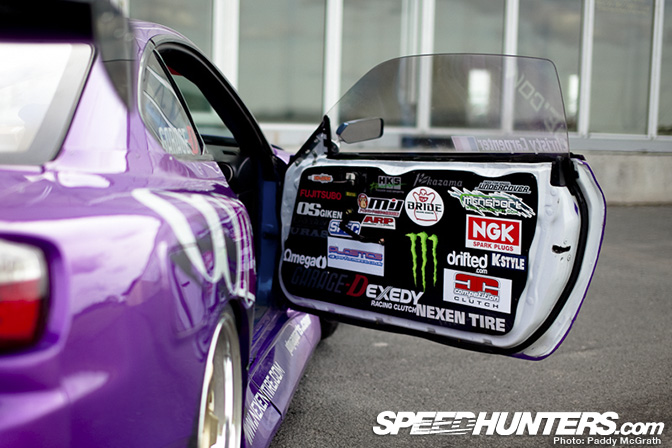 His door card however is missing one very important sticker …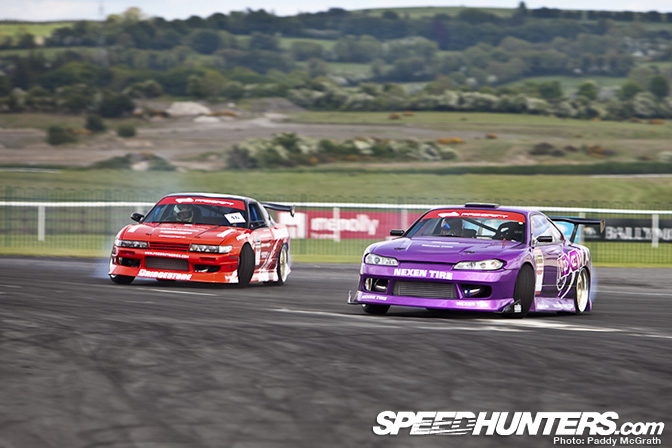 The most recent PD event saw Christy take the S15 to first place Superlap and top eight overall.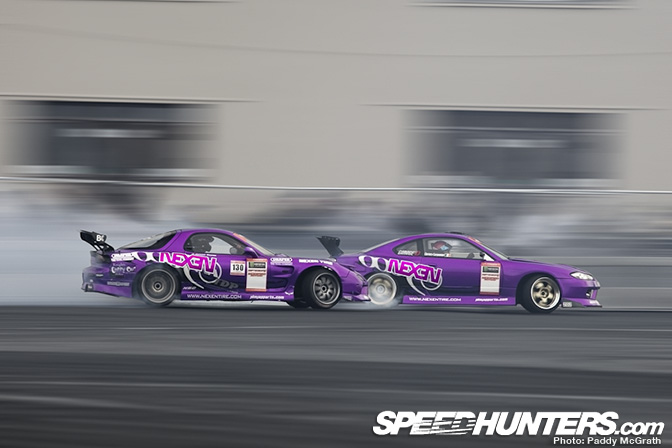 With a former European and Irish champion and a 2010 title contender, Nexen have a strong lineup to compete for the 2010 drivers title.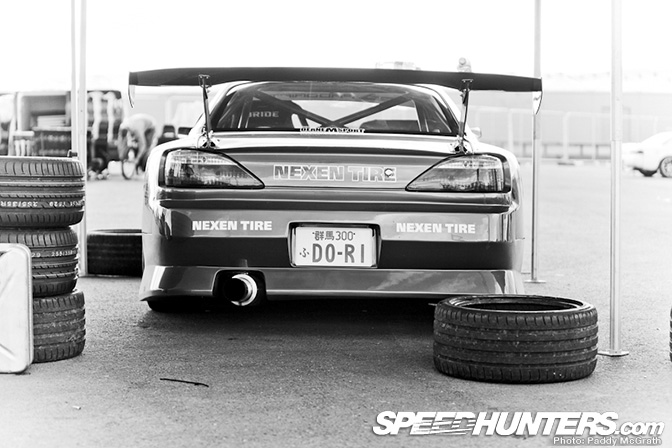 With the car now reliable, Christy can now concentrate on getting to grips with this 600+HP car. Going by his current form it's not taken him long and I'm sure it's only a matter of time before he start's to string together a series of top finishes. I wonder will we ever see this S15 on the hallowed ground of Formula D ?
Paddy
BN sports blister kit
BN sports front bumper
BN sports rear bumper
BN sports side skirts
BN sports fenders front and rear.
Custom garage bb gt-wing
V-s racing carbon vented bonnet painted
Origin frp doors
Wise square door mirrors
Wise sqaure 50/50 tail lights
Carbon roof vent
Origin front bumper canards
Polycarbonate windows
Carbon door panels
Driftworks front and rear toe hooks
18" Work meister S1 wheels
Nexen N8000 rubber
Painted in Nexen tyres purple
JZX100 1JZ vvti 2.5 turbo engine(built by deanemsport)
Garrett gt35r turbo
Garage 27 stainless exhaust manifold
Tail external wastegate
Custom down pipe
Custom japspeed exhaust system
HKS 264 camshafts
HKS cam pulleys
HKS timing belt
HKS f-con v-pro ecu
HKS intake air filter
ACL race bearings
ACL rod bolts
ACL headbolts
SARD 1000cc injectors
SARD fuel rail
2 x Bosch fuel pumps
Custom swirl pot
Custom fuel lines
Custom headwork by tdp.ie
Custom intercooler piping
Custom oil catch tank
Japspeed skyline gt-r front mount intercooler
Japspeed s14 50mm racing rad
Custom ford fan
Mocal power steering cooler
Mocal oil cooler kit
Aqua sump kit
Power 620.8hp/543.6 toque mapped by tdp.ie
6 speed supra getrag gearbox
Exedy hyper twin plate clutch kit
Custom prop shaft
Skyline r33 v-spec diff
Skyline r33 v-spec drive shafts
Skyline r34 brembo gt-r brakes front and rear
Nismo gt-pro 2 way lsd 4.1
Power enterprise front and rear brake lines
Reddot brake discs
Project mu brake pads
Driftworks subframe bushes
Ikeya formula pillow adjustable lower arm kit
Ikeya formula tie rods and tie ends
Ikeya formula tension rods
Ikeya formula adjustable rear lower arm kit
Ikeya formula toe rods
Ikeya formula traction rods
Ikeya formula rear camber arms
Good road japan front knuckles
URAS steering rack spacer
Tein drift master adjustable coilovers
Tein adjustable top mounts
Swift racing springs
Cusco brake stopper.
Defi gauges x 6
Defi gauge controller
URAS gauge pod holder
HKS evc boost controller
HKS turbo timer
Keys racing steering wheel
Keys racing snap off boss kit
Willwood hydo handbrake
Plumbed in fire extinguser
Electric cut off swiths
Sard racing battery box
Bride gardis 111 fia seats x2
Custom roll cage by garage-d.com
Custom front and rear tubs by garage-d.com
Full seam welded shell by garage-d.com
Custom gearbox tunnel by garage-d.com
Car painted inside in custom blue