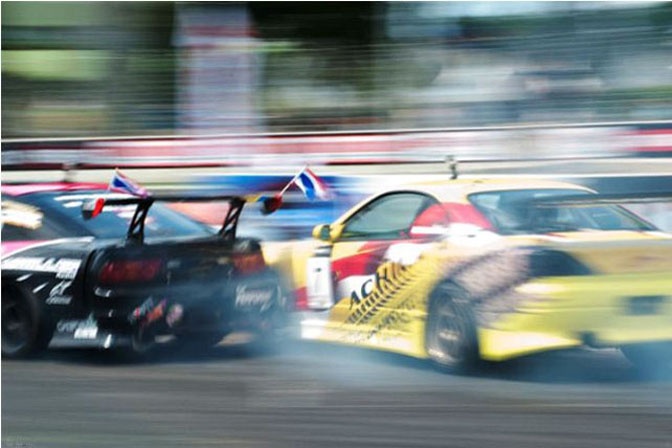 The third edition of Formula Drift Singapore was chock full of bumper to bumper action by drifters from Singapore, Malaysia, Thailand, Hong Kong, the Philippines, Indonesia, New Zealand and Japan – a truly regional field. Seen here is Dio from Indonesia is his canary yellow S15 battling the 180SX driven by Thailand's Mick in the round of 32.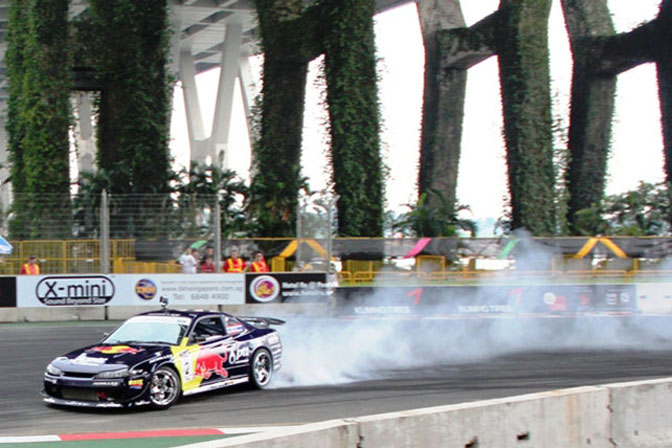 Before I move on to the rest of the battles, I want to talk through the course. It's the Singapore F1 circuit's main straight (which obviously lends very well to high entry speeds) followed by three clipping points – inside left, inside right and outside left. Shown here, Thailand's Kiki Sak Nana clocked the second highest entry speed of the weekend at 130.8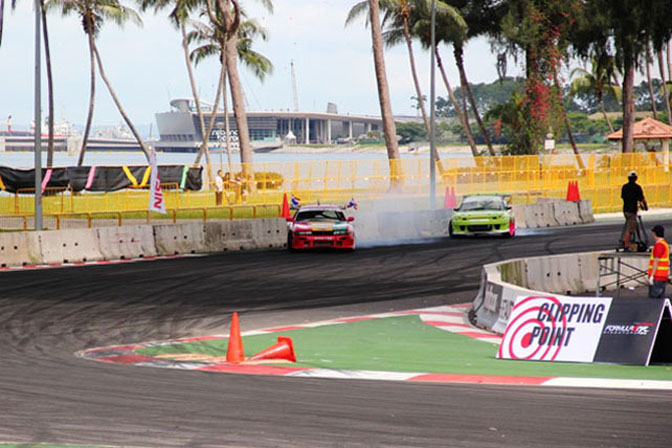 As the first clipping point is followed by a rather tight transition, most of the drifters quickly catch on that they have to initiate early…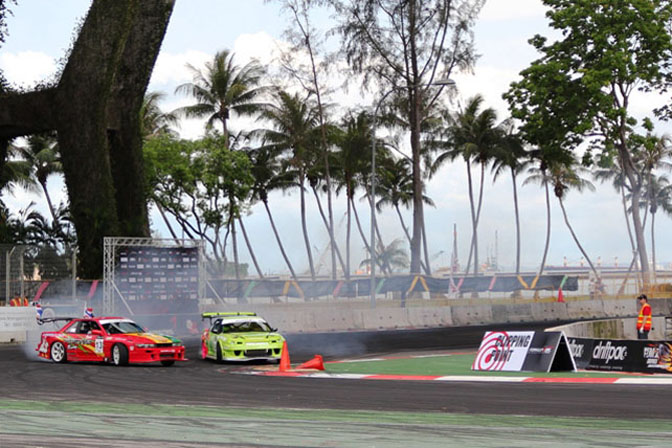 Following by bumper to bumper action as the tight line required makes life hard for both the lead and chase cars. Davide from Thailand in his s13 had a fierce battle with the Sileighty piloted by Malaysia's Ah Fai, going into (OMT) before Ah Fai spins out, conceding the round to Davide.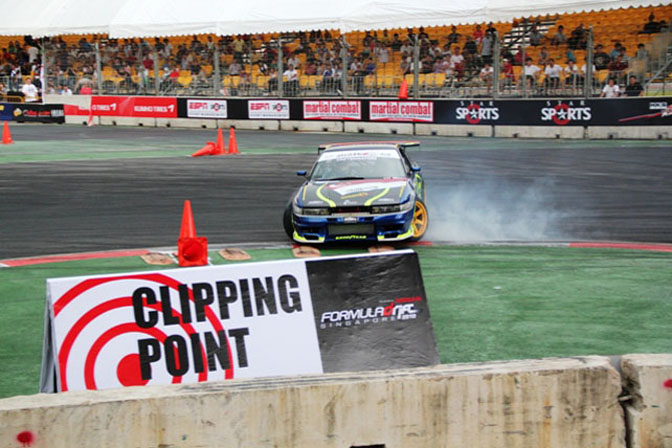 Spinouts or near spinouts was common, particularly during the first day of qualifiers as most of the field struggled to come to grip with the high entry speed AND tight confines.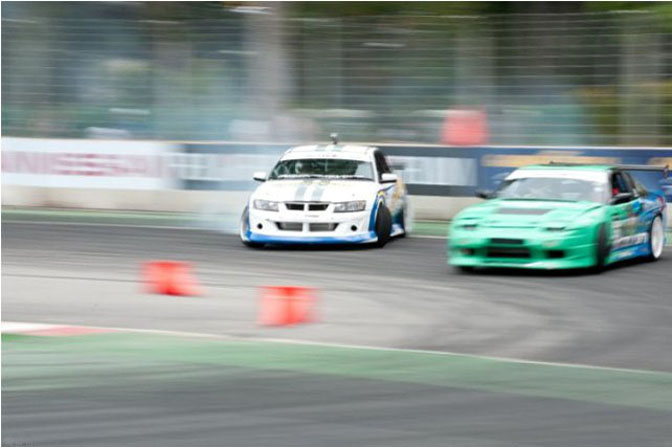 During the round of 32, sadly all 4 of my countrymen who qualified were knocked out by their neighbouring counterparts. Shown here is Kiwi "Fanga" Dan's RB26-powered Commodore muscling off Jansen Tan.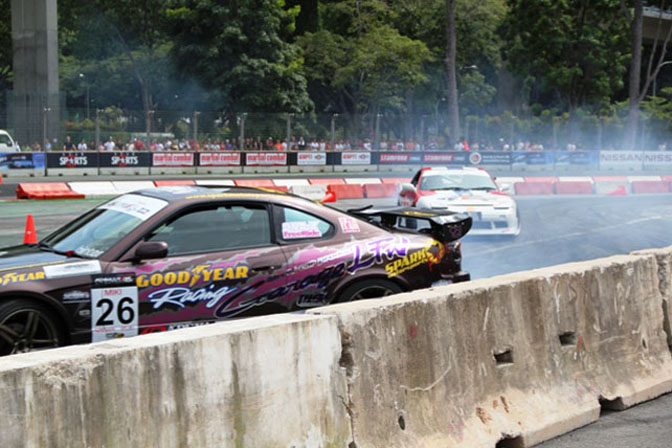 The biggest upset of the whole competition came in the round of 16 when top-seeded Miki overcorrected after the first clipping point when he was in the lead car. Indonesian Rhenadi drove 2 clean runs and the judges awarded the round to him. You can hear the groans of disappointment from the fans but David felling Goliath is all too common in the sport of drifting!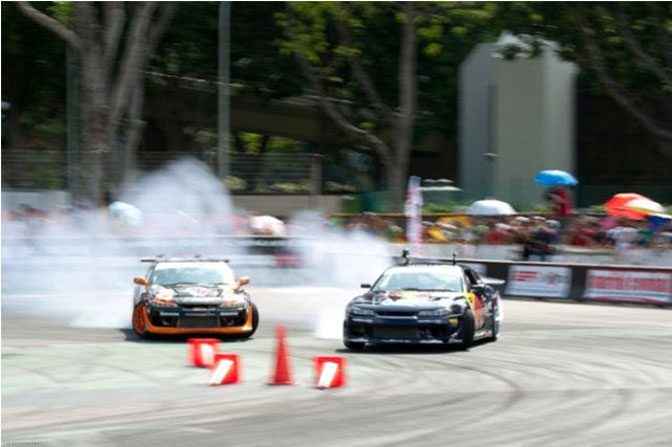 The most anticipated round of 16 battle was "The Prince of Drift" Tengku Djan versus Kiki Sak Nana, the Thai Drift King, being the top 2 competitors back in Formula Drift Malaysia 2009. Djan lead with an almost perfect run with Kiki struggling to catch up. Kiki subsequently tried to throw Djan off with copious amount of purple tyre smoke but Djan held on and won the round. 
By now, two of the three favourites Miki and Kiki were out and Djan is looking just a wee bit unbeatable…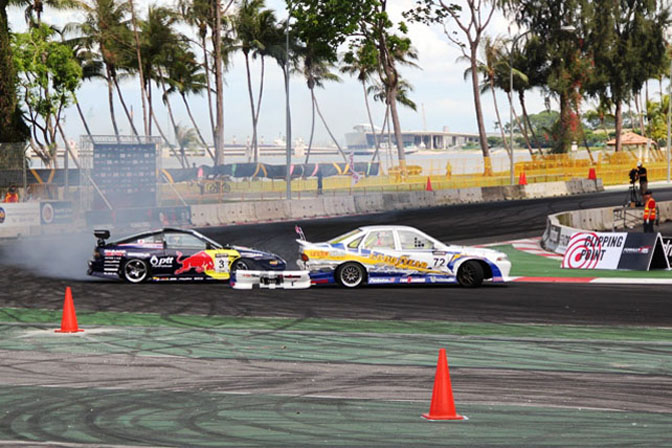 The only other Japanese driver was Murata steering a Redbull-sponsored 180SX and he was fairly consistent during practice and the qualifiers. But he rear-ended Hanizam during the round of 16 and he's gone too… Is there anyone that's going to stand up to Djan?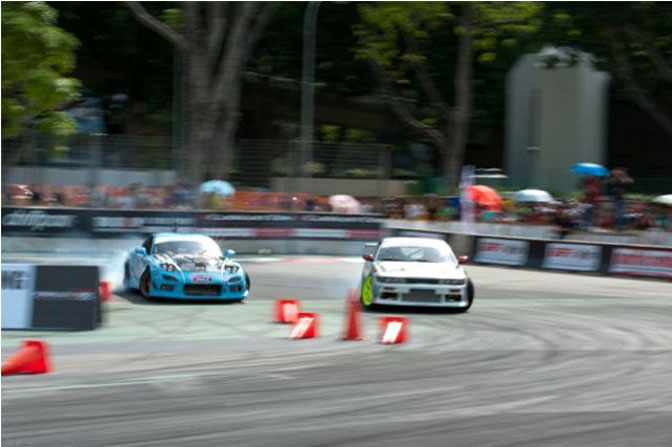 Malaysia's Lim Kim Wan is entertaining to watch in his flamboyant ISC Toyo RX7, as he has a very aggressive style, with most of his entry speeds above 130km/hr. He sends off Filipino David Feliciano in the round of 16.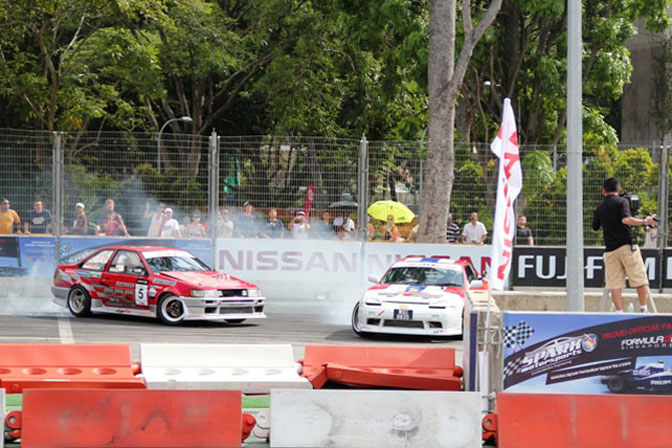 Moving on to the Elite 8, Tan Tat Wei who has been a consistent performer in previous Formula Drift rounds has a new weapon up his sleeve, or rather, down the hood of his AE86 – a NA 13b rotary. The screaming engine must have caused Rhenadi to spin (I kid!), with Tat Wei moving into the Final Four.
"Fanga" Dan, the 2006 D1NZ champion, is a treat to watch both in terms of his aggressive yet controlled (generally) style and the fact that I have never seen a Commodore go sideways in Singapore and Malaysia. He put on a valiant fight with Djan in the Final Four battle…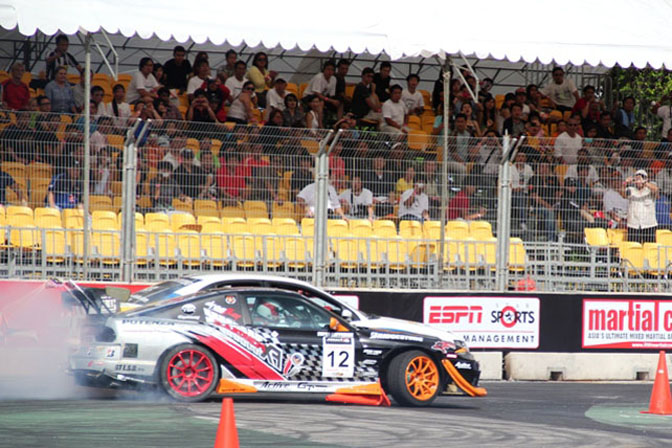 But Djan showed, once again, why his other nickname is the "Tandem Assassin", sticking to the Kiwi as if their cars were conjointed Siamese twins. Djan moves on to meet Tat Wei in the final battle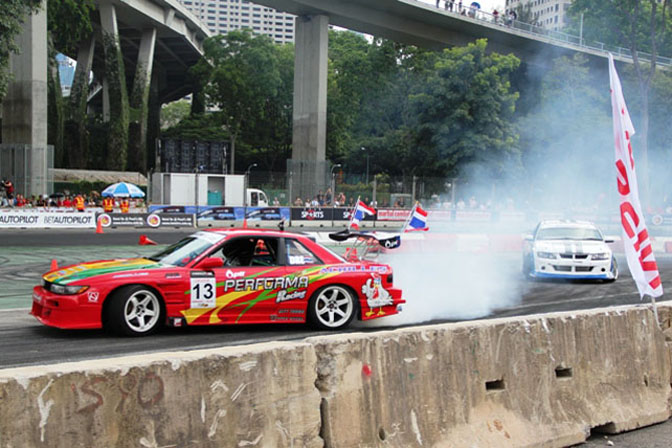 In the battle for bronze, Davide and Dan faced off with two rather messy runs, with both making mistakes and OMT being called for. Dan pulled through and secured his podium finish.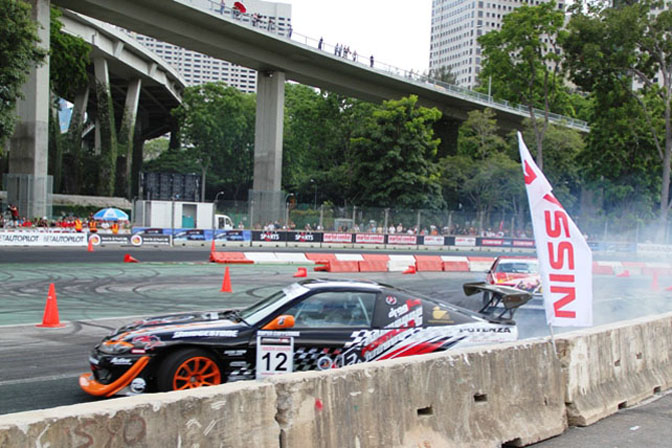 In the final battle, Djan lead the first run and left Tat Wei slightly behind due to his car's better power-to-weight ratio. But other than that, both drifters' lines, angle and style were great.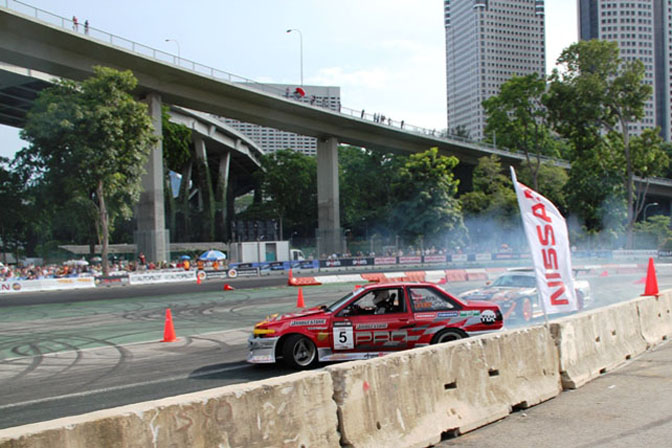 With Tat Wei leading in the second run, he gunned his Hachi for everything it got and to me, it was a beautiful run done with heart.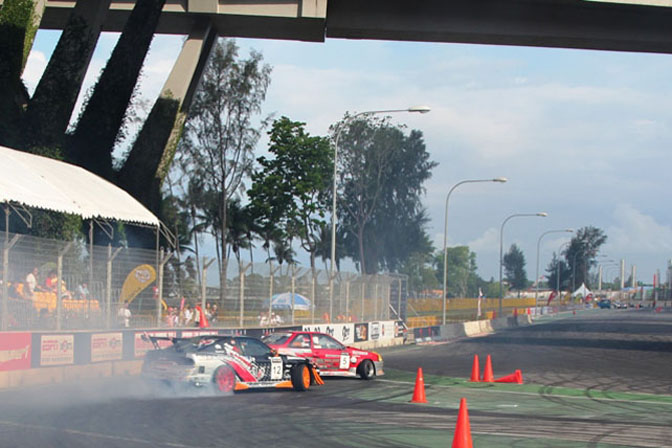 I am starting to sound like a broken record but there is a reason why Djan's nickname stuck for so long and I am sure you can guess by now what happened.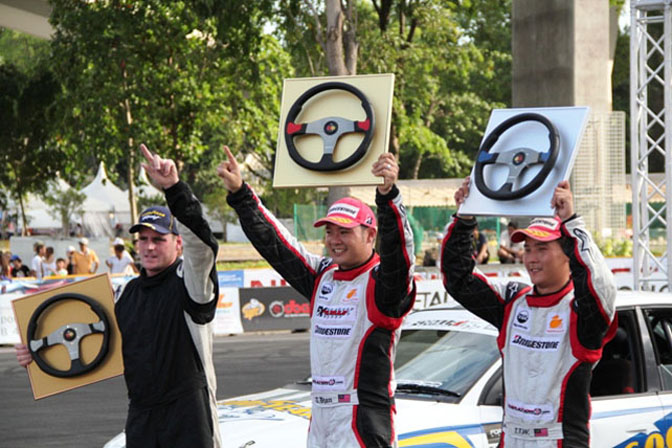 What an event! A 2004 D1GP champion knocked off at the round of 16, a 2006 D1NZ champion landing third place and two Malaysians being top dogs. The art of going sideways continue to pick up momentum in this part of our world.