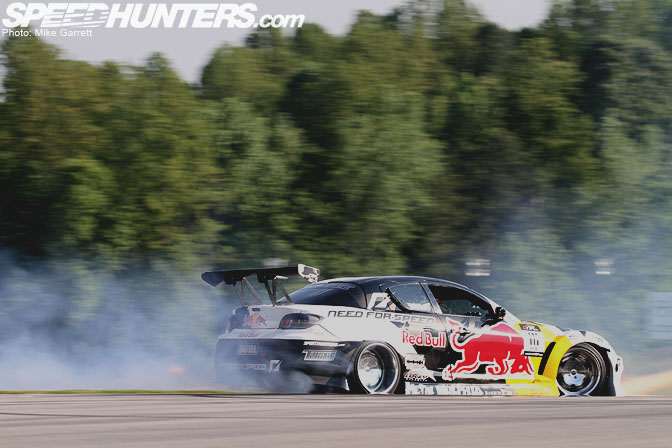 As I'm writing this, the FD drivers are having practice under the lights at Road Atlanta, but as usual I headed back to the hotel early so I could post a run-down of qualifying.
It was a hot, humid day at the track, and the action was as good as ever.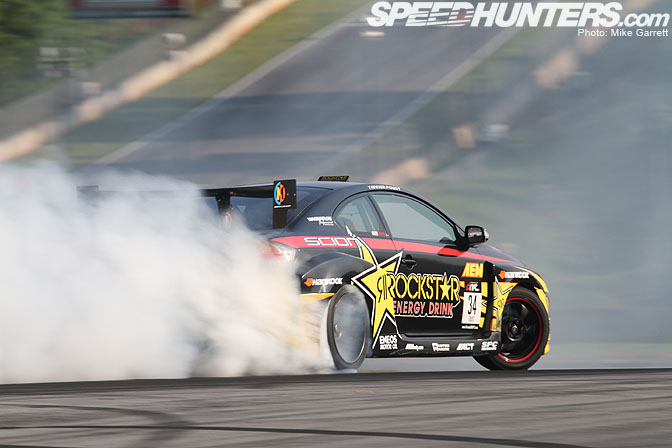 Qualifying first overall was Tanner Foust, who had a blazing 92.8-point run in his Scion.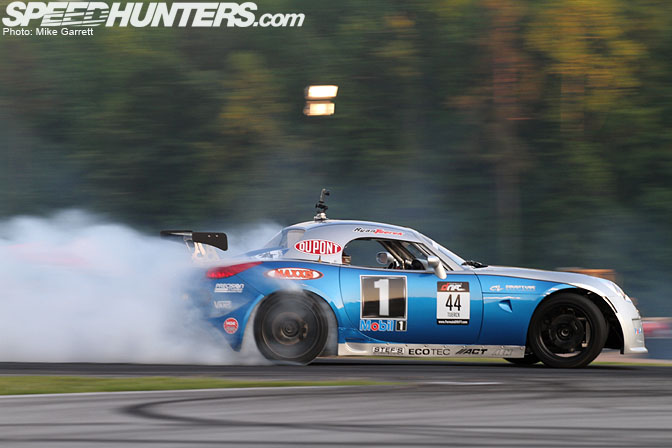 Right behind Tanner is Ryan Tuerck, who drove his Pontiac Solstice to second with a 91.7.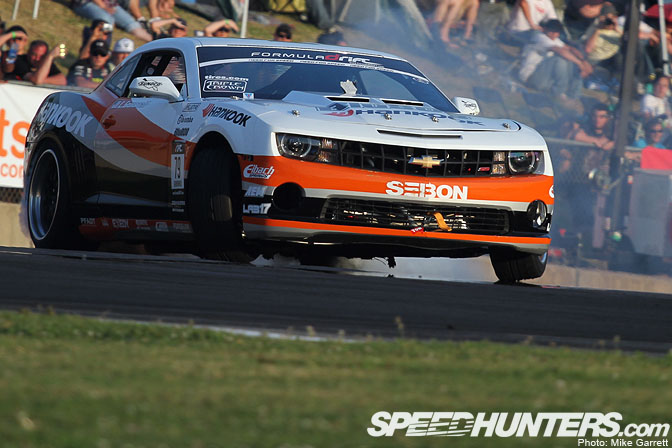 If there was one man who stole the spotlight though, it was Conrad Gruenwald. In just the second-ever event for his Camaro, he qualified third with a 89.5-point run. The Camaro looked incredible, with lots of speed, mega-aggressive entries, and more than enough tire smoke.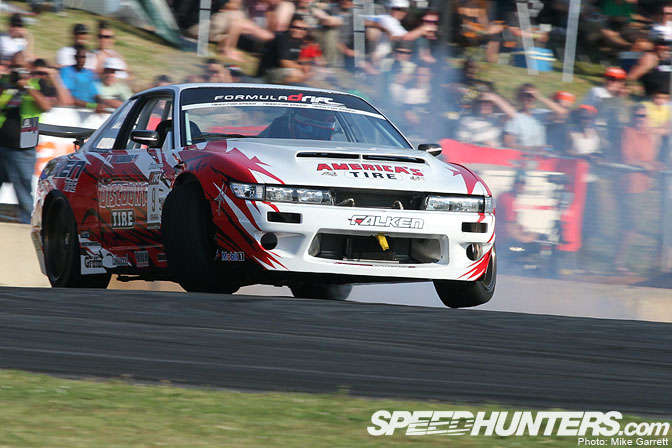 Qualifying fourth was Dai Yoshihara in the Discount Tire S13 with an 89.4 . Look at him three-wheeling as he crests the hill on Road Atlanta's famous loop.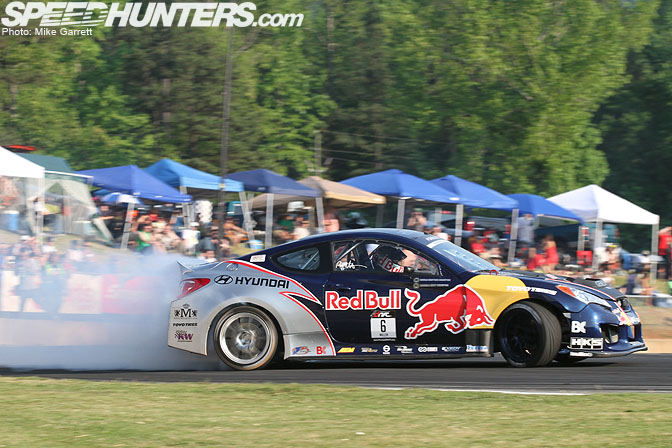 The second-place finisher at Long Beach, Rhys Millen qualified fifth with a 87.6-point run.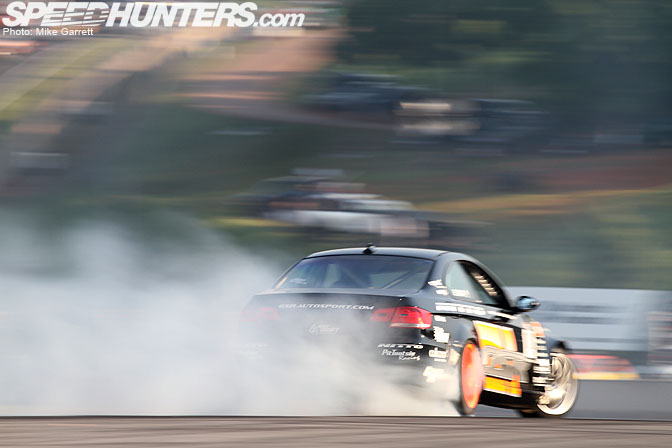 Michael Essa didn't have the best luck at Rd.1 where his BMW met the wall rather hard. It's been a totally different story here in Atlanta though. Essa drove the M5-powered 3-series to sixth spot with an 87.1.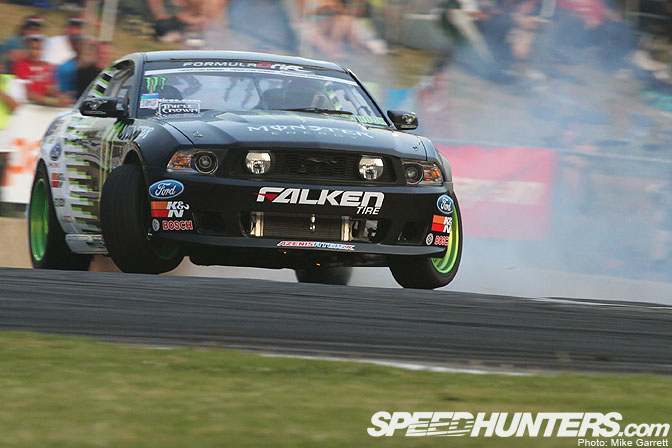 Meanwhile, Long Beach winner and current points leader Vaughn Gittin Jr. put his 2011 Mustang into seventh with an 86.9.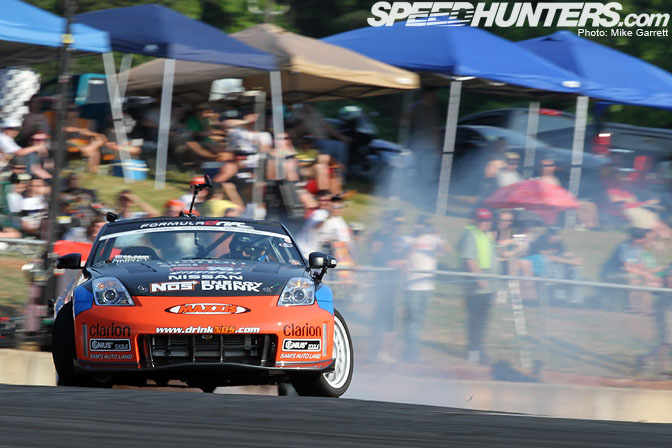 JR's Drift Alliance bro Chris Forsberg came right behind, taking eighth with an 84.4.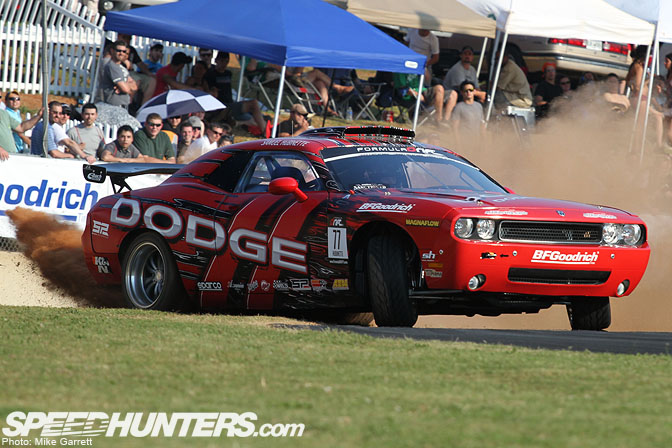 Taking the ninth spot was Samuel Hubinette, who navigated the big Challenger to the tune of 83.7-points.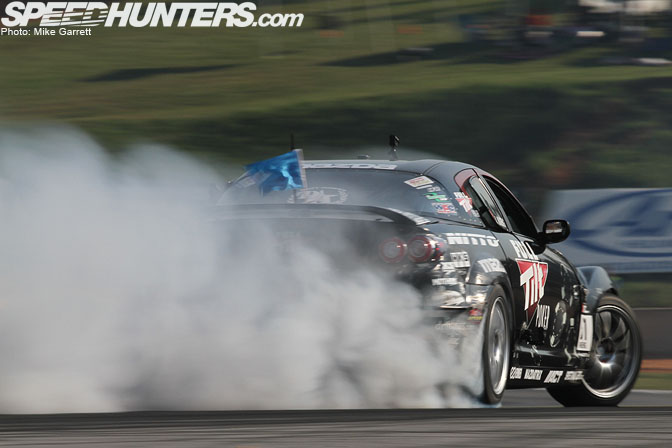 Rounding out the top ten qualifiers is Joon Maeng. "Gentle Maeng" laid down an 83.5 in the Full Tilt/Bergenholtz RX8.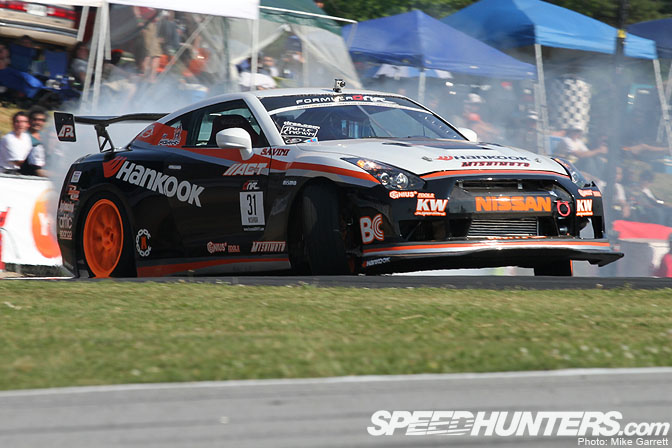 Another big story was Robbie Nishida. This was the debut event for the Hankook R35 GT-R, and Robbie got things off to a good start qualifying in the 11th spot. Nice!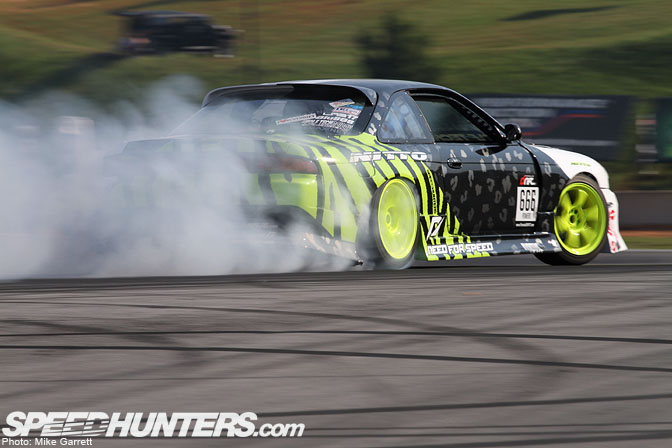 As for Team NFS, I'm happy to report that both of the boys made into the show. Matt Powers qualified 22nd…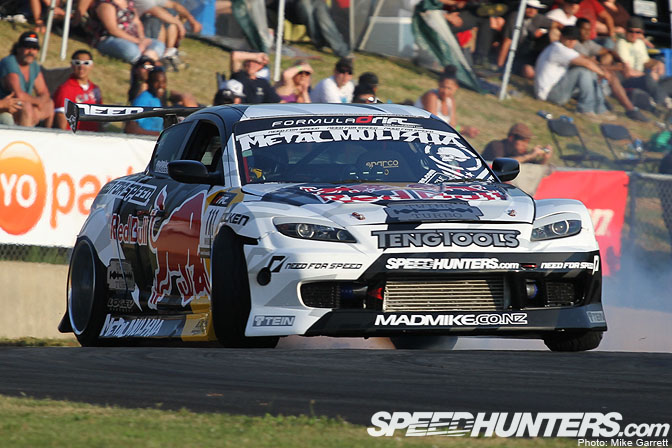 …while Mad Mike Whiddett qualified in the 29th spot.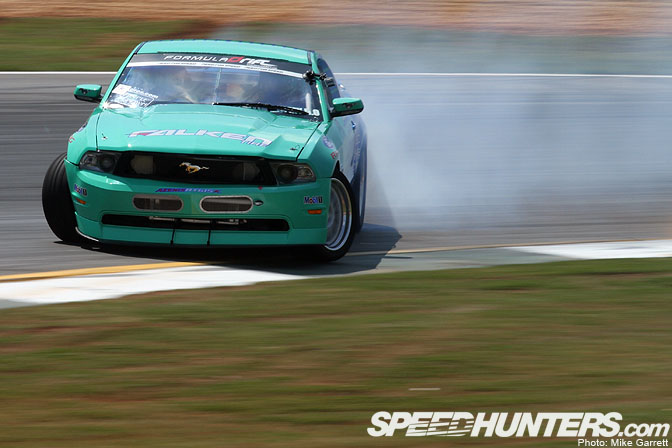 Justin Pawlak had a big spin on his first qualifying run, meaning it was do or die for his second run. Luckily he brought his stuff and ended up qualifying 19th.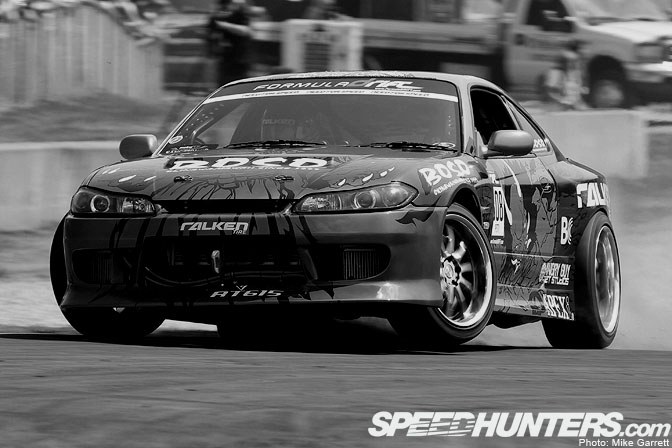 As I watched Ross Petty make his practice runs today, memories of Nikko Circuit in Japan filled my mind. Ross would end up qualifying 18th.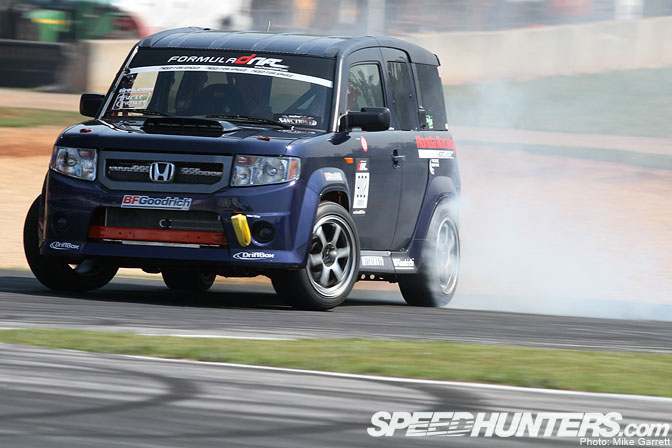 it didn't make Top 32, but it was quite fun watching this FR-converted Honda Element run the track. There were a few times when it looked as if it would roll right over.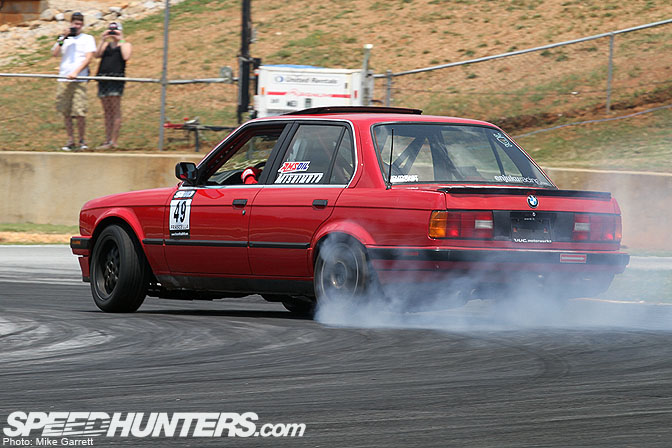 There was also a regional Pro-Am competition running alongside the main show. Cool little E30 sedan right here.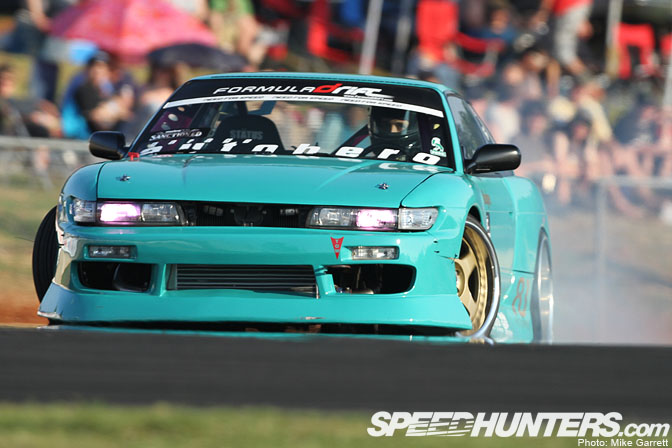 And while on the subject of Pro-Am, here's Roland Gallagher in his badass-looking S13. Roland didn't make Top 32, but the guy's commitment is just incredible, coming from the opposite end of the country to compete in Atlanta as privateer.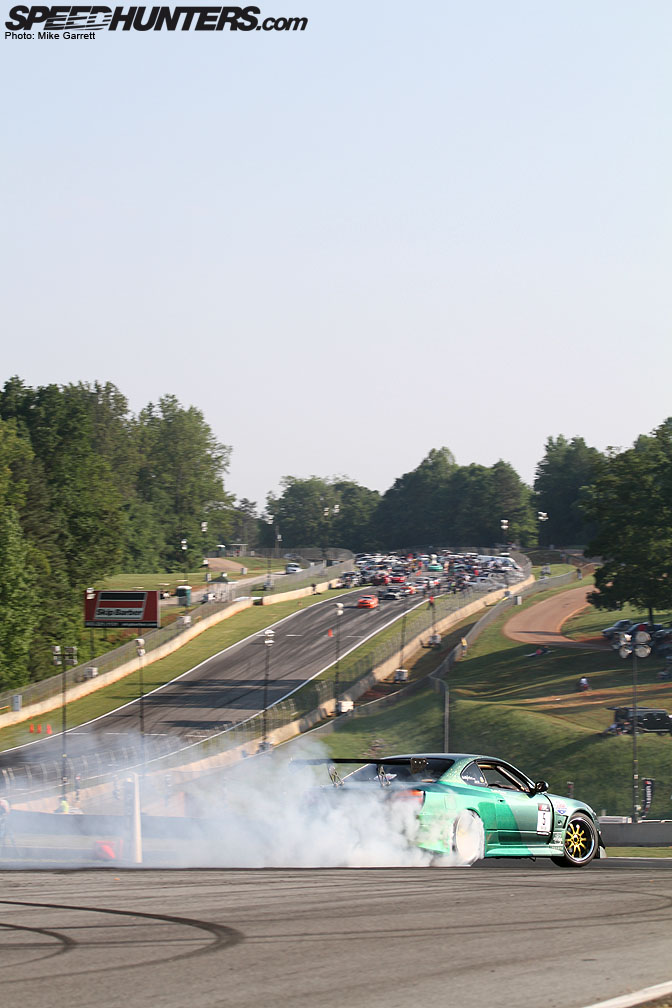 Alright, time for some dinner and a shower to wash these rubber bits off me.
Here's the complete qualifying results from Formula Drift -
Driver: Car #: Score:
1 T. Foust #34 34 92.8
2 R. Tuerck #44 44 91.7
3 C. Grunewald #79 79 89.5
4 D. Yoshihara #9 9 89.4
5 R. Millen #6 6 87.6
6 M. Essa #101 101 87.1
7 V. Gittin #25 25 86.9
8 C. Forsberg #64 64 84.4
9 S. Hubinette #77 77 83.7
10 J. Maeng #51 51 83.5
11 R. Nishida #31 31 82.6
12 D. McNamara #8 8 82.4
13 P. Mordaunt #90 90 80.1
14 R. Miki #26 26 79
15 K. Mohan #99 99 78.6
16 C. Ng #84 84 76.3
17 K. Gushi #33 33 74.8
18 R. Petty #808 808 72.6
19 J. Pawlak #13 13 70.5
20 T. McQuarrie #17 17 69.6
21 T. Aono #86 86 69.6
22 M. Powers #665 665 69.3
23 D. Kearney #43 43 68.8
24 D. VanDenBrink #19 19 68.4
25 C. Martinez #951 951 68.4
26 M. Takatori #5 5 66.9
27 S. Verdier #12 12 65.8
28 C. Parkhouse #562 562 65.7
29 M. Whiddett #111 111 64.9
30 F. Wang #30 30 63.3
31 D. Mertzanis #323 323 62
32 M. Waldin #23 23 59.5
-Mike Garrett