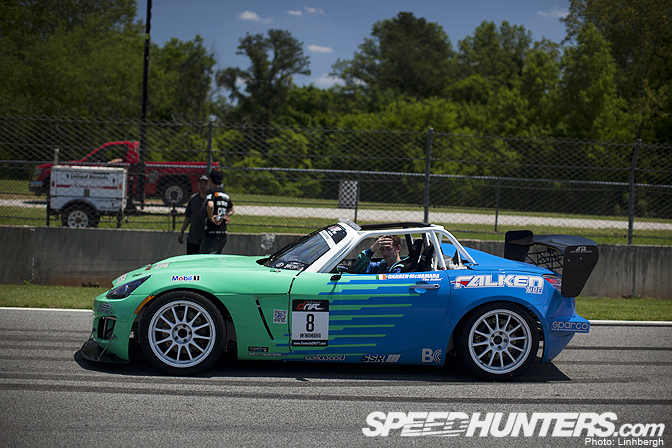 Hello Speedhunters, welcome to the second installment of my driver blog
from Hotlanta and my God, it lived up to its name.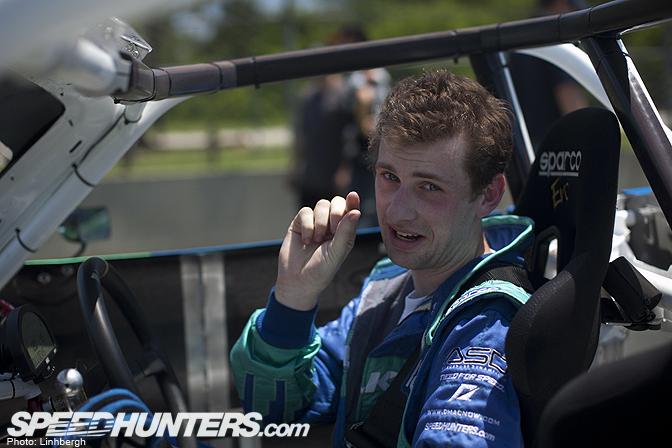 The heat on Thursday was a little bit too much. Especially, for a pale
Irishman. I look in distress here. ASD had installed a new Motec dash
for this weekend which I really liked.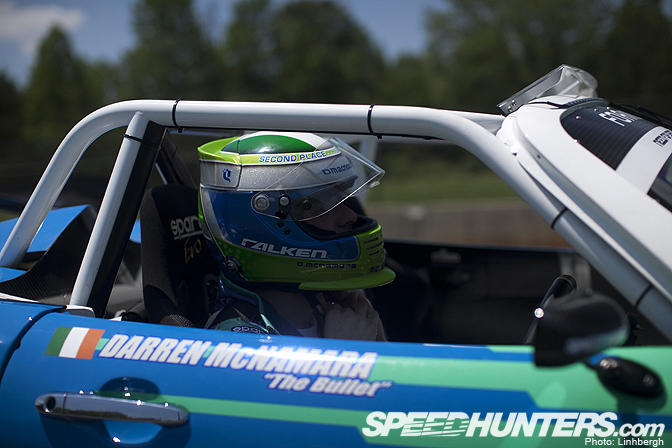 Time to get the gear on and go for another run. We were doing single
runs on the Thursday for some reason…. After 4 runs in a row, I was
delighted to pull up to my crew for some new RT615K's. Let's not forget
to mention that the heat in the cockpit was unbearable.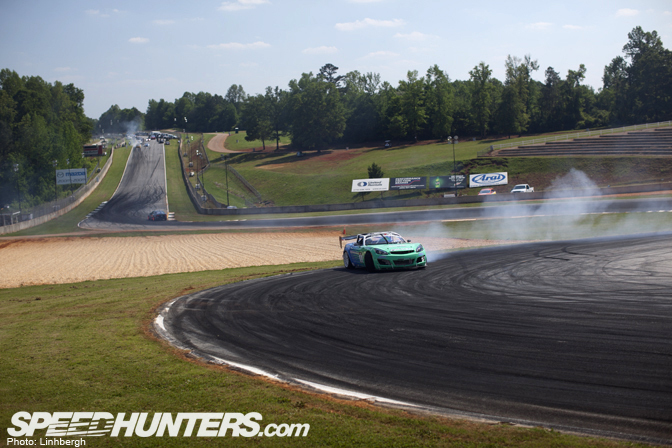 Practice was going very well though. I love the Road Atlanta course and
also the fans are amazing. It makes for one of the best rounds on the
calendar.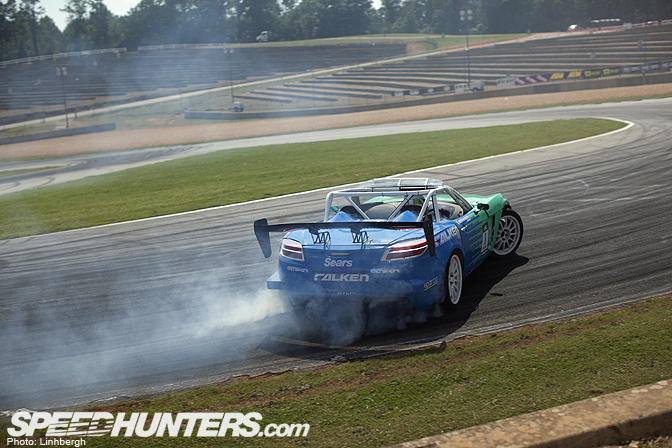 Not a bad outside line here. The Saturn Sky was developing much more
grip than previous years. I was happy with my leading/qualifying line.
Now it was time to chase!!!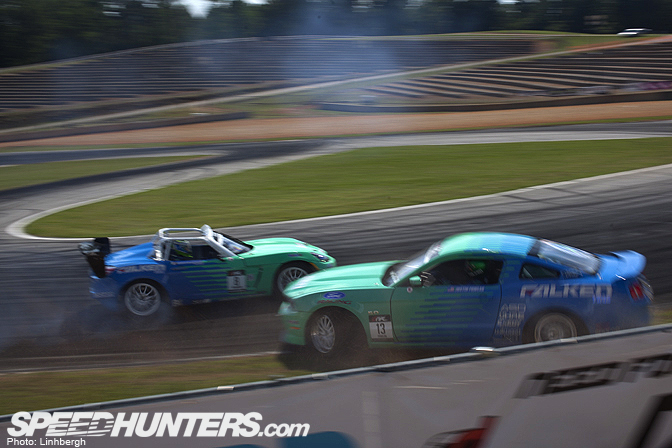 I decided that even for practice I wasn't going to back down on any run
and it led to some hairy moments. My team mate, JTP, put a wheel off
here and we were very close to hitting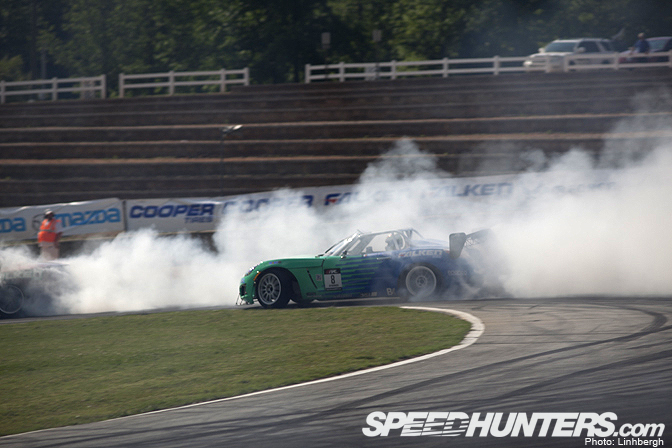 Sometimes I think I have an advantage with my RHD car as the smoke
builds up on the left side on the way down the hill. But when following a
competitor vision can fall to zero. I cannot count how many times over
the weekend I was driving blind and memory took me down that hill!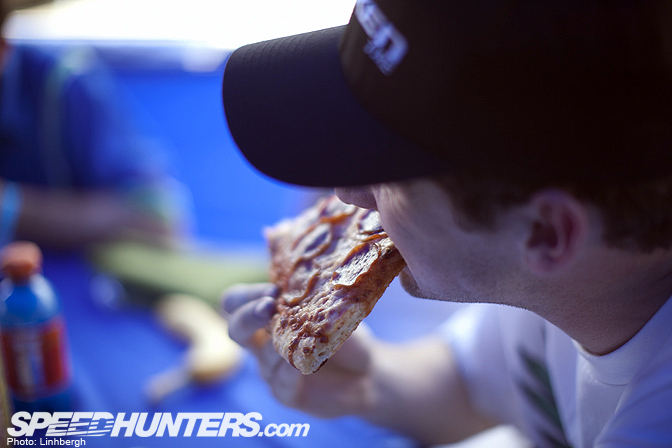 Time for some food before heading to the drivers meeting. Falken Tire
knows how to take care of they're drivers. Pepperoni Pizza FTW!!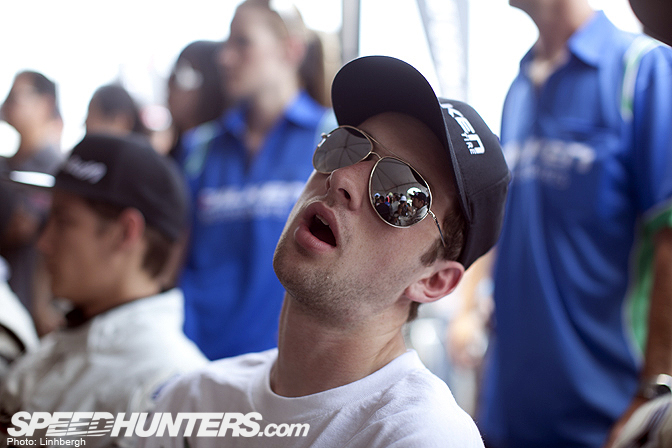 All fed and at the drivers meeting, time for a nap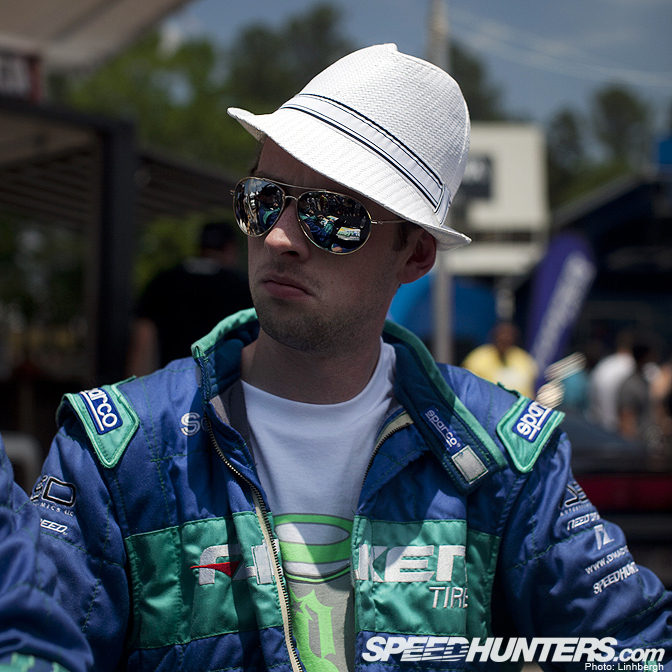 I think your hat suits me better, Linhbergh.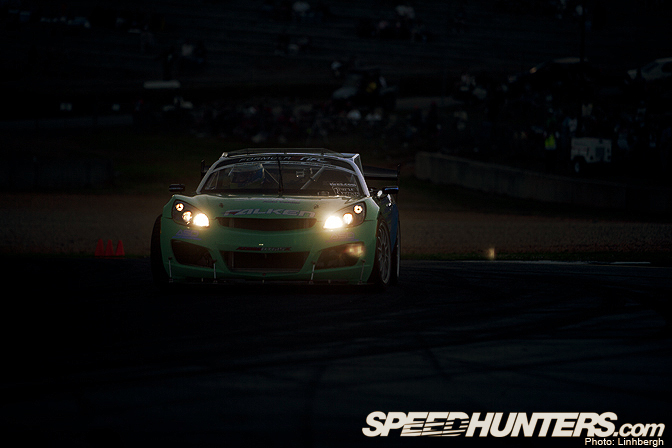 Drifting at dusk is one of the coolest things on the planet. But I
struggled with visibility during our night practice session.
Headlights going through plumes of tire smoke in a convertible? It's bit tricky….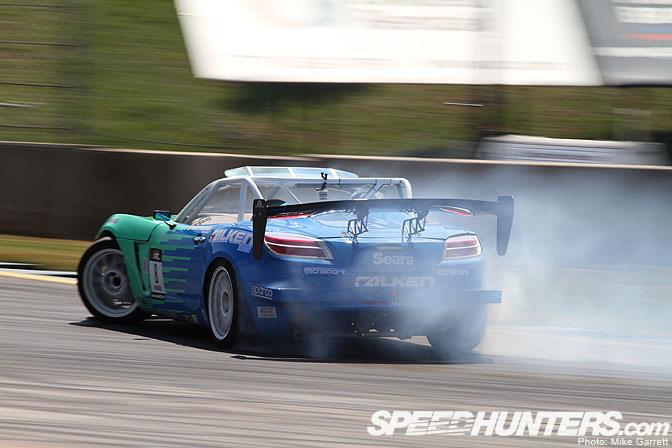 On to Friday and time for more of the same: line up in the chase lane
and try to humiliate my opponent.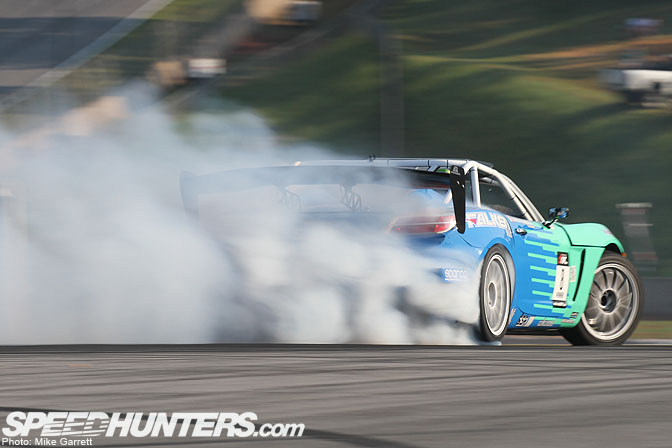 When it became time to qualify, I had very much concentrated on tandem
chasing so I was not expecting my qualifying runs to be anything
special. I was ranked 6th for qualifying after my first run and tried to
do a backwards entry on my second. But didn't pull it off like Mr
Foust's. I blame my short wheelbase. I settled for 10th overall.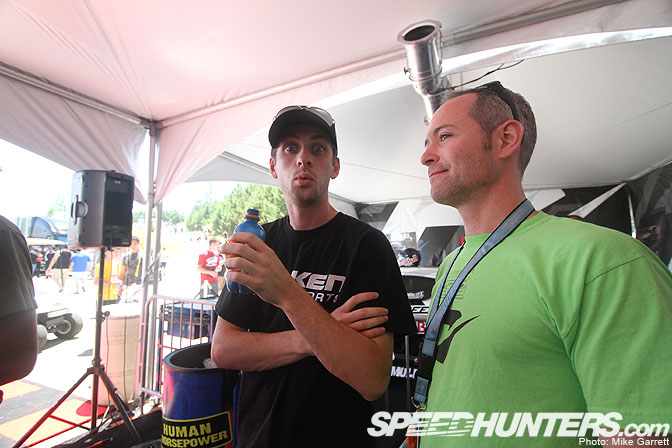 While I had some time off, I went to hang with Jesse (doesn't he look
like NASCAR driver Jimmie Johnson? Picture him in a Lowe's cap…) and the crew at the
Need for Speed Electro Lounge. It was by far one of the best places to
relax. I set a lap time on Shift that took some kid 4 hours to beat.
Definitely will be hanging out here in New Jersey.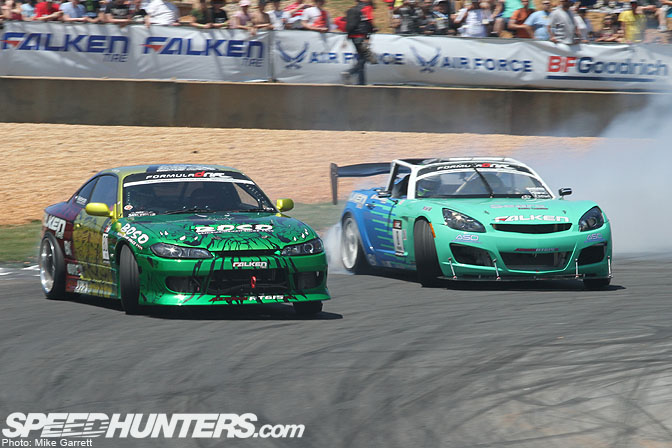 Time to get back to the car for the Top 32 practice session. This is our
last chance to take note on our opponents and hopefully get to run
against some guy we may get match up against in tandem.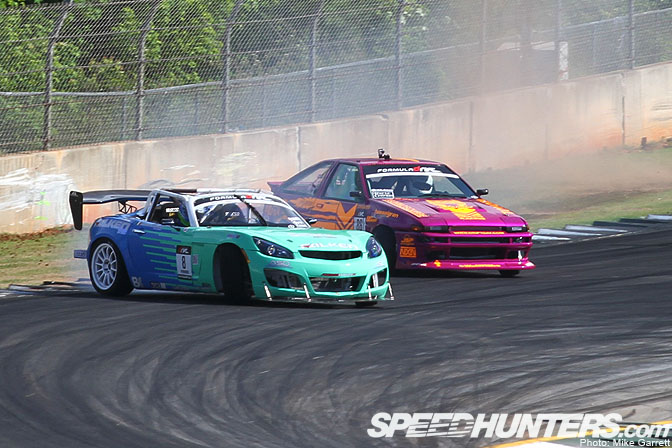 This would be one of the turning points of the weekend: my top 32 battle
against Taka Aono. I was feeling great and very few cars seemed to be a
match for us in practice.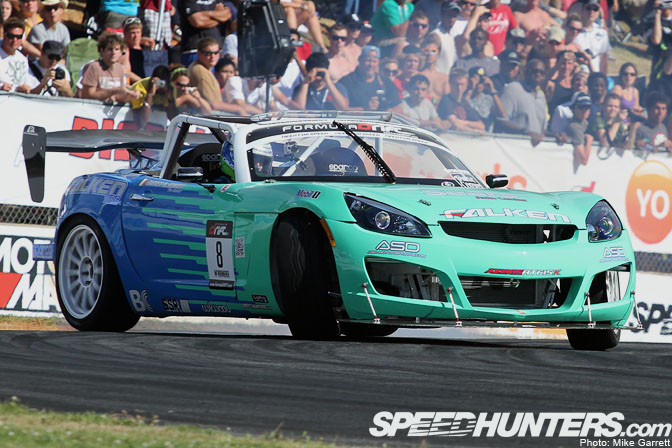 The Falken Tire Saturn Sky sits perfectly at the top of the horse shoe,
ready to release 800bhp down the hill to the finish line….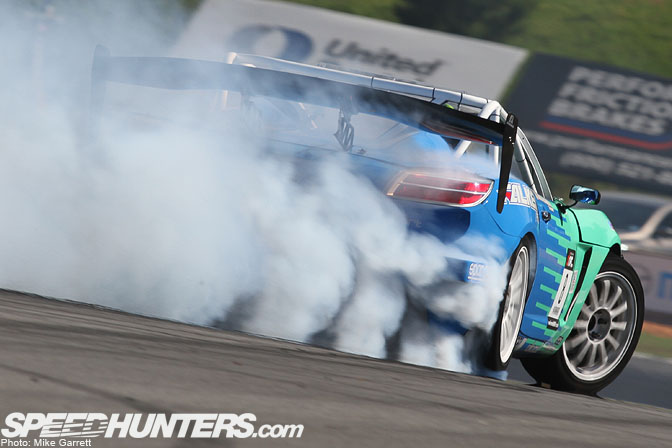 There we go!! I can't begin tell you how good these 615K's are. How did
we ever drift without them?
Unfortunately on my chase run, Taka spun out in front of me in turn 1.
We made the slightest bit of contact.
It was where we hit that
caused the problem: my front wheel ended up touching his rear and
immediately snapped my wheel from full lock to dead straight catching my
thumb in the spoke of the steering wheel and taking my hand around with
it breaking my wrist!
The swelling had started and I was in quiet a bit of pain. Doubts about a
strong finish to Round 2 started to creep in….
Some people were quiet sympathetic about the situation but some mainly
my so called team mate thought it was funny, what a bunch of a-holes!
…like this guy! Tyler "Top 32" McQuarrie….
Enough fun and games, it was time to get back to work.
Things were kinda awkward with one hand. Suit, belts, helmet…. Everything
was complicated and the swelling was getting worse.
I needed to see if I could even drive at all…
So I fired up the Sky and headed in the opposite direction to throw the
car around a bit. I found myself subconsciously steering with just my
left hand even though I was trying not to. This was not good and for top
16. I was up against Rhys Millen. Wonderful.
Well, it was time for the top 16 driver introductions and I was
completely in a world of my own playing with my hand. I could move it
one way but not the other. I was trying to free it up as best I could!
Luckily, I tuned in when they called out Dai's name and was ready to
wave to the crowd. Dai and myself would meet up once again in the horse
shoe with a bit more explosive results….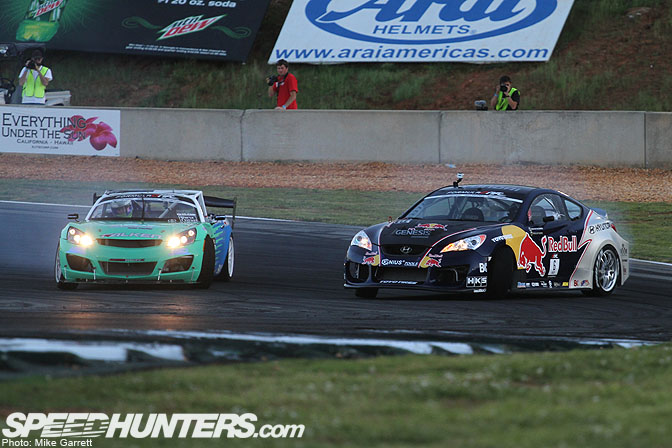 It was time to squeeze on the race gloves and see if I could still
drive.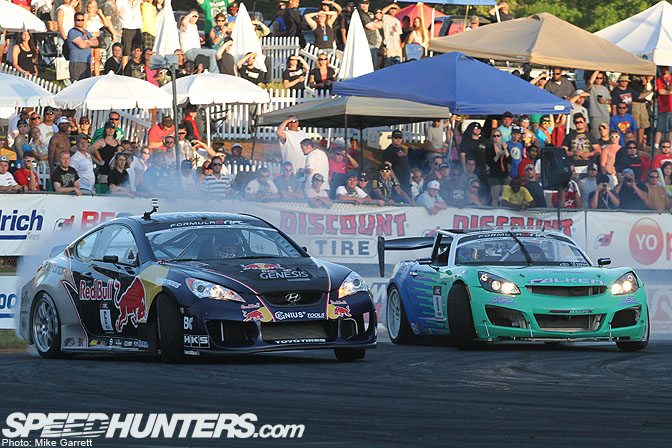 And it seemed like I could! I matched Millen's every move. Sometimes, I
prefer being the lower qualifier as I can put a lot of pressure on my
opponent for their chase run. The pain in my wrist after the run was
pretty intense but manageable during the run. It was now up to Rhys to
keep up with the Sky….
I initiated early for turn 1 at 90mph. Just as I went to leave the
outside curbing and head for the apex I felt a tap and my car started to
over rotate…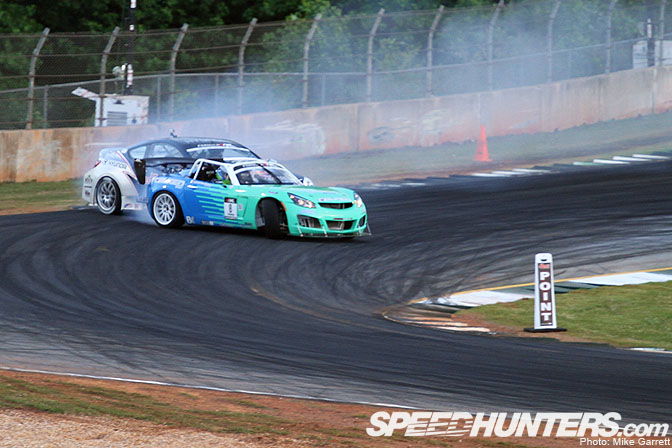 …just as it began to straighten out I felt a second tap which led me
into a half spin that I wasn't gonna get out of. I shut off and we came
to nearly a complete stand still….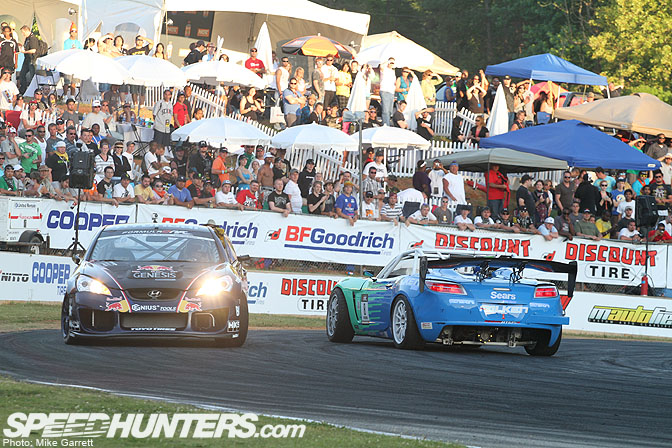 We both instinctively headed towards the judging stand to plead our
cases. I came on the radio to my crew chief, "he hit me twice bro!" Rhys
gave me the thumbs up and some sort of OK gesture but I was still wary
of the outcome. Luckily, the judges have access to some excellent slow
mo replays and it was clear Rhys was just coming in a bit hot. I was so
relieved! I had no idea how this was going to turn out. But hey, I
beat Rhys Millen with a broken wrist!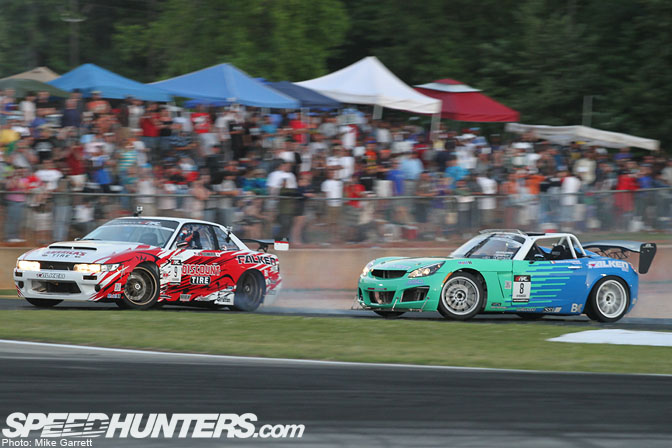 Next up: Daijiro Yosihara. When am I gonna catch a
break?? Dai was probably the fastest car left in the top 8 behind the
Sky. I knew that if I got through this round I had a serious chance of
winning the event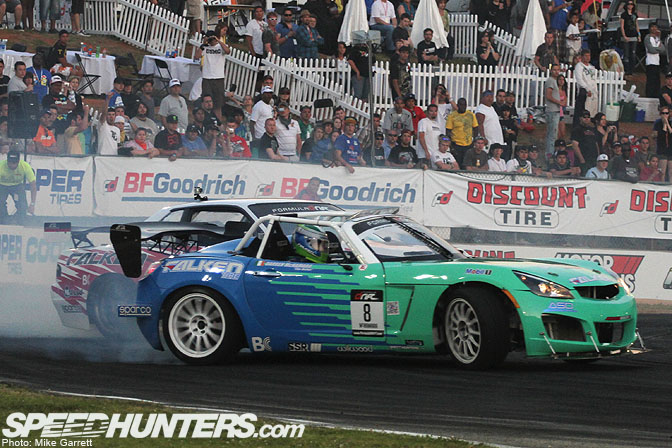 We were both pushing very hard in probably the best battle of the day.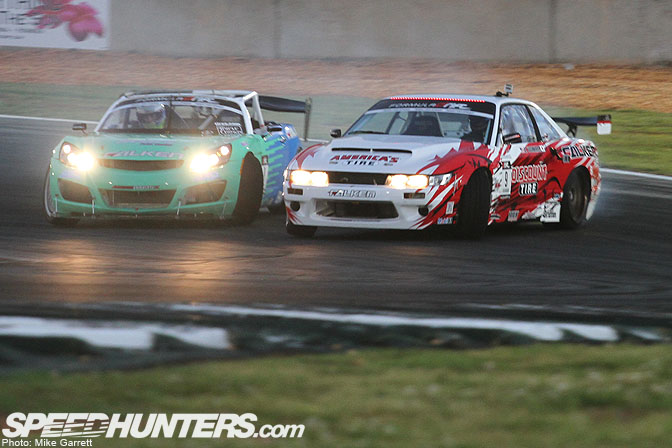 Head lights were blazing and once again, two Falken Tire drivers were
ripping it up!!!
If I was was going to be judged as the winner, I
knew I had to annihilate Dai. We decided to tighten the car up a bit and
go for the kill. I entered super aggressive and dove for his door
straight away. Then, in the horse shoe I was sure I left enough room for
the transition but Dai must have braked one more time than I calculated
for and…
Bang!!!
And bang again!!
I think I hit him three times in total. It all happened so quickly and I
couldn't risk leaving off in case I only wiped off his bumper. He
continued on unaffected! 
But finally I went on the brakes….
Luckily, I didn't catch my hand this time but I did hurt my chances of
winning a lot….
Dai looked over at me an made a gesture as in to say, "WTF!" I simply
replied, "sh*t happens man…."
Once again, the Saturn Sky gained some battle damage. I was at this time
making sure my steering toe wasn't out of line.
My car did look better than Dai's. That Rocket Bunny kit ain't cheap
either haha……oops!
All I could do now was lay down a killer lead run and hope Dai makes a
mistake. He was driving very well so I was only delaying the
inevitable….
I decided to try a blind him into a mistake…… I
didn't have man other options really.
So cue the big smoke screen!
Alas, it was all to no avail. Seventh overall with a broken wrist
isnt so bad, right? So Round 1 and 2 have been full of drama for me. I'm
sitting here with my right arm in a cast up to my elbow and I've been
typing with 1 finger for the last 4 hours. So, I hope you guys
appreciate it! My cast will be cut off prior to practice at Round 3 New
Jersey and I must repeat my win there from last year!
Till
next time Speedhunters!
D-Mac