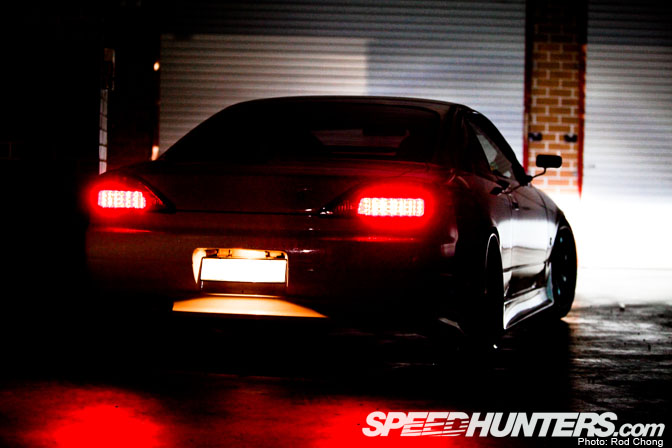 Being that I'm from the Northern Hemisphere I'm normally associate this time of the year with the start of summer and definitely not the start of winter! I am sitting here freezing my butt off in my little holiday apartment in Nelson New Zealand as I type this… Well at least my hands are warm from my laptop here!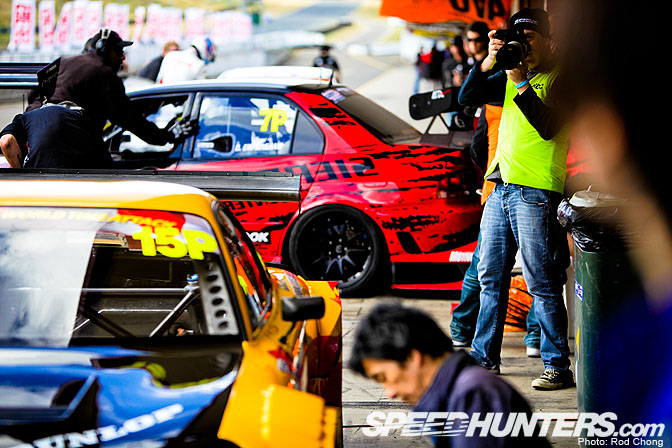 Right, so what were we talking about and why am I still working on Speedhunters stories anyway? I'm supposed to be on vacation! Hmmm… Well, I just feel it's my duty to show you more photos from last weekend's event. It was the first of its kind and I made some observations that I'd like to share in this blog story.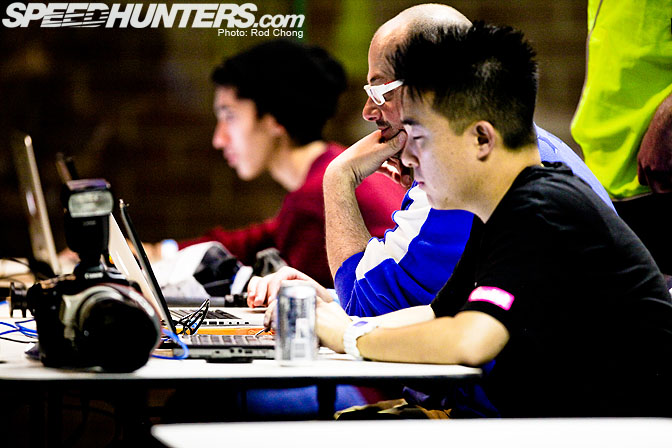 One thing that was nice about the facilities at Eastern Creek Raceway was that they had set up a proper media room for the attending journalists and photographers. This is of course standard fare for all international level races, but more of a rarity for even top line drift events. 
The Speedhunters team of myself, Dino and local boy Casey set up our laptops with the two Source Interlink crew: Peter Tarach from Modified and Carter Jung from Import Tuner. That's Carter there in the foreground who looks like he's struggling to stay awake from extreme jet lag.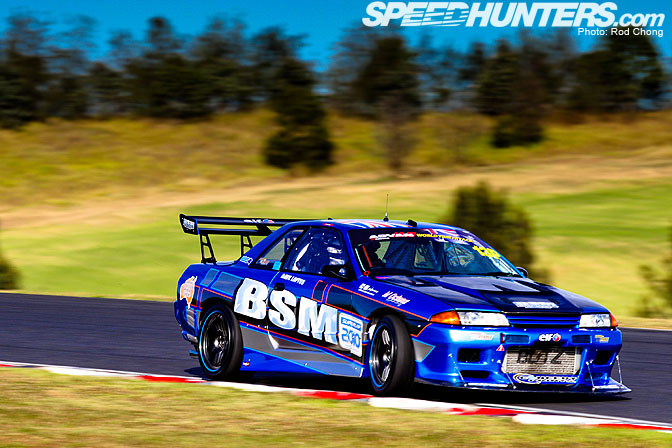 Beside the monstrous presence of the HiOctane R34, the local Time Attack car that caught my eye the most was David Loftus' BSM Motorsport R32.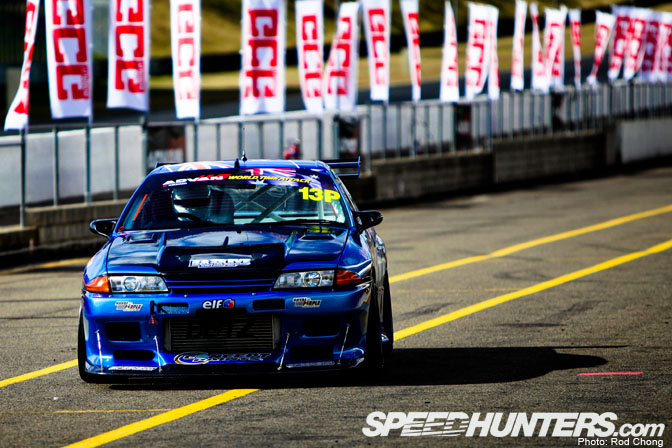 Although five seconds per lap off the pace of the Cyber Evo, it still was a fun car to watch.
Check the fried paint hahaha… top time of the weekend for this car was a 1:35.8760.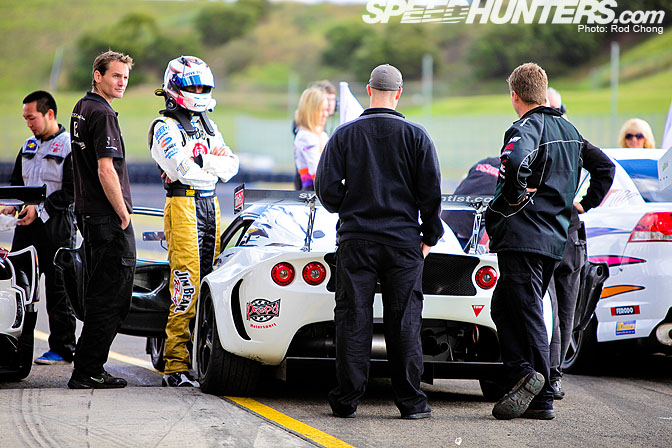 I do have to ask the question: What is the difference between a Time Attack car and a Race Car?
I have to say, I did find it rather odd that the organizers had allowed full race prepped cars into the competition. This GT3 spec Exige ended up in fourth overall, but in all actuality it's a pure GT racer and not a Time Attack car IMO. Cool machine and all that, but I did have to wonder what it was doing in the competition. Agree? Disagree?
Dino, Casey and I spent a lot of time at the event taking turns following Tarzan Yamada around. It was pretty amazing how he handled driving for two different teams. Both sides of the garage seems quite happy to share his driving skills. Here he's about to take the Subaru out for a spin.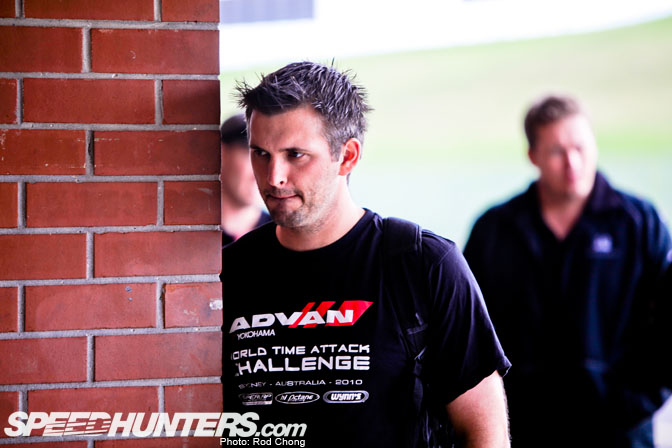 Meanwhile Andrew from Motive DVD looks on.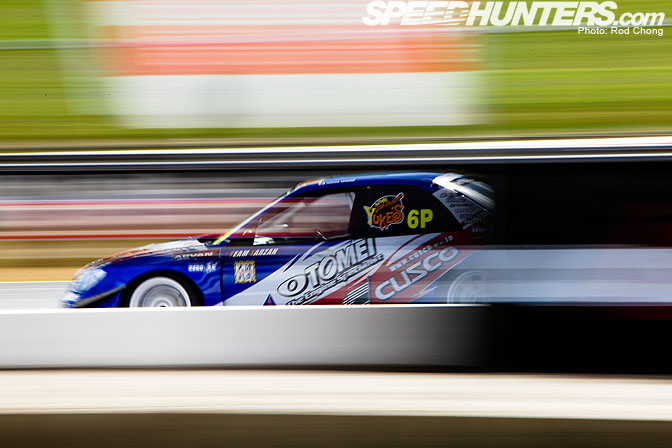 John Brooks style FTW! I decided to spend one of the sessions with Tarzan's teams to watch the action unfold from the pit lane. This is the view as he flashed past on a timed run.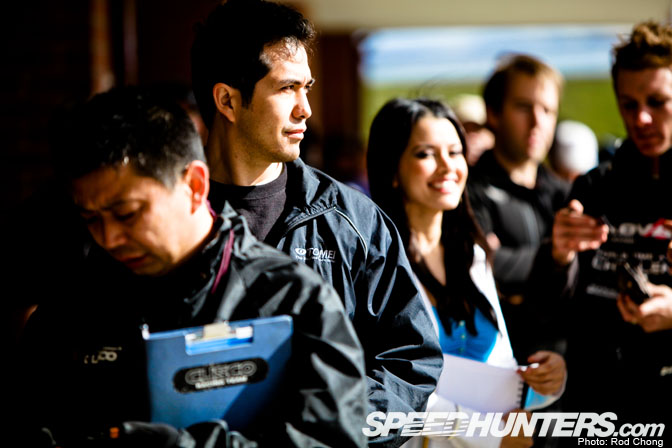 That's Allen from Tomei looking on… In the BG is Annette from Motive DVD. I do believe they are making the official DVD of the event.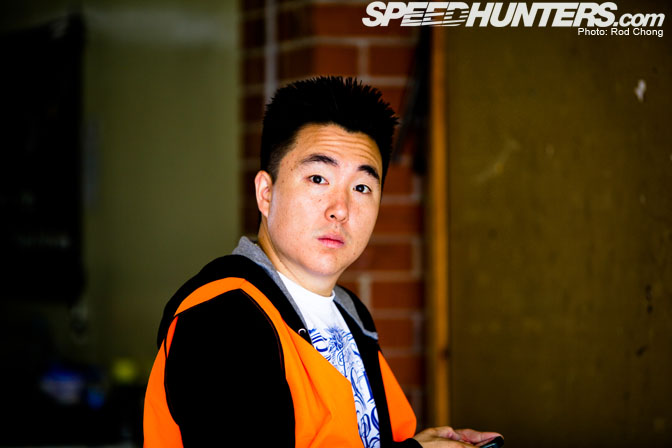 Hey Carter!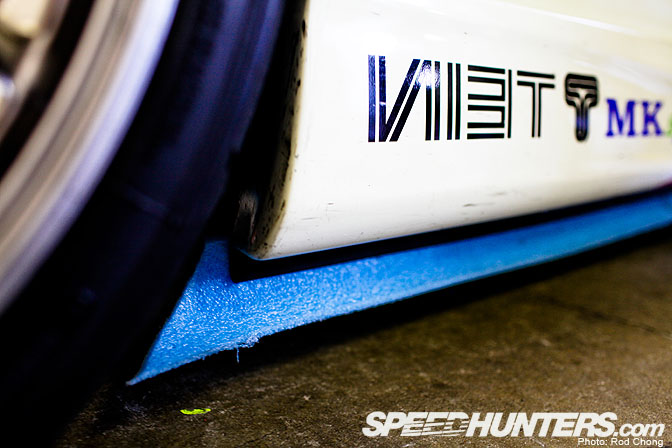 Mister Import Tuner himself and I spent a few minutes looking over the Cyber Evo… check out the hand made ground effects side skirts! They were made by the Voltex crew from bits of roll cage foam overnight in an attempt to gain just a bit more down force and aero efficiency from the car.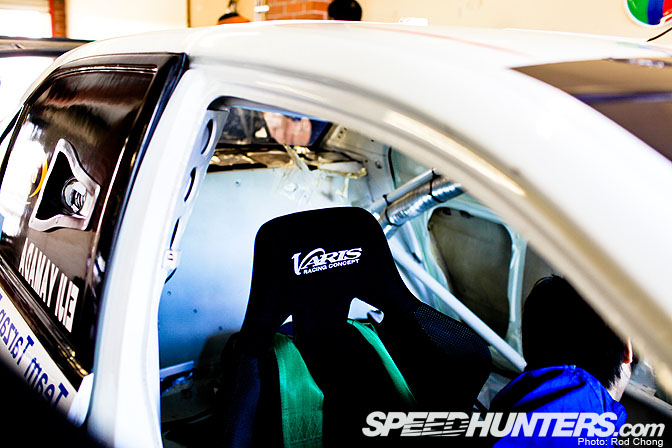 Carter was quick to point out to me that the Cyber Evo has next to not roll cage inside the cockpit.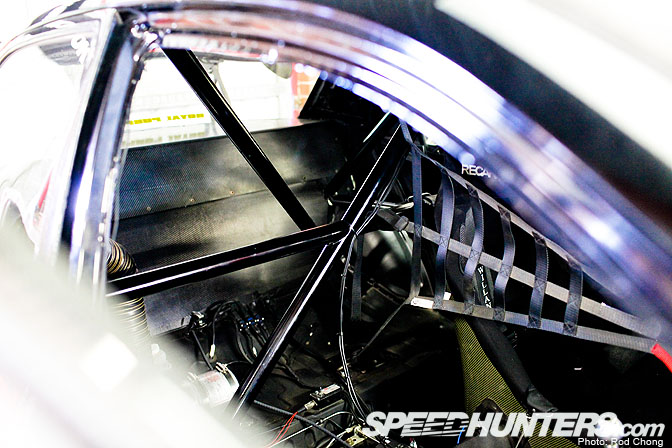 Compare this to the view inside the Sierra Sierra Evo. Interesting….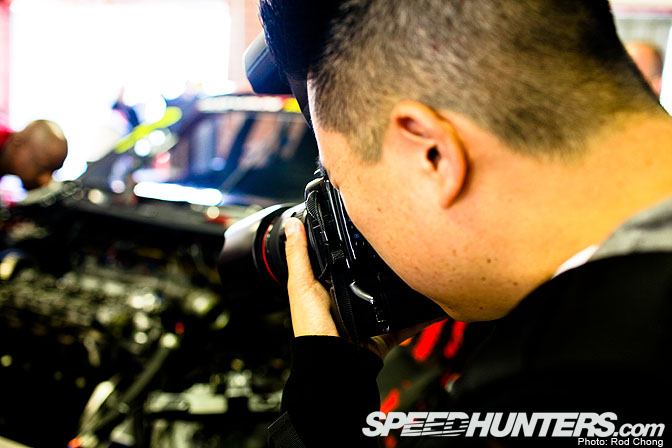 As Carter and I compared roll cage setups on the two cars we noticed that a lot of work was going on in the Sierra Sierra camp.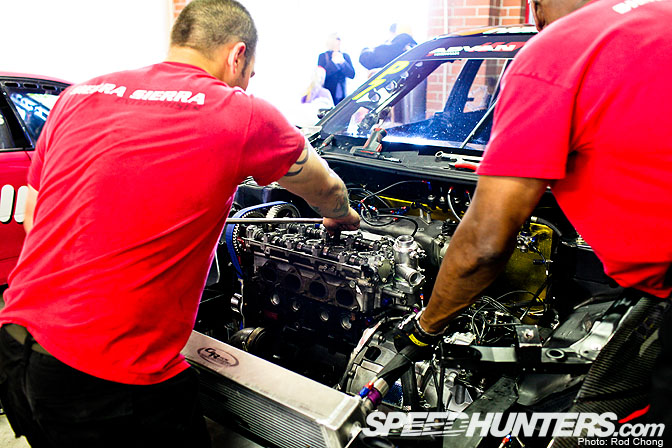 Seems like the Evo blew a head gasket after the second session on Saturday.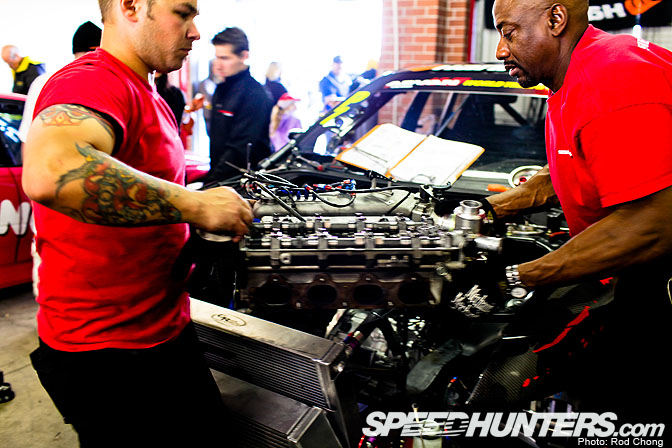 So the head needed to be pulled from the engine.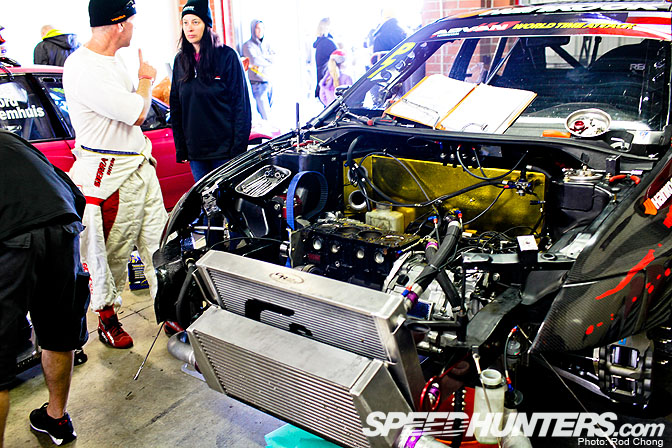 The team didn't seem to concerned though and the car was ready with time to spare for the final session of the event.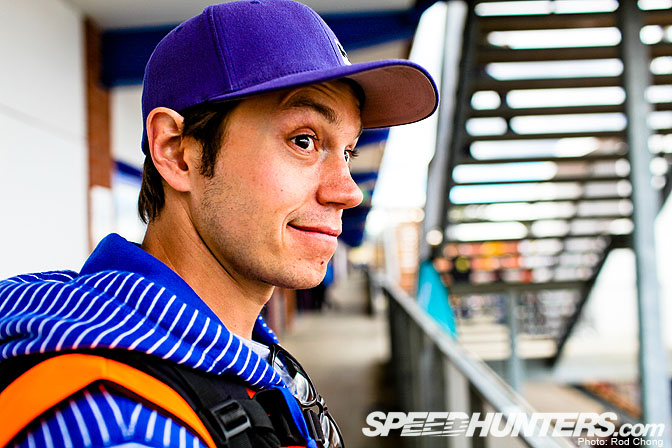 It was at this time that we met up with Peter from Modified to take a quick run to the local Pizza Hut.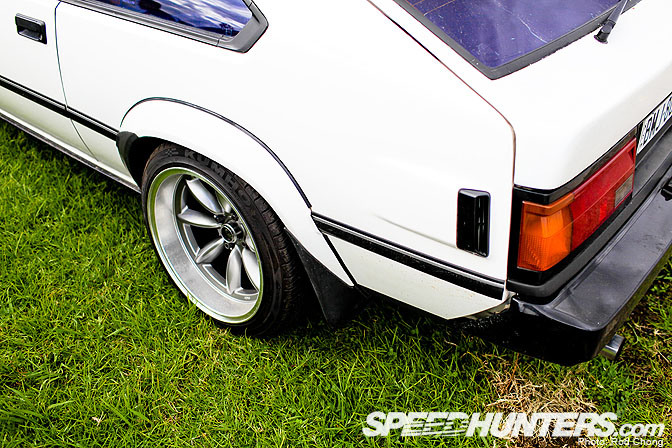 On the way to the car, I spotted this piece of semi-vintage JDM metal. Dang, I remember when these Toyotas were new in the showroom!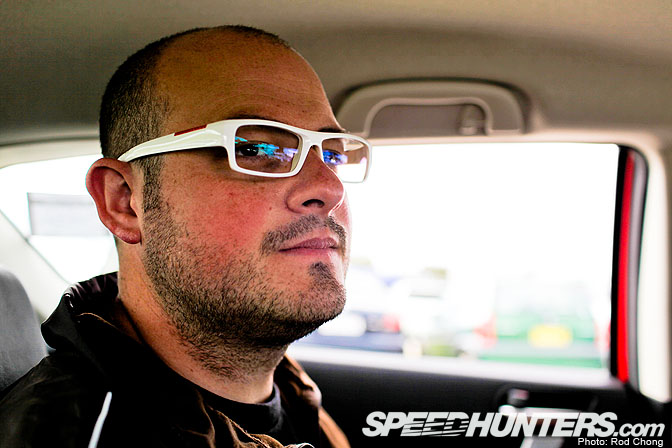 A shot of Dino "I burn easily" Dalle "I have new Prada glasses" Carbonare.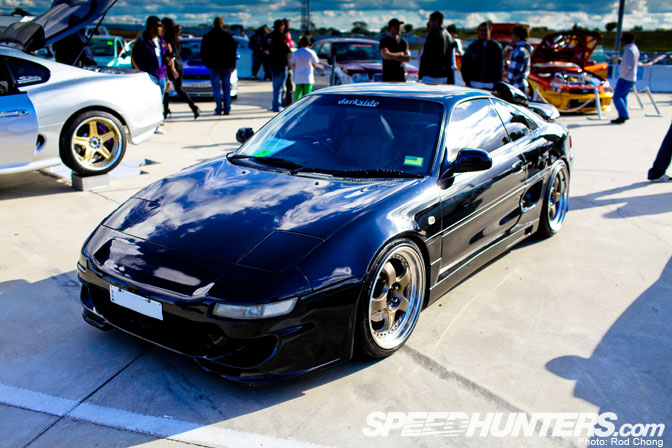 Returning from lunch, Dino and I had a stroll through the car show.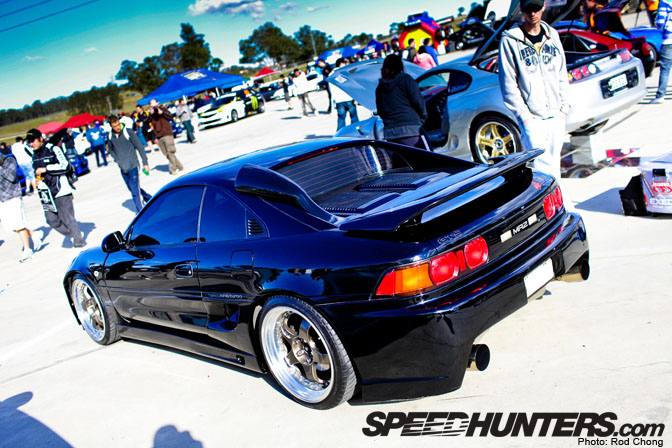 One of our favorite machines was this second gen MR2.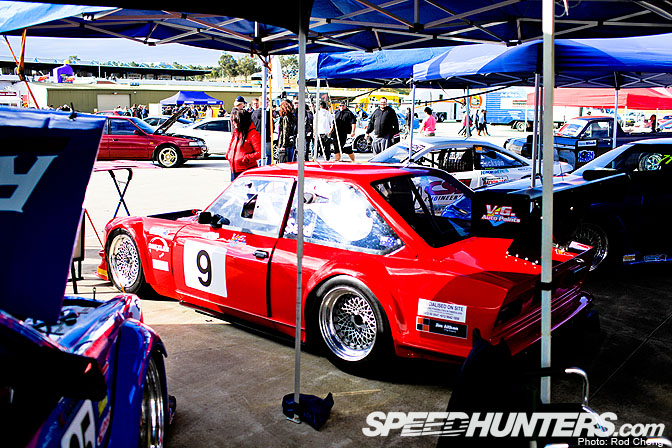 At the back of the show was a display of some insane silhouette style Australian Sports Sedans.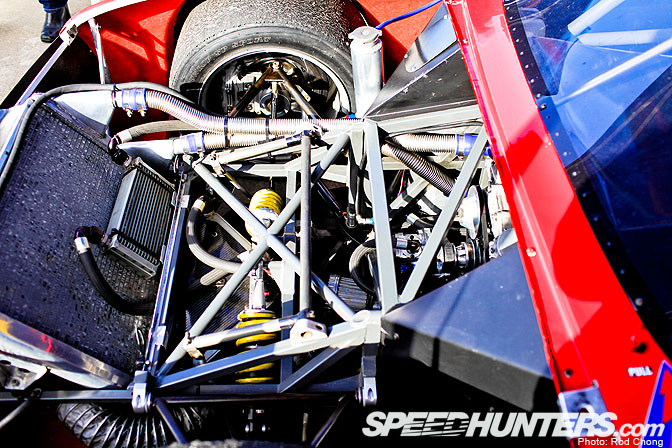 Err… where is the engine?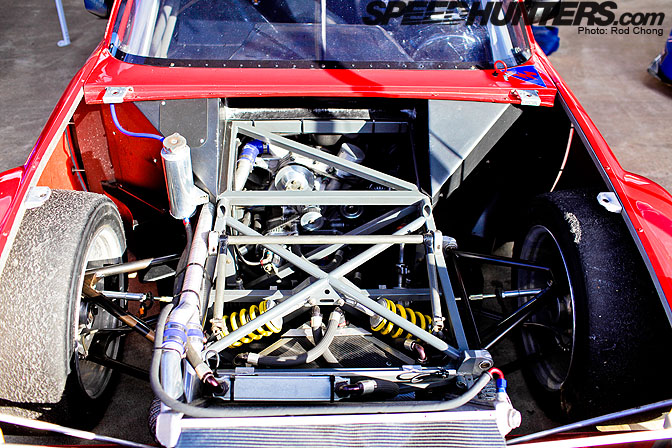 Aha there it is… a 13B nestled nicely under the dashboard.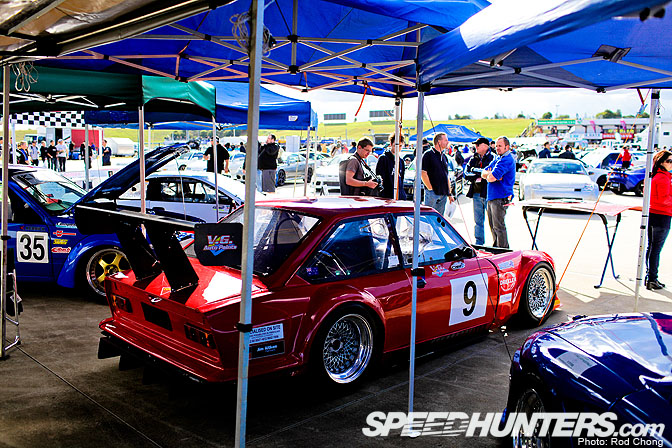 I think the only original part of this Fiat 124 Coupé is the roof and glass! Pretty wild!
After checking out the show, Dino and I bumped into these three lads from the Brisbane Speedhunters Fan Club. It was quite an honour to meet some proper fans of our crazy website!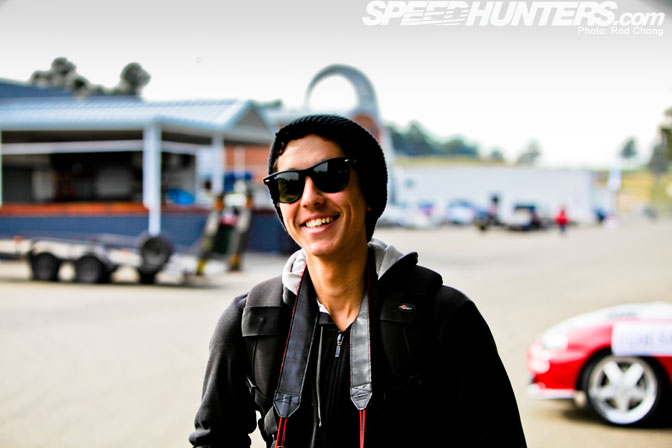 Speaking of Brisbane, Australia, this is Casey, our 18 year old Speedhunters "apprentice" who is also based in this city.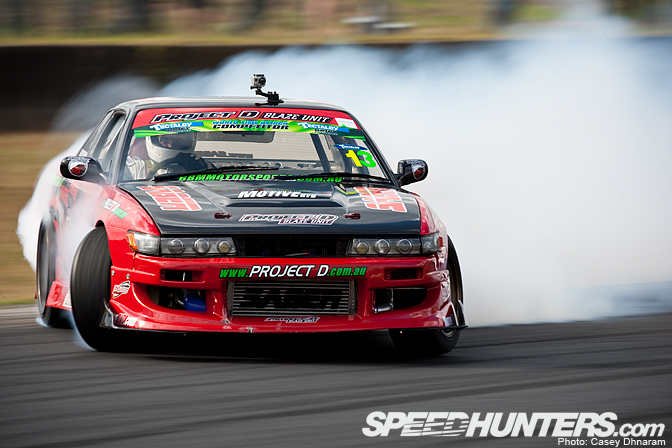 He borrowed my 2.8 400mm lens and disappeared for a while to the other side of the track.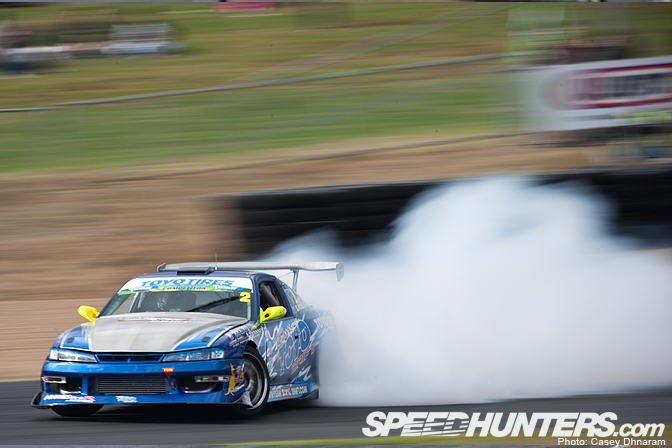 Supposedly to shoot some drifting… although he initially say that he was just going to shoot the pit area…. kids these days sheesh…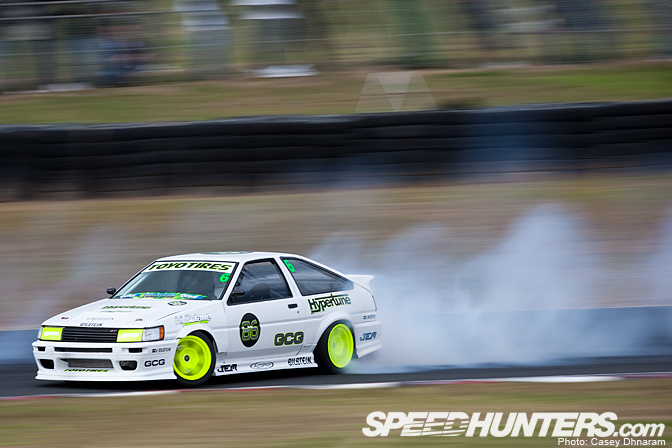 At any rate you can't argue that at a mere 18 years old, Casey has some amazing photographic skills.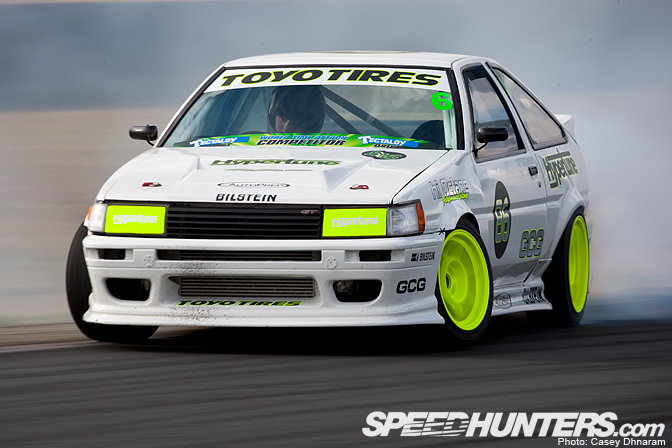 The drift competition was won by former Drift Australia Champion Beau Yates BTW.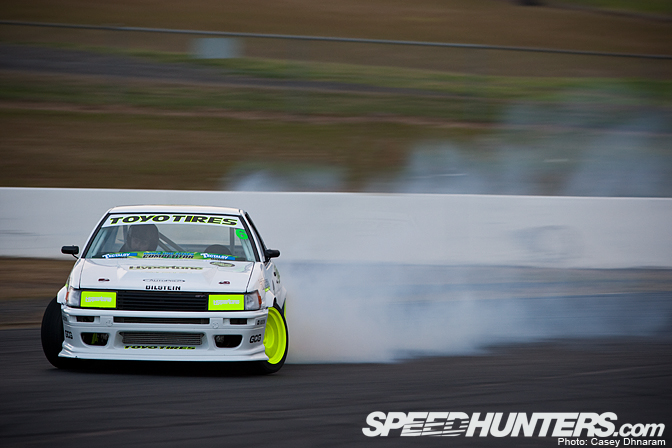 Dino and I were so impressed by Beau's AE86 that we asked him to meet us after the event to shoot a car feature.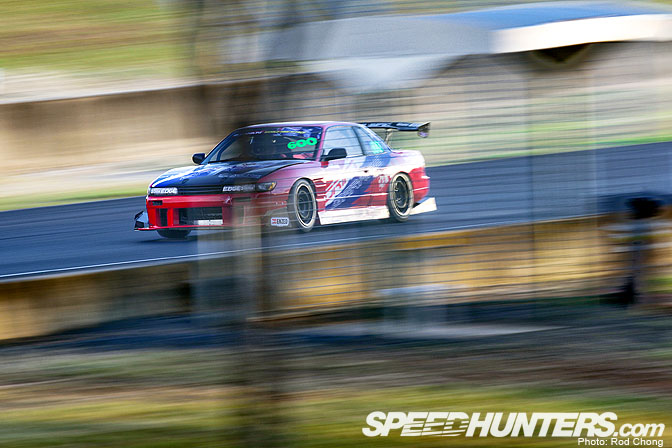 Another car that caught my eye was Luis Poblete's Drift Garage Silvia.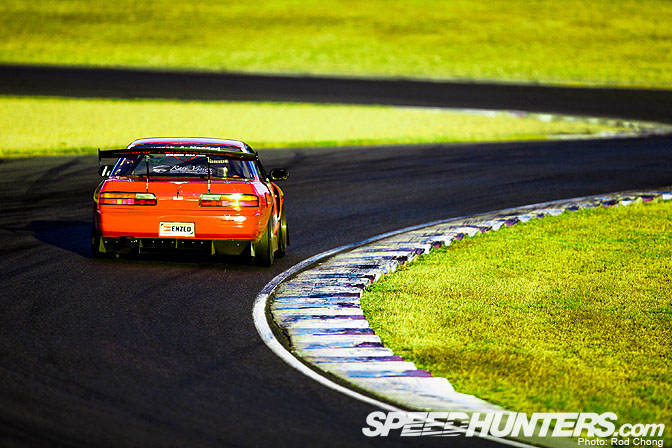 I took the opportunity to practice some camera angles on this car while waiting for the Unlimited cars to come on track for the final Time Attack session of the event.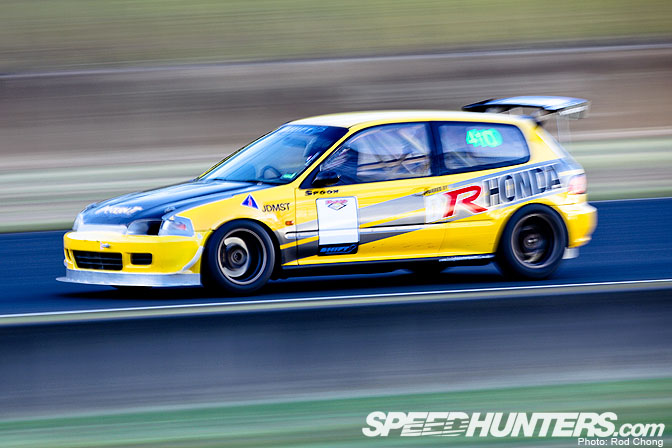 Here's another Time Attack spec Honda at speed.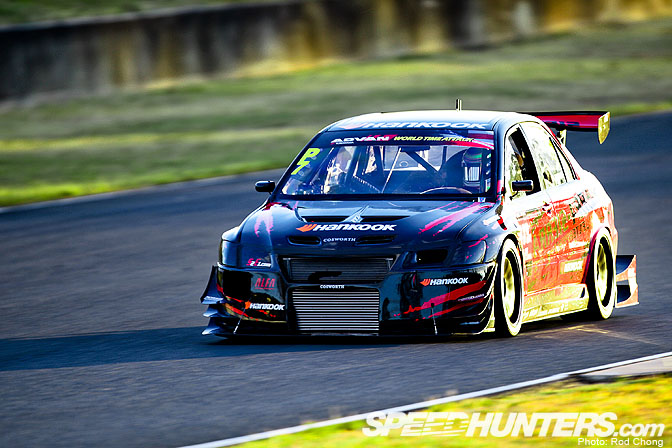 Finally the Unlimited Class cars appeared for their final run of the event. The Sierra Sierra Evo was up and running no problems with it's fresh head gasket installed without drama. I have to say that there was a rather extreme smell of rocket race fuel that filled the air every time it came flashing past… and this was just the last session only. Reminded me a bit of the smell you find at nitro drag races but I'm not 100% sure.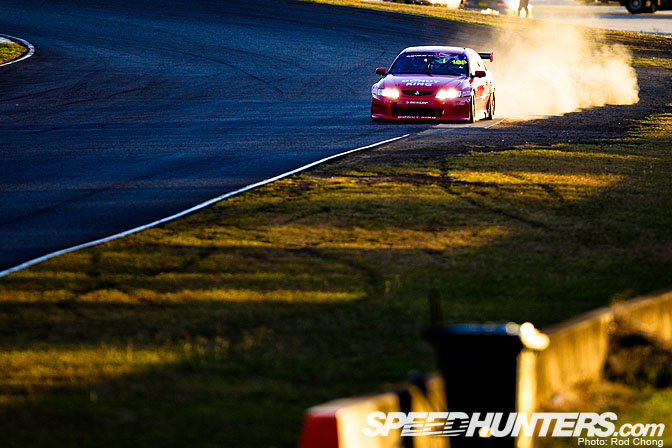 Dirt Drop!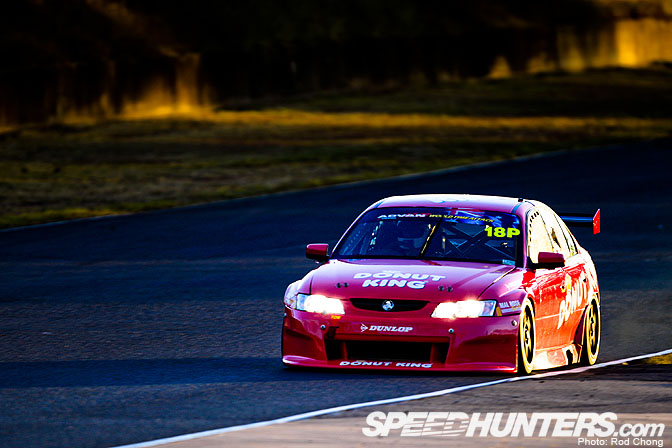 I saw this very car race in the Dubai 24Hs in January funny enough!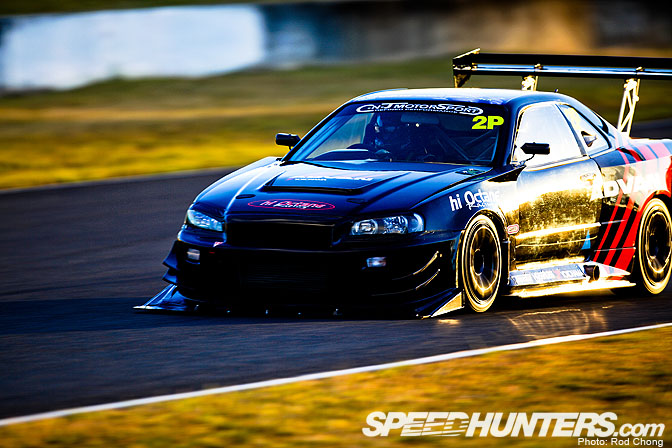 I do wonder how the Hi Octane team feels about their car's performance at the WTAC. All that time, effort and money and they ended up 3.5220 seconds off the pace. That's quite a lot of time to make up! I just hope they are still inspired to continue developing the car to try and close the gap to the Japanese and American cars.
A grip spec AE86.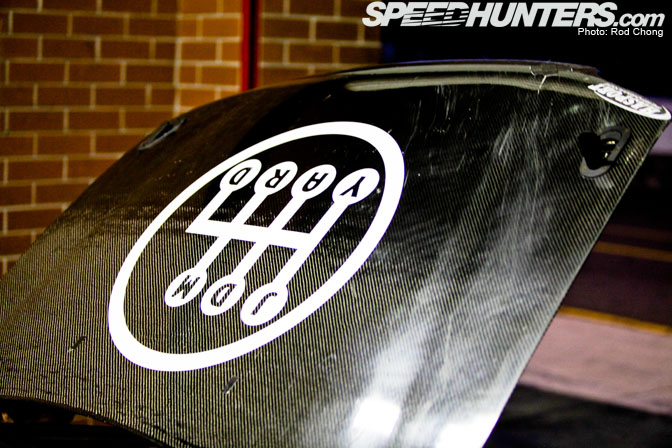 We were initially planning to shoot a feature with the JDM Yard Honda Civic, but in the end Peter from Modified ended up doing a shoot with the car.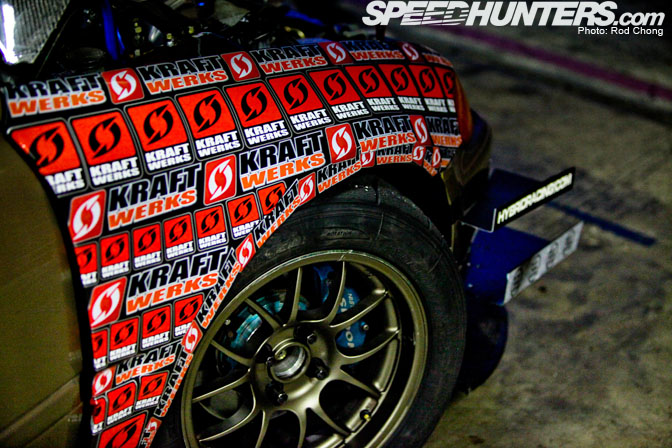 So we decided not to tread on his toes and looked elsewhere.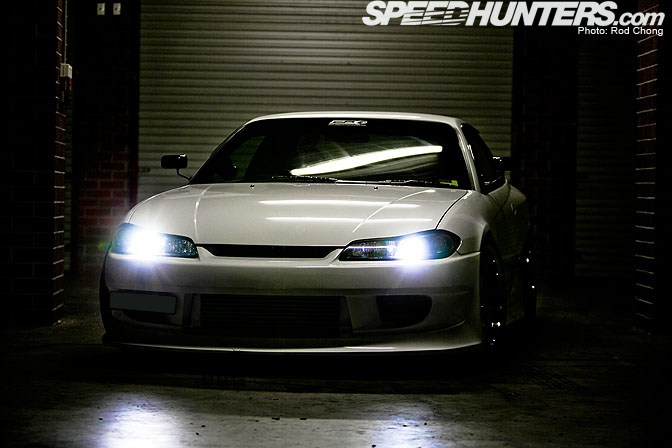 We settled on a feature shoot with this very clean street driven S15.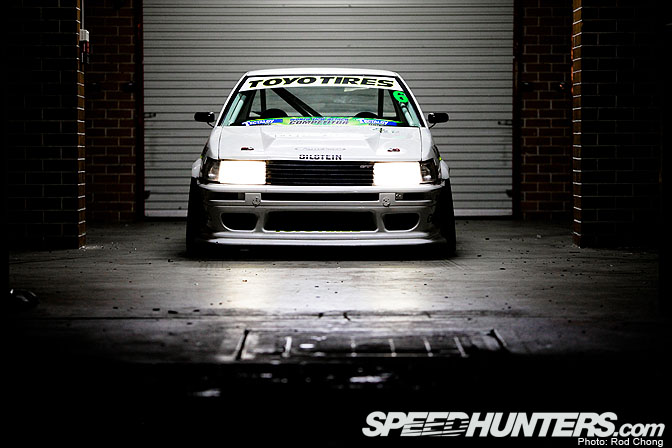 We also did a make shift shoot with Beau Yates AE86 too.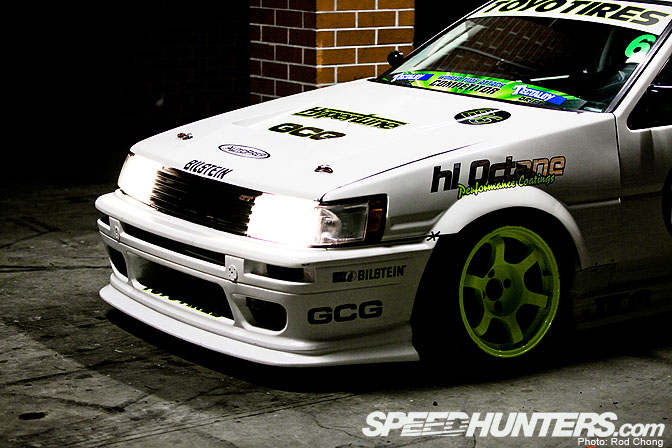 Dino declared that it's the most advanced AE86 competition car he has ever shot, which is quite a big statement considering all the machines he's shot in his time. Watch out for a feature on Speedhunters in the coming weeks.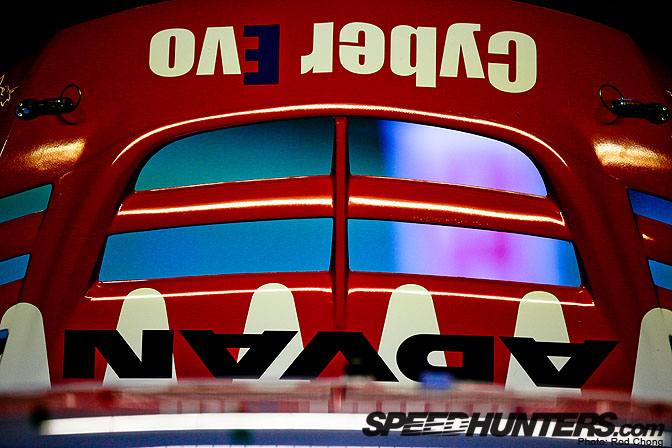 Final thoughts: I have to really comment the Cyber Evo team for bringing their car back to life when the odds were really stacked against them. It seemed that the car was in real trouble for a while there and was going to leave Australia without even turning a lap in anger. The manner in which the team came back and decimated all opposition was truly awe inspiring.
Hats off to them! I also need to give big respect to the Sierra Sierra team for representing America in the competition when all of the other US teams failed to show up for duty. I'm sure they had their reasons, but at the end of the day it was this team which was able to mix it in with the best of the Japanese competitors.
Let's hope that next time around we get more US teams and a range of the UK machines present too for a full international battle royale!
We'll be back soon with a few driver blogs from the event including a behind the scenes article from Tarzan Yamada himself.
:Rod