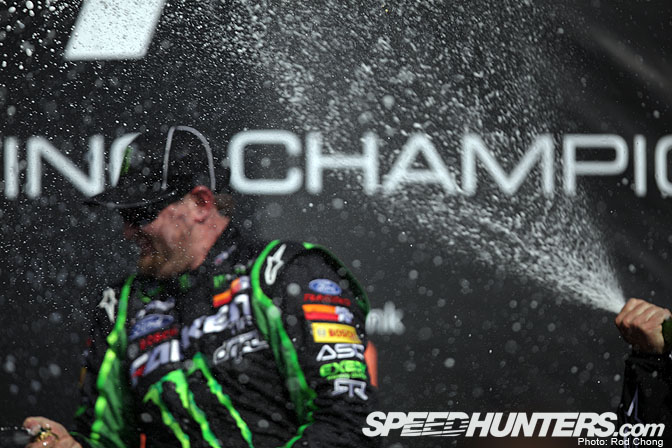 What an unbelievable week and a fairytale start to the 2010 season for us!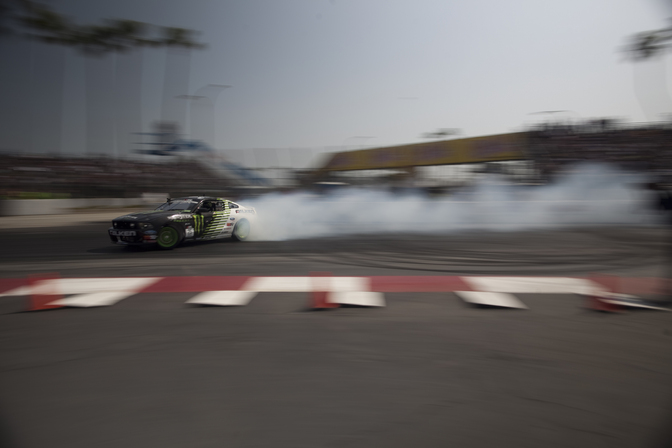 I am still replaying the event in my brain nonstop.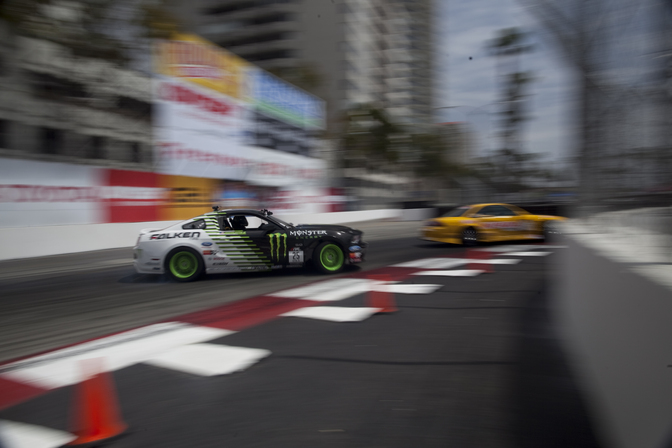 I cannot express how good it feels after an insane busy off-season for it all to come together like it did.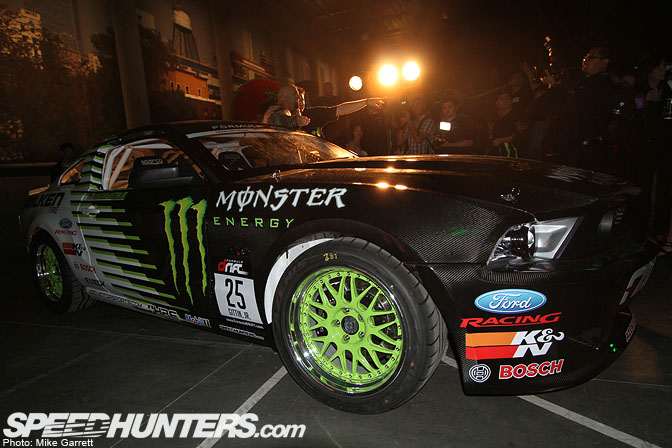 Wednesday we had a huge party at Rob Dyrdek's Fantasy Factory to officially announce Monster Energy as a new partner to our program and to reveal my new 2011 competition Mustang. We also felt it was a good reason to have a sick party welcoming in the new season. Thanks Rob!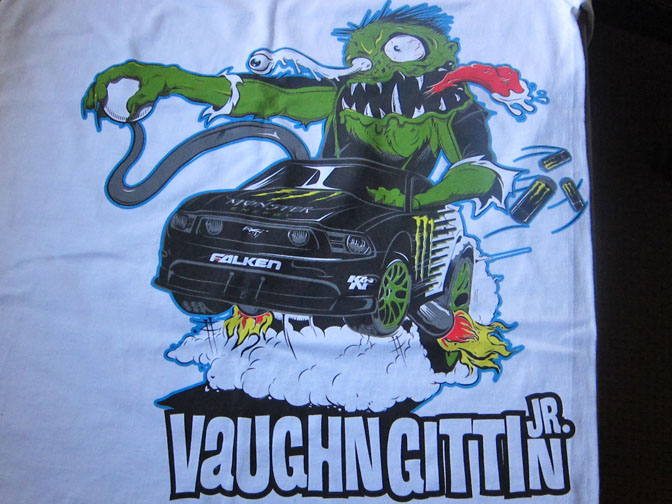 K&N Motorwear even printed up these awesome shirts that we gave away at the party. Jon Chase from DSTROYR hand drew them for me. So sick man!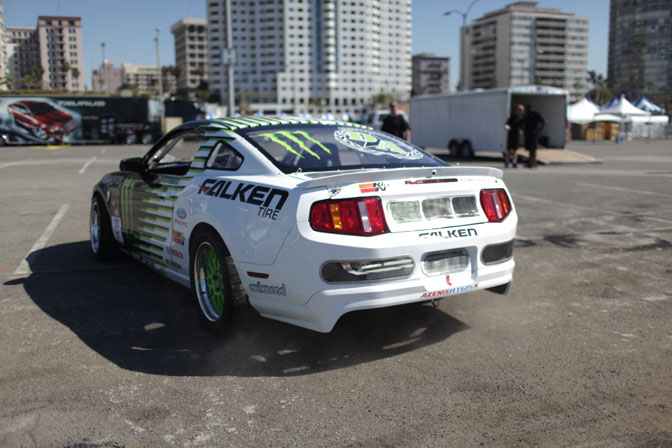 I get a lot of people asking about the amber in the tail lights. Those are the tail lights we had to use in Japan when I took the 2010 there last year. We thought it would be cool to put them on the new car. I'm not sure how long they will last; I'm honestly surprised they made it through Long Beach!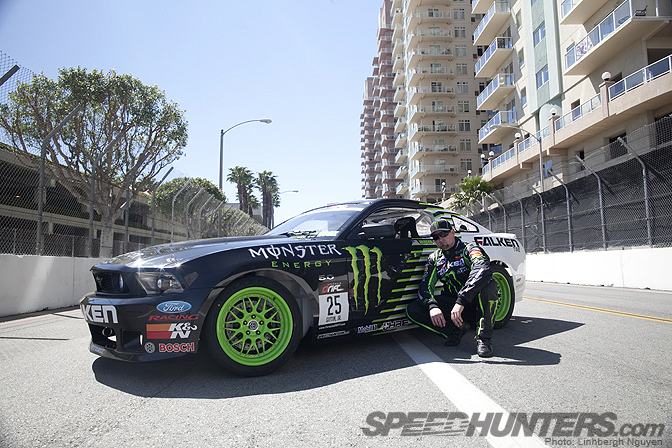 Immediately after tech, Linhbergh and I went to go get some shots while the car was still in one piece prior to driving through the gauntlet all weekend. This is my "blue steel" face.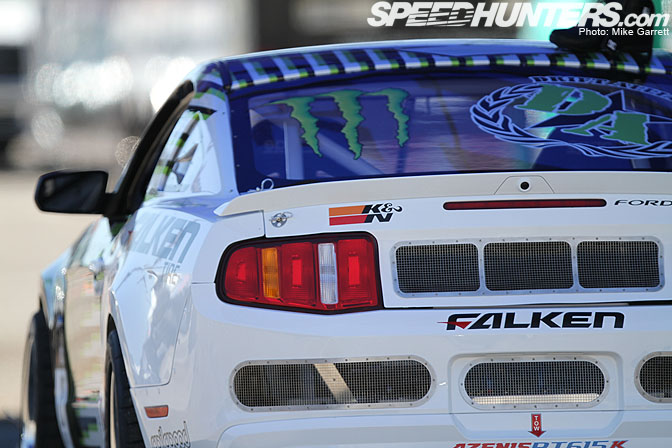 A lot of people were asking what is with the vents in the back of the car. ASD decided to move the radiator to the back of the car in this new chassis to help with weight distribution. It made a huge difference. I think we moved like 4% to the rear compared to last year.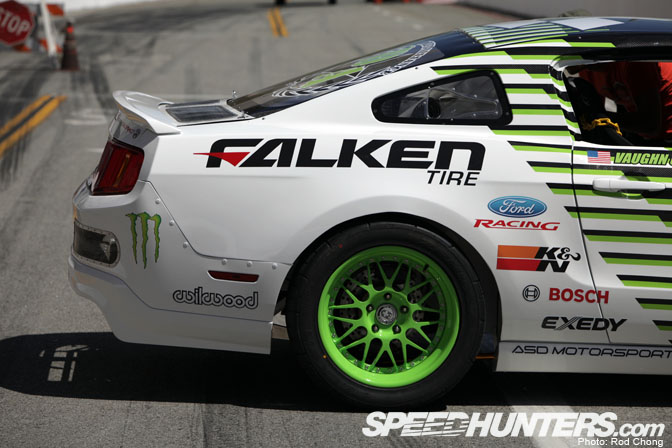 During our one day of preseason testing, we were getting a bit hot with the extra boost that we are pushing, so we showed up to Long Beach with as much ventilation as possible so we didn't run into any heat issues. I really didn't love the aesthetics of it initially, but I have to accept function over form to stay competitive. The vents are actually growing on me though!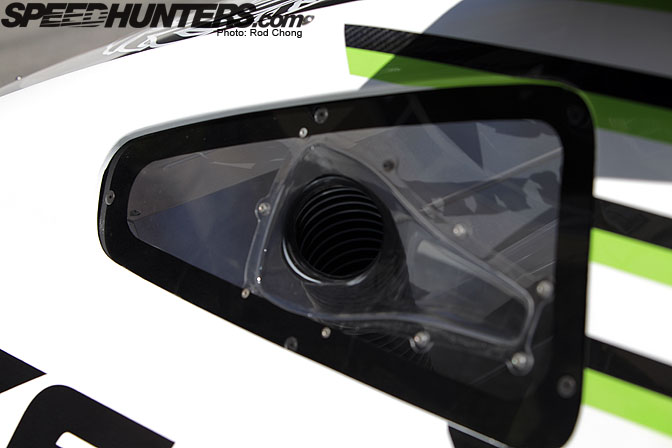 As you can see the rear quarter glass has been converted to air intakes. These fans cut on automatically and pull fresh air to the radiator. They are powerful and could potentially suck you in or at least clothes!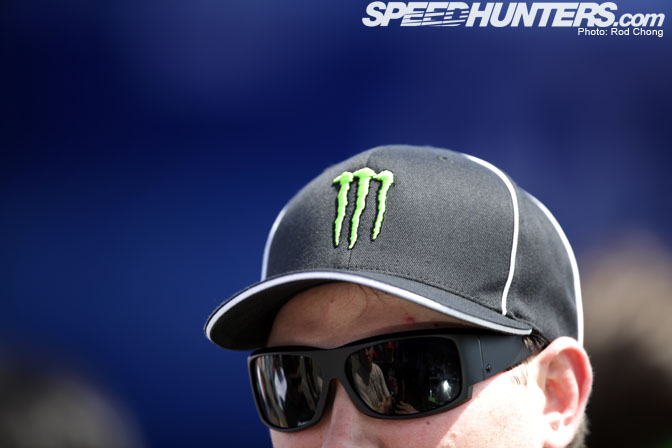 Hooking up with Monster is something I have been working on for over three years. Aside from having a few friends that work closely with Monster, I have always respected their athletes and how they promote and treat them. It is simply something I wanted to be a part of. Over the past few years I have had other offers from competitors that were monetarily enticing but they just didn't fit me. The M claw is what I wanted to rock and I am glad I was persistent and never gave up chasing it down. The Monster Energy guys have proved to be a great, passionate crew, and everyone that I work with is excited to have them on board. Here is a little VIDEO they put together for me.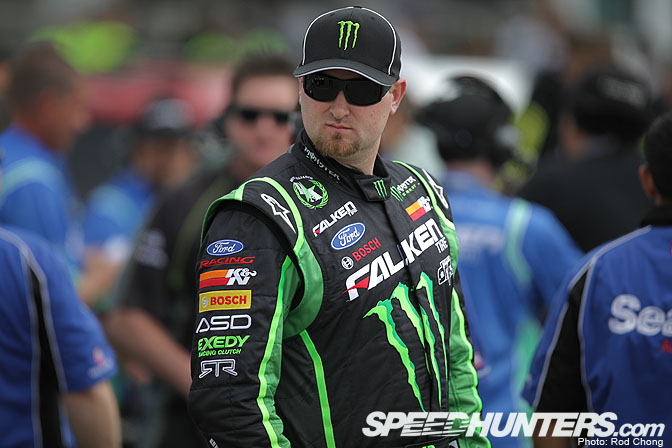 Friday morning was the first time I put on my new suit. It was really surreal. Just the fact that it had happened all these years of working on it and the day had finally come. Still to this moment seeing pictures of me is so weird but I love it!  You used to hear my loud mouth before you saw me… well I flipped that script this year!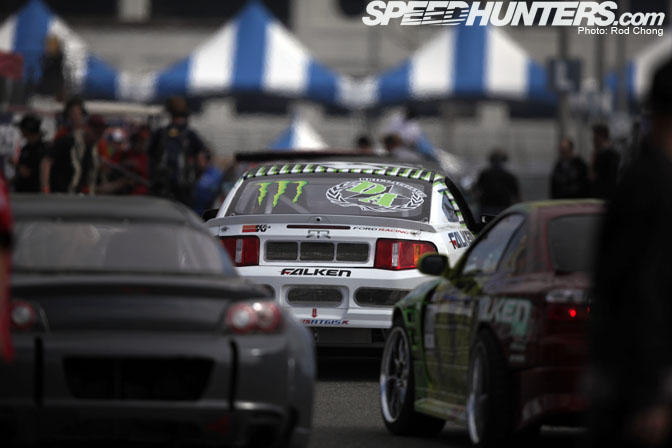 Here I am in line for practice which really was my second 'test" in the new car. We had like 53 cars show up for Formula D. So awesome the support for our sport!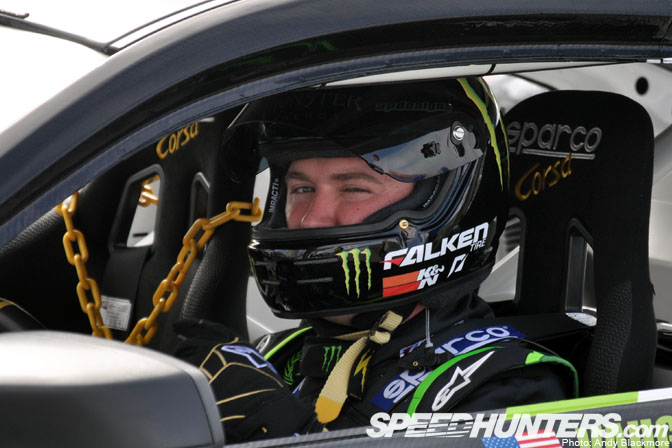 In line waiting eagerly to attack the course!!!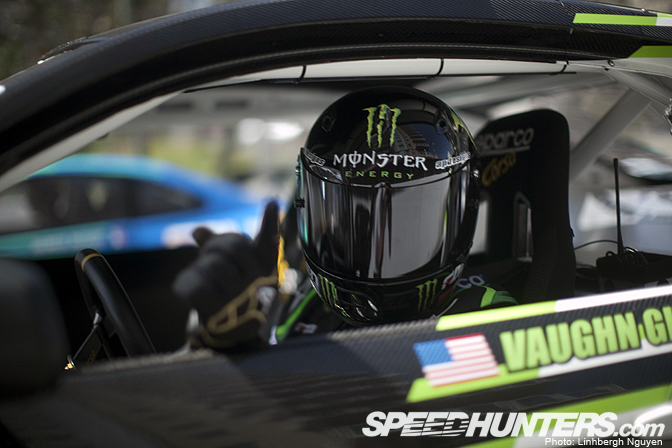 Here I am pointing and shouting at Linhbergh for making photography look way to cool!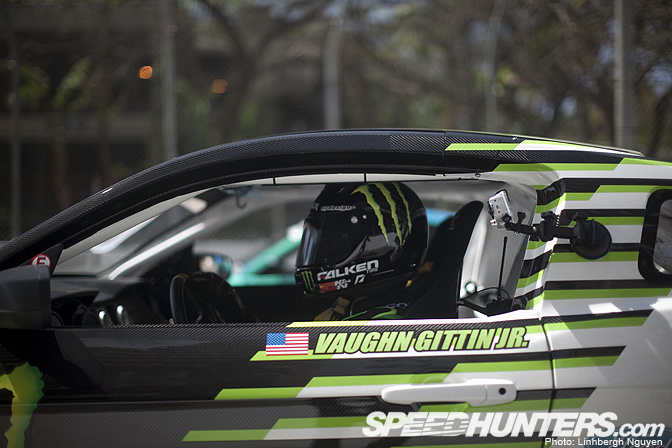 Focused and Ready to Rock!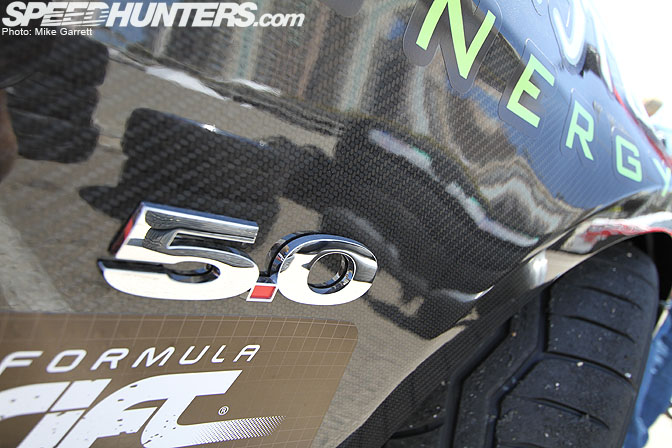 Mmmmm carbon!!!! ASD did an amazing job with the build of this new Mustang. Their fab work never ceases to amaze me and the performance of the Mustang is no different. Hands down this is the best drift car I have driven!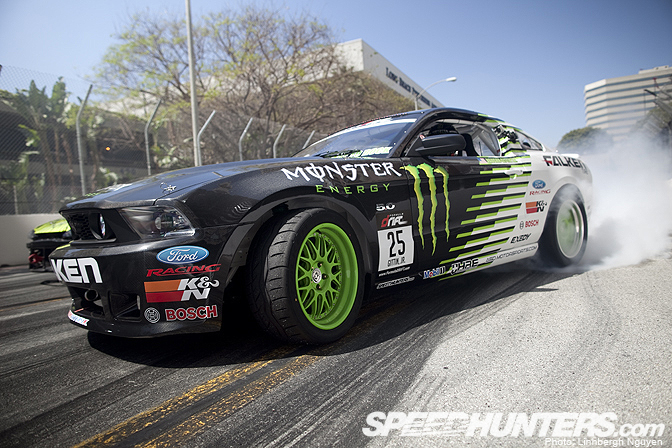 Heating up the Falken RT615-K's. Falken did an awesome job with these tires; they are consistent through the heat ranges and offer super duper traction!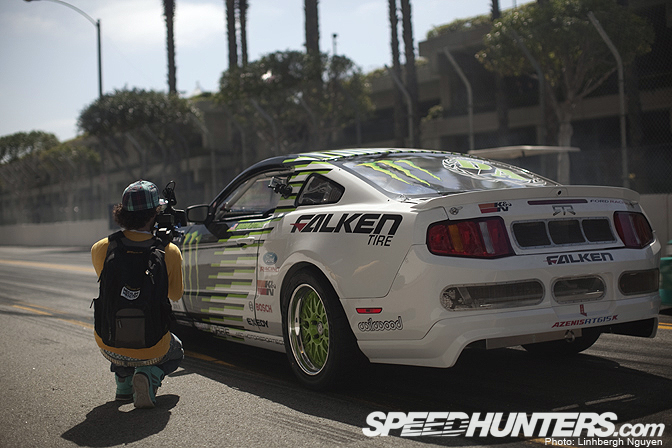 Just about ready to drop the clutch as Will Roegge catches the action.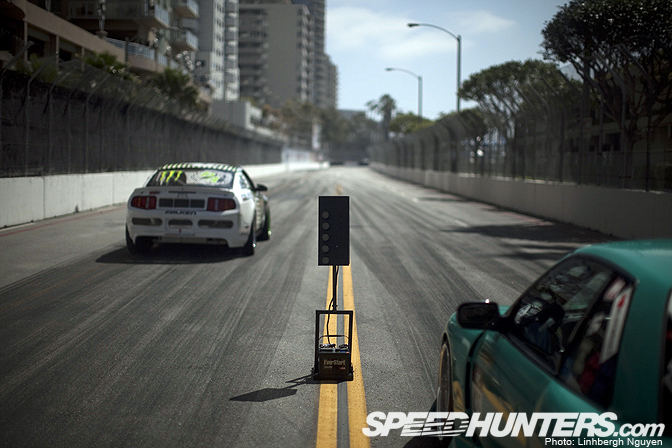 Go time!!!!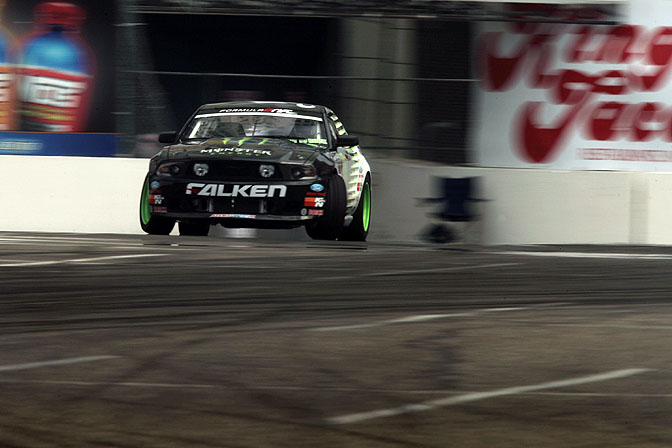 During practice we focused on getting the car dialed in for the Long Beach course. Normally we are extremely loose and hungry for traction at Long beach. With the new Falken RT615-K's we actually had to loosen the car up because we had so much bite. That was an awesome feeling!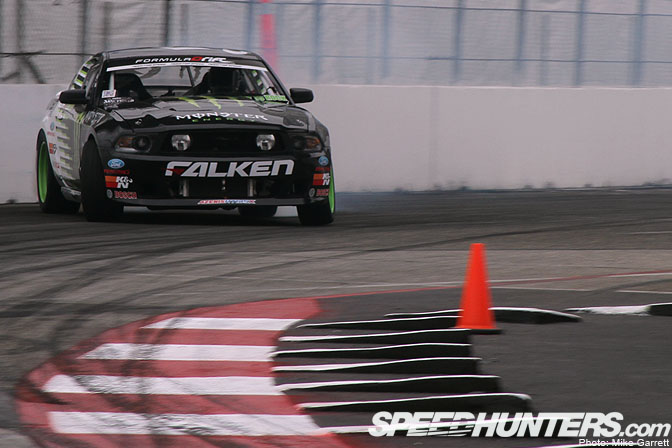 Once we had the car dialed to where I was content, I started focusing on my line. There was a lot more going on during practice then usual since this really was only the second time I had driven the new Monster Energy/ Falken Tire 2011 Ford Mustang.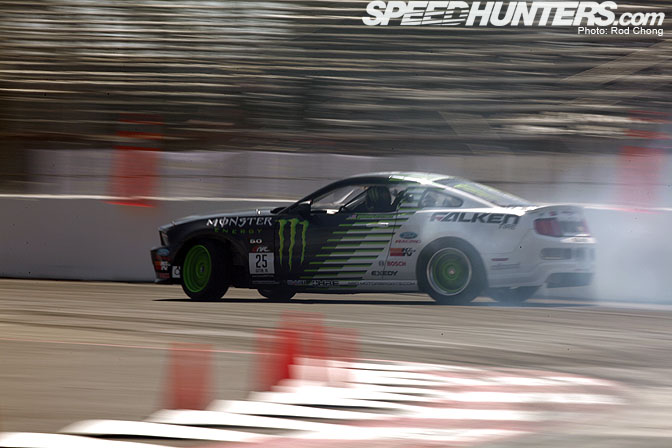 Towards the end of practice everything clicked and I focused on getting closer to the walls and throwing the car hard into the first clipping zone.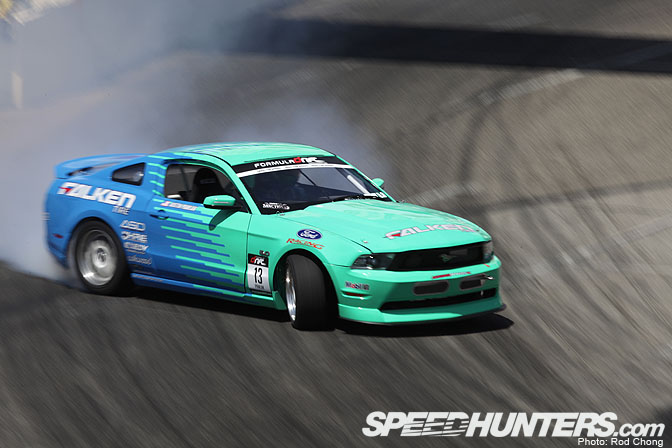 Here is my man JTP "Rollin in his 5.0"! It's so weird to see the car that has become a part of me essentially over the years out there drifting on the track. It was an honor that Falken asked my opinion on who should be the new driver of the iconic blue and teal Falken Tire Mustang. JTP has the aggressive style and skill that was needed to represent that car and was a no-brainer when it came to making that decision. He is very passionate and works extremely hard. Even though he didn't have the best results this past weekend, I am very proud of him and the way he manhandled the Mustang. I couldn't be happier with whom we passed the torch to! BROSTANGS!!!!!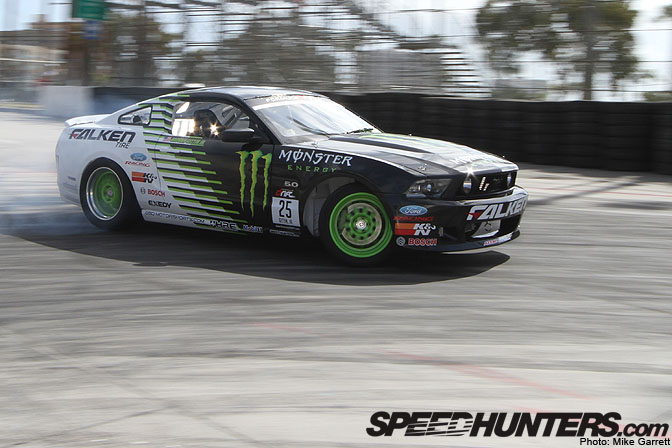 Here I am coming out of the hairpin on my final qualifying run. My first score wasn't so good, but I stepped my game up on my second run and placed 3rd overall in qualifying.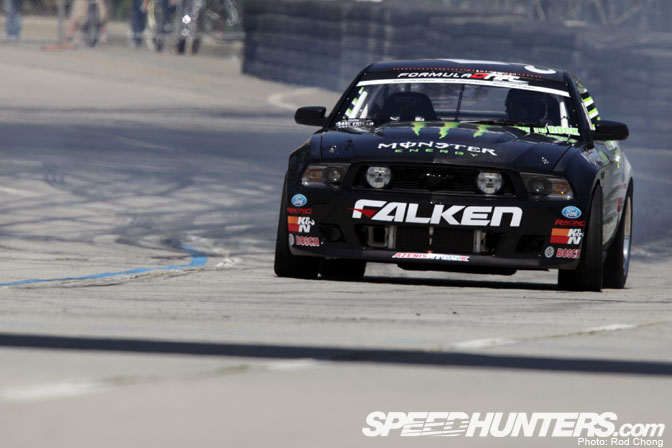 Behind that helmet shield there is a smiling face. I just knew it was a great solid run and it felt good!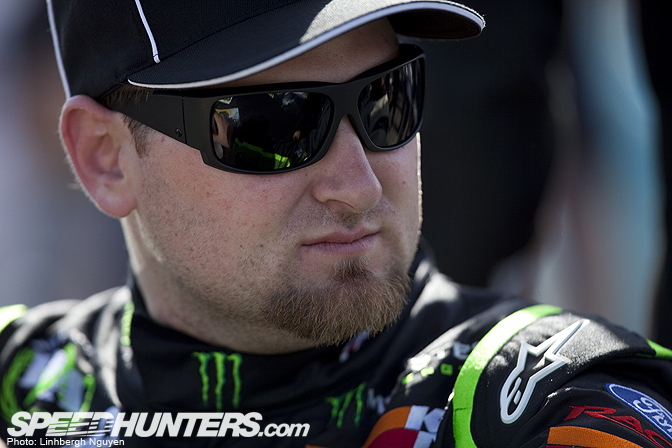 Saturday morning I showed up to the track feeling incredible after a great mental and physical workout.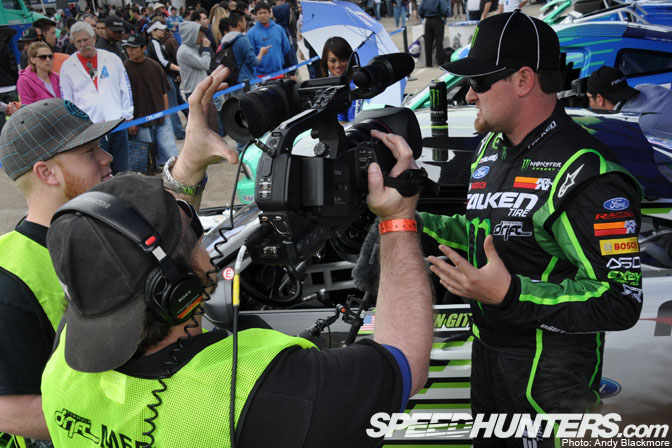 There was a lot of media fun all day. There was huge interest and excitement about the new 2011 Mustang and the new partnership between me, Monster Energy, and Falken Tire. My mechanic Dean calls me "TV Gittin". He jokingly asks if I'm going to have time to drive on event days!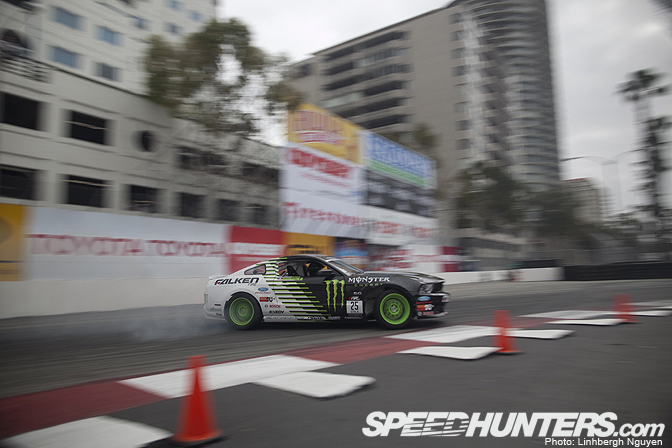 During practice I felt great and was extremely excited to get on with the show and start tandem rounds!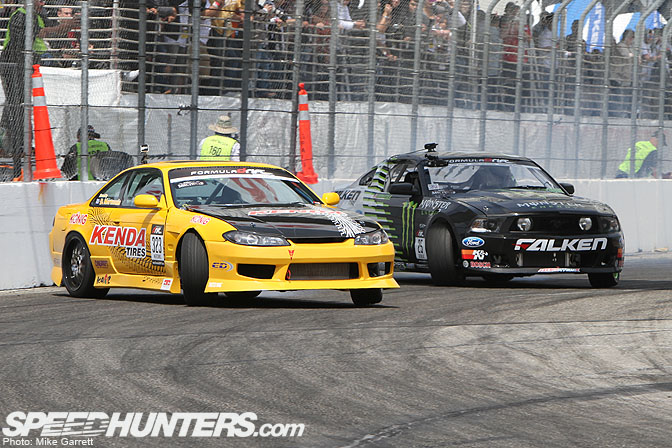 The top 32 paired me up with Dennis Mertzanis. I have seen him drive a good amount at local east coast events and was happy to see he made it out to Long Beach. It's always a bit iffy running guys that don't compete at this level too often. When I was leading it was obvious I was a bit faster then him and I knew I couldn't make a dumb mistake following too closely. We had a good pair of runs and I was given the nod from the judges to move on. After our run, Dennis came up to me and thanked me for pacing him off the start and not running away from him. He also thanked me bringing out the best in him saying he did the best all weekend running against me. That felt really good.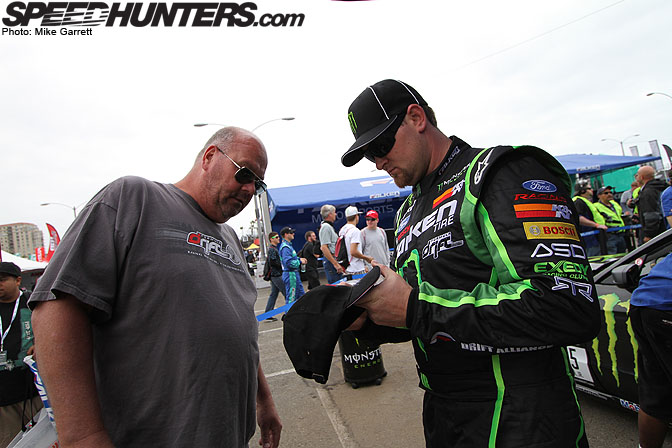 Between top 32 and top 16, I always make time to spend with fans. If it wasn't for them I wouldn't be able to live my dream. I really appreciate the support and confidence they give me.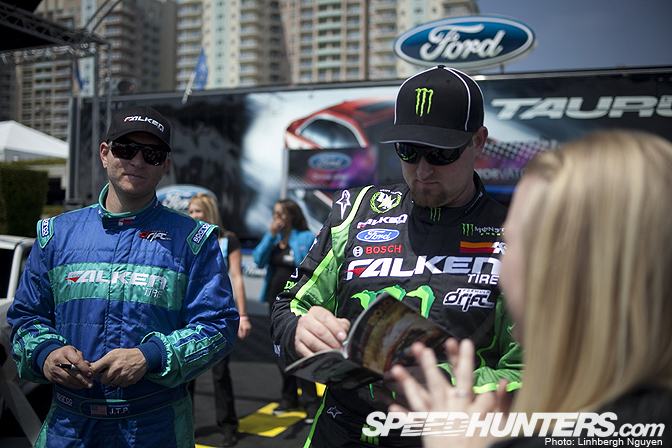 JTP and I walked over to the Ford booth and hung out for a bit taking pictures and signing autographs. It's so awesome to see Ford getting more and more involved in our culture!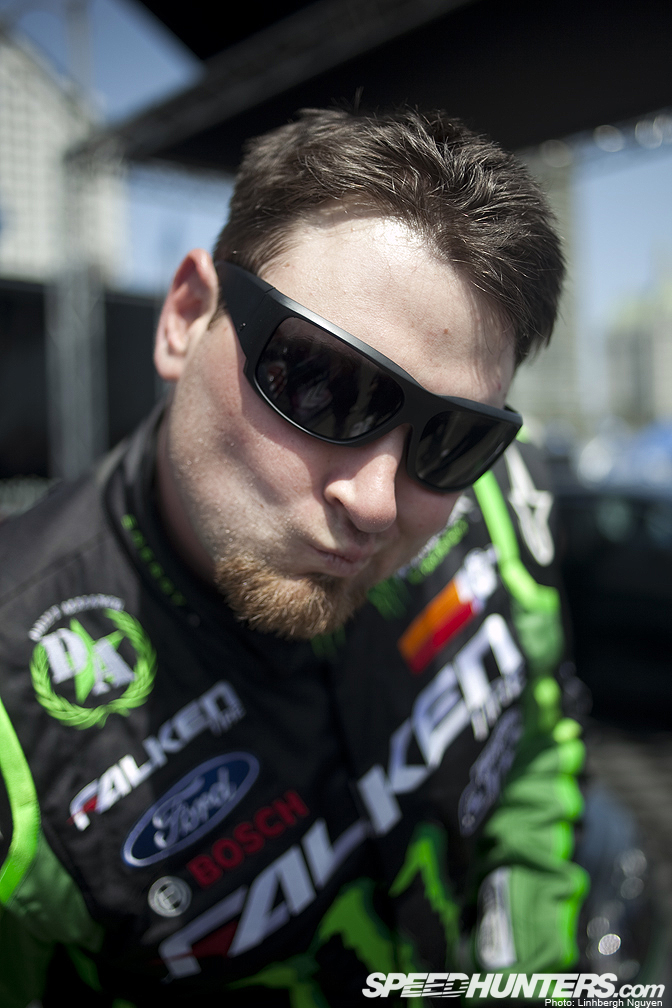 I haven't named this face yet… anyone?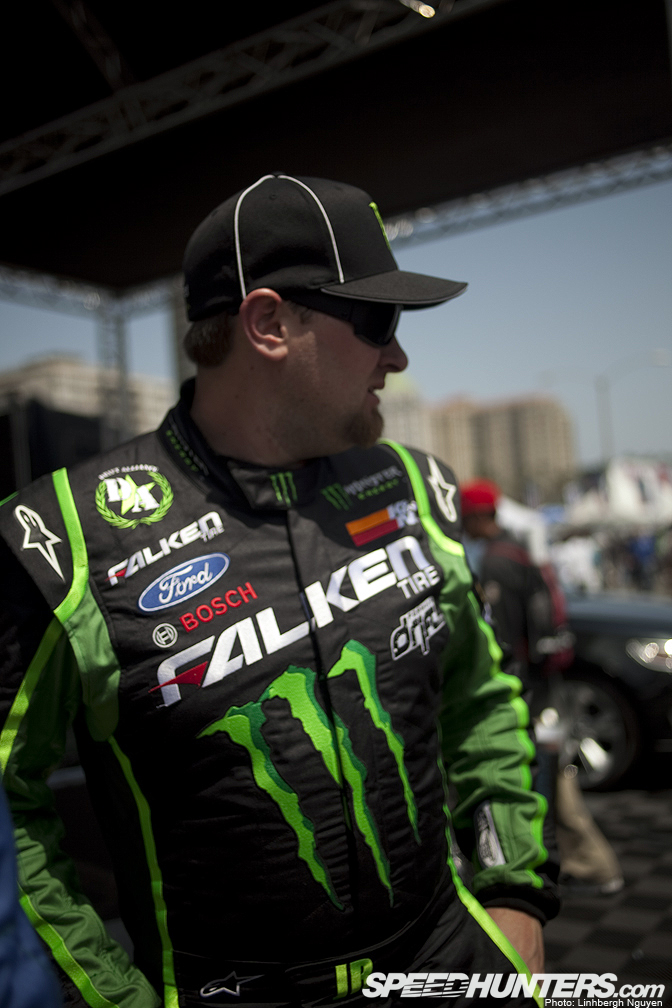 Now I'm getting antsy… the hands in the pocket are a sign of that….. Let's do this already!!!!!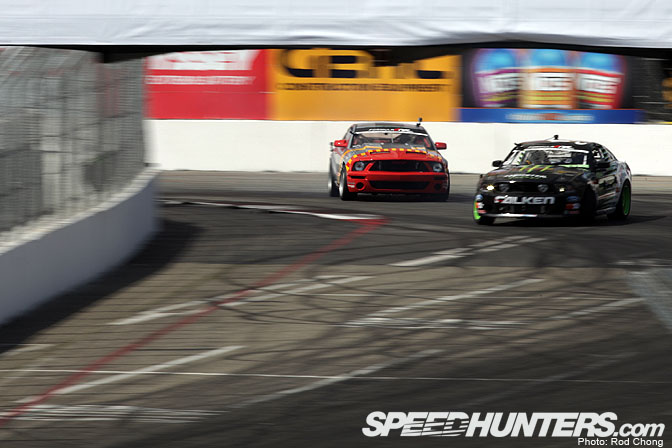 My top 16 battle was against fellow Mustang driver Tony Brakohiapa. Tony has been killing it recently! When leading I threw the car into the first turn real hard and fast. Tony couldn't quite hold it and backed into the wall.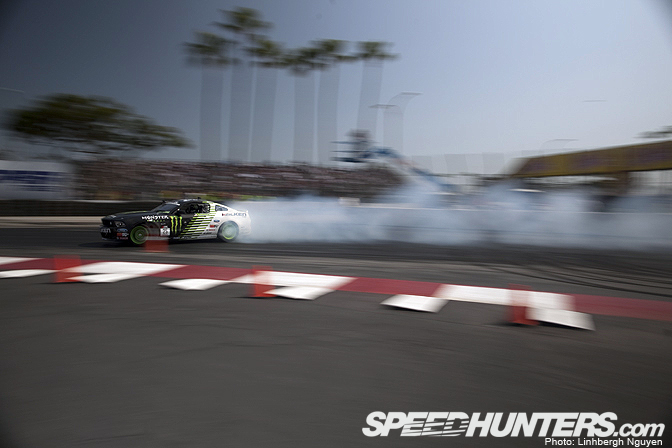 He completed the course but left a huge gap. When I went through the hairpin I noticed he was nowhere to be seen.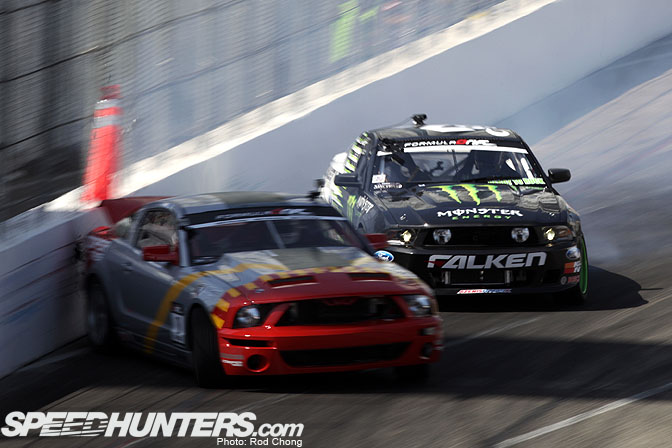 When following him I knew I had a huge advantage, but no sandbagging here! The long beach crowd paid and waited for a show! When we entered the first turn his trunk flew up which kind of made me laugh mid drift!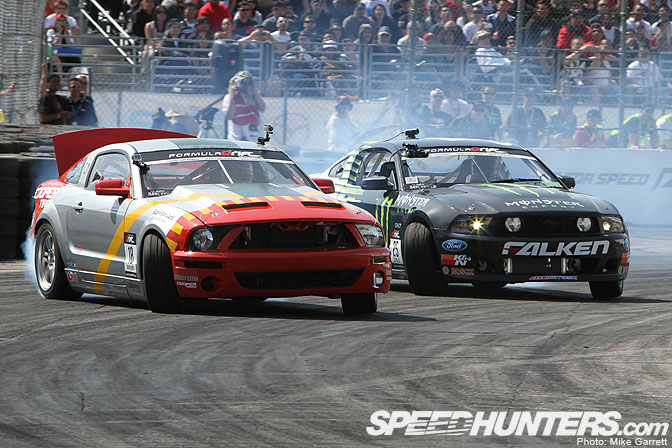 He had a great line and was definitely going all out, I had my right foot planted to stay on him though!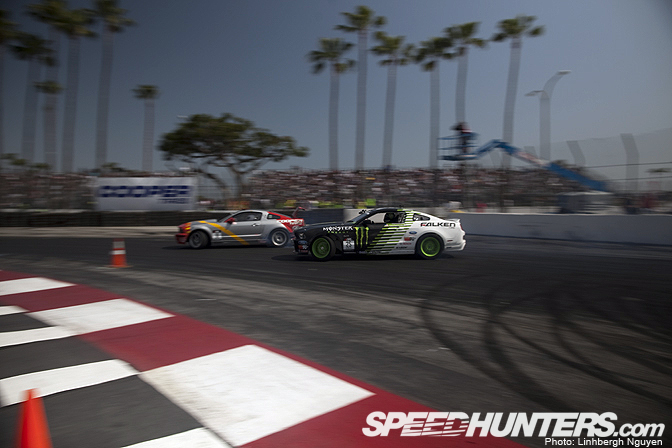 Going in to the hairpin I was still kind of laughing about the trunk flopping around. I knew we had won the round; I thanked my team and took the car back to the pit.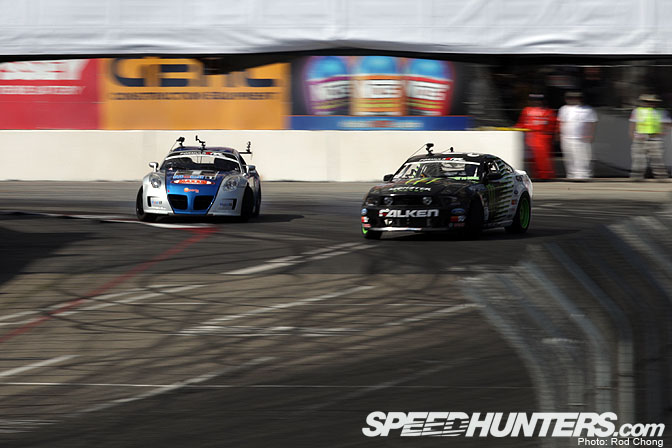 My great 8 battle put me up against my Drift Alliance bro Ryan Tuerck; I knew this was going to be a very tough battle. Tuerck and I both are very aggressive and we come from the same motocross background, not to mention we are good friends. I knew only one thing and that was that it was going to be a fun, clean battle!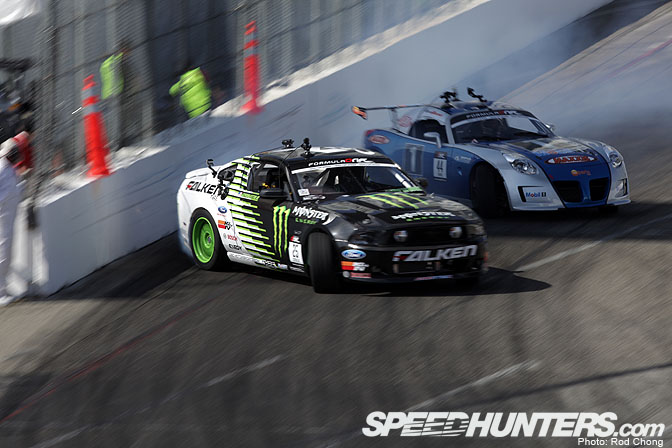 I was running at 110% and Tuerck was keeping up very well into the first zone. (I wonder if they could have put anymore cameras on my car?)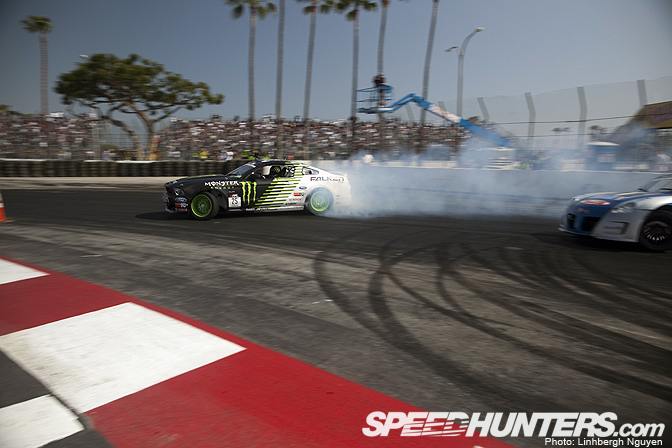 I was able to create a decent gap through the long sweeper. Did I mention our new tires rule!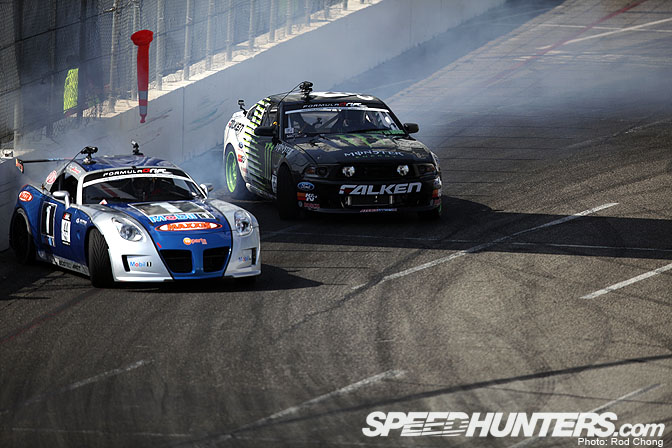 When following Tuerck I knew it was still anyone's match. I applied as much pressure as I could and focused on the task at hand. He misjudged the first zone, hit the wall a bit too hard, and straightened up.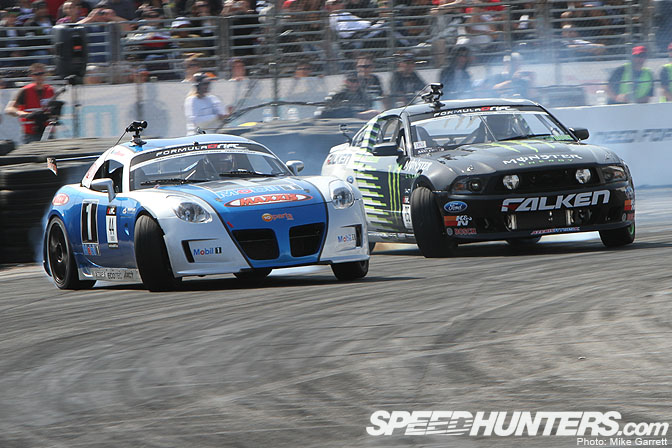 I stayed on throttle and kept the pressure on. It was an awesome battle, damn he is good! I was awarded the win. I think we probably would have went one more time had he not have made that mistake.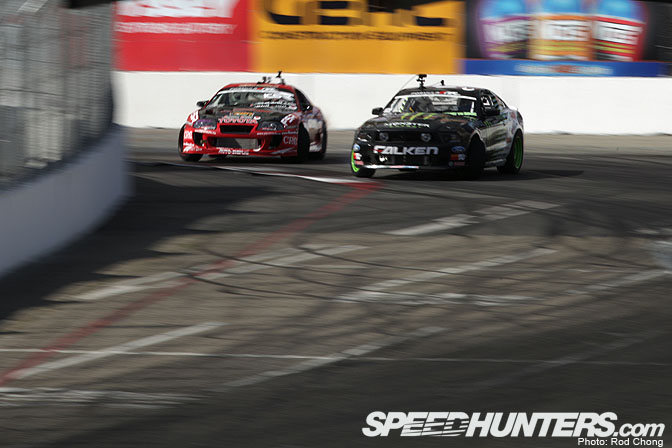 The final 4 round put against Aasbo – hands down the biggest surprise of the weekend. He was killing it! With style too!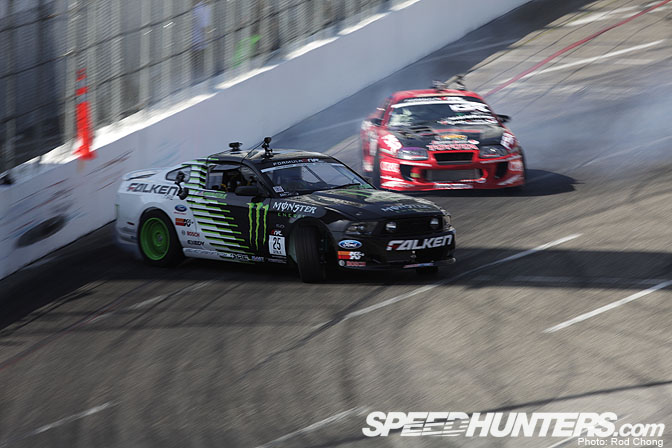 I knew I had to go super hard as the judges and crowd were loving him all day. I threw the car in as hard as I could at the first zone and stood on the throttle all the way through the sweeper.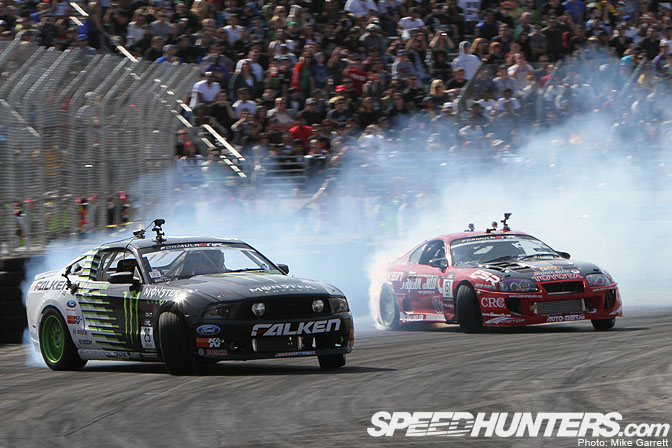 I was able to pull a decent gap during the sweeper.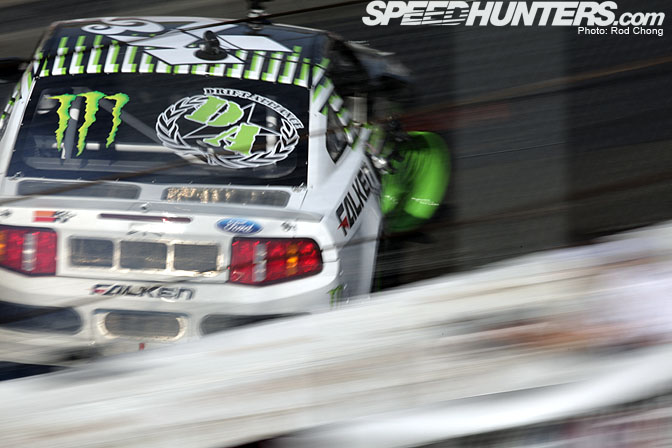 I made sure to put the car up on the wall to get whatever advantage I could with the judges.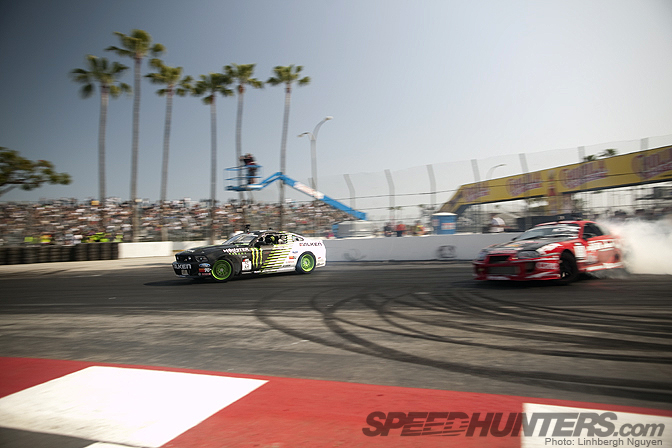 Here is another shot of the gap that was created.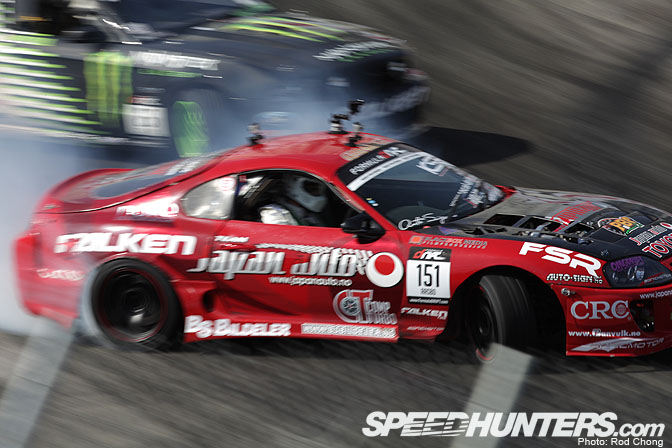 When it was my turn to follow, I knew that we both were running very similar lines with deep angle and good speed. I knew the only way to win was to not let him get away from me. I made sure to stay nice and tight on him. We both ran a near-perfect run but my toss into the first zone and the gap I created when leading is what sealed the deal for me to move on to the finals. After reviewing videos I am pretty certain without that gap we would have went one more time. Hats off to Aasbo. I look forward to running with him some more in the future!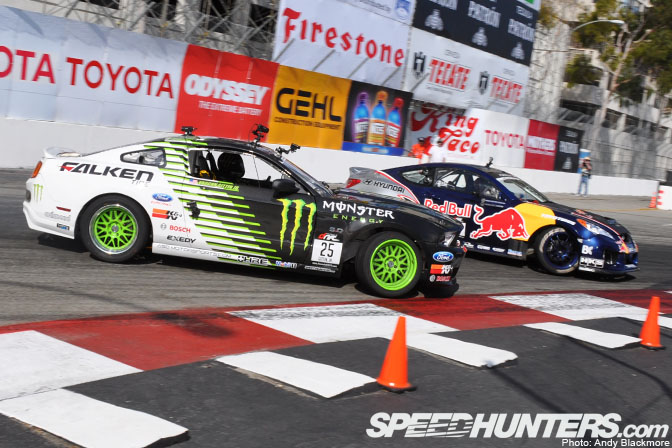 The final round put me up against Rhys Millen. The only top FD driver I have never beaten in our two past match-ups. I knew he was very fast. I softened my rear shocks more then I had run all weekend on a last minute whim that I would need a bit more traction to keep up.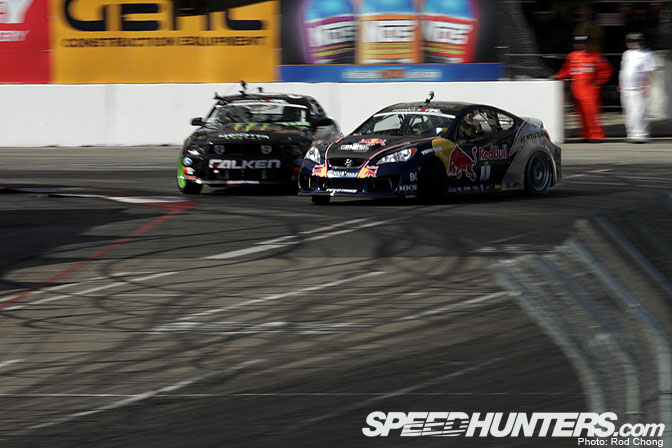 Entering the first turn Rhys was 7mph slower then he had been all weekend.This really threw me a curveball and pissed me off.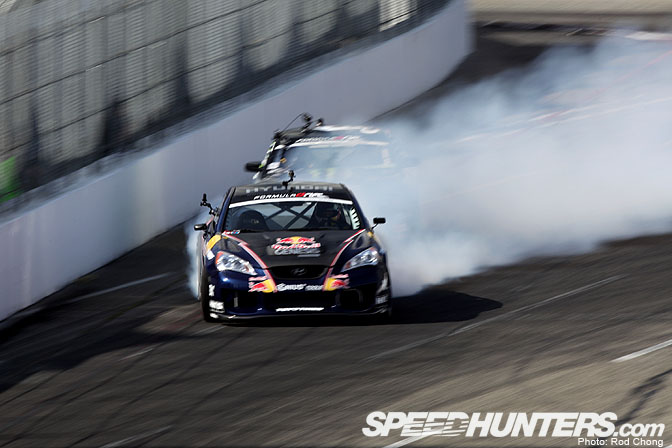 It also put me in a really weird place for the first zone.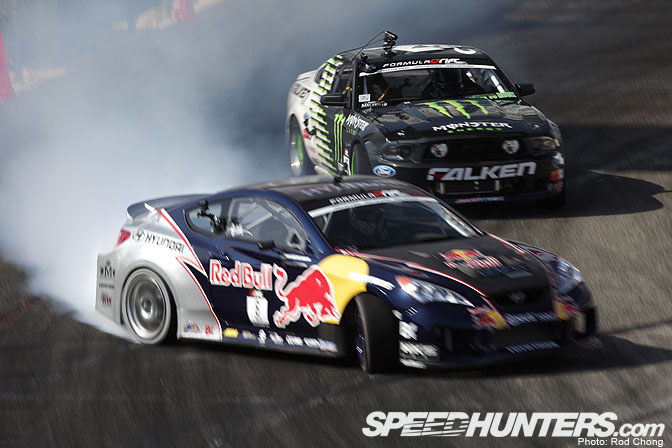 The added grip and slow speed started to straighten me out. I kicked the clutch and caught it just in time, thanks for handling the abuse Mr. Exedy!!!!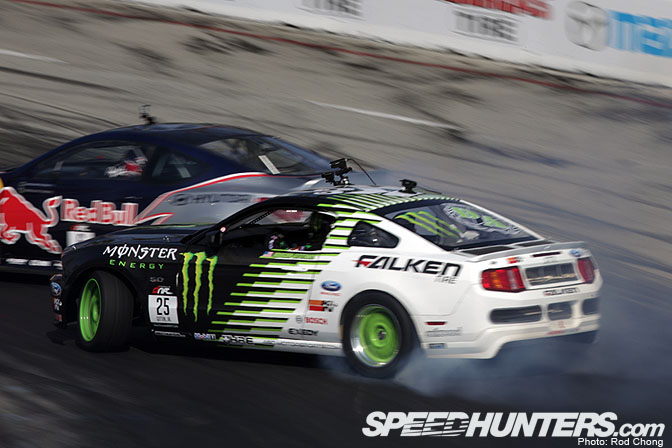 I kept with it and kept the pressure on. Going into the hairpin Rhys was a bit slower then expected and he went wide. In order to avoid straighting by slowing down so much I put the hammer down and passed him giving him a little kiss during the power move. I'm not saying it was the right thing to do, but he left me no choice. I have an inkling that he knew what he was doing…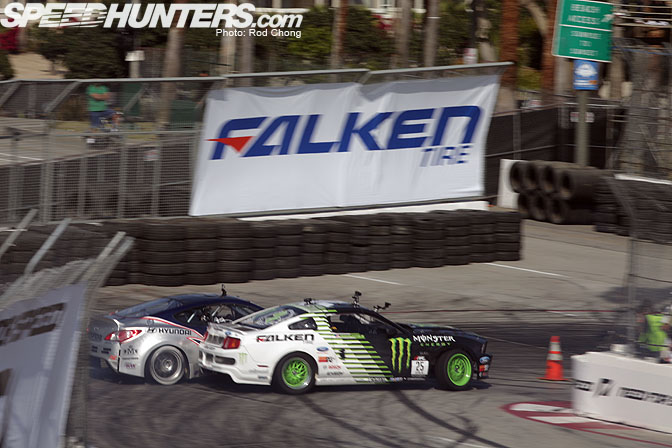 He was obviously pretty pissed off after I passed him. He even brought out some of his stunt driving skills and gave me a nicely executed "Pit Maneuver" after the finish line, which I turned into a stylish 360. Initially I was mad as hell, then I started laughing about it knowing he was way more mad then me.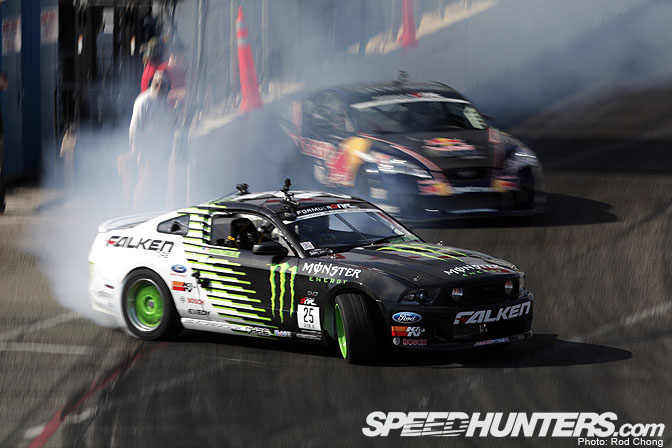 I knew I was going to have to run everything I had this round. Ian called me on the radio and said "run the deepest line you can, I don't care if you rip the back off the car" and run it DEEP is what I did. Too deep for my man Rhys to hang ;). He clipped the wall, straightened up, and backed it into the tires.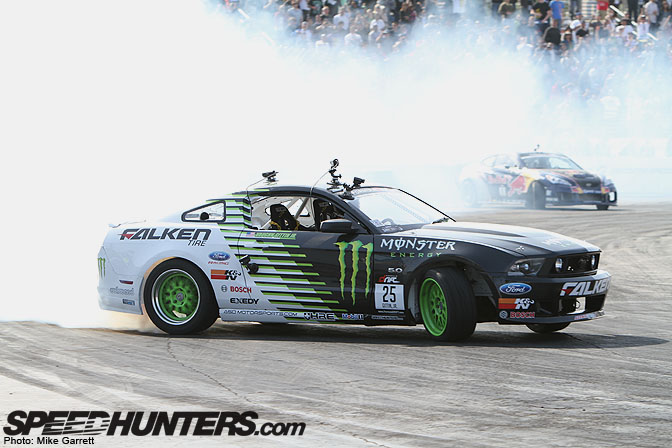 When I hit the hairpin and he was nowhere to be seen and I knew we had just won Long Beach. I cannot even explain what I was feeling. Maybe the following pictures will help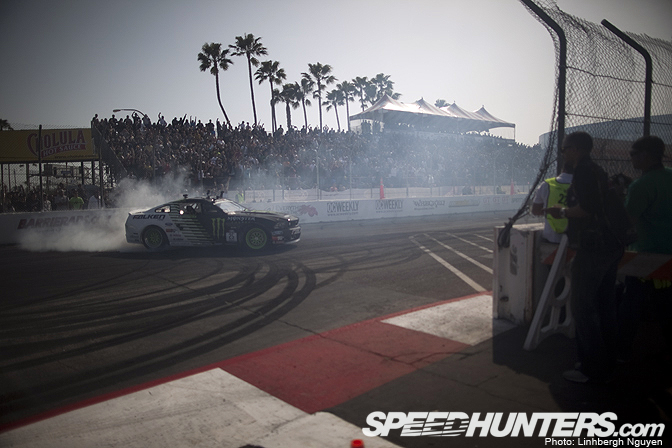 When I came back onto the track I just started going crazy doing donuts screaming and fist pumping harder then the Jersey Shore crew. I know I knocked some air out!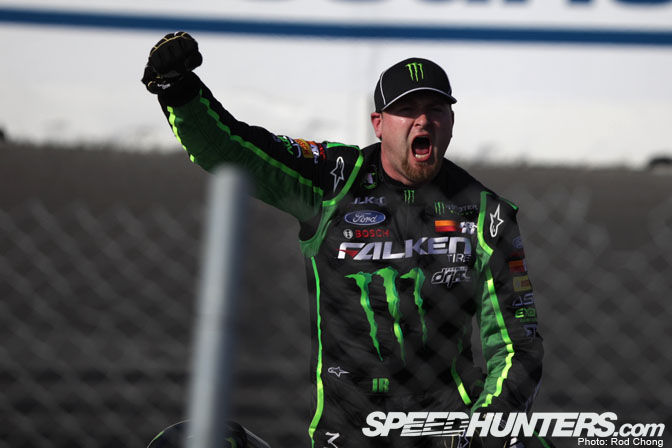 Does this explain what I was feeling?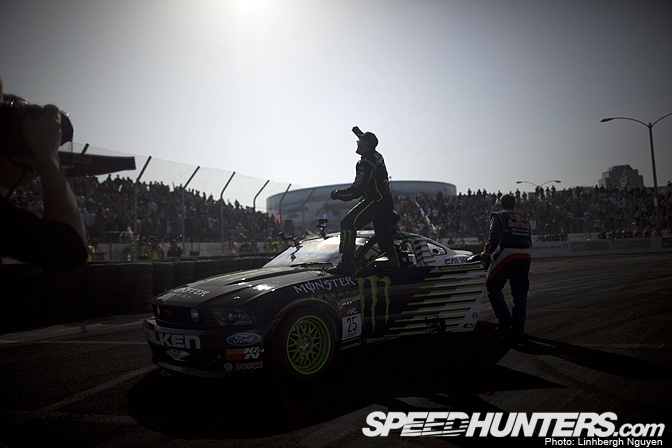 Maybe this is helps a bit more?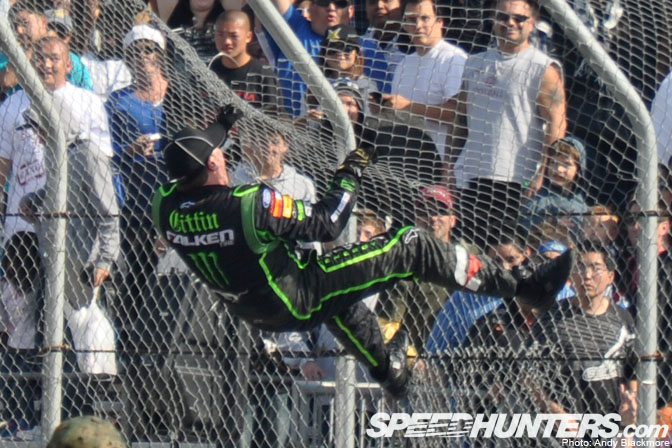 I climbed the fence to show some final appreciation to the crowd. I forgot this is all setup temporarily and not built for gorillas! You can see it was starting to come down! Sorry LBGP!!!!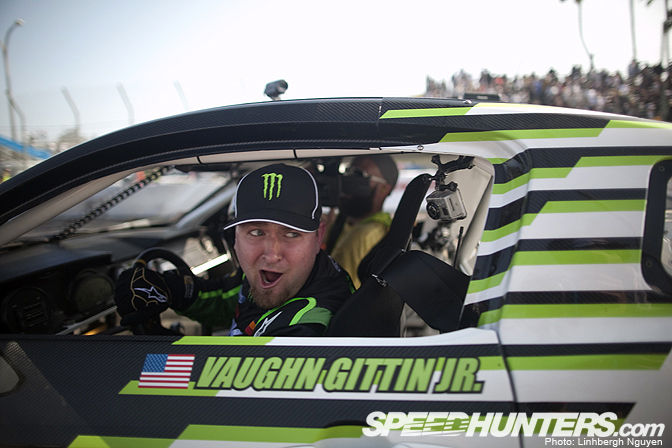 This one is actually my favorite! I look like a cartoon character!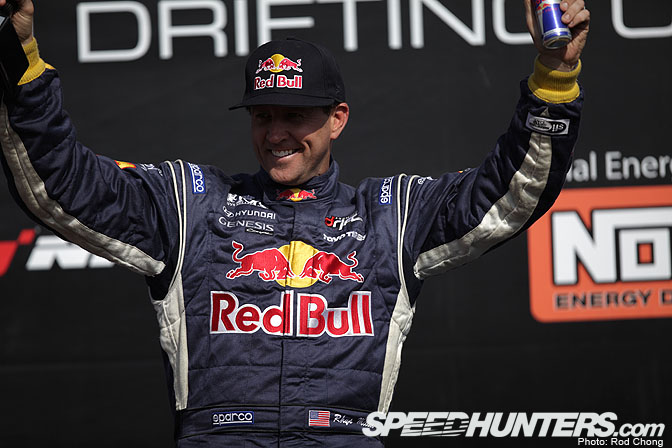 Congrats to Rhys for 2nd place. For the record, Rhys is one hell of a driver and he's is a cool dude when his helmet is off. In fact, I am glad to call him a friend. When he puts his helmet though on it's a whole other story and he is right there next to Sam in my book of competitors I simply don't like on the track. Not necessarily a bad thing; they should just expect to rub some paint from here on out when we meet.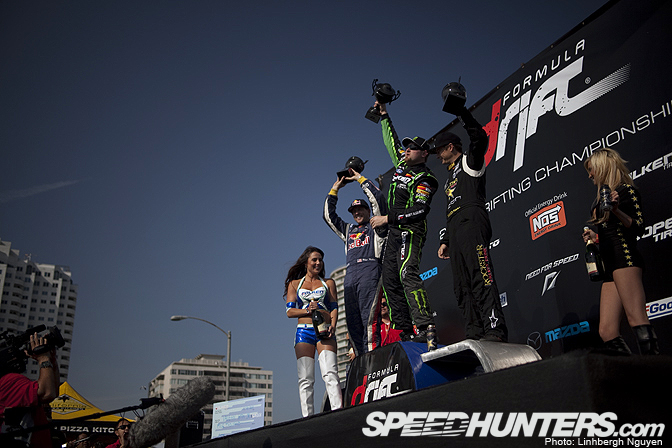 I haven't felt the top step of a podium since 2008. Damn it feels good!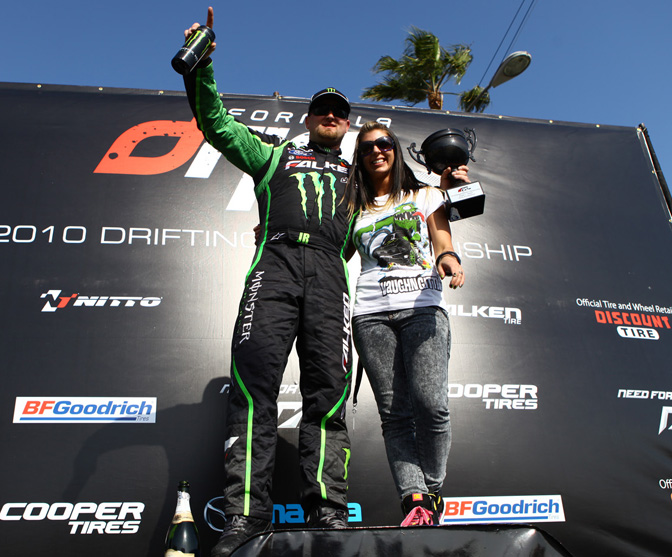 My wonderful lady Abby and I getting a shot on the top step!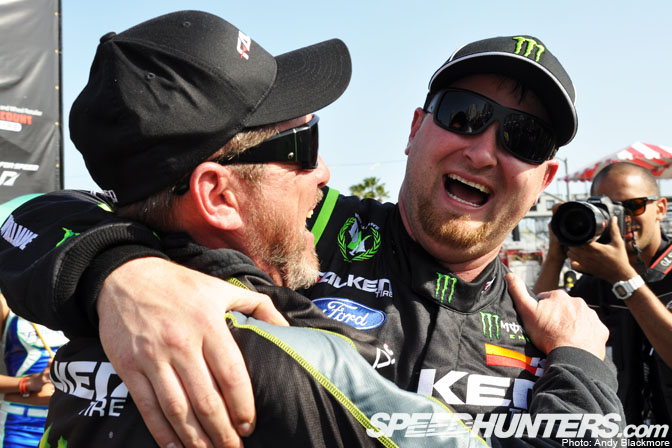 My father Vaughn Sr. AKA Captain Rad saw me win for the first time ever. Needless to say it was awesome seeing him so happy.
My Mom also witnessed her son win with her eyes for the first time. She was crying with excitement. Here is her after I made her "taste victory"! I swear it taste much better then she is making it look! Unfortunately my brother, sister, and stepfather had to miss it… next time!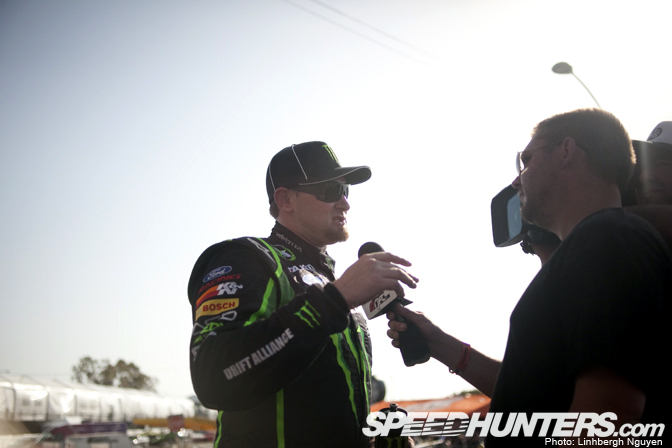 My final interview of the day wrapping up an incredible week!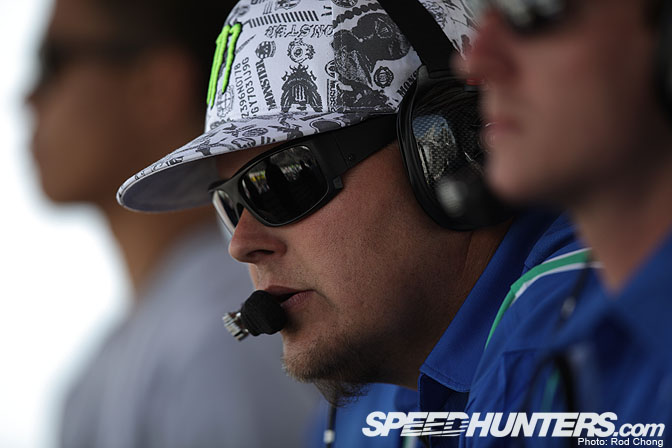 I want to introduce you to the men behind the driver that make up my team! Without these guys, I would be pretty lost! This is "Gangster" Dave, you might recognize him from the rotary world. He manages ASD, and does a damn good job. He makes all the schedules and time lines for projects as well as orders parts, paperwork, hires and fires… You name and it he does it with a smile. He is a very hard worker with an "anything it takes to get it done attitude". At the track he collects data over the entire weekend. I appreciate this dude more then words can explain.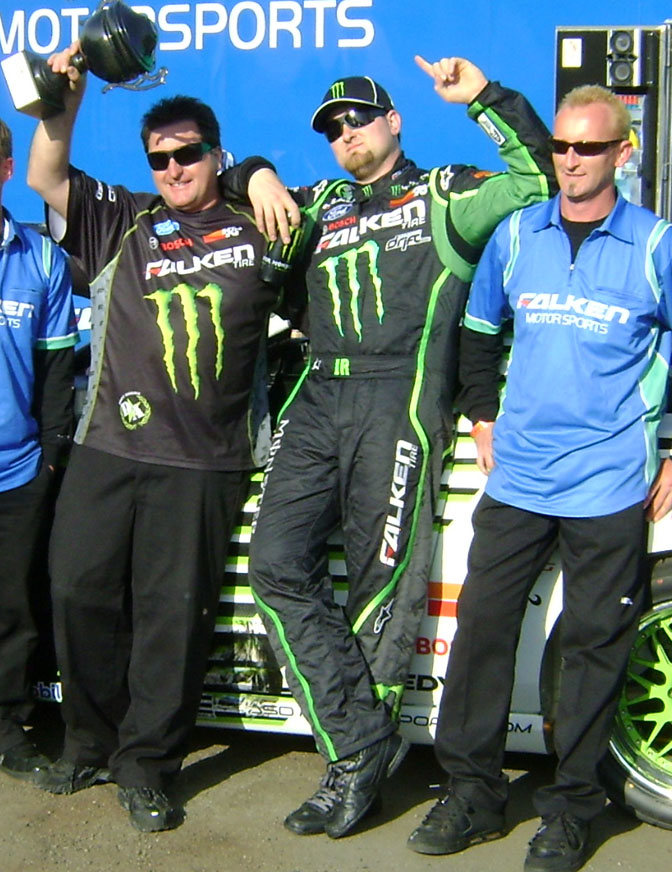 The man to the left of me with is Dean my mechanic and builder. His fab skills are unreal and he works his butt off for me year-round. He is hilarious and has stories for days. To say I appreciate him would be an understatement!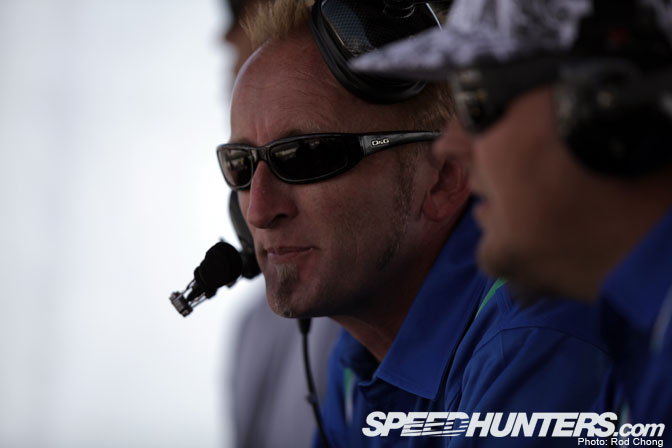 This is Ian Stewart, he is the founder of ASD. He has been in motorsports for over 20 years. He is one hell of a engineer and fabricator. Maybe almost as good as our local brainiac Speedhunter "Alex"
Ian is my chassis engineer\crew chief. I talk to him about everything related to the car and my line on the track and we work through making everything the best it can be. I have been working with him since 2007. The first time we worked together we won the D1GP World Championship. He is extremely talented and I love working with him. Contrary to popular belief, it's not always sunshine and smiles, but we work through it and have great mutual respect for one another. He too is appreciated more then words can explain!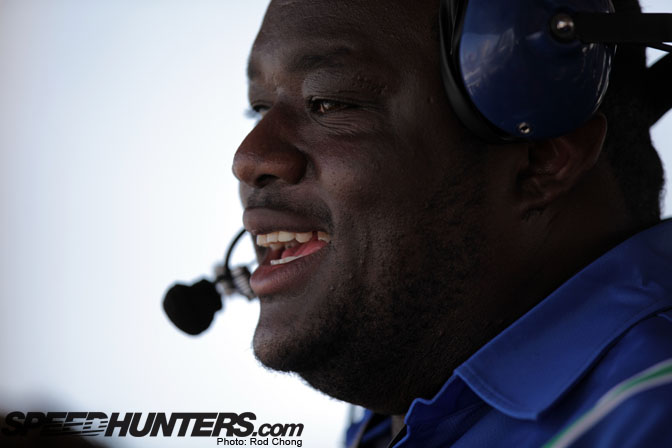 Last but for sure not least. My man Jbrad! He is the Falken Tire drift team manager. I have watched him come up through the ranks in my seven years at Falken and I enjoy working with him! He is responsible for aligning me with this incredible team and handling all the behind the scenes insanity that makes our team tick! It's a good thing when he is smiling like this! You're the man JBRAD!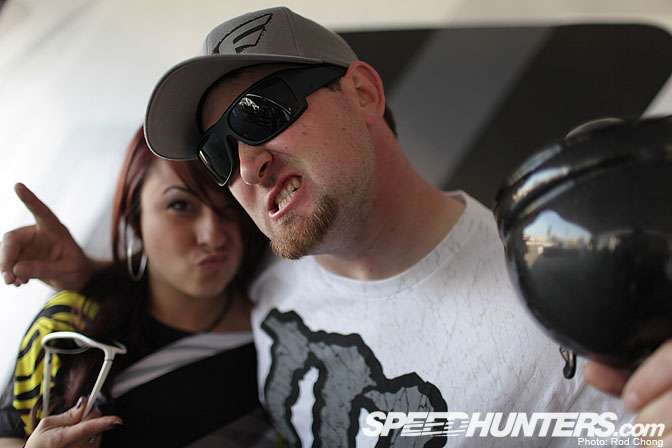 I'll leave you with this shot of me kicking it in the Need For Speed lounge once I changed. Of course I didn't put my trophy down! I can't imagine what I smelled like either. Sorry Miki!
Atlanta, here we come!!!!
- Vaughn Gittin Jr.