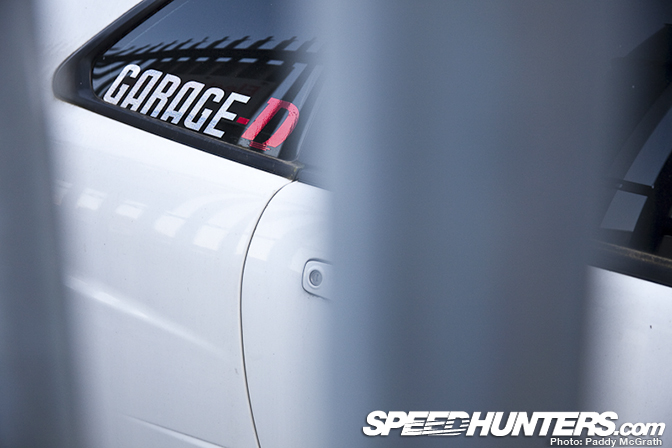 On my travels around the UK last weekend for JDM Allstars, I found myself at Garage D, one of the UK's leading drift and fast road car builders. The company was founded and run by European drift legend, Julian Smith. Jeroen ran a video roll on Julian running Mallory Park back in March. If you haven't seen it, you really must watch it. It's a great lesson in controlled and relaxed driving at 110%. Julian also drove for HKS for two years, firstly in RS-1 S15 and later in the RS-2. It will give you an insight into the passion, history and talent at Garage D.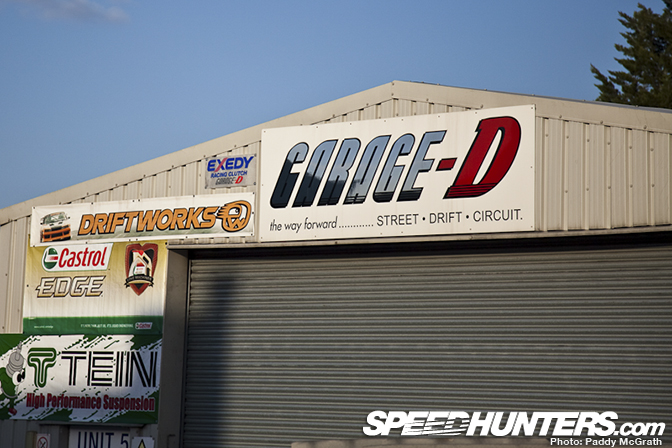 The garage is located in Watford, just north of London in an un-assuming industrial area. From the moment you drive through the security gates, you are in pure, unadulterated, JDM heaven.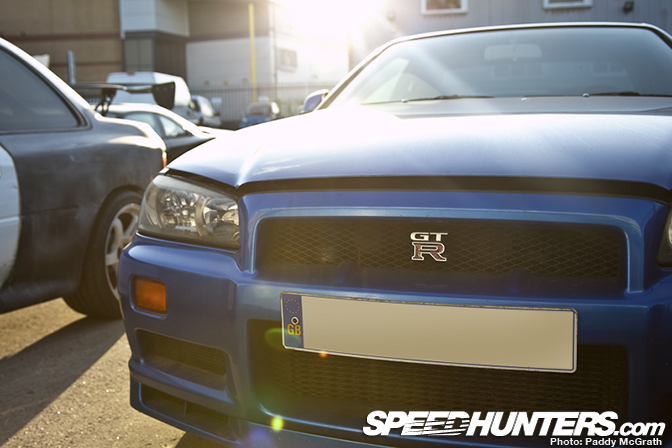 Even with the huge influx of Japanese imports over the last few years to Ireland and the UK, it's very rare to see an R34 GT-R and in bayside blue, they still look incredible.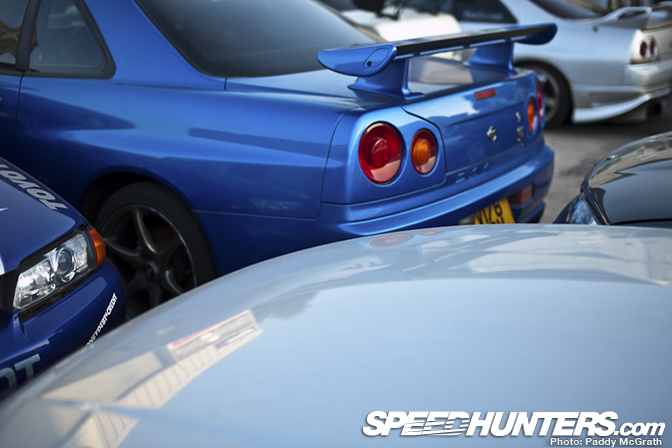 How many GT-R's in this shot ? You can already sense where this post is going in terms of pure win.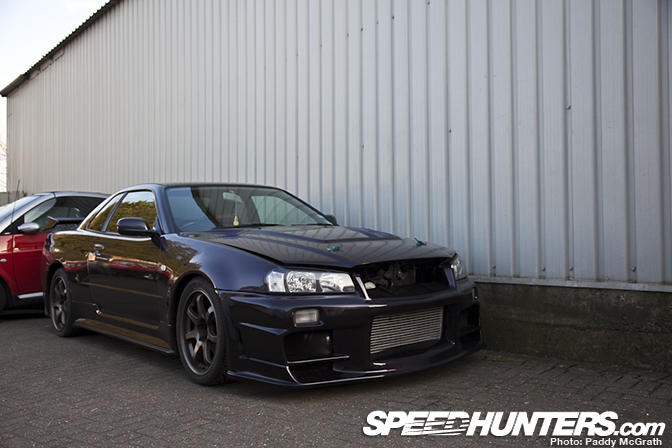 Around the side of the premises lies another R34 GT-R, sporting some mean aero and rims. I love the low mount drag wing at the rear.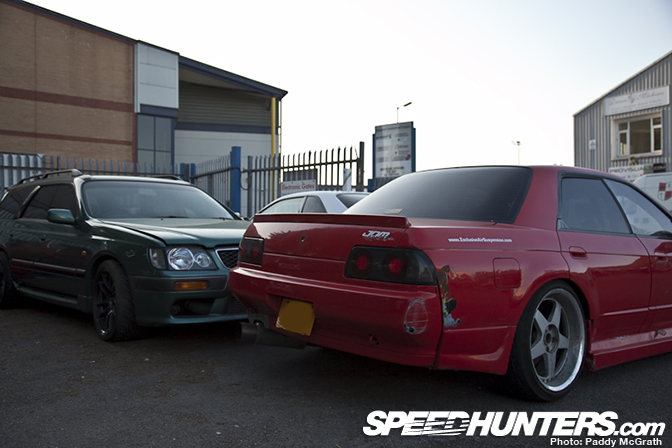 From left to right, we have a 550HP RB26 Stagea which is Julian's tow car and a well used four door R32 drift car. If my memory serves me correct, Mr. Lennard Wanders drove the car at JDM Allstars last year in Newcastle ?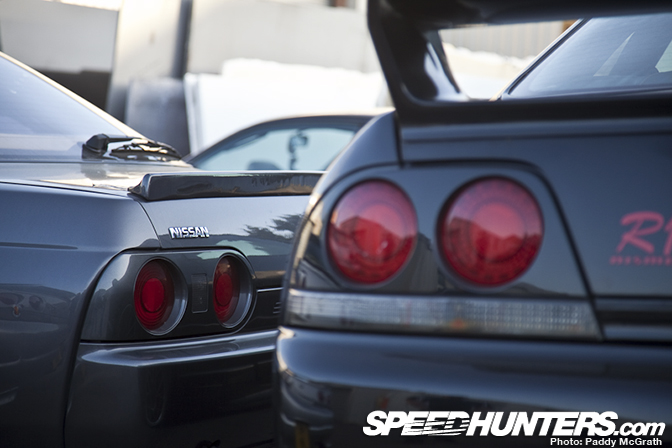 More GT-R goodness, the R33 in the foreground sports a single lug conversion and …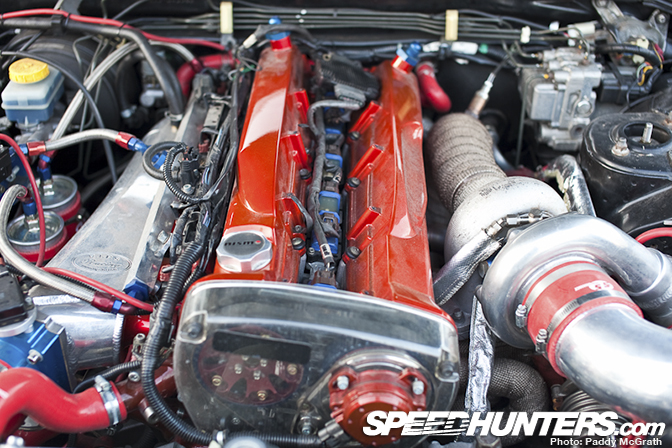 … a 'considerable' RIPPS / Garage D RB30.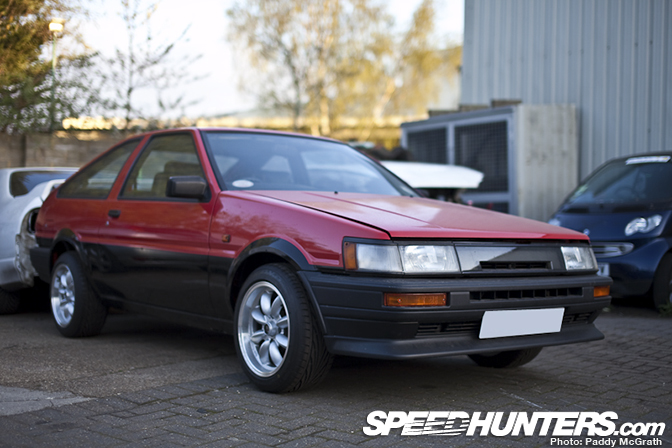 Just in case you thought this was going to be a GT-R love in, this is Julian's personal AE86 which he has owned for over ten years.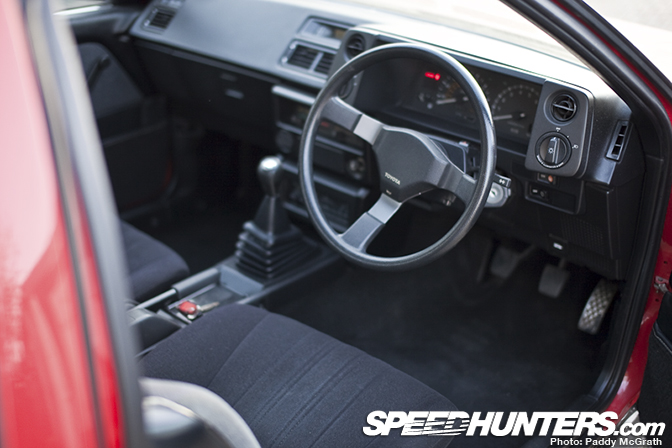 I've seen clean AE86's in my life but this one takes the biscuit. It really is showroom fresh.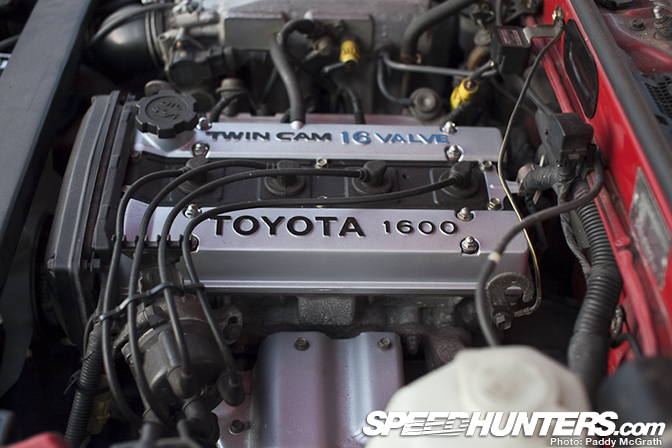 I mean, WOW, really. Bear in mind this is a car knocking on 25 years old. It's bloody older than me and unfortunately for me, it's getting better with age.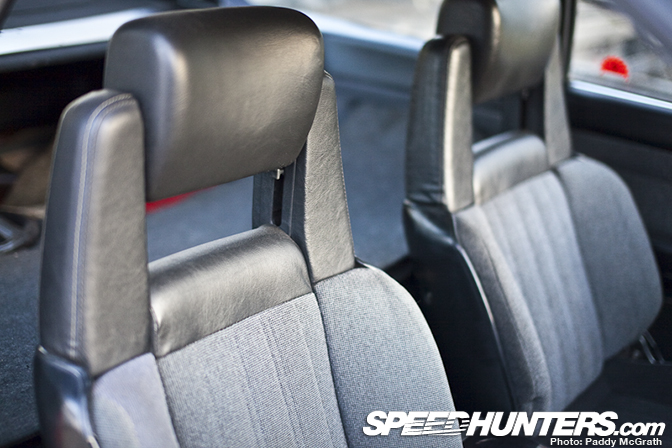 Julian is going to beat me with a stick when he see's that I forgot to put the back seats back up for this shot but rest assured folks, they're as clean as the front. It's almost depressing how clean this car is.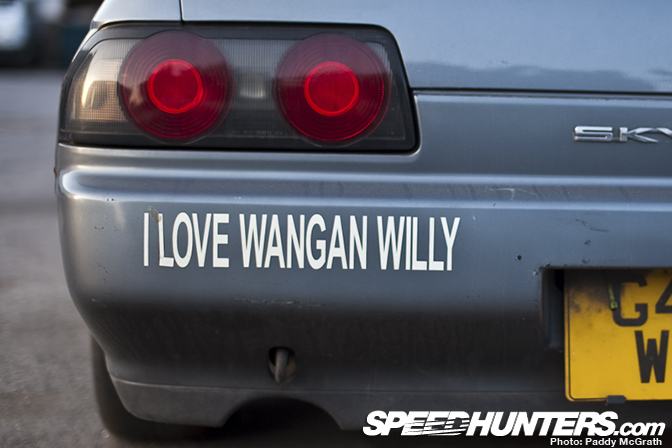 Ah yes, the legend of Wangan Willy. Let me explain to those of you have been unfortunate enough not to have heard of Mr. Willy until now. Many years ago there was a mythical creature called Wangan Willy was a little bit bonkers. Full smokey, third and fourth gear drifts in broad daylight on public roads were a regular occurance for Mr. Willy. He reached the height of his infamy by manji'ing the M1 motorway in England for a Max Power magazine feature. He has never been heard of since. I wonder will he ever return ?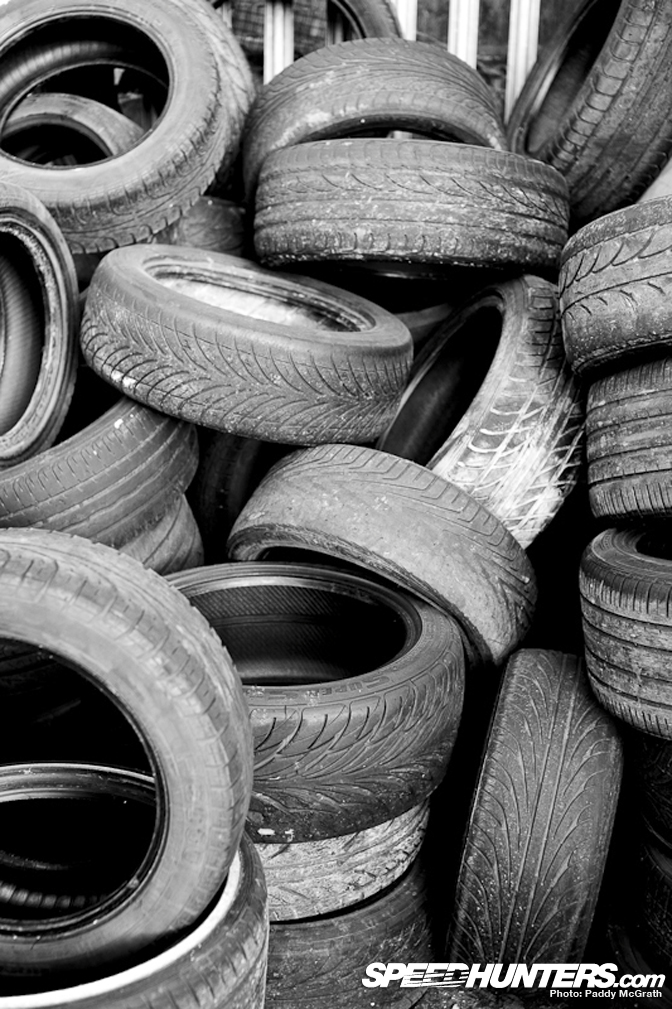 Julian does a lot of drift demonstrations in his two ER34 drift cars. This means a lot of worn tires need ot be stockpiled somewhere. I've seen the rate at which Julian can go through a set of tires and to be honest, I'm sure there are a lot more somewhere else !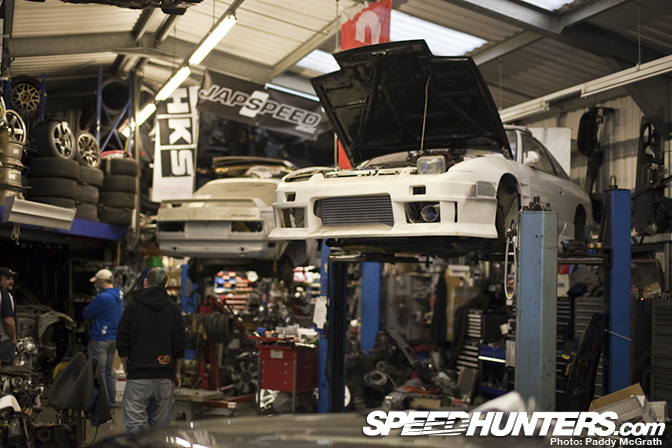 Inside the garage, it may look like chaos. But it's an organised chaos. There is a lot of stuff going on here, so let me do my best to show you around. First off we have a 400HP Nissan Onevia and a 500HP turboed BMW E30 on the lifts which are two on-going Garage D project cars.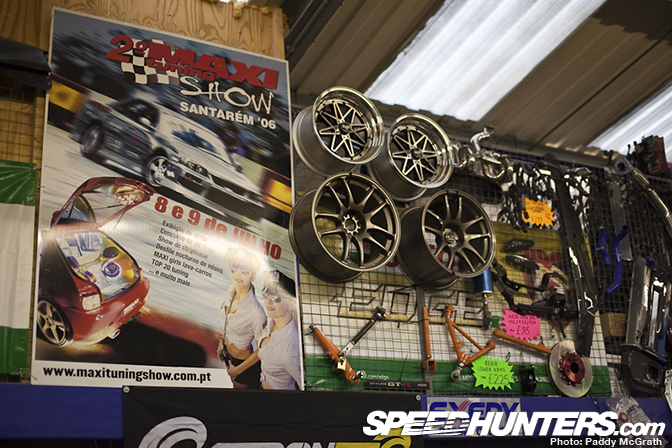 The walls are decorated with posters and parts for sale. Some Work Equips and some Driftworks lower arms anyone ? The poster for Maxi Tuning features Julian's first ER34 which was used by Keiichi Tsuchyia to test Silverstone for Video Option.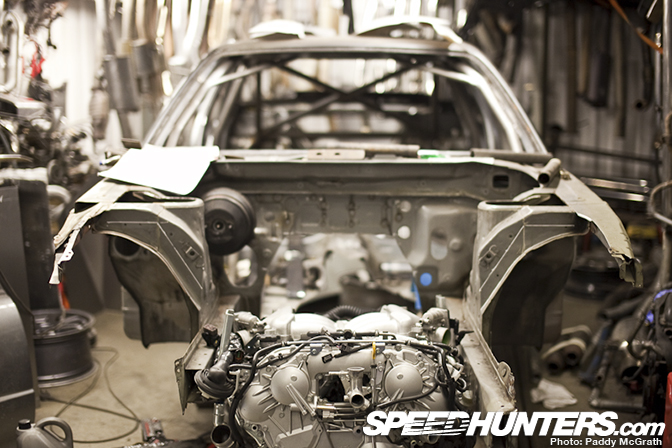 ANOTHER four door ER34 ! A cookie to the first person who spots and identifies the awesome factor in the foreground
The car is being built to rival the Driftworks S15, which is another Garage D winning build. I hear rumours that Mr. Smith is coming back to show all these young 'uns a lesson in how to drive. In all seriousness, Julian is one of maybe five drivers I have ever seen that impresses me every time he takes to the track. He's a proper legend for a reason.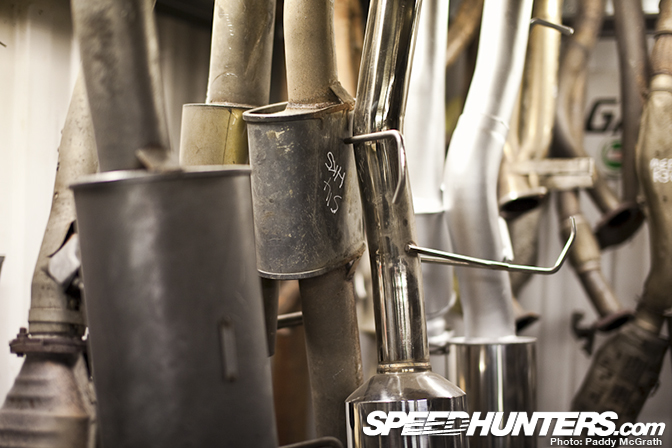 A collection of exhausts hang in the back of the shop.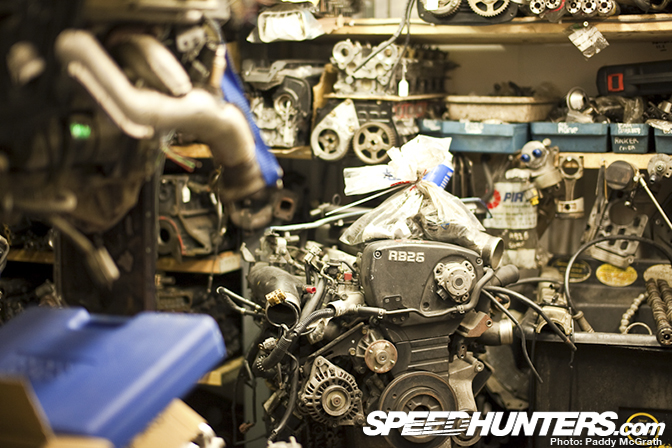 The engine room makes me all giddy.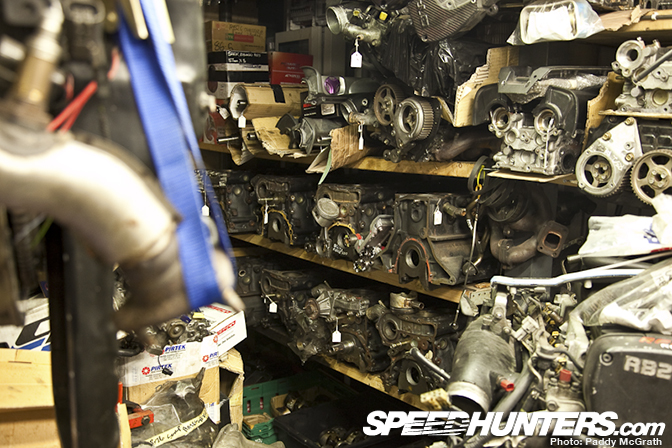 When you turn the corner it get's even more ridiculous as the scale of Garage D's operation finally starts to sink in. These guys are at the top of their game.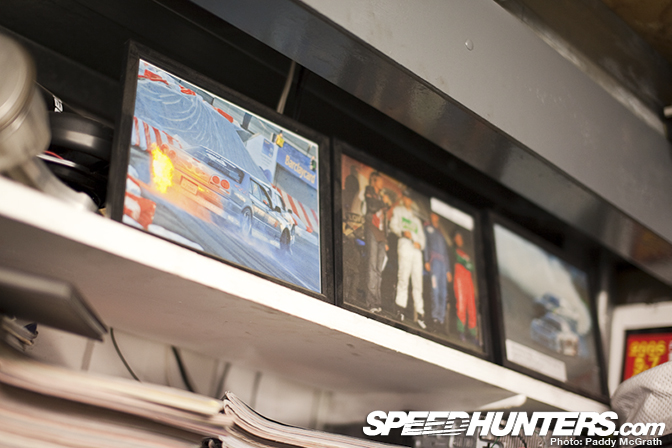 Being a photographer, my favourite aspect of Garage D is the photographs hanging on the walls.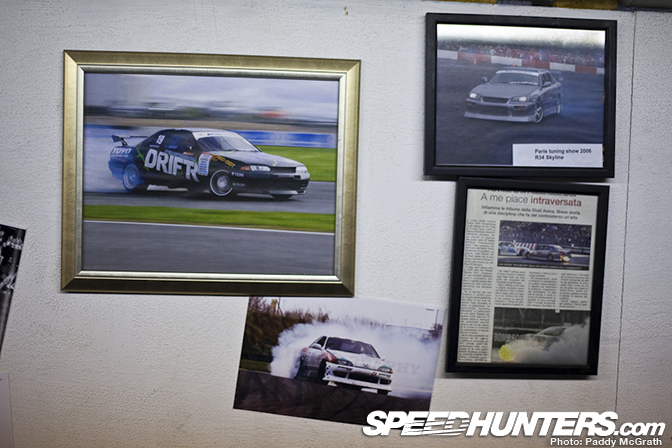 There are countless photographs, newspaper clippings and montages of images all around the garage. Towards the bottom, you'll see a picture of a Castrol coloured R32. This was commissioned by Castrol Europe to be built by Garage D to promote the launch of the Fast and Furious film, featuring an RB30 and other big spec. It was a proud moment for me to spot a few of my own photographs spread around the place.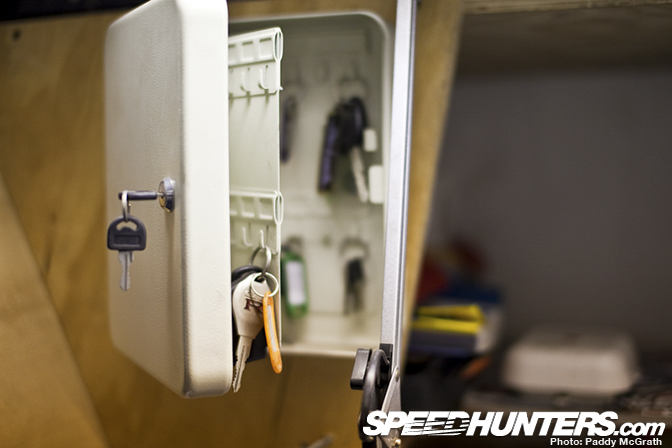 Which GT-R shall we take today ?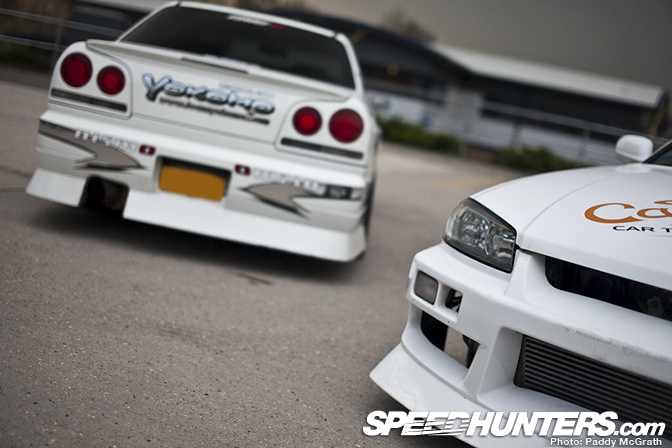 I shot a quick spotlight on the two ER34's Julian uses for drift demonstrations, which we'll run early next week. Yes, that is a genuine ex-Blitz demo car.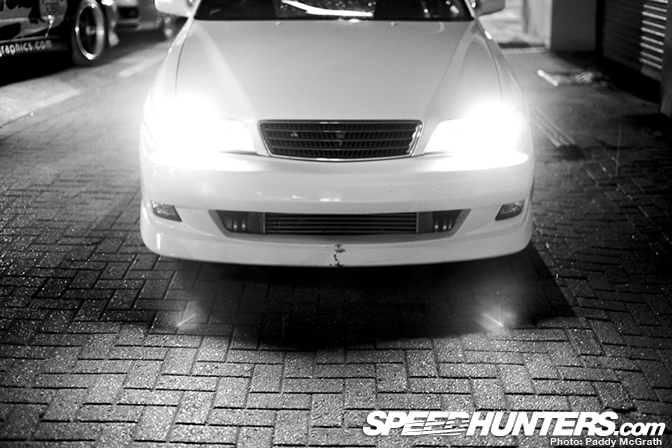 As the night rolled in, Julian smiles and points outwards 'There's another one of my four doors laaad.' I wasn't jealous, honest.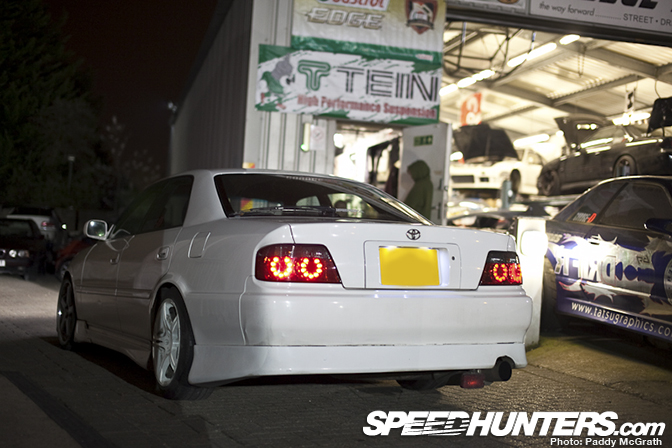 The car is of course a JZX100 Chaser, proof that it's not GT-R's and RB's Garage D deal with.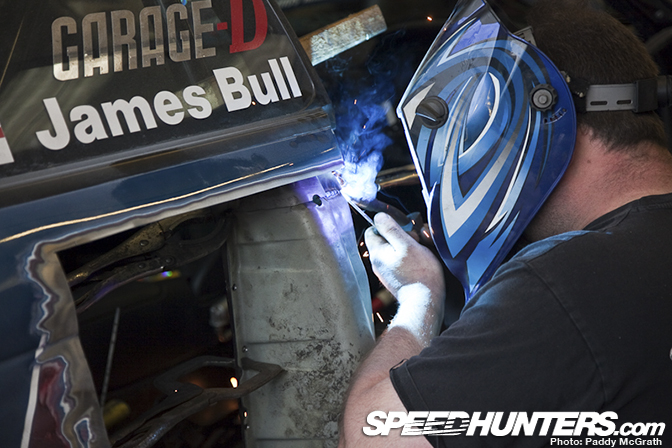 If you remember back in our JDM Allstars Observation story, we reported on the comraderie of the guys fixing James Bulls car. Well this is where the car ended up after the event, in the very capable hands of Julian and Martin Ffrench. As the day progressed, what unfolded in front of me was pure art work. The work was so tidy and so precise it was mesmerising. There were no shortcuts taken, no half measures, everything had to be perfect. Garage D is not the place for a 'that'll do' attitude. It's either perfect or it's not.
My Garage D experience was an entirely positive experience. Just want to say a personal thanks to Julian, Walton, Belinda and Eoin for their help and hospitality at the weekend. Julian was kind enough to give me his office to keep you guys updated on the JDM Allstars stories on Monday.
Spotlight on the two four doors coming early next week !
Paddy