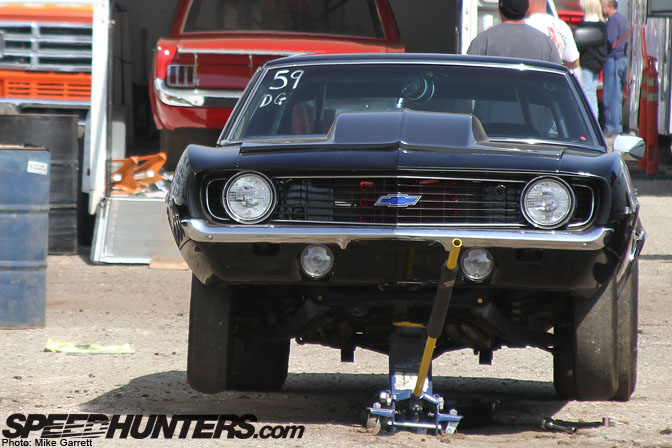 As we gear up for the onslaught of the 2010 season, everyone seems to be getting busy. Yesterday I tagged along with Chris Rado and the World Racing team to a dyno session for their time attack Scion, and in just a bit I'll be heading out to the Inland Empire to get the latest on the Rockstar Drift tC. Before that though, I need to finish up my coverage from the weekend's Famoso March Meet.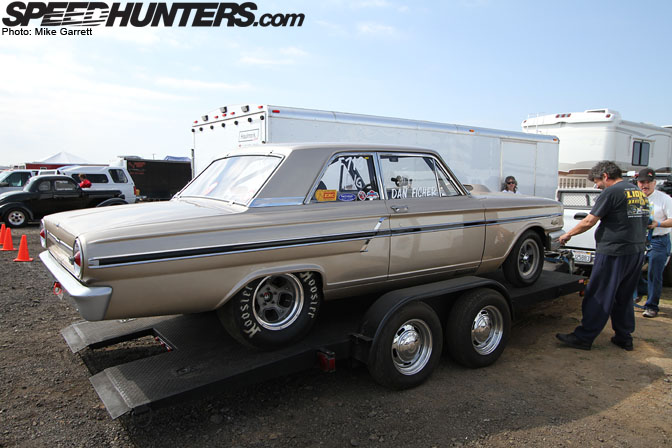 As I mentioned earlier, I was a little bummed to see so many cool cars already being loaded up, but there was still lots of action. This Ford Fairlane represents everything I love about early '60s drag cars.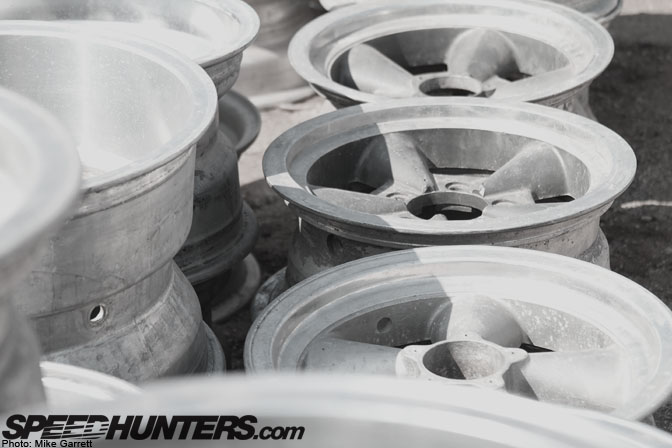 Back at the swap meet, my attempt at a moody shot of some mag wheels.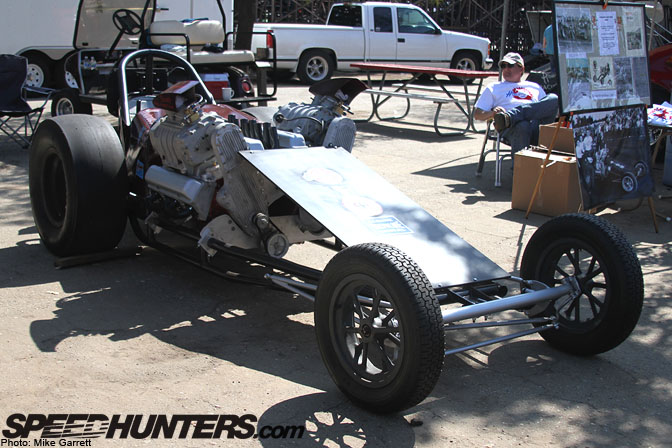 One of my favorite cars of the day was this vintage dragster…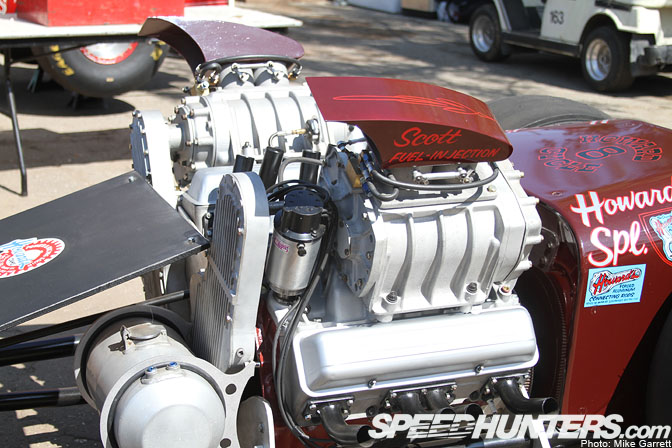 …complete with its two blown V8's. Twin-engined dragsters never became mainstream, but there's no denying the presence these things have.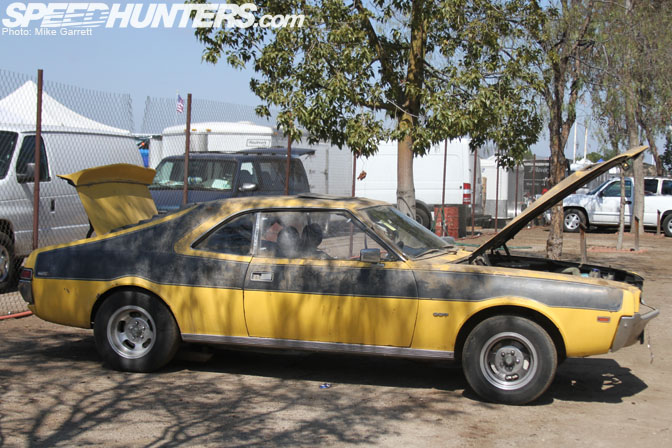 Tucked in the corner of the car show area I came across this strange AMC Javelin.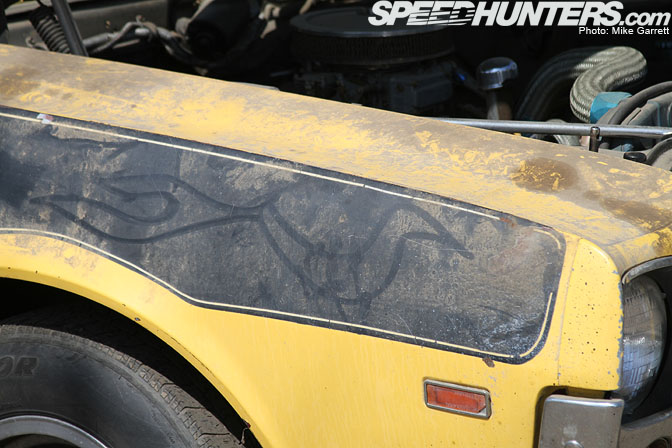 For one reason or another, the owner was going for the unrestored look, and it certainly stood out from the polished up show cars on hand.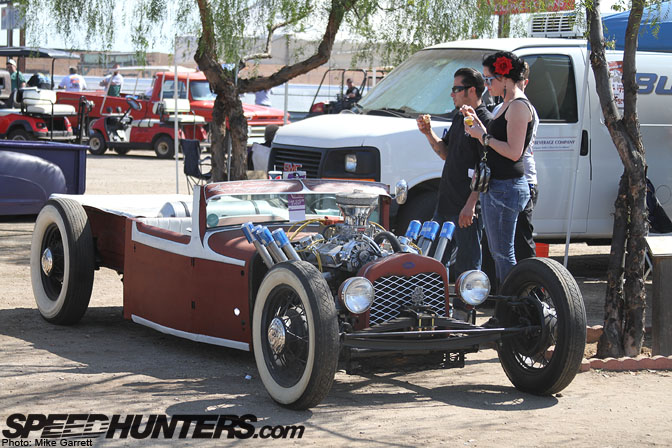 This roadster-pickup was also found in the car show. I'm still not exactly sure what to call this style. It's not really "traditional" and it looks a little too complete to be a "rat rod". Whatever it is, you gotta love the cut up beer cans covering the headers…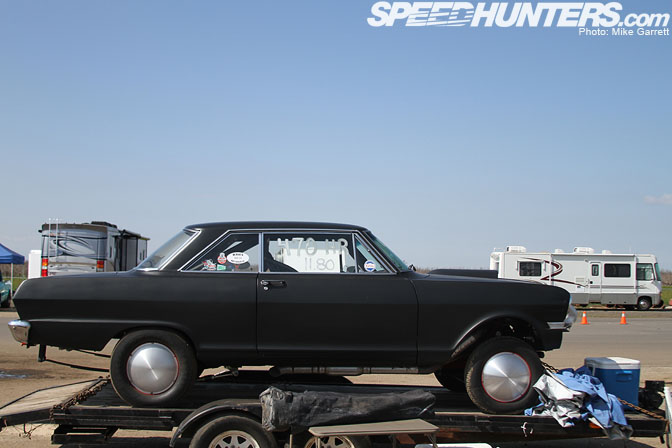 Here's a Nova sporting the classic gasser stance. It's not too often you see Moon Caps on drag cars though…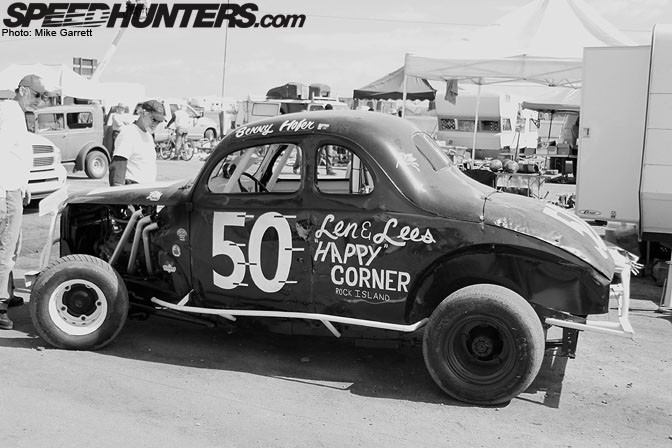 This beat up circle track racer was super cool. Just ignore the modern background items (like the pickup trucks), and this could pass as a period photo.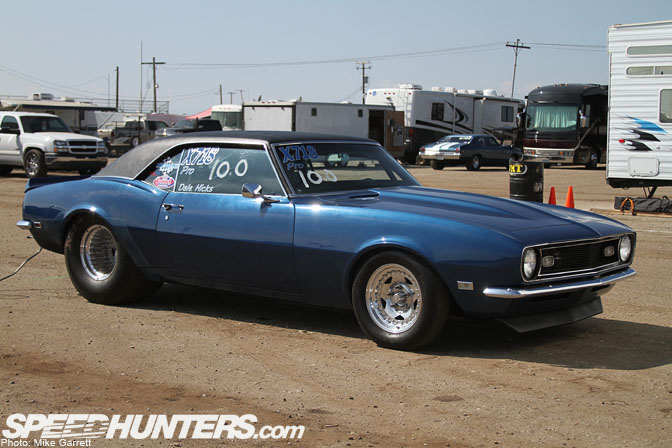 Early Camaros are always one of the most common cars at events like these. Whether it's a tubbed, stock-bodied beast like this…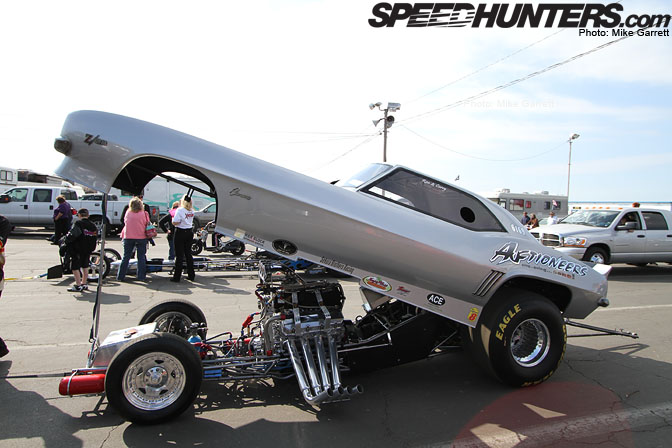 …or a Funny Car that happens to be styled after a '69 Camaro.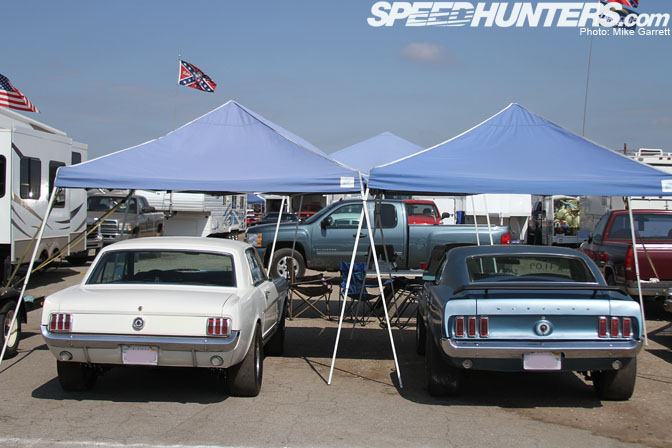 Blue Oval fans, don't feel left out. There were also plenty of 'Stangs kicking about as well.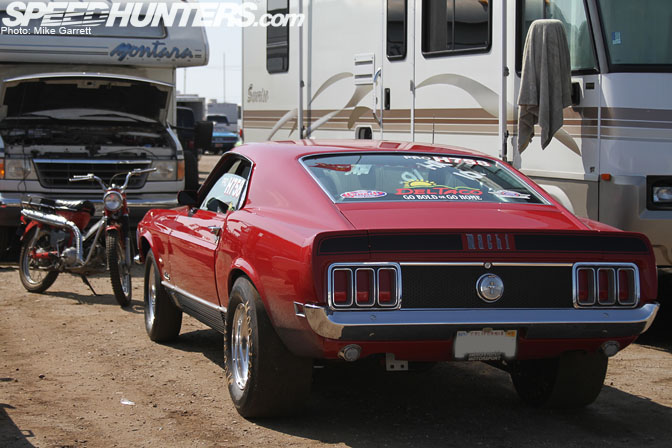 Speaking of Mustangs, I thought this Mach 1 sitting alongside a bike of the same vintage made for a pretty cool scene.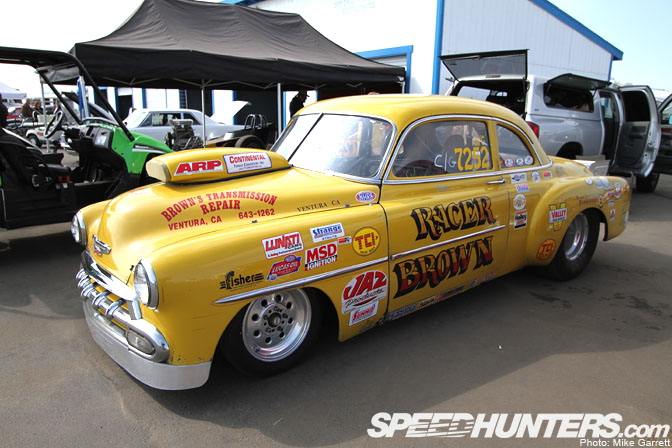 We see these early '50s Chevys as lowdown customs all the time, but how about a drag car? Pretty cool.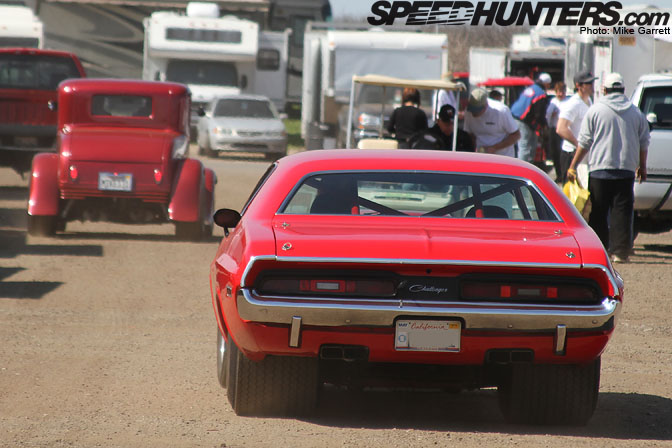 This Challenger is a perfect example of the "pro street" look that was popular in the 1990's. I guess I'm still a sucker for giant rear meats.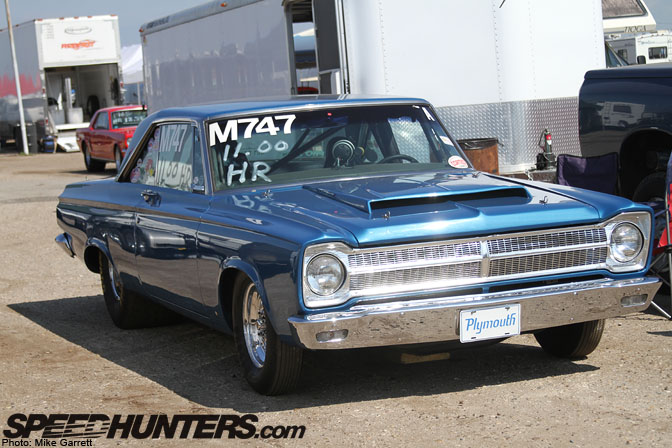 And a little more Mopar love for you.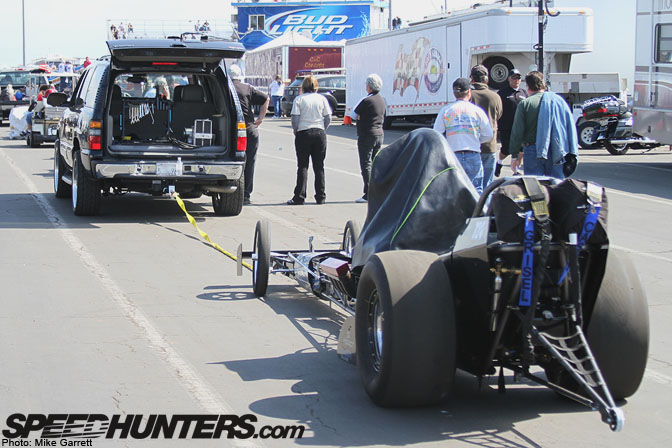 While the majority of the dragsters were being towed by modern trucks and SUV's…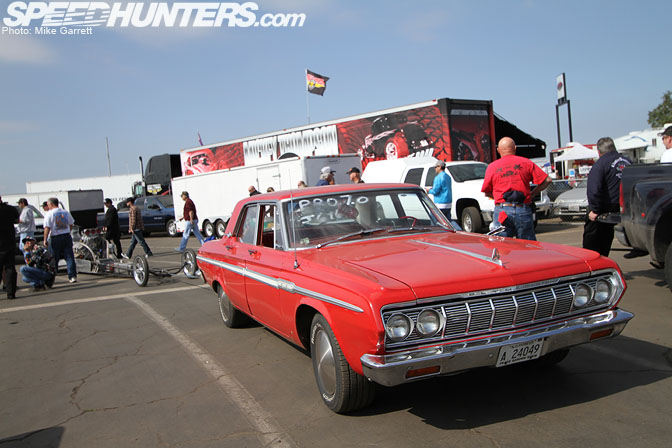 …extra style points go to those who have a support vehicle of matching vintage.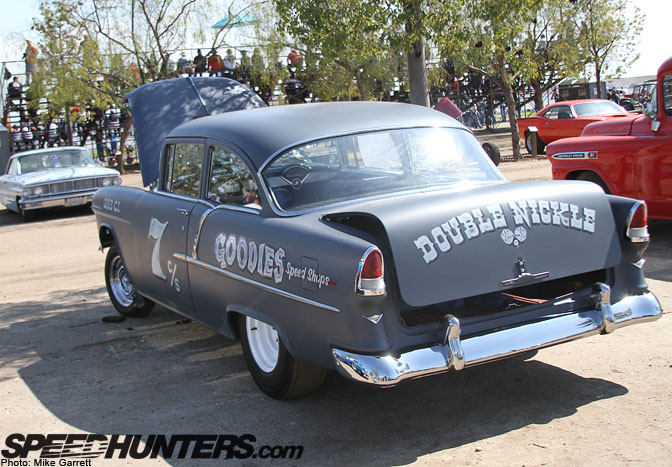 Another one of my favorites of the day was the "Double Nickel" '55 Chevy. Not surprisingly the films Two Lane Blacktop and American Graffiti are responsible for my love affair with the '55.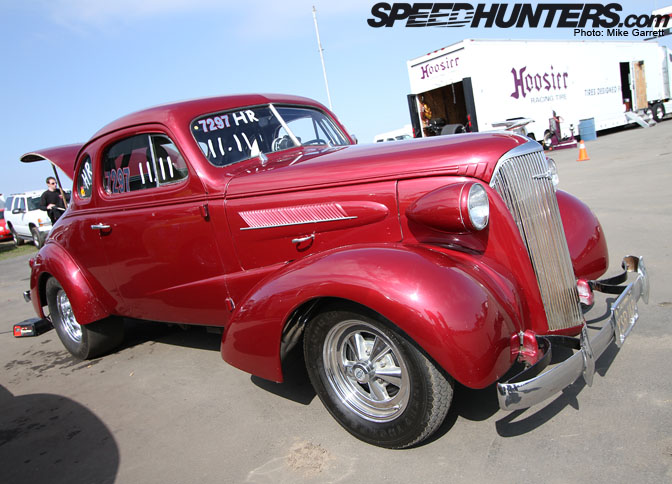 And that does it for my March Meet Coverage, save for a Car Spotlight that's coming soon.
It's a pretty crazy machine, so you won't want to miss it.
For now, I'm off to check out the Rockstar Scion.
-Mike Garrett