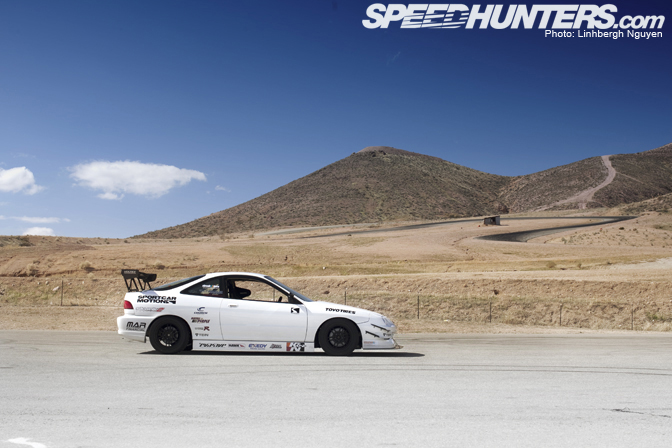 It was my phone that cracked the silence. I groaned as I reached over to the bright and loud object that was a mere blur in my eyes. I squinted. My eyes started to focus as I made out a text message saying "WAKE UP!!" I set my phone's alarm to do just that a few hours before hand. The time was 4:30am. It was still dark and I had somewhere to be in a few hours time.
Red eyed and still groggy, I rolled back into that sweet spot of my bed thinking and anticipating about the long drive ahead….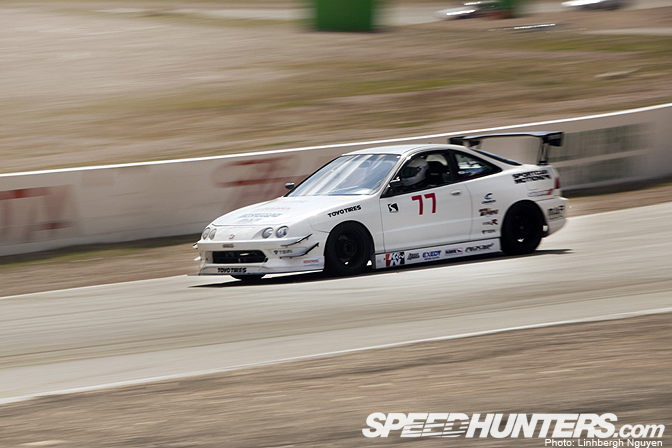 My phone screamed out once again. 5:00am burned into my retinas. I jumped out of bed, threw on some clothes and was out on the open road before I knew it. I had a date with a Honda at Willow Springs International Raceway.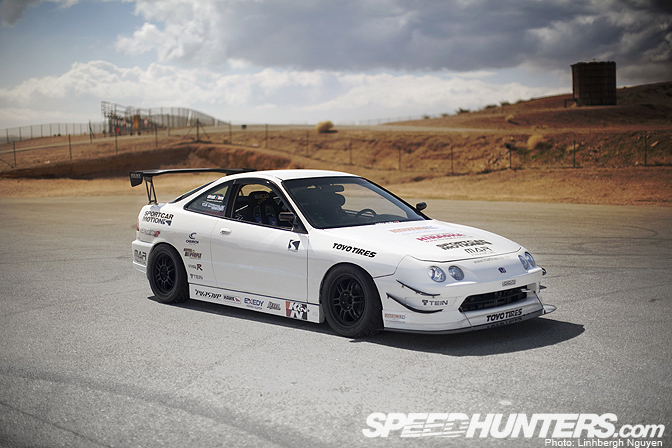 My rendezvous was not with just any Honda but a 1999 Integra Type R (sorry, I just had to…) built by the guys at SportCar Motion, which in turn was built to destroy lap records like their, now retired, EG6 chassis.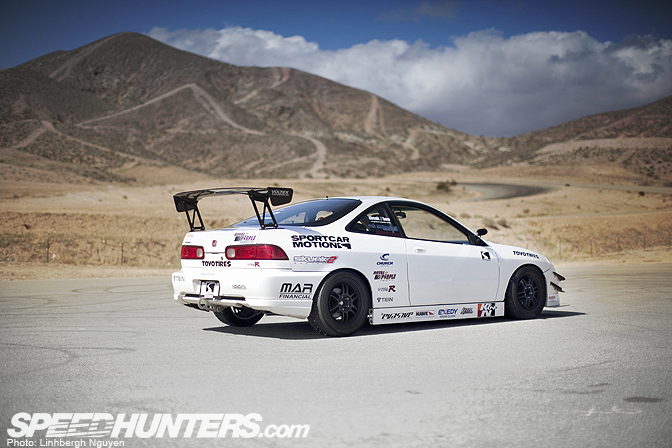 This car is looking to campaign this year at Redline Time Attack and the Superlap Battle in the modified class.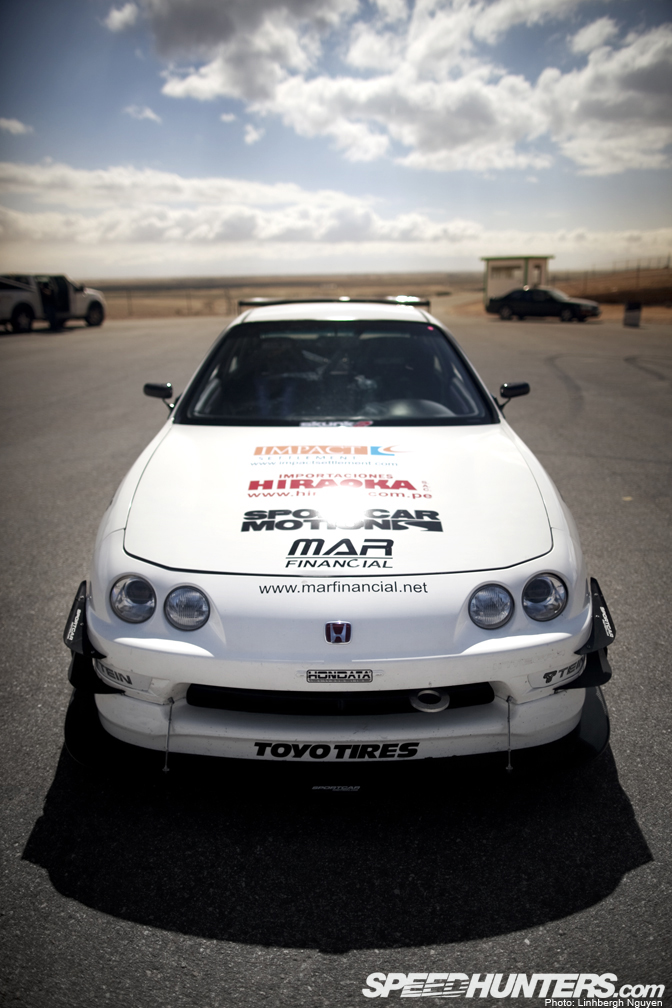 At first glance, the car looks relatively simple. But the more you start to peel away the body and start to look at all the details, you start realize how passionate the guys at SportCar Motion really are to the art of hunting speed.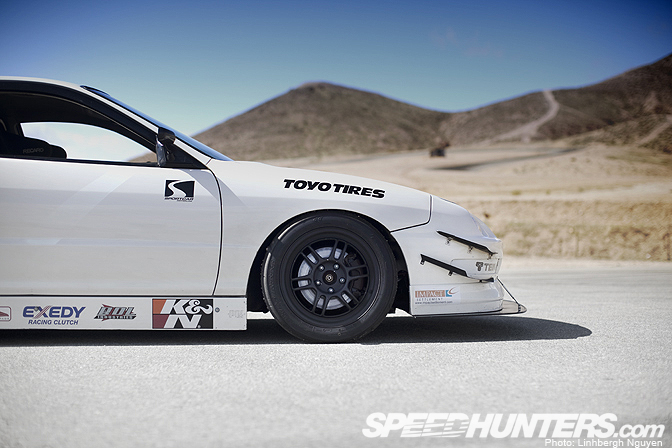 We all know that it takes a balance of a lot of different components to have a good and complete race car. The car has to have decent enough power under the hood, a component that stops that power, and another component that keeps the car plastered to the pavement as much as possible. This ITR has the help of Tein SRC coil overs, Type R (lolol) sway bars, and full spherical bearings all keep this car firmly on the road as it tackles the various corners at the tracks they plan to campaign at.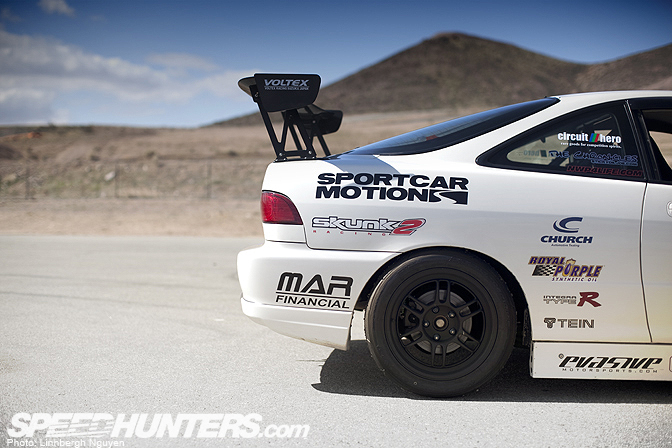 Under the fenders lay a set of black painted 16×8″ Enkei RPF-1 with 225/45/16 non-shaved Toyo R888 tires. Within those wheels are a set of stock OEM rotors with HAWK Blue brake pads.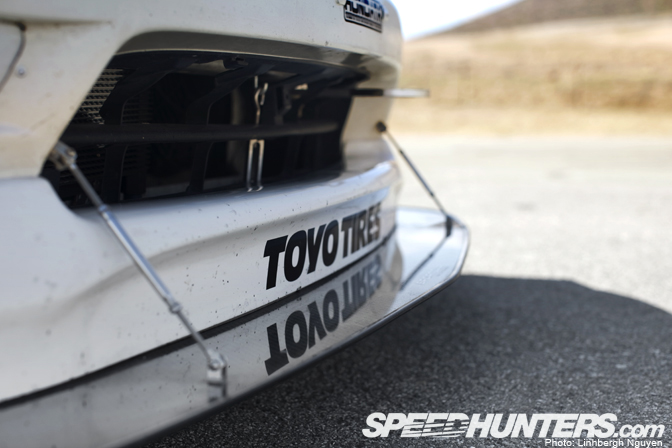 Things get serious once you notice the custom SportCarMotion front splitter…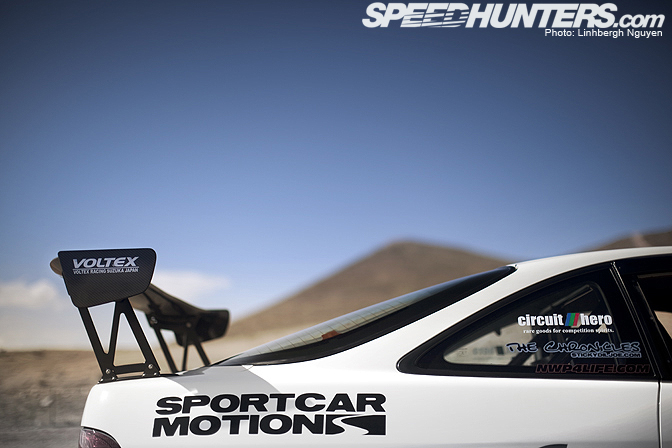 …and the Voltex GT wing. So, that completes our look to the exterior of the car.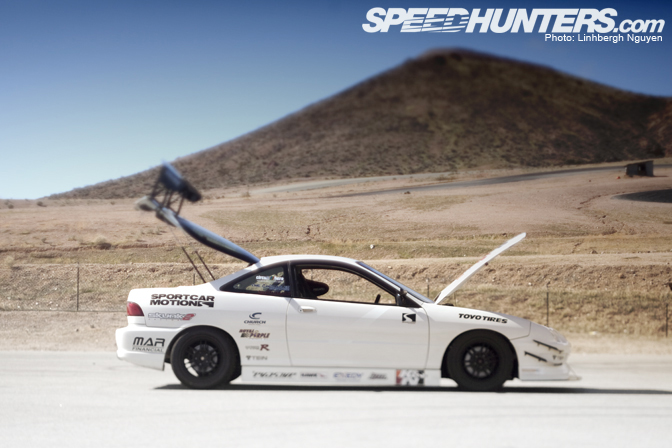 Let's open up the car and look at its inner workings.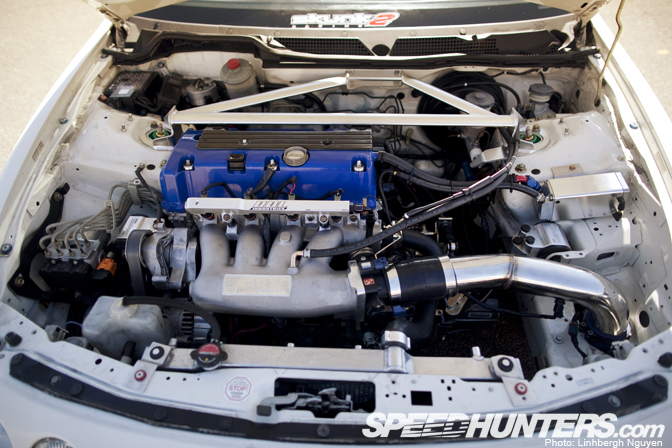 This is the heart of it all. It defines the characteristics of the car completely. What you're looking at now is a USDM K24 engine with a K20 head. Inside of this heart of gold lies a set of JE 13.7:1 pistons, with an 88mm bore with a stock stroke.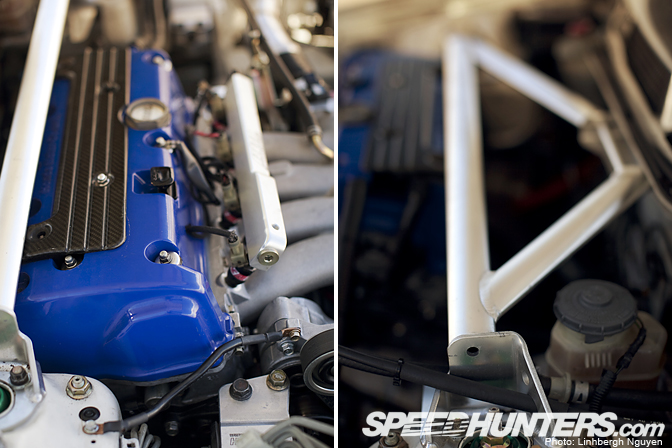 The head has also been port and polished by Portflow, houses Brian Cower lightweight H-beam rods with Skunk2 Stage 3 cams, valves, valve springs, and retainers. All that motor work adds up to a 305 horsepower naturally aspirated monster with 231 ft-lbs of torque.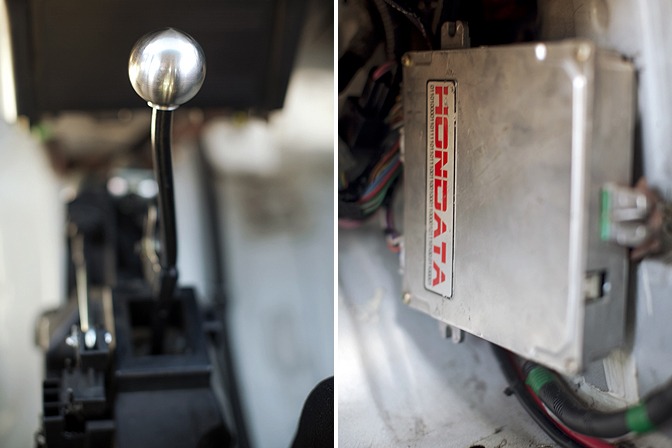 The K24 engine was tuned by the guys at Church Automotive Testing with the help of a Hondata K-Pro engine management system.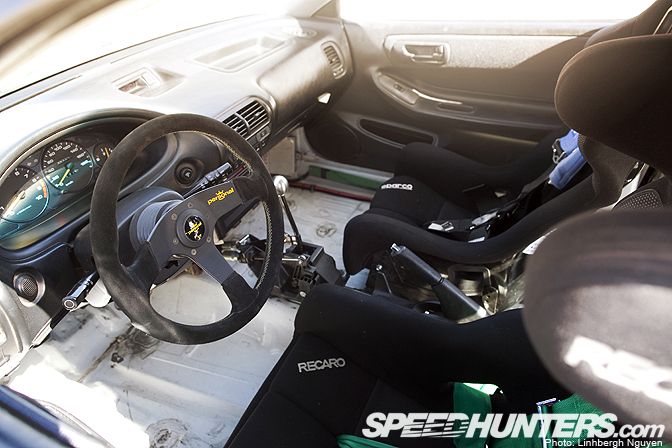 The interior, also referred to as "the office" these days, was kept as functional as possible; Recaro SRD bucket seats, Takata Harnesses, and a Nardi Personal steering wheel. But before those additions were added, the interior was de-tarred, sanded, and painted OEM white. Anything that was unnecessary was removed to save weight.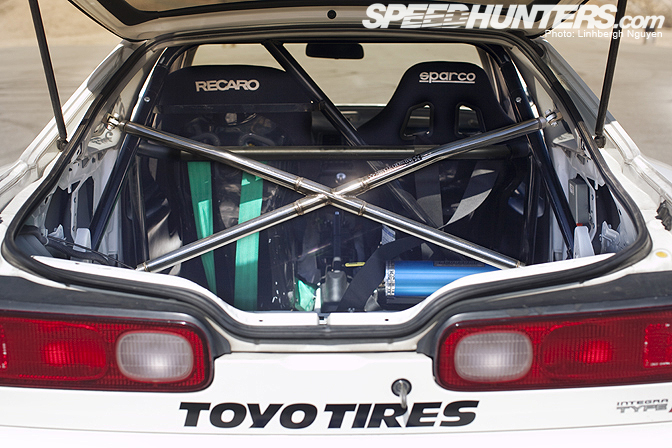 Behind the driver and passenger seats sit an Autopower roll bar.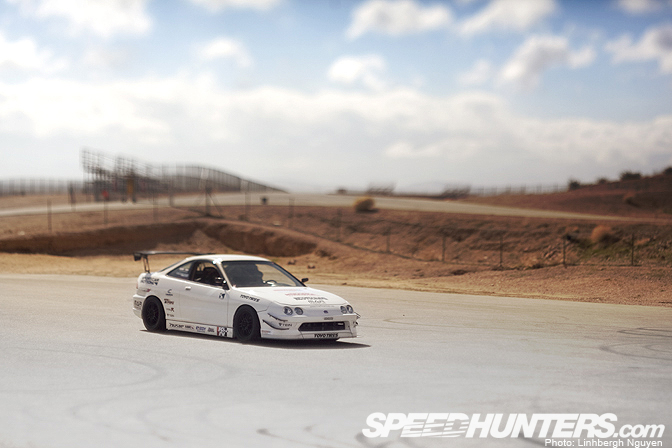 The exterior body work was reconditioned, any old plastics were removed and replaced with new ones, and the whole car was given a fresh coat of OEM white paint. The car looks as though it just rolled off the Honda lot and was immediately stripped and prepped for racing!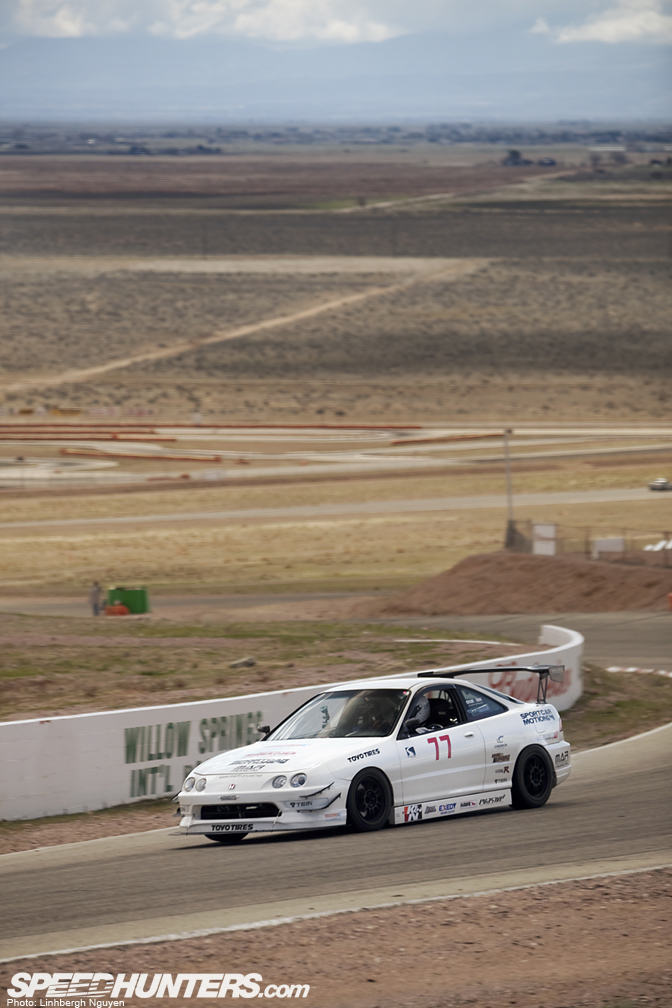 I just love the fact that this car still looks like the original car rather than some frankenstein shell of what was once a stock bodied car and has become a full fledge speed hunting demon.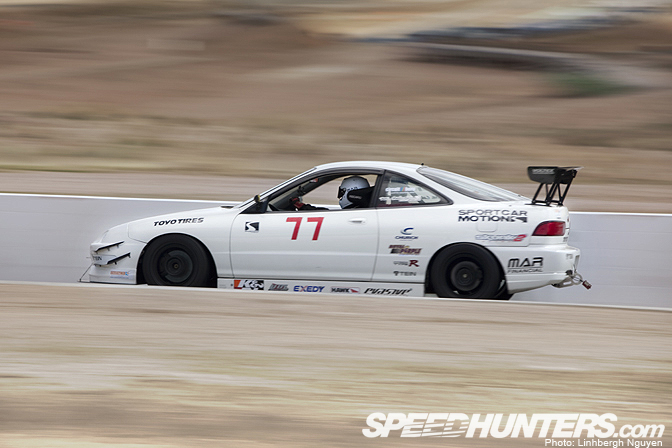 As the car made its rounds at the Big Track of Willow Springs, it shared the track with a few guys participating in the Miata Challenge, and the S2000 Challenge event, while gathering as much data as possible for its future endeavors this year. Unfortunately, the car ran into a transmission problem after just a few laps. The RSX Type S transmission refused to get out of fifth gear which brought an abrupt and early end to their day.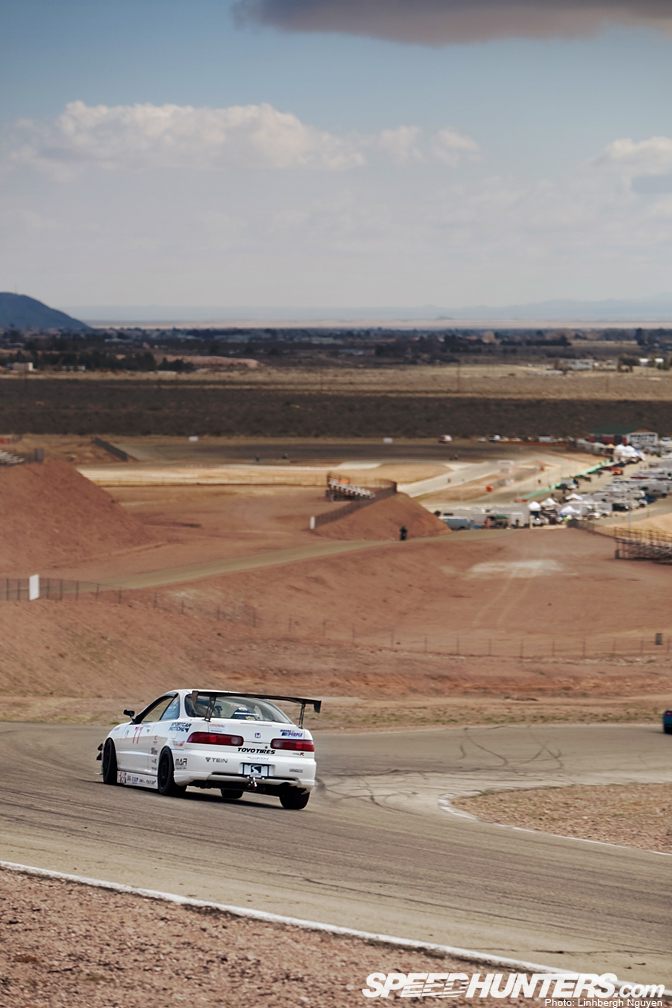 A big portion of racing is the build up of anticipation to actually race. It can drive a team a bit mad. When your day is cut short, you can't help but to feel a bit disappointed.
Imagine a day out to the track like a hot date. You spend a lot of time before hand prepping. You making yourself look presentable, maybe even looking a bit sexy, and all the while your anticipation builds. Will it be a good time? Will he/she like me? Will I like him/her? How will I perform? You do everything you're suppose to; you do the foxtrot just right, and pull your best salsa dancing moves. In the end, the date turns out to be a disappointment.
You know what? That's life, and that's racing. The guys at SportCarMotion have had days like this many times. Something goes wrong? Shake off that feeling of disappointment, put on that smile and remember there's always next weekend.
We, at Speedhunters, will definitely be keeping an eye out for this car at the Redline Time Attack this upcoming season.
-Linhbergh
Speedhunters Special March Builds Features