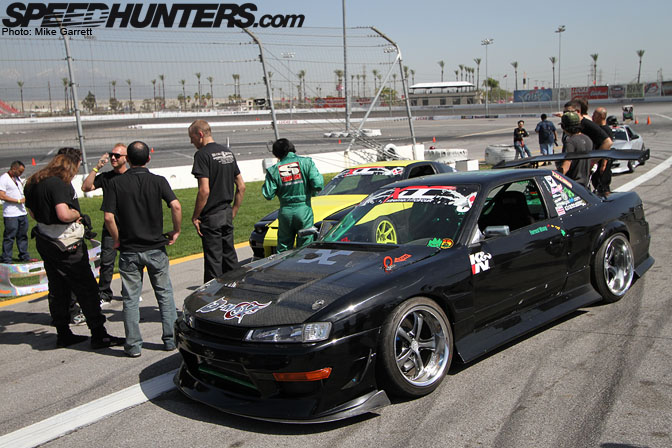 Let's continue with another batch of photos from the XDC season opener at Irwindale, shall we?
Based on the vibes from the various blogs and forums out there, it seems like the first-ever XDC event was a success, and it's always great to see new opportunities for up and coming drivers to perform on the national stage.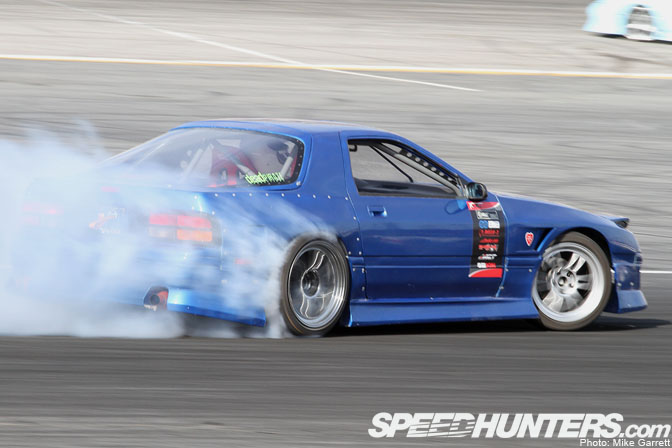 In the last post I mentioned Brian Peter and his V8-powered FC. Brian was kicking ass all day, advancing to face Jeff Jones in the battle for third place.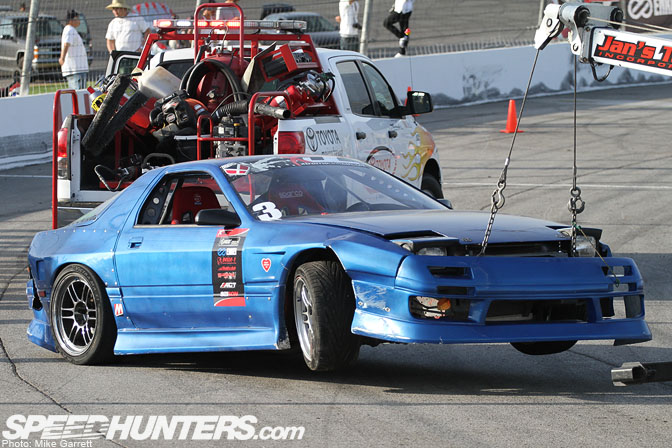 Unfortunatley, the day didn't end well for Brian. He ended up taking an extended ride along the wall of the inner bank, with his car going airborne at one point. At least he was unhurt, and the damage appeared fixable.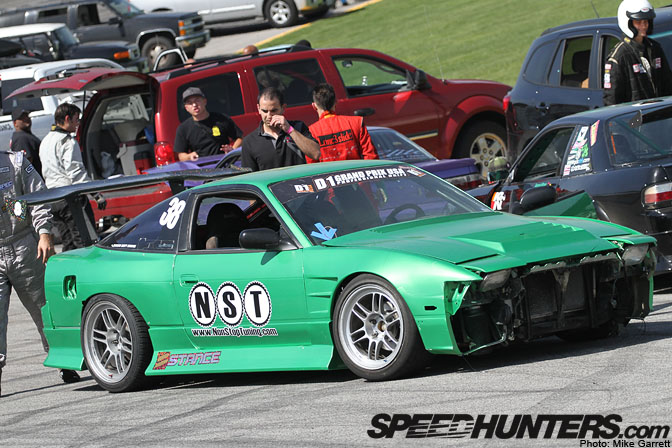 Another V8-powered machine, Aaron Losey's S13 out of Texas. Motor trouble kept Aaron from getting many runs, and he was forced to watch most of the compettion from the sidelines.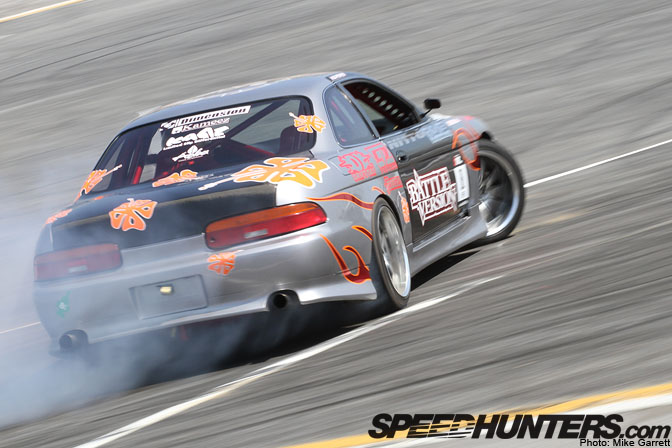 Heading into the start of tandem competition, Alex Pfeiffer was on top of things. He went into the Top 16 tsuiso round holding onto the first spot…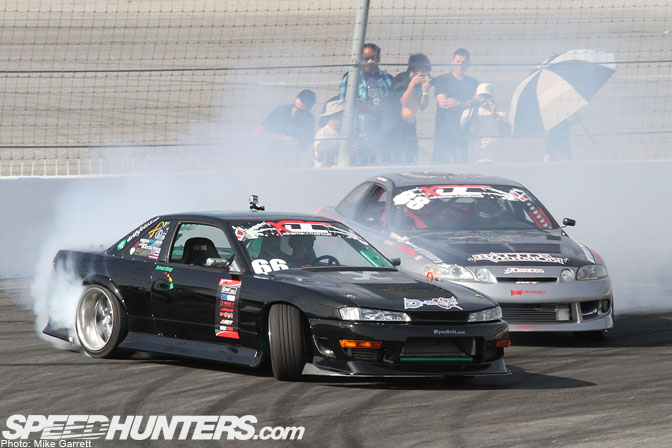 …but in a bit of an upset, he was taken out by 16th place qualifier Forrest Wang , after he spun on the main transition.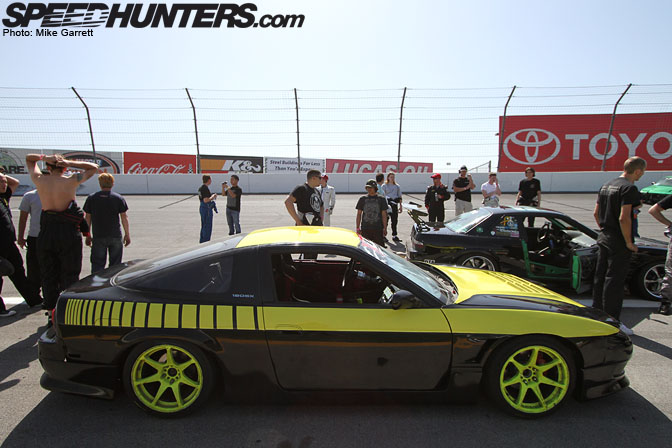 There's no denying "Magic" Mike Pollard's skill behind the wheel, but the new paint scheme on his S13 earned mixed reviews. What do you think?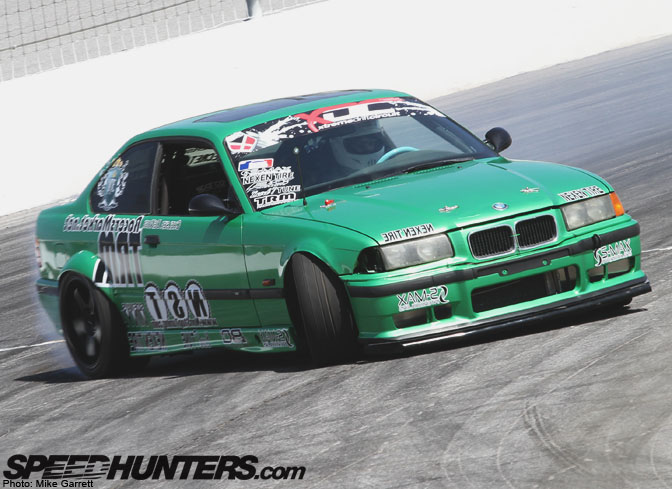 Another shot of Texan Chelsea DeNofa, driving the only non-Japanese car on the grid.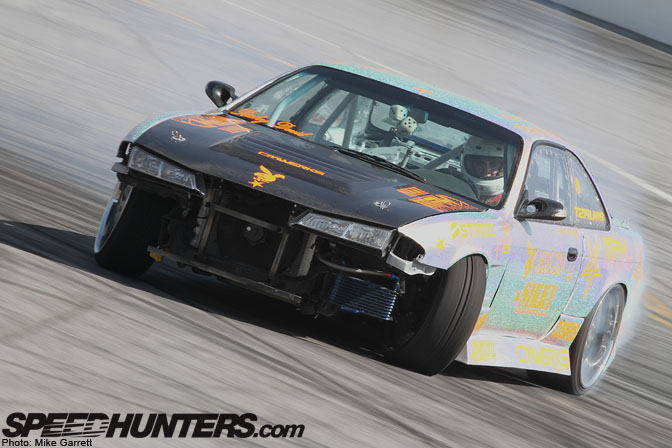 Representing the state of Illinios, Kris Hackenson in his S14. And yes, he's drifting on 20's…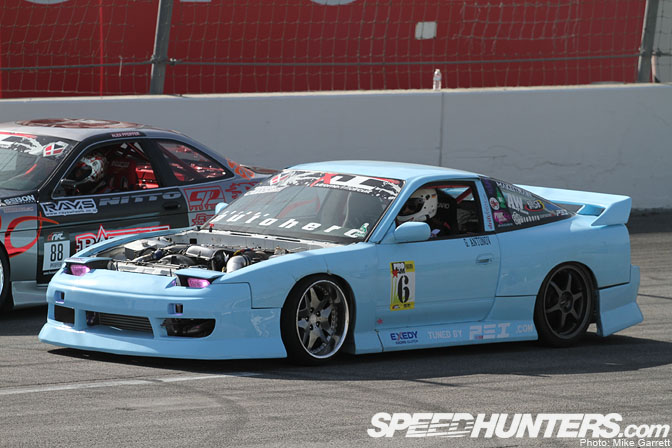 Gleb keeping it wide.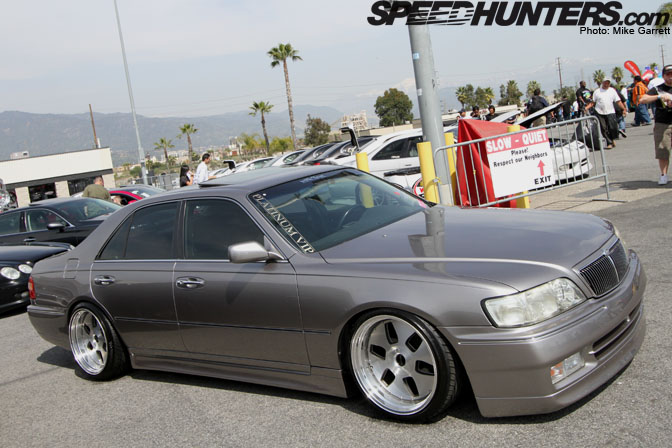 Now moving on to the static displays, I was a fan of the simple exterior of this Y33 Q45.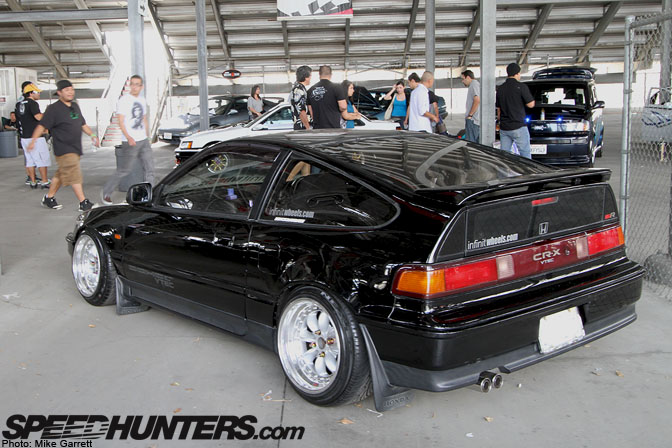 It wouldn't be a SoCal car show without lots of cool Hondas, such as this flushed out CRX.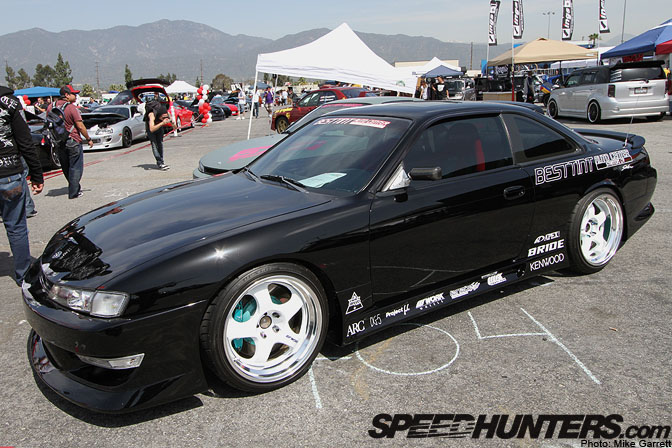 Not all of the S-chassis cars at Irwindale were out on the track making smoke and dodging walls.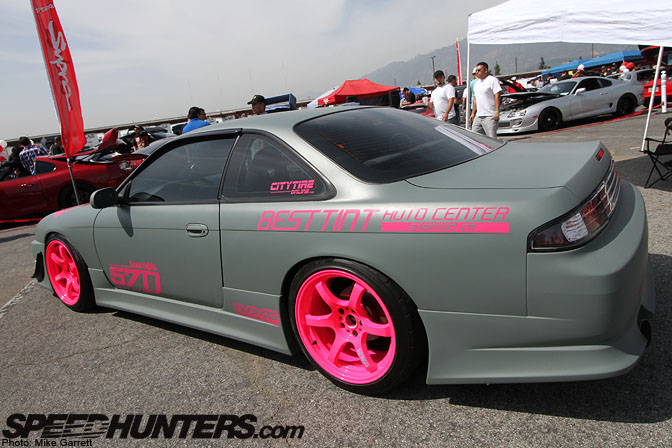 Who would have thought hot pink on battleship gray could look so good?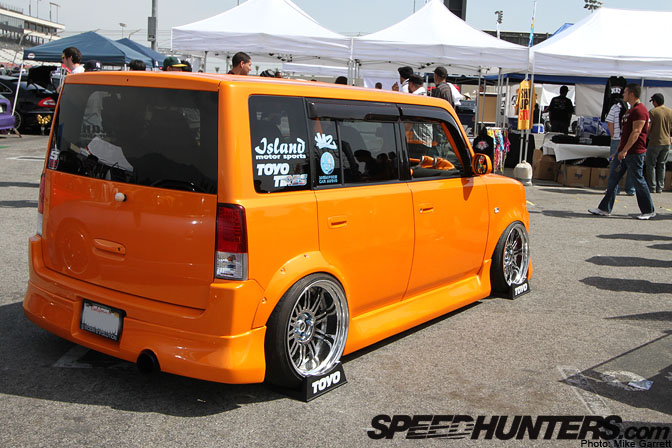 Scion xB's are a dime a dozen at shows like this, but some of them really stand apart from the crowd. I've seen this orange xB at a few different shows now, and I never tire of seeing it…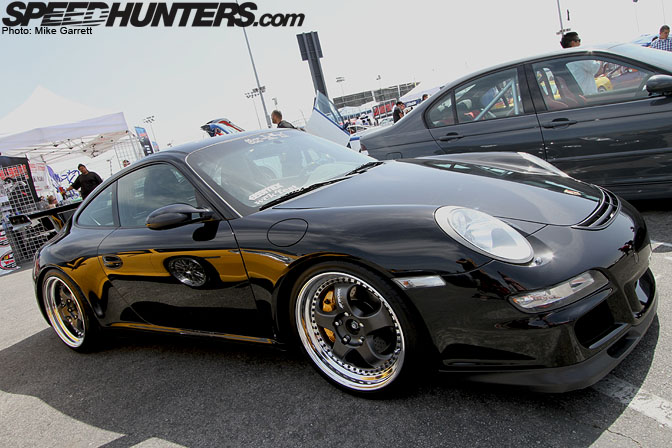 Combine a Porsche of any vintage with a set of Work Meisters, and you're bound for success.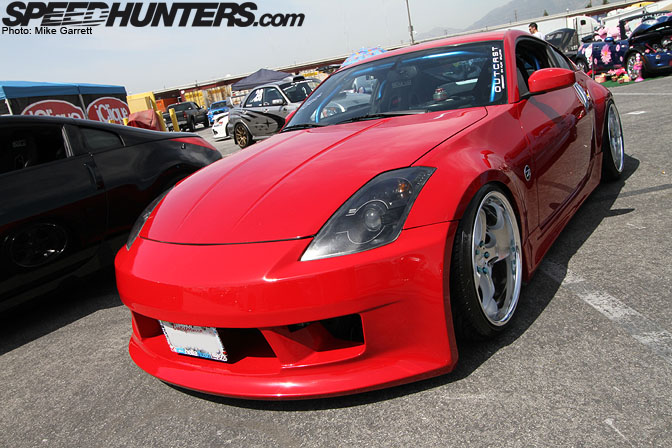 This scraping red Z33 was one of my favorites from the show.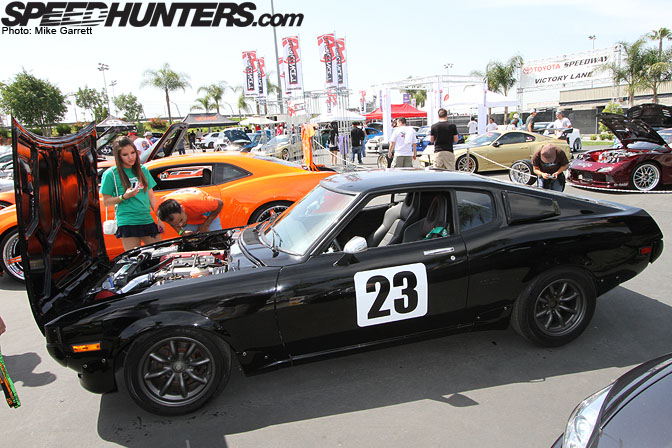 But with all the roped-off and polished show cars out there, it was this vintage Celica LB that seemed to be getting the most attention from the crowd…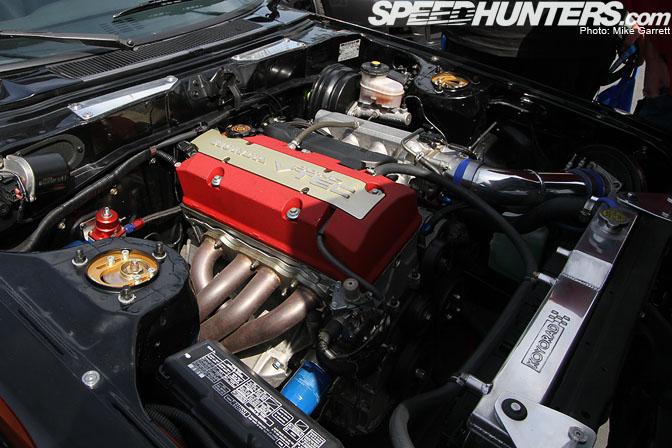 …even with it's non-traditional Honda S2000 powerplant.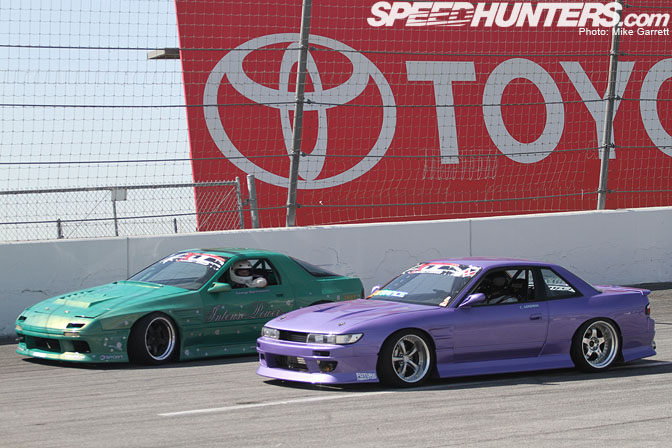 OK, that will do it for now. I'll be back tomorrow to wrap up my coverage of the XDC season opener.
-Mike Garrett
XDC Irwindale Coverage Part One