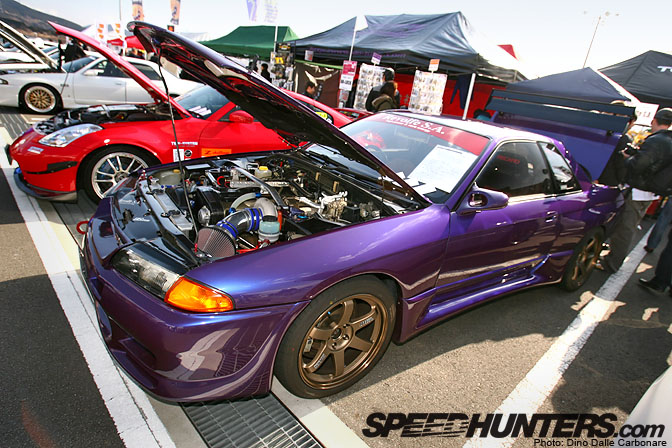 I feel like I need to show you guys as much as I possibly can from the HKS Premium Day, as this event was simply packed with some of the best tuner cars in Japan. We have already seen the HKS demonstrators and the Time Attack machines, not to mention some of the privately owned Hyper Challenge cars, so to finish the coverage it's time to take a look at pretty much everything else that was on display on the paddock.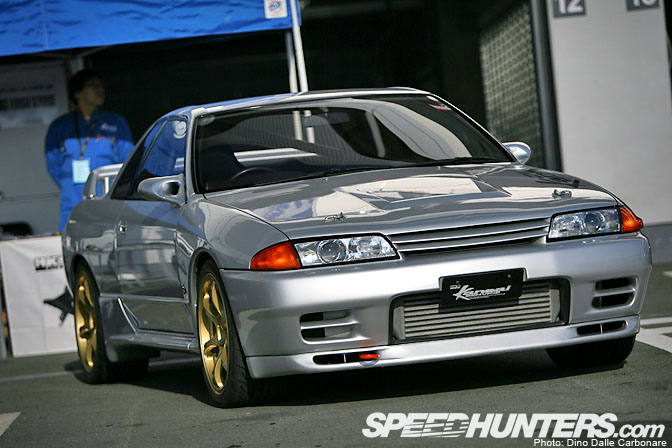 There was a good mix of old and new, like this original HKS Kansai Service BNR32…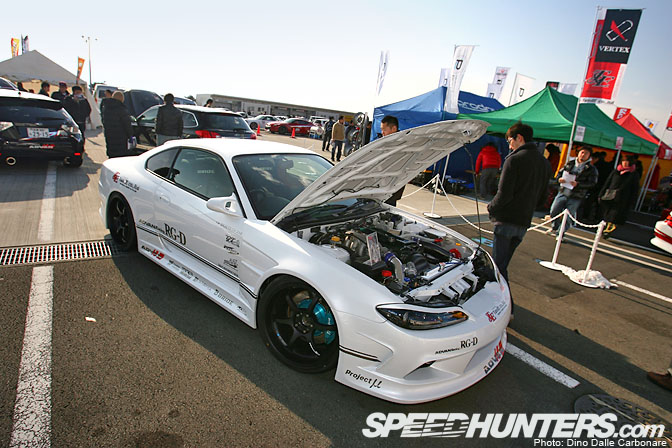 …to Taniguchi's newest ride which is built as a collaboration between Yokohama, T&E…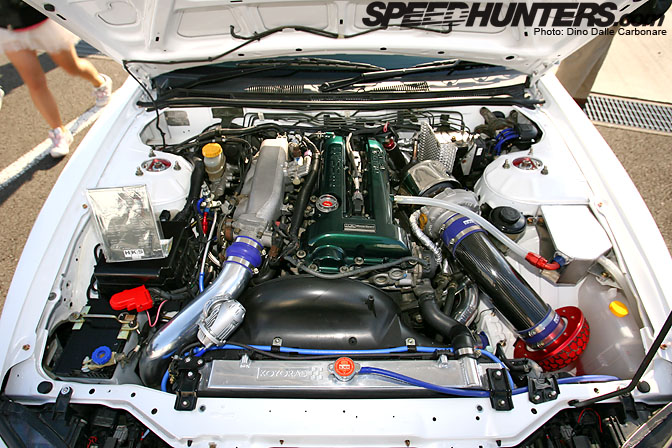 …and of course HKS, which took care of the engine side of things. The SR20 runs an HKS 2.2. L kit and a GT3037S turbine, good for 500 HP. I think I may have dropped some drool on the dry-carbon intake pipe! Oh and look at the thickness of the Koyo radiator!!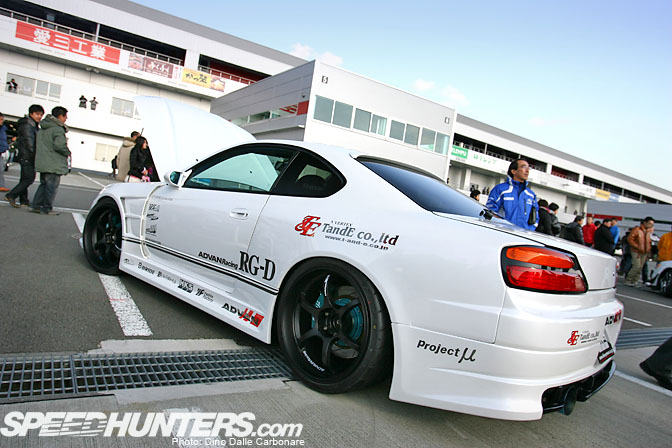 The new T&E wide body kit and the matte black RG-Ds is as close as you can get to perfection if you ask me.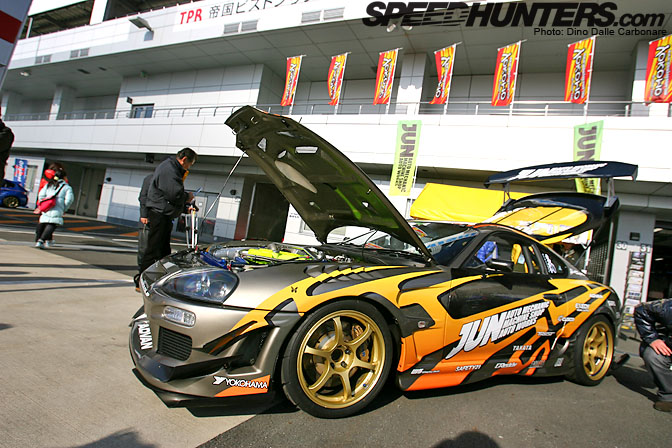 Was good to see the JUN Supra out again but they are still not participating in any events with this car which is a real pity.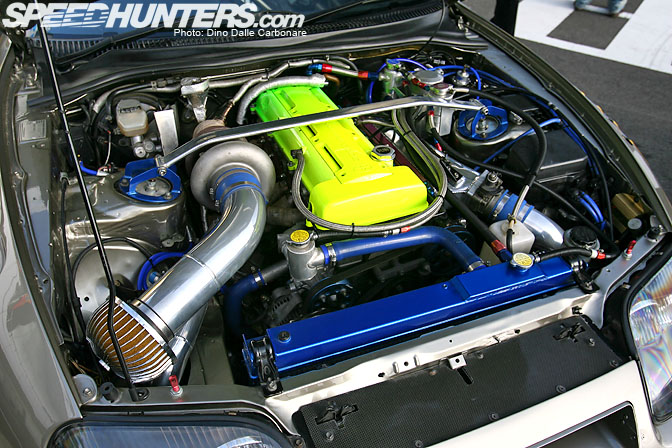 Engine is good for over 700 HP!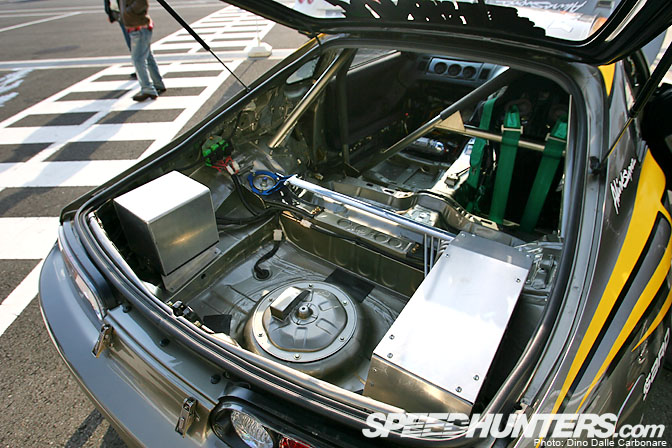 A true dedicated track car.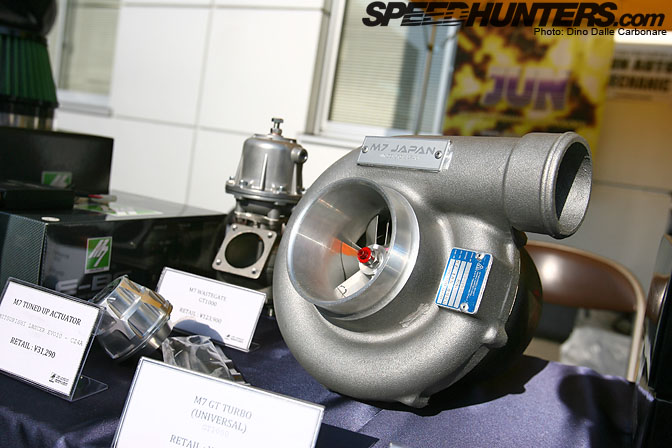 JUN and M7 Japan are collaborating together from this year, and this was a few of the products they had on display at Fuji.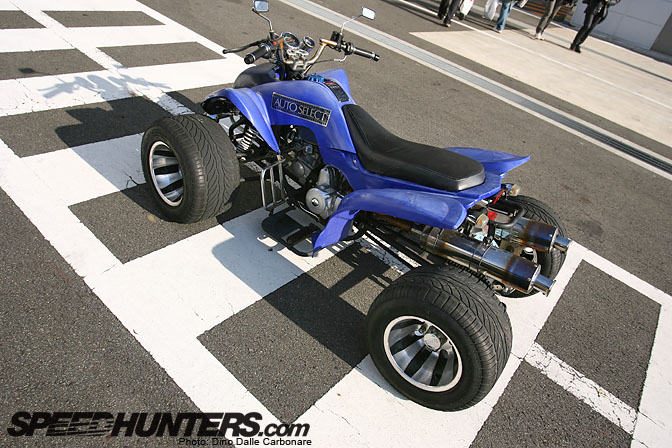 I saw a few Auto Select mechanics get around the vast paddock on this quad. It was fitted with some massive wheels and custom made titanium exhausts.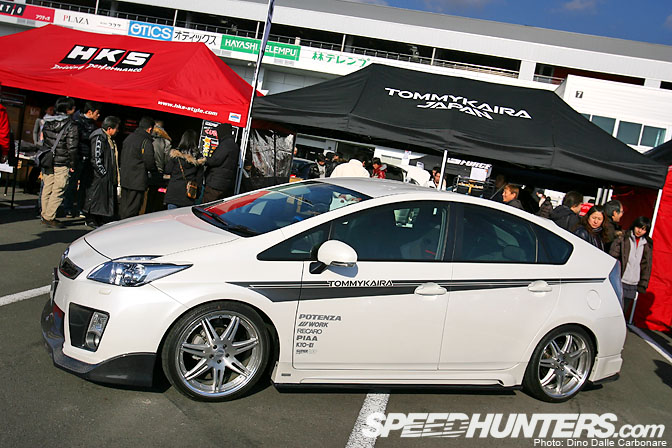 I was expecting Tommy Kaira to bring the new R35 GT-R complete car so I could take another look at it away from the lights of TAS. But they showed up with their Prius demo car….which was still kind of cool looking. I wonder if the carbon front diffuser messes with the car's Cd?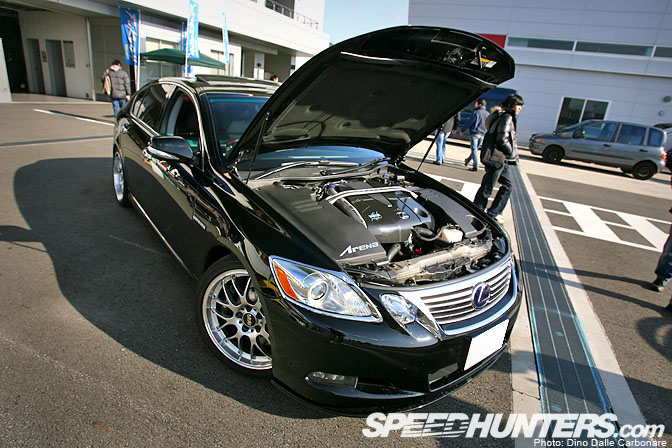 On top of the LS and Mini, Arena also brought this black GS…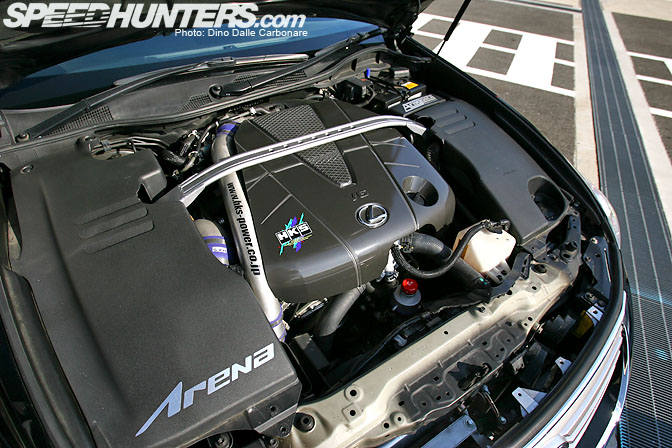 …running an HKS supercharger kit, hidden away under the plastic cover.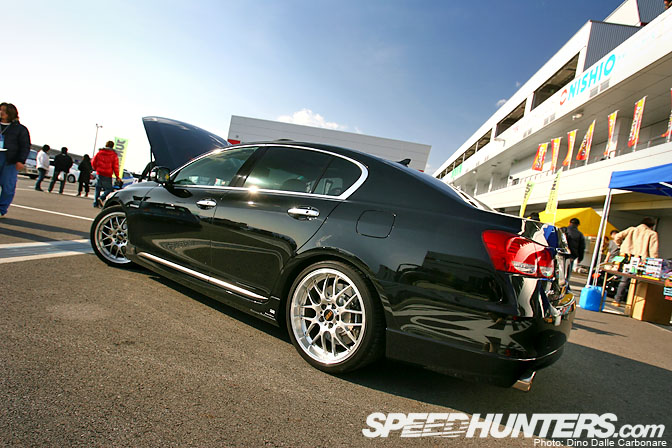 GS + BBS + massive Brembo brakes gets my vote. Well done Arena!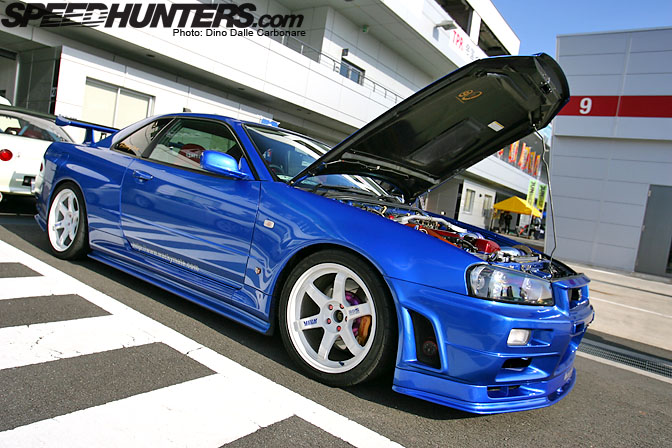 If you like your GT-Rs Fuji was the place to be on Sunday, there was so much to see, so many differently tuned engines, from fast road oriented ones like this R34…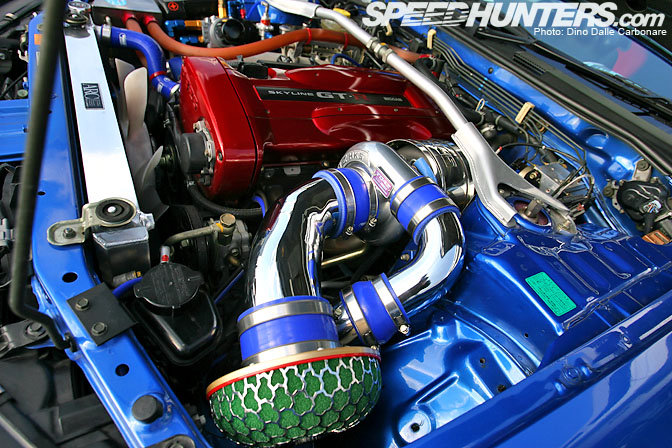 …running a 2.8L stroked engine and T04Z for about 650 HP…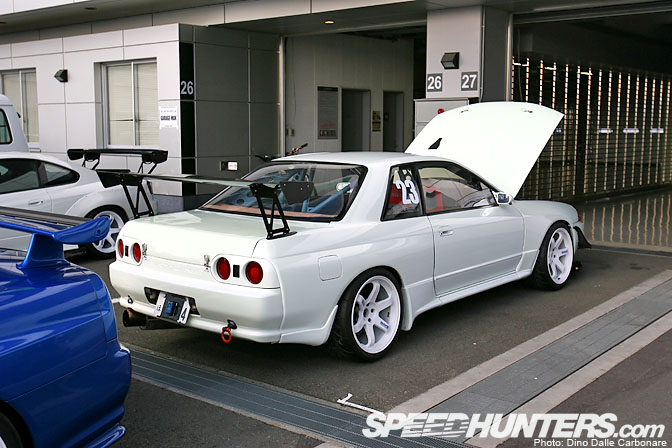 …to something a little more extreme…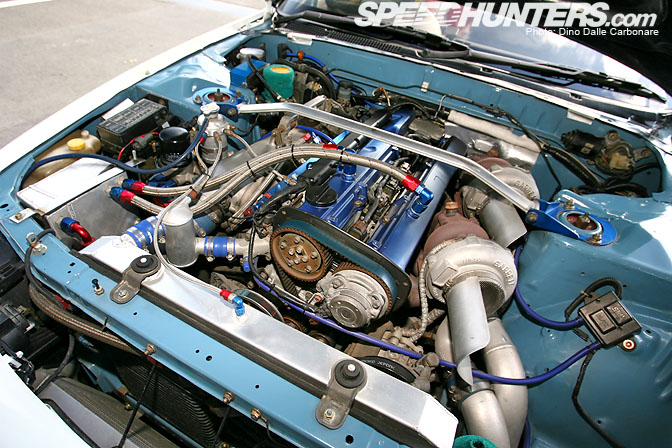 …like this good old fashioned drag set-up…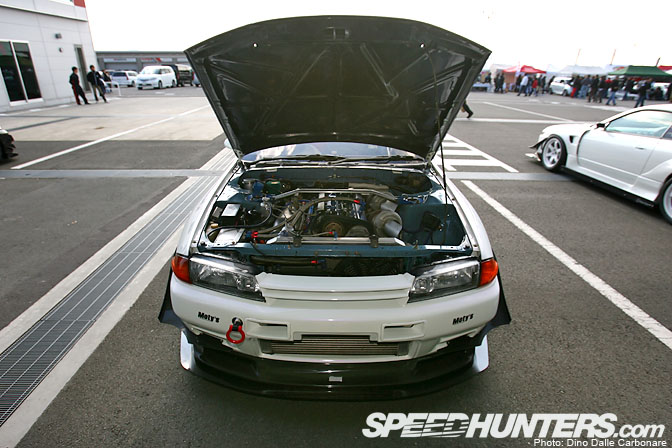 …which proved to be pretty well suited to the fast Fuji track. Both were are from Wacky Mate.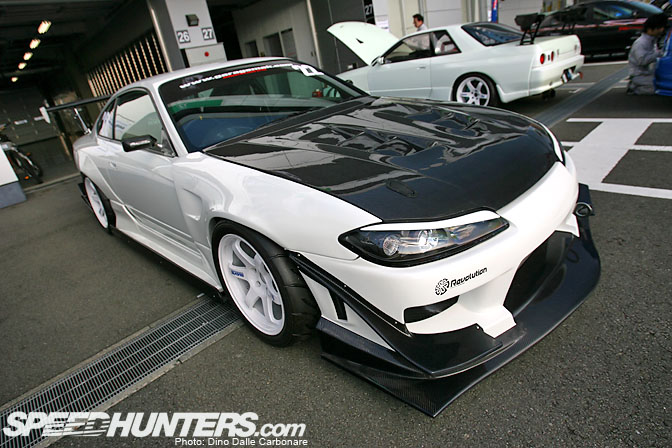 I really liked the Garage Mak 99Revolution S15, it just screams Time Attack monster! I had to double check it wasn't their S13 demo car with S15 front end!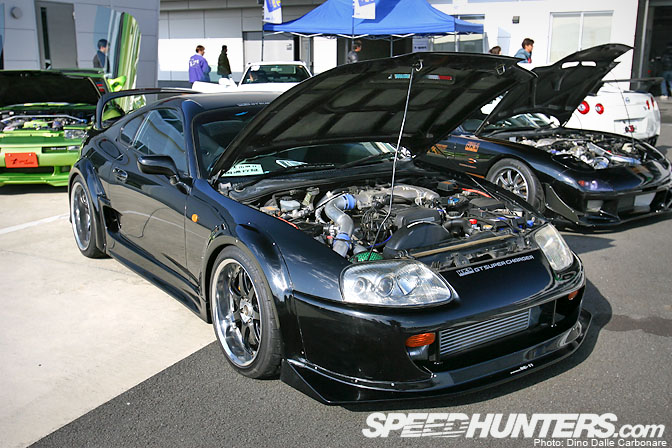 Esprit pretty much tunes everything it can get its hands on, from the crazy NSX we saw out on track to this JZA80 Supra…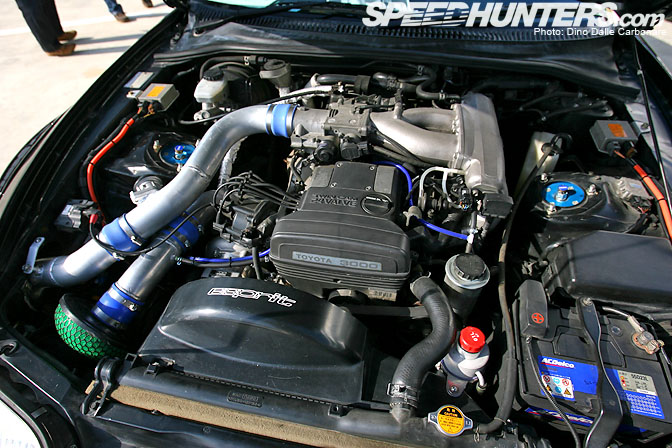 …running over 300 HP from its NA 2JZ that has been boosted via an HKS supercharger.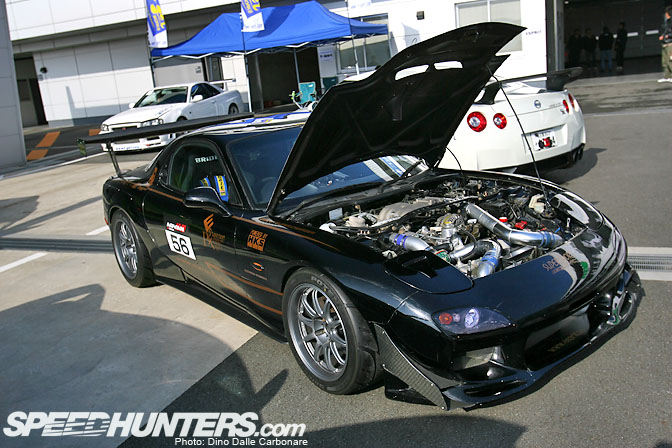 This FD is also tuned by Esprit…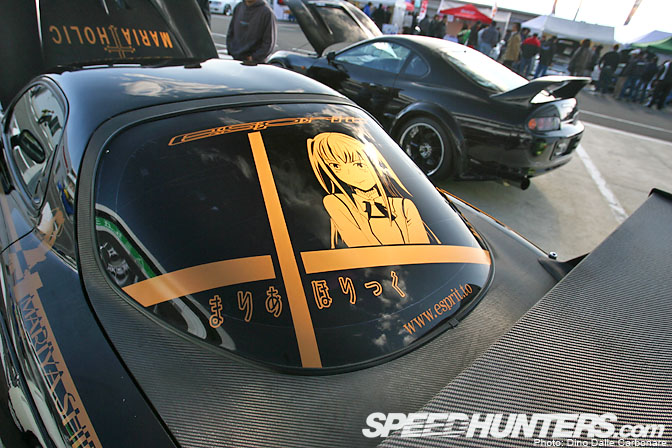 …and sporting some itasha-like graphics.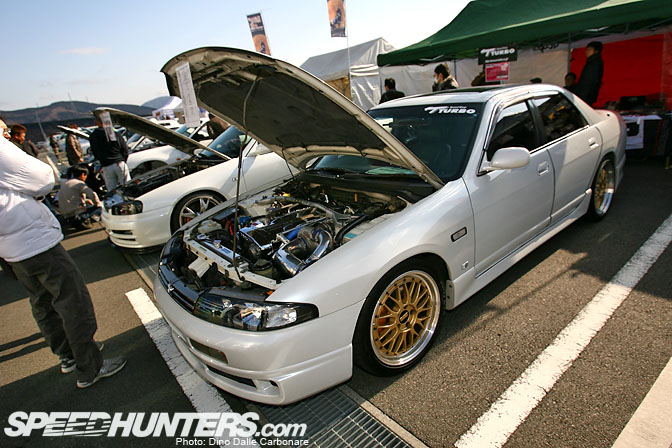 Autech 4-door GT-Rs can be quite expensive so Speed Shop Turbo made their own based on a 4-door GT-S.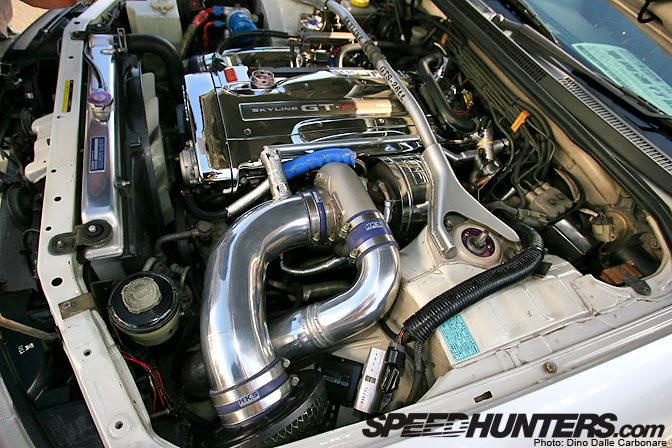 A 650 HP family car. That's what I'm talking about!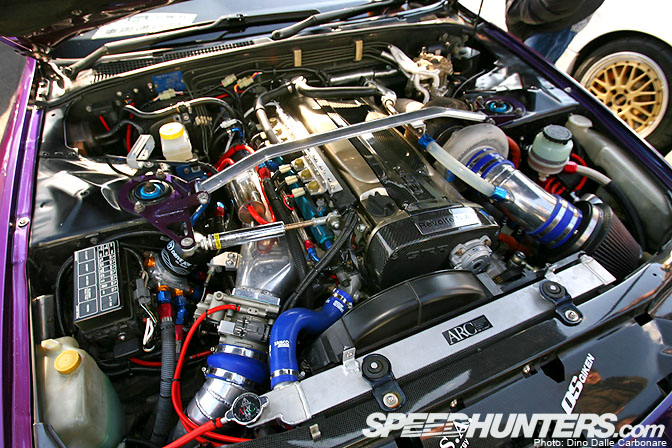 This engine belongs to the Revolfe R32 GT-R in the opening picture, a mean looking engine bay…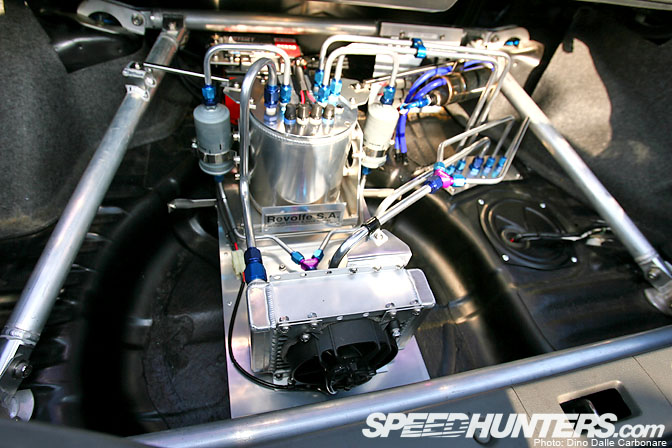 …joined by an equally impressive looking trunk! This has to be one of the most complex fuel systems I have seen on a road car, it even has it's own tiny radiator with electric extractor fan to keep the fuel cool.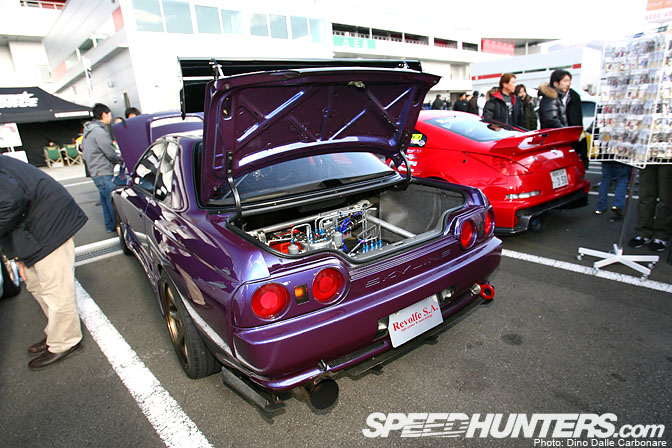 Great job on the exterior too.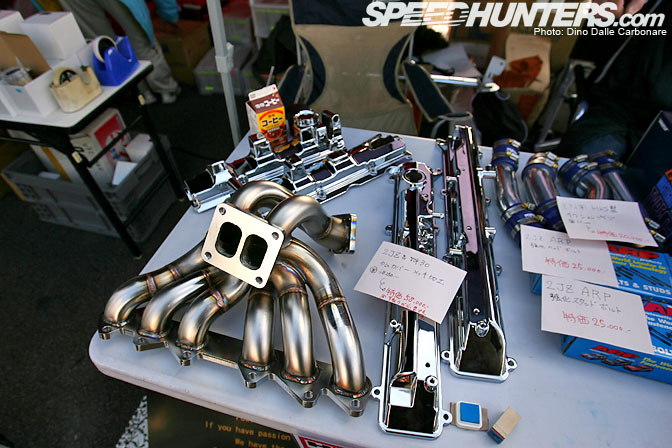 Some products from Revolfe….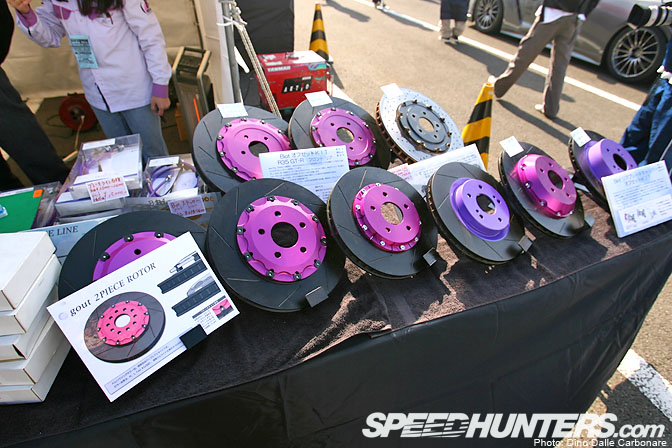 …and Biot replacement rotors for any JDM ride…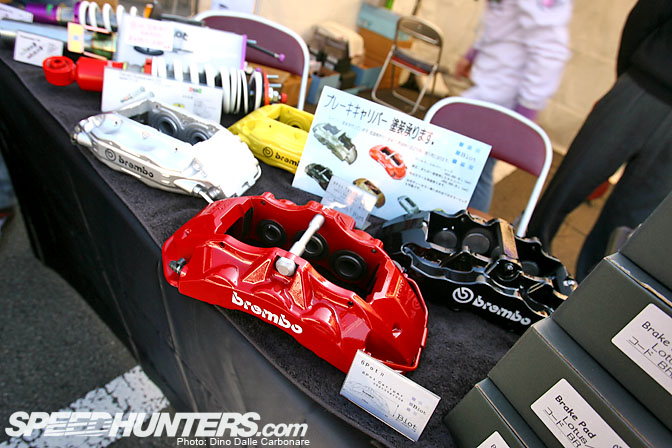 …which can be mated to any Brembo caliper your set up may require from the massive black 8-pot to the little yellow Lotus 4-pots.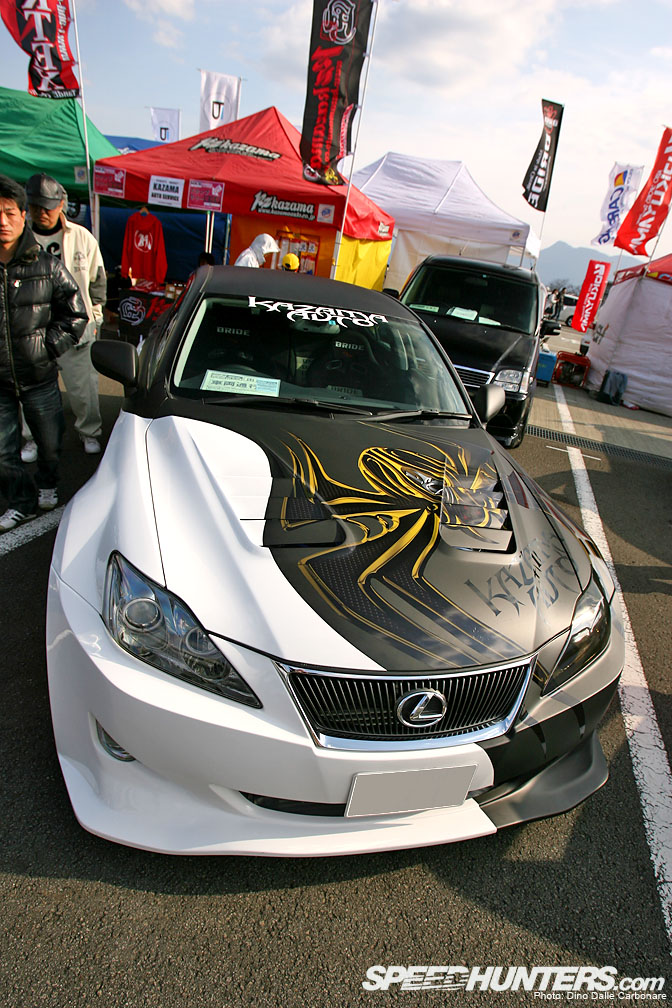 Kazama-san took out his new Lexus IS demo car and lined it up next to the guys from T&E.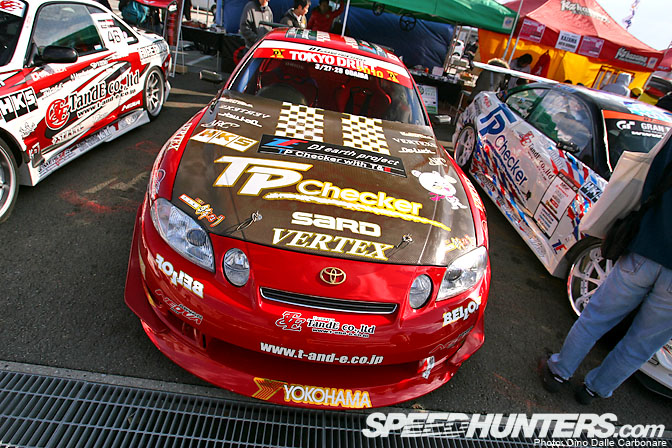 Ueno's old Soarer and his new BMW off to the side there…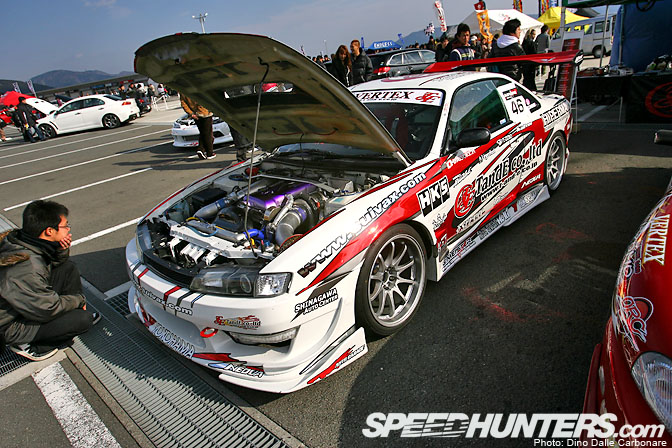 …and Daisuke's monster S14 which was partly built by Haysahi-san at Suivax, T&E's engine and body-works shop.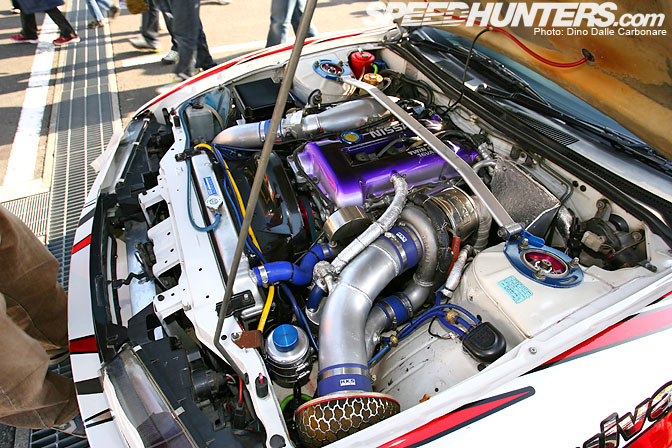 This thing has close to 600 HP!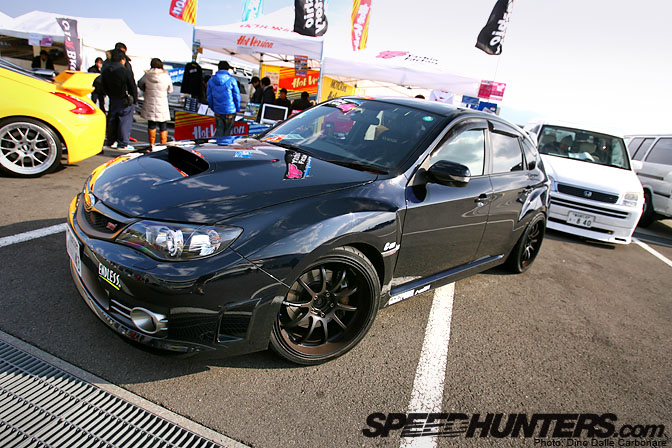 Black on black for the Yashio Factory GRB.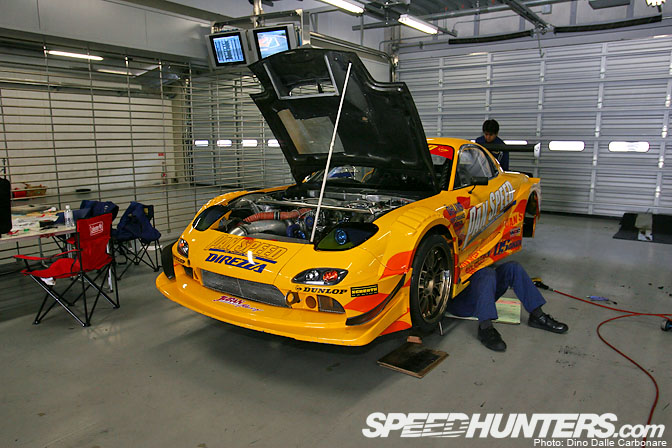 It never fails to amaze just how advanced some Time Attack cars are…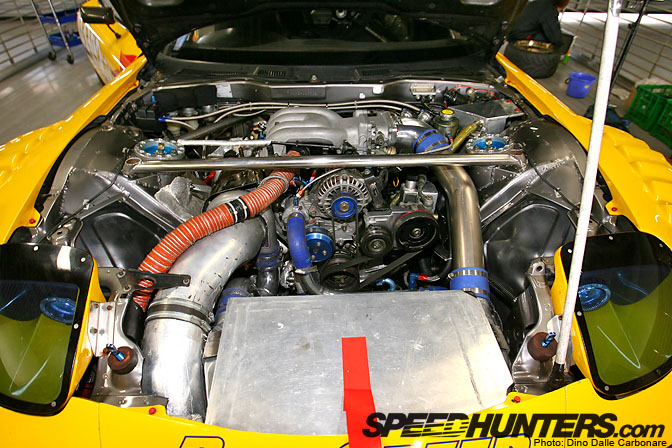 …as I spent some time nosing around in the Panspeed pit checking out the FD as the mechanics were busy with adjustments.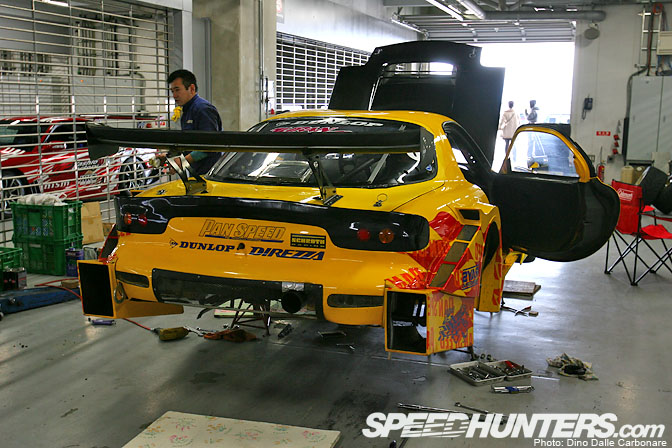 The Super GT like square air outlets on the fenders are functional at creating rear downforce.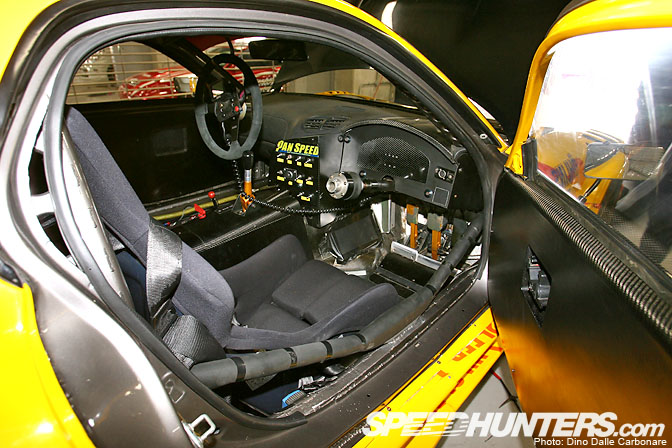 The carbon transmission tunnel hides the Hewland sequential gearbox. I wonder why the Revolution RX7 didn't show up!? Would have been so cool to see these two FDs scream down the straight together.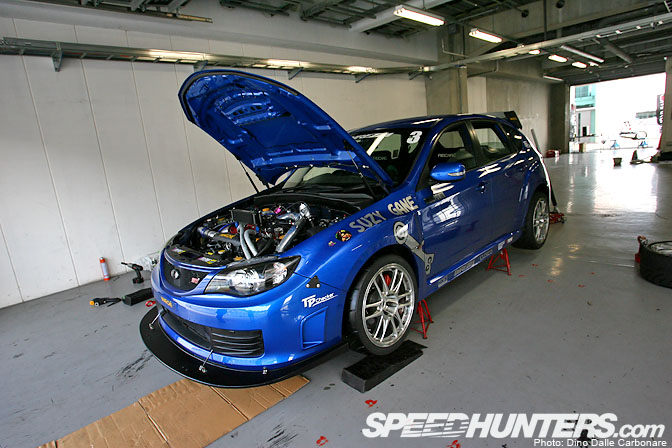 The mica blue Car Station Marché is probably the most modified GRB I have seen here in Japan…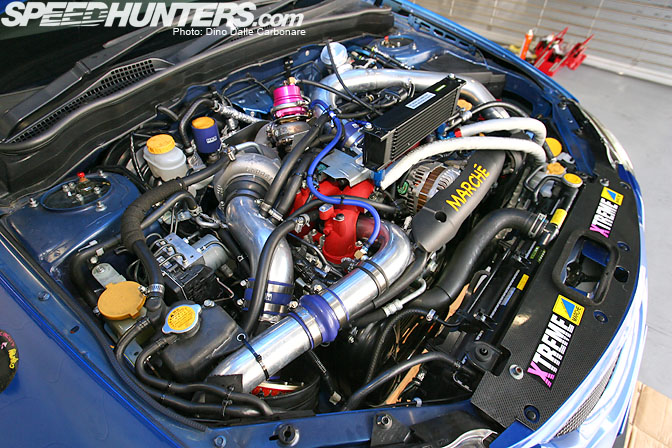 …judging from that rather large HKS turbine and external wastegate.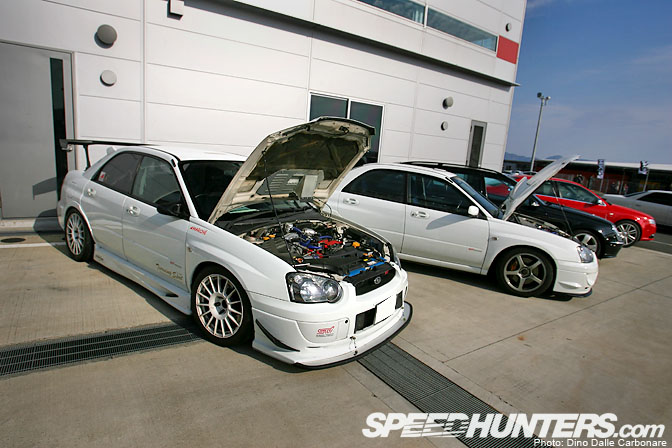 A few of their cars lined up outside on the paddock.
One shop that has been staying on the quiet side as of late is Midori Seibi Center. Uchinaga-san brought out his legendary R34 GT-R demo car, one that has proven itself on track many times.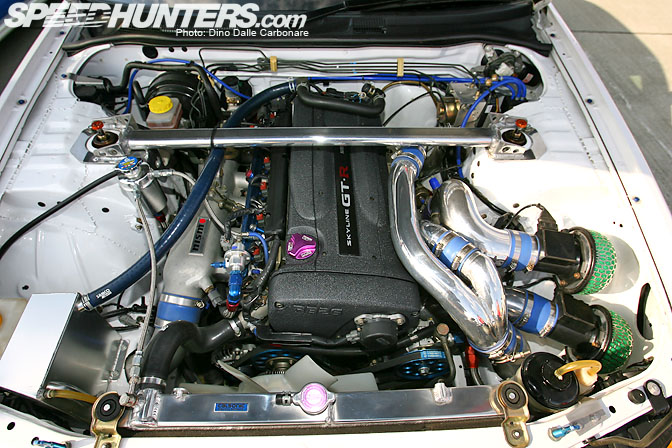 Probably one of the most clean and well organized R34 engine bays of all times. Check out all the spot welding on the suspension turrets. The RB26 has been lowered by a few centimeters to lower both the center of gravity and roll center, making a huge difference in both steering feel and handling.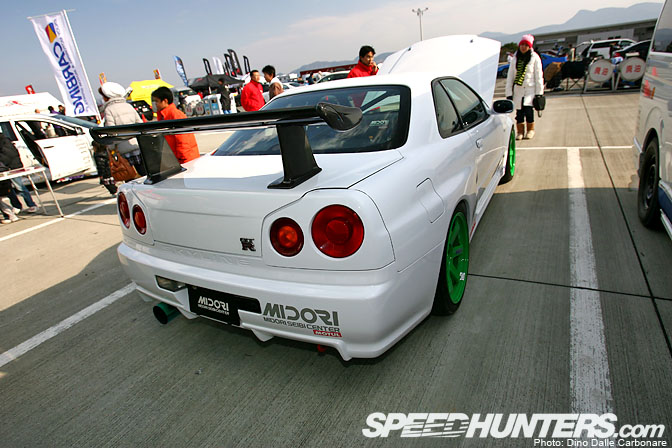 Stock looking spoiler but all dry-carbon, and raised by extended stays.  
That concludes the coverage from this year's HKS Premium Day. Hope you enjoyed seeing such an array of top JDM demo cars.
-Dino Dalle Carbonare