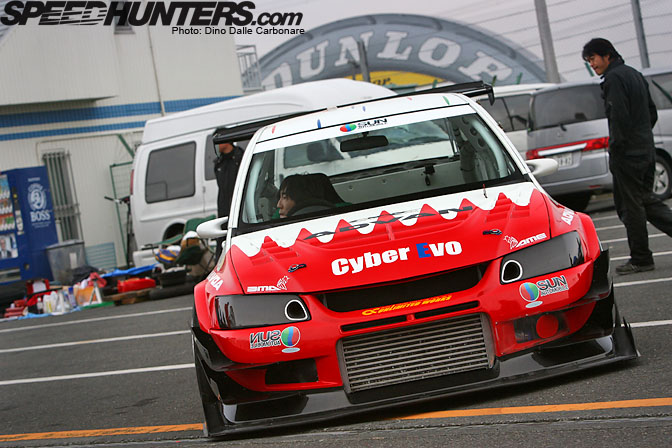 OK time now to wrap up the coverage from the 2009 Tsukuba Super Lap Battle by taking another look through the paddock and some of the cars that help make the event what it is. There is no doubting that Time Attack is the epitome of the tuning industry, it helps push manufacturers and shops to advance parts and car development to extremes, creating wild machines like the Cyber Evo above. Like I mentioned in Part 1 back in the mid nineties if your car managed to lap Tsukuba in under a minute you had achieved something very special. The Cyber Evo managed it in 54"925, which to put it in perspective is about ten seconds faster than what a stock R34 Skyline GT-R is able to do.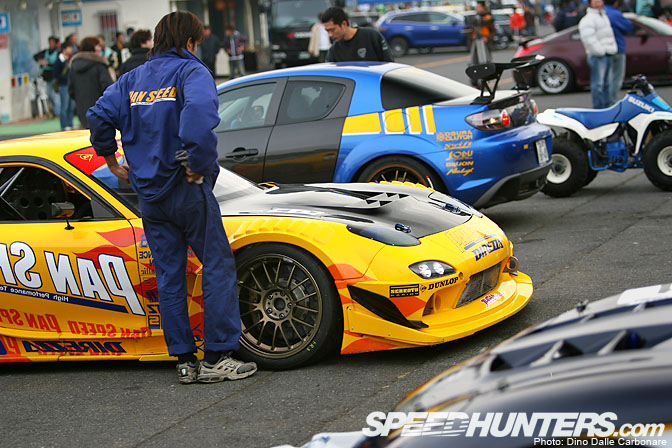 One car that I know can go much faster is the Panspeed RX-7. This FD3S has got all it needs to put down very serious times but this year gearbox problems kept it from getting anywhere close to its real potential, much like the Revolution car, which on paper should really be the fastest car in Japan.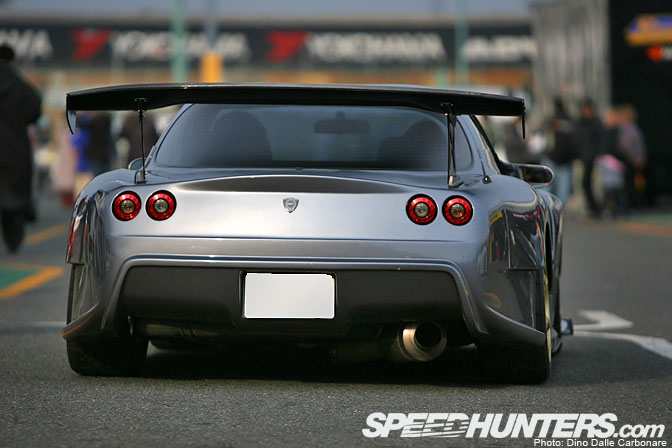 FD's are among the favorite cars for this kind of discipline, proving just how fast they can be even if road registered like the 58-sec Fujita Engineering demo car.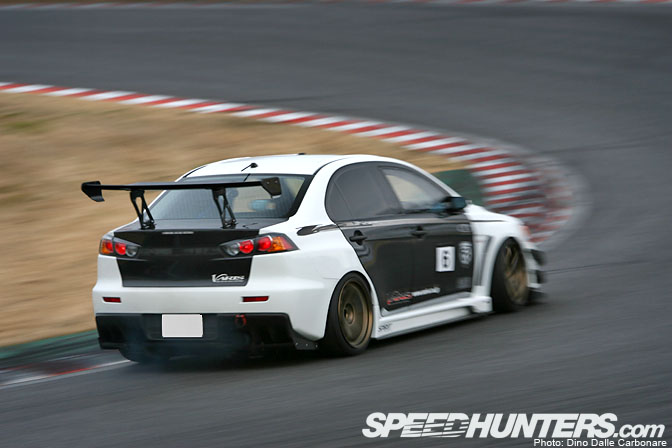 I'm sure we will be seeing a lot more Evo Xs in the future as tuners begin to work their magic on the 4B11.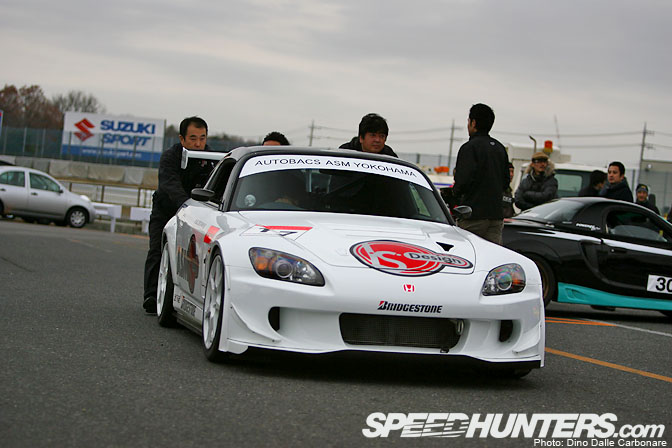 Despite being no longer on sale, much like the Toyota MR-S in the background, the S2000 will never lose its charm of a proper naturally aspirated, lightweight sports car.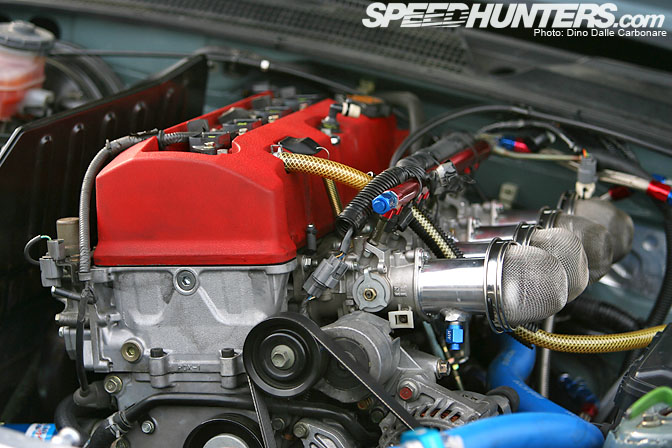 Check out the engine bay of the ASM Yokohama AP1!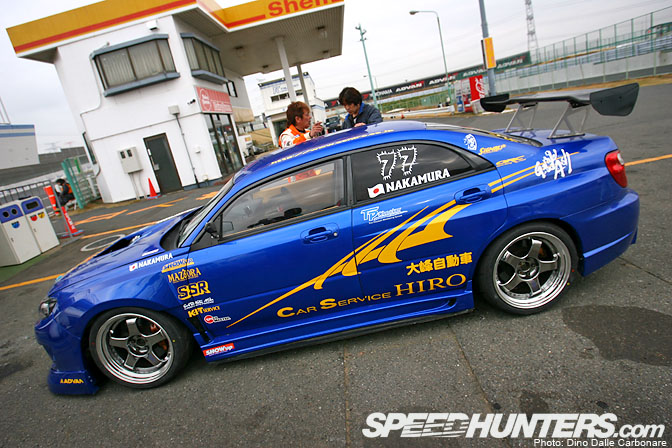 Maybe a side view of the Car Service Hiro GDB will stop confusion, this is a GDB with a GRB front. Nakamura-san actually built this car for Subaru a few years ago as a Tokyo Auto Salon show car. Back then it used to look very different, Nakamura took care of chopping the roof while Subaru provided the custom glass needed to complete the job perfectly.  It was a proper show car with custom leather interior but after Nakamura bought it from Subaru he stripped it down and made it into a time attack machine.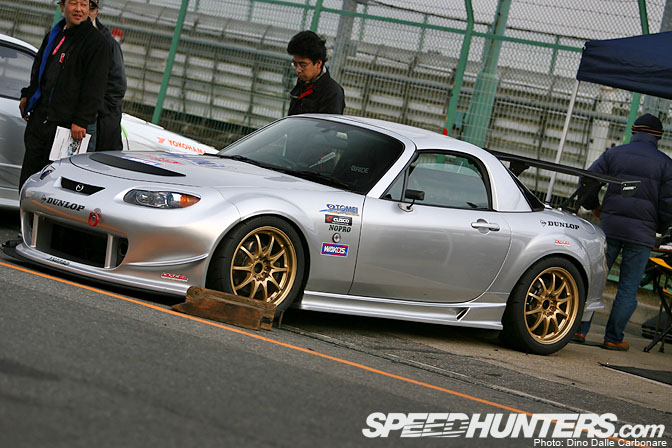 A few more shots of the Nogami Project NC, sitting in the pits…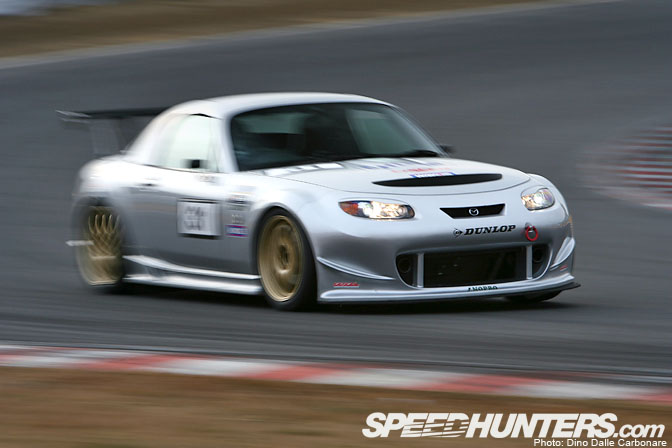 …and out in action.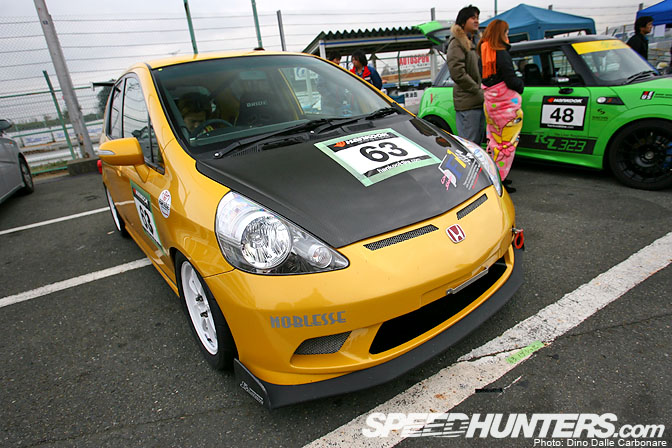 The Noblesse Honda Fit managed a fastest lap of 1'08"880, not a bad time for what is supposed to be a city car!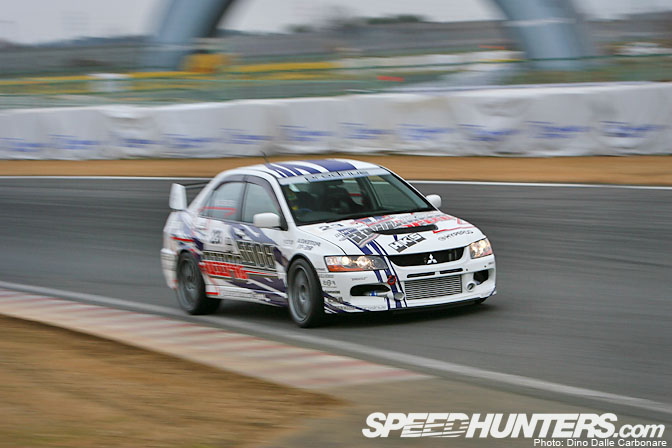 Bozz Speed is deep in development of its new Evo X SST demo car but its blisteringly fast Evo 9 is still the car that gets taken to these events. Their goal is to lap in under one minute, and this time round they came very close with a 1'00"115. Better luck next time!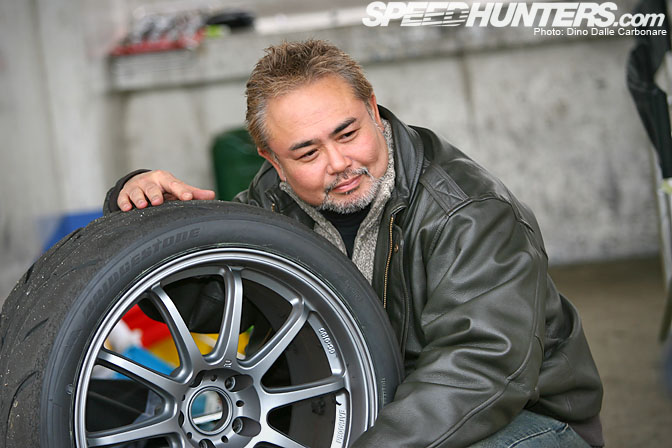 Here is Hisada-san of Bozz Speed posing for the Rev Speed magazine cameras next to the Bridgestone RE55S tires he runs on the Evo 9.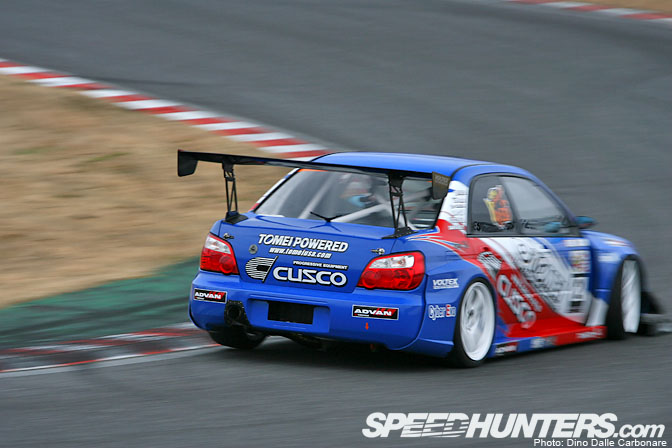 The Tomei Impreza has still a lot to prove in Japan, and its first outing at Tsukuba was nothing less of impressive with a third position overall. We will be following how this car does during 2010.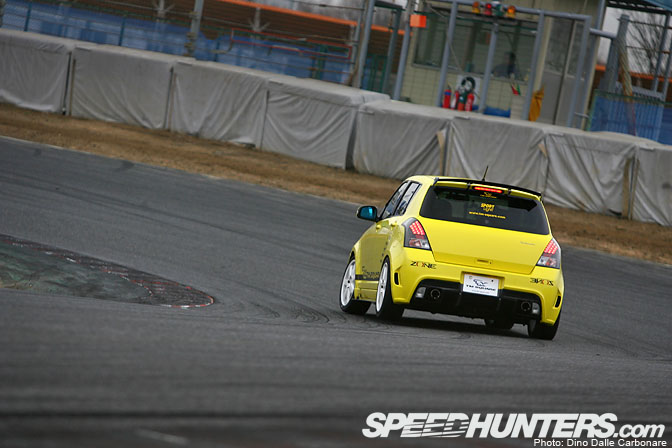 A lot of tuning shops in Japan are giving a lot of attention to little cars like the Suzuki Swift Sport, but I honestly don't see many out on the street, especially modified ones.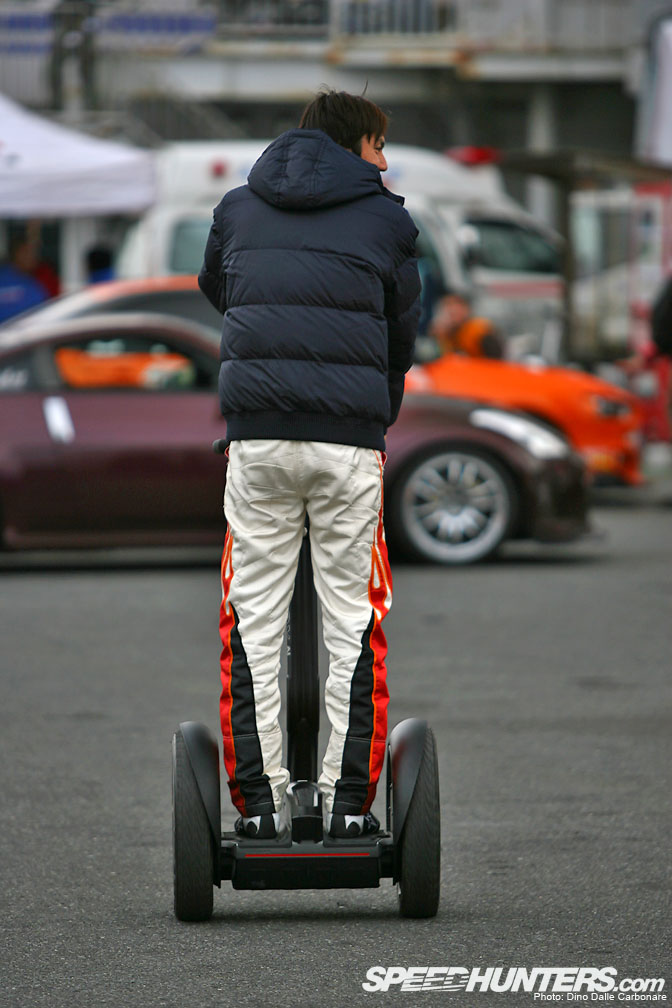 Nobuteru Taniguchi was cruising around the paddock on his latest toy, a new-gen Segway. We don't get to see many of these things in Japan as they are illegal to use on side walks or public areas, plus anything self propelled in Japan requires a number plate. Mind you there is so little space in Japan anyway, the Segway is something that has very little use…but I think Nob is on to something here. Wouldn't mind having one of these to zoom to my favorite shooting location, especially at huge tracks like Fuji Speedway!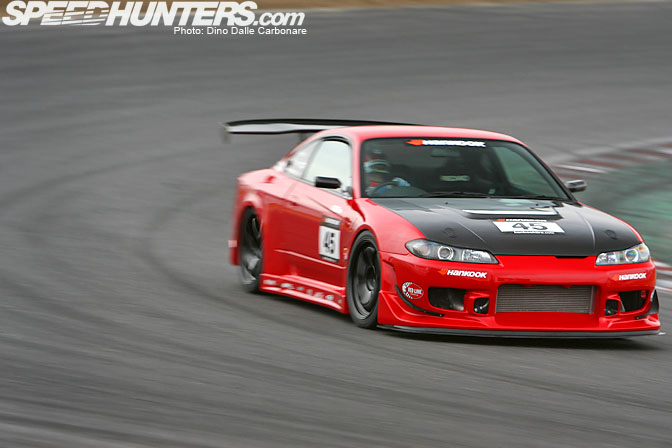 Arm's from Nagano were back at Tsukuba this year with their beautiful S15. Running on street tires the Silva was able to lap in 1'01"122.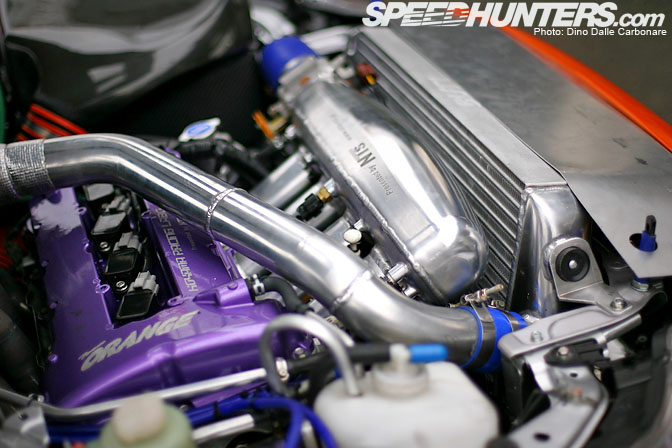 A lot of you were wondering what was under the hood of the Koyama Racing Labo slash Team Orange Evo X. You can trust Koyama-san to always come up with the most extreme and coolest looking engines. Just look at the at that custom intake plenum! And the intercooler position to keep piping as short as possible, one of the biggest problems with the 4B11.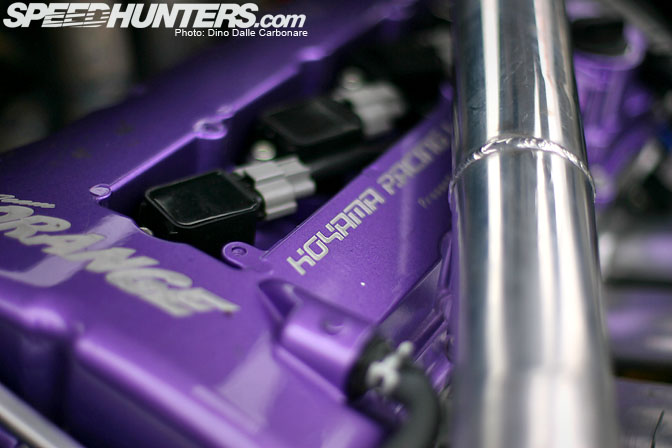 This is one name we will be seeing a lot more from in the future!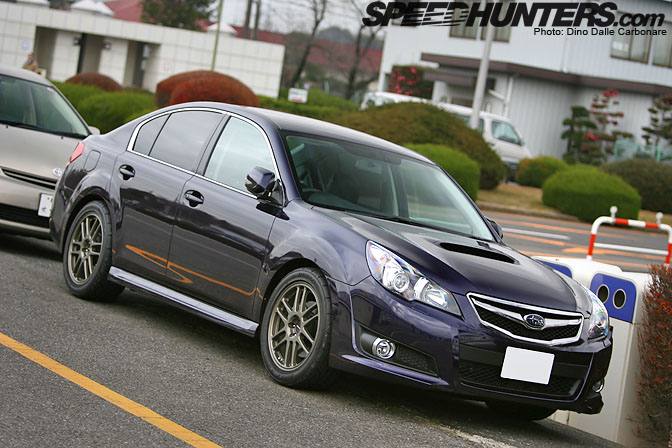 Ok the only reason I took this picture is because this is the first new-gen Legacy I see wearing aftermarket wheels. I'm a previous-gen Legacy owner myself, and I really have nothing positive to say about this new car. So, I'll move swiftly along….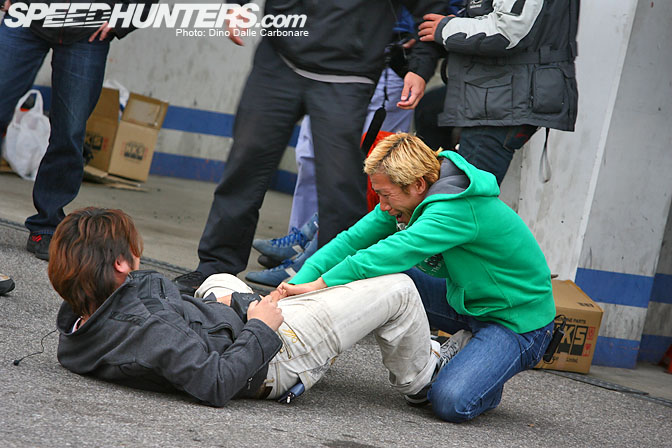 …to something far more fun to look at, Tarzan Yamada up to his usual antics. Here he is attacking one of the Video Option camera guys, going straight for the crotch in his usual no-mercy style.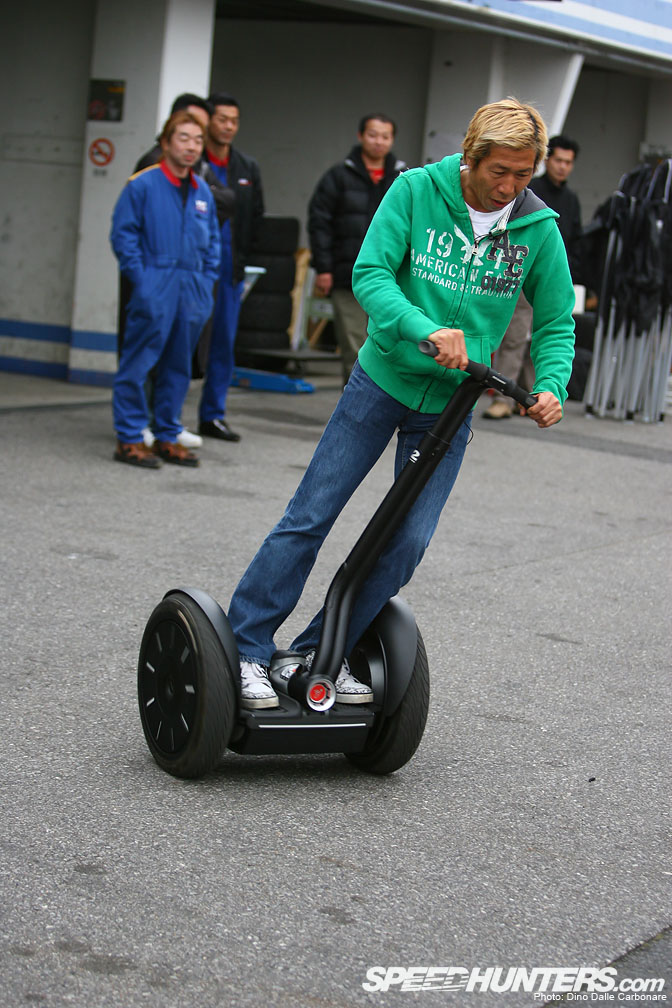 He then managed to steal Nob's Segway and was trying his best to drift it. Let's just say it's better if he sticks to cars!
That's it for the 2009 Super Lab Battle, but make sure you don't miss the Spotlights I have coming up from this event!
-Dino Dalle Carbonare