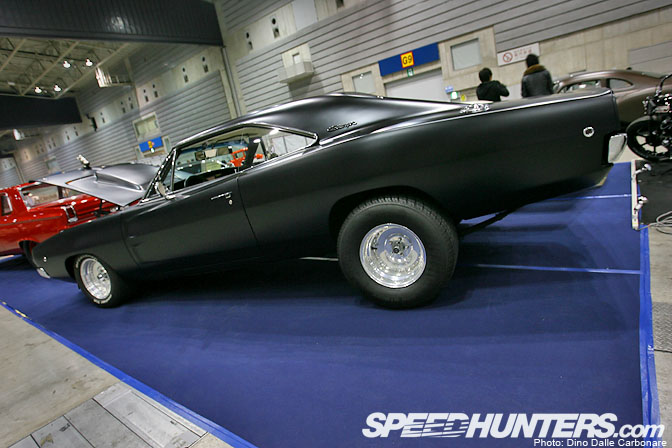 After seeing Nissan race cars blast around Fuji Speedway at the Nismo Festival it's time to return back at the halls of the Yokohama Pacifico for some more hot rod and sexy muscle cars. When I grabbed this shot of this 1968 Charger I knew I would have to use it as an opening image to one of my posts from this show! This ride was just outrageous starting from that propped-up rear-end stance to those massive 29"x15.5 Hoosier Pro Street tires.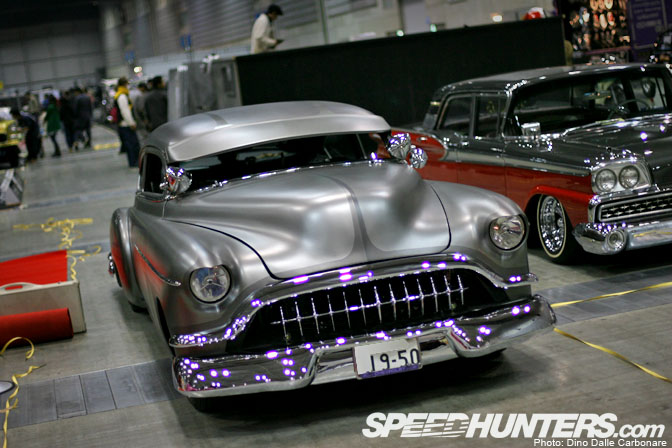 On the other side of the spectrum this roof-chopped Cadillac took first spot for me when it came to custom 50's rides for its smoothness and two-tone matte silver paint job.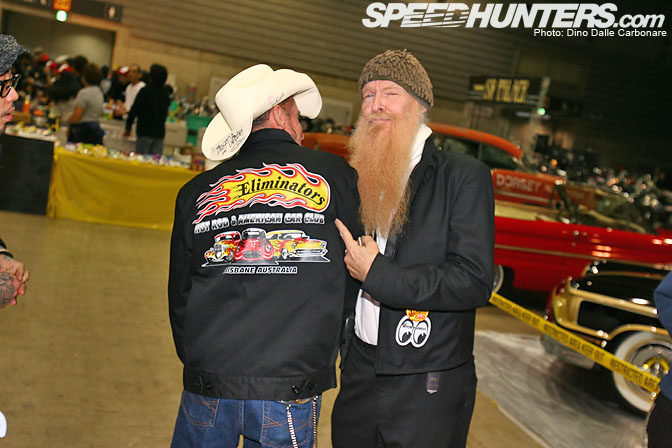 Billy F Gibbons from ZZ Top came over to the Mooneyes show with his recently completed 1958 Ford Thunderbird…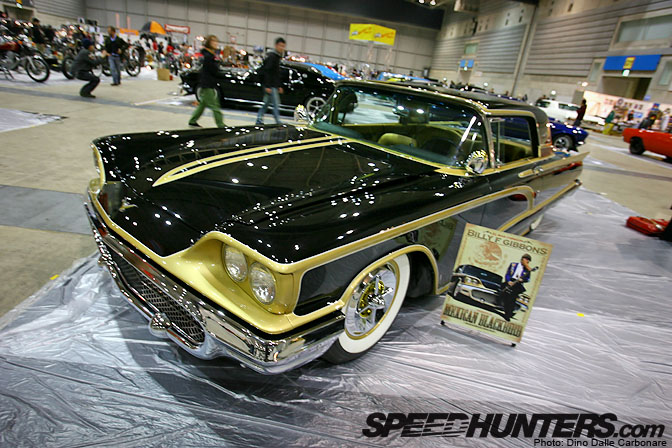 …called "Black Mexican." The car was built by SO-CAL Speed Shop in Pomona and after doing the rounds at shows in the states was shipped to Japan. Amazing attention to detail all over on this car, including some carbon fiber bits and pieces in the interior.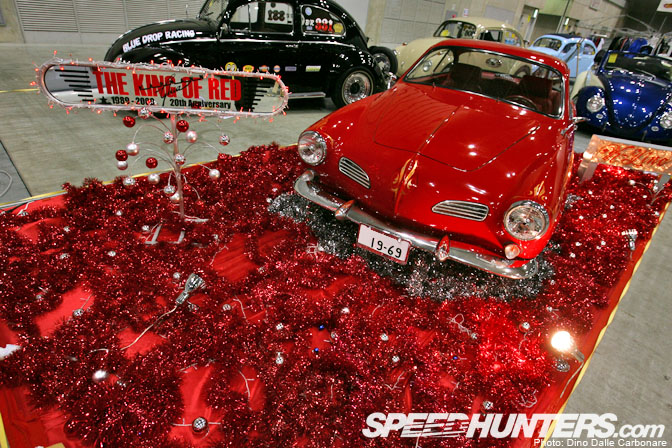 Yep, Christmas is coming!!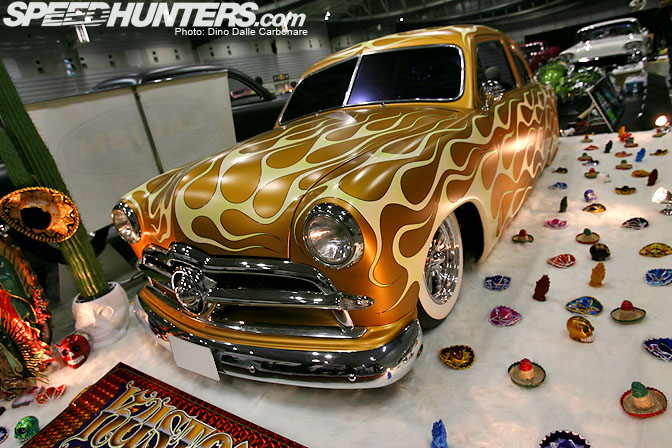 This one made me laugh, not the car, the display! Check out all the little Mexican hats and they even had a cactus tree! The '49 Ford is built by Kustomstyle who took care of the intricate semi-gloss paint job. Front glass maybe a bit too dark!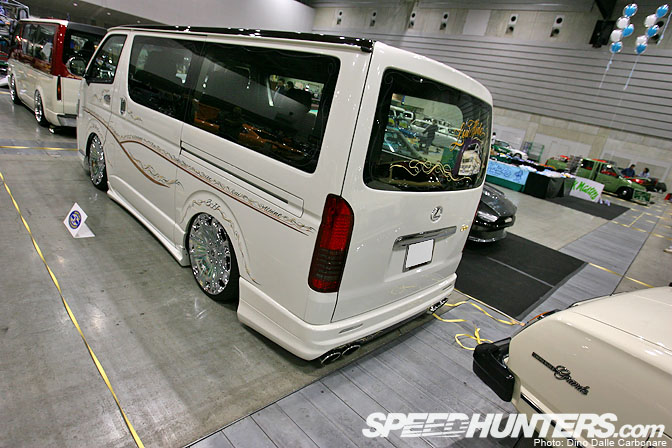 Let's take a look at some Japanese rides, which are always well represented at these events starting with this Toyota Hiace, dropped right to the ground with air suspension. Check out the Lexus badge at the back, wonder if this could be a potential high-seller in US for the luxury brand. Haha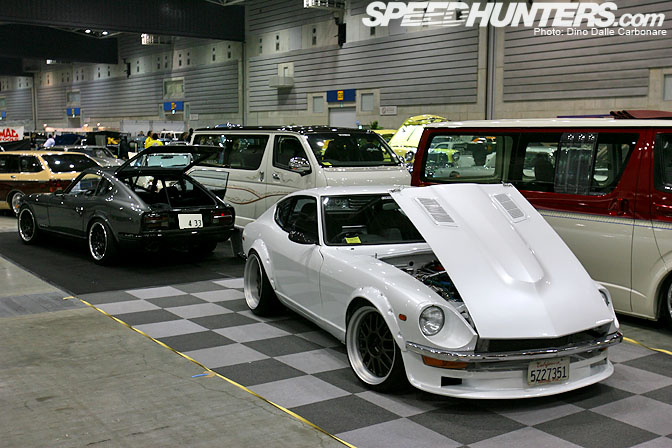 Yep, here it is, that crazy PS30 from the first post. I must have come back to this area of the show floor twenty times to look at this stunning JDM classic. You don't see bolt-on overfenders color matched to the body on classic Zs, but there is no doubt it works very well here.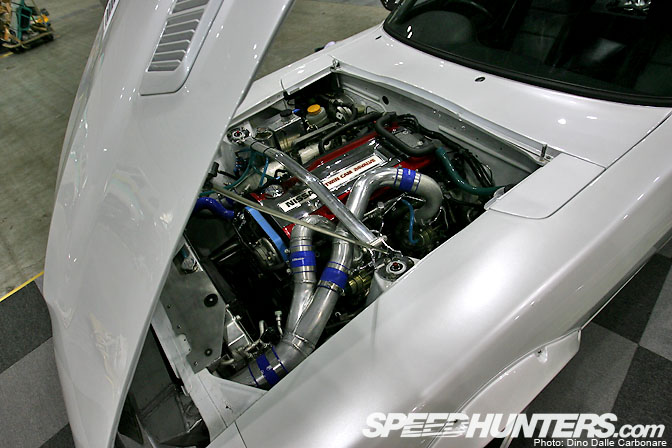 It's all about power on this car! The RB26 is running upgraded Garrett twin turbochargers, which were breathing without any type of filters.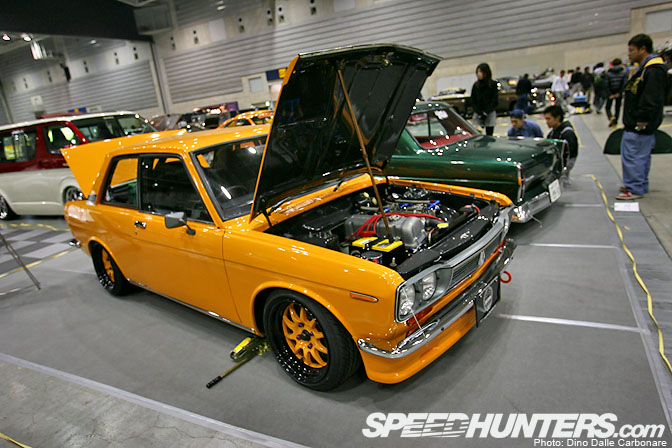 I was really impressed by the quality of finish on this Datsun 510 built by a local shop in Yokohama. The interior was all upholstered in tight-fitting carbon leather, including the door cards and the roll-cage.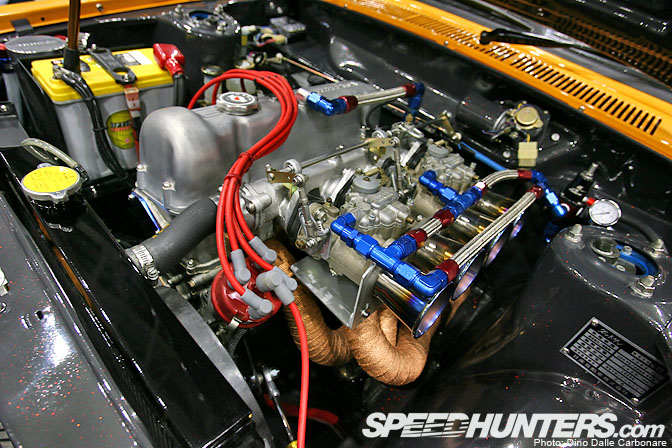 The little Bluebird was powered by this equally little L-series engine! Check out the titanium funnels for the carbs.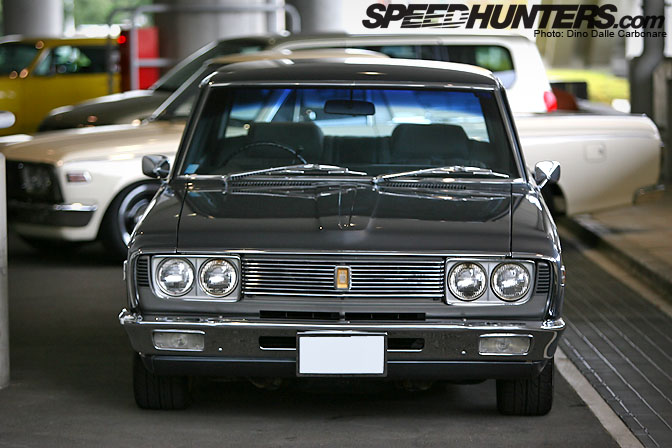 I walked past this classic S50 Crown outside around the exhibition hall.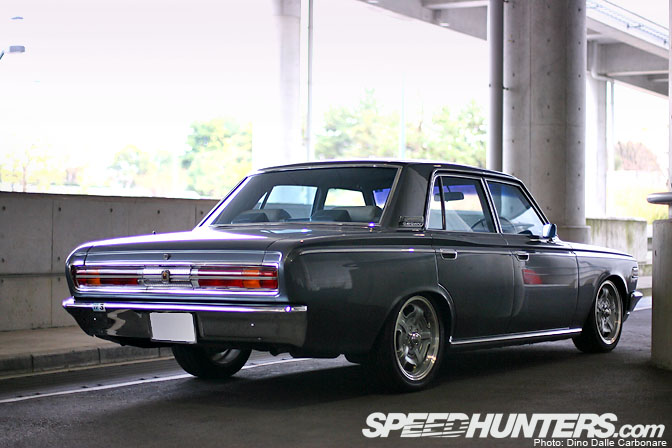 Perfect example of how simplicity works so well at times.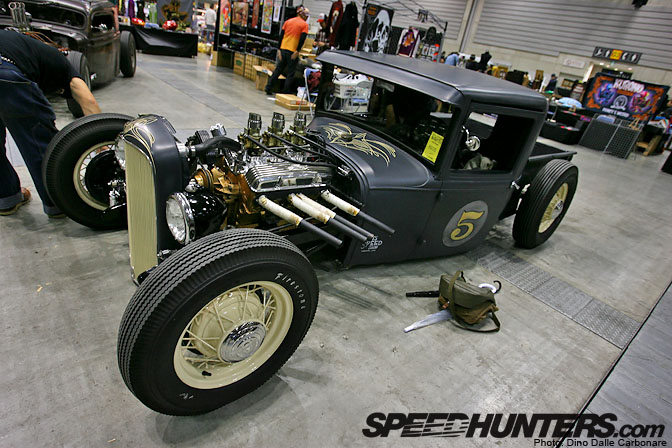 Ok this is where my complete ignorance in this scene will probably show, so I apologize before hand if I get names, terms and whatever wrong! Until the Mooneyes show I though Rat Rods had to have that unfinished look but this particular '31 Ford Model A based truck was the only one that was nicely painted and polished. Loved the headers/exhausts shooting straight out of the heads.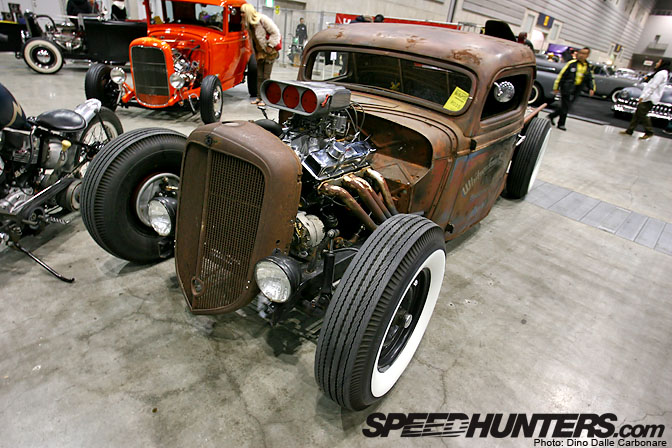 This is more like the Rat Rods I'm more familiar with…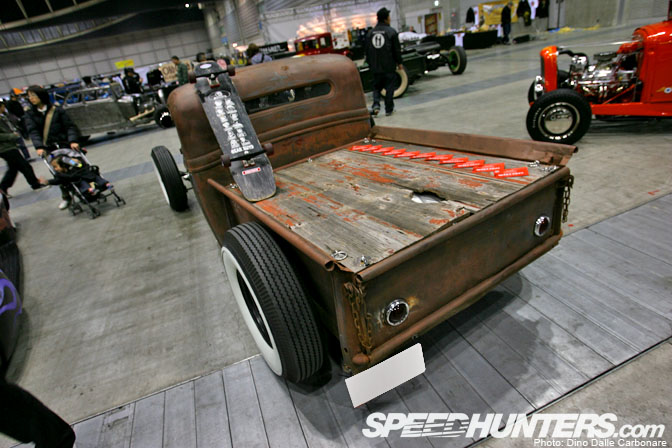 …even the wood used to close off the rear looked vintage!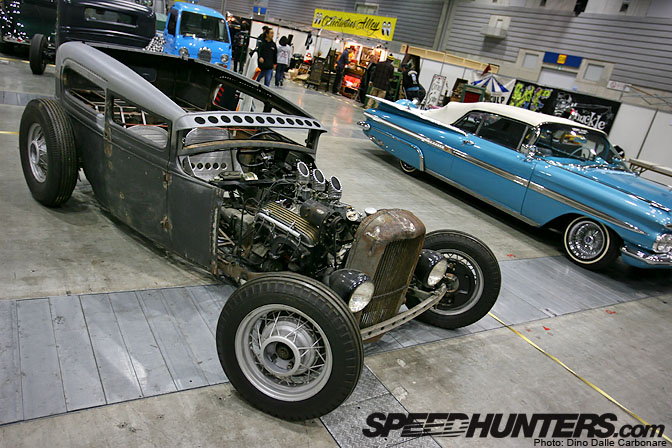 Every area of this particular rod looked like it was far from finished, including the roof…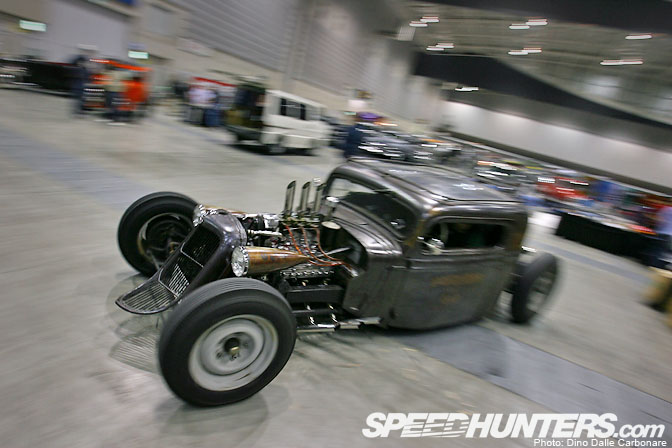 The party wouldn't be complete without the most famous Rat Rod in Japan, Pumpkin Sally.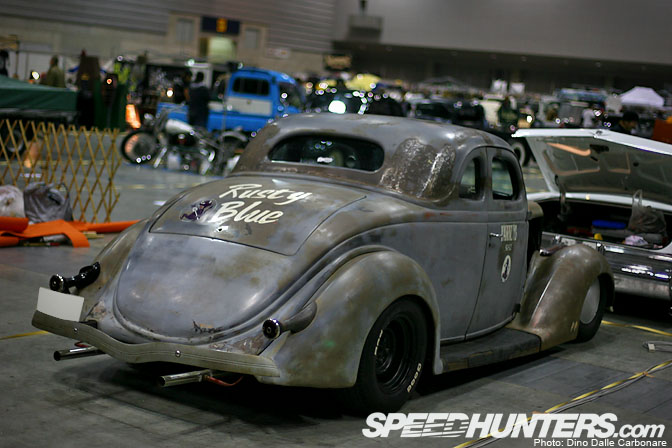 A step up in comfort from a Rat Rod is something like Rusty Blue here.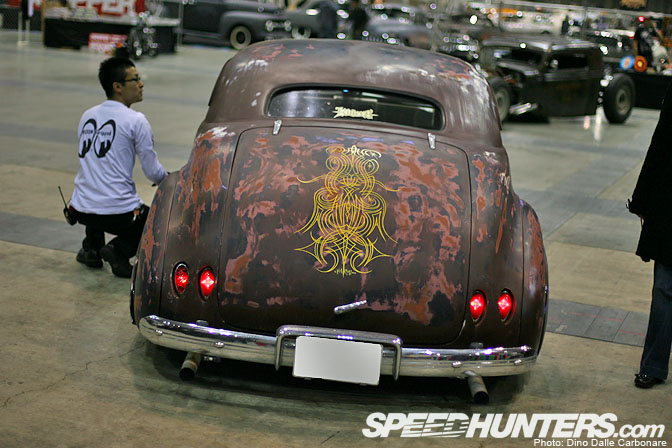 Pin-striping kind of tells you the paint will stay like that!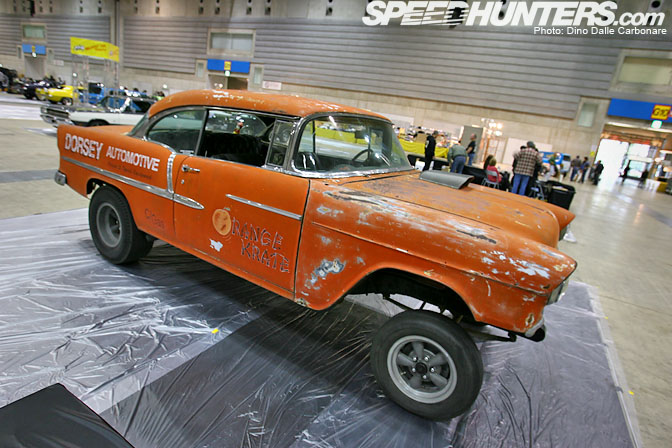 Drag is always big at shows like this, and on top of the wild white Impala from Part 1 there are drag cars from every era…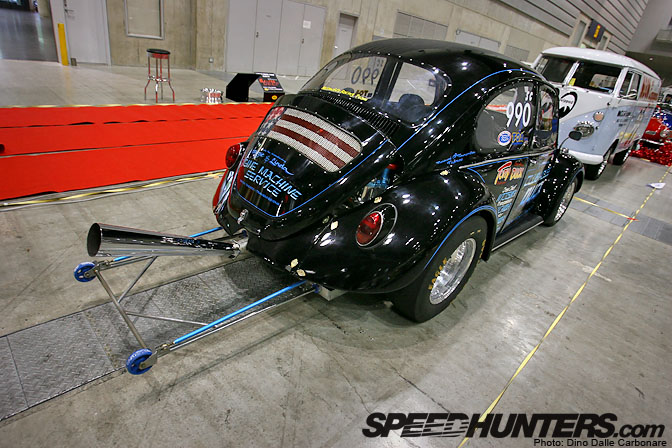 …including non-American rides. Loved the exhaust on this Dub.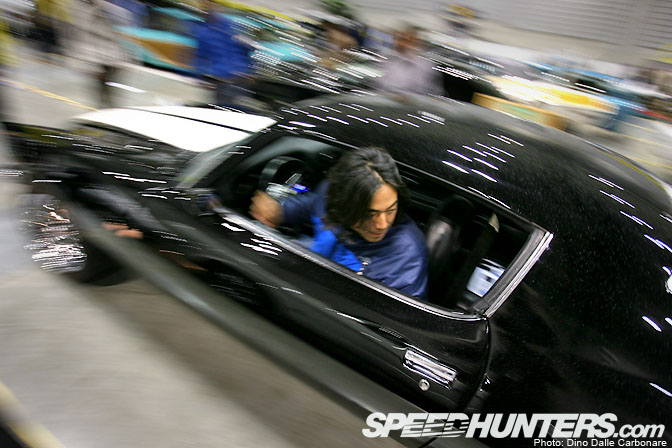 The cars kept coming, which meant I had to continuously walk around to make sure I got shots of everything that was coming in…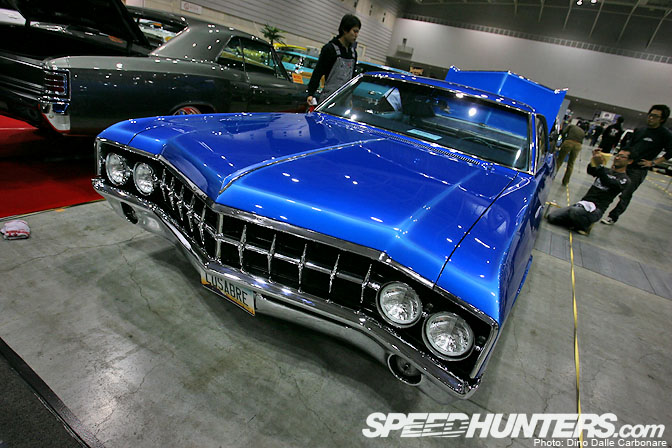 …and eventually I would find something I hadn't seen earlier in the day like this Buick LeSabre which was probably the biggest car at the show.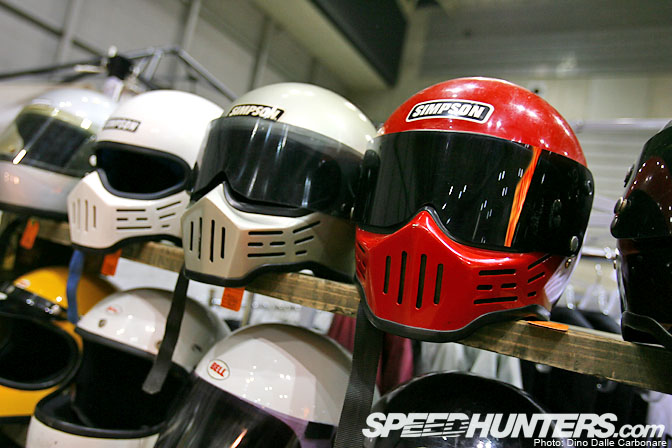 Check out these oldschool Simpson and Bell helmets, even stuff like this was up for sale, except some of those prices looked closer to what brand new headwear costs these days!
Back soon with Part 3 from Yokohama.
-Dino Dalle Carbonare