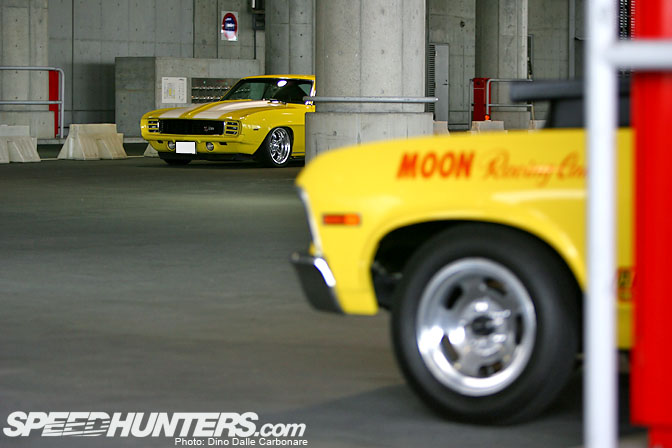 It's official. I am becoming a big fan of the custom & hot-rod scene. I just spent the whole day walking the halls of the Yokohama Pacifico exhibition center during the set up day of the 2009 Mooneyes Hot Rod Custom Show. Unfortunately due to a scheduling conflict I will not be able to attend the actual show tomorrow, as in about 5 hours I will be getting up and heading to Fuji Speedway to cover this year's Nismo Festival. But with such a great selection of cars on show there was no way I was going to miss getting up close with some of the best customs and hot-rods in Japan, and in fact today turned out to be one of the best events I have ever covered. Read on to find out why…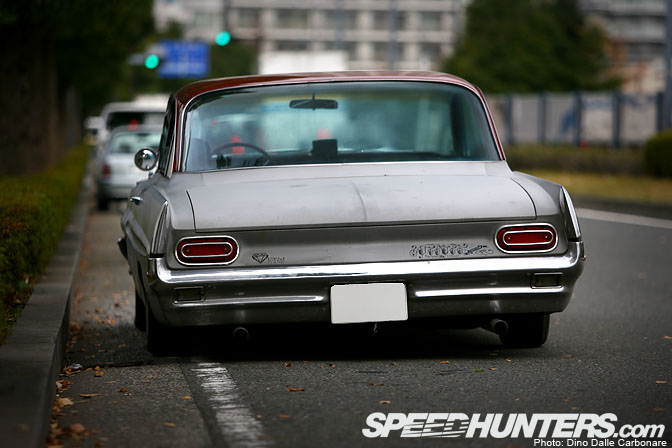 As I walked from the station to the exhibition hall in the fashionable Minatomirai area of Yokohama city I knew I was heading towards the right place as I kept seeing slammed customs and show cars on the streets.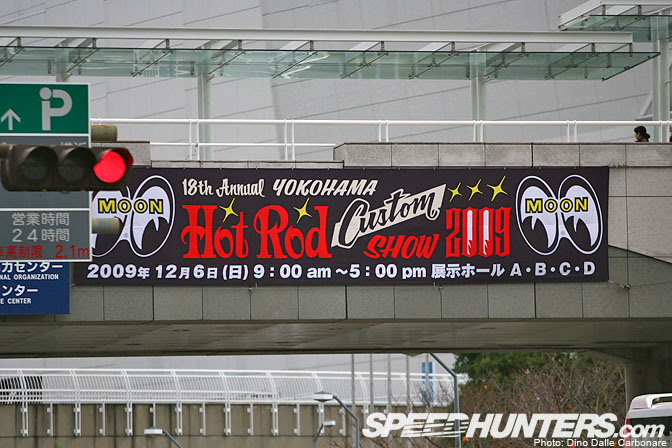 I arrived just after 9, which tuned out to be just the right time as most exhibitors were rolling in.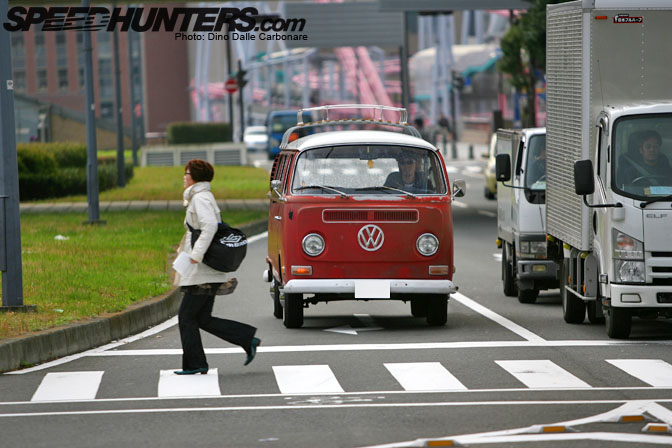 It's so cool sewing classic imports in such a modern and futuristic area of the city.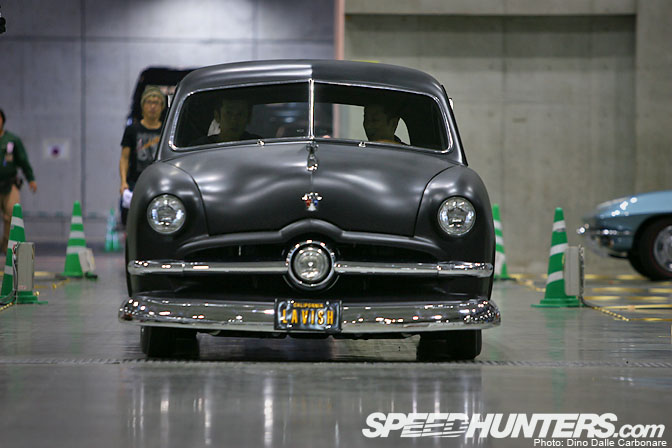 As I made my way into the actual show space I was a bit stunned as all I herd was rumbling gas-guzzling V8s burbling and revving away as cars drive in, looking for their pre-assigned lot.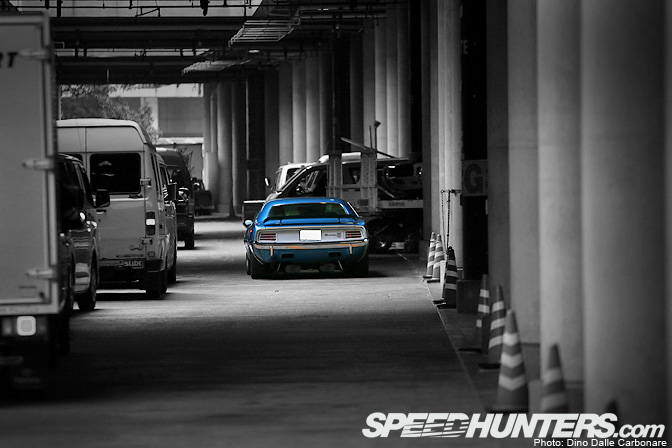 Shows like this are always great but when you actually hear each and every one of those stunning creations, well you can imagine why I had a great time today! Idling and revving oldschool rides makes for some serious smog and the show halls were only bearable for few minutes at a time before one was forced to exit for a breather. At the back of the exhibition center the gates were open and trucks kept unloading show cars and bikes, with the odd one driving to the show under its own power, like the blue 'Cuda above.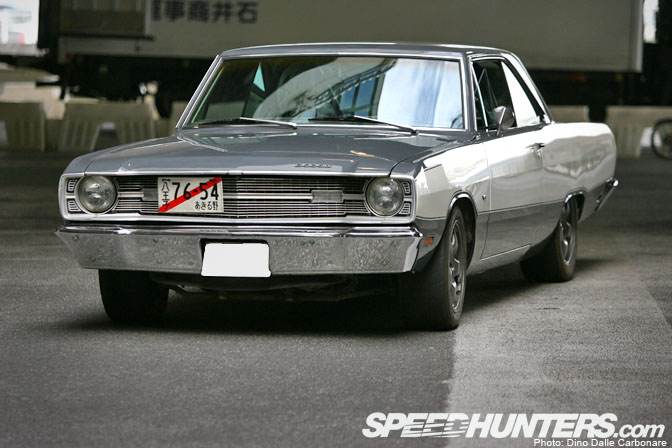 This Dodge was on special temporary plates, which in Japan are really easy to get to move unregistered or un-shakened vehicles around.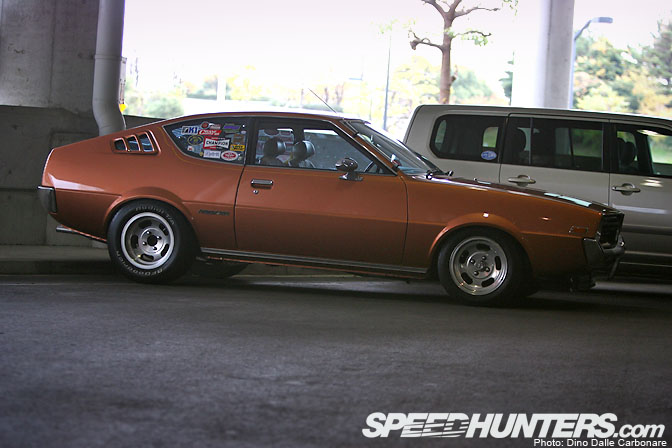 I spotted this Mitsubishi Arrow 200 in the rear parking lot, first time I had actually seen one, kind of reminded me of the old Alfa GTV!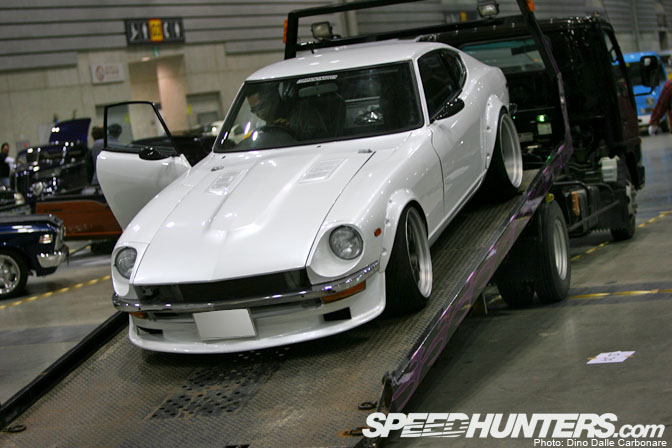 When I came back into the show hall I was passed by this transporter and I immediately followed it because it was carrying this stunning pearl-while PS30. I will have to show you more detailed pictures of this car on a later post, but in case you are wondering it isn't running the stock engine, it's powered by a 500 HP RB26!!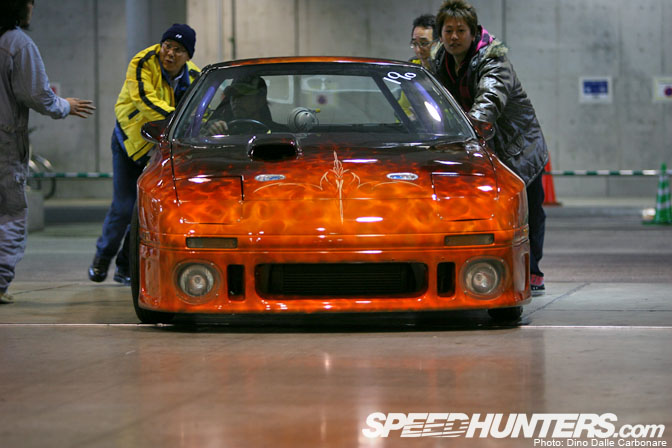 This drag FC3S from Sun Light scared half of the people in the convention center to death when it came into the hall. Its unsilenced 3-rotor carbed 20B was so loud the organizers had to ask the driver to turn off the engine and push the car!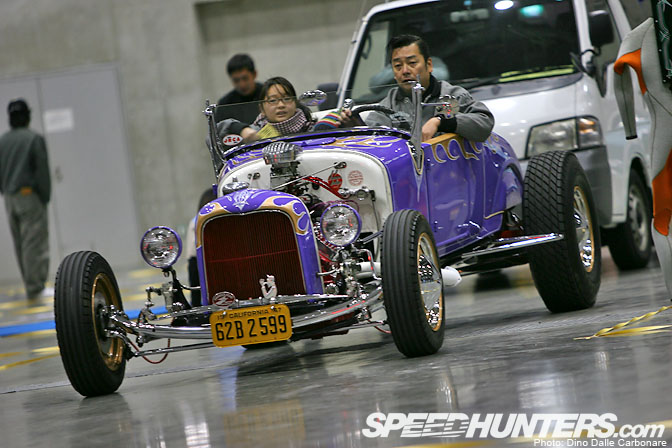 Though this was cool, this family (yes there is a small child in the middle there!) had driven to the show in their hot rod, must have been a chilly ride as the weather wasn't that great today and I don't know if custom-built rods have heaters or not.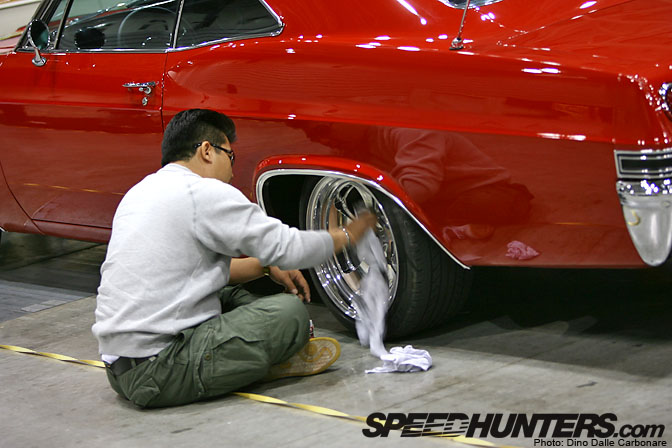 There was a lot of polishing, shining and waxing going on in every lot of the show floor…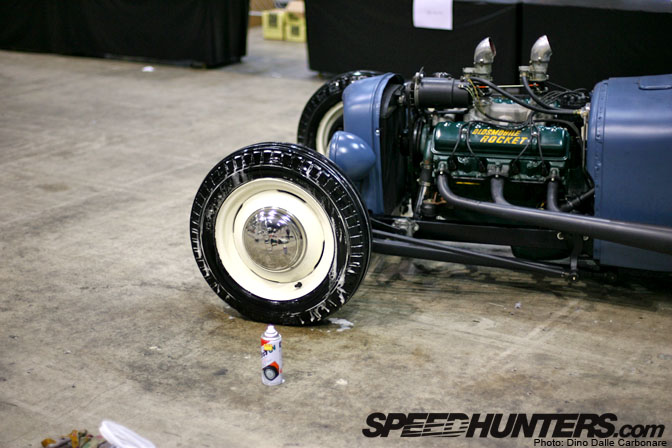 …even shampooing tires!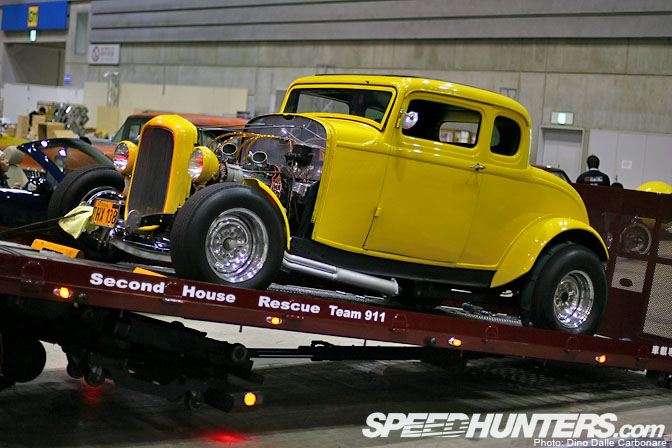 The mix of styles today was almost overwhelming.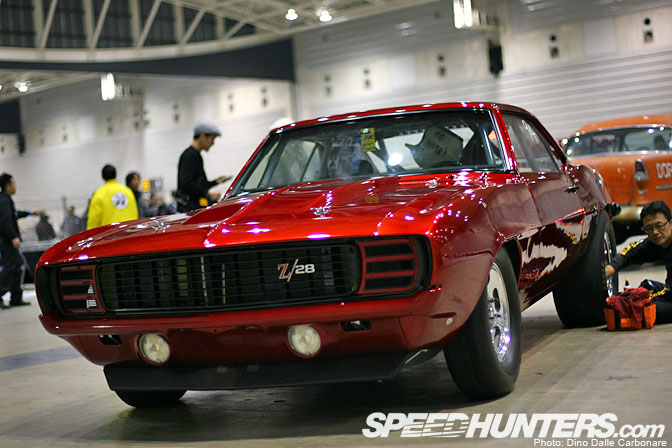 As ever I'm strangely attracted towards muscle cars…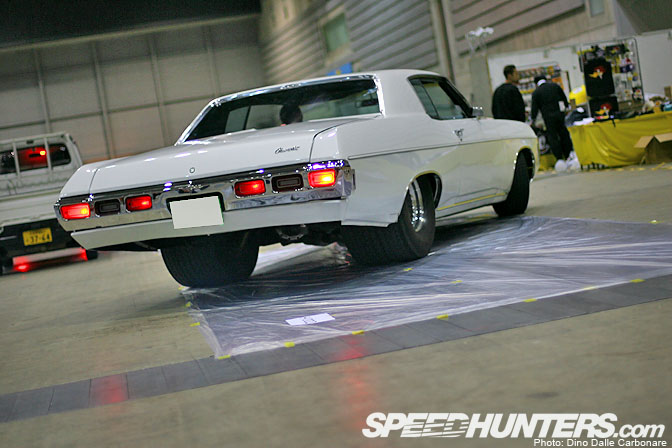 …or crazy rides set up for drag racing! Just look at those rear tires!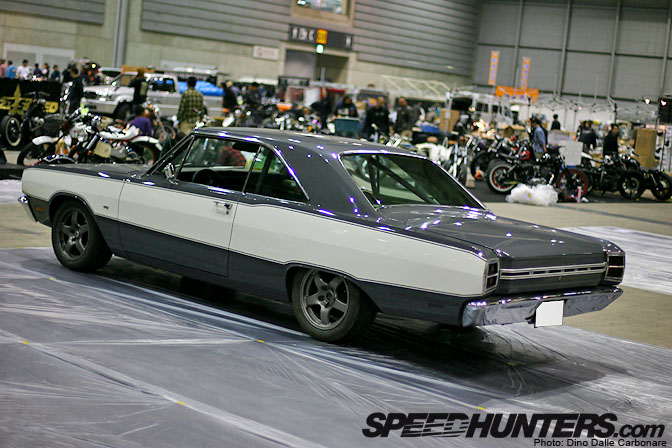 Yes those are R32 Skyline GT-R wheels on the Dodge we saw arriving earlier on.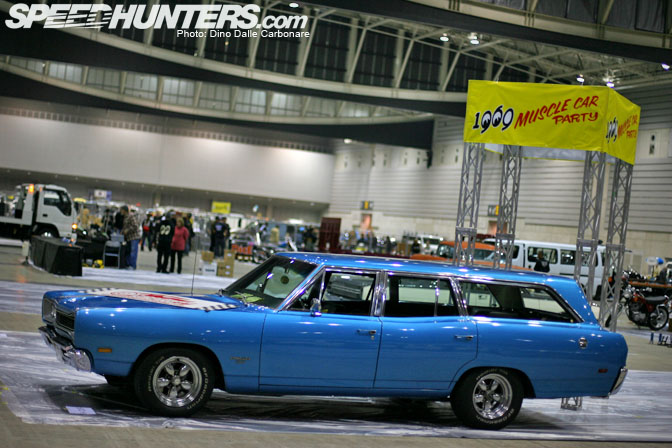 How cool are those big old wagons like this Dodge Coronet 500.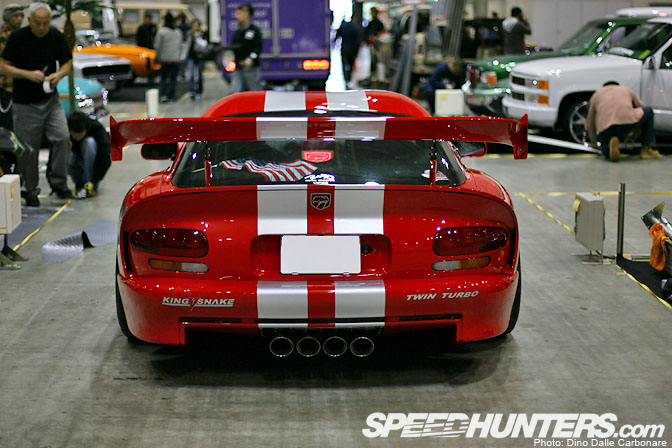 There was even some more modern machinery like this King Snake twin turbo charged Viper.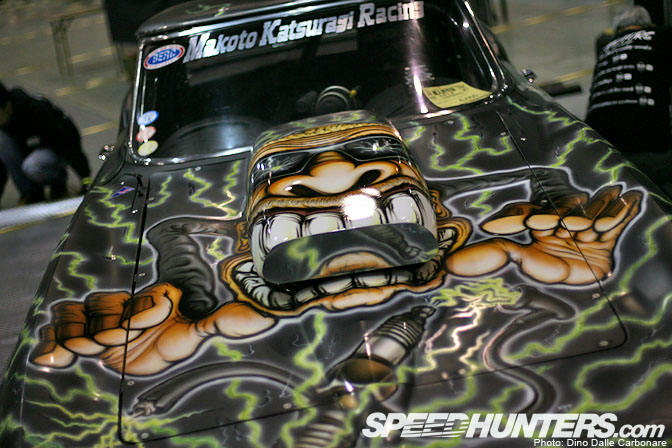 It wouldn't be a customs show without lots of airbrush work…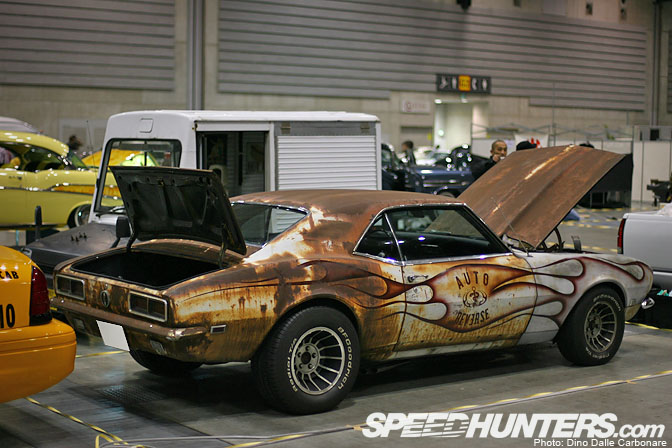 …some looking better than others, although this look is intentional and I really like it!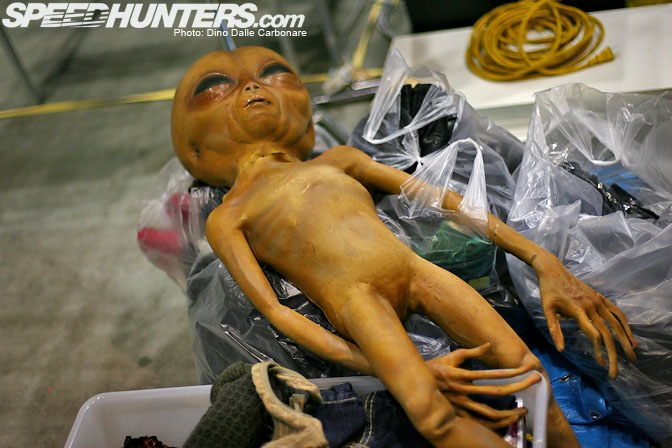 How random, a dead alien!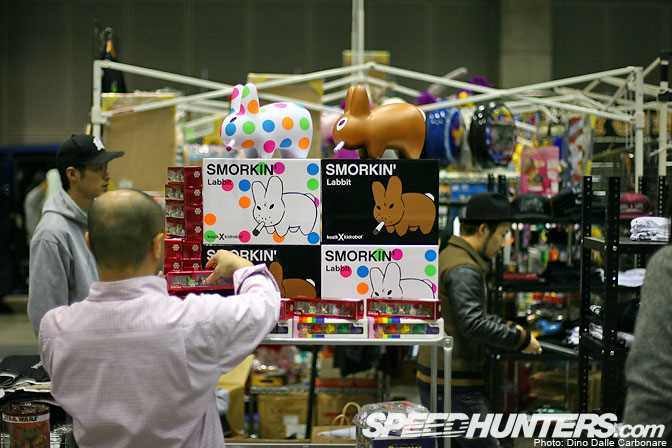 Walking the little stalls that were being set up I was intrigued by this curious "Smorkin' Labbit."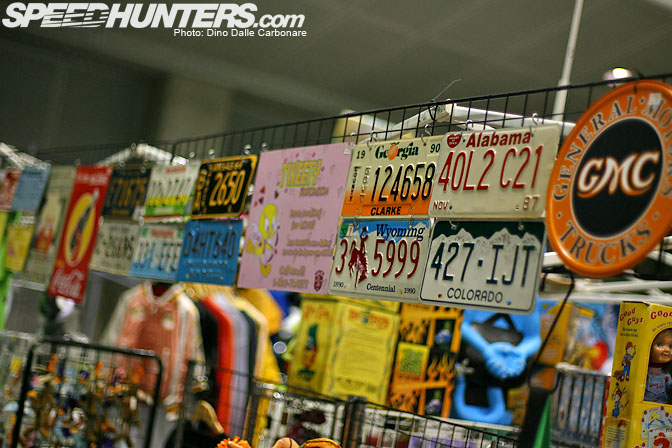 Americana at its best, old license plates.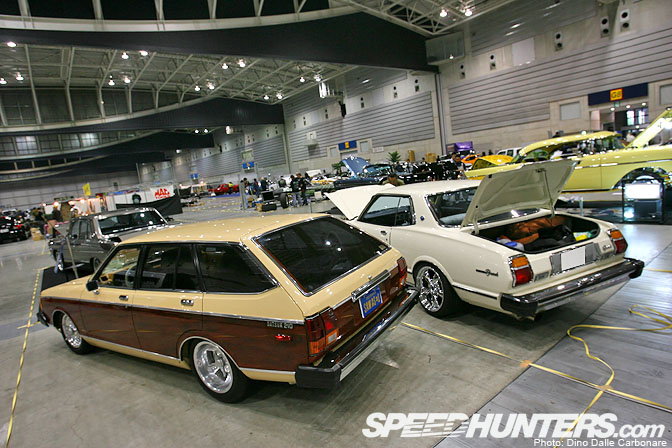 As ever there is always a nice selection of Japanese cars too, like this Datsun 210 wagon and the Corona Mark II Grande parked up next to it. More on this later.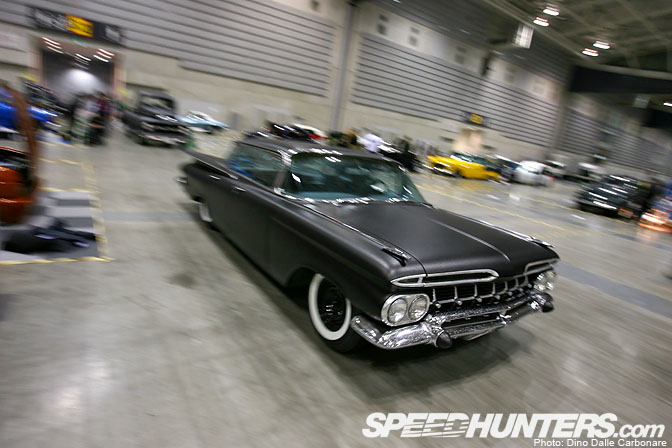 Cars kept arriving well into the afternoon…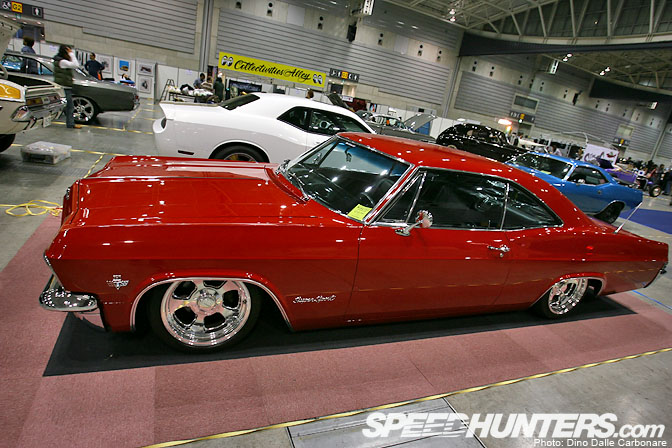 …and quickly the show floor was beginning to take shape as people positioned their rides and prepared their little show space.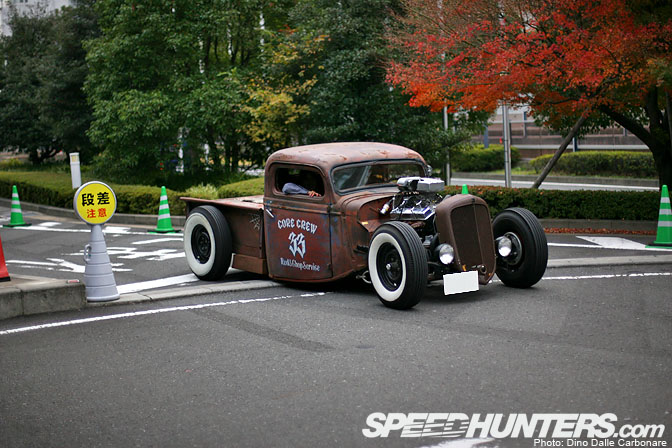 Rat rods, as extreme as you can get! Yet another style you really have to appreciate.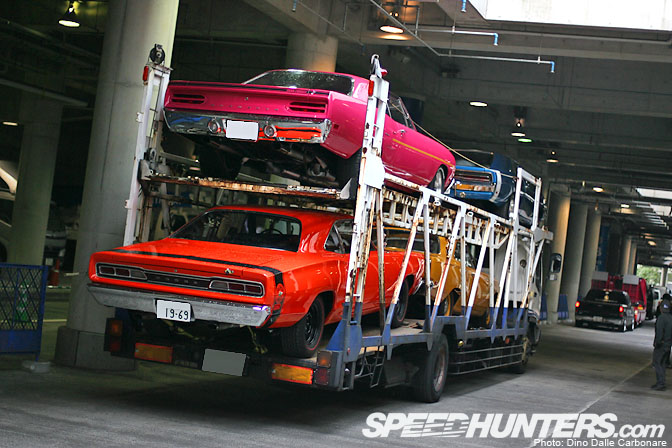 There will be tons more to come from the Mooneyes Hot Rod show, as well as the Nismo Festival and then the Tsukuba Super Lap Battle in a few days! Busy week in Japan…and I just know I'm not going to be getting much sleep in the next few days. Which reminds me….better get some shuteye!
-Dino Dalle Carbonare