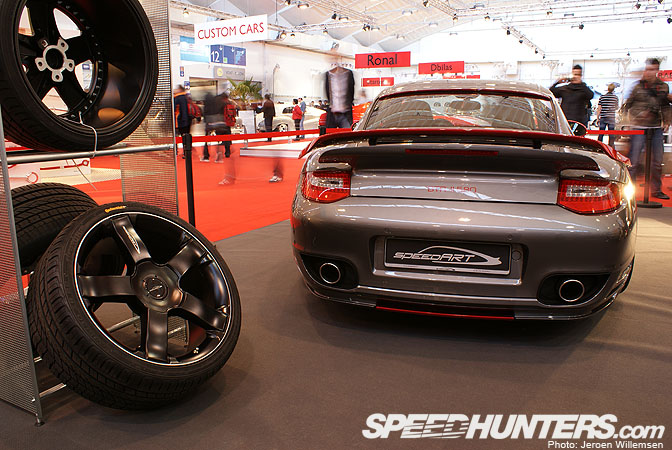 The Essen Motor Show is in full swing and I was there to capture it all on camera. I noticed that there were less tuners and fewer cars than previous years, but still there were some fine examples to be found. I'll start with showing you the diversity of cars that can be found inside the Messe.
Of course there are lots Porsches, this version made by Speedart grabbed my attention with its red accents. This BTR-580 had its premiere on the Essen Motor Show and is based on the 997 Turbo 3.8l. I will have a closer at the car in the future because I'm planning to visit them.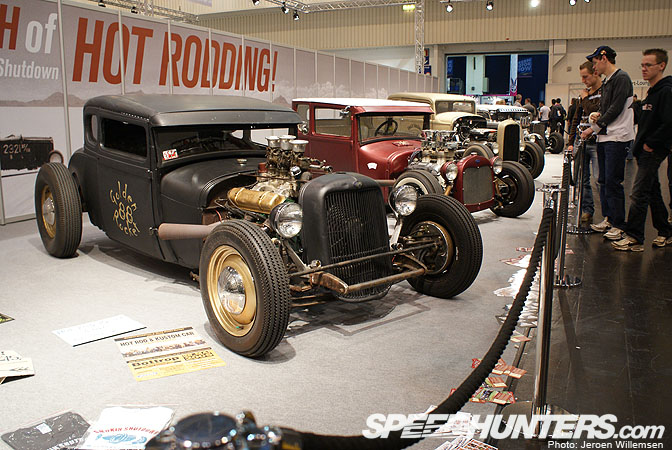 In one of the other halls there were lots of Hot Rods ,which seem to be growing in popularity. Last year I only found one or two of these machines hidden in the corner of one of the halls, this year it was completely different.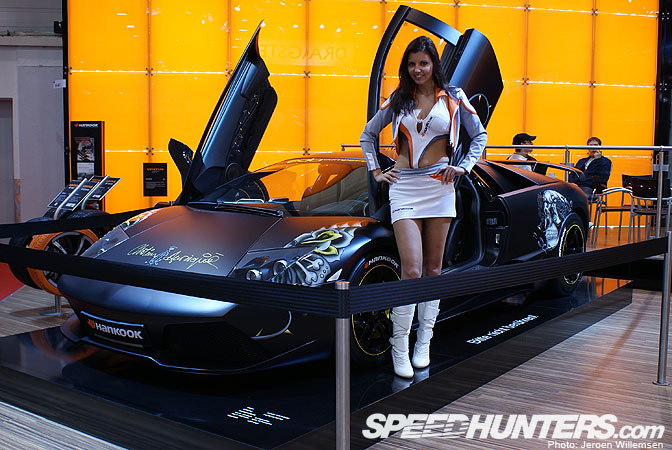 Another popular thing are these exotic cars, they ranged from this Lamborghini that with a Christian Audigier treatment to a McLaren SLR with a FAB Design bodykit. This Murciëlago featured some stickers and a custom interior. Otherwise I couldn't find anything that made this car really stand out except for the girl.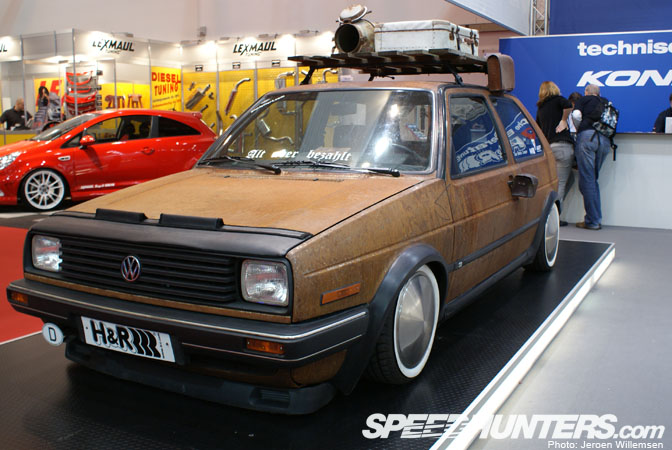 I thought this Golf MKII looked pretty cool, especially with the white wall tires. The saying on the front window says "Alt aber bezahlt" it translates to "Old but paid for". Funny thing is that this car accompanied another machine on the same stand that was on the other side of the spectrum regarding car tuning…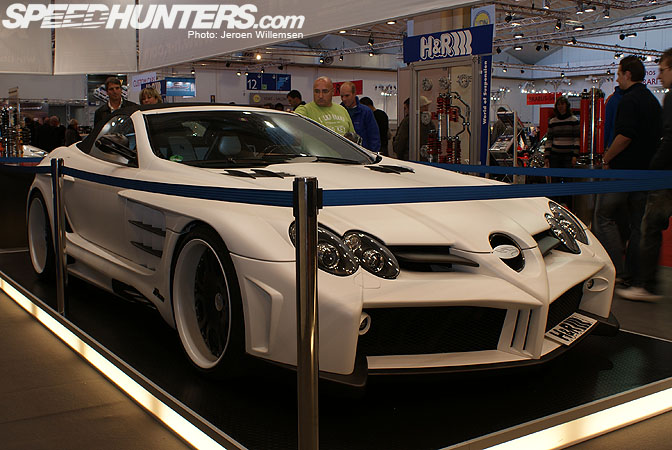 … it was this SLR McLaren with a complete FAB Design wide bodykit. It had been painted in white with a matte finish. It demanded respect in every way you look at it. Would you dare modifying your SLR when you had one?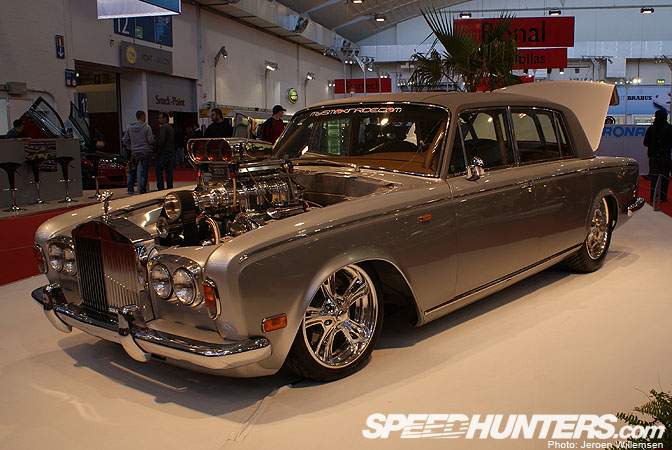 A Rolls Royce Silver Shadow with a 572 Chrysler Hemi motor isn't something you see every day. The car has been build by Little Joe's Street Rod Shop. This is the fastest Rolls Royce on the planet… well at least thats what they claim, but it isn't hard to believe with its 1350bhp engine.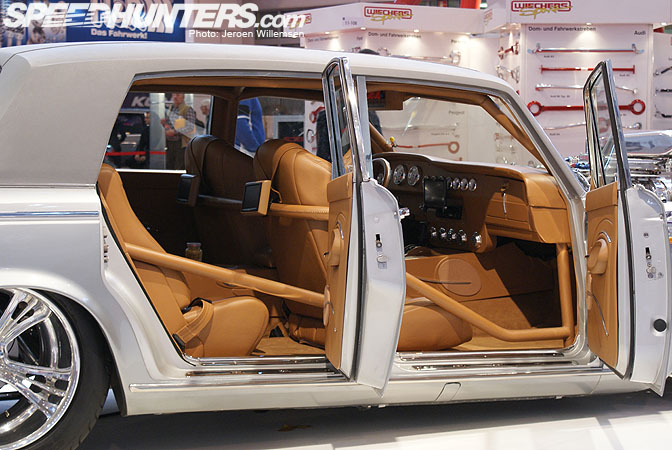 Inside we see lots of leather, something you would not expect from a dragster… I'm just not sure if we should see it as a dragster. It features all the creature comforts including tv's and a airbag system, their website even states it is used as a dailydriver, but I highly doubt that.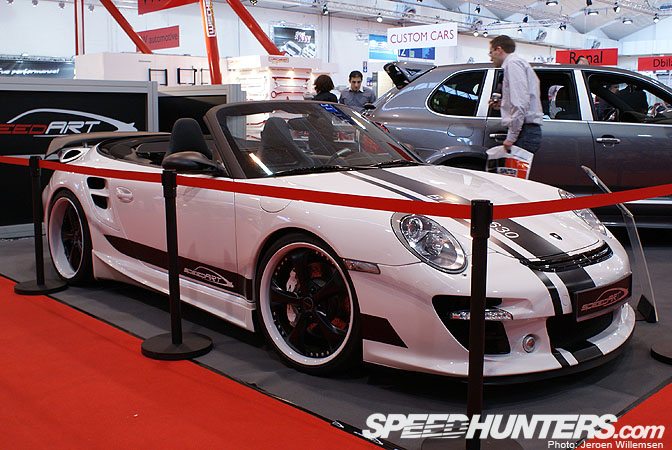 Speedart brought a lot of cars but unfortunately their stand was a bit cramped. This BTR-XL 630 is based on the 997 Turbo convertible. This is the top of the line model for Speedart with a reworked engine that puts out 650bhp and 860Nm of torque. It catapults the car from 0 to 124mph in 10.2 seconds. The wheels are made by Speedart themselves and are called RSC II Elegance and they come in 20".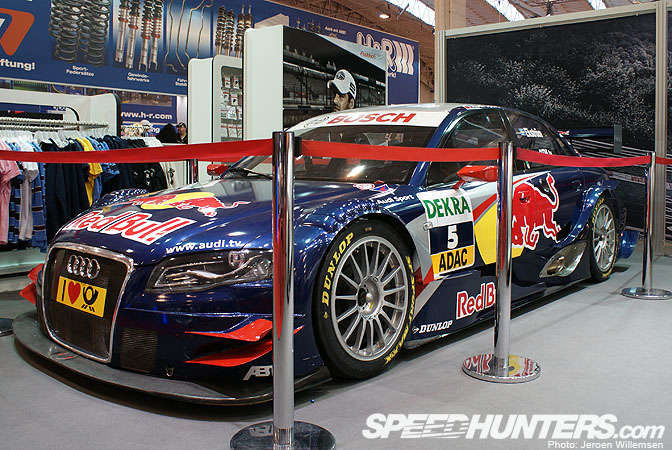 Standing close to real DTM machine makes your heart skip a few beats, these cars are the epitome of engineering.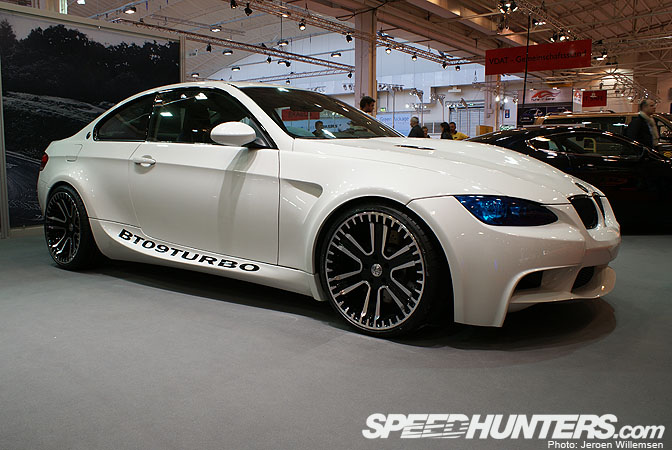 Last year Brabham racing introduced their version of the infamous BMW M3. But after some legal issues with the name Brabham they changed their name into BTR, you could still see some name tags with Brabham on it but that will be a thing of the past. I wasn't too sure about the looks of the car though, especially the front…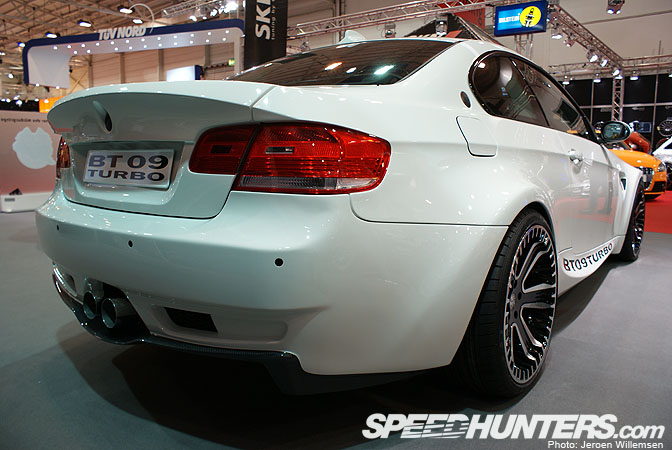 …the rear worked much better. No details were given so I can't tell you much more.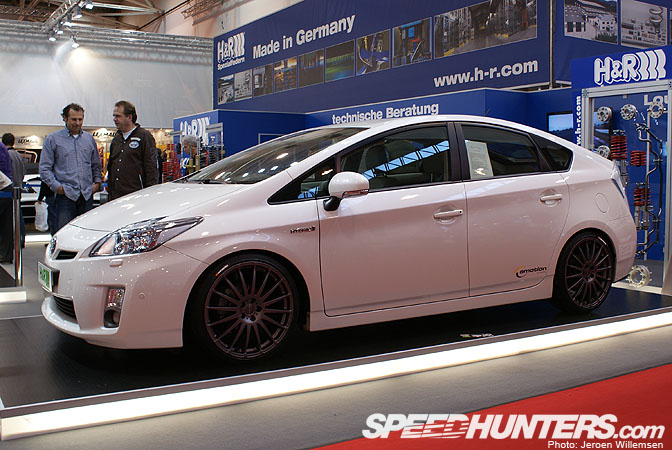 The only Prius I could find, it looked pretty fresh with these wheels and spacers.
That's it for part one, be ready for some more coverage from Essen.
-Jeroen Willemsen