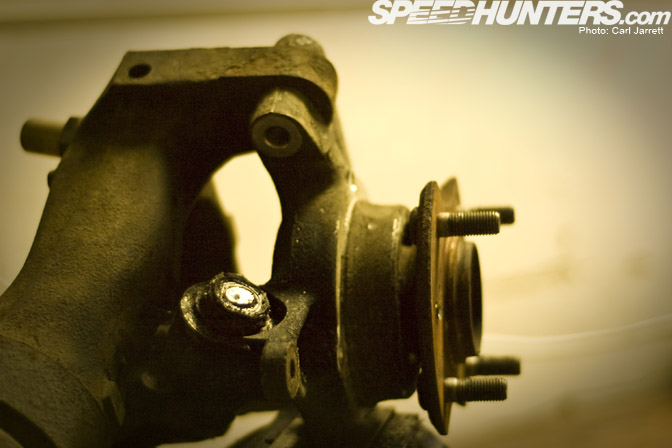 1.9? Why 1.9? Well I haven't got as much done as I'd like to have, but am still making progress, and am making progress in the planning stages as well.
I've been busy prepping the car for a LOT of work in the coming months. Its pretty boring stuff at this stage, so don't say I didn't warn you.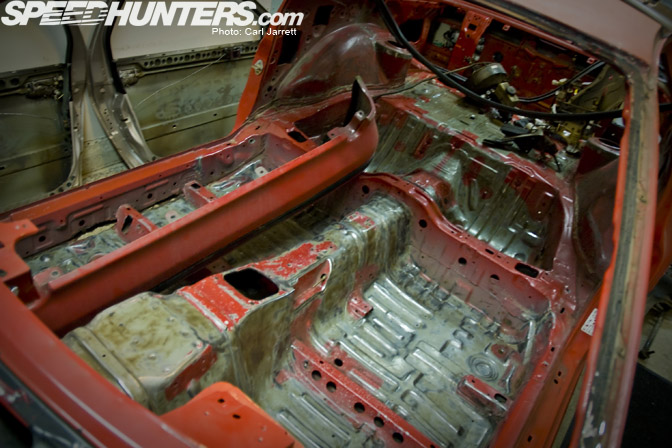 I spent almost 2 days crouched inside this beast removing that damn sound deadening. I used chunks of dry ice for the first pass (looked like an old high-school dance in my shop with the the cool fog, just needed some laser lights, but I digress). The dry ice freezes the sound deadening so well that a good hit from a hammer or my trusty putty knife, it shatters off. The rest I had to take a heat gun to and pry it off, if I never do that again it'll be too soon. All said and done there was about 45lbs of this stuff taken out, I'm pretty happy about that.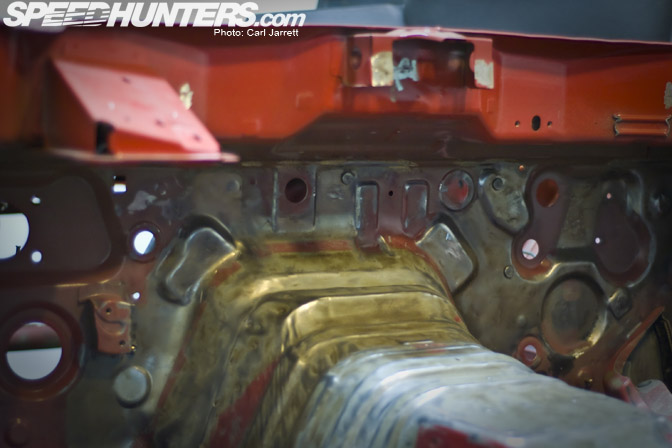 Once I got all that junk off, I took a wire wheel and a angle grinder and cleaned up the rest. All ready to be stitch welded! I also took the opportunity to remove a bunch of brackets and other miscellaneous crap, a few lbs saved there… starting to see a theme here?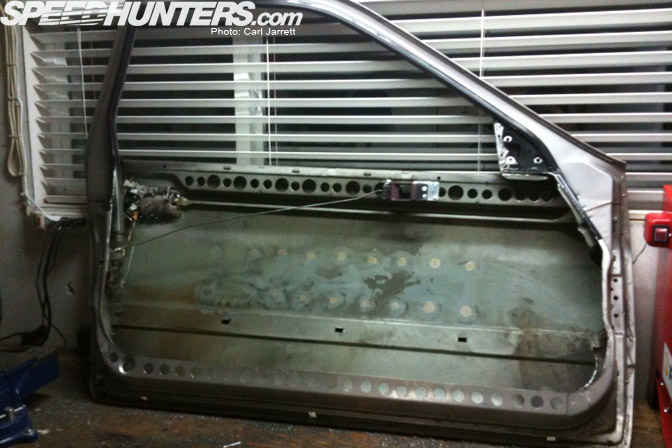 Next up was the doors, this was actually pretty fun work for me. Unfortunately, I didn't weigh the doors before I started as I tossed the door panels awhile back, but I did weigh them when I was done, and I got them down to 24lbs each. I estimate the stockers with everything included are around 80lbs, the door bars alone are close to 15lbs. As you can see I took a hole saw to the doors, other than just looking rad like 1950's aviation metalwork, it saved maybe another pound.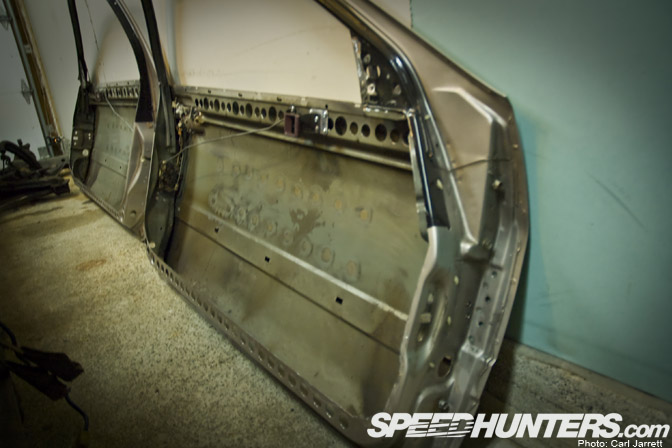 Since I scrapped the door panels I needed some way to re-mount the interior door handles, so I swapped them left to right, and mounted them up high on the top support with some aluminum rivets and a small alu plate. Works really well, and best of all, its light! (and cheap)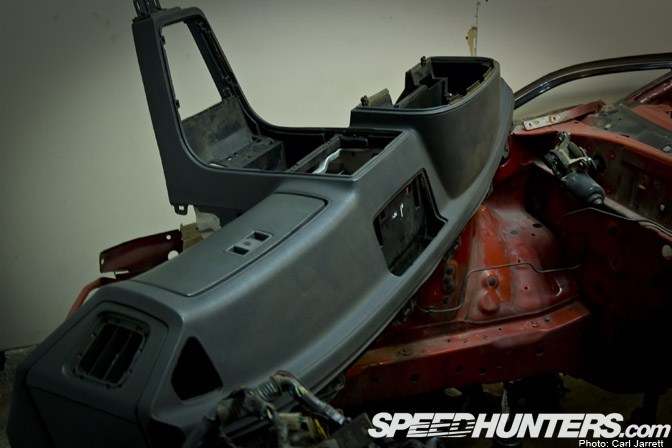 I've gutted the dashboard now to the bare essentials, and I'm ready to flock it once I know where my roll cage will intersect with it and I can cut out the hole. The flocking is going to cover the nice vintage '88 grey/blue vinyl color of my dash, as well as cutting out a ton of glare on the inside of the windshield.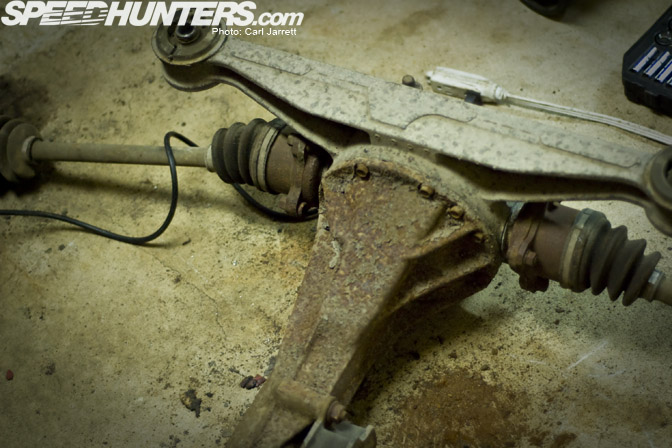 Next on the list was to start re-building the rear suspension and drivetrain. I'm going to be cleaning everything up and powdercoating most of it, replacing all the bushings with solid, delrin, or spherical bearings/mounts.
As you can tell by the condition of the diff, this car had a LOT of miles on it. The diff is going to be tossed, I'm planning to pick up a FC diff with a Miata torsen installed into it, which should handle a lot of abuse with a fair amount of ease.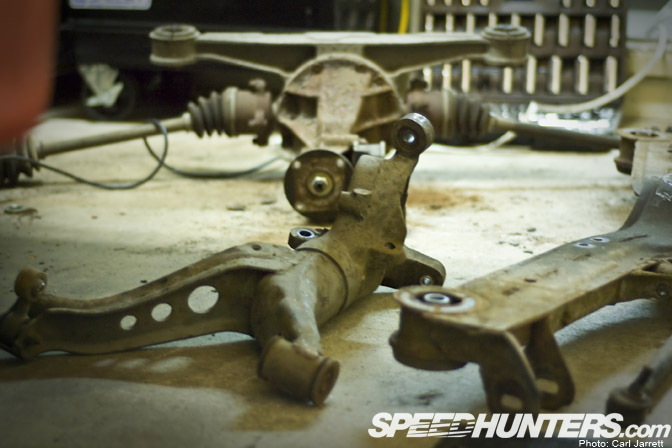 The dissassembly didn't come without its problems though. I failed miserably trying to remove the last of the 4 bolt hubs that need to be scrapped. Tried to take it off while still on the car, my 380 ft/lbs electric impact wrench wouldn't budge it, half a litre of penetration oil didn't help, nor did a 3 ft breaker bar! I wrenched on the thing so hard the entire rear of the car came off both jackstands and almost onto the floor.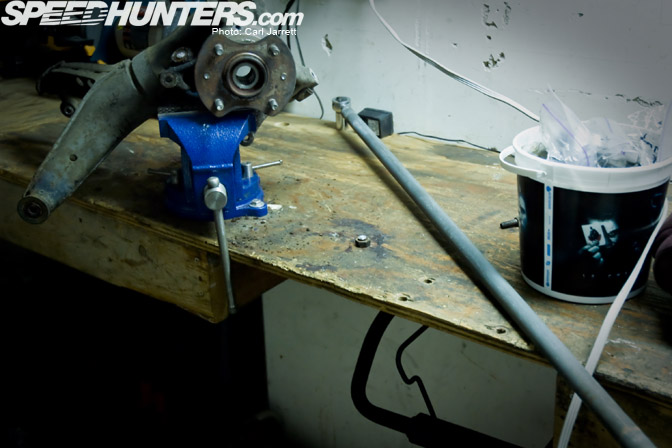 I decided to take the rear sub-frame out and try to get it off when it was off the car. I threw the control arm in my vise and took an even bigger breaker bar to it…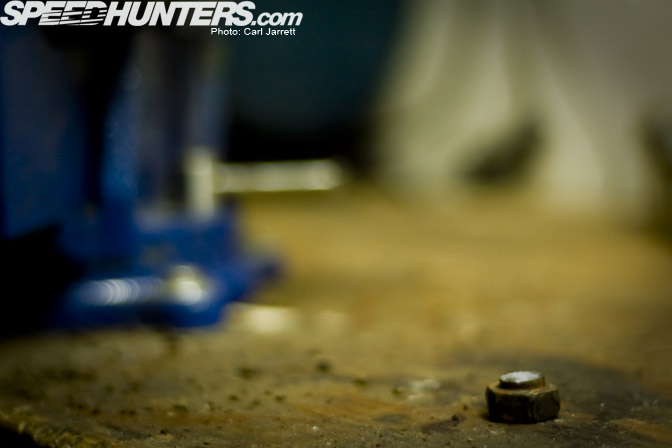 …and severed a burly Grade 8 bolt clean in half. Time to go shopping for a new control arm I think. Silly that such a relatively small thing kept me busy for so damn long.
Hope you enjoyed our time spent together, remember kids, I'm just some dude in a garage with no real training, I make video games for a living, not cars, so take it easy on me! I promise to have some more exciting things to share next episode.
Happy holidays! I'm off to spend a few days in the garage, then cruise around the Caribbean is 3,000 other chumps drinking and eating way too much.
- Carl Jarrett