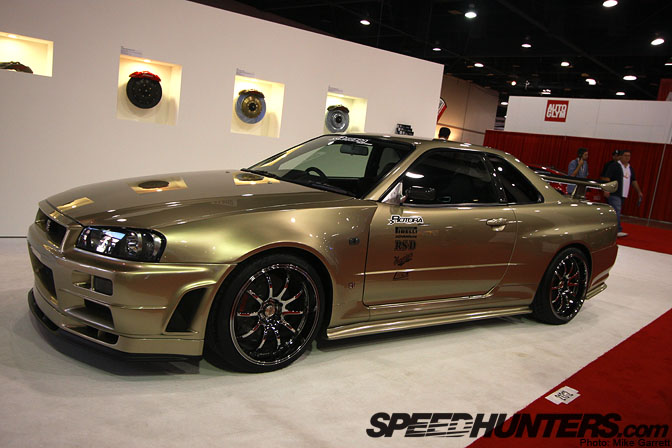 Alright let's jump right into some photographs and impressions from my second day of walking the halls of the Las Vegas Convention Center at the 2009 SEMA Show.
Up above is something that should excite the traditional "JDM Tuning" fans, a super clean R34 Skyline GT-R found in the Rotora Brakes booth.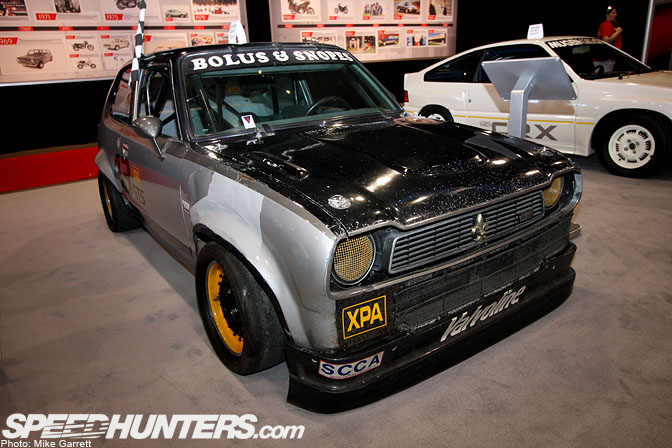 Honda's presence at the show is a bit scaled back compared to past years. but I was pleased to find a cool selection of vintage Civics on display – including this '74 Civic race car.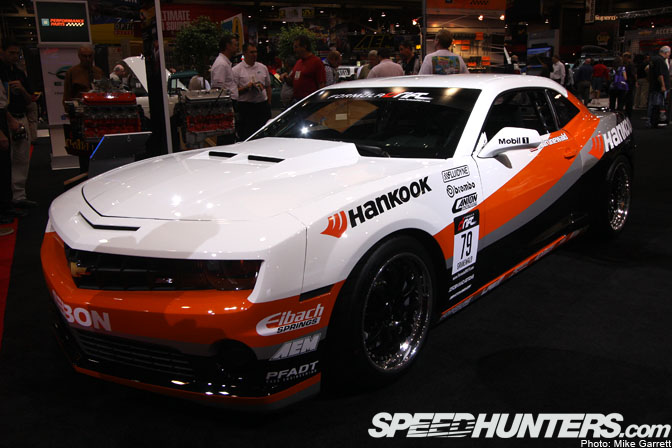 Conrad Grunewald's 2010 drift Camaro is getting a lot of attention in GM's booth. I'm pleased to say that the car is sporting "Speedhunters-approved" ride height and wheel fitment (for a big budget pro drift car that is). Hopefully the car will look this good when it starts running next season.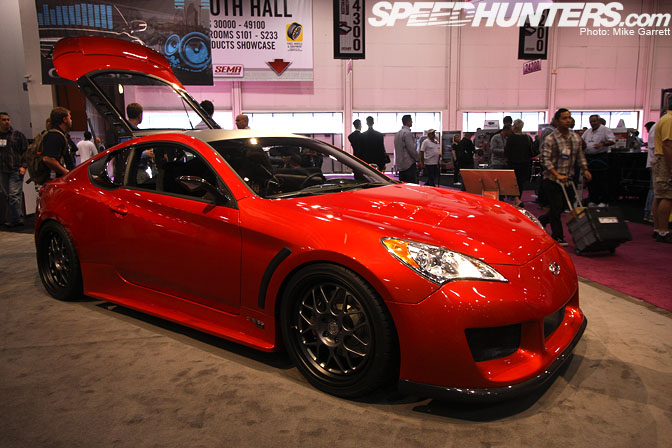 The Rhys Millen Racing Genesis Coupe looks pretty simple on the outside. In fact, I think a lot of people might have passed it by thinking the open hatch was only to showoff a flashy sound system in the back.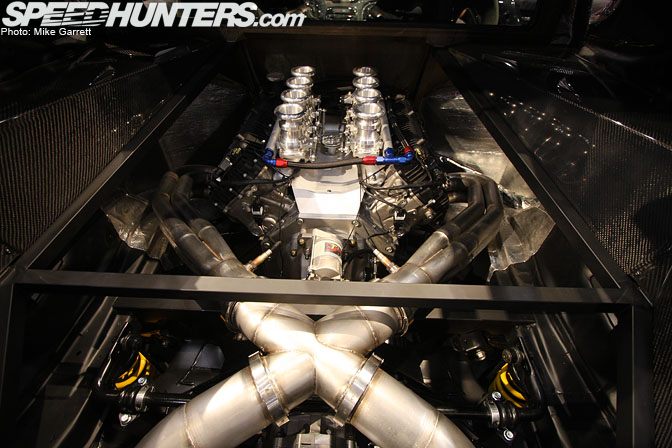 But there's no sound system to be found, just a tuned up V8 from the Genesis sedan and a sexy set of individual throttles.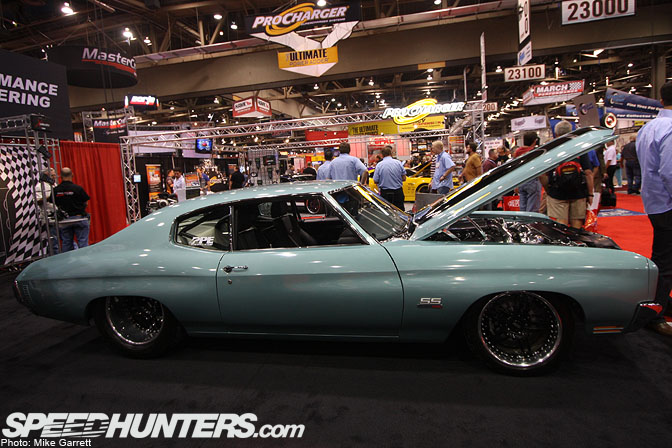 Since there are so many classic muscle cars shown at SEMA, you need to do some crazy stuff to get yours to stand out. Take this Chevelle for example…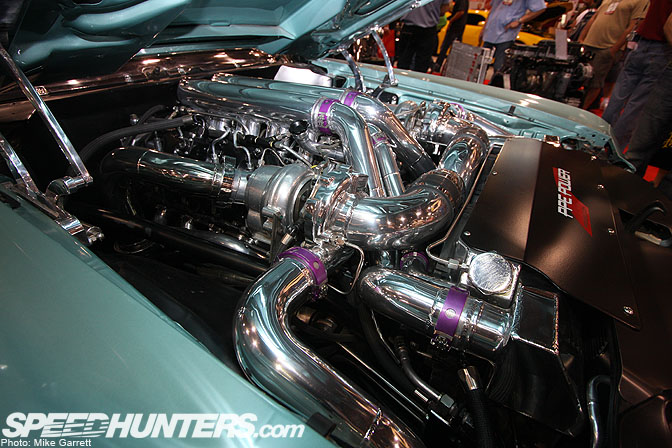 …it's powered a fully built turbo-diesel engine built by PPE. Nuts!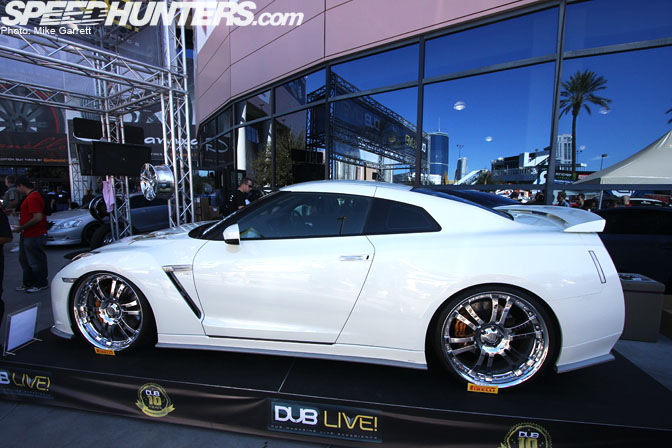 I wandered over to DUB area not expecting to find much of interest, but was surprised to find a bunch of cars that had been shipped over from Japan, including the BRANEW GT-R seen at Tokyo Auto Salon.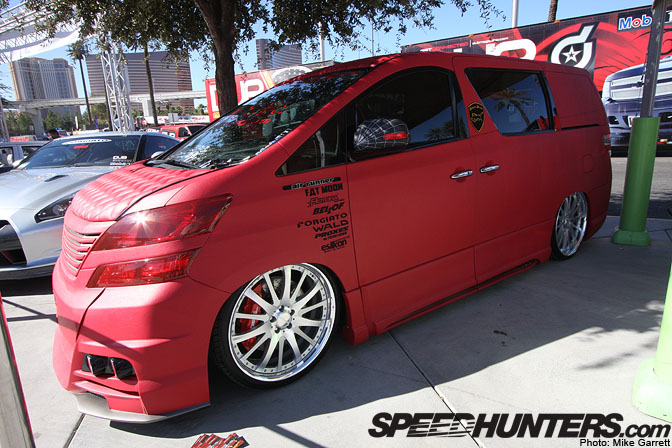 But what really got me excited was this fully luxed-out JDM Toyota Vellfire van being shown by Air Runner.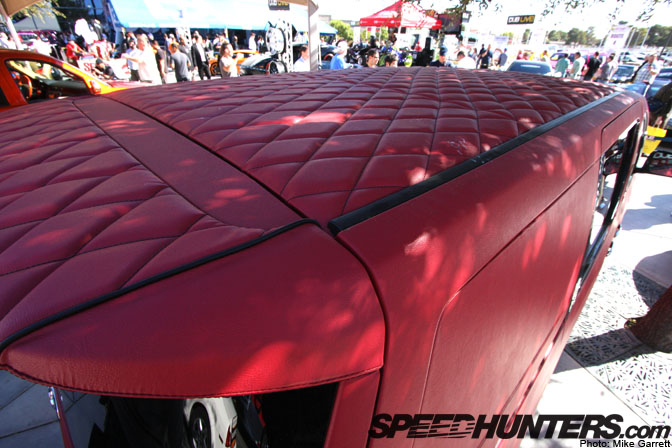 Yes, the entire body has been wrapped in red leather by ART Factory. Somehow I think this might be better-suited to sunny Las Vegas than rainy and wet Japan…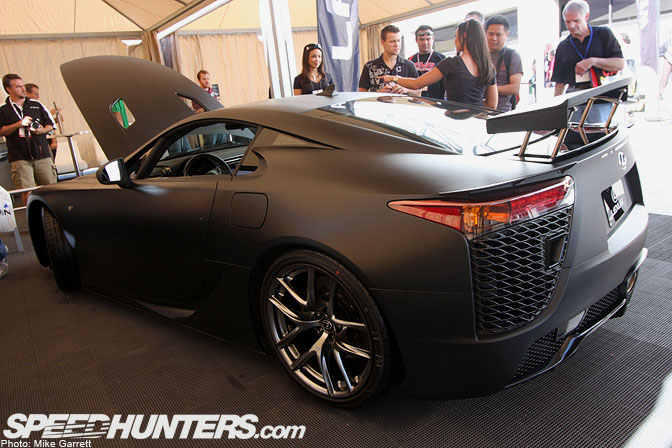 The Lexus LF-A looks pretty tough in satin black finish. The car brought a lot of onlookers to the outdoor Lexus display.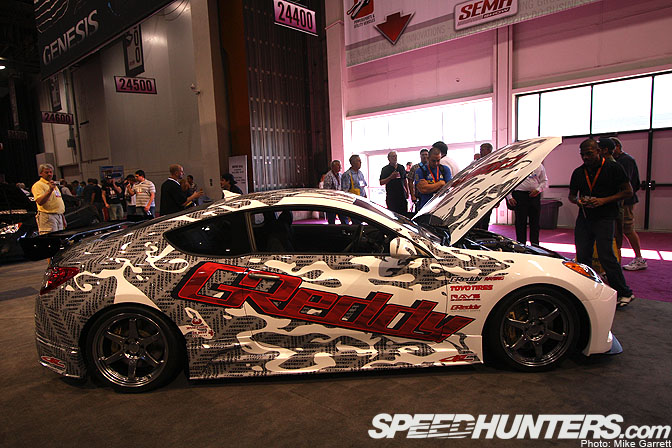 Another Genesis Coupe in the Hyundai booth, this one built by Greddy and sporting an aggressive set of 19" TE37's.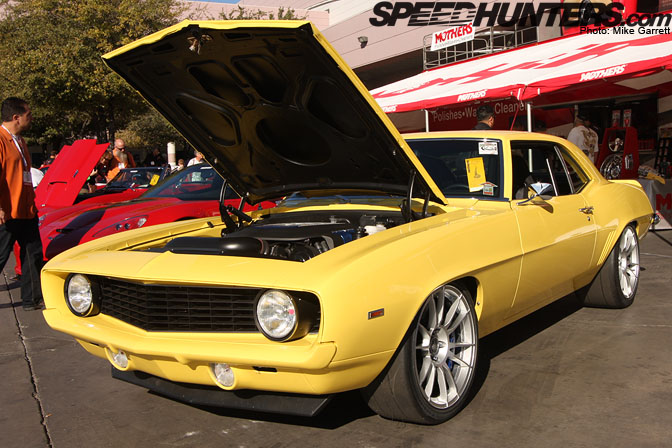 If you are familiar with pro touring cars, then the name Mark Stielow should ring a bell. Mark is a pioneer of the scene, and his latest project is this '69 Camao, dubbed Jackass.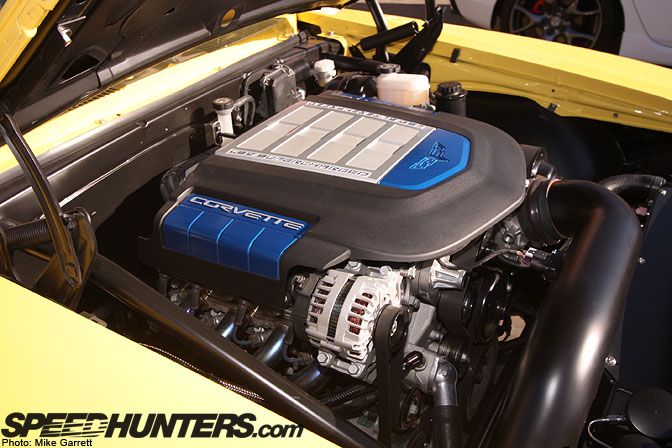 Jackass gets its power from a supercharged LS9 engine out of the Corvette ZR1. Incredible.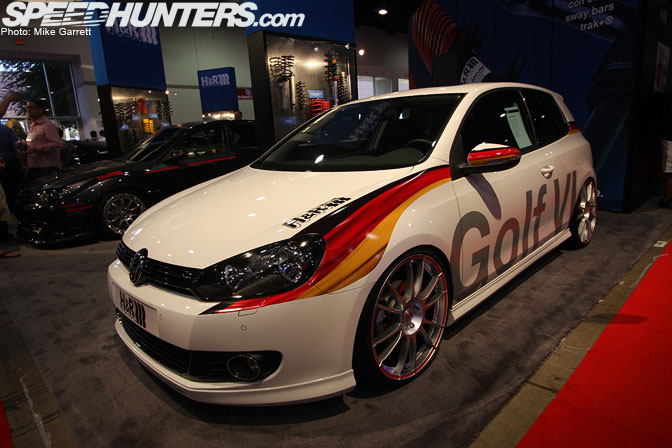 If you are noticing a lack of European cars in the coverage so far, that's because there doesn't seem to be many of them this year. H&R Suspension did have this new Golf on display in their booth though.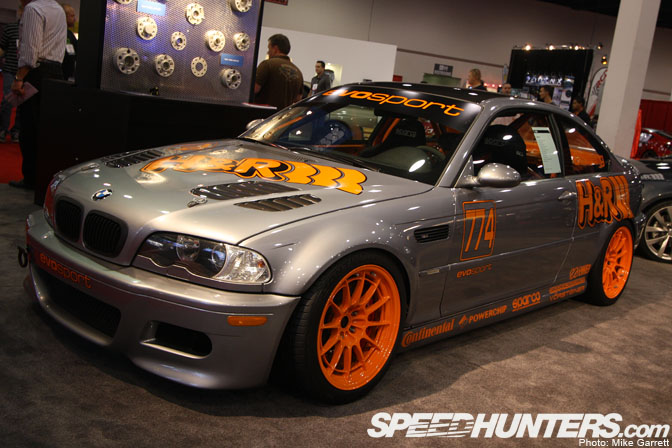 As well as this E46 M3 sitting on bright orange Enkei NT03 wheels.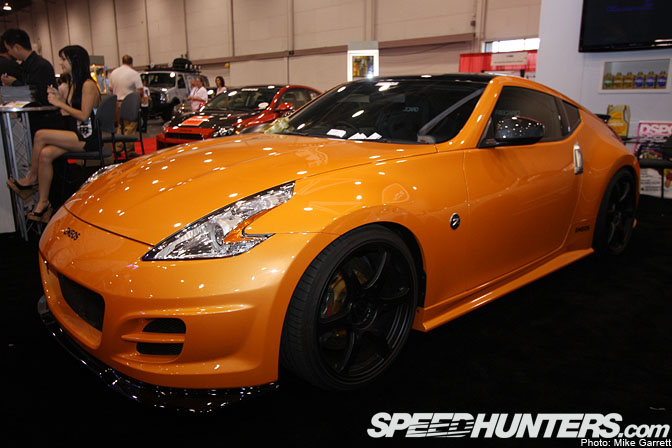 Speaking of orange, there's the ZELE 370Z looking as good ever in the Eneos booth. I've yet to see a Z34 done as well as this one.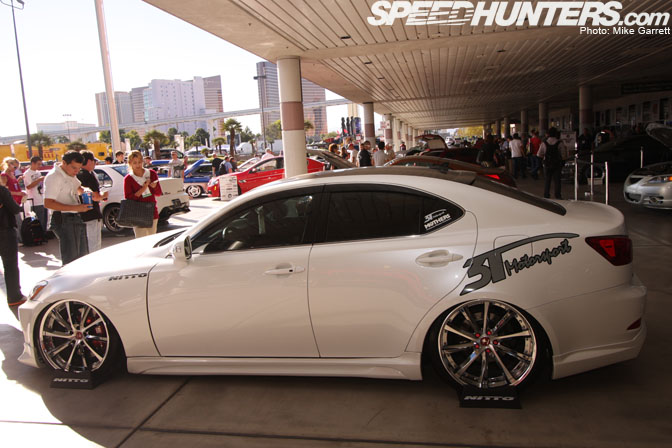 Also fitting with our monthly theme is this Lexus IS tucked (no pun intended) away in one of the outdoor areas.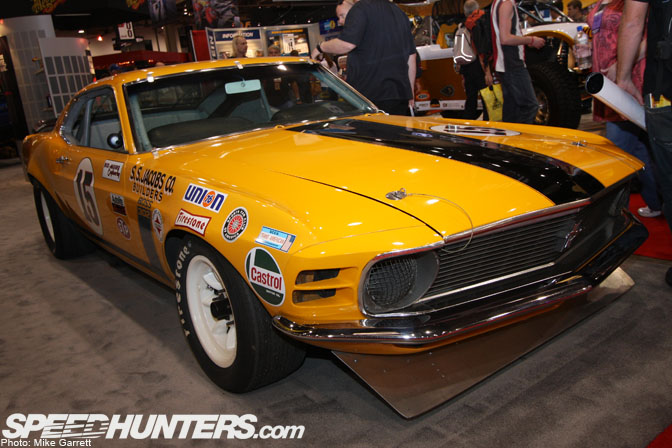 It doesn't get much cooler than nostalgic SCCA Trans Am racers like this Boss 302 Mustang.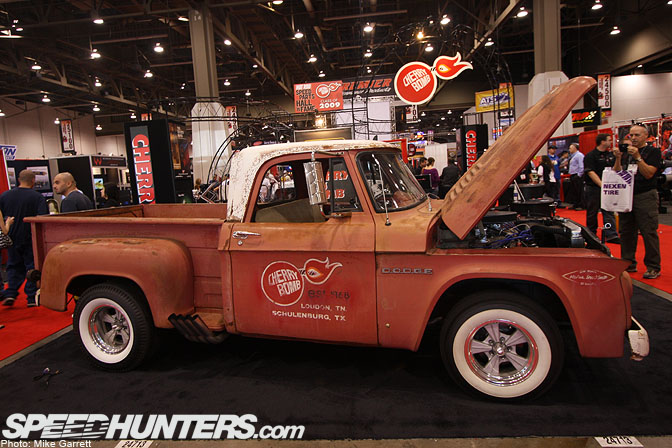 Cherry Bomb mufflers has this awesomel Hemi-powered Dodge Pickup in their booth. I remember how cool I felt when I put Cherry Bomb exhaust on the Plymouth Duster that I drove back in high school…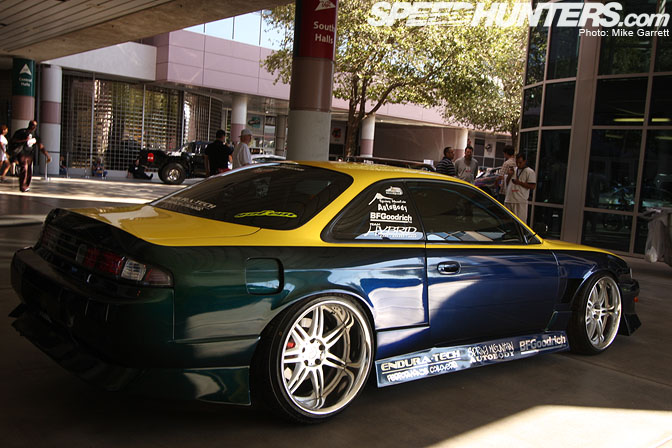 Hmm…I'm not quite sure how this multi-colored S14 will go over among the Speedhunters audience. Yay or nay?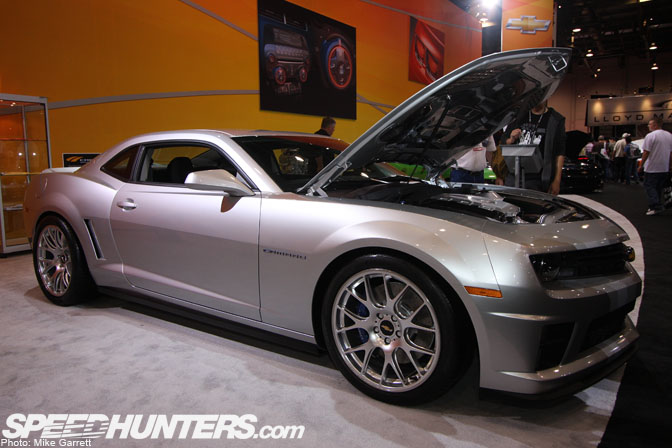 GM's booth is full of modifed Camaros. One of my favorites is this twin turbo V6 Jay Leno concept version.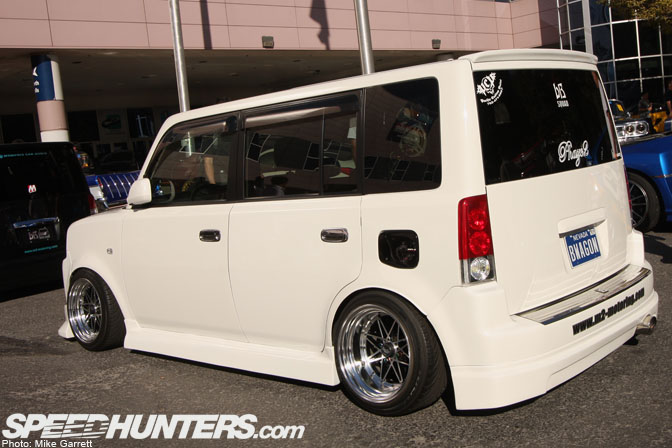 There are several tastefully done first gen xB's on display in the outdoor area, including this one sitting on some wide Work Equips.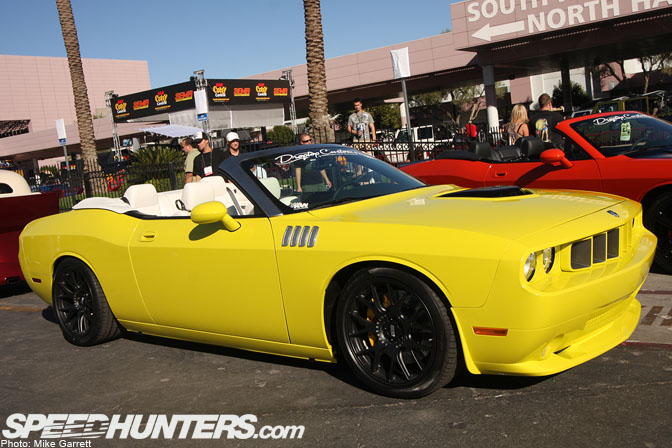 There is no such thing as a new Dodge Challenger convertible, or a new Plymouth Barracuda from the factory, but thanks to the aftermarket you can have a brand new rag top 'Cuda.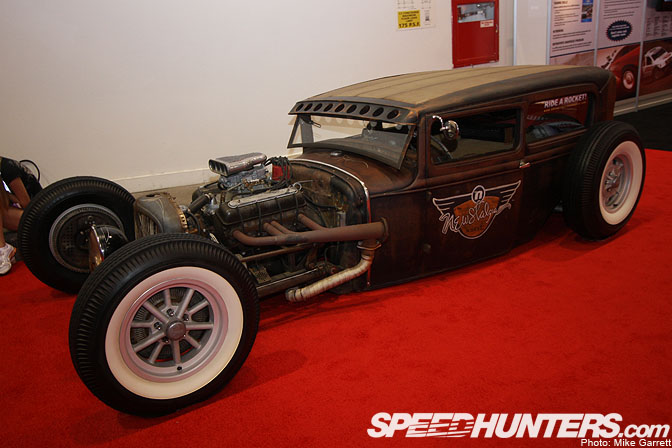 "Rat rods" don't really fit in with the flashy, high dollar builds that dominate SEMA, but this one was generating a lot of buzz. Maybe that's the point?
Back soon with more from Vegas!
-Mike Garrett