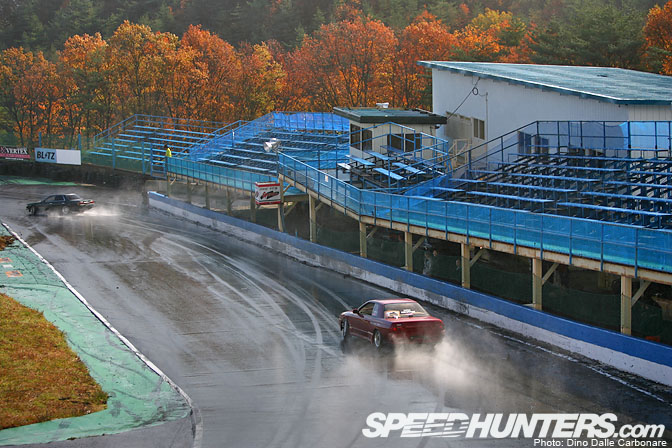 Well it's been one week since I headed up to Ebisu for the final Drift Matsuri of the year and I can't believe we will have to wait until next spring for another of these legendary events. The rain and freezing wind didn't for one second spoil what was an action packed weekend with cars sliding around on every track within the Ebisu compound for two days and one night. It's now time to wrap up the coverage with this final selection of my favorite shots.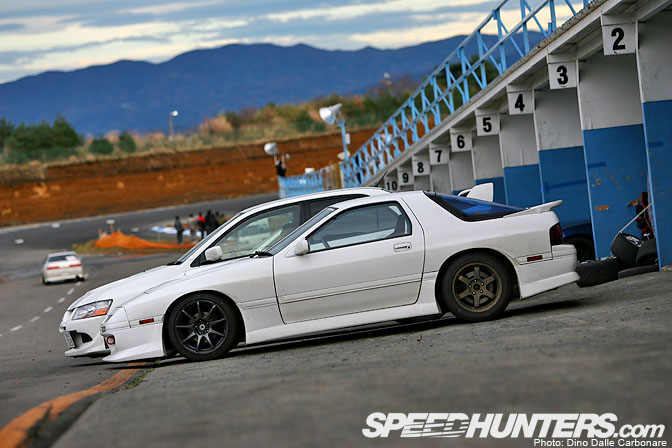 Once the sun began its dive towards the horizon late on Saturday afternoon I started running around like crazy to take advantage of the dying autumn light…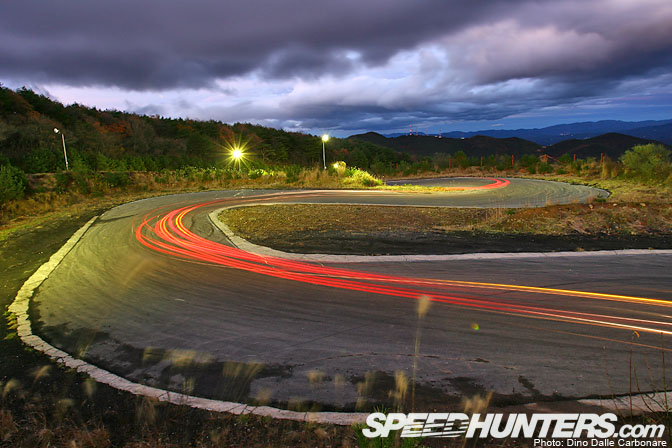 ….which gave some pretty nice photo opportunities. This is a group of 5 cars drifting around the Kita course, one of them was Shino behind the wheel of Alexi's old R32 Skyline GTS-t. Check out that mean looking sky!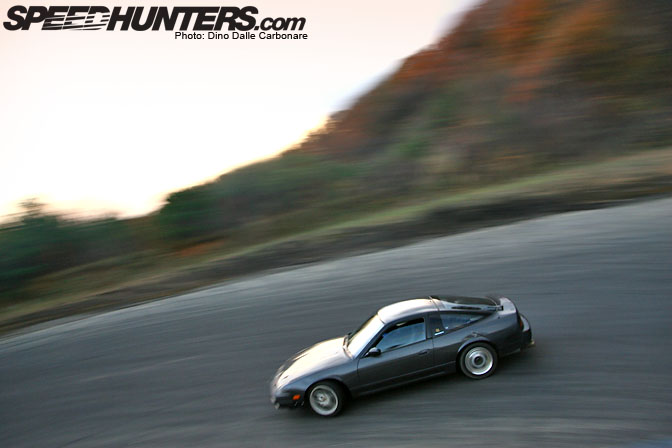 It's just so hard to pick a favorite course in Ebisu, but for me Kita is always one of the best due to that first hairpin corner where cars come in at full blast after setting up way back into the main straight.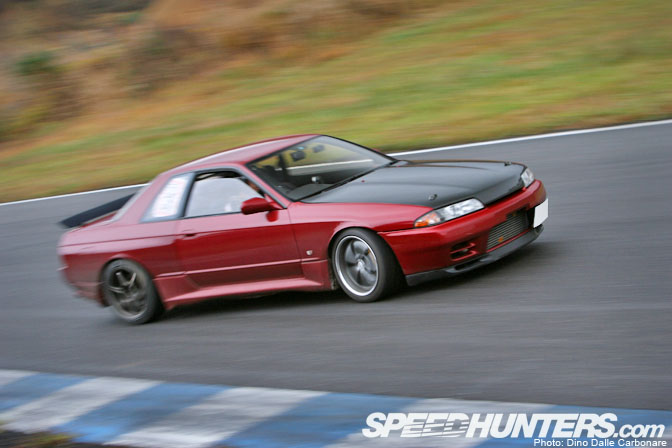 Higashi, which is pretty much the same length as Nishi, as always had a great mix of cars…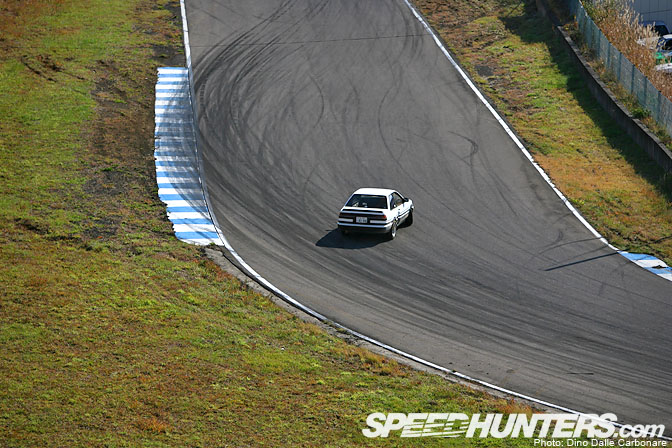 …some taking advantage of the wider track for some drifting…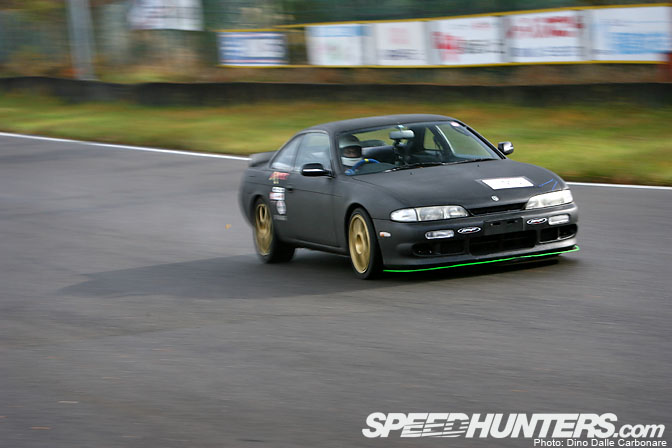 …while others like Adam from Feast Auto Export preferring to grip. His NA S14 Silvia Q's has just been painted in flat black and fitted with a cool Rocket Bunny ducktail spoiler, not to mention a custom made front diffuser finished off with a green fluorescent strip like on the Super GT GT-R! To boost power the SR20DE is fitted with high-flow headers and a 5Zigen 304 speed exhaust while a Mine's ECU takes care of the engine management.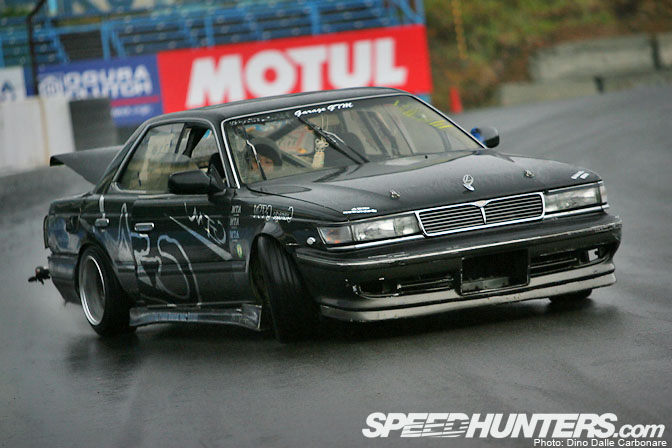 Meanwhile the carnage back down in Minami continued…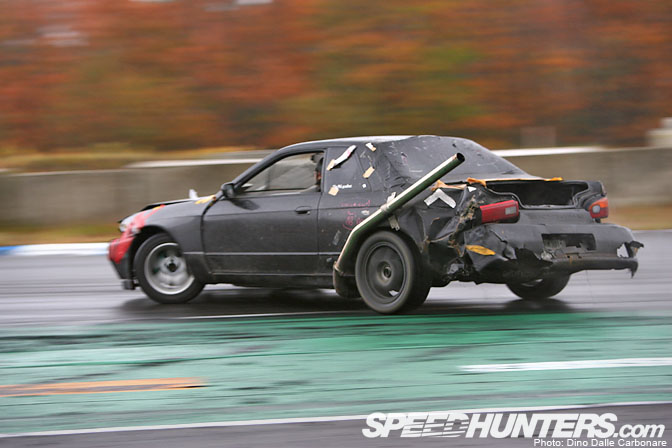 …with the regular missiles! Yes this thing was really loud! Kind of reminded me of those crazy tuned scooters you see around Tokyo!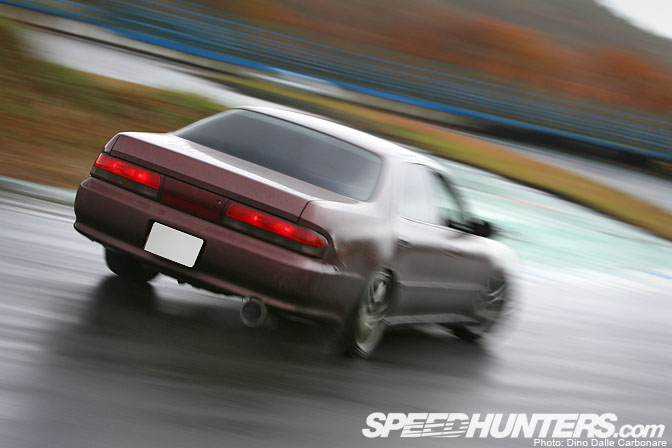 The driver of this maroon JZX90 was edging closer and closer to the wall and at one point managed to hit it slightly, scratching the otherwise spotless Cresta.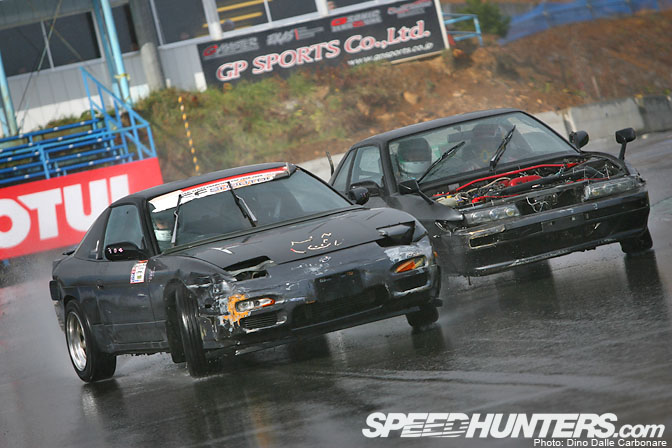 Daigo Saito in his beater S13 was playing around with his friends in some tight battling, practicing to stay as close as possible when chasing. There were quite a few D1 drivers out in Ebisu over the weekend, including the legendary Yasuyuki Kazama who I spotted walking around in the pits.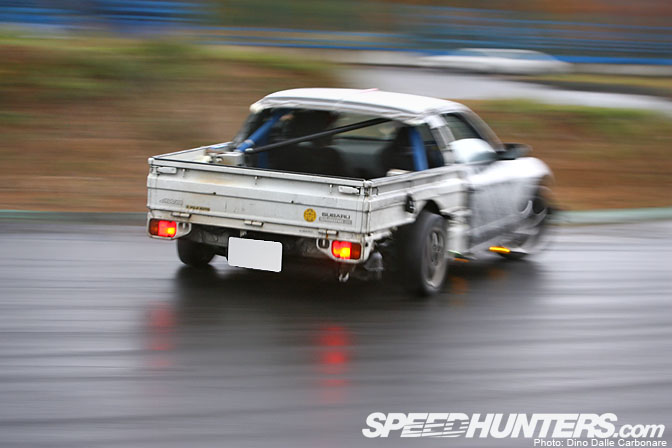 Now here is something new, an S13 pickup!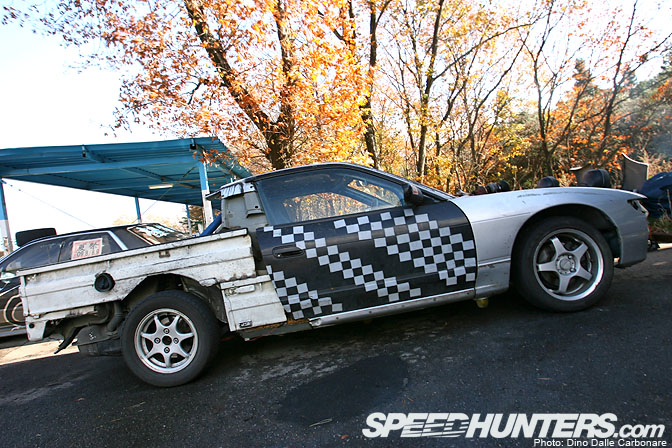 We have already seen this car at previous Matsuris, the S13 sporting a "top" mounted turbo that sticks out of the engine bay. Well, it seems the damage that it was subjected to in summer was too much, meaning it had to be fixed, so what better way to do this than to welding a Subaru Sambar rear end on to it! It was almost disturbing to look at!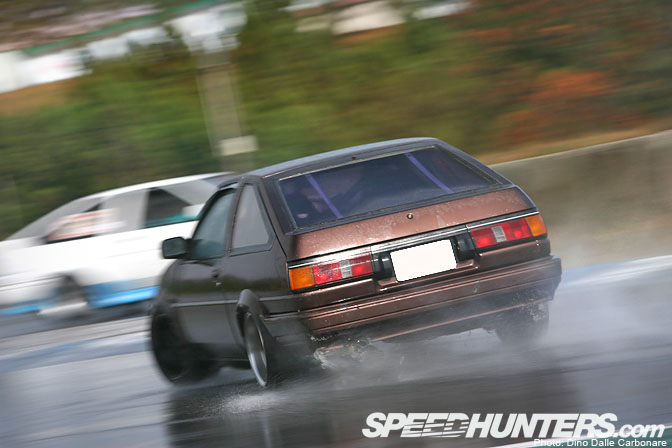 Ah, that's more like it, a nice and clean Levin doing its thing under typical Ebisu weather.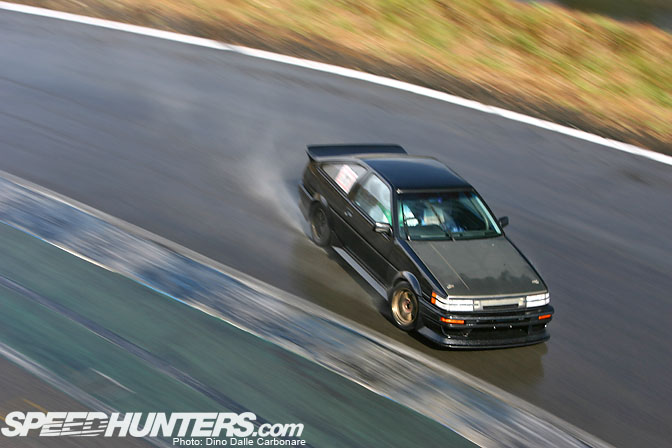 With AE86s disappearing quickly from the professional drifting scene due to lack of much-needed power, it is always so nice to see some cool examples at these kind of events.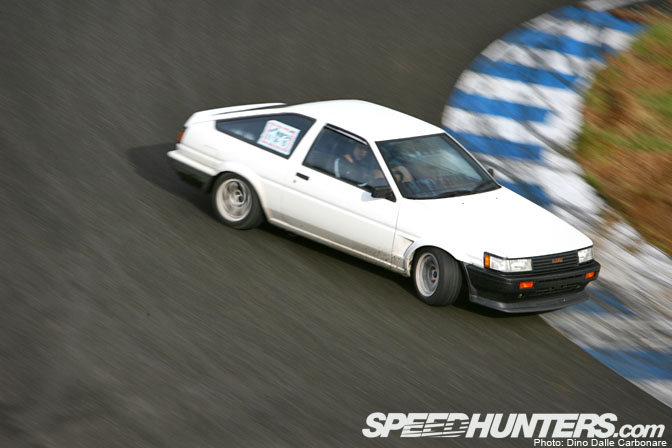 Here is another one tackling the in-field hairpin on the Higashi course.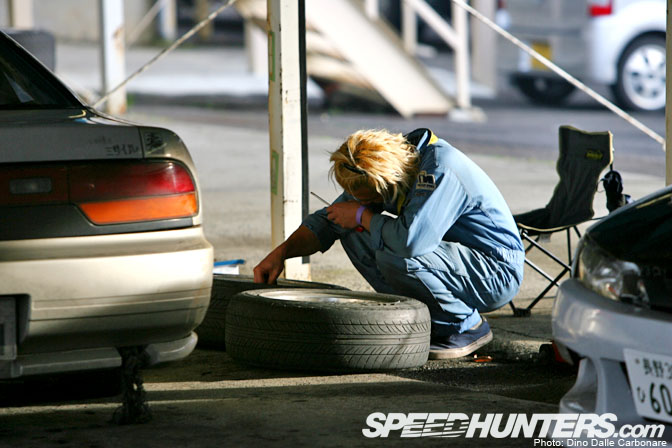 After doing countless wet laps on Minami, Bomber had to come in for a change of tires. Here he is busy at work after a quick tire pressure check.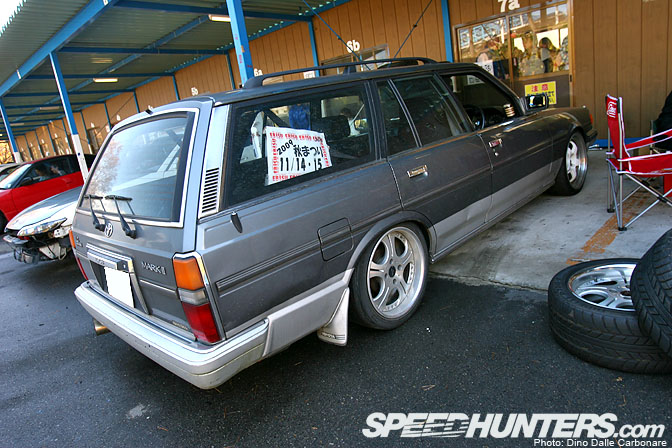 I never got to see this in action but had to grab a shot as it's not ever day you see a MarkII Wagon at drift days!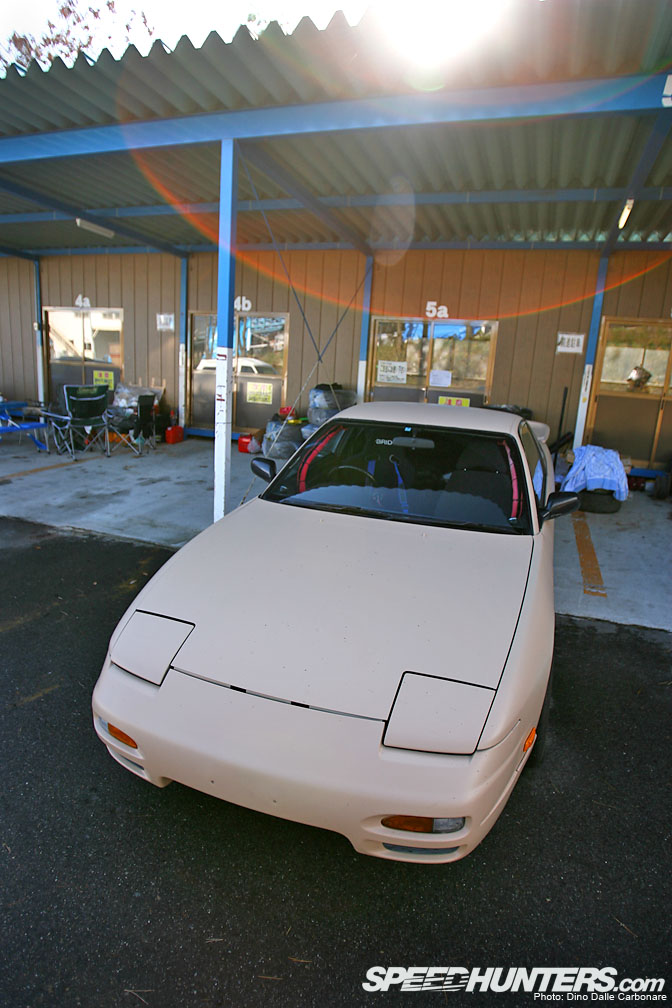 This 180SX was sporting a very similar satin paint finish to Drift Samurai's FC3S. Gotta love matte colors!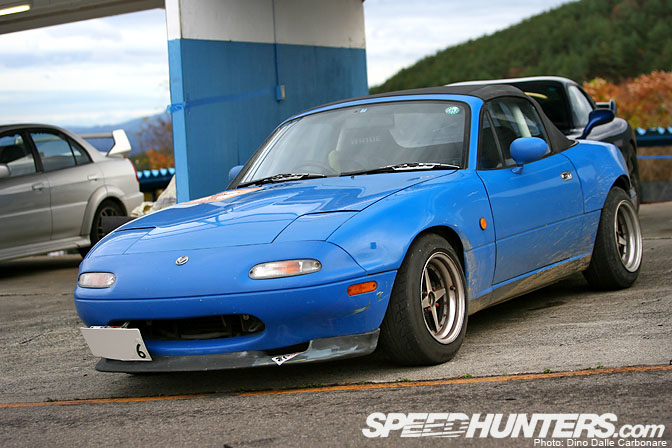 If only this NA6 sat a little lower I could have done a nice spotlight post on it. Nonetheless, it looked fantastic sitting on those old school Equip's.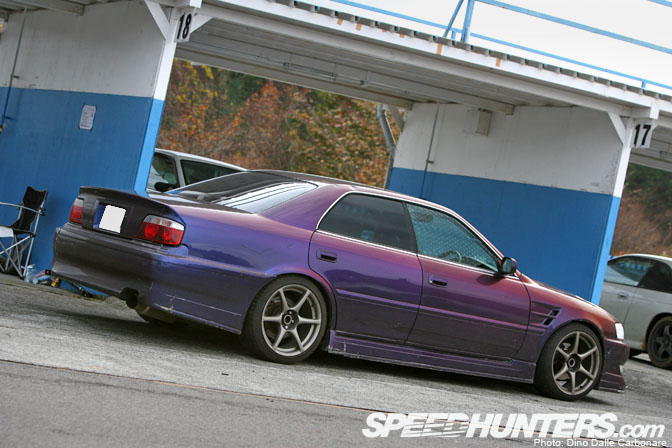 This JZX100 Chaser was finished off in a wild flip-color that reminded me of the Midnight Purple 3 as used on the BNR34. The GT-R similarities didn't end there as the car was fitted with R34 GT-R 18-inch stock BBS wheels!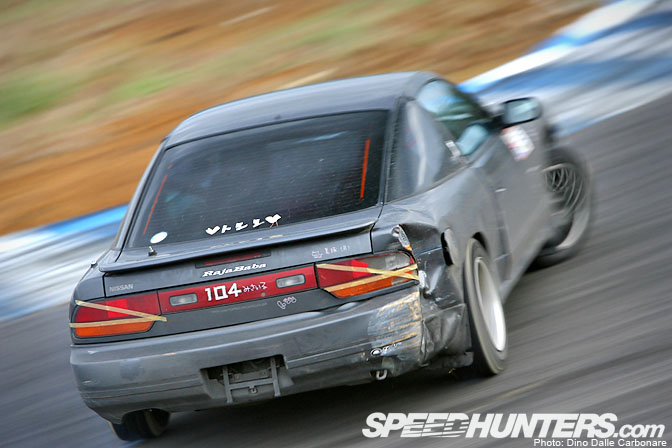 One of the Raja Baba crew out with his missile.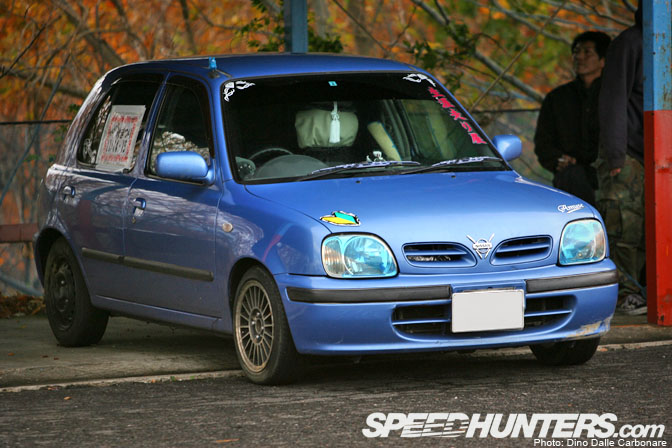 Having fun at a drift event doesn't mean you need an expensive RWD turbocharged car. The owner of this K11C Nissan March was getting the tail out thanks to heavy use of his handbrake. I didn't have a look but his rear tires must have been flat-spotted to death!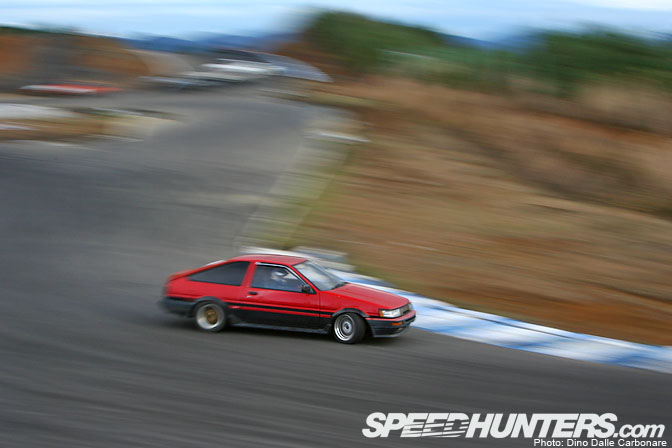 Tons of drivers flocked to Nishi on Saturday afternoon once the short course was opened.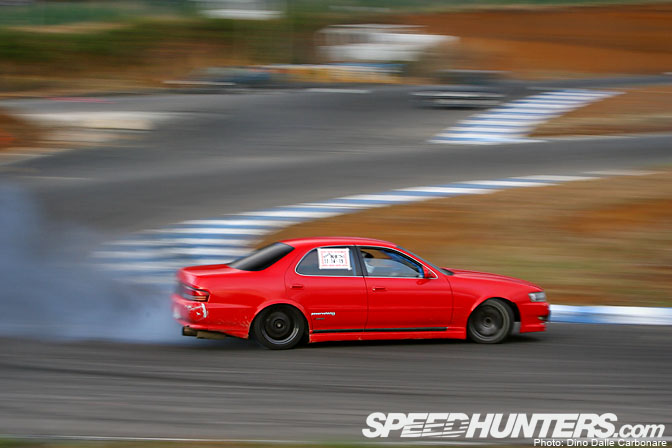 One of them was Andy, who was practicing his lines through the technical layout.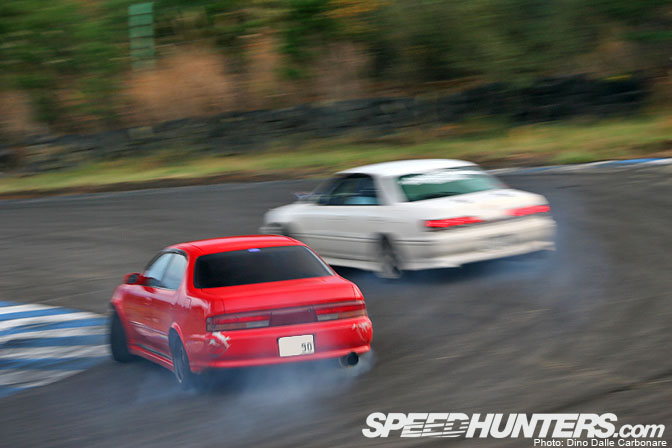 He was having fun doing tandem runs with Alexi in his JZX100. You gotta love seeing big heavy Toyota sedans getting sideways, and there were plenty of them around…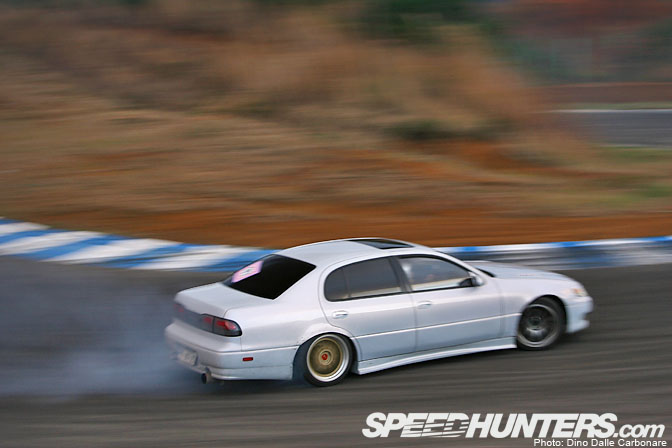 …like this JZS147 Aristo…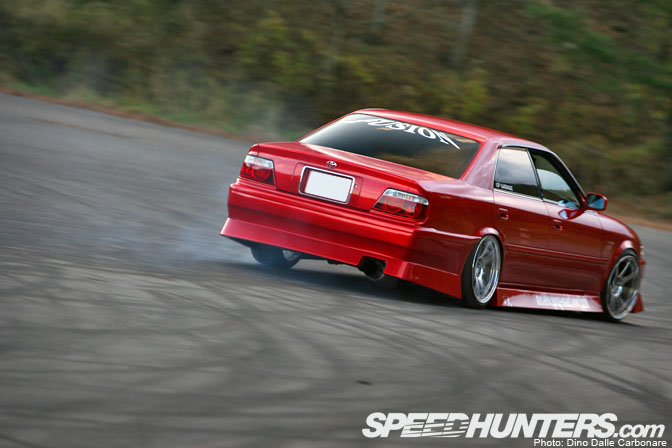 …or this super clean Chaser practicing doing figure eight's at KuruKuru Land.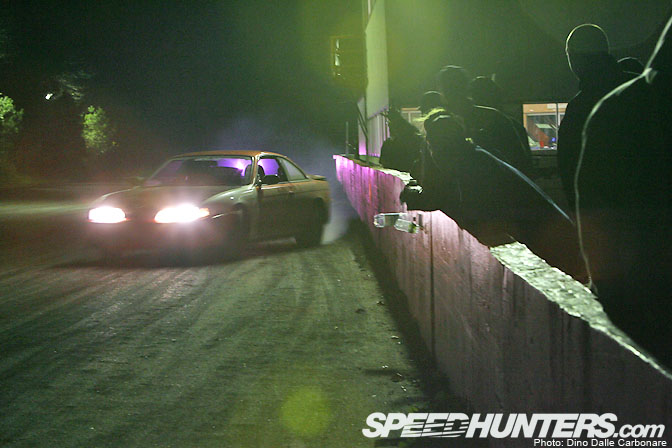 As a final image I chose this night shot of Benny Mack going straight for one of those plastic bottles that were strategically positioned into the pit wall up at the Kita course. He hit the bottle time and time again rearranging the profile of his S14 with every scrape. That's what you call precision!
That's it for the final 2009 Drift Matsuri, preparations are already starting for the next one with Andy at Powervehicles.com getting even more requests to source cars from people coming over from Europe and the US. Hope to see all the regulars back in Ebisu for this, not to mention for the second G1-GP! Can't wait!
-Dino Dalle Carbonare