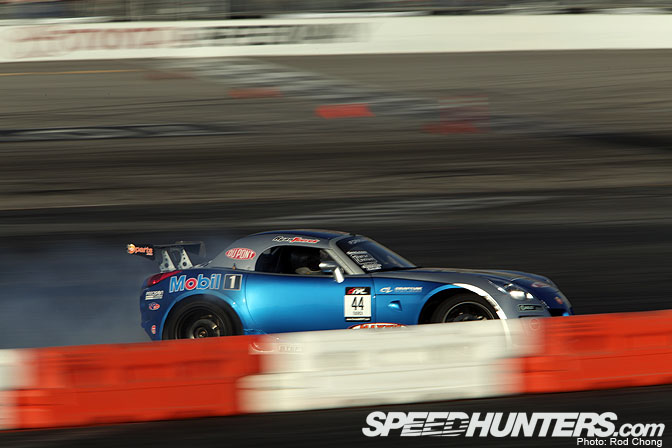 What's up everybody? My name is Ryan Tuerck, I'm a 25 year old who competes in the premiere drifting series in the US, Formula D. I have been in some form of racing for the better part of my life. I grew up racing Motocross with my two brothers. I raced for 10 years starting as a novice on someone's old used equipment and finishing as a pro on a brand new bike. Motocross taught me a lot of useful skills that have carried their way into drifting, making the transition to cars very natural.
I drive the Gardella racing Mobil 1 Pontiac Solstice. I started with Gardella racing in 2008 with a mostly production based car. We finished the season with a career high 6th place in the Formula D championship. This year 2009, Gardella racing pulled out all the stops, leaving no bolt untouched and built a drift car with the hopes of winning the '09 Formula D championship.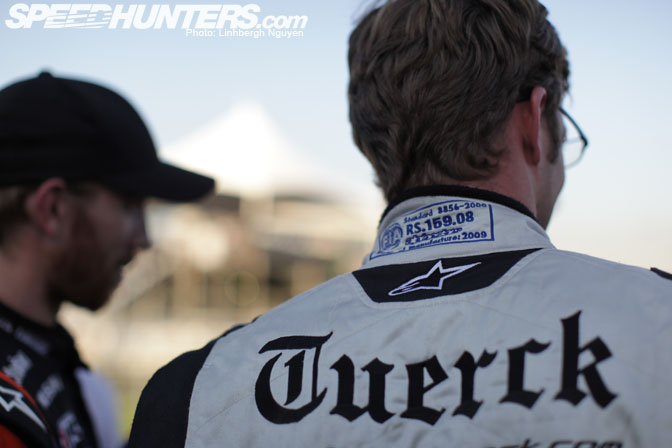 I got into drifting in 2002. I didn't know what the sport was at the time. A friend of mine picked me up from work in a '92 mustang GT. We went on a Hell ride around town doing burnouts and donuts at every stop and at that point, being a wreckless teenager, I was hooked. My brother and I pooled our money together to pick up our own 1990 Ford Mustang LX. That summer my brother and I would take it out at night teaching ourselves car control. Towards the end of the summer I found out what drifting was from watching videos on the internet.
I sold the mustang and bought my first of many Nissan 240SX's. Englishtown started having drifting events in 2003 the last Wednesday of every month. The first sanctioned event I went to was at Englishtown town NJ where I met Chris Forsberg, Tony Angelo, and Vaughn Gittin. They would have these mini competitions at the end of the night and I ended up winning the first one I showed up to.
The rest of that year I went to every Wednesday event they had. I would drive my car 5 hours to NJ to drift all night and then drive through the night for work the next morning.  A lot of my progression in the early stages is credited to watching D1 videos. I would stay up all hours of the night watching the in car footage and just studying how they drove. The next day I would go out and try to apply it to the street. I got in quite a bit of trouble those days.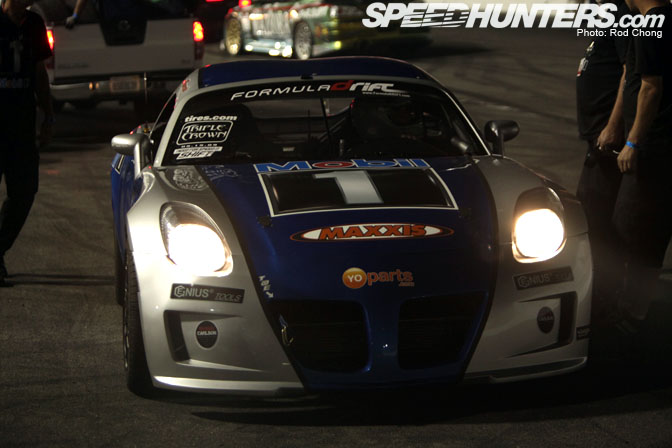 Before hopping in the Gardella racing Pontiac Solstice the only other car I had driven was a 240sx. I knew it was going to be challenging to say the least. The Pontiac Solstice has a 3" wider trac and a 2 ½ " shorter wheel base compared to the 240sx. Because of this it makes the car a little bit more twitchy. So it took some getting used to.
The 2009  Gardella racing car is truly amazing, the best drift car I have ever driven. Gary pulled out all the stops on the '09 build. The chassis was stripped bare all the unnecessary weight was cut out. The car was then sand blasted, powder coated. The roll cage was cut out and redone by Mike Whitney and Scott Davidson at Gardella racing for better safety. GM racing supplied us with factory works engines that are making 500 wheel horsepower with a Precision turbocharger, the most I have ever had.
The manifolds are custom Gardella racing exhaust and ITB barrel valve intake manifold setups. ACT made us a clutch setup that would work with the Quaife 6-speed sequential transmission. We have a quick change rear end in the car that allows us to choose between an infinite amount of gear ratios that can be changed in about 3 minutes time. Pro shock helped us out with the suspension setup. These are all parts that I never had previously as a privateer. At all times this year I felt like we had the best setup car in the field.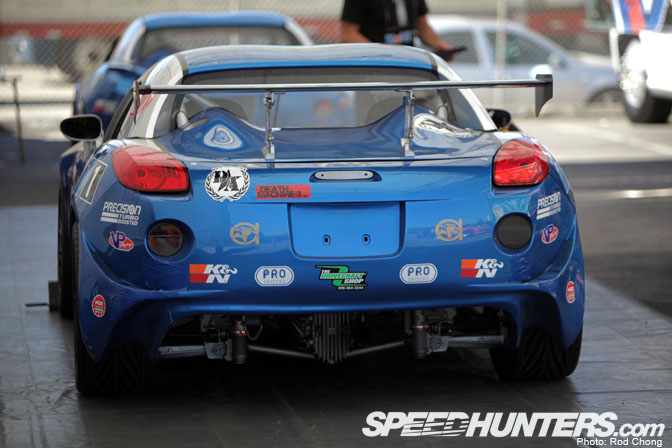 Another tool that helped us out this year was the "Race Pak," that was installed in the car. The Race Pak recorded all the data from our runs. After practice we could go back to the truck and compare speed and RPM's to help us find a better gear ratio for that specific track. We put on the lightest wheels that would fit the car, and utilized quick disconnect fittings from Stuabli in case we had to change an engine between practice and qualifying. This car build was 100% race car inspired.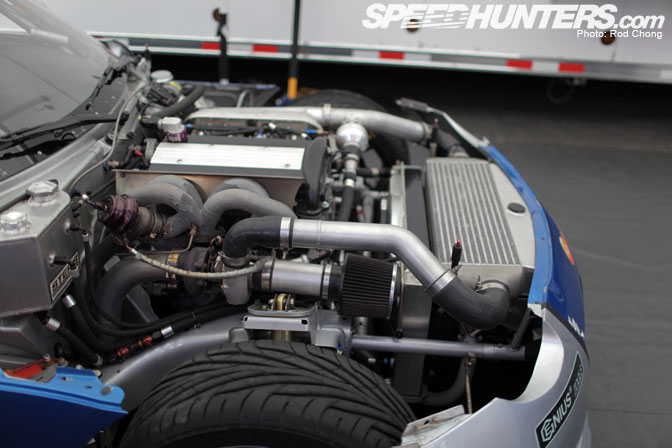 When asked if it's hard to compete with V8's with a smaller turbo engine,I wouldn't say it's hard. I mean there are definitely some pros and cons, but our Ecotec engine is making as much or more horsepower than a lot of the V8's in the field. The only real draw back is the lag time that it has, which comes with every turbo car. The only better thing about the V8 cars is that they have the torque and horsepower on tap pretty much throughout their entire RPM range, which makes the car a lot easier to drive especially in tandem battles.
My car has that tiny bit of lag time so when you go to clutch back into the power band after using the ebrake for a split second, the V8 car in front of you has been on power that much earlier than you creating a gap. This is only a slight advantage though. As long as you are comfortable with your car and it's setup properly you can compete with anybody.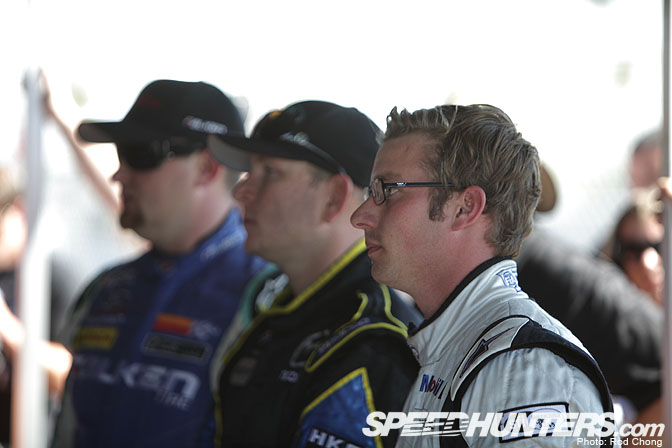 I take the judges criteria as my driving guideline, they are the directions on how to do it properly. It's really not that hard to digest for me. I remember pretty much everything they say and try to apply it to the track to the best of my abilities. Some days it works better than others.
The two guys beside me are "JTP," Justin Pawlak, and JR. These guys are my Drift Alliance brothers and good friends who I hang out with on and off the track all the time, bust balls with all the time, and just have an overall great time with. There is an overwhelming amount of pressure at the track a lot of the time and having guys like these to screw around with helps lighten the mood.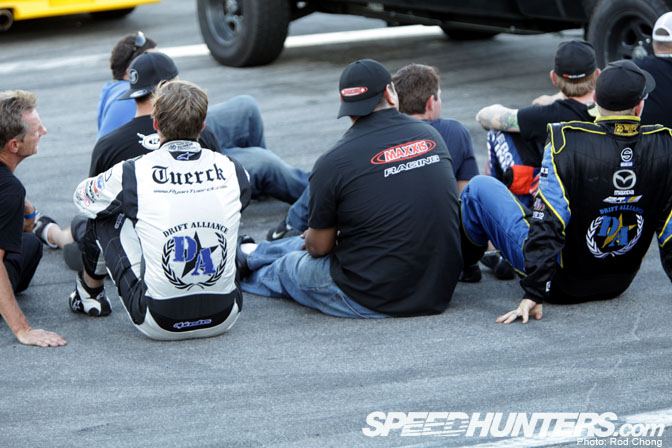 I met the founding Drift Alliance members before Drift Alliance was even Drift Alliance at Englishtown during my first event ever. Tony Angelo, Matt Petty (Another huge Ambassador in drifting and DA member as well) and Chris Forsberg were running events at E town. JR wasn't running the events but he was showing up to drive just like me. We all excelled pretty quickly and were competing against each other even back then at a grassroots level. Chris and Tony packed their stuff up at the end of that first season and moved to California. JR was still East Coast based so I kept a better relationship with him at the events I would still see him at.
It took me a lot longer to get my car ready to start competing with all these guys again. I was still plugging away doing every grass roots event I could and doing the "Drift Mania," professional Canadian drifting series. I finally met back up with all these guys in 2005 at the Chicago FD, where I had a really great qualifying run with a pretty much stock car – in todays standards. After the event the guys were telling me how they are going to put more dudes on the team that were ripping, and use all their resources to help them out with sponsors to make it to the next level. There wasn't any real initiation into Drift Alliance. It was them seeing that I paid my dues and that I was dedicated. The next year I was picked up by Cooper Tires and Discount Tires and was doing the whole Formula D season with a ton of sponsors.
We are all good friends. Everyone has a lot in common with each other and the same drive and motivation to excel in this sport, and I think that's what really brings us all together. It sucks that a lot of us live on the opposite sides of the country but we all hang out every chance we get when one of us or all of us are in town.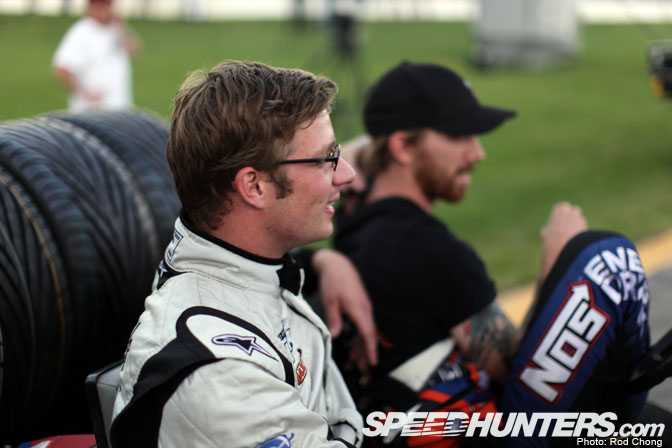 Forsberg was a nervous wreck at Irwindale, hahaha. I was busting his balls quite a bit. All in good fun though. I new there was the faintest of slightest chances that I'd be able to take the championship. Only if Chris had a mechanical failure or something ridiculous like that. So there was a competitive feeling. There always is. More so for him than me though. I expected him to win the championship and I would have been sorely disappointed if he made that big of a mistake where I took it from him.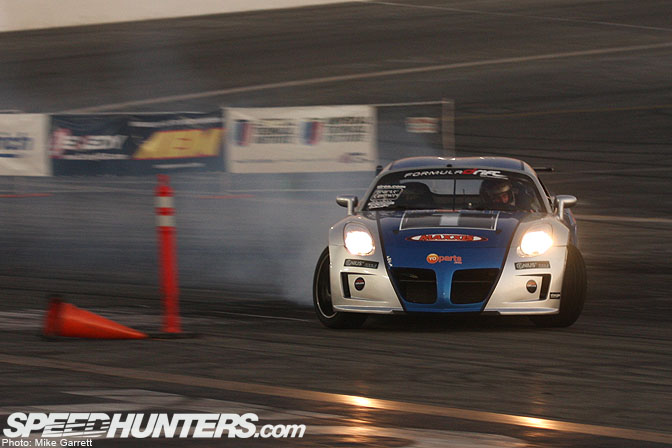 Qualifying is always my worst driving of the day. I'm always comfortable and killing it during practice, and as soon as qualifying comes around I'm a nervous wreck who can barely drive the damn car. The first qual run was going alright but when I flipped back into the lower bank I had straightened up a little bit and wavered, so my score suffered. I think I had a 74. something and was sitting in outside the top ten.
The second run I was able to calm myself down and say "screw it, I'm going to put this rear end in the wall". That got me fired up and I went out super clean on the bank hit my clips really well, drove into the lower bank faster and harder than I had before, came super close to the wall and pulled it off. I ended up qualifying second and keeping the championship alive one more day.
Haha, I gave Forsberg one more sleepless night.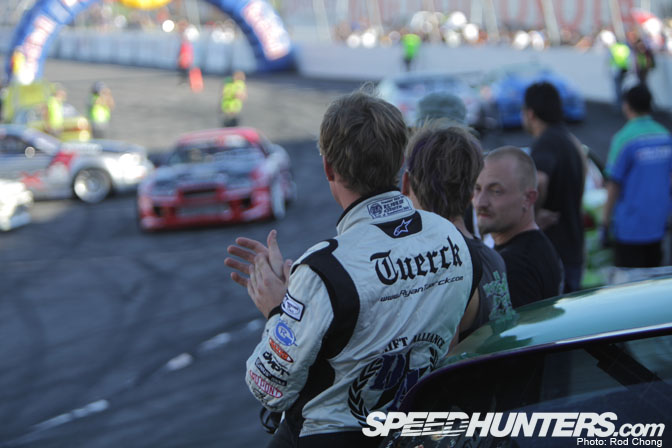 Here I'm hanging out with Matt Powers and Ross Petty. I'd consider them friends for sure. I've known Ross since I started in FD and he's always been real humble to me. Matt Powers and I met in 2007 at the Grassroots Just Drift events. He's come along way and it's awesome to see someone like that come this far.
Watching your fellow drivers run is like homework, sort of. I love watching these guys in general just pushing the limits all the time and driving the crap out of their cars, it's really exciting to me. At the same time I'm watching how they are entering, how fast they are looking, how hard they are throwing the car around, I do this because you are going to have to drive against some of them at some point, and it's really useful to be able to know what they are doing on the track so you can come up with a game on how to run them in tandem battles.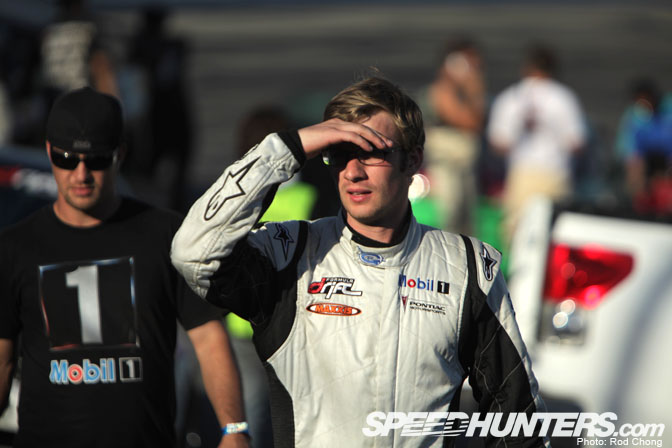 Come Saturday I was feeling good about the whole day. I came into the day just saying to myself "who cares what happens. Just go out their and have some fun," It's really hard for me to have fun sometimes with all the pressure I put on myself and it usually makes me not drive that well. So I was able to uncharacteristically go out and have some fun.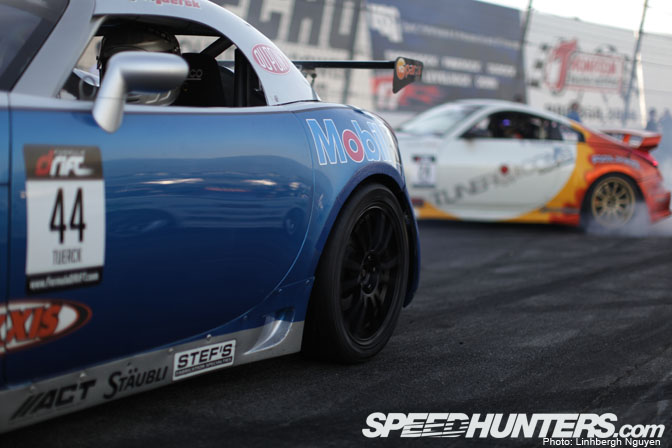 The first battle I had Matt Waldin, who I have known from drifting on the East Coast since probably 2003. I had been watching him the previous night in practice. I didn't really have much of a strategy with Matt. He was looking really good in practice and his line was really consistent. I just wanted to run some really clean lines and just stay close to him.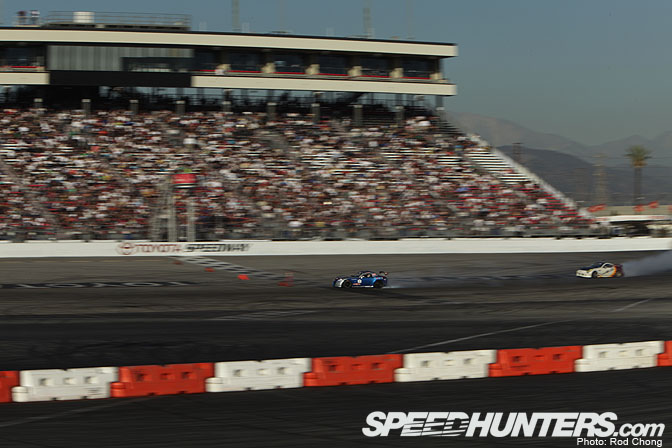 The first run was going great, but right after this picture when I flipped back into the lower bank I flipped way too early and had a super shallow line. I was a little upset, but knew I had a big gap so it wasn't the end of the world.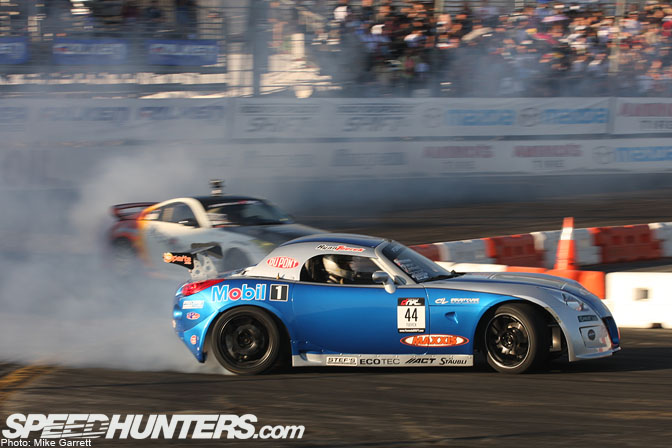 Just before this picture you could see me hugging those inside barriers. Not where I wanted to be.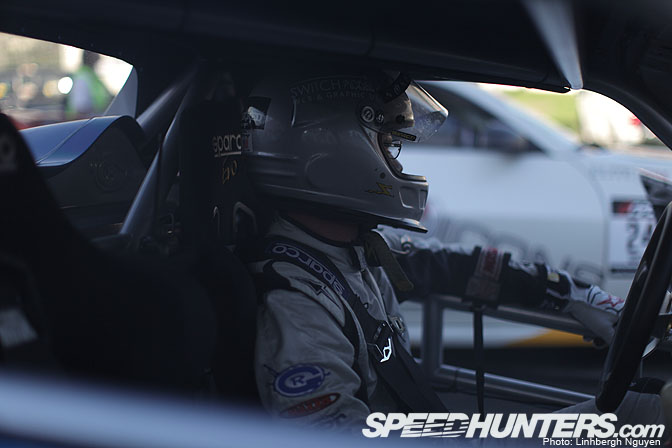 After the first run I was a little pissed at myself, but just had to hold it together to follow him and try to lay down a super clean and close run.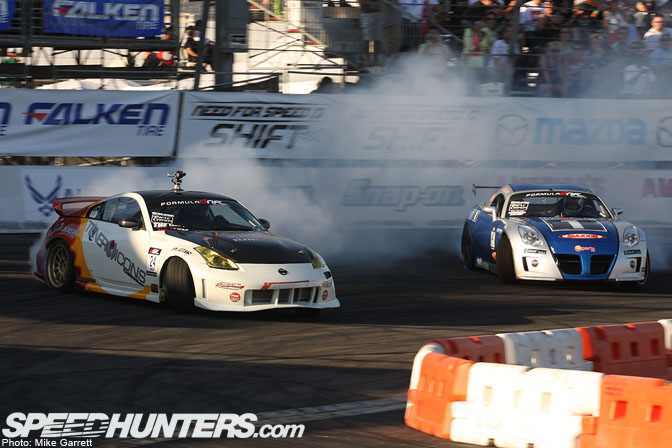 The next run I butchered the outer bank trying to stay close and overall it was as bad as my first run ,but I did stay close to him. After the run when we were waiting to here who won I was ripping my helmet off in disgust thinking that we definitely lost the tandem round. I was pretty shocked when they said I had moved on.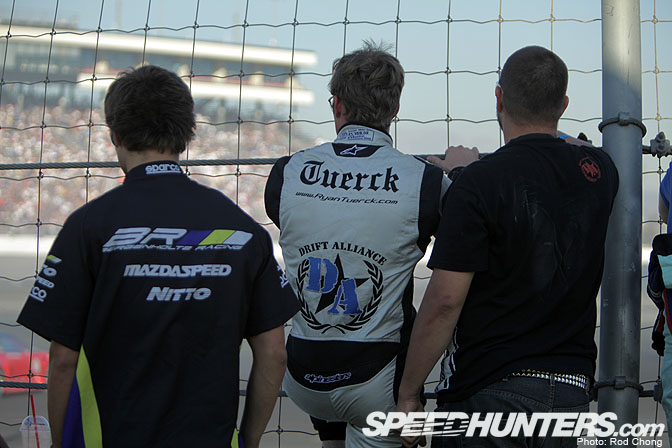 I was nervous for Forsberg. Van Den Brink was running some super clean lines and they had a OMT. I was freaking out because I knew Forsberg was a nervous wreck out there. Haha, he ended up pulling it together though.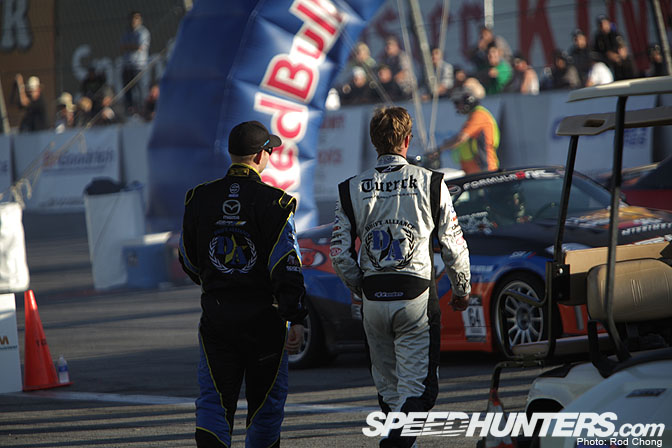 After the OMT we knew that he was going to move on, so I grabbed JTP and headed over to rip him out of the car and throw him in the air as a congratulations.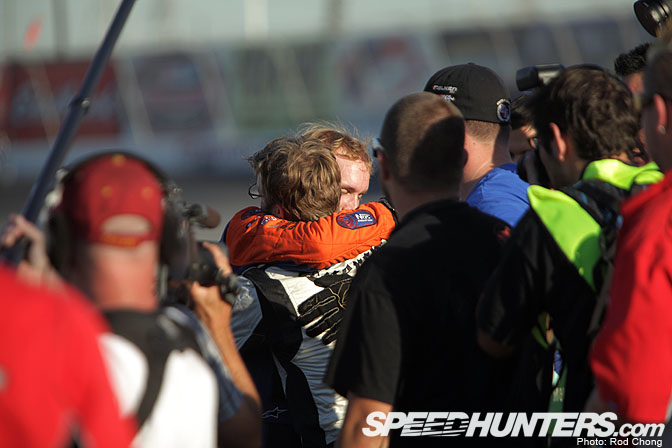 Like I said earlier. I would have been disappointed to see him loose the championship with that far of a points lead on me. I was super excited for him. He's been after the championship for a long time and watched it slip away in '07. His time finally came and I couln't be happier for him.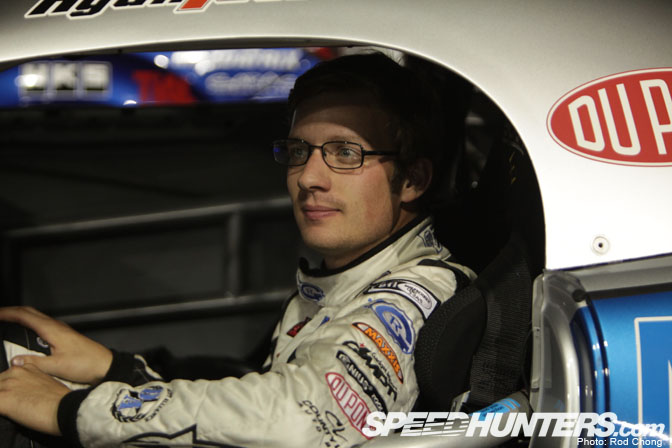 Heading into the Top 16 I was feeling good. The crowd at Irwindale was HUUUGE and it felt amazing to be there. I had to run Ken Gushi in top 16, who I had run in practice so I had a really good strategy on how I was going to run him.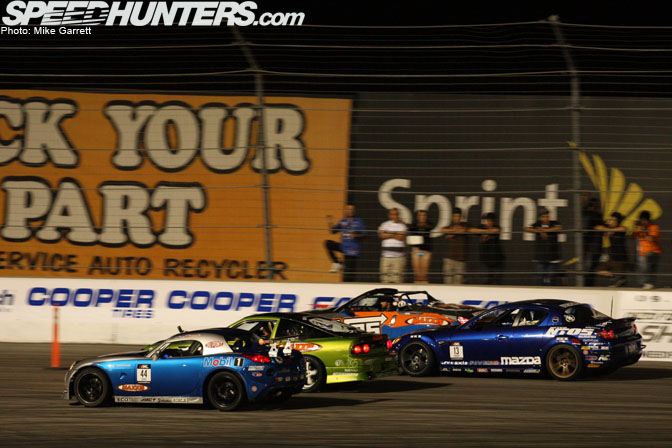 That's myself, Joon Maeng, JTP Justin Pawlak, and Chris ( The Champ) Forsberg all  going out for opening ceremonies. All of us do this because we are all friends and a part of something we feel is special. This is the last hoorah before we have to go to battle against each other on the track.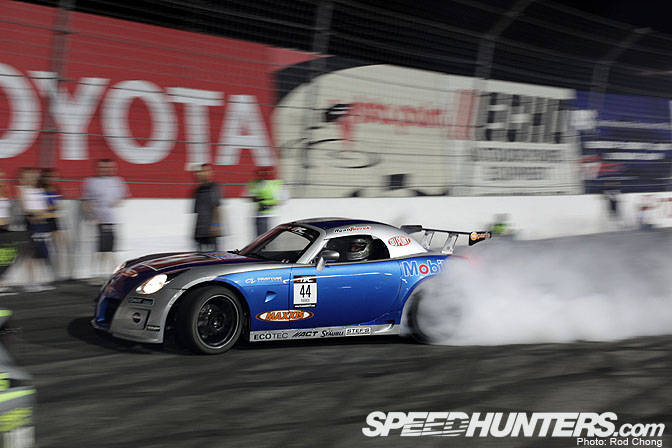 At Irwindale we were putting fresh tires on for every tandem round,
where as we usually run tires that have had a lap put on them from
practice. I needed scrub the new tires in really well so they would
feel grippy on the track. I get really fidgety in the car before I'm
about to run. It helps keep my head clear and focused on something
other than what's about to happen. I like having a clear head before I
hit the track. When I'm essentially thinking about nothing is when I'm
the least nervous.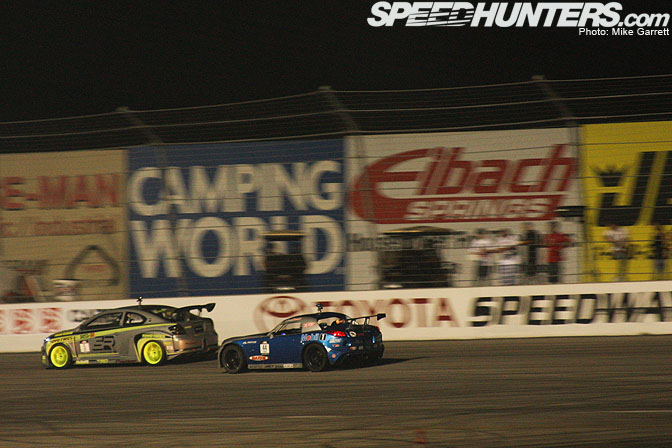 I knew I had a solid lead lap against Gushi, so I just wanted to stay close and run
clean. Gushi was running slower than I was into the bank, so I had to
give him a little bit of room.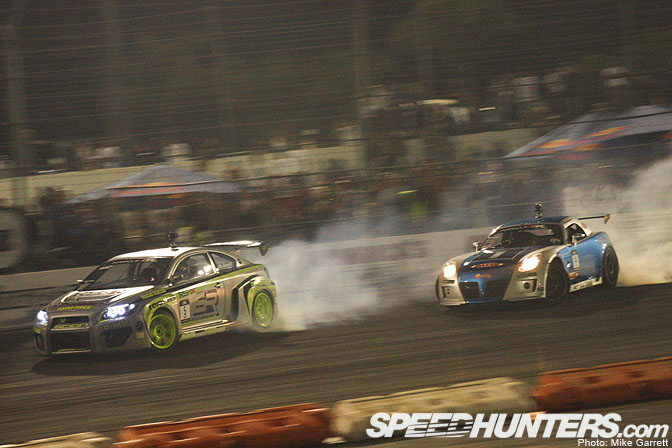 Gushi was running a super clean line, but I was faster and able to stay really close to him to get the win.
I knew Robbie was going to be tough. He was running really well all weekend and always does great at Irwindale. I really like having the lead lap first because it's easier than following and gets you comfortable for the chase lap.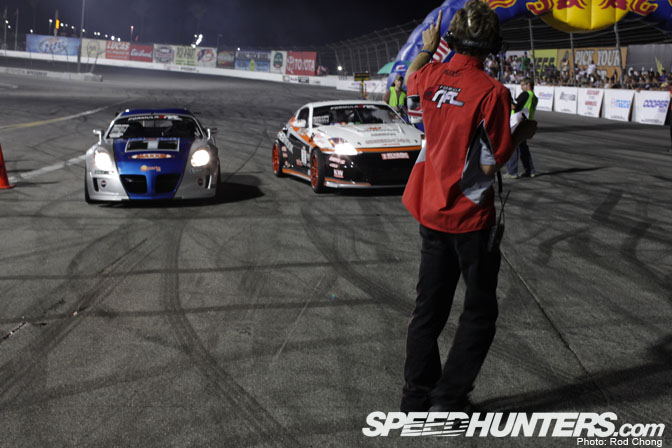 When I hear of an OMT I'm like "Son of a , what do I have to do to win?" I knew it was going to be close so I wasn't really that surprised.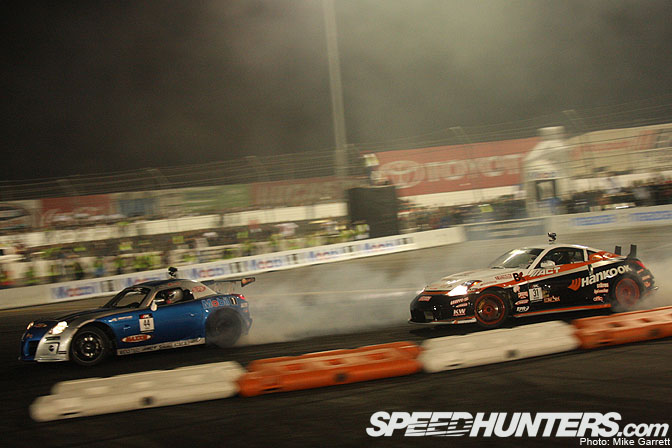 In the next set of battles I pretty much mimicked my first lead lap against Robbie. During the chase lap Robbie gapped me on the bank a little bit and exiting the upper bank he had a huge correction and straightened out quite a bit. I knew all I had to do was finish clean to take the win.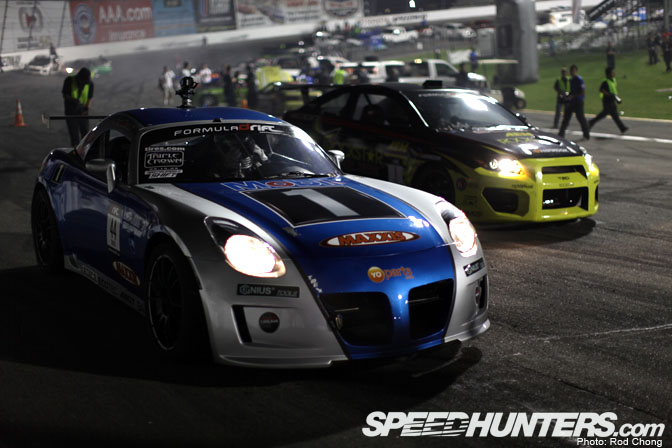 After beating Robbie I felt like I was unstoppable and everything was clicking really well. I had lost to Tanner Foust at Irwindale in 2008 so I wanted some revenge.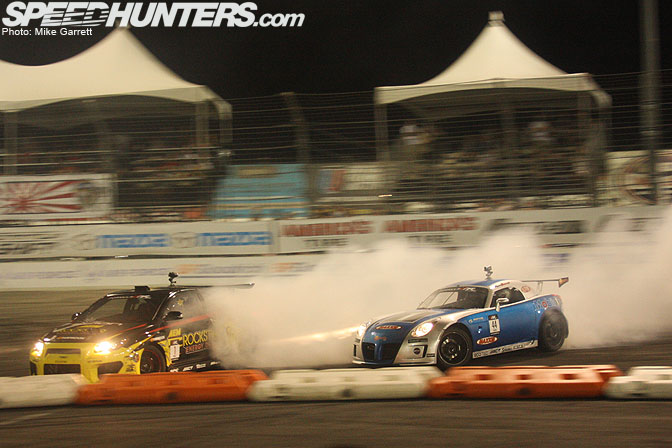 I was leading first since I had qualified better than he did, so I knew I had an advantage right off the bat.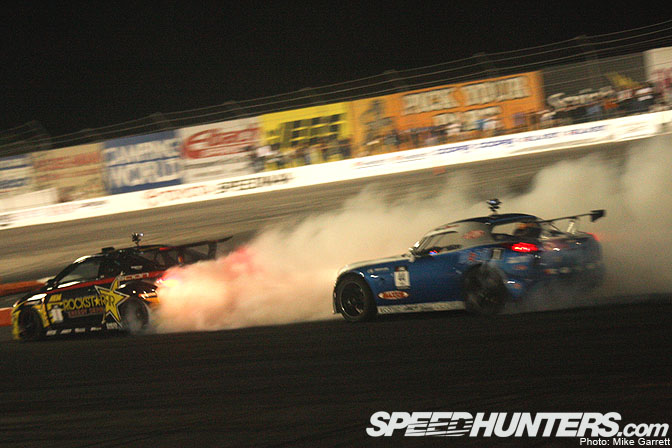 During the first lap I pulled off a super clean, fast lead lap. Tanner was fast and clean as well, but I put a little bit of a gap on him. My chase lap I followed super close. Tanner gapped me a little on the upper bank, but I was able to close it by the exit and just stuck to him like glue the rest of the lap. I got the win.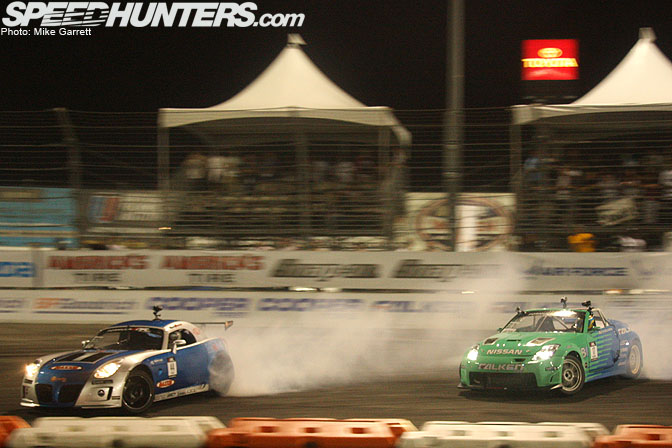 Tyler was killing it all day. He was super fast on the bank so I knew all I had to do was stay close and I would have it in the bag.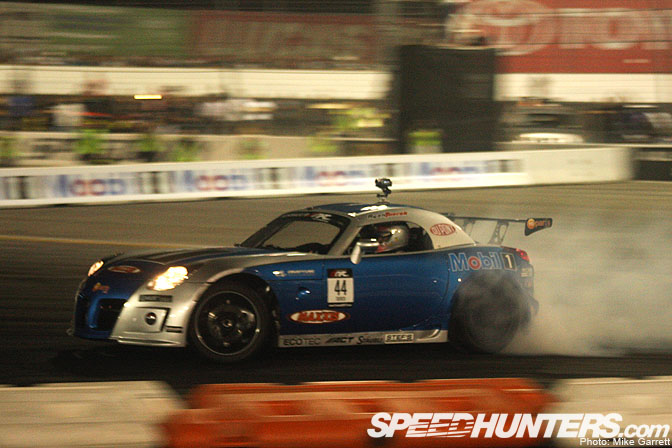 The lead lap I just kept killing it and laying down super consistent qualifying style runs. All I had to do was stay close to him to take the win.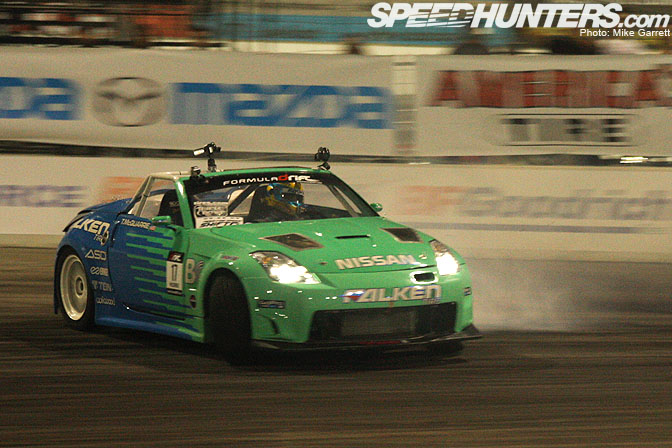 During the next run Tyler gapped me on the bank, exactly what I didn't want to happen. But I had caught him quite a bit at the exit. We both nailed the clip and flipped back into the lower bank. I saw Tyler start to straighten his front wheels and noticed that he had wayyy to much speed. He was going to hit the wall.
At that split second I new I had the win. Tyler ended up hitting the wall and spinning out. I drove around him cleanly and finished the run.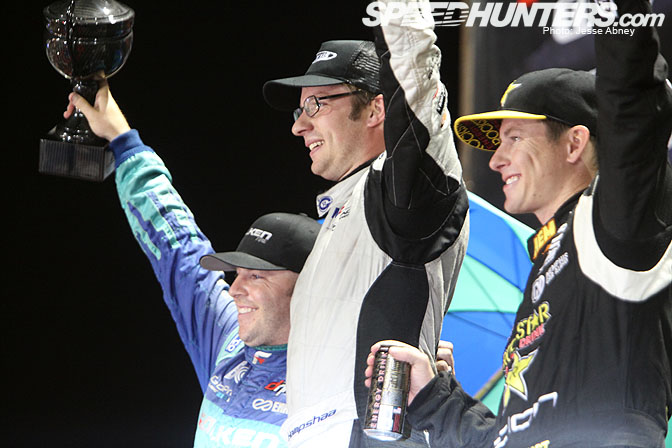 There was absolutely no better way to end the season. Now I can sit back for the next 4 or 5 months and think about how awesome it was to finish the season off with a win. It was great to do it for the Gardella racing team. We all worked so hard this year and for a while we were bummed out watching our championship dreams slip away, but this brought everyone's spirits up again and it should be an (awesomely!) boring off season.
I'm not too sure about next year at the moment. I am a free agent at this time but would love to stay with Gardella racing. I know Gary is really close to locking some sponsorship up for next year so only time will tell. I'd like to thank everyone who helped me out this year. Couldn't have done it without you. Gary Gardella, Mike Whitney, Scott Davidson, Bruce Soltys, Mobil 1, Pontiac, Maxxis tire, Dupont Paint, Genius tools, County line auto body, YO Parts, ACT clutches, Precision Turbo, Norm's Fiberglass, Pro Shocks, Staubli, NGK, Wilwood brakes, Driveshaft shop, Stef's Fabrication, Animal Bikes, KnN, VP race fuels.
Thanks again everybody for an amazing season. I will see you next year.
-Ryan Tuerck