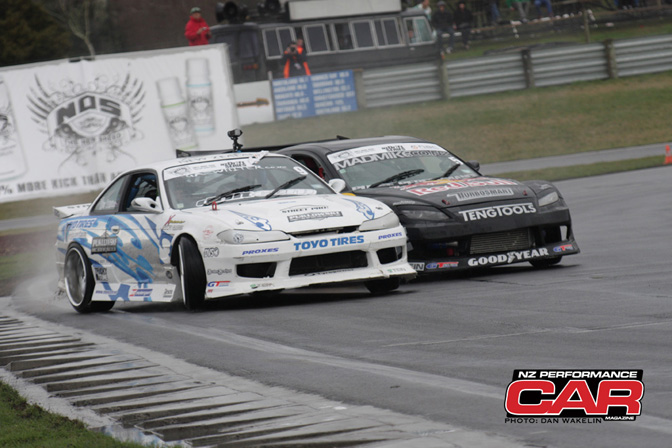 The mid-way point of the NOS Energy NZ Drift Series in association with NAC Insurance saw competitors head to the central North Island circuit of Taupo Motorsport Park. Two rounds into the series, Gaz Whiter had established a solid lead in the championship run. However, hot on his heels was Mad Mike Whiddett.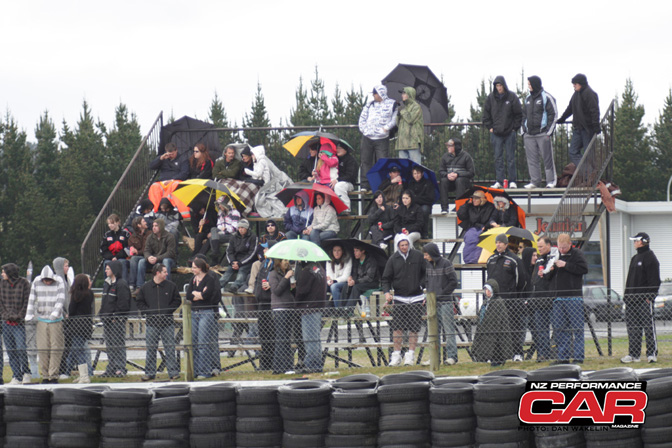 While the day dawned dry, no sooner had battles started that the conditions shifted from damp, to monsoon-esque. Round three added a new dimension to the Taupo section, with drivers asked to run a wide line around an outer clipping zone around the final corner. Where others struggled, Mad Mike Whiddett destroyed the competition, qualifying with a 99.17 run, nearly 5 points clear of Carl Ruiterman in second.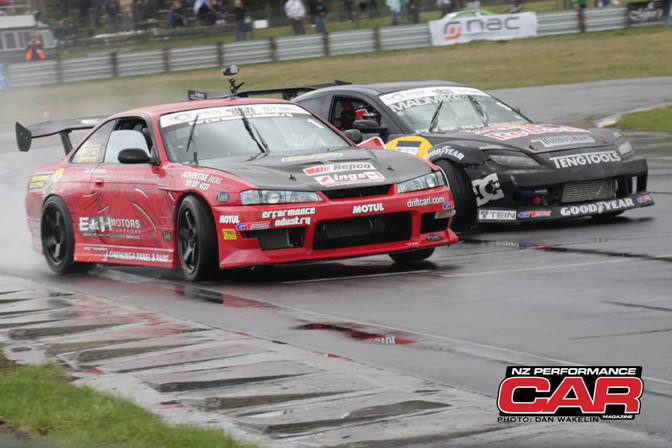 It was fitting that the number one and two qualifiers headed the podium. All day long, though Mike looked unstoppable, defeating 2007 and 2008 NZ Drift champion Carl Ruiterman for the top spot.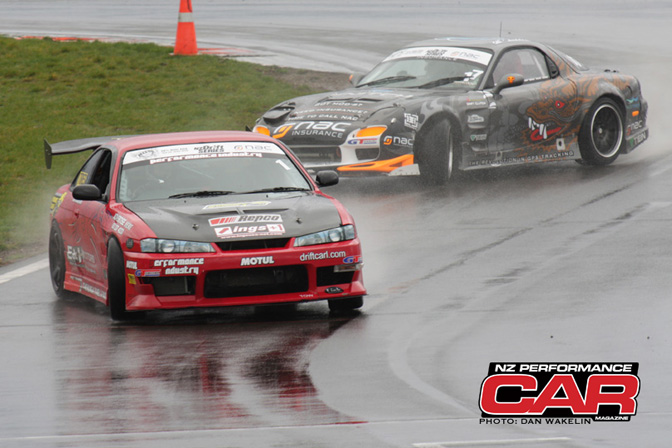 Despite making it to the final, Carl's toughest battle came against Daynom Templeman in the Best 8.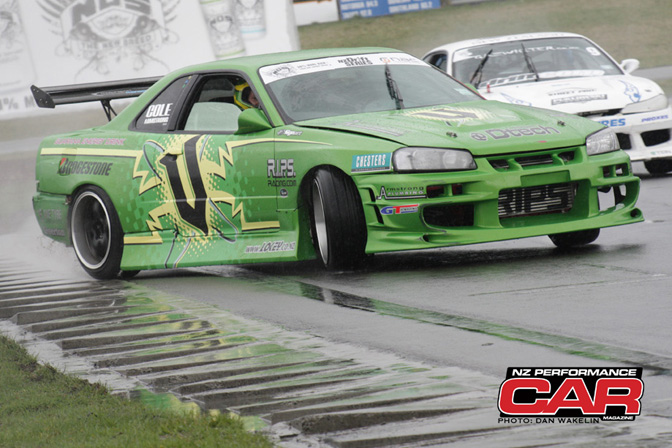 Cole Armstrong secured third on the podium, beating out Gaz Whiter after Gaz unusually spun twice. It was also the second time in as many wet events at Taupo in which Cole had stood on the podium.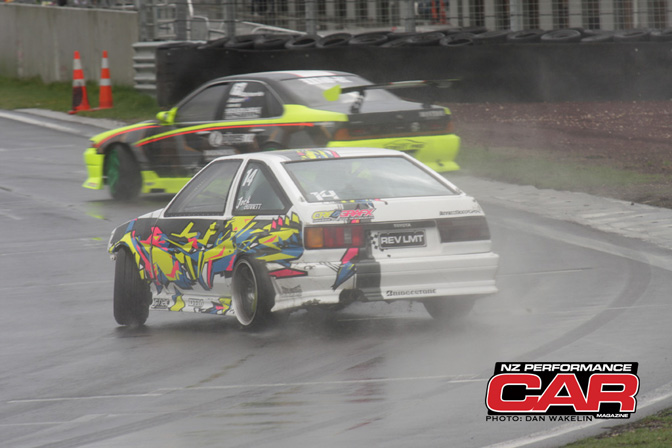 Ex-European Drift Championship competitor, Adam Richards, takes down Jock Bennett's turbocharged F20C-powered Toyota Levin AE86. Whose fluro job looks better?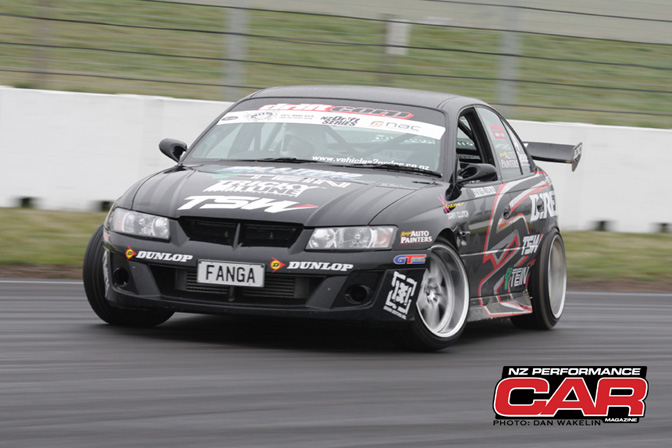 It was a tough day for Fanga Dan, who blew a clutch master cylinder before he left pit lane. Fixed in time to qualify his RB30-powered Holden Commodore, Fanga met Mad Mike in the Best 16. We all know how that one turned out.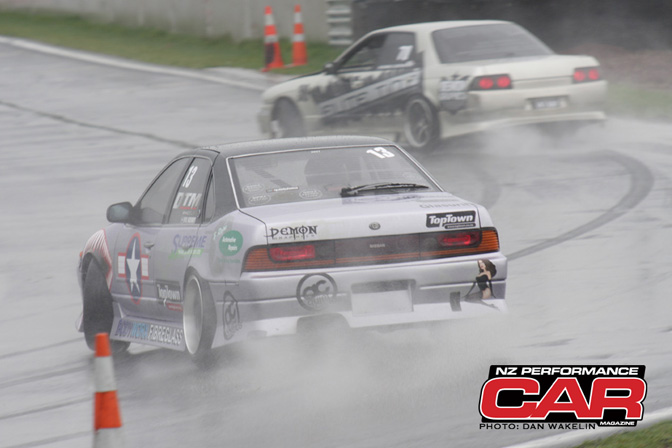 Kyle Jackways in his RB25-powered A31 Nissan Cefiro qualified in a solid third place. Pitted against first time NZ Drift Series competitor, Randal Liupuhi, the pair went for a re-run before Kyle half-spun.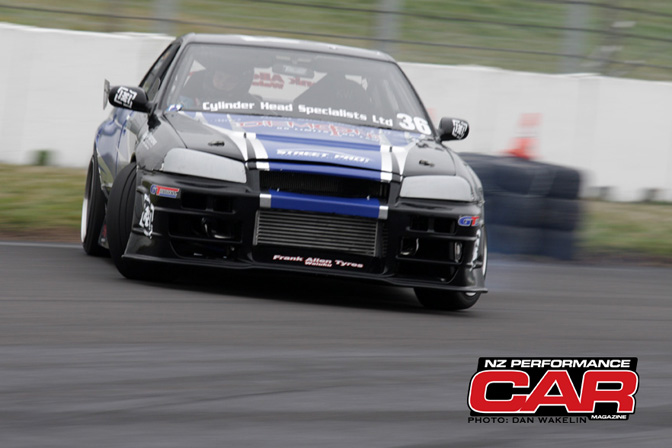 Another first time NZ Drift Series competitor, Blair Martin, qualified 10th for the Best 16 in his Nissan Skyline R32.4.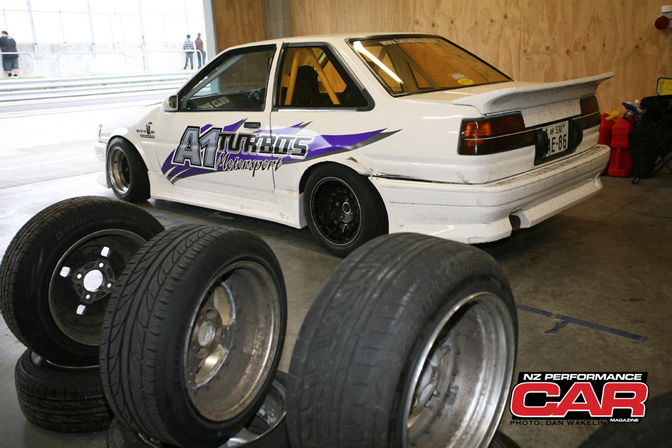 During the lunch break, ex-competitor and NZ Drift Series chief judge, Nick Teeboon, took to the tarmac to lay out some sweet skids. Still got it, Nick!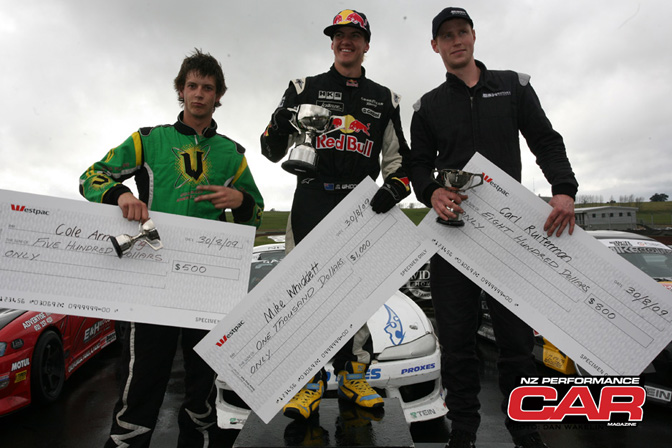 The only surprise here is that for the first time this season, Gaz Whiter isn't standing on here.
Round four of the NOS Energy NZ Drift Series heads back to Pukekohe Park Raceway on Saturday October 17, where a few judged section changes is looking set to make for an interesting event.
For extra images from round three, head on over to this link.
Gray Lynskey -NZ Performance Car Magazine