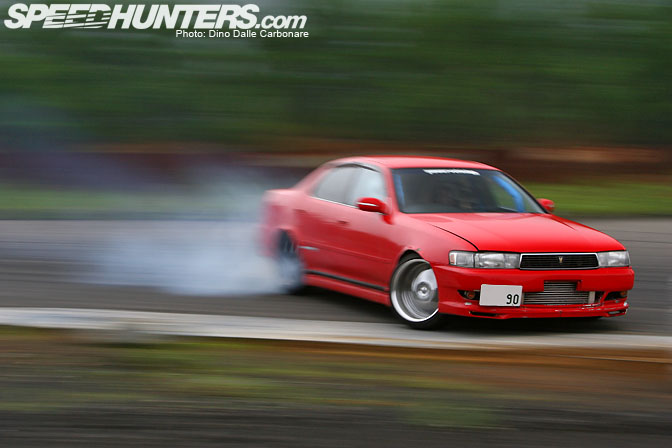 It was back up to Ebisu circuit this past weekend for me, to cover the summer installment of the legendary Drift Matsuri, but little did I know the 48-hours of non-stop drifting would be joined by 48-hours of non-stop rain! Everyone there got soaked down to their underwear and socks but even the damp conditions didn't stop people from having fun. It was a superb event as ever, just a little less smoke than I was expecting!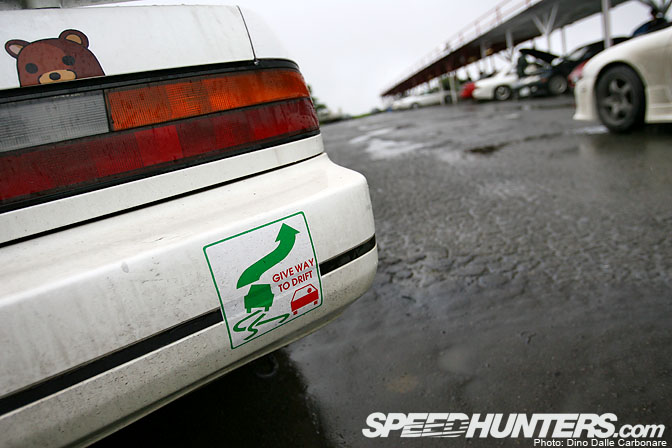 With the summer holiday season and Obon festival getting into full swing this week the turnout was not as impressive as back in May, but the selection of cars was as vast as ever. There were tons of foreigners as always too, like Ebisu circuit specialist Andy from Powervehicles.com practicing with his new JZX90 Cresta. You can see him charge down the Nishi short course at full blast in the opening picture.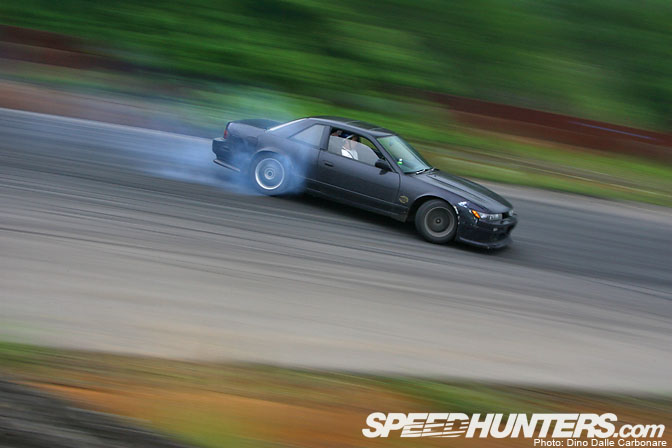 I managed to get a good position on top of the crest at Nishi course, perfect for grabbing the cars in action. It was great timing too as the rain stopped for a while allowing the track to dry a little. This would be the only time I got to see tire smoke!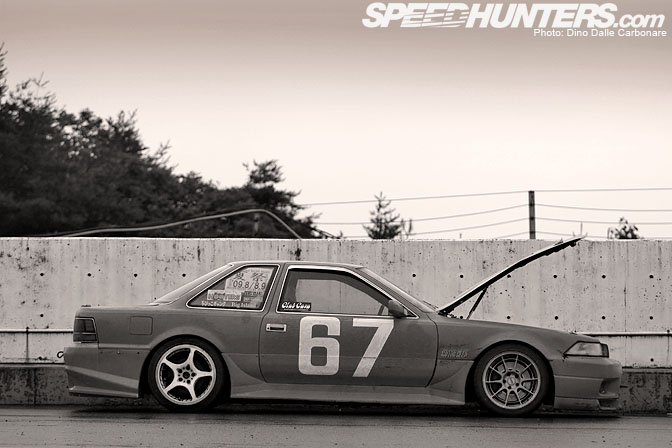 I saw this JZZ20 Soarer blasting around Minami a few times but never managed to get a static shot of it until I found it parked in the pits at Nishi late on Sunday afternoon, hood open to cool the engine after a hard run.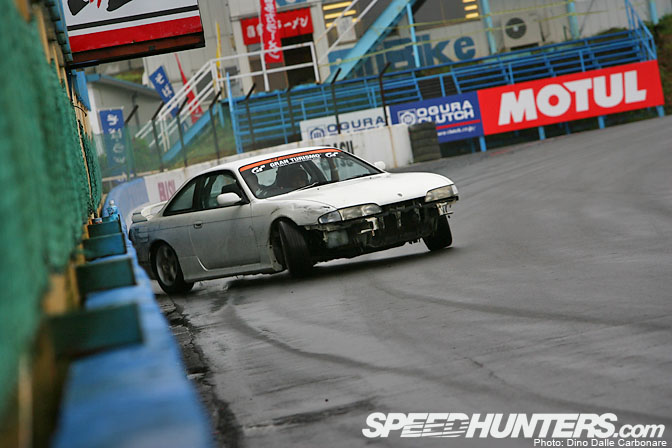 Back at the Minami course, where the D1 rounds are held, it was all about who could get closest to the wall. Some edged closer and closer with each subsequent run, while others, like the S14 above preferred to take a different approach. Just like last time there were plenty of missiles, ready to be taken well over the limits…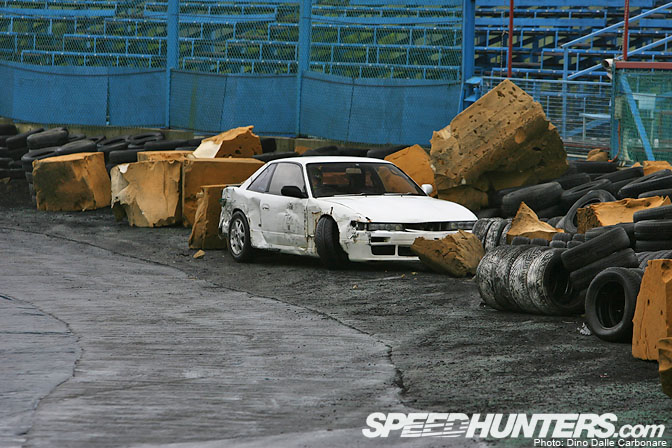 …often resulting in the occasional kiss with the tire barriers.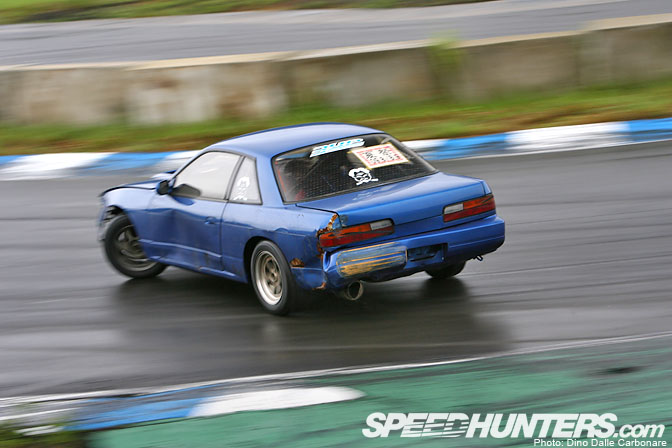 After spending some time shooting at Minami I began to think it was all starting to look like a destruction derby, rather than a drift event! This S13 however seemed to be more of a practice car than a missile.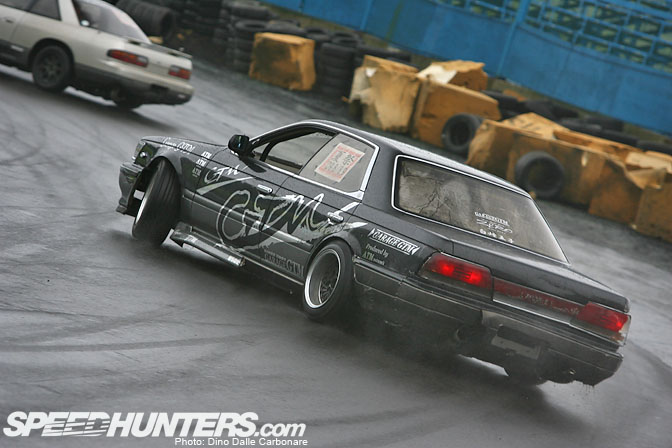 There were plenty of D1 drivers out practicing and on this particular run it was Mikami-san from D1-SL behind the wheel of this C33 Laurel.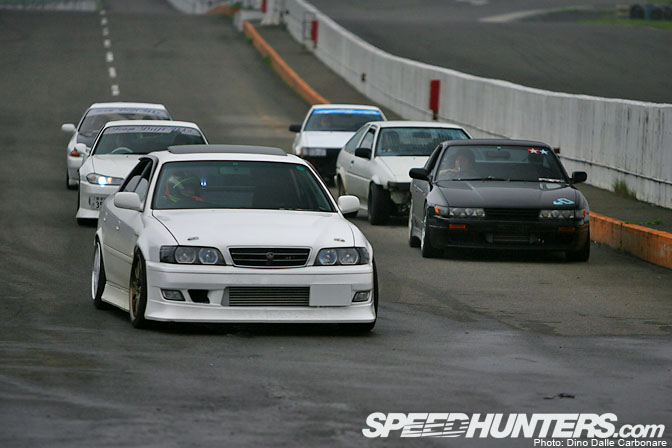 A nice lineup of some of the most popular drift cars around, JZX100, S13, S15, AE86 and an R32 at the far back. All ready to go out and play at the Nishi course!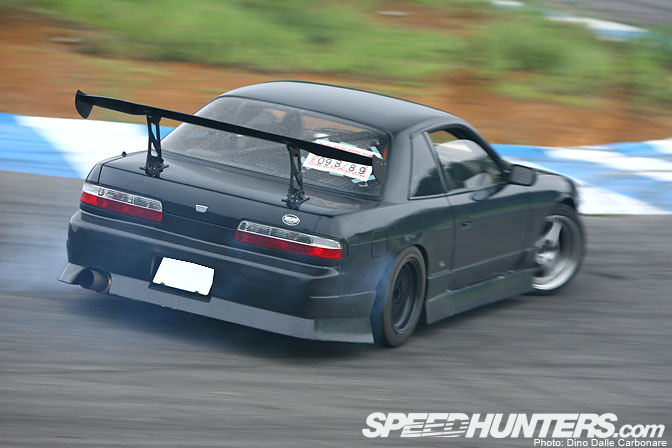 I really liked the look of this S13 with that massive GT-wing, something you don't really see too often on drift cars.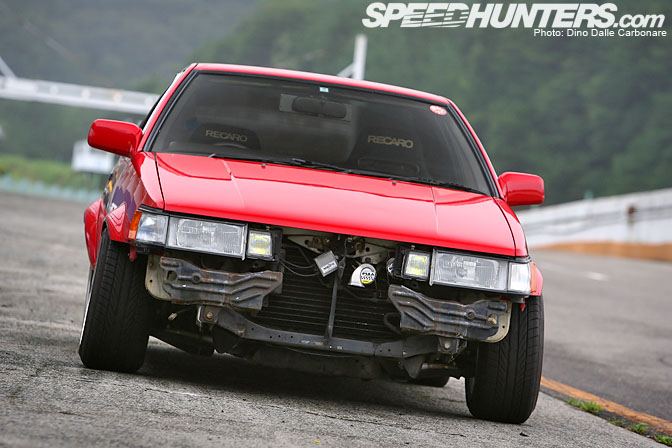 When your ride is this clean, removing the front bumper before heading out to drift is a wise decision. If it were my car, I'd probably take off the front fenders and rear bumper too…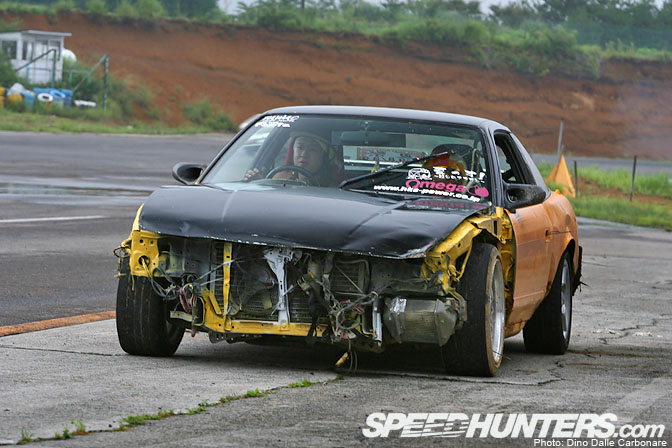 …much like this guy…oh wait, he probably ripped them off on a crash or two. Even the headlights are gone!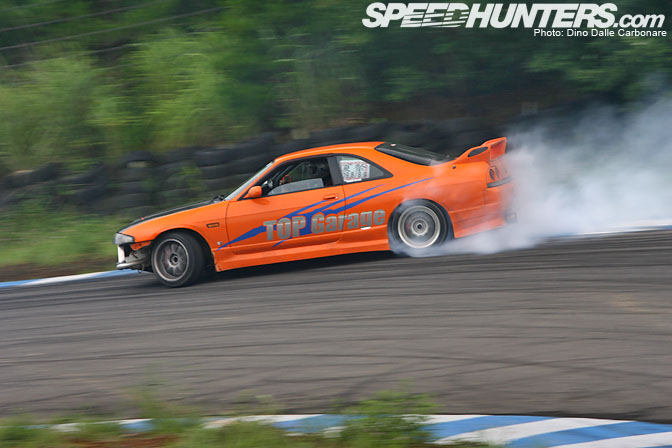 This Top Garage Skyline was one of the fastest and meanest sounding cars at the Nishi course with a screaming external wastegate firing out big flames underneath the car.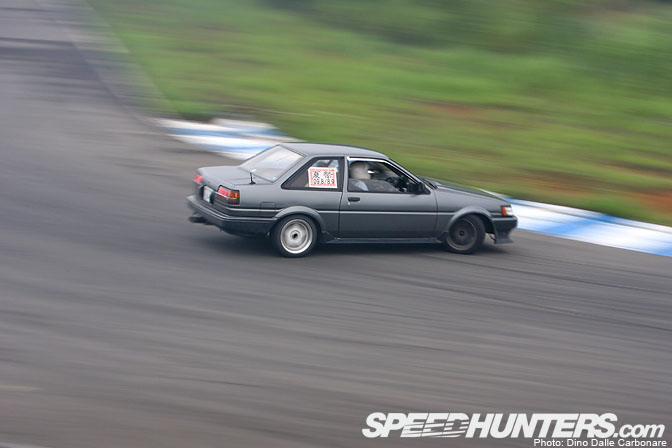 Hachirokus may well be losing the power war in D1 but they are still very popular at a grassroots level.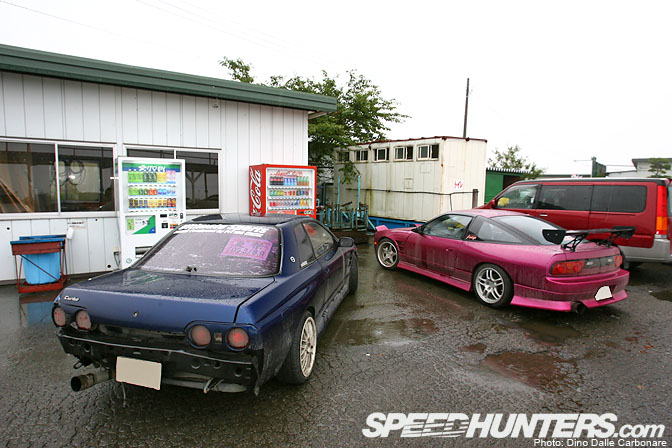 Quick stop at the restaurant!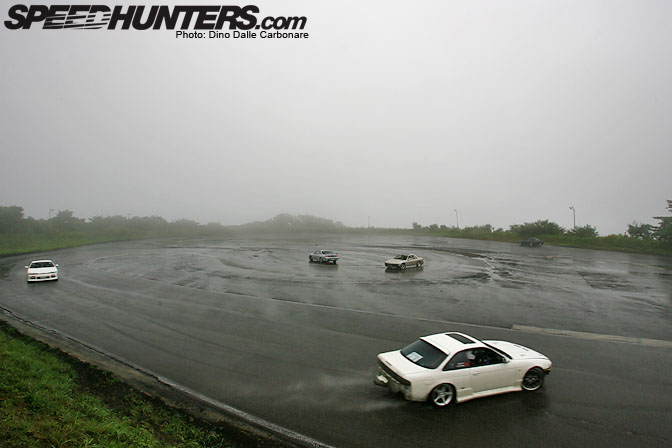 Beginners were getting to grips with the basics at the Drift-land course, which is essentially a wide-open paved space perfect for practicing those pesky transitions.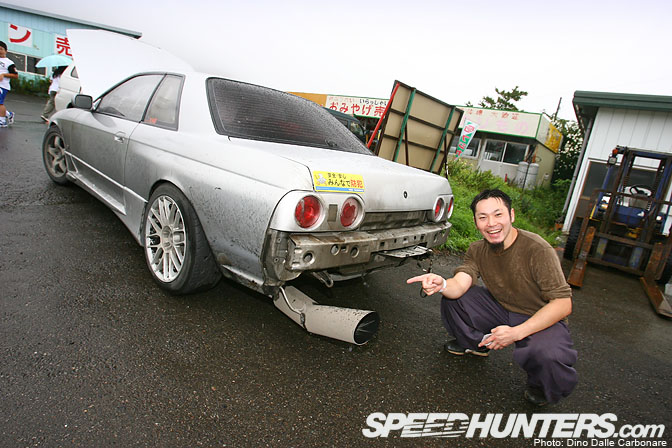 A DIY super-exhaust! The owner of the silver R32 above was very proud of his creation, something that wouldn't look out of place on a big rig!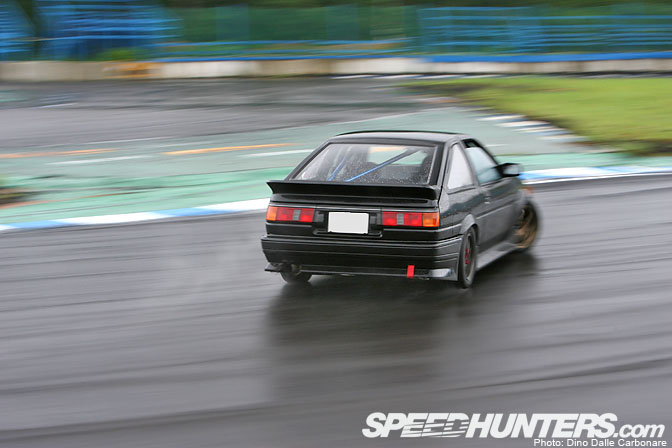 A soaked Minami course meant those driving AE86s could really make the most of the slippery conditions, keeping their cars at a good angle all the way from the drop off into the main pit-wall straight, all the way to the first corner entrance.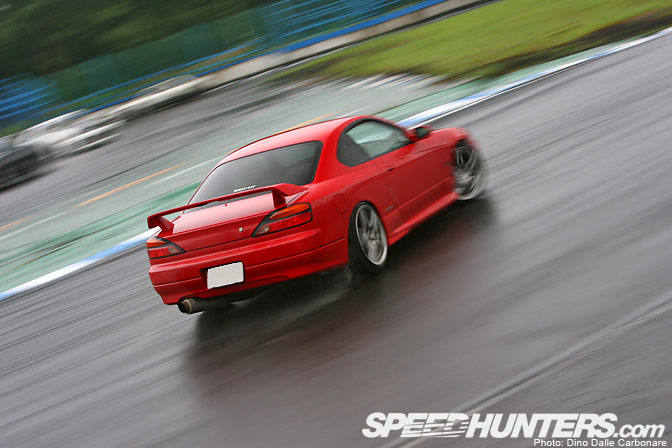 This was the cleanest S15 at the Matsuri and driven particularly well by Rob from Roadster Drift in Chicago (sorry for the mistake Rob!)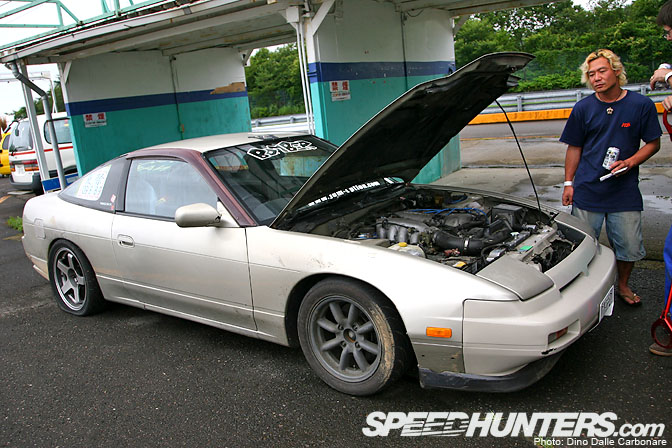 Bumped into Bomber at Higashi Course…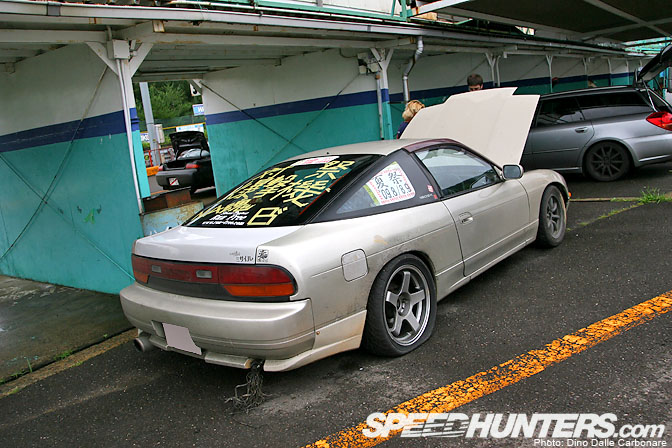 …after he came in with a flat tire.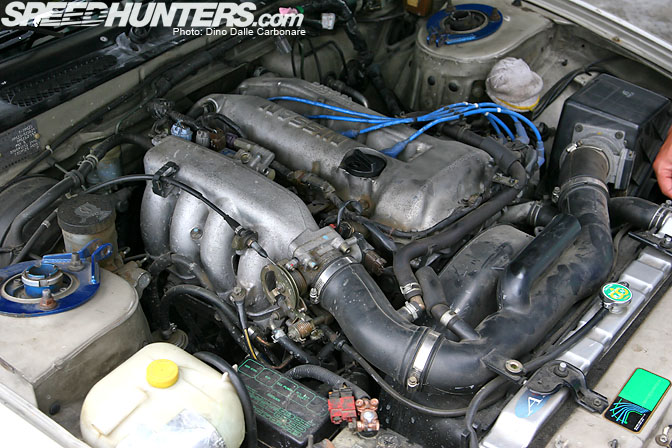 It was fascinating hearing how he prefers NA to turbo power for his drift car. His RSP13 runs an S15 SpecS SR20DE, mostly all stock except for high quality ignition leads. He is even using the stock S15 airbox, but apparently his turbo exhaust is way too big for NA applications so he is looking to fit one with a smaller diameter. Also on his wish-list is an S15 6-speed transmission, which would give him slightly shorter gears to make the most out of the SR's limited performance.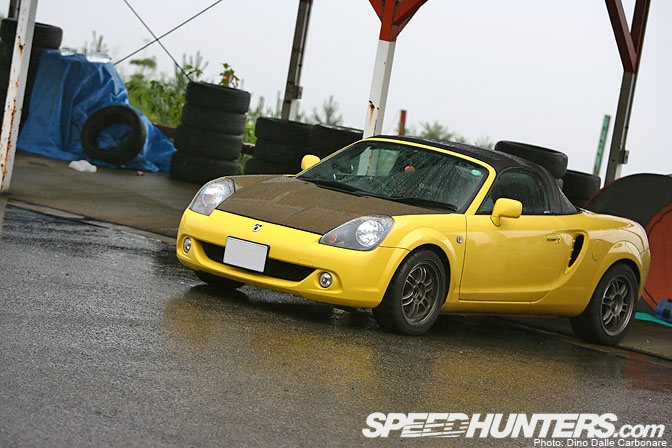 Went up to Kita for a quick look early on Saturday morning but there was nothing going on so I decided to take a few pictures in the paddock. The ZZW30 MR-S is one car I have never seen at a drift event before. I would have liked to have caught a glimpse of it in action but didn't manage to see this yellow example again after taking this picture.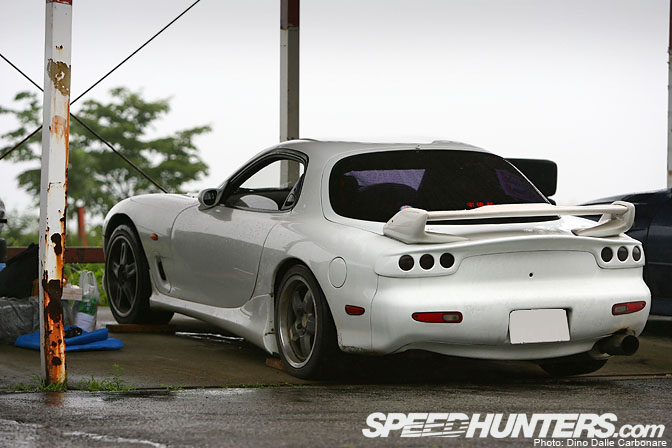 I remember when these RE-Amemiya rear light cover-slash-spoiler were all the rage at the end of the nineties!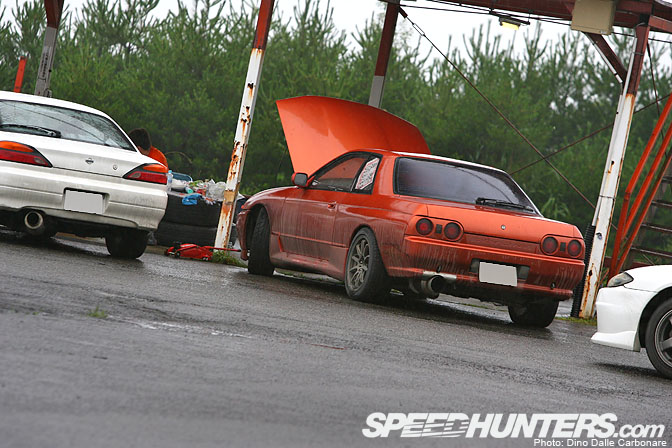 Hope you enjoyed this opening post. There is a lot more to come like the wall-bashing missiles, night drifting at Minami and more sideways action from each of the courses. Don't miss Part 2! 
-Dino Dalle Carbonare