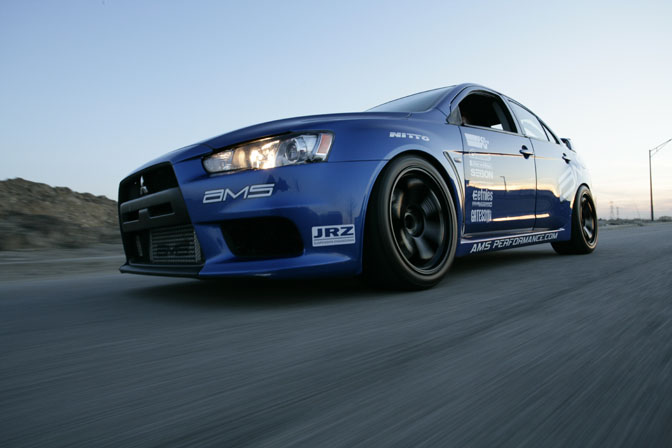 This mesmerizing blue EVO X belongs to Ryan Gates. After seeing a lot of EVO Xs this month I came to the conclusion this car doesn't need any aftermarket bumpers. This vehicle already looks as it shoud: aggressive and purposeful. All other modifications are inside the car and under the hood. Let's take a closer look at what makes it tick…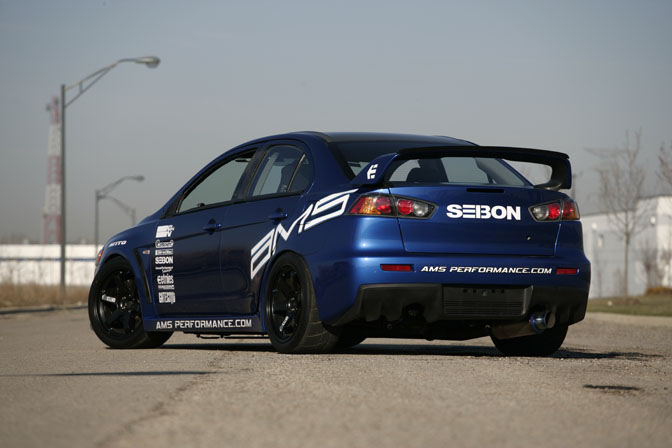 The large Seibon sticker hints at the carbon fiber treatment this car has undergone. The hood, trunk, doors and even the roof are made from this precious material. It's all been done to reduce the weight as much as possible.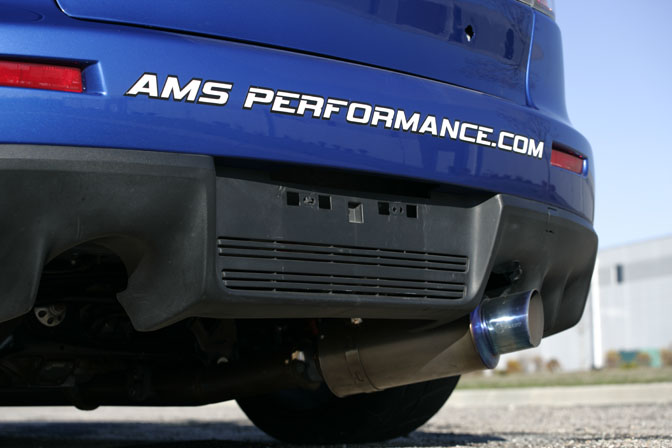 All the exhaust gases are expelled through this AMS titanium exhaust. You see this single setup a lot on high powered vehicles, even on the Nissan GT-R build by Top Secret. Would anyone care to explain why it is better to have one exhaust exit than two?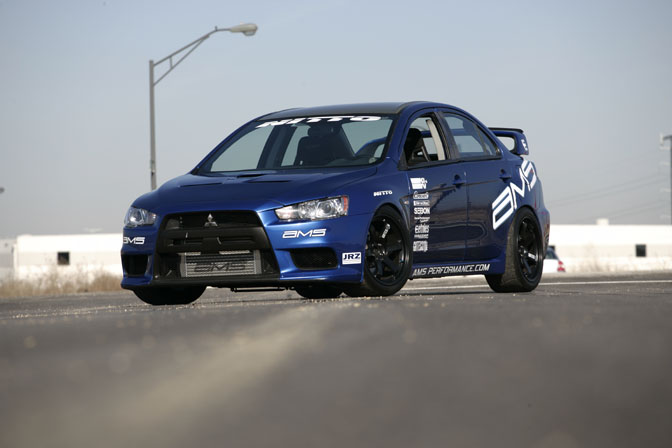 The new EVO X has really grown on me…. I didn't like it initially, but, in retrospect, I just needed to get used to the new look. But that's how it is in most cases… the same goes for the new Impreza. I have seen some very well built examples, that really push the envelope.
Ryan developed this car last year to compete in as many Time Attack events as possible. He succeeded in doing so and competed in two 2008 Super Lap Battles. He finished 1st at Road Atlanta and 2nd at the Button Willow finale. Ryan also entered his car in the Redline Time Attack series and was able to compete for top honors. In the end he finished 3rd overall. That is quite the achievement knowing he had hardly any experience driving the car, and it was at an early stage in its development. Halfway through the season AMS Performance came onboard and helped Ryan to make it even more competitive.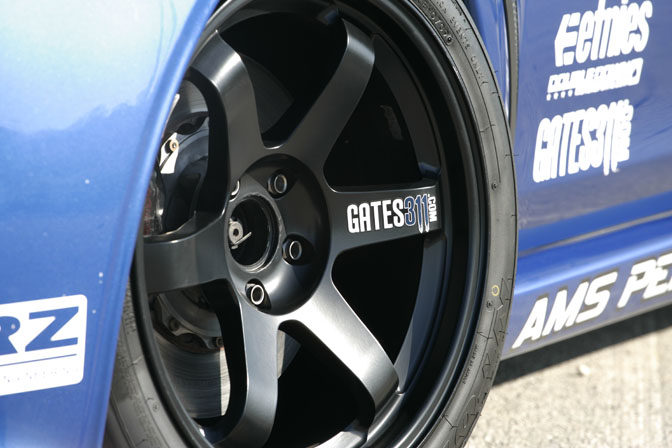 I really like these custom stickers on the wheels, they direct you to Ryan's personal website: Gates311.com. The wheels are a set of Volk TE37 in 18″ with Nitto NT-01 275 width tires. The brakes have been upgraded with Girodisc 2 piece front and rear rotors.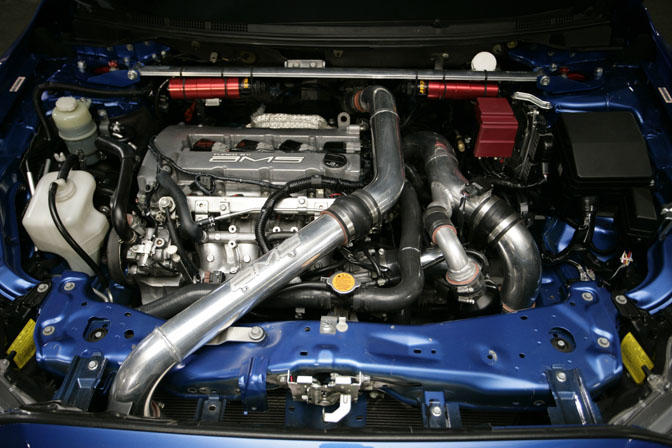 The heart of this car consists of this 4B11 engine that has been treated with a lot of AMS goodies such as the custom cold air intake, K&N filter, custom intercooler piping, intercooler, surge tank with walbro fuel pump, fuel rail with 780cc injectors and a prototype cast manifold 750R turbo kit. The ECU has been tuned by AMS themselves to maximize the engine output. It has been rated a whopping 500bhp on all four wheels. Impressive to say the least.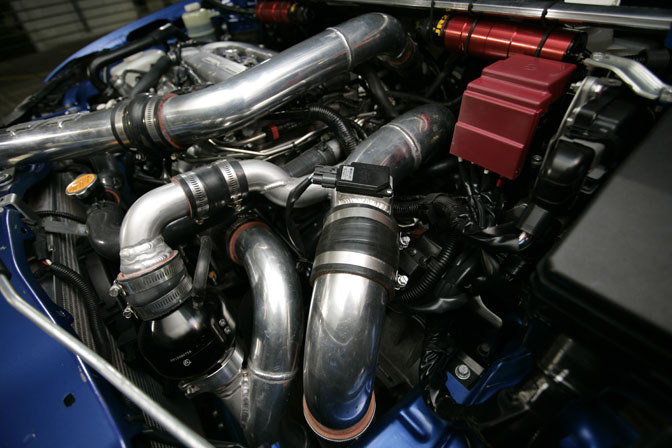 A closer look at the intercooler piping reveals the Tial BOV. It also shows a part of the JRZ adjustable race dampers, you can see the reservoirs tie-wrapped to the Cusco strut brace. Other parts that increase the drivability include a Whiteline adjustable swaybar, AMS adjustable rear toe link and bump steer kit.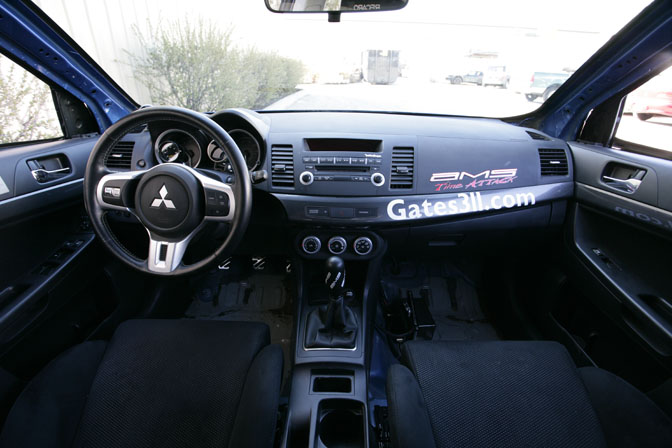 It's amazing to see an almost intact interior in a car like this. I guess Ryan can make this car a lot lighter when he removes all the unnecessary stuff. Would it make it even more competitive?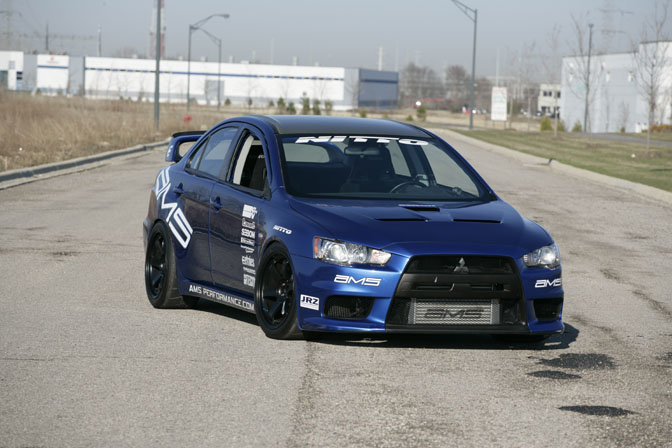 The already great exterior is complemented by its performance capabilities. I wish Ryan all the best in becoming a dominant factor in the Time Attack community.
-Jeroen Willemsen