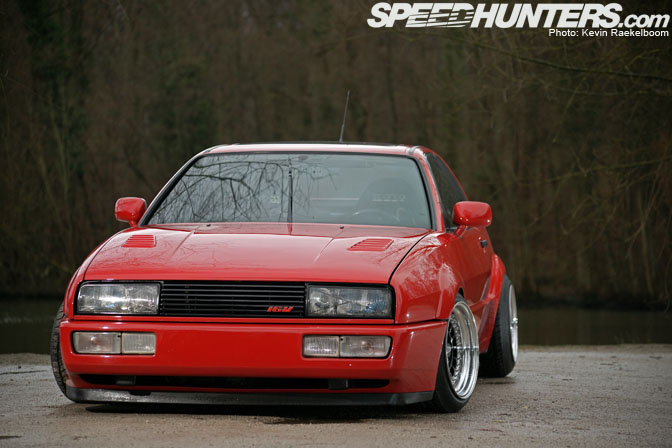 Is "sexy" a fitting word to describe a Volkswagen? There have been a lot of cool VW's made over the years, but the closest Volkswagen ever got to a proper sports car was when they introduced the Karmann Ghia so long ago. More recently, there's been another VW that's stood above others with it's sleek styling and potent engine choices – the Corrado.
Even today, these rare coupes are loved by both VW fans and by car enthusiasts in general. I remember in my pre-driving teenage years there used to be a guy in my town who rolled around in a dropped VR6 Corrado and I thought that thing was one of the coolest looking and sounding cars around.
As I dug through Kevve's photo archive looking for cars to write about this month, I spotted this early model Corrado, which is one of the most complete watercooled VW street builds I've seen yet.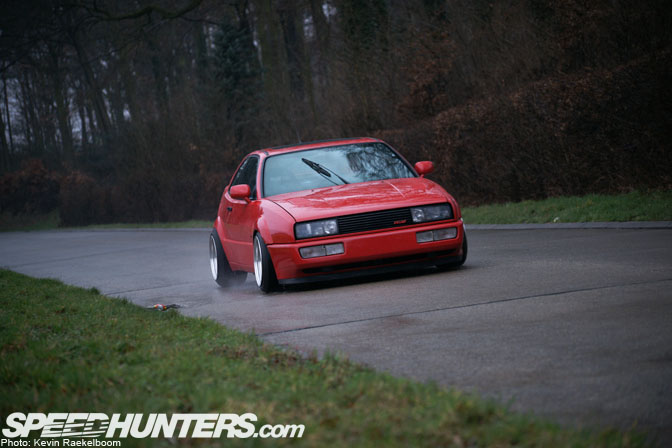 The car is owned by Kris Claes, who makes his living as an ACR engineer in the air force. Kris has owned this Corrado since 1990 and unlike a lot of cars modified to this level, he uses it as his daily driver. What better way to enjoy all the work you've put into your car than by driving it every day?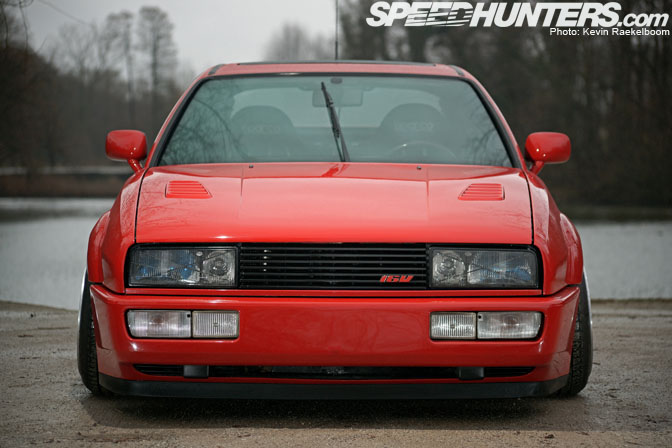 Body-wise, Kris has done a number of modifcations that give the car an aggressive, yet restrained look. He started off by having the car painted in a firetruck red color that he got from an actual fire truck at the airbase where he works. He's also widened the steel fenders at each corner by one inch, and changed the front bumper and taillights to USDM versions (imagine that!). He also swapped the rear bumper out for a smooth one with no exhaust opening. Now, why did he do that?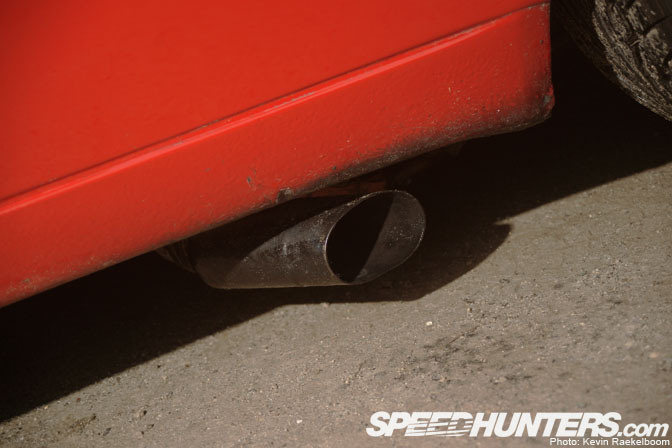 Because he added a trick side-exit exhaust system that dumps in front of the rear wheels. This is certainly one of the most unique parts of the Corrado, giving it a tough race car look.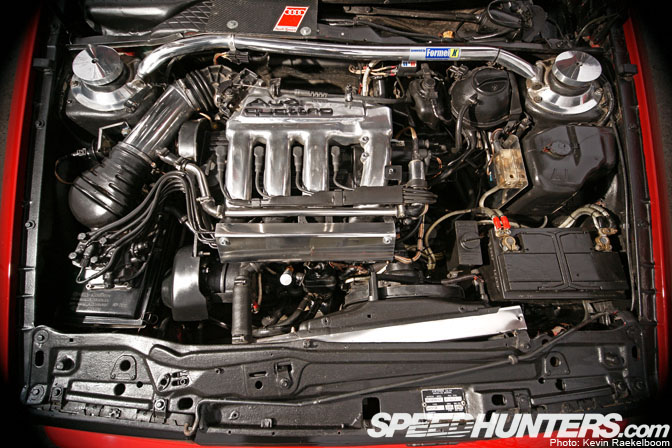 The car has had three engines in it's lifetime, and the current one is based on an 1984 Audi 90 Quattro block. Kris actually got old engine block for free and then freshned it a new crankshaft, Mahle pistons, and a ported and polished 16-valve head. Power output is said to be 240BHP , which is a good number for the 1000kg Corrado chassis.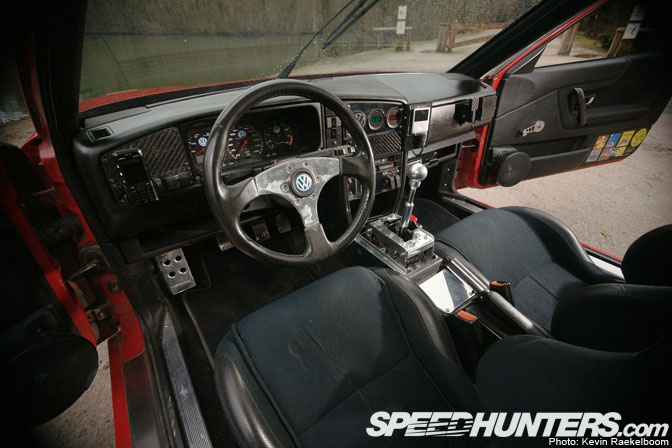 Kris didn't supply a whole lot of info on the interior of the car, but you can see the pair of Sparco 2000 seats and the aftermarket steering wheel with a VW horn button. It also looks like he's done some custom work around the dash and center console. Perhaps inspired by his aviation-related career?  The car used to have a rollcage, but Kris removed it so his wife and kids can roll with him in comfort and safety.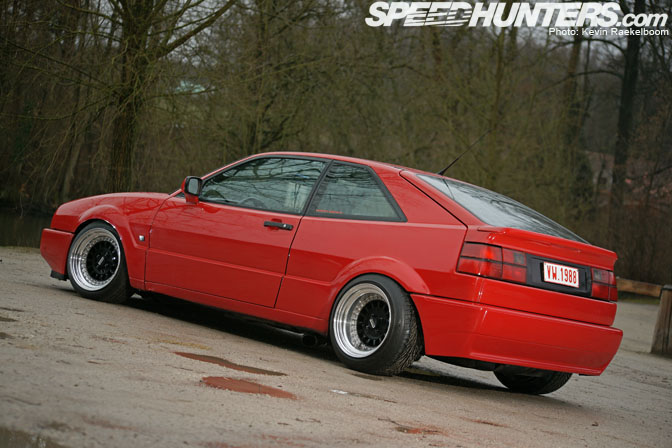 Now for the stance and wheels. First off, Kris has dropped the car an estimated 4.5 inches on Koni Racetrack suspension. "Real suspension" as he calls it – the stuff that distinguishes the men from the "toy boys" and their air suspension. The wheel setup on this car is quite interesting. Kris took PLS wheels from a 1977 Porsche 911 and had them redrilled to the 4×100 bolt pattern. Sizes are 15×9 in the front and 15×11 in the rear. Tires are Dunlop SP9000's, 195/45/15 front and 215/45/15 rear.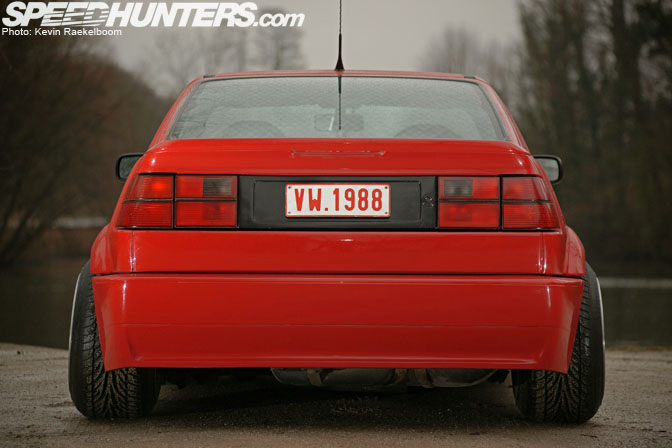 The rear shot gives a better view of the fitment with those massive 11″ wide wheels popping out of the fenders. What do you guys think? Is it "hellaflush" or is that just a bit too much poke?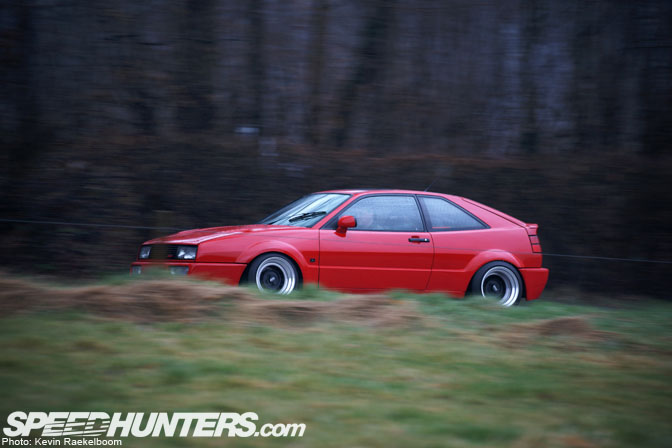 No matter what you think about the wheel fitment, Kris has put together a fine machine here. He's taken one of VW's most appealing vehicles of all time and stepped it up with a tastefully modified exterior, the right amount of horsepower, and the perfect attitude for a street car.
What else do you need?
-Mike Garrett