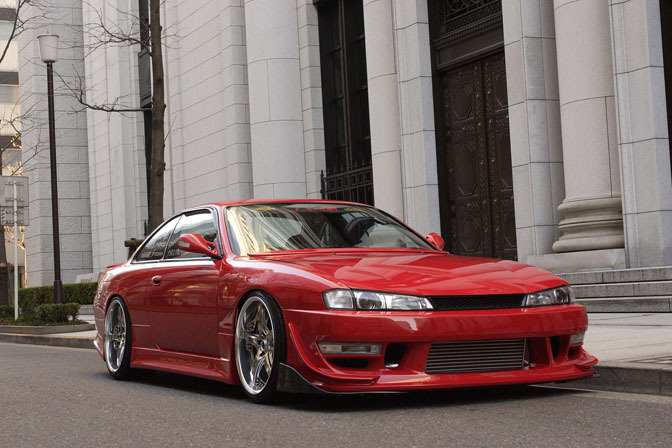 Man, I'm jealous when looking at all the features my fellow contributors made, from the Formula D Long Beach event. After seeing all the pictures Mike, Linhbergh and Rod shot, I started thinking about some of the body-kits that were used on the driftcars. One of the coolest machines that competed had to be Calvin Wan's S15. It was sporting a full Vertex body-kit made by T&E, one of my favorite designs…. with this in mind, I thought it would be interesting to have a look through some of the Vertex body-kits.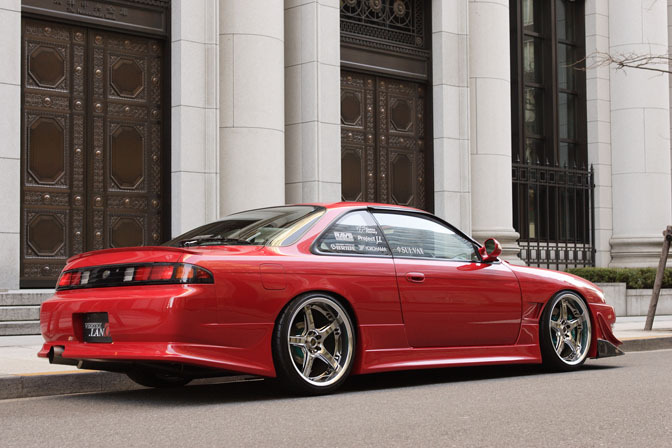 First up is this Nissan S14,a with a really nice stance and a set of Volk GTS. Behind the wheels we have a set of Project Mu calipers and rotors. The only thing I don't like are the what we call the M3 style side mirrors. There was a time in Europe you couldn't have a modified car without these mirrors.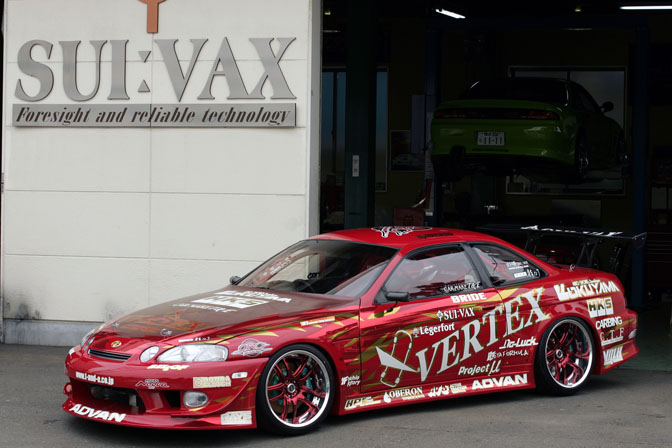 The Vertex Ridge kitted Soarer made famous by Ueno during the glory days of D1GP. The wheels are again made by Volk and are color coded to match the exterior color of the car. The complete bodykit consists of 7 parts including the carbon doors and bonnet.
The picture has been taken in front of Sui-Vax, the garage that is also a part of T&E and is responsible for tuning and maintaining the T&E stable of cars.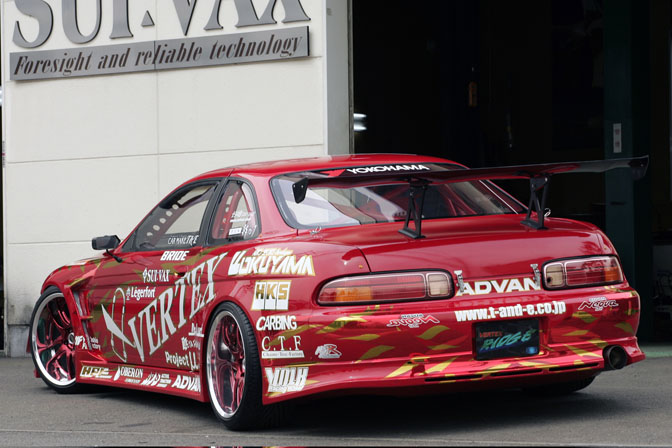 I think we all have to get used to the fact that Ueno won't be driving this car again because he has traded this on for the BMW Dino recently featured on Speedhunters.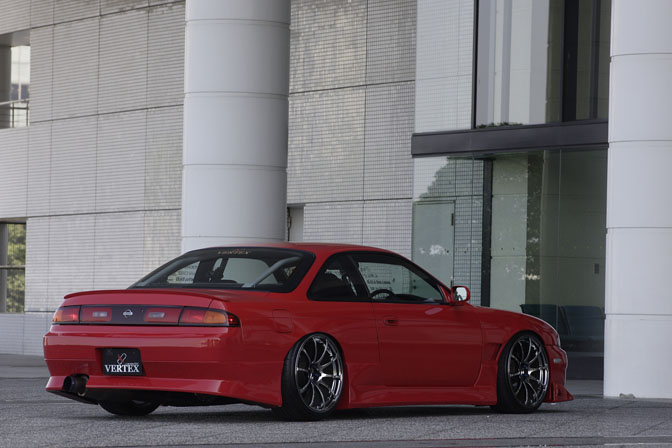 This S14 has some cool touches like the roll cage; can anyone identify the make of it? I especially like the way it curves inside, you can spot it through the rear window.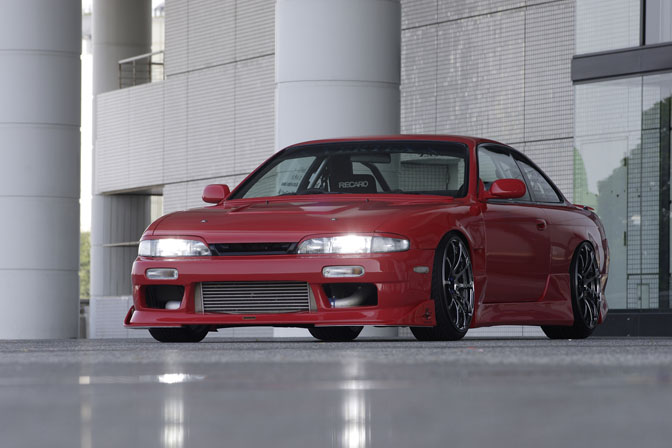 The front bumper leaves enough space open for a massive intercooler…. But I do feel that the design doesn't really flow well with the round headlights; the body-kit suits the S14 a better IMO.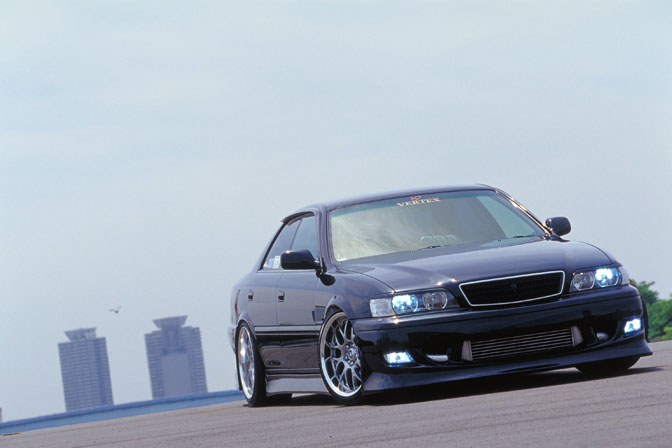 I was looking through my archive when I spotted this Chaser sporting a Vertex kit. I love the look of this car. Not too aggressive but nice and low with some classic looking Volk wheels.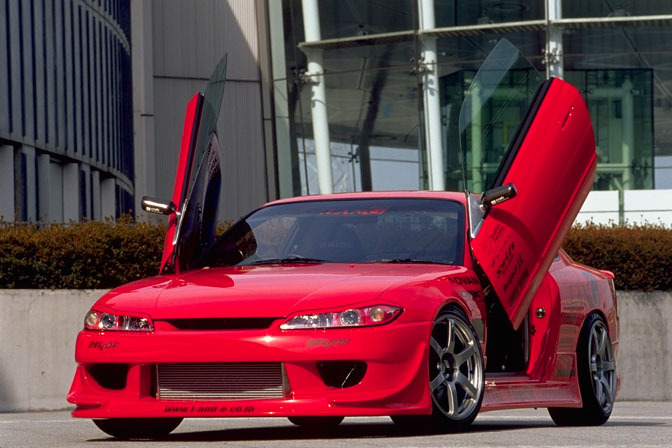 Did you guys know that Nob's personal car had scissor doors? It's still one of my favorite S15's… maybe Dino can share some of his outstanding pictures he made a while ago of this car.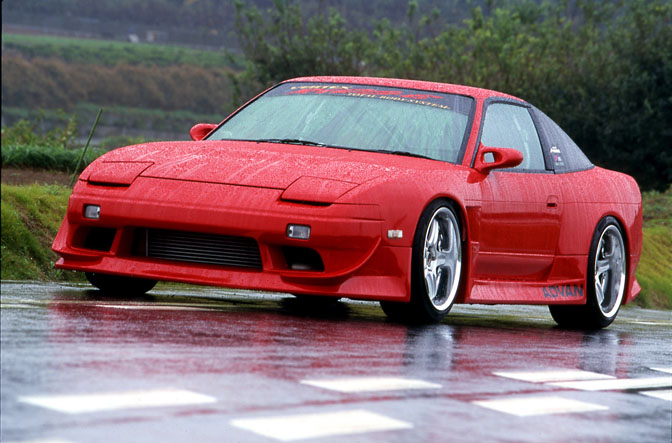 This is still one of my favorite 180SX's. I would like to see more of these cars competing in Formula D or any other drifting championship for that matter.
-Jeroen Willemsen