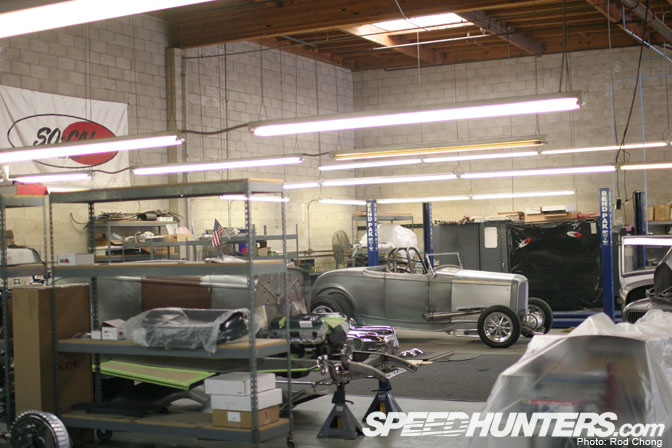 While I was in LA last week, I made a point to pop back over to the SO-CAL Speed Shop to see how their various Hot Rod projects were developing. Some of you will remember that we visited them last October and were very impressed with the in-progress builds we saw that day. So you can imagine, I was feeling very eager to swing by their Pomona facility, to check in and see what's up.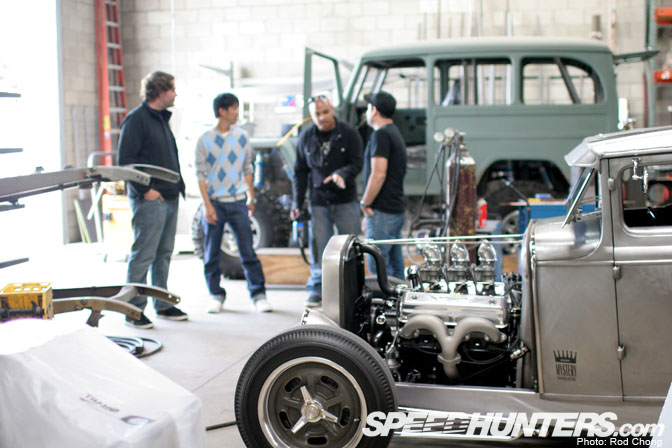 I ended up bringing a few people from the import scene with me too…. It was fun to take these guys and drop then into the heart of hot rod culture.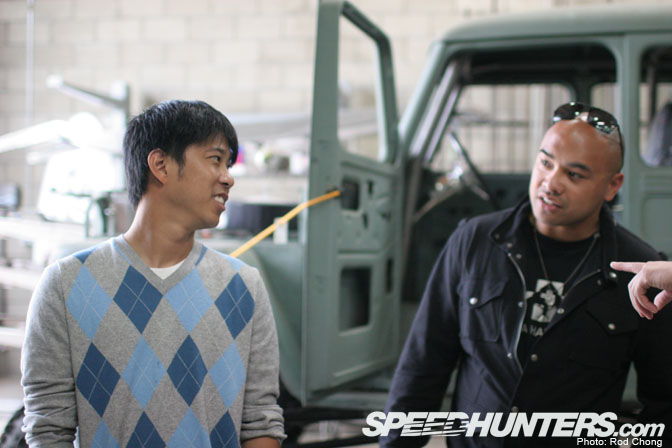 On the left we have tuning scene consultant RJ De Vera; if you are in the US aftermarket industry he's hard to miss… while on the right is Ernie Manasala from NOS Energy Drink. He's the guy who oversees a lot of the NOS Energy Drink motorsports programs like Chris Forsberg's and AMS Performance's sponsor deals.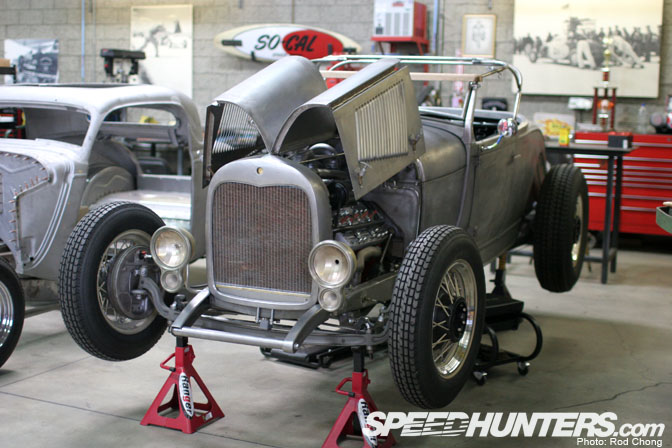 The first order of business was to check out the development on Jimmy Shine's 1929 Model A project. We did a full post about this car last October, and saw that much progress has been made since then.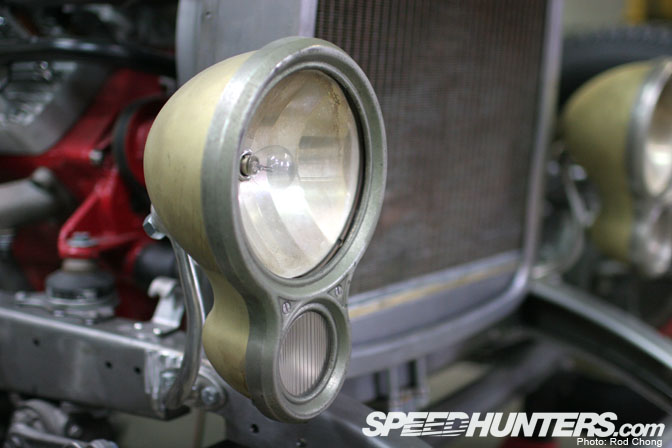 The headlights are real objects of beauty….
It's quite a different cup of tea, to compare a Hot Rod build like this, to a carbon fiber shelled track or drift weapon. You get an overwhelming sense that the craftsmanship (craftspersonship?) and metalwork are approached like a sacred art form. These are the elements that the car will ultimately be judged on, so a great deal of attention goes into every single area.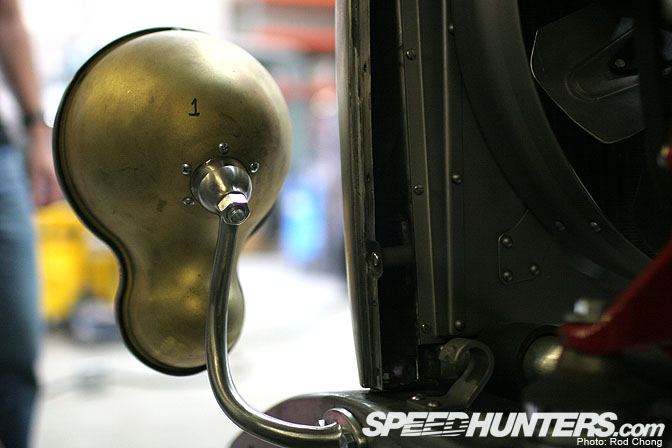 Case in point: just look at the headlight mounts! The tactile qualities of the mechanical dominate your perceptions in the SOCAL Speedshop world, especially with a highly crafted project like this '29.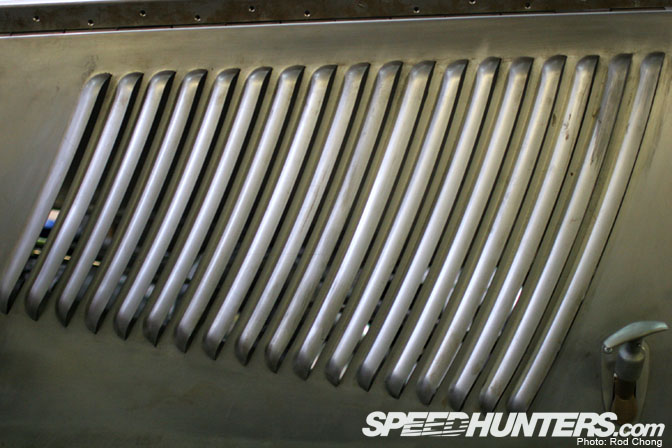 I know I've already gone on about the purity of details with this build, so you don't need to hear me talk about this again do you?…. but just check out the perfection of these engine cover louvers….. This is automotive construction elevated to uncompromised art isn't it?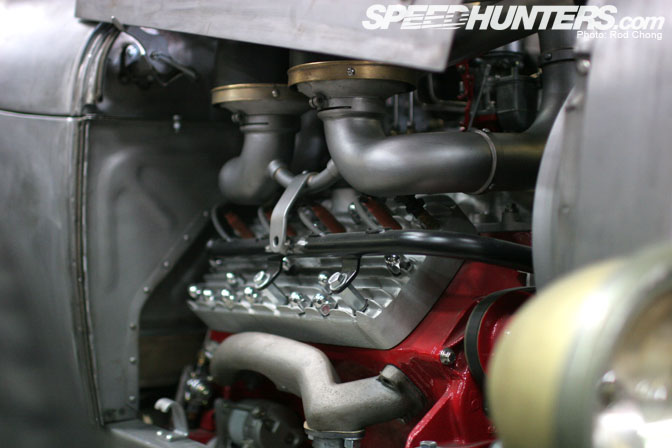 The flathead engine is looking fairly plumbed in at this stage. Jimmy told me last October; he wanted this car to look like it rolled off an assembly line in 1929 looking like a traditional style rod and I think he is well on his way to achieving this goal.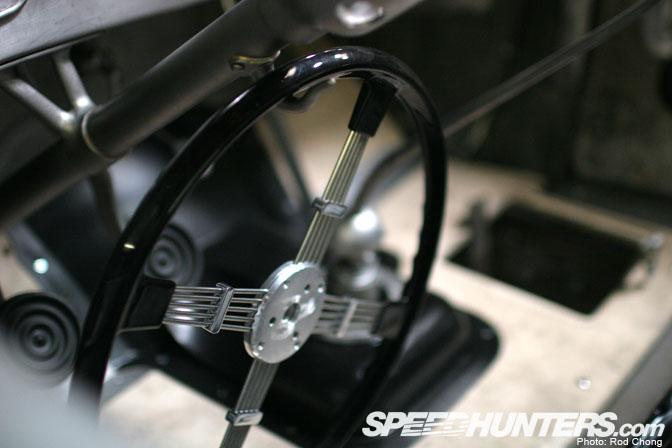 There are some Art Deco cues in the removable steering wheel… It's a perfect, period specific design reference.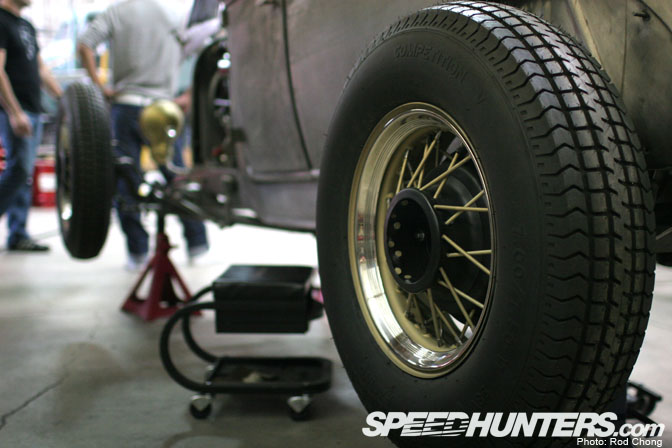 The wheels are handmade one-off designs. They the look like they were sourced from a 1930's luxury car don't they?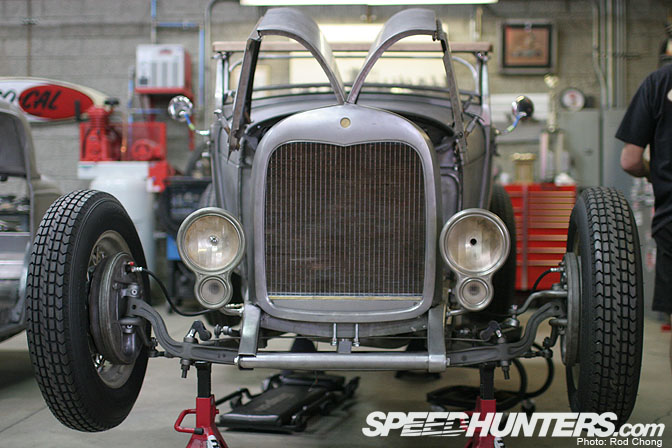 Christian from SO-CAL Speed Shop tells me the car is due to go into paint soon…. it will be a blue colour apparently… I'll have to arrange a shoot with the finished car as soon as it's done. Perhaps we'd like to see it shot with Linhbergh-Vision?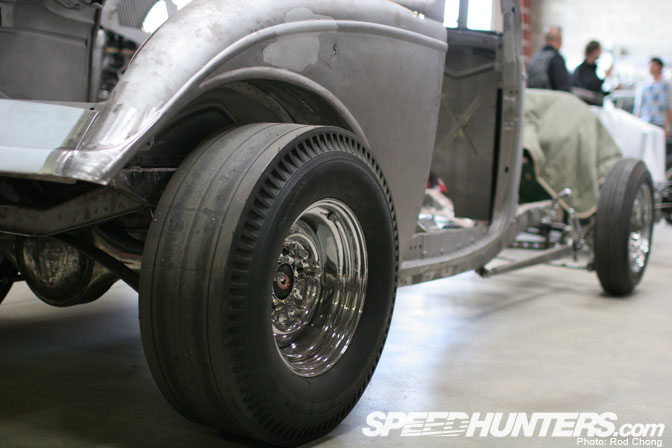 The '34 three window coupe is a new Jimmy Shine project. He's building this car for his dad… Apparently his father had previously owned this very car in his youth, and somehow they managed to find and purchase it after all these years. I wish I could do something similar with the '63 Cal Look Bug I had when I was 16!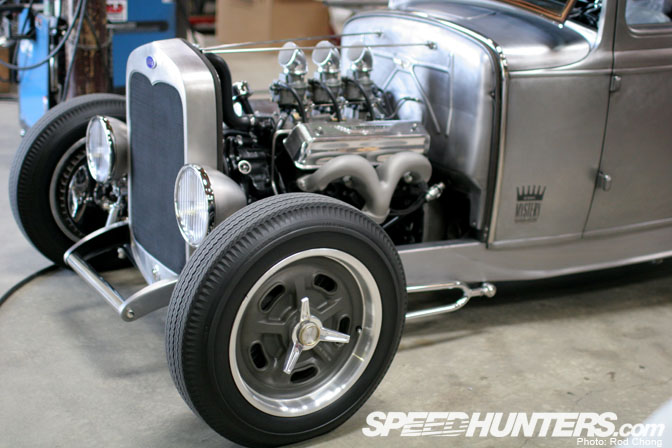 Unlike some of the other Hot Rods we just looked at, this '31 Model A is not awaiting a trip to the paint job… it's been completed with a bare metal look in mind. Some of you may remember that this very machine was featured in The Rodder's Journal last fall.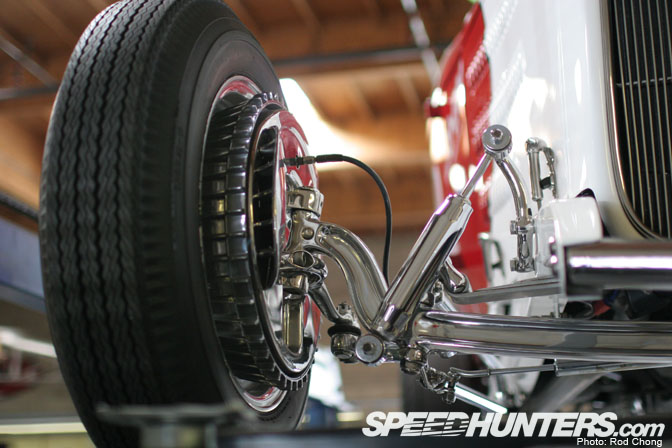 There's nothing quite like ton of chrome to bring a smile to your face is there? Well, at least as long as it's bolted to a rod or a custom!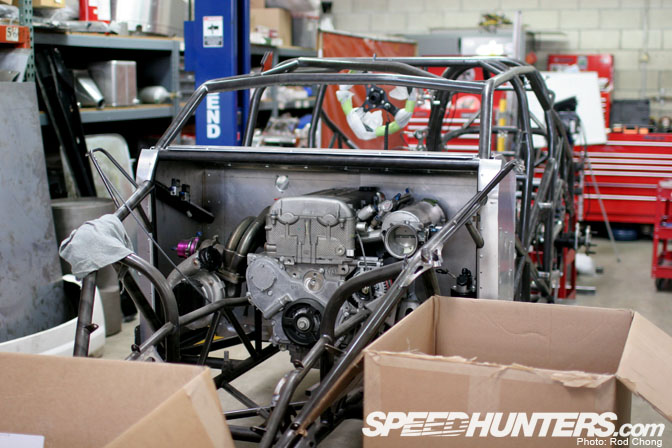 The body of the HHR land speed record car has been removed since our last visit. Doesn't look like too much else has been done on the car though….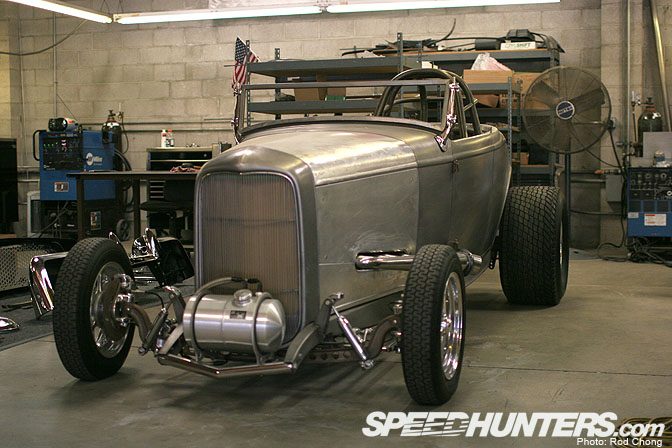 Moving over to the next building we were greeted by this drag styled '32 roadster.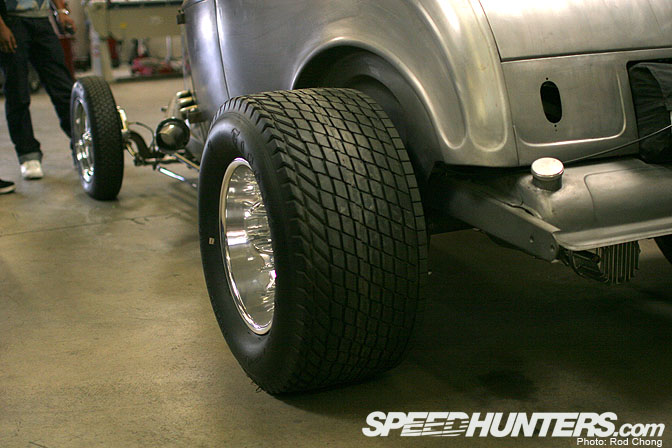 For some reason, the 1970s visual look of "Big 'n Little" tires is really working for me… Perhaps the time has come for 1970s style to be cool again? What do you think?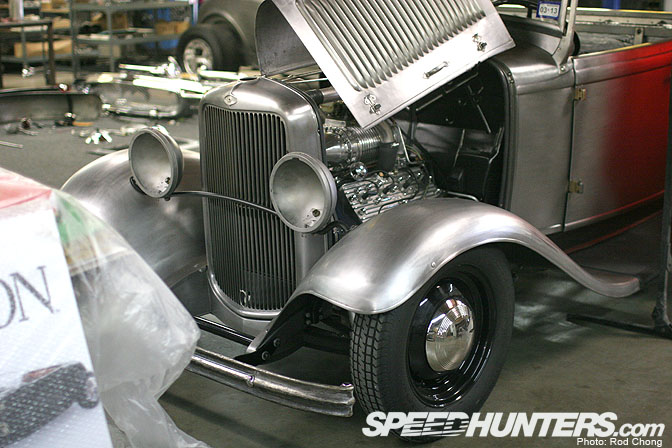 I would imagine that's too radical a feeling for a lot of people in the Hot Rod world though…. The current mainstream fashion is still towards tasteful traditional styles…. Fine by me!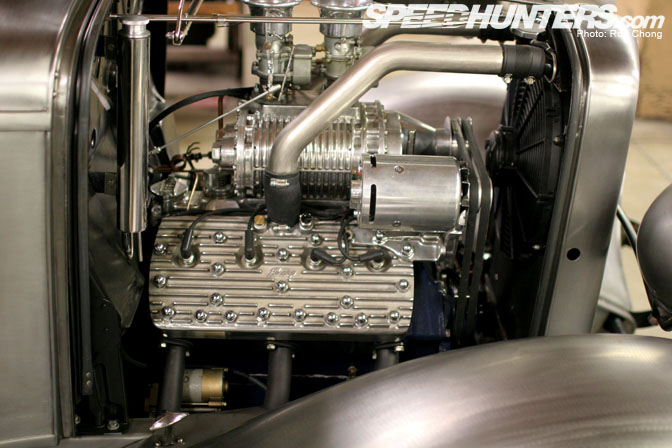 This '32 Ford Roader is definitely representing the traditional side of things…. I took a moment to admire all the rare vintage go-fast goodies bolted to its Flathead V8.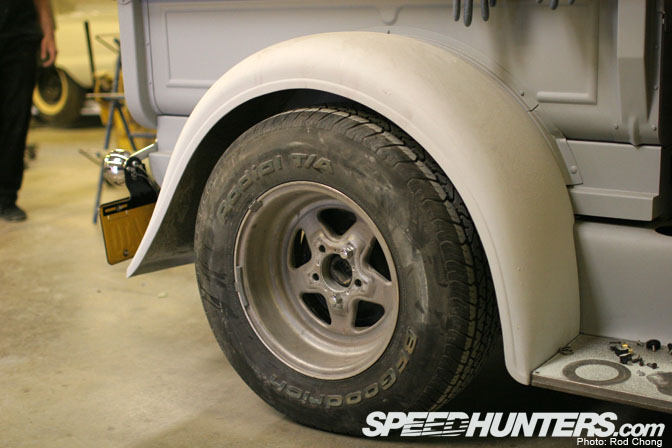 Yeah more 70's style wheels and tires! I hope they add more white to the letters when this '32 Roadster Pickup project is completed.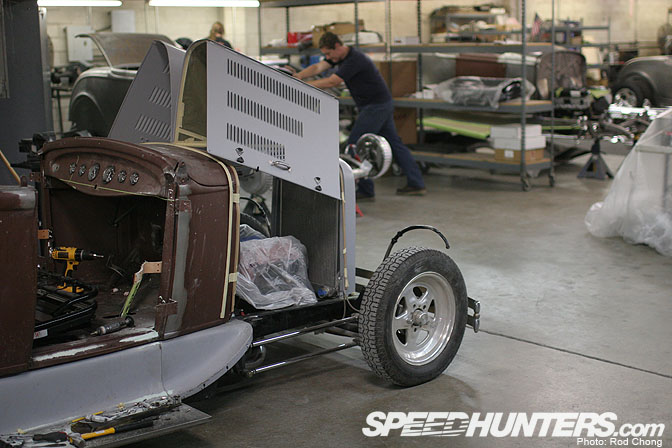 You can see by looking at the front tires that we again have a big 'n little rear-to-front tire setup going…. What do you think?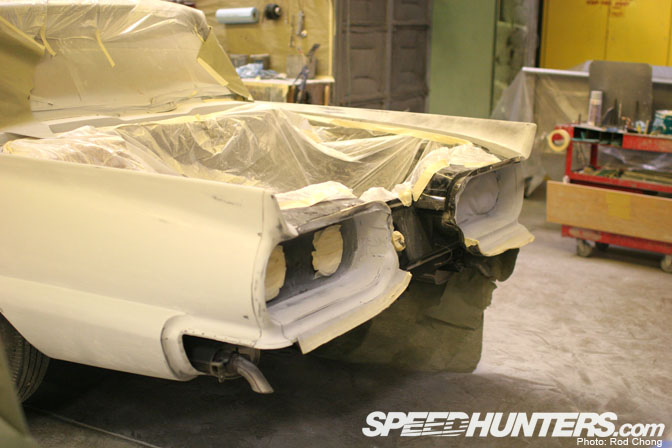 The Billy Gibbons '58 Thunderbird project has now come on song. The car was in its final stages of pre-paint prep. It's going to get a crazy early 60's custom style paint job. I can't wait to see the results!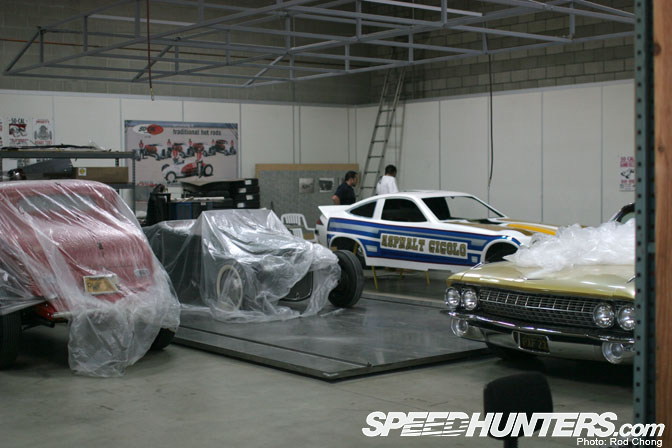 And on to the next bay….. We've seen a few of these cars previously…. but the Monza Funny Car was a new addition to the stable.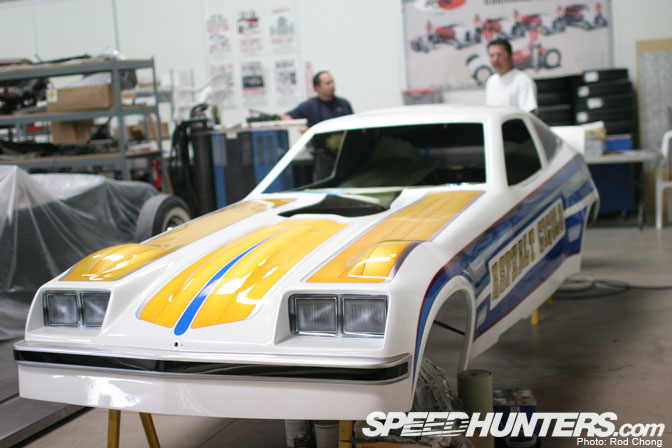 The owner wanted the paint job to look period specific… in this case a mid '70s style. They've done a good job don't you think? We'll keep an eye out for this Monza at the next nostalgic drag meet we attend.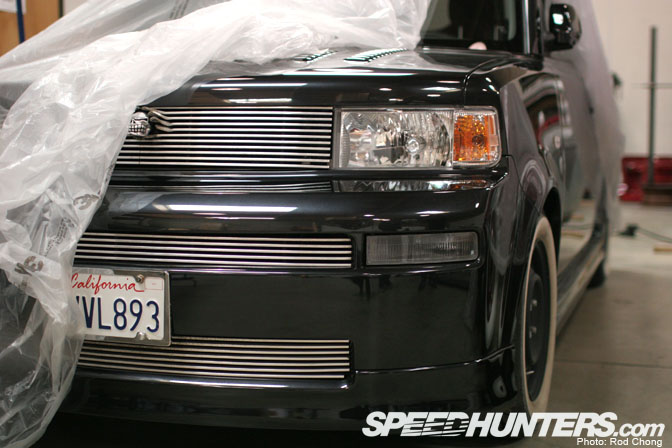 It appears that Billy Gibbons has a thing for Scion tCs doesn't he? I wonder if Scion knows about this?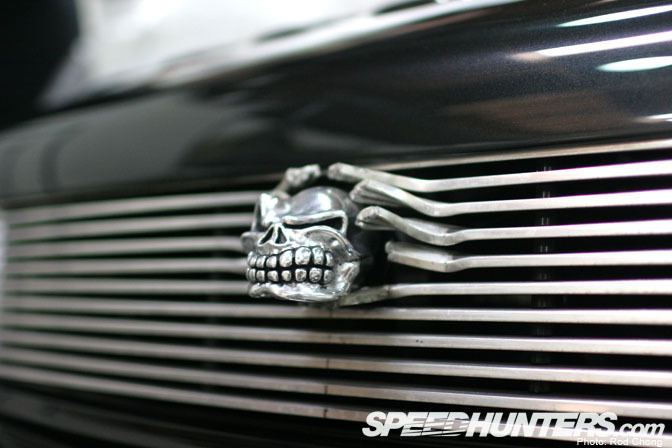 Looks like the car has been developed further into a custom direction.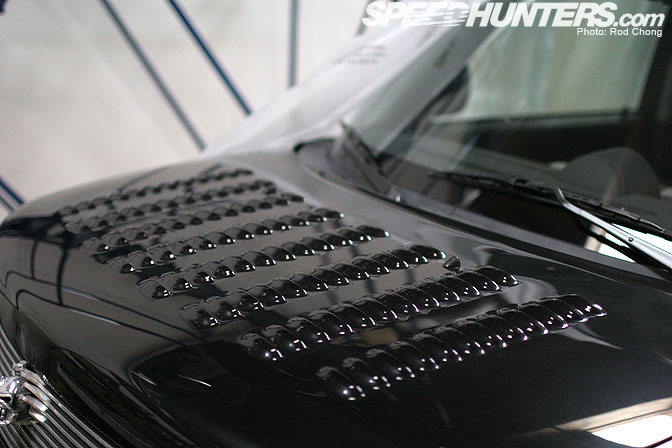 It's received a louver treatment to its hood/bonnet too.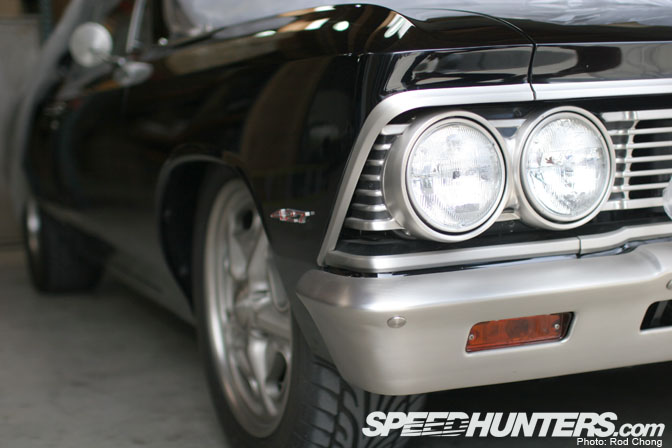 This '66 Chevelle has received a full range of nickel platting to its trim and bumpers. It's quite an interesting effect as it makes the parts look like they're machined aluminium.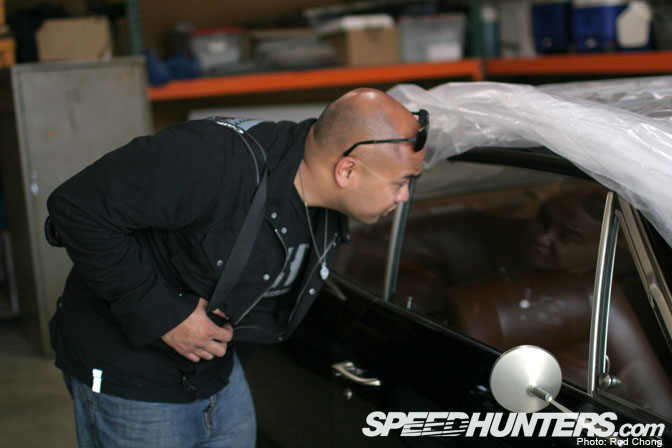 This car really got my guests excited. You can't quite see the puddle of drool just out of frame under Ernie….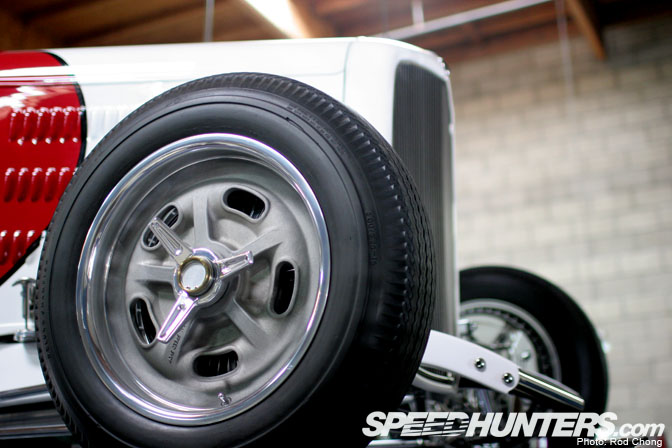 Each time I visit the SO-Cal Speed shop I can't help but marvel at a their commitment to detail and quality…. Everything they do has a strong sense of tastefulness and aesthetics, I can find nothing to fault, no style decision to disagree with. It's no wonder their facility is chock-a-block full of customer builds!
Ok next up we'll do a shop tour of Twins Turbo Motorsport, to see what kind of craziness they have been brewing up recently….
ttys,
:Rod
SO-CAL Speedshop Stories on Speedhunters