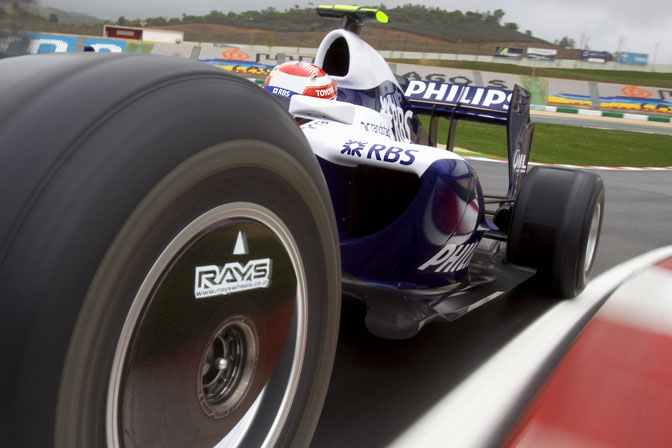 The 2009 Formula 1 World Championship kicks off this weekend in Melbourne, Australia. This has the potential to be one of the most open seasons ever, with new rules and regulations.
A number of rules have been brought in, giving a Formula 1 car a different look. From the side, most of the aerodynamic aids have disappeared and the cars look much cleaner. However,wider front wings and narrower rear wings look out of place, even after 2 months of testing.
The earlier Video post below goes into more detail regarding the changes, with the help of Red Bull and Sebastien Vettel. I will focus on teams and drivers in this post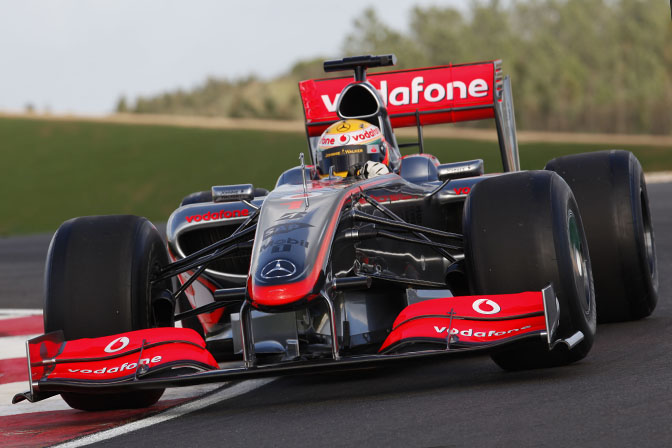 McLaren Mercedes, 1. Lewis Hamilton  2. Heikki Kovalainen
The first rule of testing, is NEVER believe test times.
However, on this occasion, many people are scratching their heads at the lack of pace of the McLaren MP4/24 and this has been the talk of the pre-season.
One of the first chassis to be released, the car hasn't been very quick in testing, although some reasonable pace was found last week. McLaren appear to have aerodynamic issues. They have been using coloured paint to show them how the airflow works around the front suspension, sidepod and rear wing.  It is very unusual to see this at a public test. It is also unseal for McLaren to admit they are not happy with their performance.
The team ran a larger 2008 rear wing in most testing, which suggested a) McLaren are hiding something for Melbourne or b) They are in trouble.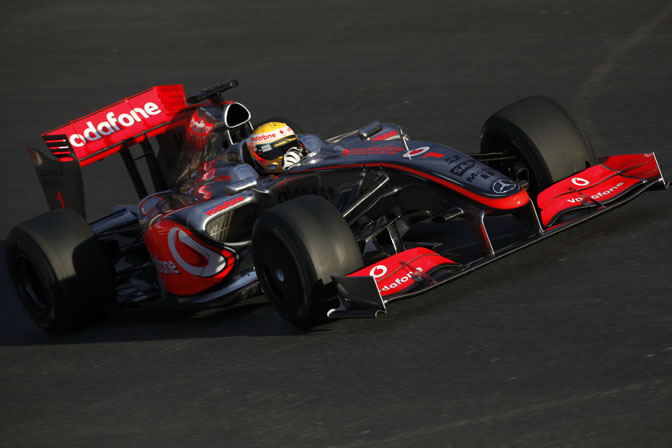 We will know on Sunday if McLaren are hiding something. Some people are blaming the retirement of Ron Dennis from day-to-day involvement of the race team handing it over to Martin Whitmarsh.  BS I say! Its10 years since I worked for McLaren, and back then, Martin was more than capable and was already heavily involved in leading the team.. In some ways, I feel this will change will be beneficial to McLaren.
Lewis Hamilton now carries the No 1 as 2008 World Champion with team mate Heikki Kovalainen under pressure to perform after a lacklustre 2008.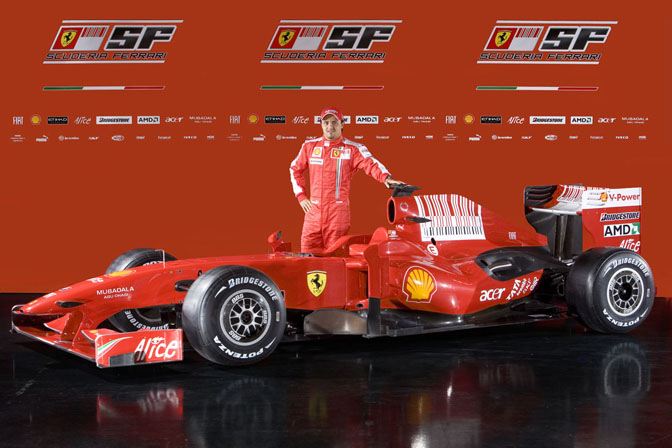 Ferrari,  3. Felippe Massa  4 Kimi Raikkonen
2008 Constructor Champions, Ferrari were the first team to launch their 2009 car. The car appears sleeker than the bulky McLaren.
Although Kimi Raikkonen failed to shine in 2008, the driver combination with Felipe Massa is one of the strongest on the grid. Raikkonen HAS to perform this year, after being consistently out shown by Massa who is much cheaper forvFerrari. I understand Kimi likes the 2009 car more and feels at home.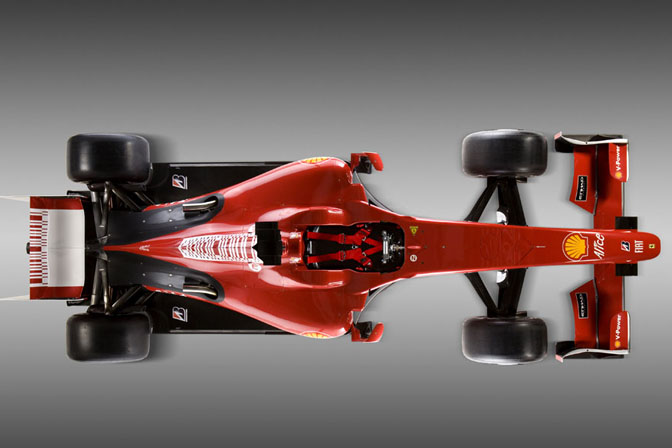 Ferrari have also been testing their KERS system extensively. Massa's test will come from putting that last lap at Brazil behind him, where he thought he was the World Champion,,, for about 15 seconds.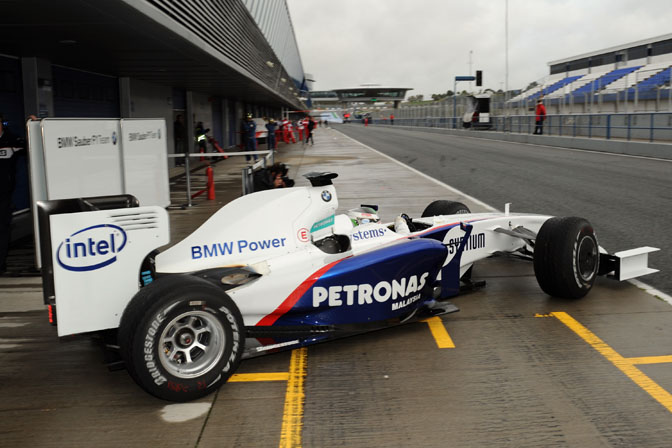 BMW Sauber,  5. Robert Kubica  6 Nick Heidfeld
The German-Swiss team will be looking for their first championship. The team struggled a little last year and began development early on their 2009 car. Another team who have been very quick on occasion. They appear to be reliable which should help their cause early in the season. They have completed lots of testing with 2009 regs with a modified 2008 car as well as this new chassis.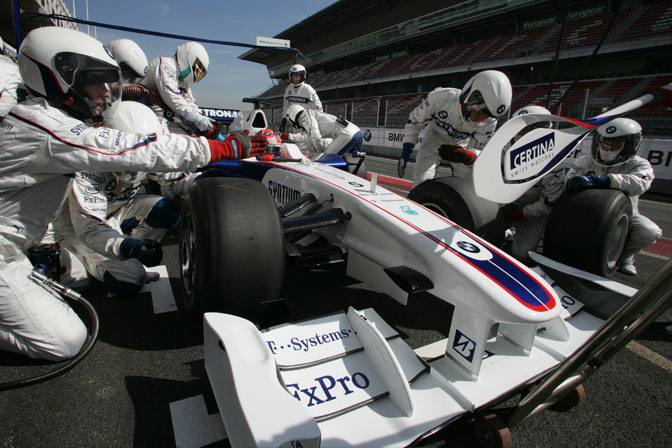 Robert Kubica has come on leaps and bounds since he joined Formula 1. He is a title contender, if BMW can be consistent. Nick Heidfeld is another driver under pressure to improve. One of my favourite racers, he appeared to lose his edge in 2008. Was it the pressure of Relative new-boy Kubica shinning or was it the difficult car set-up.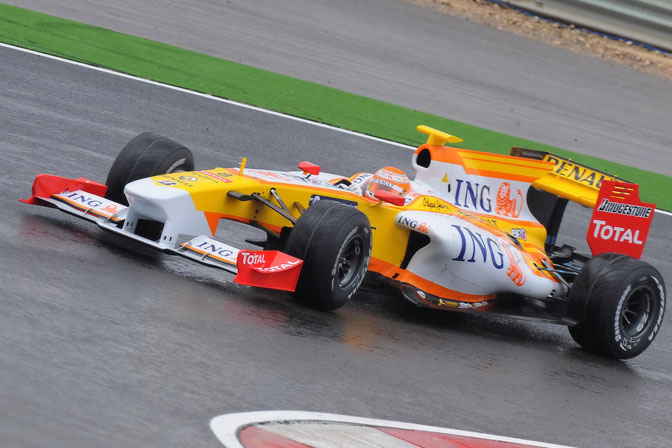 Renault,  7. Fernando Alonso 8. Nelson Piquet (Jr)
Back of the grid in the looks department, the livery hurts my eyes! 
Alonso looks like Ronald McDonald in that race suit and the car looks very bulky. Despite all this, the Renault does appear to have some pace.
Ignore all the negativity with Alonso at McLaren in 2007, he is a star and probably the best driver on the grid.  Alonso's team mate remains Nelson Piquet Jr. He struggled early in 2008, but did appear to improve during the year. Make or break season for him.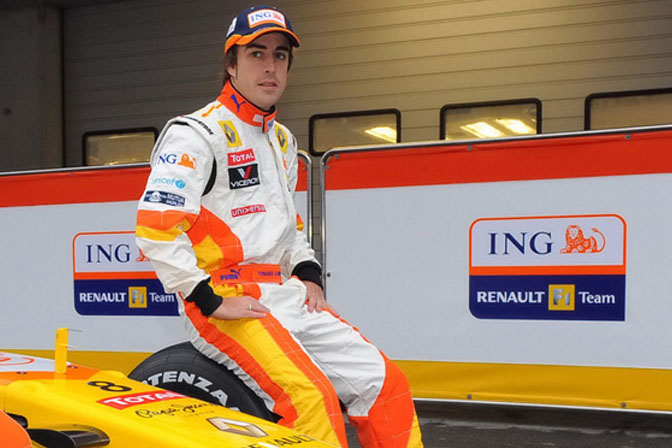 The Renault R29 is one of the more unusual cars with a very larger bulky looking nose. Renault believe they are onto something. Expect Alonso to get the car into higher positions than it should!
Renault were allowed to improve their engine performance over the closed season. The team had complained about lack of power and had to lobby the FiA for the break.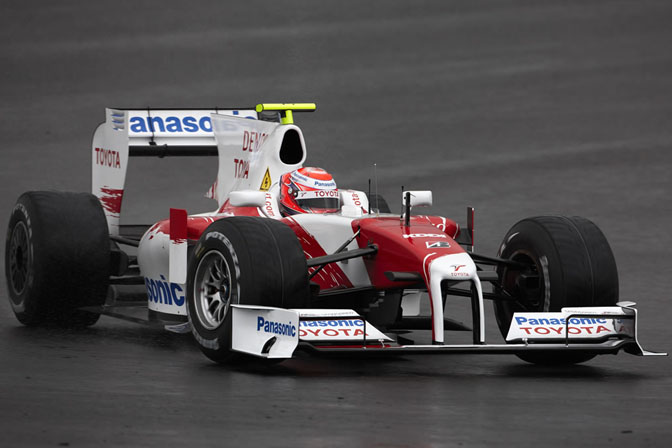 Toyota, 9. Jarno Trulli  10. Timo Glock
Quite a few people are tipping Toyota this year for some good results. They appear to have good speed in testing, but you should never put too much weight on that.
Even so, the likes of Massa say Toyota are doing a good job. Its a very important car for the team. Toyota has one of the biggest budgets and still has no wins in its short history. Add the Financial Crisis to the mix and the race team may be on notice later this year.
The optional KERS system will not fit in the current 2009 chassis without modification. If teams running it find a performance advantage, they will suffer. Many teams seem to be struggling, so putting all your energy (!) into  other areas may prove a good decision.
Toyota are using a rear diffuser which many other teams feel breaks the rules. It appears the FIA will allow this to stand, so any advantage at Melbourne may disappear by 2nd or 3rd race.
Jarno Trulli, one of the few drivers to have raced in Formula 1 on slicks,  remains with the team, as does his team mate Timo Glock, who did well last year.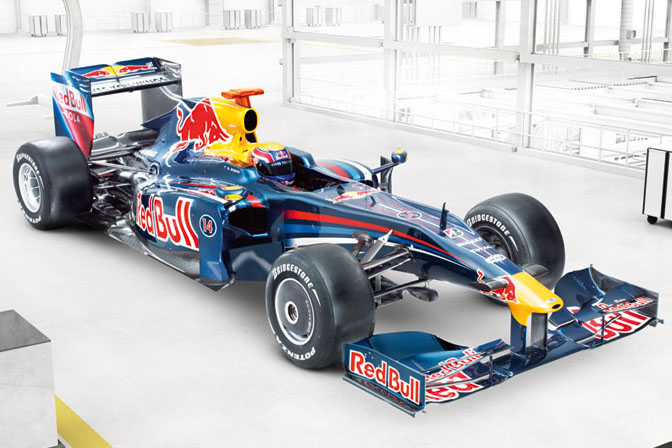 Red Bull – Renault,  14. Mark Webber  15. Sebastian Vettel
The most attractive car on the grid in my eyes, it looks so much smaller than the McLaren.
A typical Adrian Newey design, where the body is tightly wrapped around driver and components. With new rules, Newey has shown some different thinking to other teams. The front wing is very complex, the nose very high, and narrow. The rear end bodywork falls away and the rear wing endplate are cleverly integrated into the diffuser.
They are one of the few teams to continue with a 'Shark-Fin' on the engine cover. This is very extreme as it actually connects to the rear wing.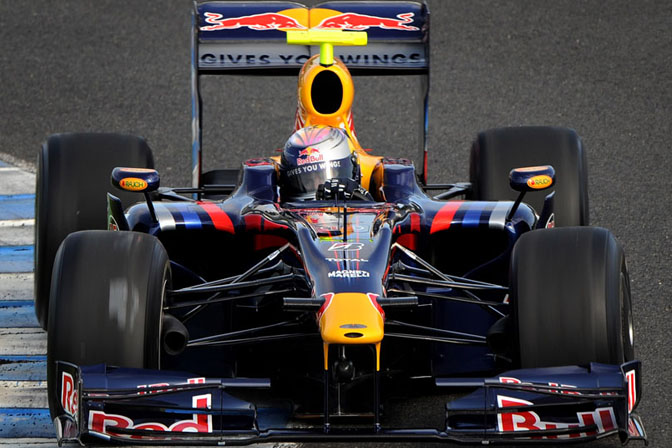 Mark Webber remains, recovered from a Broken leg. Italian Grand Prix winner, Sebastian Vettel, moves up from Scuderia Toro Rosso. Vettel is the most impressive of the recent newcomers.  I think he will give Webber a wake-up call. 
A very impressive car, but come race-day, reliability is often the Achilles heel for any Newey designed machine. If the Championship was for looks, almost all the other teams would have gone home by now.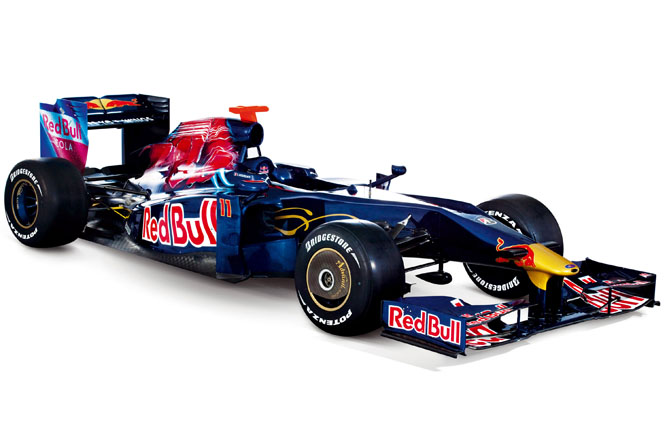 Scuderia Toro Rosso- Ferrari  11. Sebastien Bourdais   12. Sebastien Buemi
I say almost, as the sister Red Bull team, Scuderia Toro Rosso are running a very similar car, but powered by Ferrari.  This necessities a new gearbox and rear suspension. The Ferrari engine gave 'STR' a big advantage over Red Bull's Renault unit last year, helping the team to its first win. It is unlikely they will have this advantage now, as Renault were given dispensation to improve the engine performance, much to the disgust of its rivals
Sebastien Bourdais remains at the team, joined by Sebastien Buemi. They must like the name at STR as he replaces Sebastian Vettel!
If nothing else, I like the two Red Bull cars, because the dark blue on the front wings helps disguise how stupid looking the wings look! (Updated: defined by the new FIA wing regulations)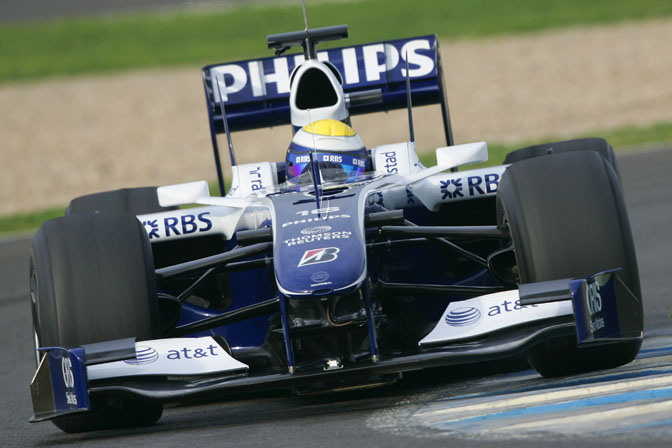 Williams –Toyota,   16. Nico Rosberg  17. Kazuki Nakajima
Last of the old school teams, one of the few not backed by a manufacture. It seems a long time ago that Williams were winning championships with Piquet, Prost, Hill and 'Our Nige'. Now, they make up also-rans.
This may change for 2009. The only team to have a fully developed flywheel based KERS system, the FW31 was one of the quickest cars at a Spanish test earlier in March,,,, remember, never believe any test times, but I'm hopeful!
Williams have a similar controversial diffuser to Toyota, who are also the engine supplier.
Their drivers remain as in 2008. Nico Rosberg is very quick and was a match for Lewis in lower formulae, but he also had a number of 'off' weekends in 2008. Maybe he was over driving. 
The surprise driver in 2008 for me was Kazuki Nakajima. When he joined Williams at the end of 2007, no one rated him. He came with Toyota engines, amusing given his father's Honda ties, but he worked hard and was fast at times last year.
He did have a number of accidents, normally in the vicinity of David Coulthard, but quite a few people, me included have come around to Kaz. He may keep Nico on his toes.
Eagle-eye readers will have noticed Rays wheels on the Williams. It seems every time we post an image of the BMW M3 GT2, someone comments on the wheels, so here you go Rays fans!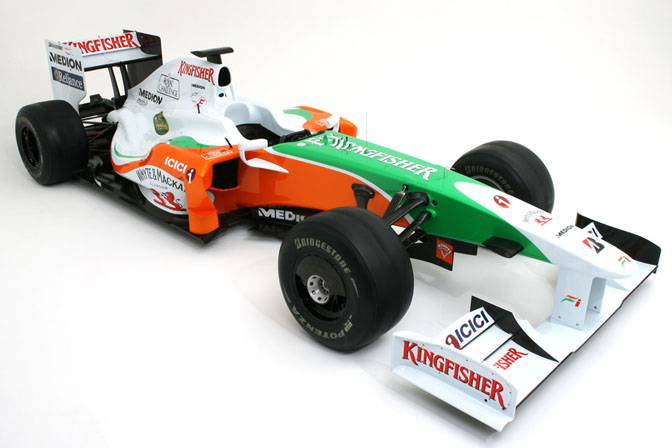 Force India- Mercedes,  20. Adrian Sutil   21. Giancarlo Fisichella
The team which was once Midland, Spyker and before that,Jordan finally have some consistency in ownership. Indian businessman, Vijay Mallya now owns the team and the car is sponsored by many of his companies, including Whyte& MacKay Whiskey. The car is all new and seems a huge improvement on its 2008 machine, which still had DNA from its Midland days. Morale within the team is up and many are commenting that its like the 'good old' Jordan days.
Force India have agreed a partnership with McLaren Mercedes. Engine and gearbox are supplied by Mercedes and McLaren respectively, while one of McLaren's directors has been seconded to Force India's Silverstone base.
This agreement was finalised quite late in the day, and the car did need some revisions from its original Ferrari engine based design. They have been testing for a number weeks with respectable, if not spectacular times. With so many other teams looking impressive, its going to be hard for 'FI' to move up from the rear of the grid.
The team retain their drivers. Giancarlo Fisichella is one of the few who remembers slick tyres in the 90's. Adrian Sutil needs to shine this year. I was very impressed with him in GP2 in 2006, but it seemed to struggle a little in the last two years.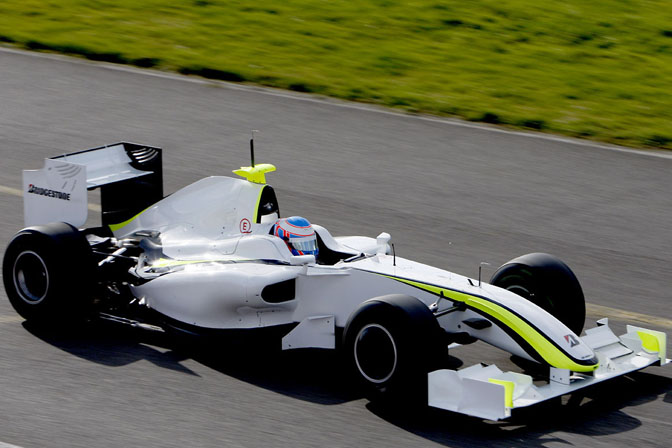 Brawn GP- Mercedes,  22. Jenson Button   23. Rubens Barrichello
A new name to the mix. If you have any interest in Formula 1, you will be aware Honda decided to pull out of Formula 1 in a shock announcement at the end of the year.
The team were funded into the new year, hoping to find a buyer. Lots of people claimed to come forward, but at the end a Management buy-out took ownership of the team fronted by Ross Brawn and Nick Fry.
You would assume this would have put the team at a disadvantage….not so. Brawn was quick to realise the 2008 car was a dog and stopped development early in the season starting 2009 design months before anyone else. Although  development will have slowed while the team was for sale, the car made its track debut two weeks ago and was immediately quick, topping the time sheets.
They have been consistently fast with both Jenson Button and Rubens Barrichello setting fast times. Another team with a controversial diffuser, it is not clear if the speed is genuine. Years ago, Prost GP topped the time sheets in testing, running light, hoping to attract sponsors. Note the similarities to Brawn?
Difference is, the speed does seem real. We won't know until Sunday, but it appears that Brawn really are quick and they could cause quite an upset. It would be a great reward for all those who stood by Ross and Nick since Christmas, working overtime, not knowing if they would have jobs in March. As I write this, rumours of 300 lay-off's are being reported by some F1 websites. A real shame and a kick in the teeth, IF that is the case.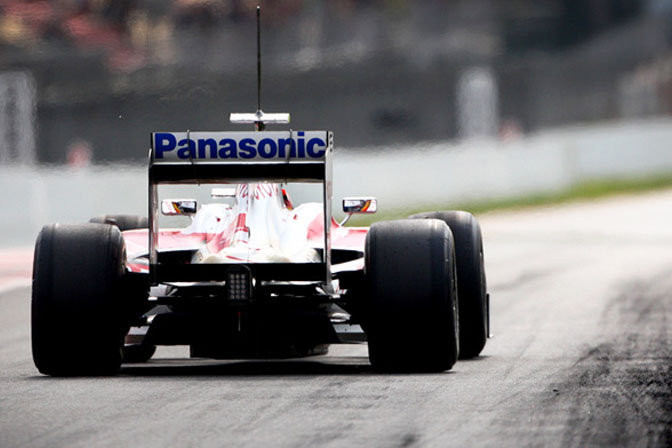 So, there you have it. The regulation changes have made it a very open championship, but the cream always rises to the top. Might take a while, so don't be surprised to see an upset in the first few races. I have a feeling McLaren will struggle for a while and be playing catch up with Renault, BMW and Ferrari. If Red Bull can sort their reliability, then they could be up there too.
The big talking points of the weekend are likely to be the legaility of the Brawn, Toyota and Williams diffusers, the pace of the new Brawn GP car and the lack of pace for McLaren. More on the diffuser issue can be read here

Just for the record, the planned points changes, announced last week by the FIA have now been put back until 2010.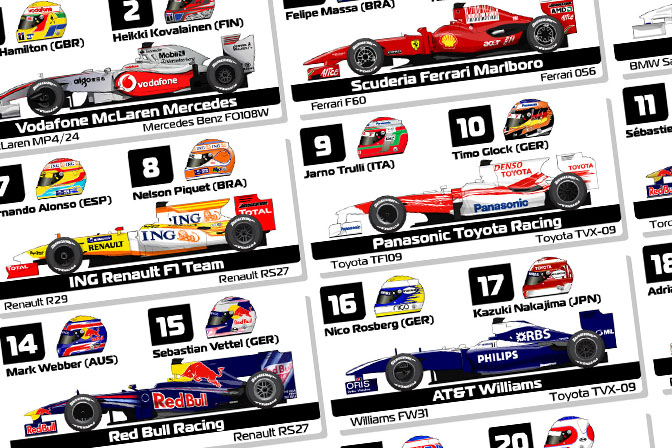 I have produced a free PDF and JPEG F1 Spotter Guide, in conjunction with Radio Le Mans. Ten-Tenths.com and SpeedTV.com, which you can download at www.spotterguides.com
Who do you think will win in Melbourne and become World Champion at the end of the season.
-Andy Blackmore
Images: F1 Teams and Engine suppliers.