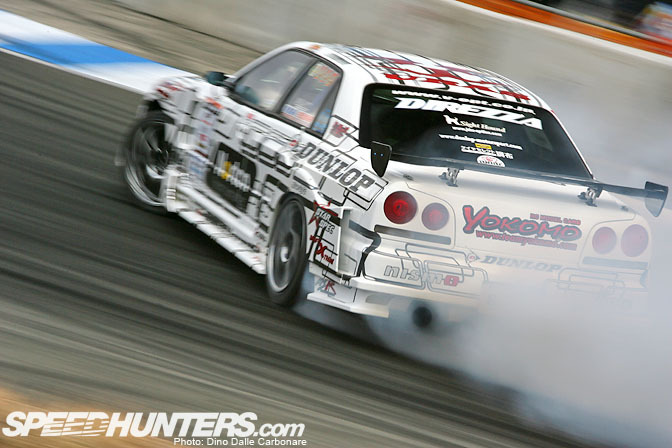 Here is some more action from the season opener of the 2009 D1GP.  For a first round Ebisu was packed full of action, a very different story to last year when the drivers were all struggling to get used to the newer, grippier surface.  As you can see from the opening shot Nomuken was performing flawlessly all week-end and making full use of his power to cook those Dunlop Direzza tires.  I really like this shot as the exhaust gasses pierce a hole through the cloud of smoke.  And speaking of smoke….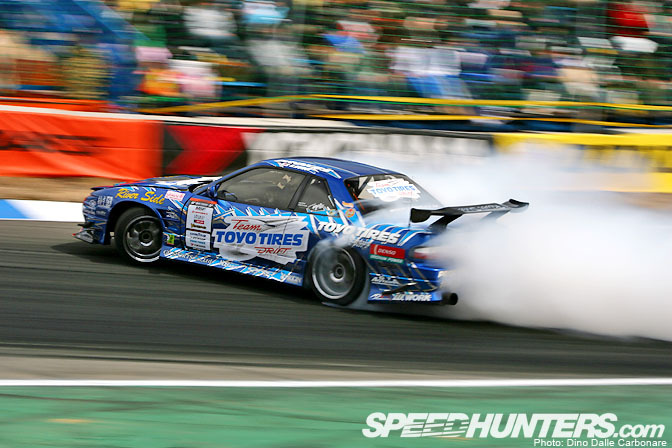 Kuroi deserves a special mention.  The Team Toyo Tires driver was going wild with the accelerator pedal keeping it pinned to the floor almost all of the time.  Just look at smoke wrap itself around the rear fender and over the trunk.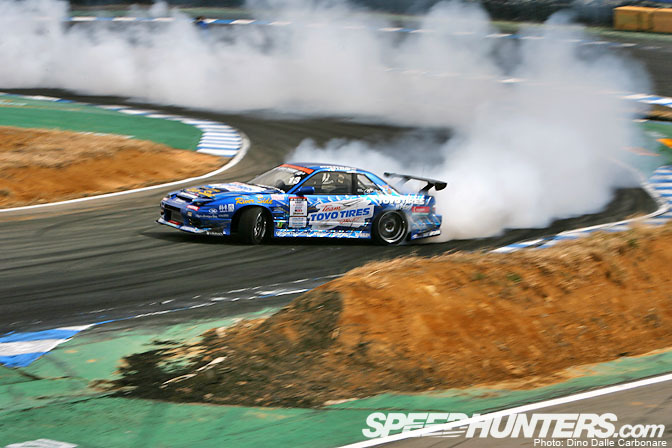 And to give you an idea of the trail he was leaving behind.  Even Saito with his 800 HP smoke machine couldn't keep up!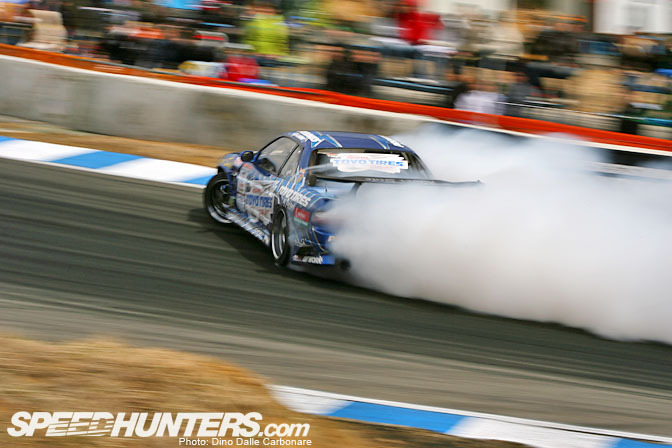 And towards the end of his drift the Onevia was half disappearing in its own little cloud.  I just had to post these three sequence pictures to give you guys an idea.  Kuroi managed to beat his teammate Kawabata in the Best 16 but went out against Saito in the Best 8.  Better luck next time as they say.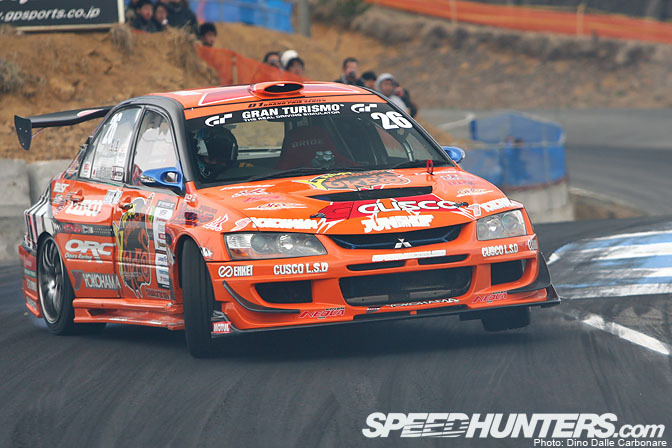 I always enjoy shooting from behind the pit-wall at Ebisu.  Even though we are really not supposed to, I always try to sneak a few pictures as you can get such a great angle on the cars dropping down into the main straight.  Here is our own Naoto Suenaga with the Team Orange Evo 9, lifting the inside front wheel as the car squats heavily on to its rear.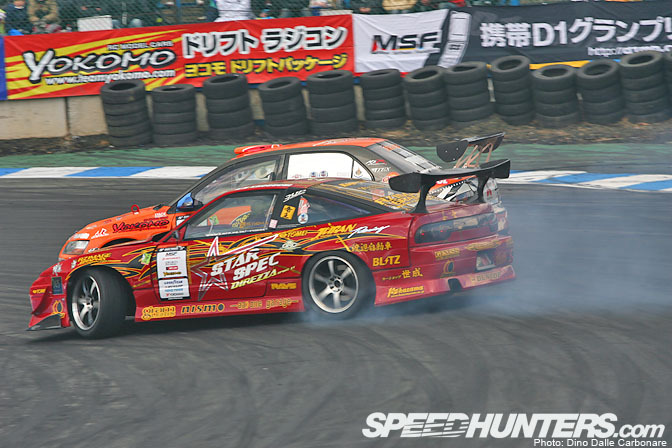 He qualified for the Best 16 but went out in the first round against Koguchi in a series of extremely close runs.  Koguchi went up against Imamura in the Best 8 and lost.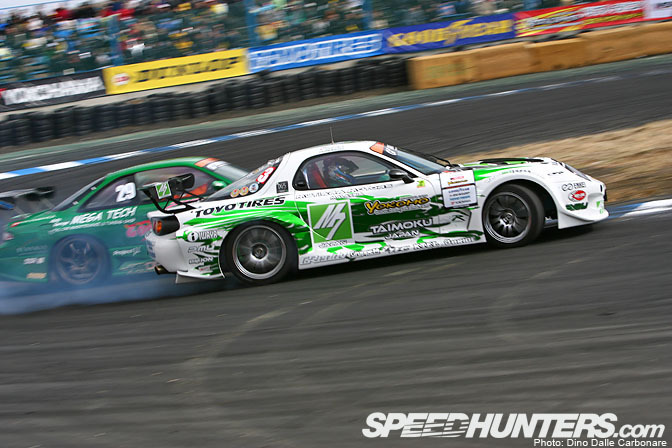 Here is Naoto's brother Masao, behind the wheel of the RE-Amemiya RX-7.  This year they have gone for a bit of a drastic color change from the original light blue they have always used in D1. He is battling it out against Murayama's Mega Tech S14 in the Best 16 round.  He then ended up moving onto the Best 8 but lost against Nomuken.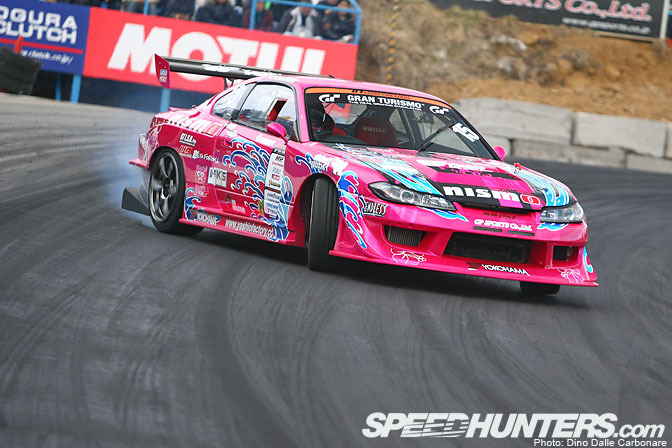 Despite the fact that he didn't qualify I want to show a few pictures of Okamura's Yashio Factory S15.  I take my hat off to Okachan, as he not only builds stunning cars, but he can drive at a professional level in D1.  Let's not forget he is in his 50's!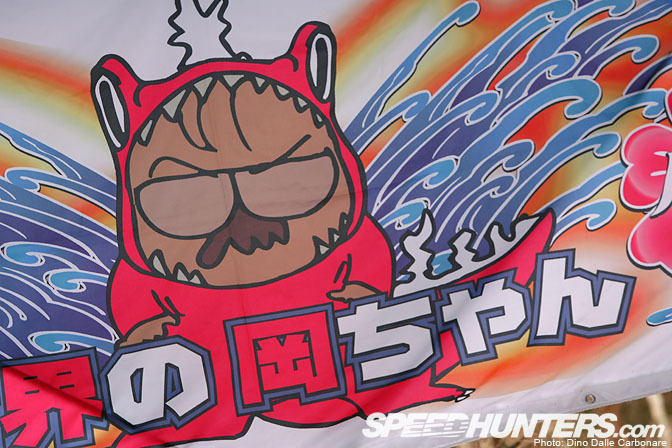 For 2009 they have created the funniest logo with a cartoon version of the man himself dressed in a pink bunny suit.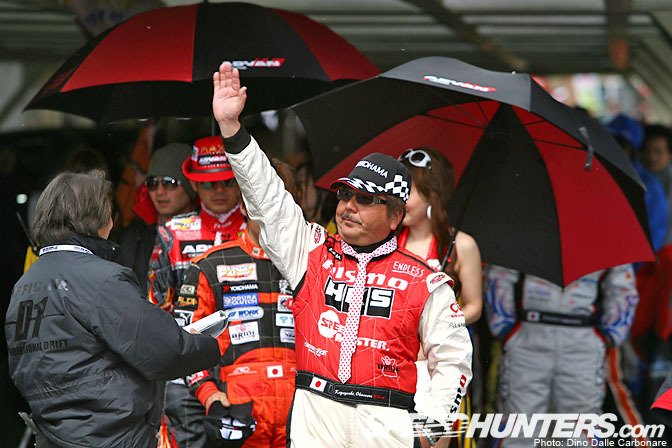 You have to admit it looks pretty spot on, but he definitely needs the pink suit! Sekai no Okachan!!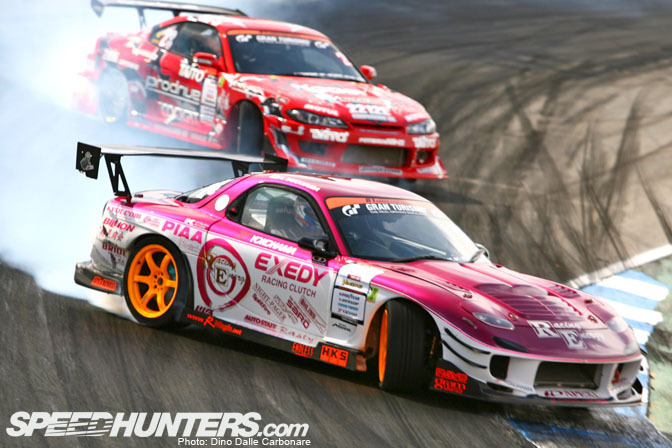 Imamura's road to the final started off with a battle against Takayama in the R-magic FD.  And what a close one it was.  On the first run, with Takayama leading, Imamura was caught out form the FD's speed and left a pretty evident gap clipping the first apex.  Takayama unfortunately spun out in the second run as he was trying to keep glued to Imamura.  If it wasn't for his spin things might have gone very differently.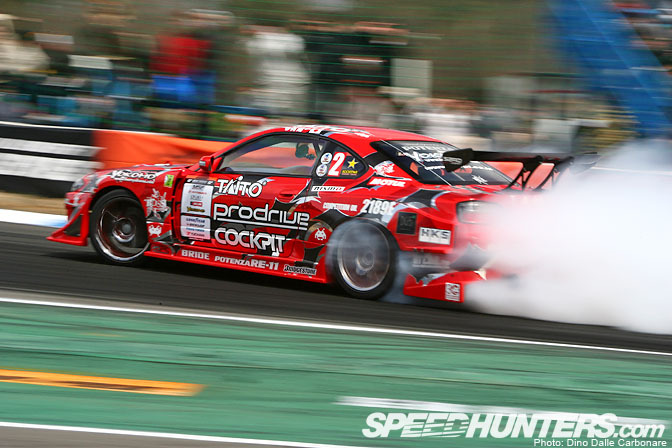 Here is Imamura powering out of the last corner, with his rear diffuser doing a great job of directing the smoke out from under the car.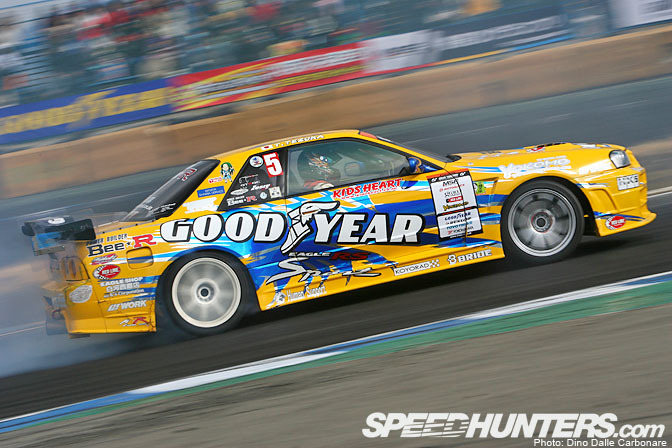 This is the only picture I could get of Tezuka's Bee-R BNR32 in action, where you can just about see the polycarbonate plates that have been added onto the trunk and to the sides of the spoiler. I'm guessing these are to control the rear end better at speed and create cool smoke trails.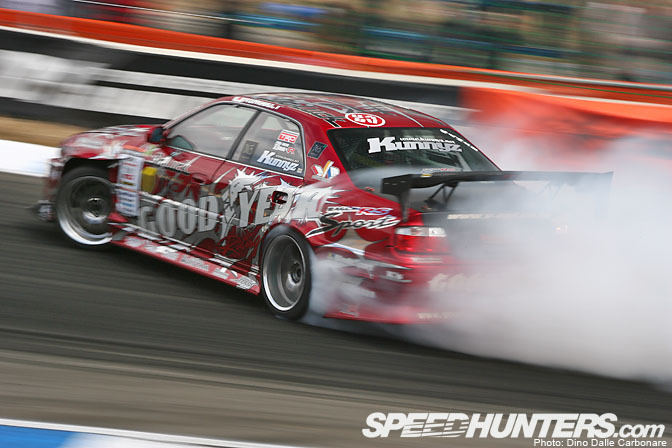 Takahashi was performing good all week-end but just didn't have the edge to make it into the Top16.  His JZX100 is a stunning machine and looked great out on track.  In fact his car looks a lot like my Yokomo RC car, I'll have to do a post on that soon!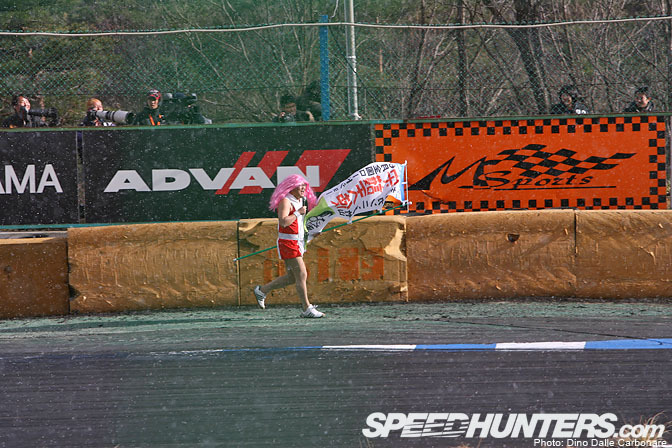 And to conclude here is a man dressed in a women's outfit wearing a pink wig! (Before you ask his name is "Kanningu" Takeyama, a famous Japanese comedian from the Yoshimoto comedy company.  He was trying to promote his new TV show I think…)
Next up a lifestyle post from the paddock of Ebisu.
Dino Dalle Carbonare