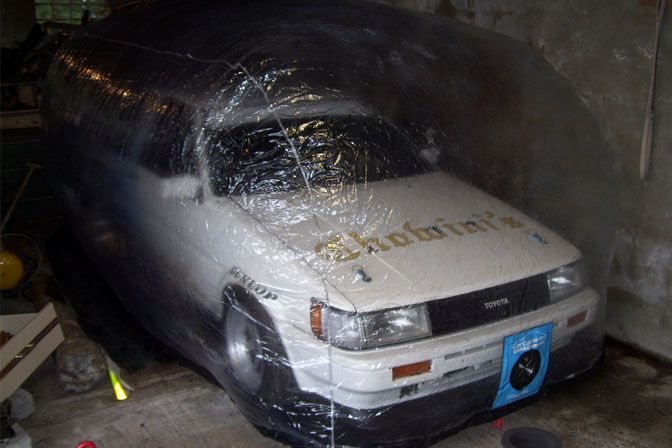 I came across this special Corolla AE86 racecar earlier this year via Ten-Tenths.com, one of the premier Motorsport forums.
Forum member (and I notice, new Speedhunter) "Eircamae86", owns this very special car which has just 22 miles on the clock, Yes, thats right!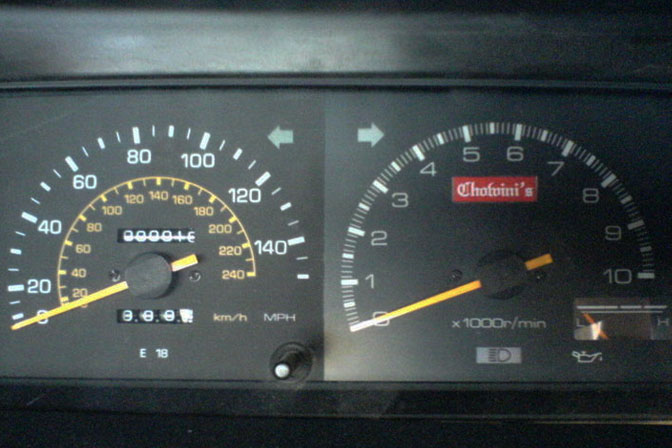 This racecar was originally built by TOM's for Team Chowini in Hong Kong. The team ran a number of AE86's in the 80's, most of them carried the distinctive Chowini logo on the side and hood.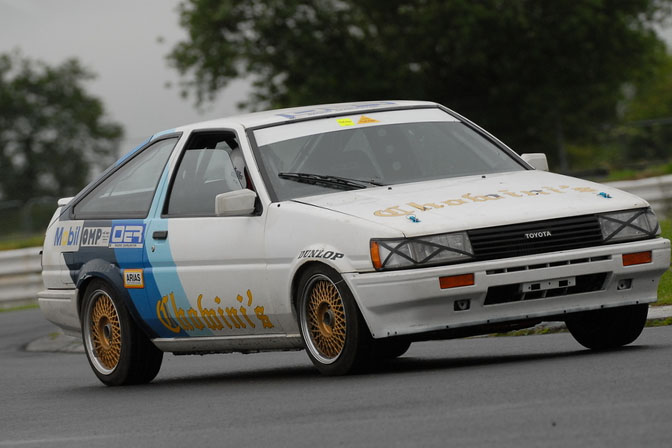 The car was originally built for the 1986 Macau Grand Prix, but the driver bailed out when funds didn't materialise. The car was tested and then put into storage.
The car has seen little use since, hence the very low mileage. All the original bodywork is in place although the previous owner fitted a more recent 8 point roll-cage.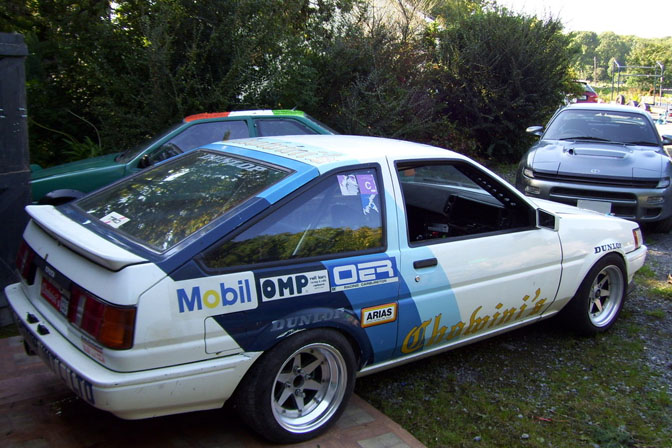 Before Eiracmae owned the car, it lived in Canada for a while before crossing the Atlantic to the UK, and now, its current home in the Republic of Ireland.
Here is some of the impressive spec:-
 Interior
• OMP bucket seat
• Schroth 6 point harness, 3 in belts
• Modern 8 point Roll-Cage
• Electric plumbed in fire extinguisher
• Modified steering column
• Quick release Chowinis steering wheel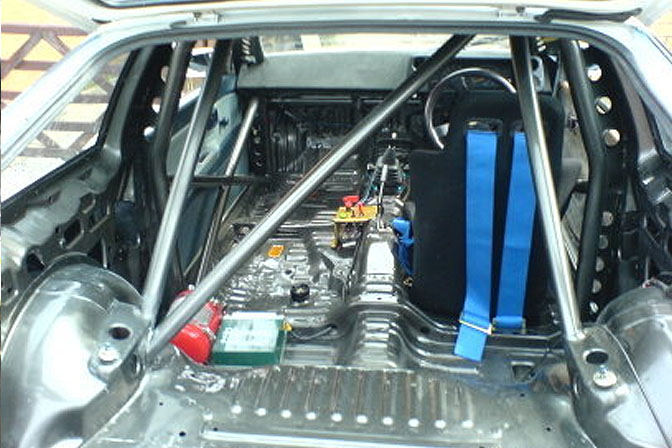 Engine
• Lightened and balanced throughout
• 40mm Crank
• TRD rods
• Arias forged slipper pistons 11:1cr
• Modified big port head
• TRD big valves & springs
• Underbucket shims
• Camshafts 320 in & 304 ex both 11mm lift
• Standard plenum (re-worked)
• Standard cast ex manifold (re-worked)
• Silicone Samco hoses
• New swirl pot
• New shorter height uprated radiator
• TRD ecu with removable eprom
• Toda chrome alloy lightened flywheel with integral ring gear.
• Reduction gear starter
• Paddle clutch
• Remote oil filter
• Large oil cooler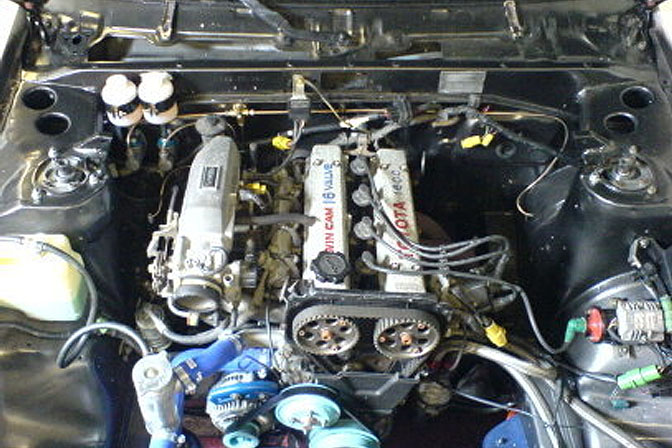 Front Suspension
• Rose jointed TRD bottom arms and lateral rod
• TRD 2 ¾ coilover 8 way adjustable struts
• Adjustable top mounts
• Roll center adjusters
• Cusco quick rack
• K-Max uprated anti roll bar
Rear Supension
• TRD rear springs (Light weight stressed versions)
• TRD blue 8 way adjustable dampers
• Std anti roll bar
• Rose jointed trailing arms and panhard rod
Brakes
• AP vented disks on aluminium bells
• AP 4 potcalipers
• Adjustable bias pedal box
• AP short cylinders with remote reservoirs
• Standard disks & calipers on the rear

Transmission
• TRD close ratio gearbox
• TRD quick shift
• 2 – piece propshaft
• TRD 2 way LSD (shimmed to 80%)
• 4.8 cwp
• Small halfshafts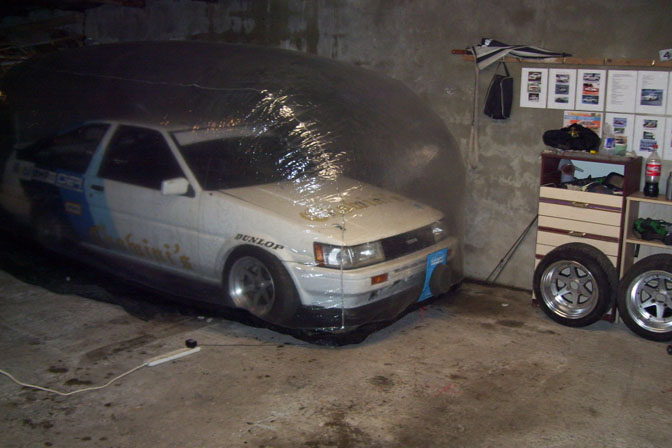 The car is now in Hibernation for a while. Eircamae tells Ten-Tenths " I have no idea when she may get a run out again, I have only had it out twice, got a whole 1/2 a Lap in at the 1st attempt before setting off the tracks noise monitors, Fitted a home made exhaust 2nd time out but its was too restrictive which resulted in dirty plugs every minute or two".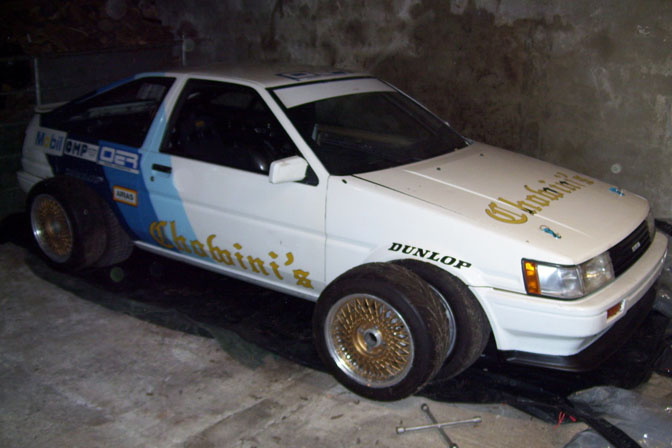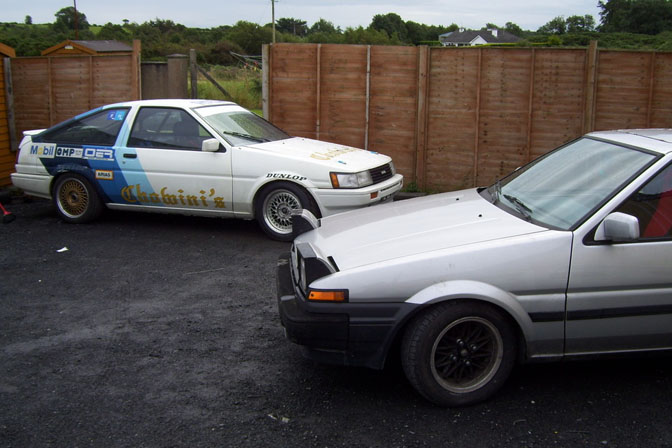 "I want to keep her 100% original & bring it out every now & again but I think that I am going to have to fit an exhaust system & engine management as the 1986 TRD E-Prom ECU is a little out of date".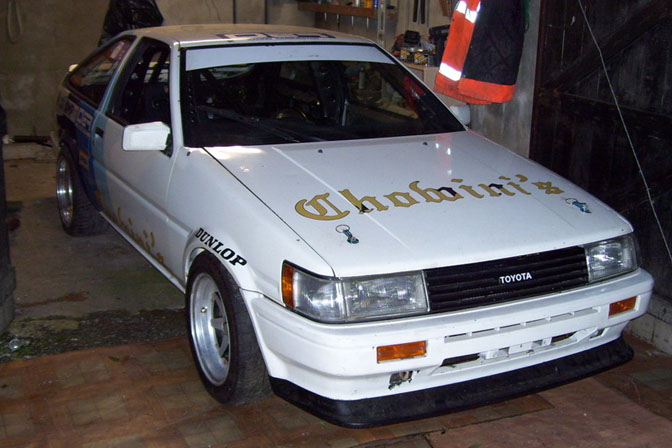 What a great find!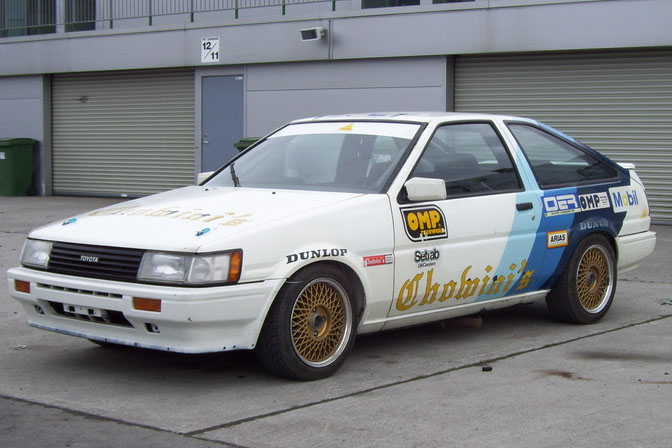 I'll end Toyota month with this 'bonus' image from Eircamae, which I know Antonio will just love!!
If only I had seen this when I wrote the AE86 BTCC post last year, I had so much trouble finding any images of the BTCC championship winner.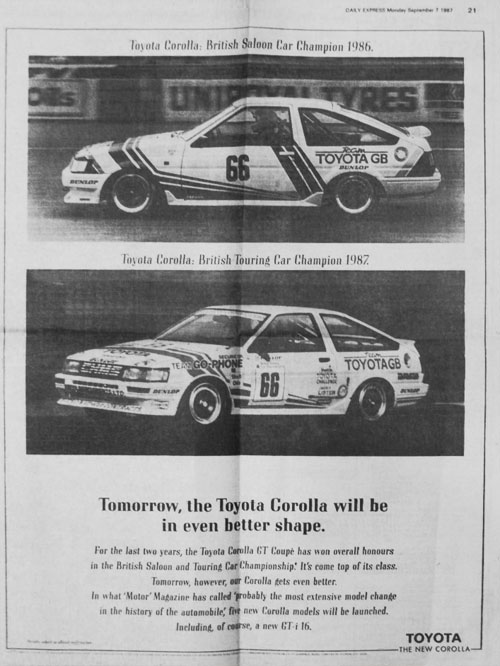 Thanks for sharing Eircamae. If you want to find out more info on Group A racing AE86's, click the Ten-Tenths link below
- Andy Blackmore
17 Page AE86 Racecar Thread on Ten-Tenths
Speedhunter's AE86 BTCC Champion feature