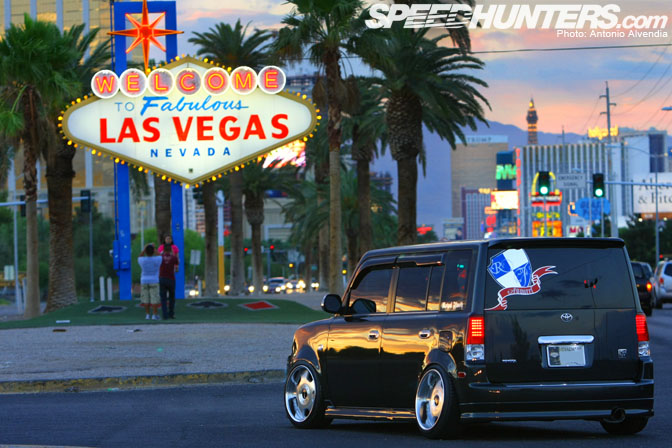 Welcome to Las Vegas, Nevada… the city of lights and sin; built on gambling money, financed 40+ years ago by by some pretty entrepreneurial gangsters. It's only fitting that Sin City is turning out to be the home of some pretty gangster wheel fitment, as made evident by Paolo Luna and his other friends from the Royal Flush crew. I first met Paolo last year through Vegas Ray, the Royal Flush ringleader and owner of a pretty crazy fitment-having S13. Their crew has quite a few nicely done cars with aggressive stance – just look at the way Paolo's xB sits! Tons of rear camber!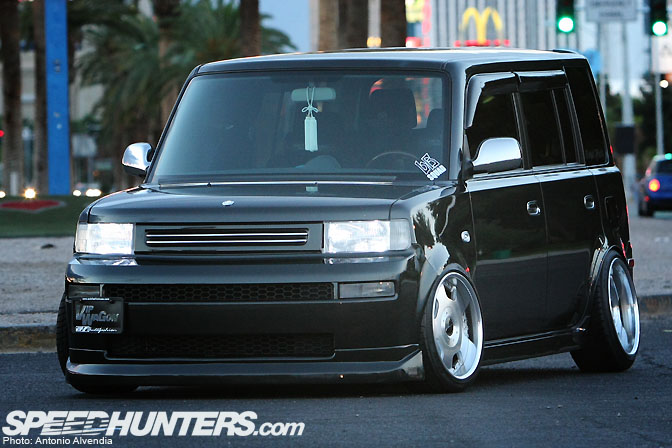 Outside the car, Paolo chose to install a KBD lip kit, which looks very clean and subtle. What really gets my attention though, is the incredibly stylish Gialla front grill, with its horizontal chrome accent fins matching some of the other chrome accents around the car – the door handles and other small details. If you look directly above the grill, you'll notice a small Garson crystal hood emblem, which match the crystal clear sidemarkers, chrome sidemarker trim, and Japanese OEM bB headlights with LED city lights and HID headlights and foglights.
Let's check out the wheels – 17×8 (+6 offset) SSR Vienna Dish wheels up front, with 17×9 (+11 offset) in the rear. Amazing! Such aggressive sizes and offsets on a Scion xB! I really hope this setup inspires other Scion owners take Paolo's lead and step up their wheel game! This presents a dilemma though – how on earth does one find 4×100 PCD wheels in such sizes? After all, it's hard to find 17inch 4×100 wheels in super low offsets like that. I'll let you in on a little secret. Paolo's xB actually sits on 4×114.3 wheels; he converted it using a 25mm conversion spacer. That's the key right there – Scion owners take note!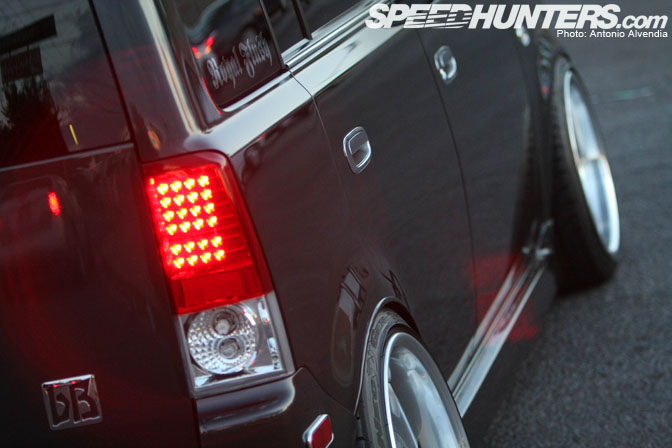 The
back of the car looks stylish with its LED Sonar taillights and
Japan-spec chrome bB badge. If you look very closely, you'll also spot
the chrome door handles and minute chrome trimpieces surrounding the
rear side markers.
However, what grabs my attention most is the way the car sits.Paolo dropped the xB with a prototype Stance lower kit, polyurethane bushings, and an Evolved Concepts -5 degree camber shim modified to -9 degrees. Crazy! Paolo's xB has more rear camber than most people run on the front of their cars.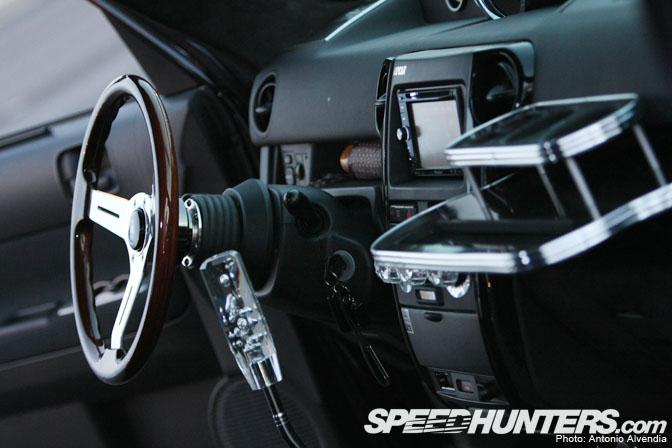 Inside the car, Paolo chose a Nardi woodgrain steering wheel connected to a quick release, with a clear Japanese bubble shift knob screwed into the shifter to match the Japanese OEM crystal AC knobs in the center console. In the foreground, you can see the Orataro front table with cupholder, which also adds a touch of VIP styling to Paolo's xB. Very cool!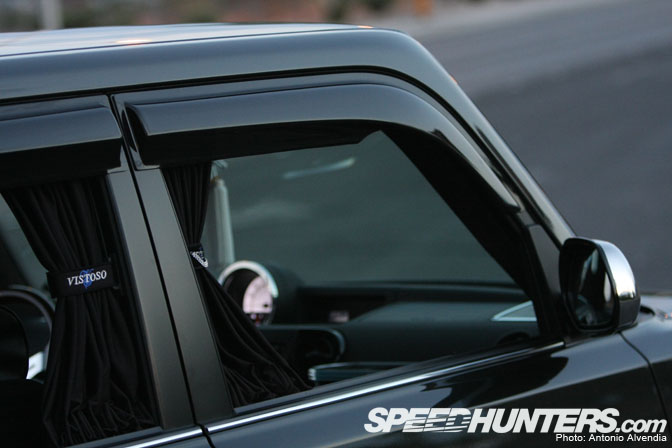 To add a bit of upscale VIP style to a car that most people consider an econobox, Paolo added Vistoso curtains to his B-pillars, ESAM window visors, and chrome exterior mirror covers from a Japanese OEM Toyota bB.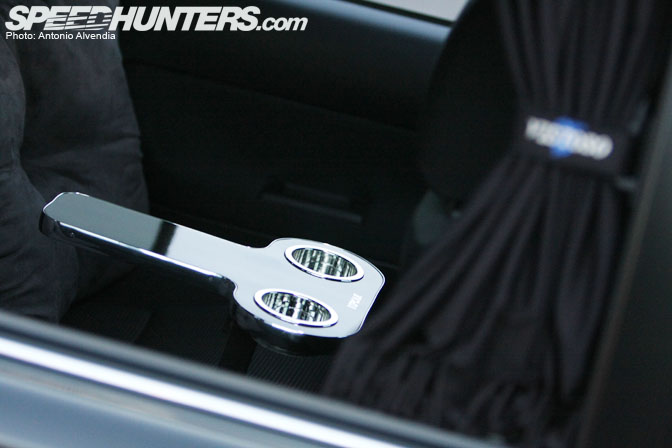 In the rear passenger area, Paolo has a custom wooden/chrome table mounted with suede pillows for some comfortable back seat action.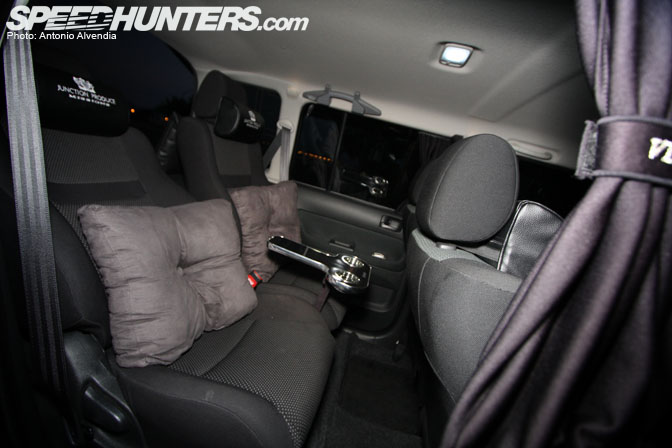 Notice anything different about the rear seats? Aside from Junction Produce headrest pillows, look at how the seats recline. Those aren't normal xB rear seats! They're actually another pair of xB front seats, which have been mounted in the rear of the car! Very cool.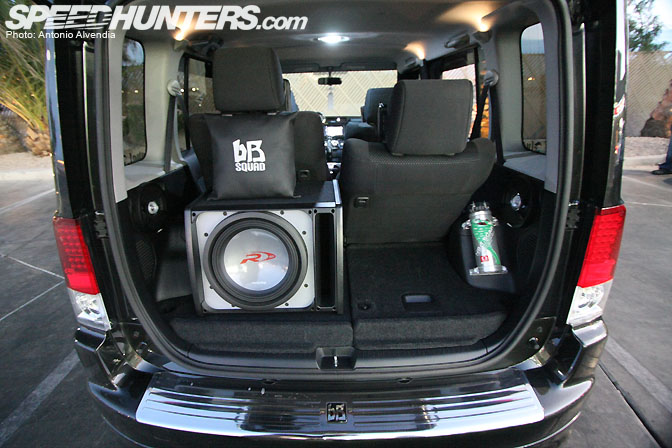 Paolo's xB is full of cool little details. Outside, the chrome Japanese bB bumper cover adds a little class to the rear; while inside, you might notice the extremely bright LED dome light, which greatly contrasts to the weak yellowish "uplights" which set the mood when you're riding in the car. 
We don't normally cover ICE on Speedhunters, but since we're staring right at it, I'll just fill you in. We're looking at an Alpine Type R 12inch subwoofer, Infinity Reference rear speakers (actually there are Infinity Kappa speakers all over the car), 300 watt Infinity Mono amp, and a Rockford Fosgate wiring kit.
This xB is well done all around. Together with the other members of the Royal Flush crew and bB Squad, Paolo definitely represents Sin City the right way. Respect!
-Antonio Alvendia