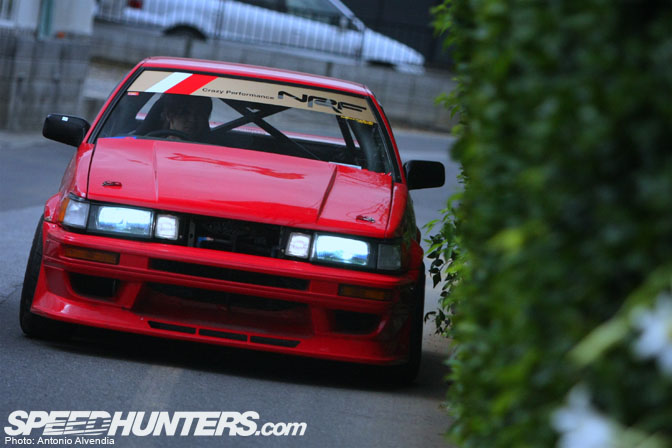 Rough World. The name is infamous amongst AE86 owners in the know. Rough World is a name that is filled with legend. Characterized by their aggressive, mean, down-to-business drift cars built in the Rough Style, the name is defined by the hardcore crew of old school street drifters who hail from Ibaragi, but gained respect all over Japan. As a drift team, Rough World is like a band of renegade samurai charging through the mountains with "I don't give a F" attitudes, attacking the local touge roads late at night, stirring fear in the hearts of other drifters that might cross the Rough path; doing battle door to door, with no quarter asked and none given.
The previous paragraph is just an incredibly brief insight into the story of Rough World. It is by no means complete or thorough. Writing about Rough World would take much more time than we have to write these Speedhunters stories. However, I think it is extremely important to show this car to the Speedhunters readers. This AE86 Levin is a circuit prepared, street driven car built by Nojima, a younger member of Rough World. This AE86 isn't a drift car; it's actually a car that has been prepped for time attack and circuit events. As you'll notice when we take a closer look at this AE86, the car does have elements of the signature Rough Style, however, it surprisingly doesn't have the demon camber setup or stretched tires that you normally find on Rough AE86s.
If you recall reading the previously posted stories dealing with Nakai san and the Rauh Welt Porsches, you'll remember that the members of Rough World basically started the whole stretched tire and demon camber trend on Japanese drift cars. However, Nojima's circuit-spec AE86 isn't set up with this particular style because using meatier tires with a larger contact patch on the ground does give the car more grip. However, when I asked which look he preferred, Nojima was quick to respond, "of course, the [demon camber] look is much, much cooler. I'm using wider tires on this hachiroku because I need more grip to drive the circuit faster. But of course I and Nakai san both think that a car with [demon camber] looks much better. When we're talking about AE86s that are used for drifting or on the street, of course [demon camber] style looks the best, and the way the car looks is extremely important to us. The way the car looks and feels is the most important thing. That's why we make these kinds of cars."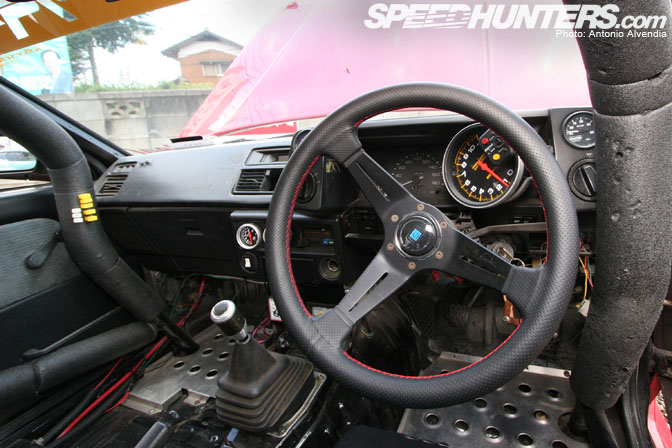 Inside Nojima's 1986 kouki Levin, you'll notice the interior is all business. With a popular Nardi "deep corn" (deep cone) air leather steering wheel as the handle of choice, a padded roll cage, and scuff plates on the floor replace the carpet and Levin floormats. Just by looking at this interior, I wonder if any of our readers can point out two ways to tell that this car is a 1986 Levin. By looking at this photo of the interior only. Let's see who knows about AE86s and who doesnt! =)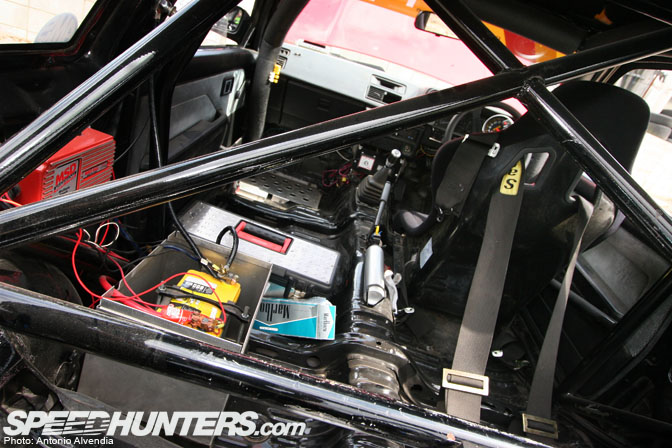 Popping the lightweight RunFree rear hatch with integrated rear wing, I was able to have a look into the interior of the car. A single bucket seat and Sabelt 3 inch camlock harnesses indicate that this car means all business, while the carton of Marlboros next to his toolbox indicates that the driver isn't afraid to die. I love the cross bracing on this Safety 21 bolt-in cage. Sure it isn't as strong as a welded-in Formula D spec cage, but lookswise, I actually like these bolt-in cages better, because it's more in tune with Japanese street car style.
Notice in the aluminum canister in the rear, there's a battery mounted there, and an MSD6AL ignition amp. It's interesting to note that the wiring is messy, but I don't think a clean wire tuck is on the Rough World list of priorities when building a car. Anyway, Japanese people seem to love spaghetti a lot.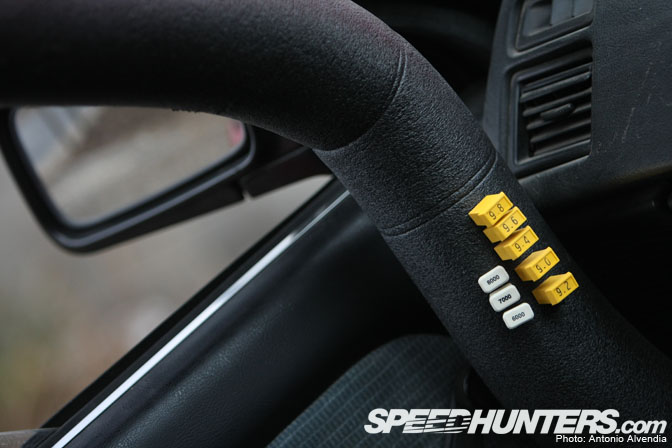 Here's something you don't see every day – Nojima decided to mount extra fuses and rev limiter plugs on his rollcage padding, so he could easily swap them out when he's tuning his MSD unit.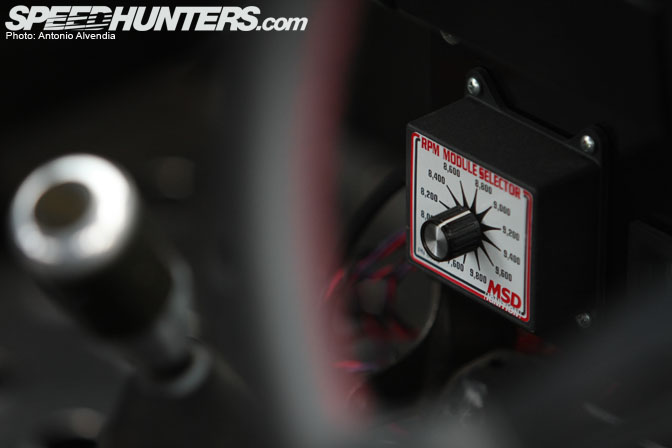 This is the MSD RPM module selector that is being used to control the output of the engine. It's interesting to me that he's using an American made MSD setup, instead of one of the many, many options made by Japanese companies. I wonder if it has to do with the cost, or if it's just a simplicity thing. I forgot to ask.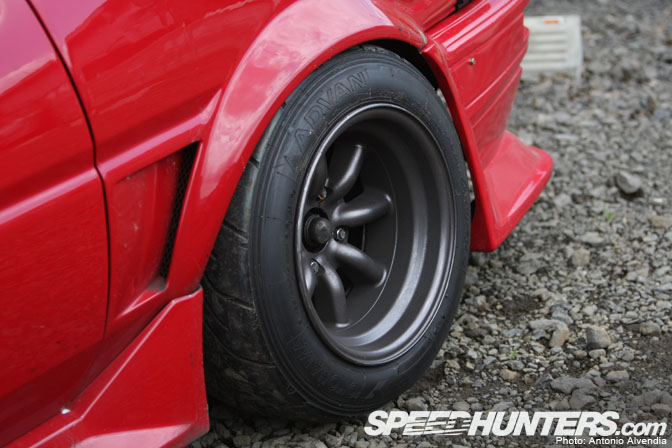 The wheels of choice – obviously a set of RS Watanabe Type R wheels, with fat Advan tires mounted on them. Take a look at the fender, front bumper, and sideskirts. People that pay close attention to AE86s and body lines will be able to tell you that the car is outfitted with a Run Free aero kit, designed and produced by another AE86 legend – Yamashita Koichi from legendary drift team Running Free.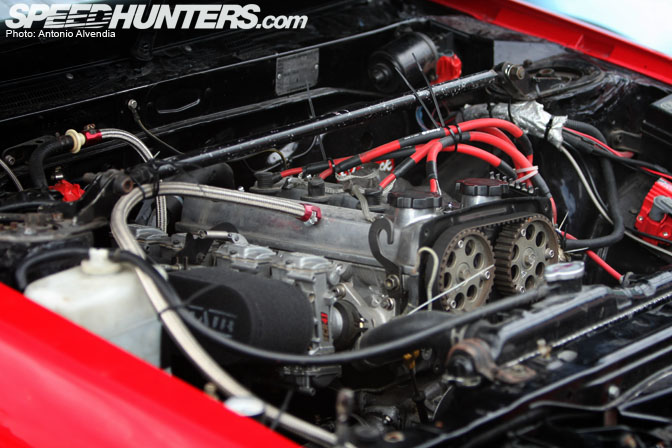 Even though the camber plates and strut bar look like they're well worn, with just a quick glimpse into the engine bay, it's easy to tell that this isn't a normal 4AG under the hood.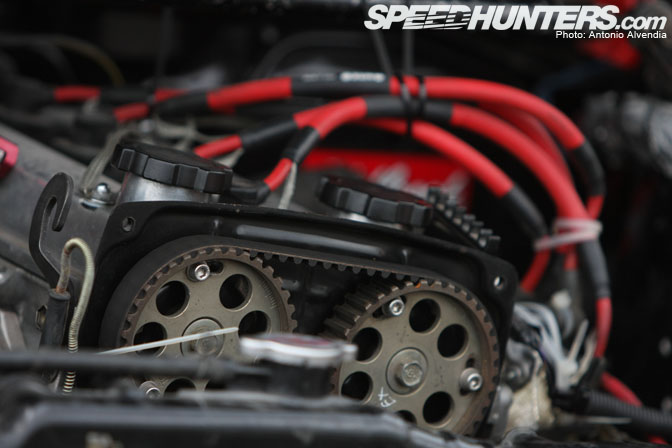 Notice the two oil caps on the engine? Nojima is running two intake cam covers; the 4AG cam covers are made as two pieces, and only the intake cam covers have an oil cap. The dull, dirty adjustable camgears are made by Toda Racing, and the super thick sparkplug wires (Nology possibly?) use grounding straps, so they obviously work better than the standard Toyota Nippondenso or TRD plug wires. The only problem with the huge thick wires is that the thick wires don't fit in the factory sparkplug wire holder.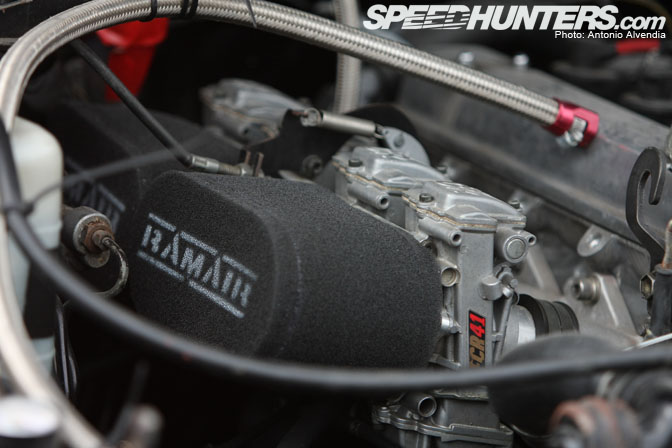 An interesting detail… If you look past the Ram Air filters, you'll notice that Nojima chose to use Keihin FCR 41 motorcycle carbs, mounted to his 4AG engine with an adapter plate. These 41mm diameter carburetors are actually motorcycle carbs – however, they became popular with some AE86ers in Japan because of the FCR responsiveness. Instead of a normal throttle butterfly that rotates open with a pivoting centerpoint, as commonly used on traditional Mikuni, Solex, Weber, or OER carburetors, the Keihin FCR carbs actually open by using a slider system, which apparently gives more engine response, which is why these types of carbs are favored by certain AE86 drifters.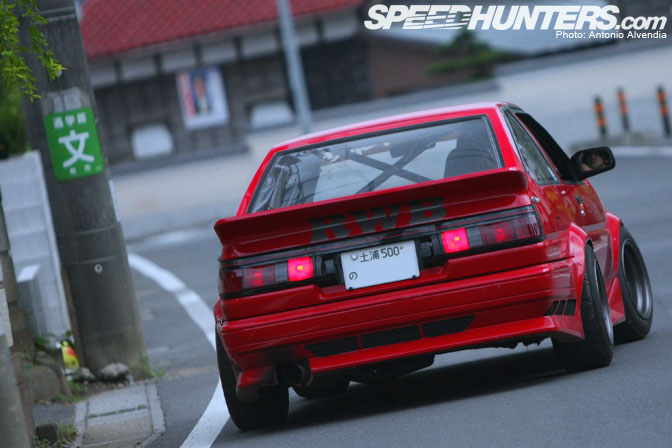 Looking at the rear of this Rough World AE86, it's pretty easy to spot the Run Free aero kit – the wide fenders, rear wing, sideskirts, hood, and bumpers. However, this isn't a normal Run Free aero setup – Nojima hand cut holes into the bumpers by himself, presumably to remove air pressure/resistance that's caught in the massive rear valance of the Run Free rear bumper. These types of big aero bumpers and sideskirts are very popular on drift cars, but for a time attack/circuit car, it's recommended to use a rear bumper with holes cut out, or some other relief for air passing underneath the car – you don't want the masive rear valance on an aero bumper to create drag, slowing down the car. Notice also, the large RWB sticker on the rear wing? It stands for Rauh Welt Begriff, showing Nojima's support for the new ventures of his sempai (mentor), Nakai san, the leader of the legendary Rough World crew.
This is just a high level glimpse into one of the cars of the infamous Kings of Mt Tsukuba, Rough World. Stay tuned for future stories and updates about Rough World, one of my favorite drifting teams of all time. These guys pretty much are the epitome of Living the 86 Life. Respect.
-Antonio Alvendia