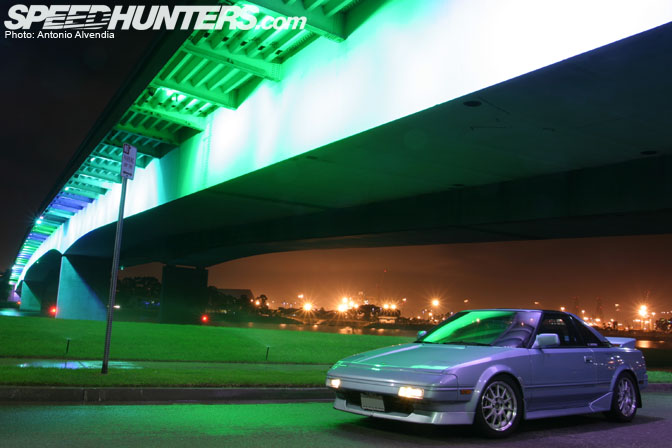 We really haven't posted many photos of AW11 MR2s on our Speedhunters Toyota month thus far. While I really like the cars themselves, it's very challenging to find a nice first generation MR2 that isn't completely thrashed from old age. I had some AW11s lined up actually, but the owners of the cars weren't able to spare time to set aside and shoot with me.
That being said, I decided to dig into my archive for photos of Jay Serrano's cleanly modified AW11 Mr2 Supercharged with classic body lines and clean original paint. I had to dig pretty deep into my archives for the above photo. I have 12 hard drives FULL of car photos on my desk, and it was extremely difficult to find these pics. I shot this photo way back in 2003, with my first digital SLR – a Canon 10D! LOL
In this particular instance, I find that the car owner's background is just as interesting as the car itself. Jay is the resident aftermarket parts expert at Glendora Toyota in Southern California. He not only has a lot of experience working at the Toyota parts department, he also is extremely knowledgeable on many microspecialties within the Toyota parts world. For instance, he is the person I always ask for information related to 4AG engines. Aside from his daily grind, Jay should know enough about 4AG engines – he has owned this MR2 for something like 10 years; most people in the Southern California MR2 scene recognize this car. What's more, Jay is a die hard Toyota enthusiast and a pretty good mechanic, working on all the cars that compete for space in the garage at his home – this AW11 MR2 Supercharged, an AE86 Corolla GT-S, an SW20 MR2 Turbo, a JZS161 Lexus GS400, a Toyota Tacoma offroad 4×4, a DA Integra, a Tony Kart… jeez. The list goes on and on. In fact, He even used to own a front wheel drive AE92 Corolla GT-S with Japanese Trueno bumpers and a big "Footwork" sticker on the hood.
One thing that I always thought was cool is that Jay always did all the work on his own cars by himself, in his own garage. From engine swaps to complete engine rebuilds, headwork, suspension installation, brake jobs, you name it. Jay is pretty self sufficient when it comes to maintaining his cars, and I think that's an extremely admirable trait for a car owner nowadays.
Does anyone know what type of wheels the MR2 is sitting on, on the above photo? This one is a bit tricky… these wheels were extremely popular in the San Gabriel Valley area of Southern Cali in the late 1990s/early 2000s. It took Jay forever to find those wheels.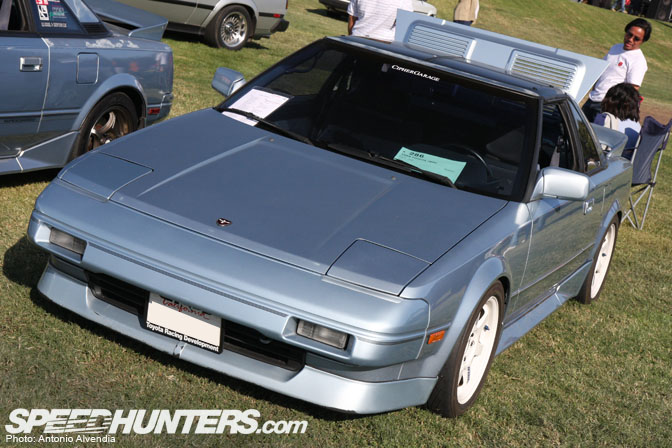 Here's a photo of the MR2's clean original paint basking in the sun at the 2008 Japanese Classic Car Show in Irvine. However, this MR2 isn't just a show car – it has seen it's share of racetrack action at SCCA autocross events, and road racing events at Willow Springs, Buttonwillow, California Speedway, Laguna Seca (it actually caught on fire at Laguna), and more.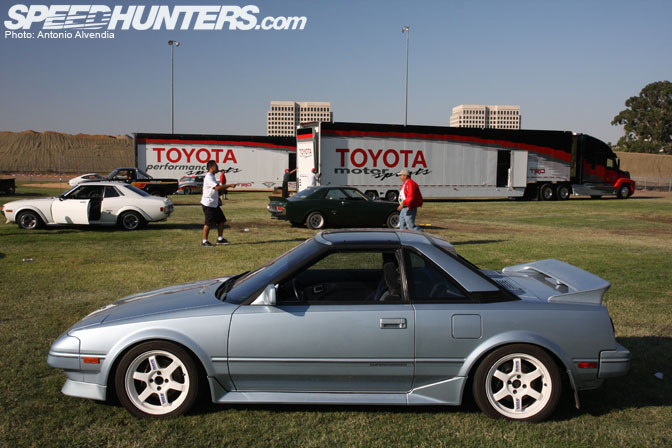 Possibly my favorite detail of this MR2's track setup is these gleaming white Volk Racing TE37 wheels. I think they look sooooo good with this car, and it's normally pretty difficult to make a light blue metallic car look good like this one does.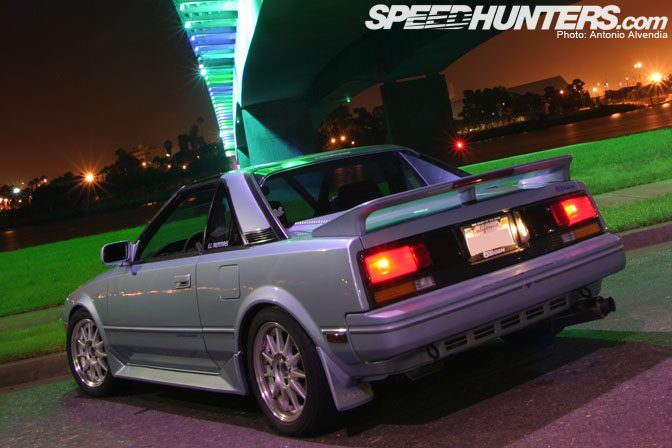 Although I'm not publishing interior and engine photos due to time constraints, I will tell you that the engine and suspension of this car is fully developed. The 4AGZE engine alone has had many different setups… from normal supercharged setup, to turbocharged 4AG, to higher compression supercharged setup with cams. One popular item for Supercharged MR2 owners is a Cusco pulley, which apparently pushes the car to higher boost due to the pulley's physical size. Although I'm not sure what cams, connecting rods, and pistons Jay is currently running in his MR2, you can be sure the car is running real well, especially with all the access to parts he has.
From this last photo, you can see glimpses of the Nardi Classic steering wheel, Autopower rollbar, and 5Zigen Border 304 exhaust, which Jay purchased from Tsuyoshi at 5Zigen USA after his rare and beloved HKS Power exhaust fell apart from the inside. What you can't see is a Kaaz 1.5way LSD and a set of JIC coilovers.
All in all, this is one brilliant shining example of an AW11 MR2 Supercharged. These cars are rare as hell, being that they were only produced in 1988 and 1989. And seeing cars like Jay's MR2 makes me want to buy one of these too. MR2 – the perfect two seater, midship runabout.
-Antonio Alvendia