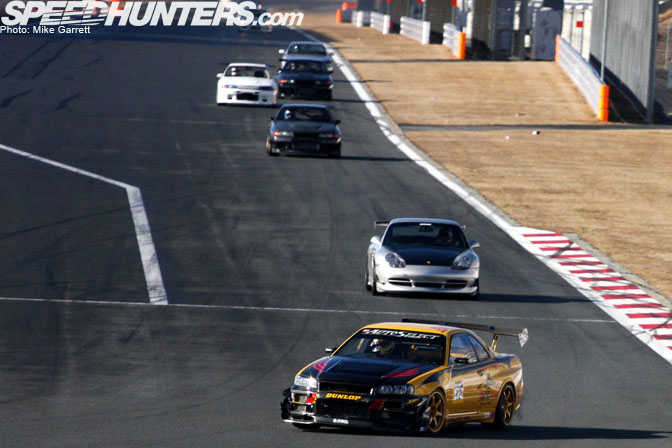 There were a few notable absences at Tokyo Auto Salon this year, and one of the big names without a booth at the show was HKS. That's not a big deal though, because instead of joining in on the chaos at Auto Salon, HKS waited a couple weeks and took over Fuji Speedway for the second "HKS Premium Day at FSW". As you'll see this event is not just a track day, but an entire day packed full of action on multiple tracks. To use the old cliche, there was something for everyone.
Amateur and pro drifting? Check.
Customer track day? Check.
Super Lap contest? Check.
HKS demo cars and parts display? Check.
Super GT cars? Check.
If I was planning a trip to Japan just to see one event, I think I'd pick this over Auto Salon. It's that good.
This event started last year when HKS celebrated its 35th anniversary by hosting a "party" at Fuji Speedway which is located pretty close the the HKS headquarters in Shizuoka. The 2008 event turned out to be a big success and they decided to do it again this year. Being held in the mountainous region around Mt. Fuji in late January, the possibility of bad weather looms, but luckily the day started out with clear skies and mild temps.
As we drove down the Tomei Expressway in the early morning hours, the sight snow-capped Mt. Fuji towering in the windshield was awesome. Those who have the privilege of seeing Fuji-san on a clear day will know why Japanese people get so darn excited about it.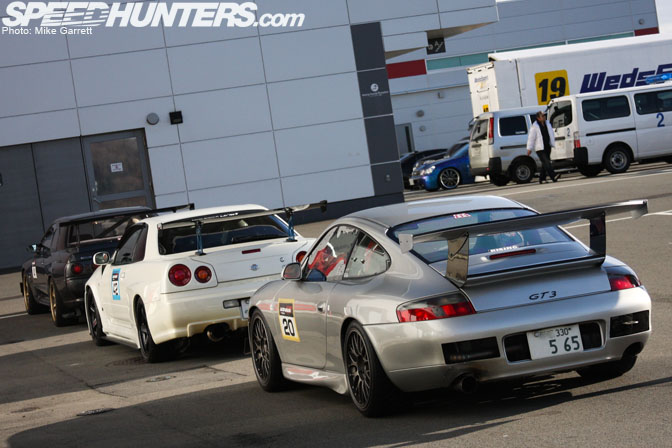 After making surprisingly good time on the road, we arrived at track just as things were getting underway. The first course activity of the day would be the HKS Hiper Challenge soukoukai with a mix of privateer and shop demo cars taking to the track for an open track session.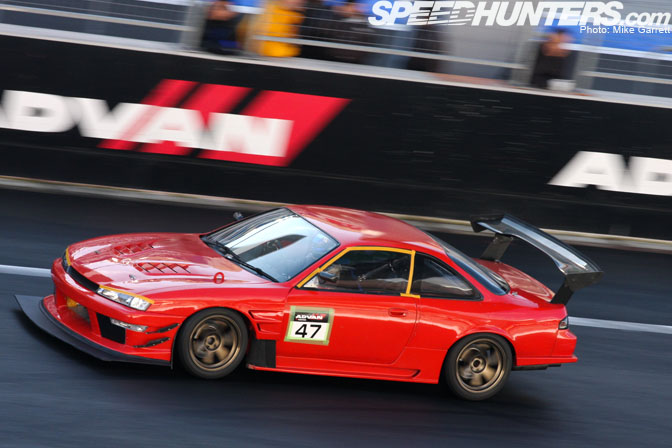 Tsukuba Circuit may be the birthplace of time attack, but seeing tuner cars run on the Fuji F1 course is a totally different experience. Watching a car like the Exceed Moat S14 blast down FSW's extremely long front straight is one of those things you just have see in person. The sight and sound is incredible.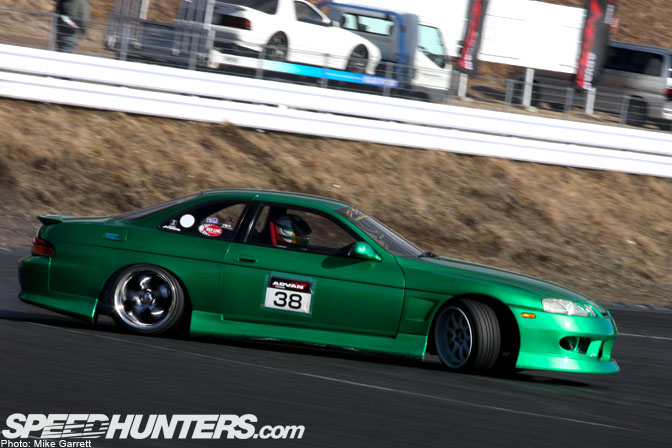 The nearby drift course was the site of the HKS Drift Challenge which happened all day long. When covering events like this, there's really no time to take a break. Not only is there a activity happening all day, but just getting to the different parts of the track eats up a lot of time. I did my best to shoot a little bit of everything.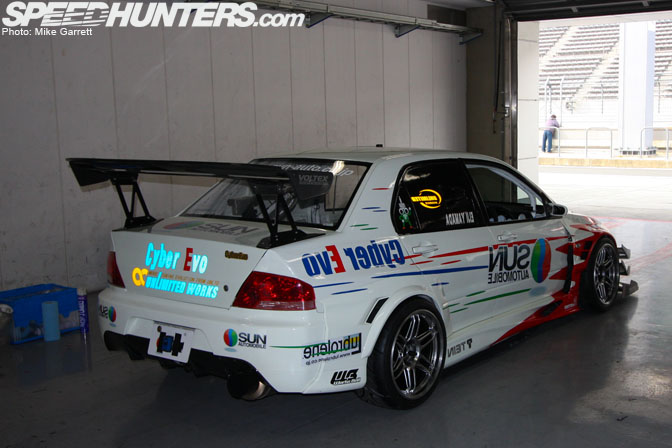 Option Magazine hosted a Super Lap competition that gathered Japan's fastest time attack cars. Cyber Evo, Pan Speed, Esprit, JUN Auto, Auto Select, and other big names were there. Since the Super Lap was Option's event, we had to agree not to post photos or lap times of this part of the event. I did gather some stuff for future use though…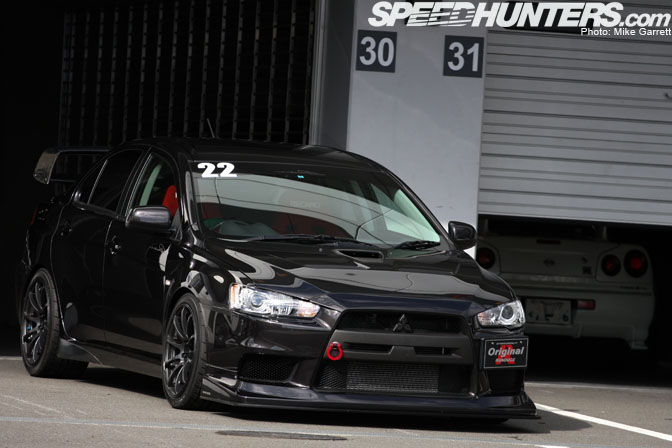 Original Runduce's Evo X was just one of the many participants in the Super Lap contest.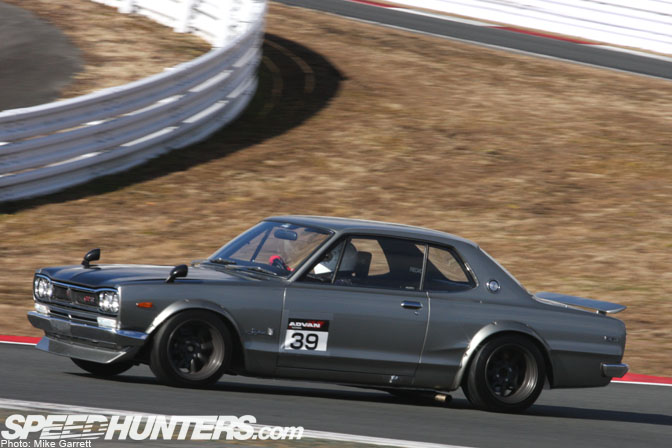 The Garage Saurus-tuned KPGC10 Skyline was taking part in the Hiper Challenge soukoukai. This is a genuine S20-powered GT-R and it sounds unlike anything in the world.
And I thought I would have to wait until Sunday's JCCA New Year Meeting to get my nostalgic car fix…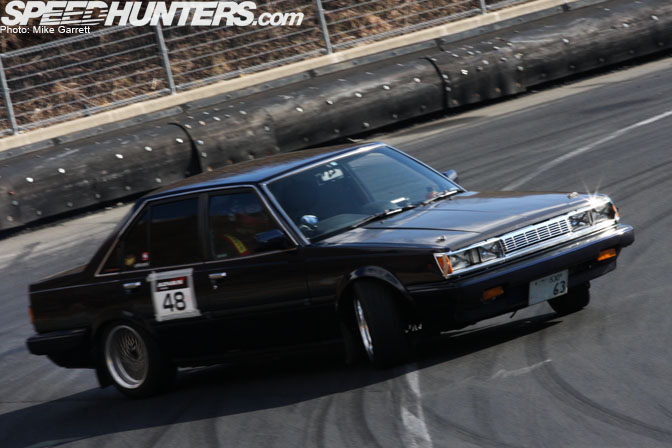 At the drift event I was surprised to see this AA63 Toyota Carina out there sliding around. This was one of a few vintage cars that were taking part in the drift challenge. Wait until you see what I post next time…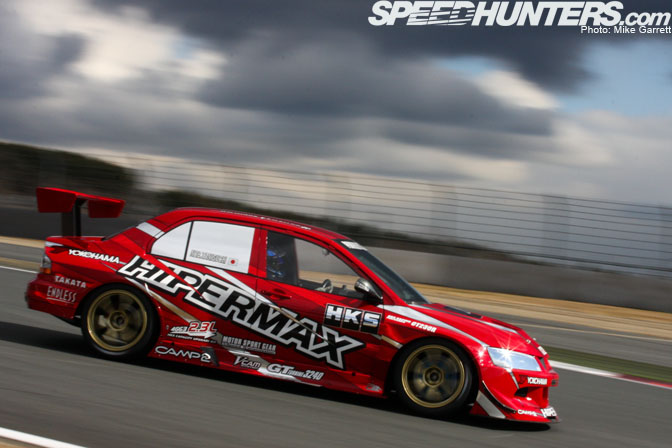 The day's "main event" was the match up between the NOB Taniguchi in the HKS CT230R Evo against a pair of Super GT GT300 cars. The purpose was to see how the pinnacle of tuner cars can stands up to modern racing cars. In case you needed a refresher, the CT230R is a time attack record holder and numerous tracks worldwide including Tsukuba Circuit and Buttonwillow Raceway. Before the afternoon's battle, the cars would take to the track for a 30 minute test session.
As you can see, there are some threatening clouds looming in the background.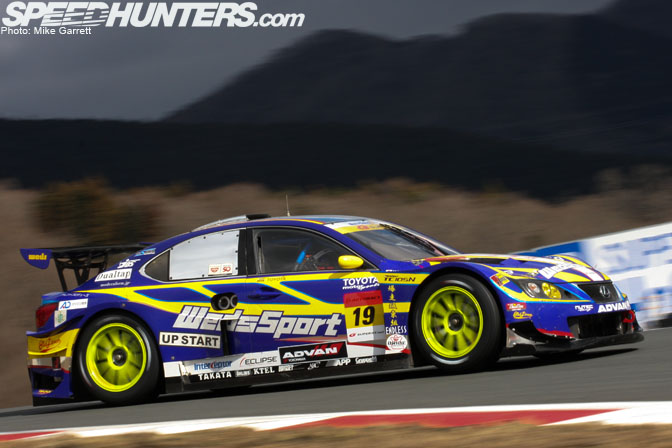 The CT230R's race car competition would be NOB's buddy Manabu Orido in the WedsSport IS350.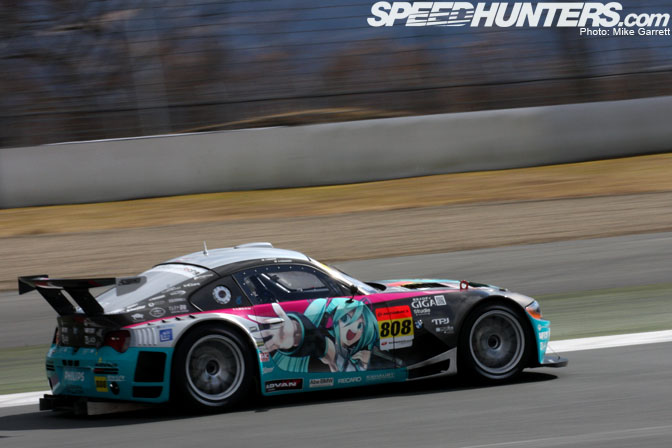 As well as Yasushi Kikuchi in the Studie GLAD BMW Z4 M Coupe. This thing sounds like a muscle car out there with its S62 V8.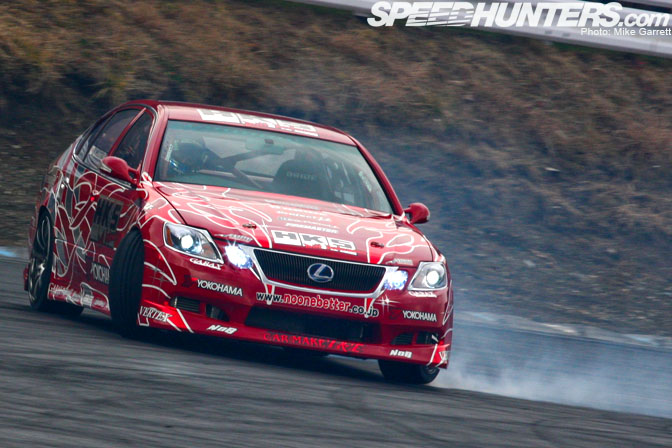 Since he is the primary works driver for HKS (as well as a time attack gun for hire), NOB Taniguchi had an extremely busy day. When he wasn't driving the CT230R, doing interviews, or piloting several time attack cars, he took the drift course for some demo runs in the HKS JZS161 Aristo.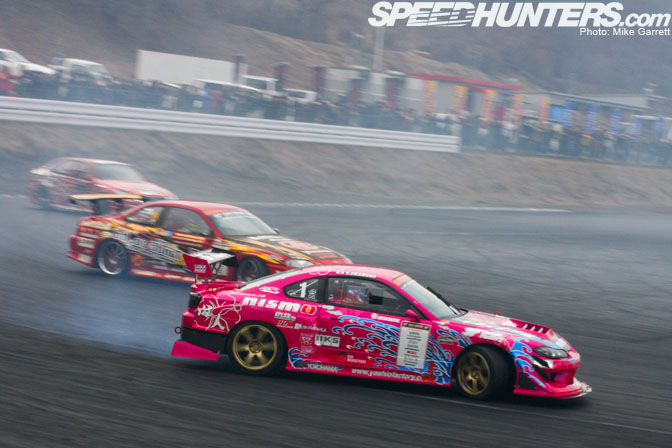 NOB was joined by fellow HKS-supported drivers Takahiro Ueno in his Soarer, and Yashio Factory's Kazuyoshi Okamura in his S15. Oka-Chan actually did double duty, running the S15 both on the drift course and in the Option Super Lap contest.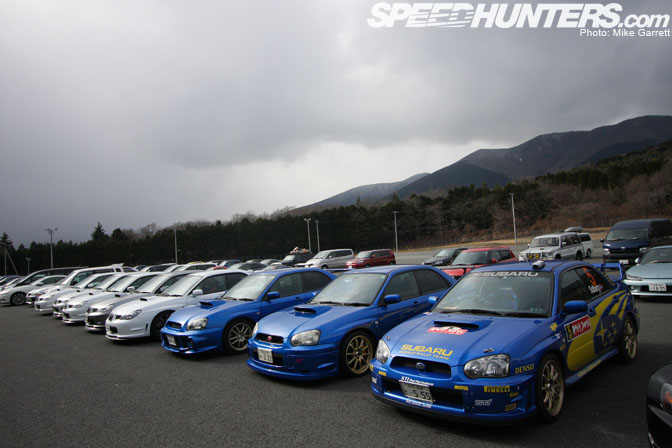 Like any proper event, the parking lot, or "car park" as my non-American friends refer to it, offered a whole show in itself. I snapped this photo of a huge pack of Imprezas while I was scurrying from one side of the track to another.
By the time the afternoon had rolled around, the sun had disappeared and temperatures had dropped significantly. As I quickly wolfed down some curry rice for lunch, I noticed some small white bits falling from the sky. Uh oh.
By the time the Super Lap had finished, a light, but steady snow was falling.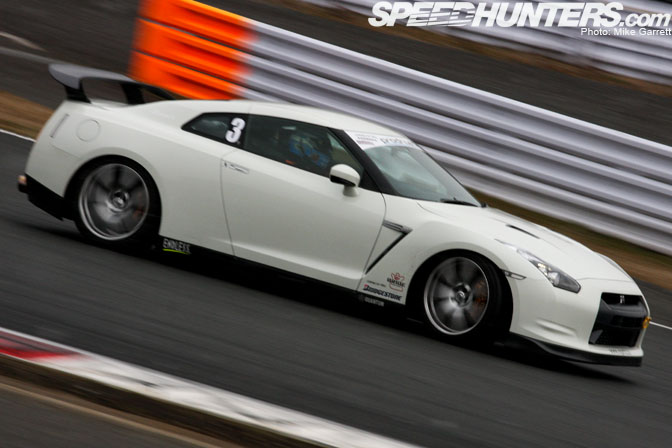 Despite the snowflakes, the show went on. The next event was a time attack contest between six different tuned R35 GT-R's. Here you can see Tarzan Yamada dealing with some oversteer as he pulls the Esprit R35 out of a wet corner.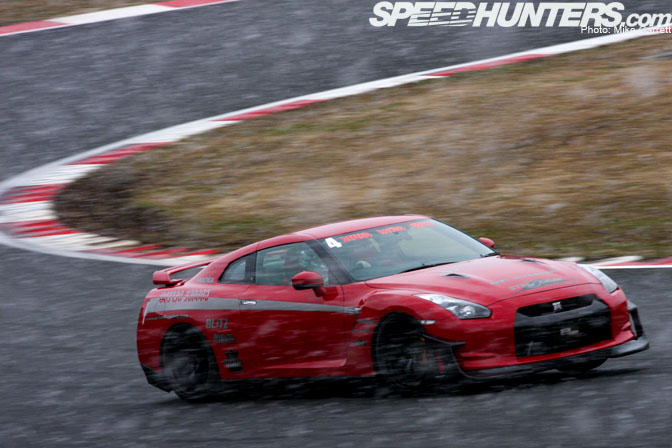 As the GT-R showdown continued, the snowfall got a bit worse. Here's Taniguchi doing his best to pilot the Garage Defend R35 through the storm. Although the snow didn't stick to the ground, it hampered visibility quite a bit as you can see in the photo.
The day's final event was to be the CT230R vs. GT300 battle, but unfortunately it had to be called off due to the weather. Not only are snowfall and super slick tires a dangerous combination, but even if they did run, the results would have been null.
So this year the battle between between race cars and tuning cars was won by mother nature.
I'll be back with more HKS Premium Day coverage soon, but now I need to start going through my JCCA photos for you guys.
Thanks to Miyatsuka-san at HKS Japan for the accommodation.
-Mike Garrett