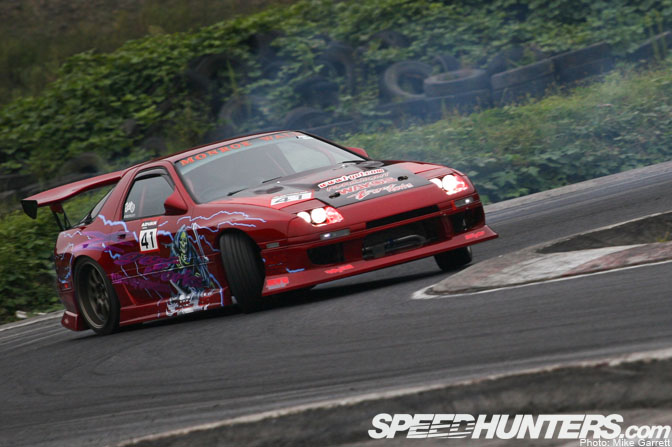 Since I knew January was going to be Mazda month, I have been planning to do a post with photos of various grassroots RX7 drift cars I have shot in the USA and in Japan over the past year or two. As I hunted through my old photos trying to remember which events had cool RX7's, I realized that RX7 drift cars are actually pretty rare. Sure, there's quite a few of them out there, but compared to something like a Silvia or even an AE86, their numbers are small. I guess that makes seeing one even more noteworthy. On that note here's a few of my drifting RX7 shots from the archive.
The car in the opening photo is the T-Get Works FC3S, shot during the MSC Challenge event at Nikko Circuit last September. Not only is the car itself pretty fresh, but that grim reaper thing on the door is one of the coolest graphic designs I've ever seen on a drift car. Kind of looks like something you'd see on heavy metal album cover. This car's whole set-up kind of reminds me of Drift Samurai's D1 FC3S, which I'll include in a future post about the rotaries of D1.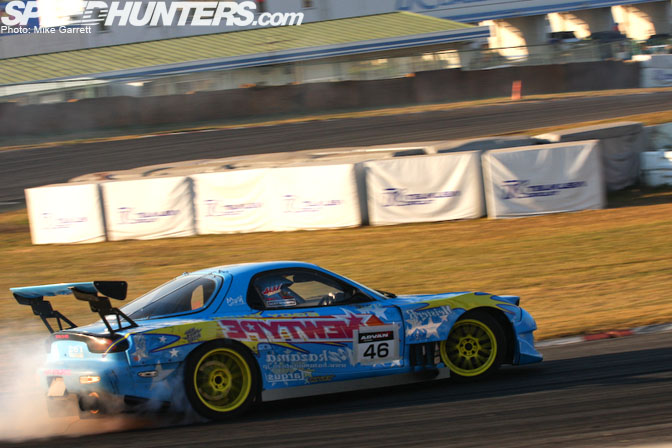 There are a lot more FD's rolling around the streets of Japan than anywhere else, but they are still rarely seen being used by privateer drifters. It's not really surprising when you consider the cost of parts and upkeep in comparison to a Silvia or another more conventional car. One of the FD's that does pop up pretty often is the wide-body Sexy Knights car seen above at the HPI Tsukuba drift event in November.  Looks-wise, you'd this is a time attack car instead of drift car, and that wouldn't be completely untrue as this car also sees occasional grip action.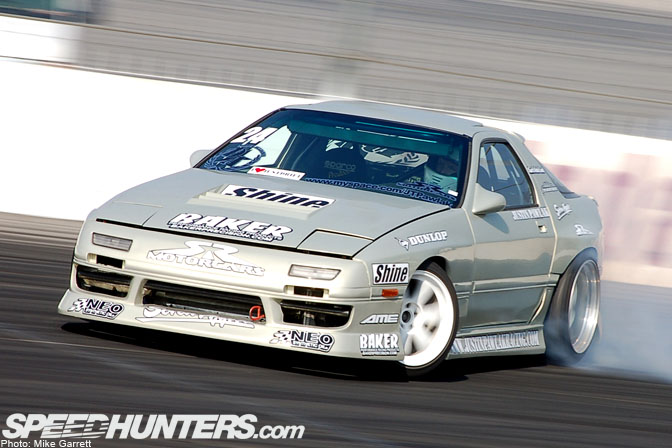 Justin "JTP" Pawlak's FC3S has been one of the USA's most stylish pro drift cars for a while now. It's gone from green to gold to blue, (and now back to green I think?), and has looked damn sexy the whole way through. The fact that he's quickly becoming one of Formula D's top drivers doesn't hurt either. He might be running with the big boys in FD, but I think everyone will agree that JTP and his RX7 are much more "grassroots" than most of the FD field.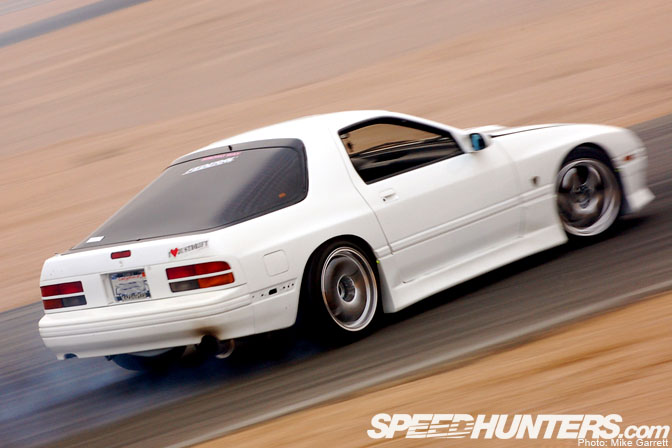 Here's another FC drifting at Willow Springs Horsethief Mile during the second Ziptied All Star Bash event in October, 2007. Good looking car…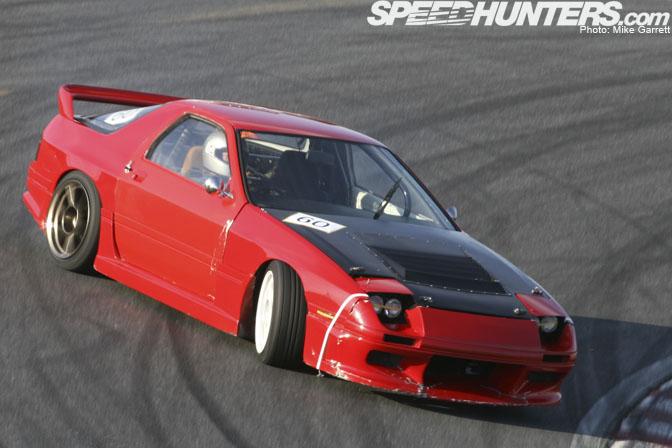 5000 miles away, another FC3S drifting during a TK Club event at Tsukuba Circuit in the winter of 2008.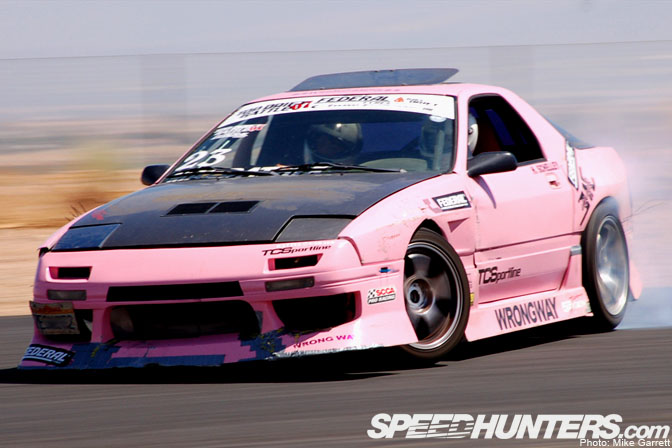 Here's Just Drift regular Henry Schelley's battered pink FC3S at the first-ever Ziptied All Star Bash in June '07. Henry also drives the Federal Tires KA turbo-powered S13 in Formula D.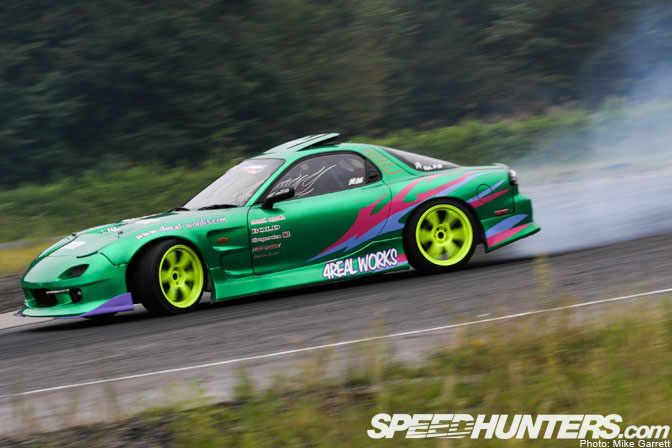 Another shot from last year's MSC Nikko event with the 4Real Works FD. Who'd have thought a combo of green, pink, purple, and neon yellow could look this good?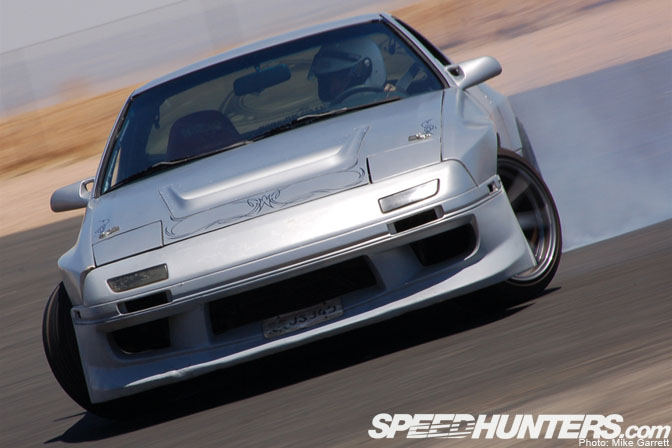 Another FC at the first Ziptied ASB in 2007. I thought this car's pinstriped hood was an interesting touch.
Speaking of ASB, I saw a sweet looking greenish-gold FC in some pics from the recent ASBV event. Anyone have more info on that car?
That's it for now, next time I'll post up some shots of grip-tuned RX7's at Tsukuba Circuit.
-Mike Garrett