Over the past few years I have collected a lot of photo's from all sorts of cars that are of interest to me. As my favorite brand is Nissan, and the car that I like the most is the Skyline R34, you can figure I have a vast amount of pictures of these cars from all over the world…. In looking through my photo collection, I thought it would be interesting to try and decide on the best R34 GT-R out there…. It's a really hard question to answer!
Let's look though some tuned R34s that are iconic in the JDM 'tuner' world. I say iconic because these cars deserve a place in history and will be remembered for many years to come.
I used some pictures taken by one of my favourite photographers, Dino Dalle Carbonare. All his pictures can be found on the internet, but his newest materials can be found in his new blog you can find here.
Can you spot all the different powerhouses that have their R34 lined up to attack Fuji Speedway in the picture above?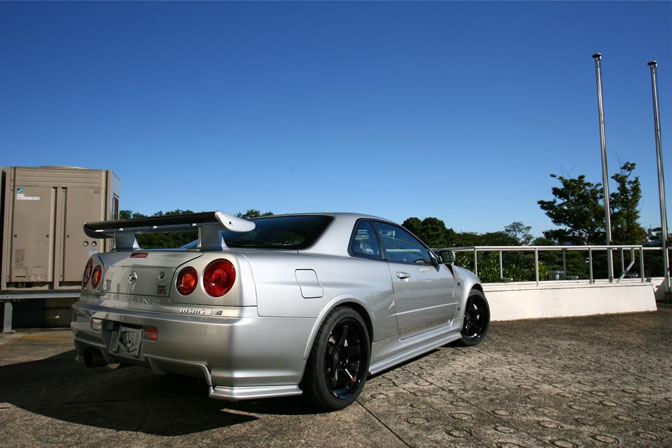 First up we have the mother of the R34's, the Z-Tune Skyline build by Nismo. This car is the epitome of how a Skyline should be…. streetlegal that is. Only 20 were made and that makes them even more desirable.  The car is powered by a 500ps Z2 engine that packs a mean punch. The engine is derived from the RB's that were used in the GT500 Skyline, the engine even uses common parts to the race engine like the crank and conrods.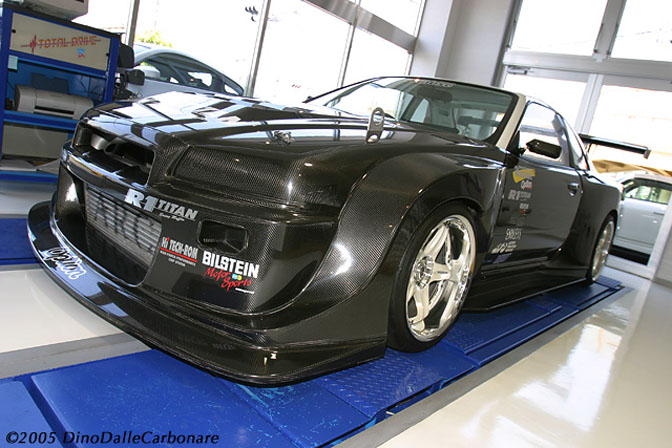 This one is a bit more elusive, it's the Amuse Caron R. There is not a whole lot of information regarding this car. I have even looked in all of my Revspeed magazines but I couldn't find any info. I do know that it weighs around 1100kg and has a 600ps RB engine. Another cool feature is the entire carbon shell that helps to keep the weight down. I'm not sure what happened with the car but I heard that it sits at the Amuse headquarters.
The car also made an appearance in a racing game on the Playstation.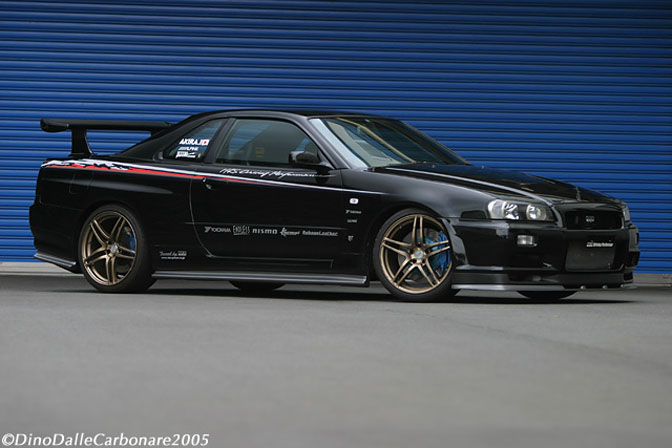 Ah yes the HKS Driving Performer. This car has been used by HKS to test all of their new products. It was also the first car that used the V-Cam system (Variable cam timing) This item is only made on order by HKS and costs a fortune. The engine capacity has been increased to 2.8 liter thanks to the HKS stroker kit and it uses their famous T04Z turbo; this gives the car 650ps.
The T5 wheels are made by Advan and are my all time favorite on any car. Behind the wheels you can see a Endless brake setup.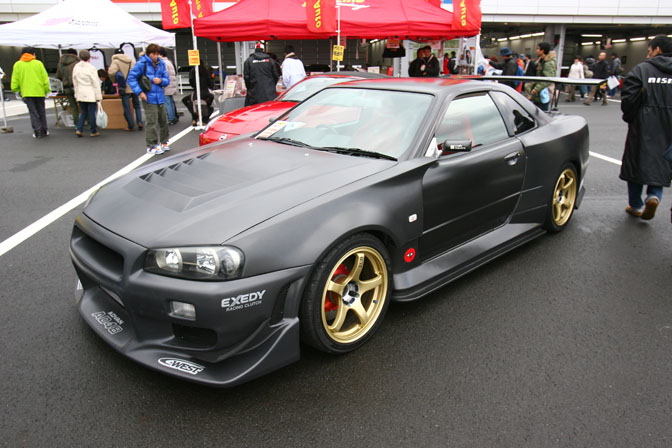 This car is one of my personal favorites because it belongs to a friend of mine that lives in Japan. The car has been build by Sunline Racing. It has a complete widebody kit made from carbon. In the pictures you can clearly see all the satin finish carbon but when it debuted on the Tokyo Auto Salon the car was was all stickered up, I think it looks better this way. The car is still in development and is used quite frequently on circuit days through out Japan.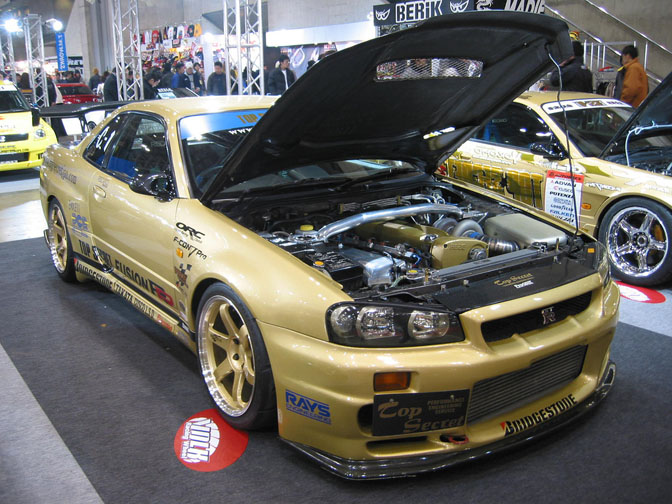 The Wangan racer made famous by 'Smoky' Nagata of Top Secret fame….. This car has been featured in so many video's I've lost count. It has even mastered Tsukuba and recorded a record time of 0:57 seconds. Off course it wears the complete Top Secret bodykit including the frontbumper, sideskirts, rearbumper, carbon spoiler and special color coded TE37 wheels. I love this machine. The car now resides in the USA and is for sale, for the lucky few that can afford this car take a look here.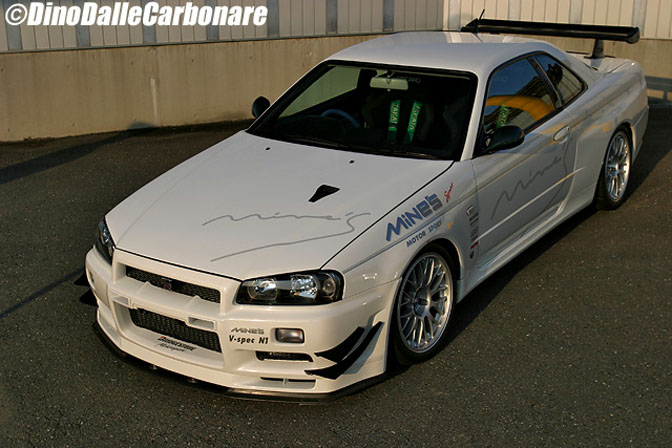 Another famous R34, the Mine's R34 Skyline. This car brings back some nice memories, Do you guys remember the video made by Best Motoring? They made a video called RB Japanese Muscle, It was released in 2005 and I have watched that video so many times, even nowadays I like to watch it. I really like the mentality behind this build, no fancy stuff, just things that work and make the car go faster.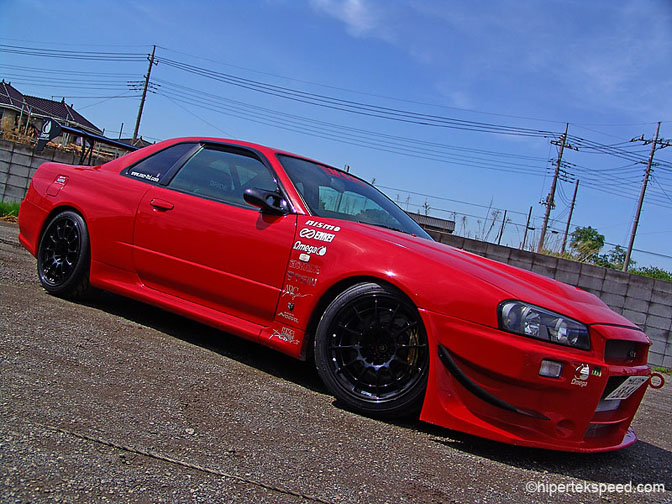 This Matchless Crowd Racing R34 was one of the main contenders of the Mine's R34. Especially on the special touge stage made famous by Keiichi Tsuchiya. The car hits 650ps thanks to a HKS stroker 2.8 kit. This car was made as a street legal racer and there for it competes in the same category as the Mine's R34.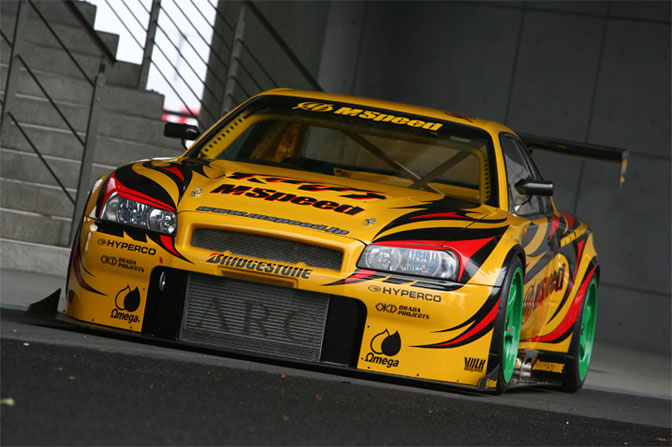 Mspeed build this car for only one reason and that was to take the record during the Revpseed Time Attack that is held every December on Tsukuba. Last year it recorded a time of 0:54:481. We'll look at this car in more details in a separate post….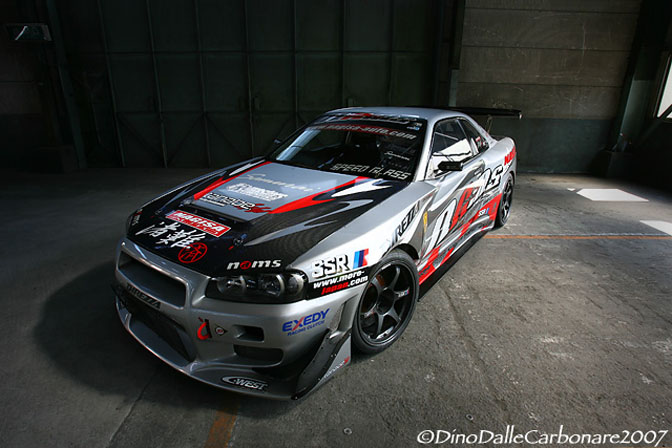 Here we have another special R34, this time build by Nagisa Auto (Nams). The displacement of this car is also increased by the HKS 2.8 stroker kit. It shows HKS build one of the most popular stroker kits out there, almost all of the tuners use the same kit. The other important thing in the engine bay is the T88 turbo. In the end this car produces an astonishing 750ps. Thanks to the experience and build quality of Nams they achieved a 0:56:510 on the famous Tsukuba circuit.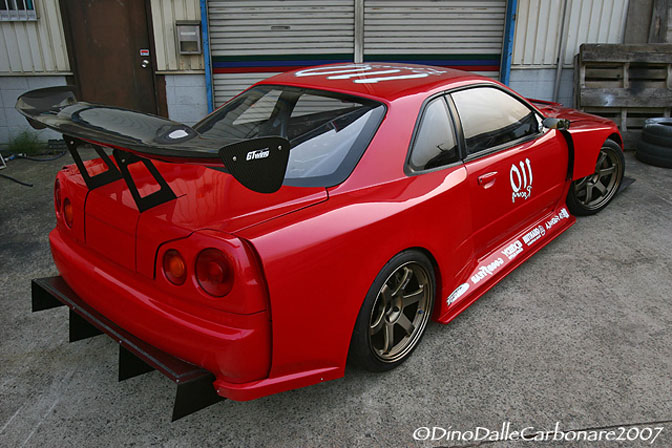 To finish this article of I have this Prostock R34. This car will debut during the Time Attack event in December and I can't wait to see it drive. It has a custom one off wide body kit made entirely from carbon. The car has been changed in so many ways, first off, the engine has been shifted backwards for a better weight distribution there for the steering rack had to be repositioned. To really appreciate the build quality you should take a look at some of the pictures that Dino took of this car back in 2007. You can see more here.
I know there are a lot more R34's out there, but I made a list of what I thought are the most influential  Skylines that were made in Japan.
So now it's your turn, which R34 would you take?
-Jeroen Willemsen