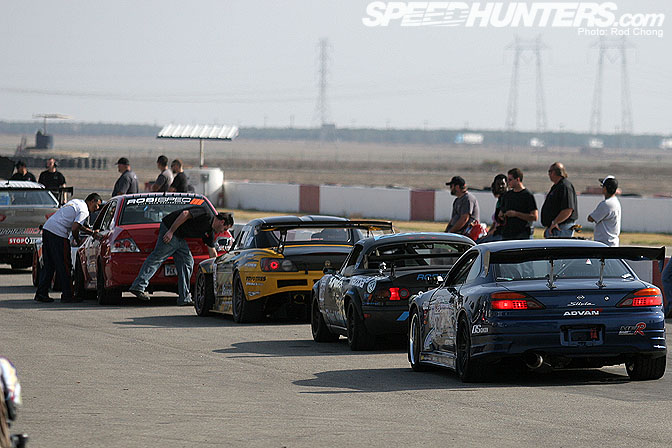 These are busy times for me right now… there is much happening in the business and creative world of Need for Speed I have to keep on top of, yet at the same time this Speedhunters project needs continual focus… it's like a eating monster with an endless appetite… the site always needs new stories!
So with this in mind, let's get down to business, as I have around 100 emails that need to be answered… then we'll be heading down to the Long Beach docks to check out the setup, and shake a few hands… after that, we'll try and hit up a few garages to get story material for some additional shop tours.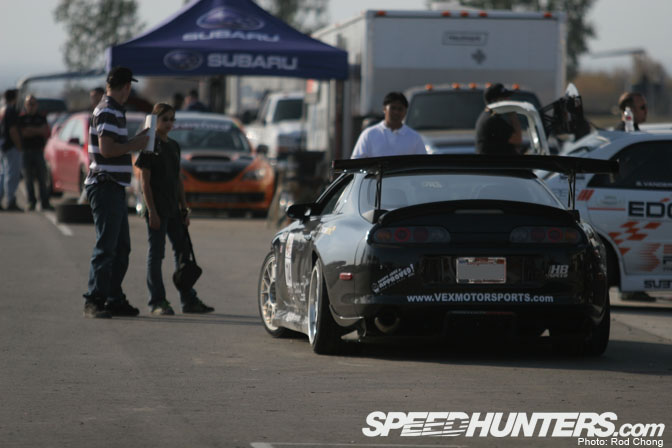 Anyway, back to Superlap Battle… Let's take you for a second tour of the event.. this time focusing on scenes from the paddock area.
Not sure I need to say anything further about the above Supra. It's just fantastic don't you think? Meaty.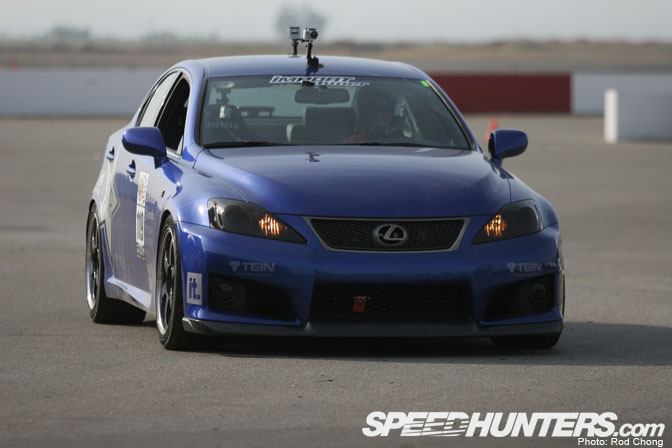 Tanner Foust probably drives more cars in a given week than you and I will pilot in a lifetime. It's likely one reason he is so good at what he does… This IS-F was one of a few cars he drove yesterday.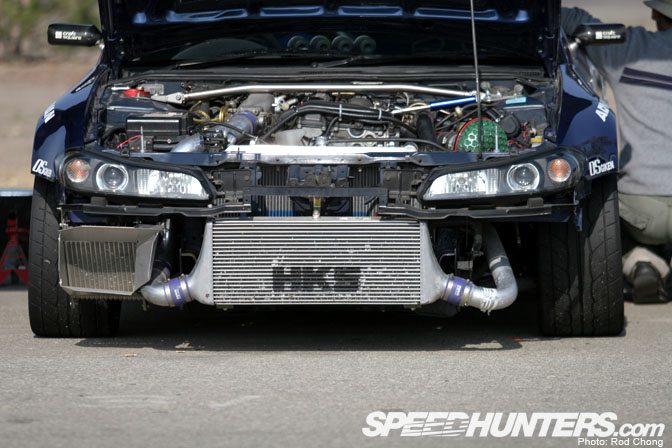 Not all S15s are destined for drifting abuse…. This is the Endless Time Attack Sylvia.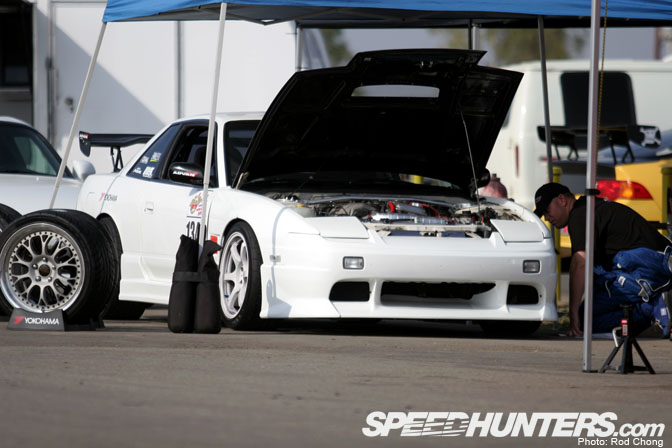 In fact, there were a few S class Nissan's kicking about….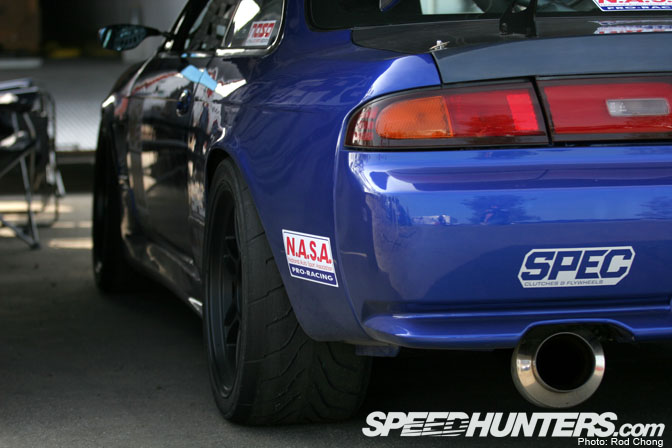 Nice Grip tuned S14. Good to see these chassis being used outside of the drifting…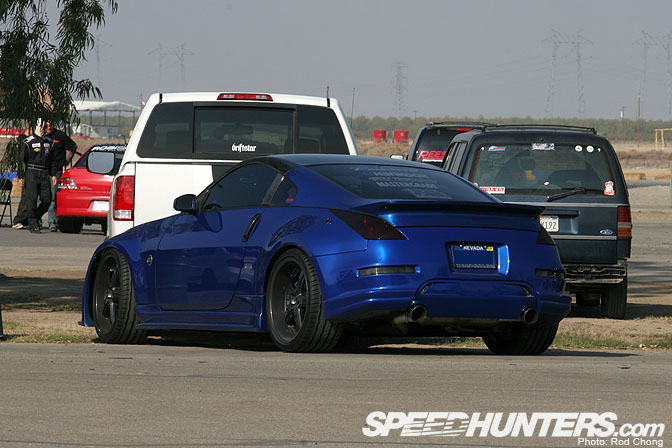 While on the subject of blue Nissans; I had my eye on this clean Z33 all day. It checks off all the right boxes: clean and low with lots of rubber on the pavement.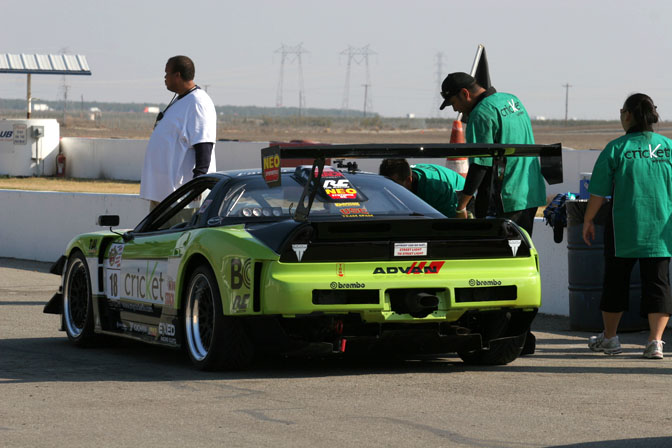 The Factor X crew had a tough day. The engine got damaged during the practice day so they had to rebuild their engine on their garage floor, while their competition were on track setting times. True to form though, they got the car on track and up to speed by the end of the day.
I like the new livery… what do you guys think?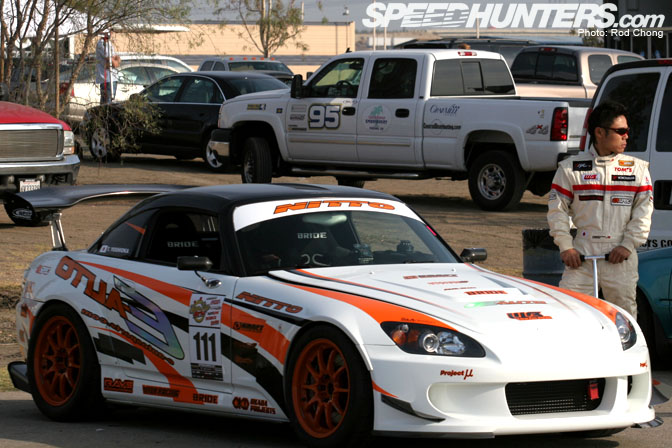 While on the Honda theme… Yoshioka was piloting this S2000 at Superlap Battle….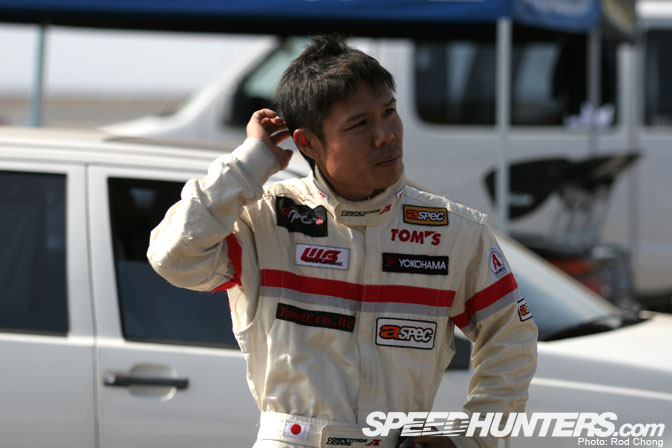 I've bumped into him around 5 times in the past 3 months…. The more time I spend in these scenes, the smaller they get!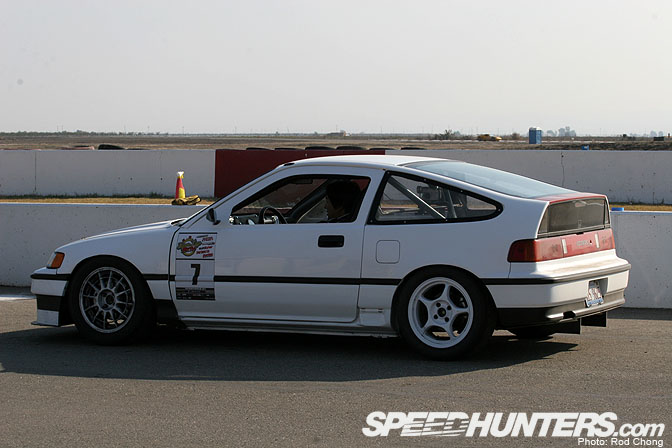 Let's look at some more Hondas… I love 2nd-Gen CRXs…. I owned a white one just like this way back when…… Note the aero window opening…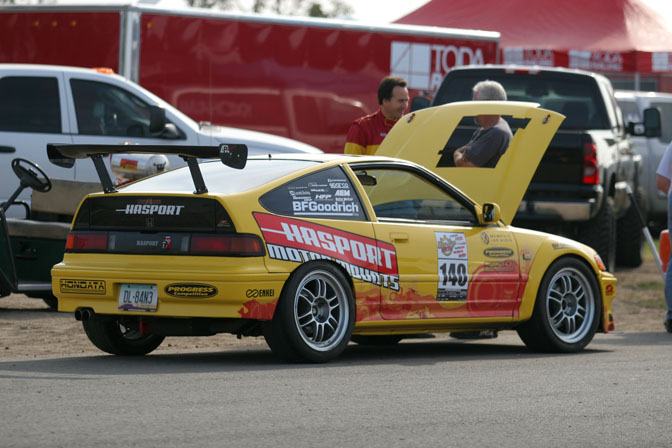 I'm sure those of you who read US magazines will know this car… have a look at the opening on the hood/bonnet.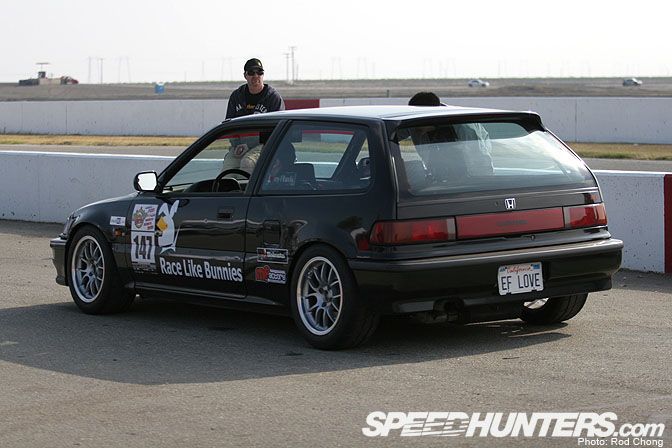 Will the EF Honda Civic become the '69 Camaro for our generation in 20 years? There was a time when modded versions of these cars were all over Vancouver. They seem to be disappearing at a steady rate now though.
I like the vanity plate message :>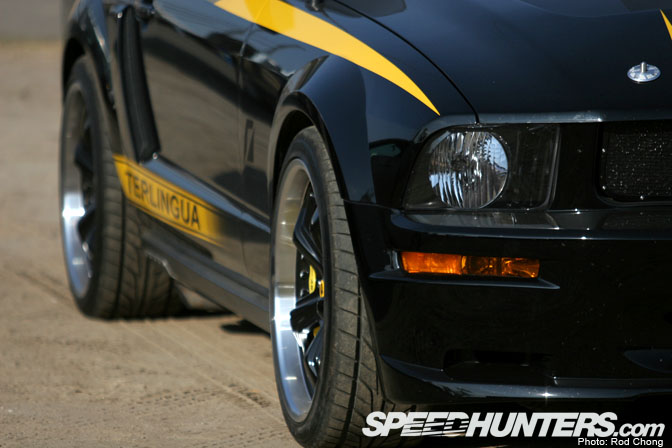 Sorry I need pay homage to the Terlingua….. such a fun car to drive…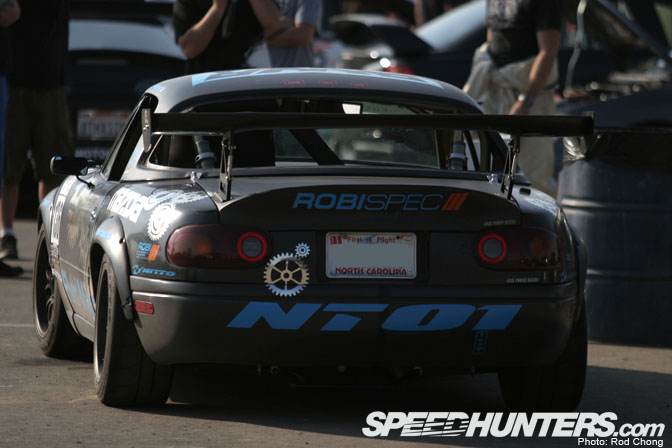 The first gen Miata is probably one of the top grass roots road race cars in the states ATM. This build caught my eye…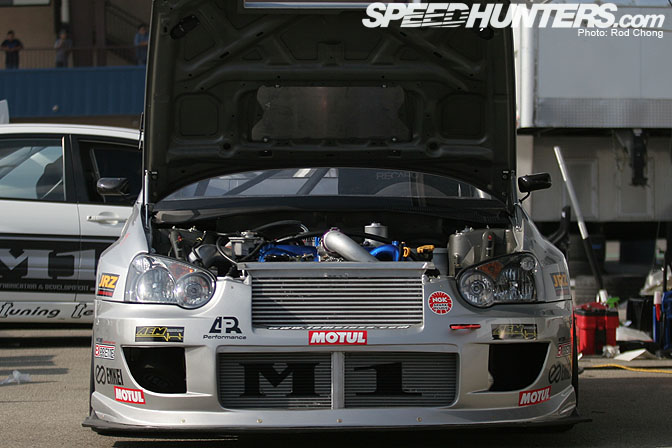 This is not the old Crawford Subaru…. it is a totally new build, in it's final stages of completion…. expect to see this car tearing up the time sheets next year.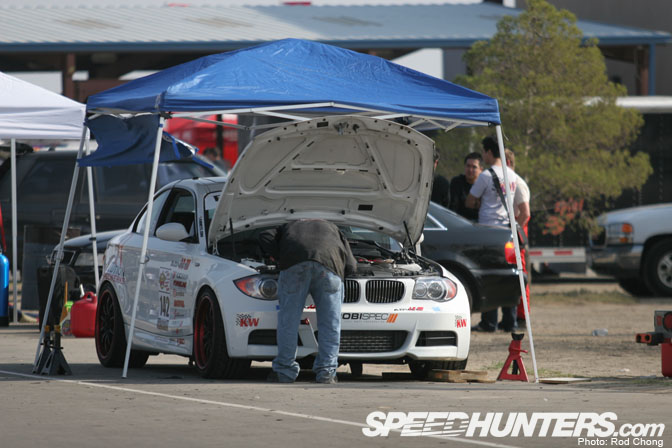 I saw a few Time Attack 1 Series BMWs at Superlap Battle.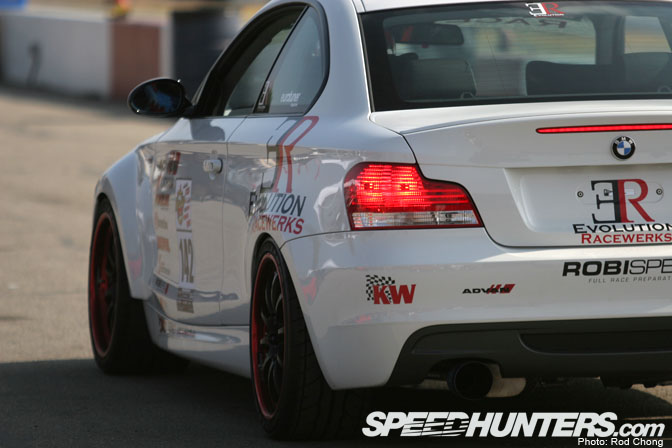 What I am really waiting for though, is someone to campaign one of these cars in Formula Drift.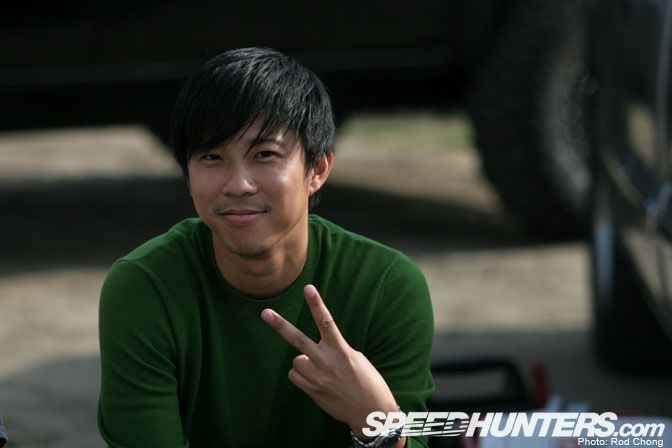 The infamous RJ…. I'm sure he's making a reference to the Napoleonic Wars with the hand gesture…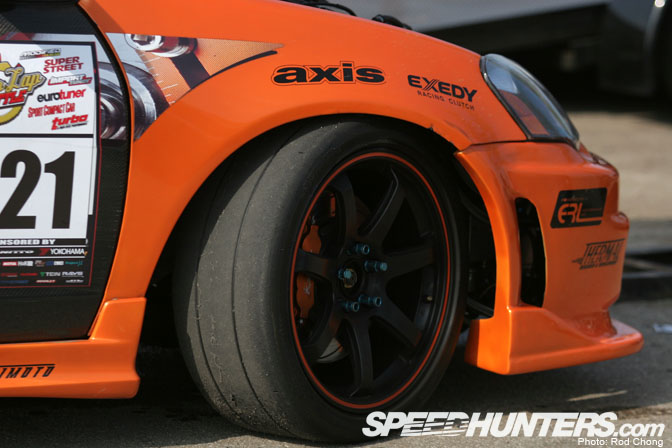 Not sure how well these "street" tires would do in rainy Vancouver…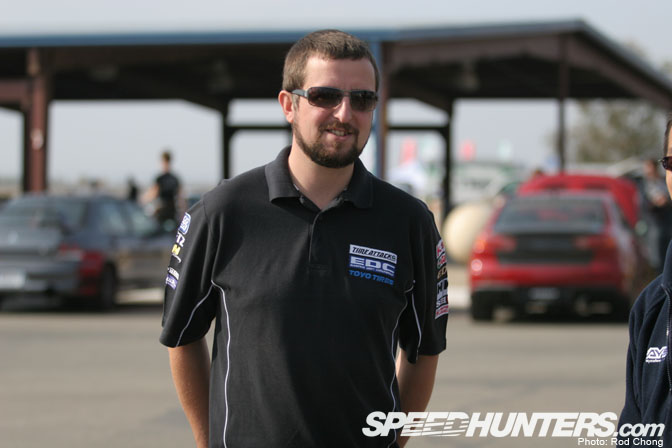 Andy from the European Drift Championship/Time Attack…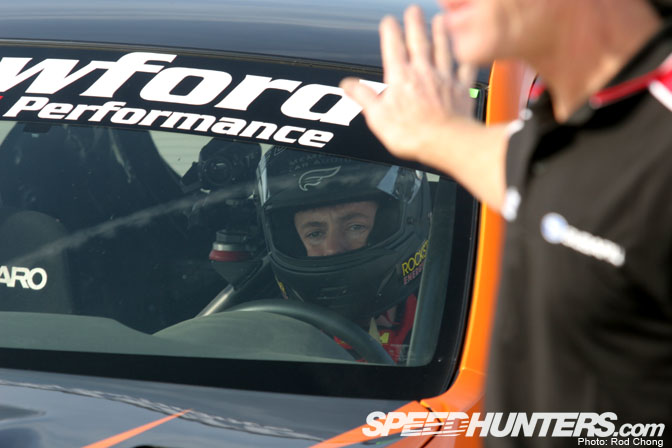 Got this snap a moment before Tanner took the Crawford Impreza out on track.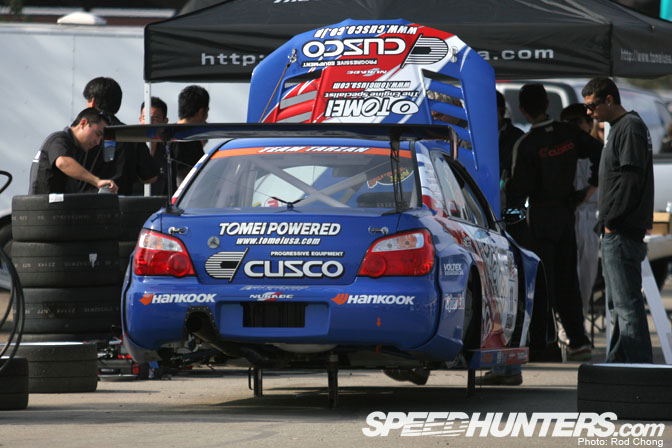 Like the Airjacks?
The Cusco Impreza is a very serious build. Much more so than I was expecting… it is probably THE most important new car in international Time Attack for 2008/2009.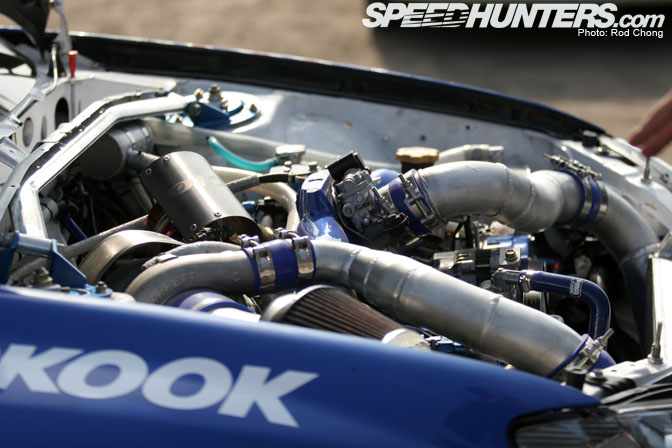 The guts of the machine…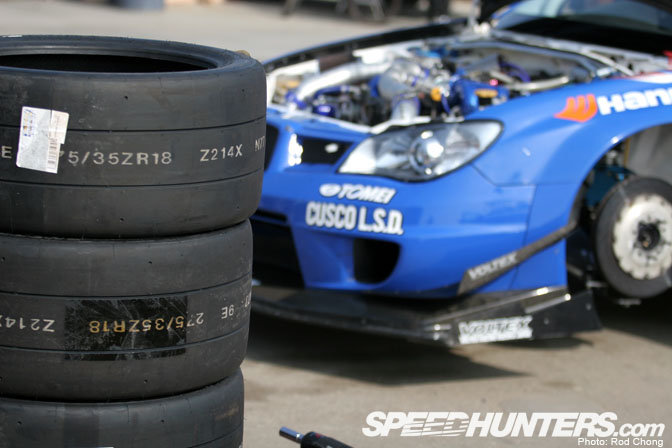 So did it break the record? What do you think?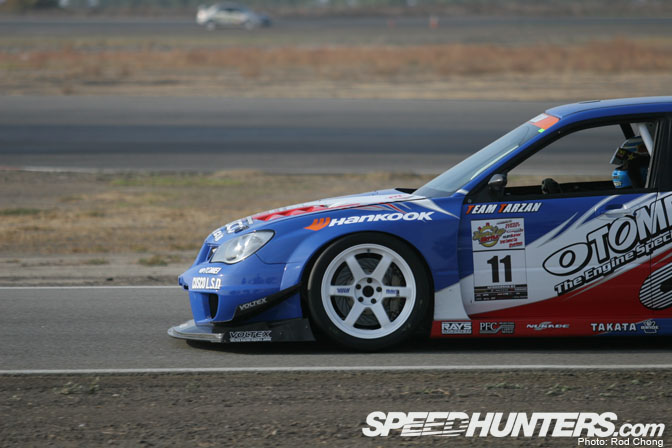 I'd like to thank Source Interlink (publishers of Super Street, Modified magazines etc) for allowing us full access to their event… They are fantastic people to collaborate with!
OK time to clean up my email in box…I have 150 unread emails to sort through… yippie!
More to follow….
:Rod