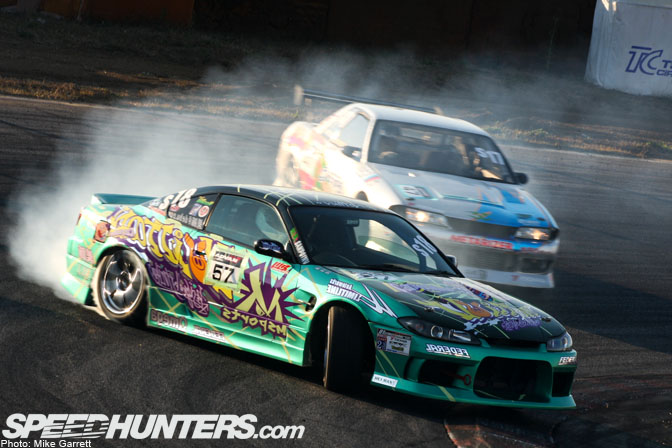 It's time for more coverage from last Friday's HPI drift and grip meeting at Tsukba Circuit. Let's jump right into it here.
Here we have an S15 Silvia and an R32 Skyline GT-S doing a tandem run through Tsukuba's first hairpin. Both of these cars are D1 Street Legal regulars and this shot is actually a perfect preview to to the D1SL season finale which will be held at Tsukuba next month. There were a handful of D1SL drivers that came to the event to get some in some valuable practice before the D1SL event. It's been a while since there has been a drifting comp at Tsukuba Circuit.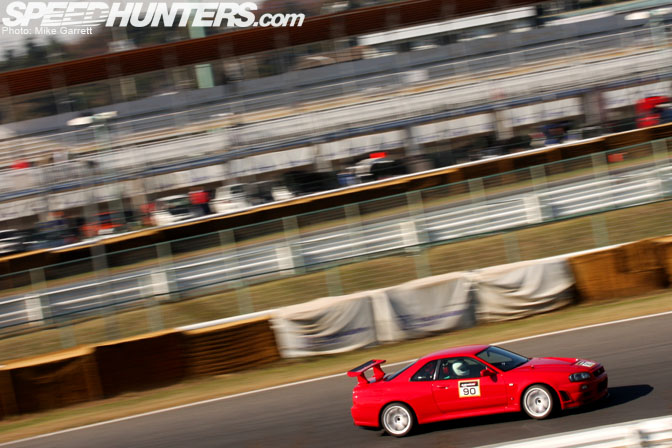 This red BNR34 Skyline GT-R was out on the track during the morning's grip session. When I saw this car I was thinking that you don't really see too many red R34's around, which is a shame because I think they look pretty good in red. It kind of reminds me of the MCR-tuned GT-R's. The car was entering the high speed Dunlop Corner when I took this shot from the top of the grandstand. There is something so pure about a GT-R lapping Tsukuba…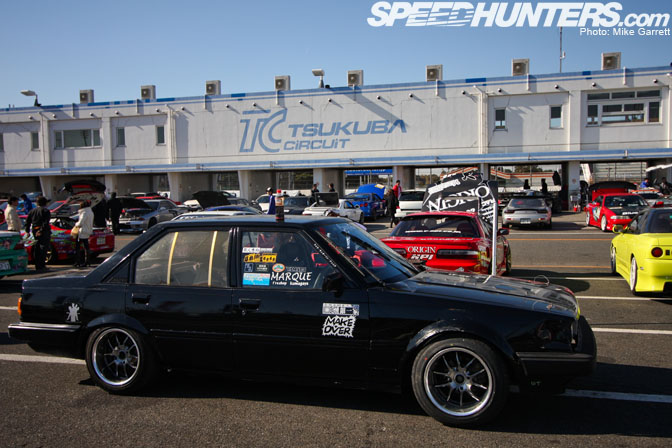 This AA63 Toyota Carina was part of the drifting group. These cars are fairly unknown as far vintage rear-drive Japanese cars go. I'd love to own one someday. This particular car is a great example of the no-nonsense privateer approach to drifting. The Carina was ripping it up all afternoon, and seeing the little sedan sliding the final sweeping corner was so awesome. I'll post some action shots in the next post.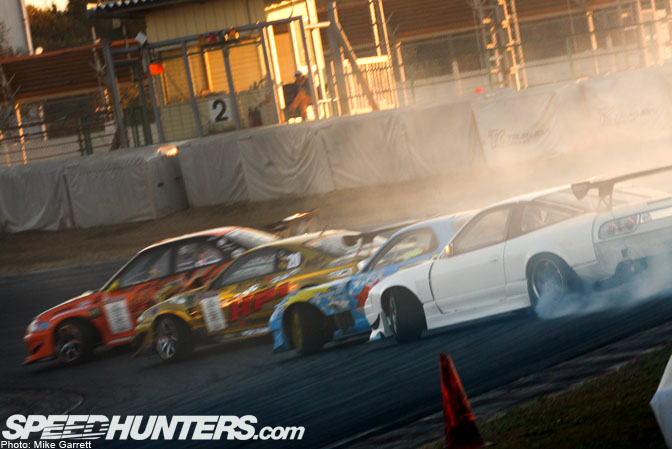 Mayhem (in a good way) is the only word that can properly describe what it was like when the advanced drifters took to the track. Here's some four-car tandem with a Koguchi-equipped 180SX, the Sexy Knights FD3S, the HPI S15 D1GP car, and Hideo Hiraoka in his Team Orange Impreza from D1. Seeing this stuff reminded me of how great the Ziptied ASB events are with their "tandem trains" of cars sliding around Horse Thief Mile at Willow Springs.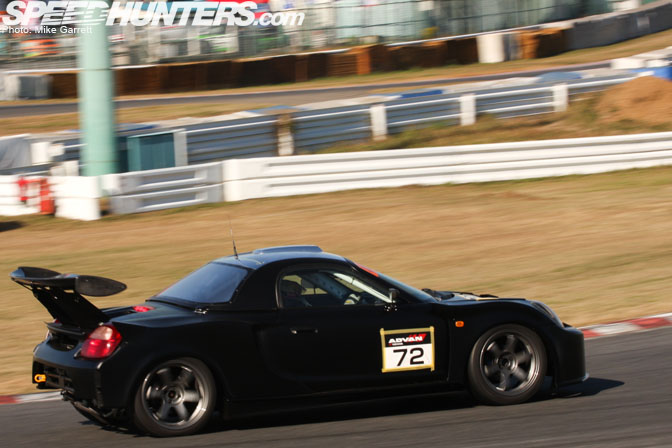 Back to grip for a moment. This car was built by Sorch and is one of the most radical MR-S's this side of a Super GT car. The flat black paint actually makes it look kind of like a Super GT test car or some other sort of race car prototype. I'd keep an eye on this car as it's likely to be one of the fastest MR-S tuner cars out there.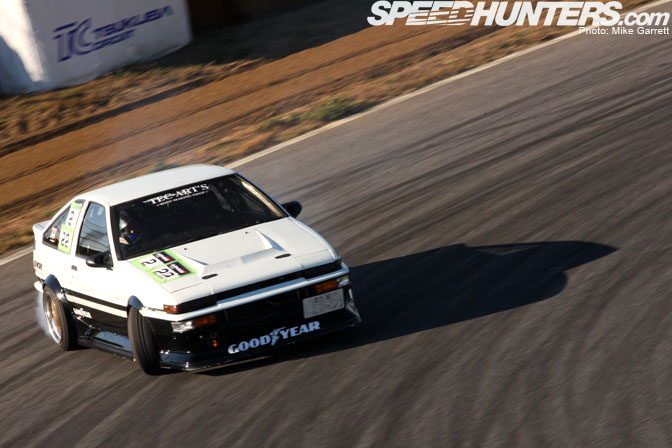 Tec-Arts brought out their panda AE86 Trueno out to play. This is the same car used in the Initial D demo runs at the D1 event in Tokyo earlier this year. Not only does the car have the right look, but the music made by its individual throttle bodies is unbelievable…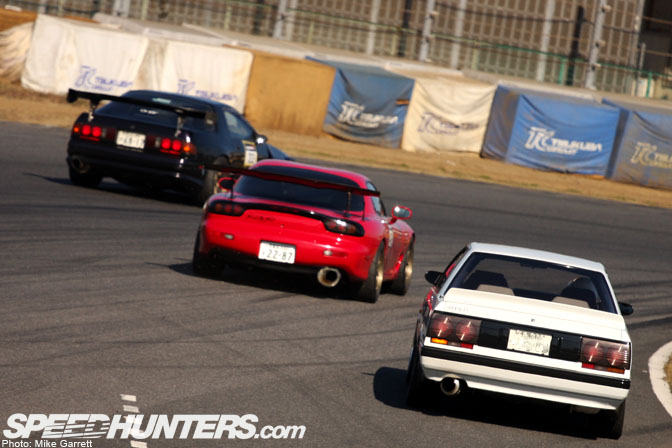 And now a quick demonstration of why the HPI event was so cool. In the morning you could see cars like this R31 Skyline taking to the track for some old fashioned grip racing…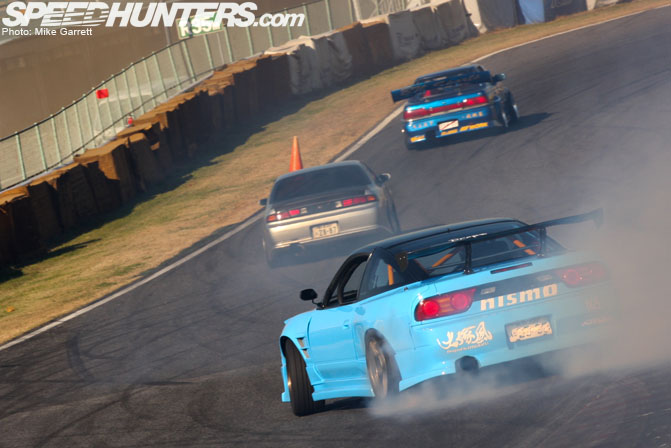 …and in the the afternoon you could watch the endless string of drift machines turning Japan's most famous time attack course into a giant smoke pit.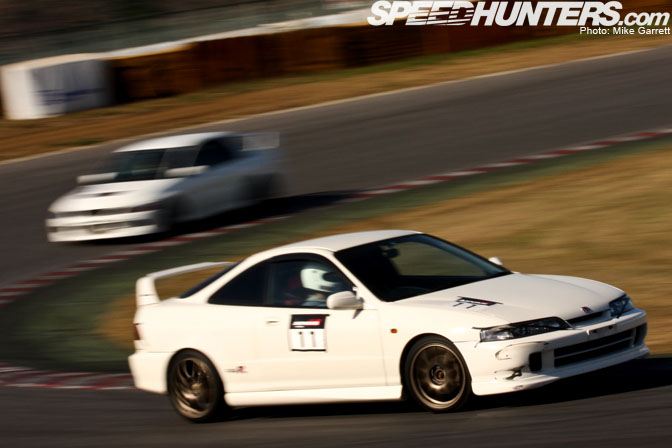 Here's a DC2 Integra Type R doing just what it was built for – attacking corners. It's pretty rare to go to a soukoukai at Tsukuba Circuit and NOT see several Championship White Type R's engaged in the action. The blur in the background of this photo is a GC8 Subaru Impreza.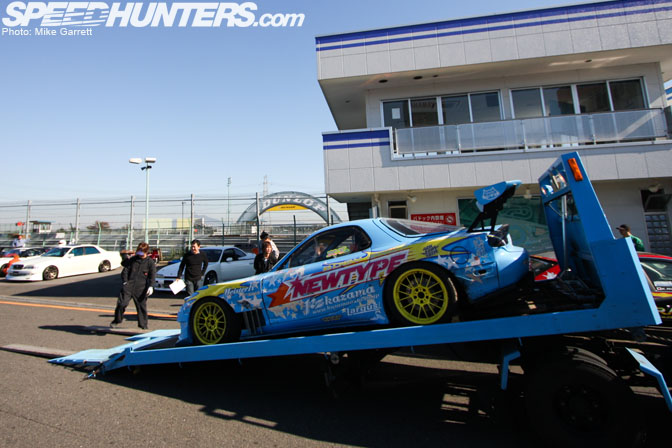 A view of the Sexy Knights FD3S being unloaded from its transporter in the morning. This car pops up quite often at Tsukuba Circuit doing both drift and grip duty. Actually, the HPI D1 S15 was also running some grip laps in the morning before the drifting began. Pro drift cars can make for very capbable grip racers when properly set up.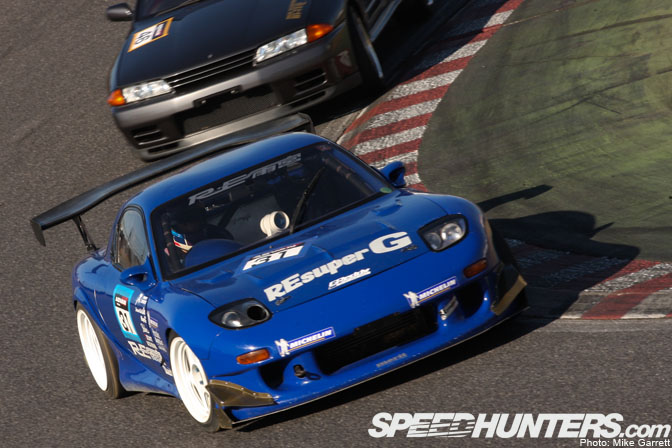 This FD3S is an old RE Amemiya demo car and it still sees plenty of circuit action. I'd have to dig through some of my old Option magazines to find out exactly when this car debuted, but it looks to be from the early 00's? Although not really "classics", the tuner cars from this era seem to have a simple style to them that I think is aging well.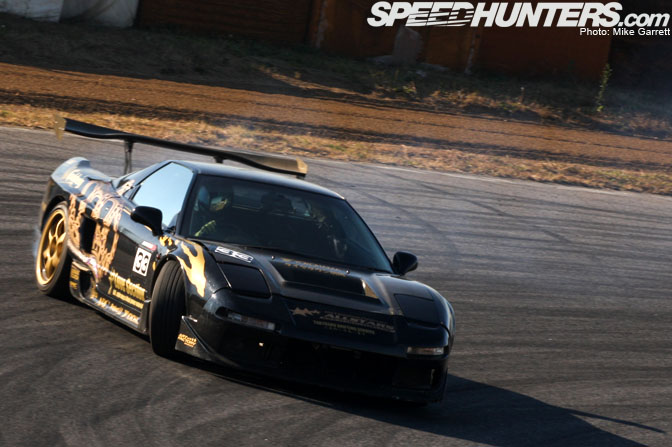 Hmmm. This is something you don't see every day. More about this one in the next post…
-Mike Garrett