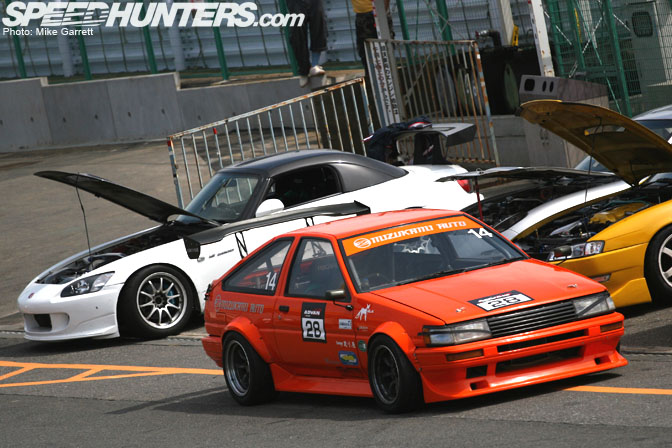 Today as I was driving out to Tsukuba Circuit, I realized that it has been quite a while since I have shot any traditional "tuning car" race events. I have covered other Tsukuba events recently like the Idlers Games and the JCCA Summer Meeting, but I was looking forward to seeing some fully tuned GT-R's, RX7's, S2000's attacking the circuit. With fall in the air, Tsukuba is again becoming busy with time trial and soukoukai events and I for one am happy be putting the humid, rainy summer behind me. The event I was going to was the HKS Hiper Challenge at the Tsukuba 2000 Course, part of a series of events held by HKS at tracks all over Japan. This particular event was it's second of three Hiper Challenges at Tsukuba this year. The Hiper Challenge includes time trial and free run classes for everyone from beginners in their daily drivers to pros driving shop demo cars. After spending a little time at the Hiper Challenge, my tuning car thirst would be more than quenched.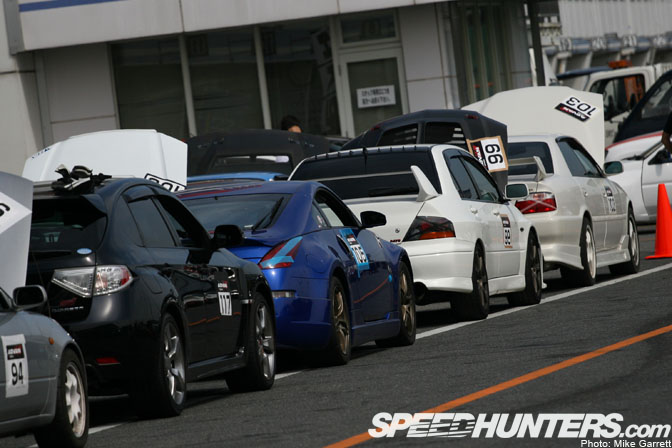 All of the common platforms were well accounted for at the Hiper Challenge. Here we see a GRB Impreza STI, a Z33 Fairlady, an Evo9, and a JZX100 Chaser. These cars were part of the street car class. I am not sure exactly how many cars were driving in the event, but the paddock was packed. Even more impressive considering the event was held on a Thursday! Gotta love taking a day off work to run at the track.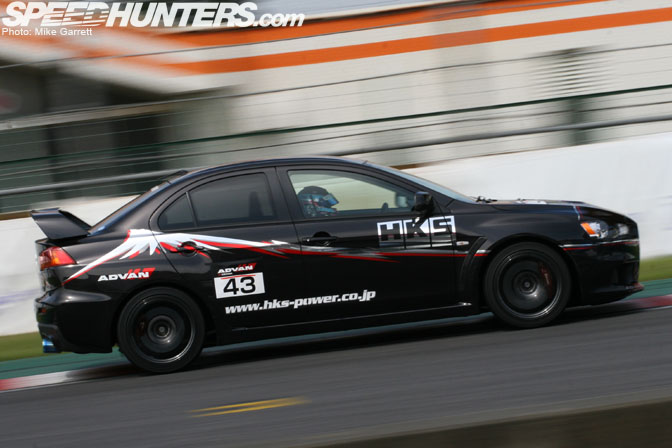 Of course HKS had a large presence at the event including a booth with a number of their parts on display. They also brought a pair of nearly identical Evo X demo cars and NOB Taniguchi was one of the drivers they brought out. I love the HKS Fuji-san graphics on the side of these cars. Both of the Evo's were hauling around the track all day in between making pit stops to dial in the settings. This fall will mark one year since the Evo X was released and it is crazy to think about how much progress tuners have already made with this car.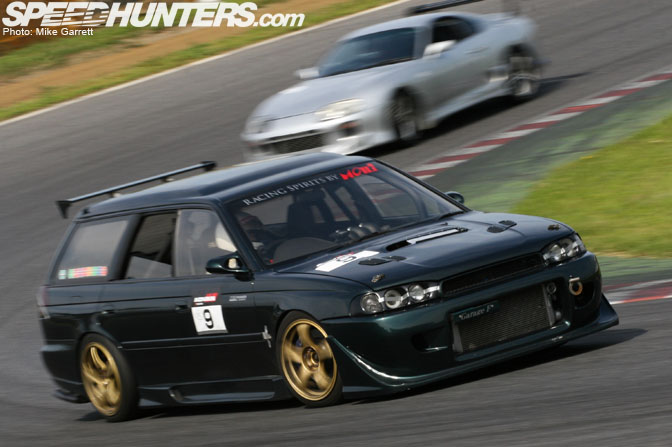 This early model Legacy Wagon was nuts. Just glancing at it you can see a huge front mount intercooler, full roll cage, GT wing, Advan TCII's and Endless brakes. These old Legacy's can be picked up dirt cheap on the used car market and they have near limitless potential when you consider all the interchangeability there is between Subaru's engines.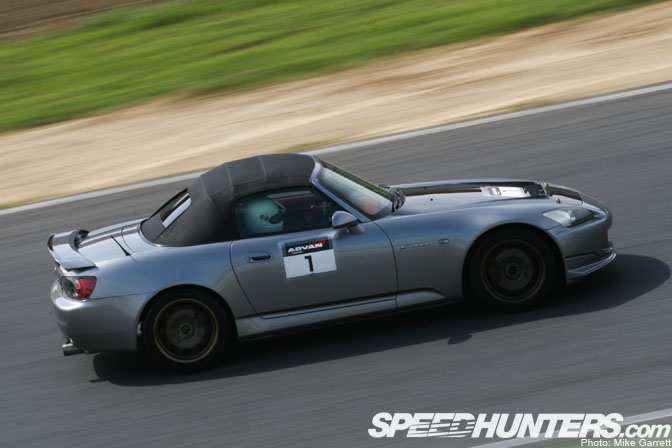 There was a good showing of tuned S2000's at the Hiper Challenge. Considering the nature of the car, all of the S2000 pilots were holding nothing back when attacking the course. This silver AP1 was picking up some serious speed around the final corner and the sound of the 9,000RPM F20C echoing off the grandstands was a beautiful thing. Man I love S2000's…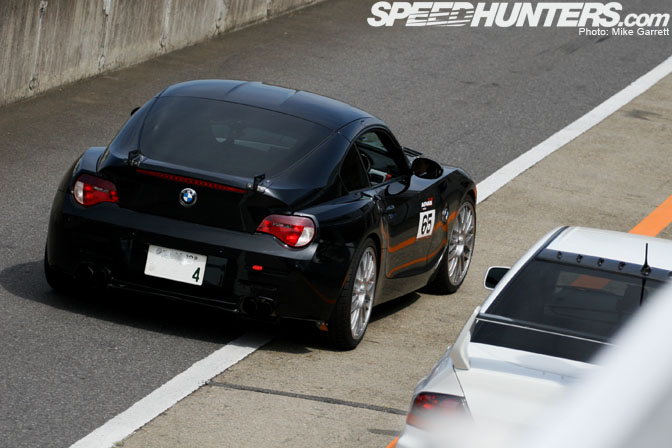 HKS also has plenty of customers with European cars, and besides all of the Japanese iron at the event, there was a strong showing by the BMW guys with a few late model M5's and this sexy Z4 M Coupe to name a few. I can't help but think of the S30Z when I see the roofline of these cars.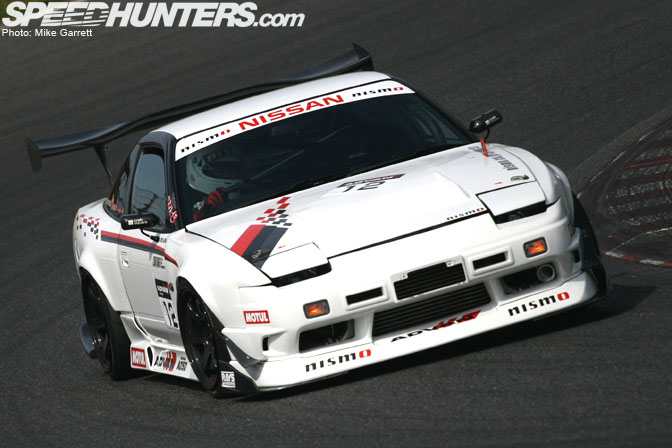 Check this 180SX grip car with Nismo graphics, Koguchi Power fenders, and a very aggressive set of black TE37's.  We always talk about 180 drift cars here, but you can't forget how capable they are as grip cars either. I'm not sure about the coloring, but the rest of the car is spot on for sure.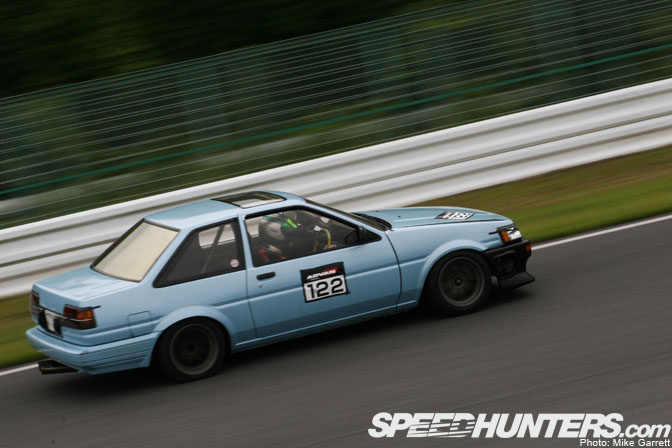 There were a handful of privateer-owned AE86's running in the event and this blue Levin coupe was one of them. There were also some N2-spec 86's running but I will cover those in the second post about the event.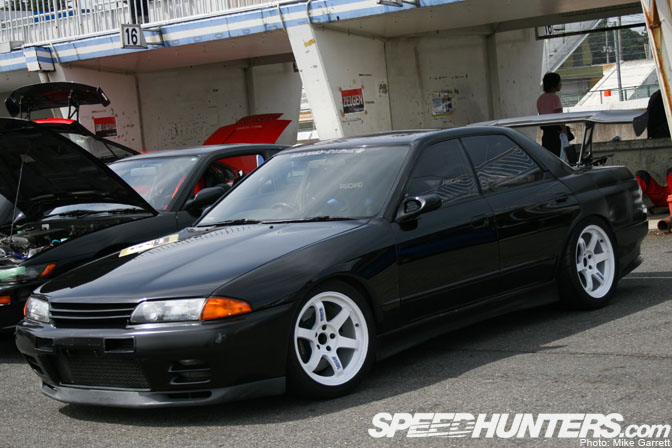 The Race War's four-door R32 Skyline was one of my favorite cars of the day for sure. It has a GT-R front end and it moved and sounded like a GT-R when it was running the track. This car is definitely making some serious power. The standard high-power GT-R's get plenty of oversteer, so you can imagine how hard it was to keep the rear end straight on this rear-wheel-drive model. It even has a double DIN navi unit in the dash!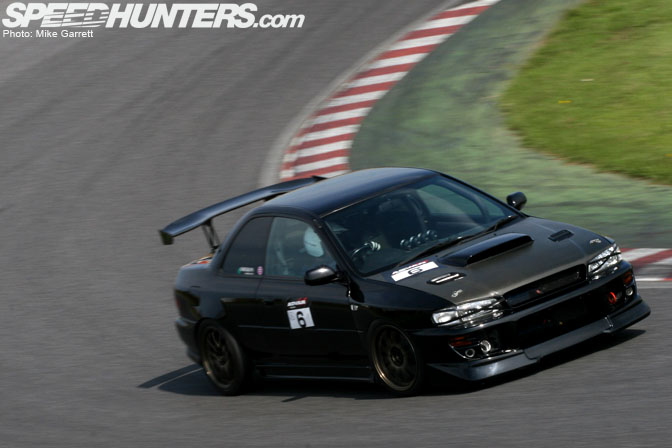 There were several fully tuned GC8 Imprezas running as well. This black car was wearing of very aggressive set of CE28N's. The subject of wheel fitment comes up often here, but I love seeing big sticky s-tires filling the fenders on grip cars just as much as the stretched tires and negative camber you see on drift cars.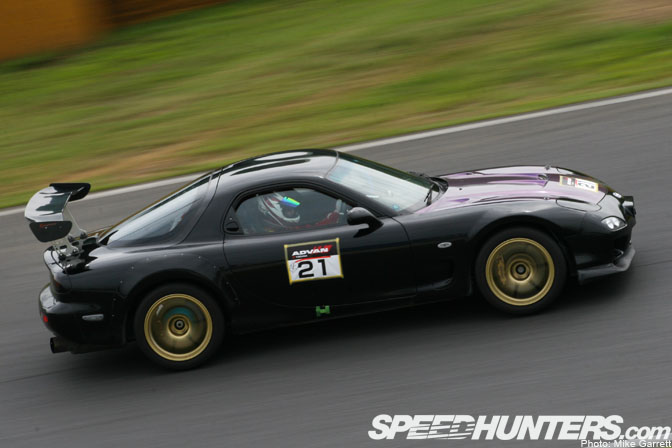 Is there such thing as Tsukuba time trials without flame-throwing rotary machines? I don't think so. In order to accommodate the wide Advan RGII's and A048 rubber, this FD was equipped with full wide fenders in the front and over fenders in the rear. Of course the primary purpose of this is to gain more grip, but it also happens to look really cool as well.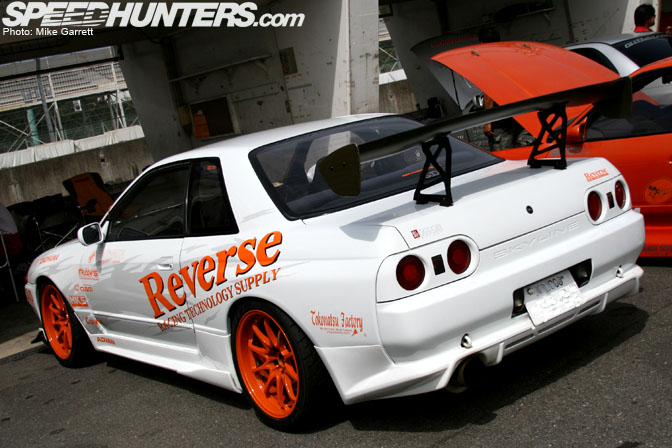 Reverse brought their R32 GT-R down from Tochigi-ken to run in the shop demo car class. This particular car was on display at Tokyo Auto Salon this year. How can you forget the orange CE28N's? In addition to the BNR32, Reverse also brought an orange S13 Silvia out to play.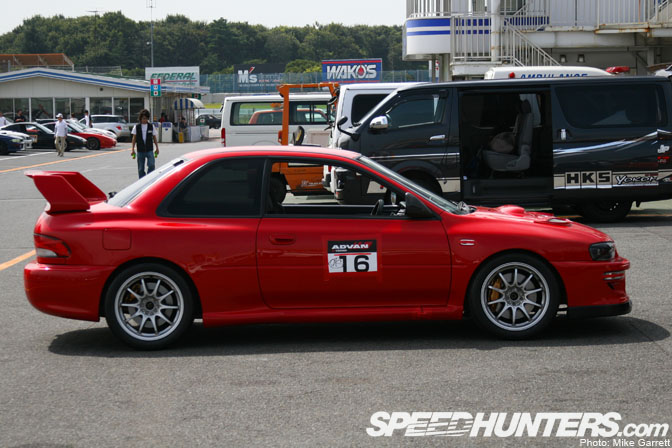 I think this just might be favorite GC8 Impreza ever. It has a very tasteful exterior, it hauls ass, and the car looked to be in showroom condition. Usually you can see plenty of wear and tear on these track machines, but this GC8 looked more like a show car than a race car. And how about that color? I think this world needs more red Imprezas.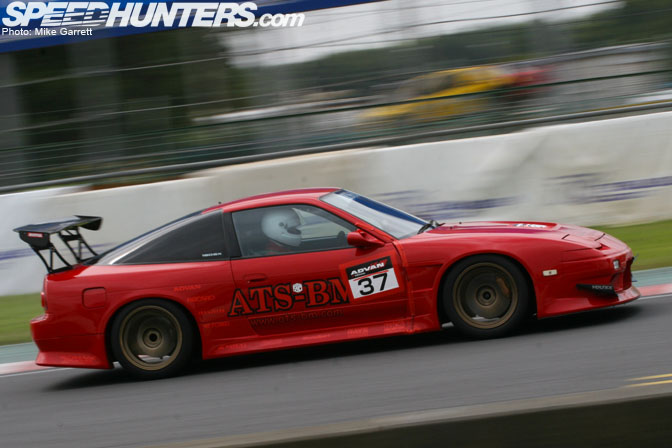 ATS-BM's 180SX was also running in the shop demo car class. This car had more than enough to put up a fight against the tuned GT-R's.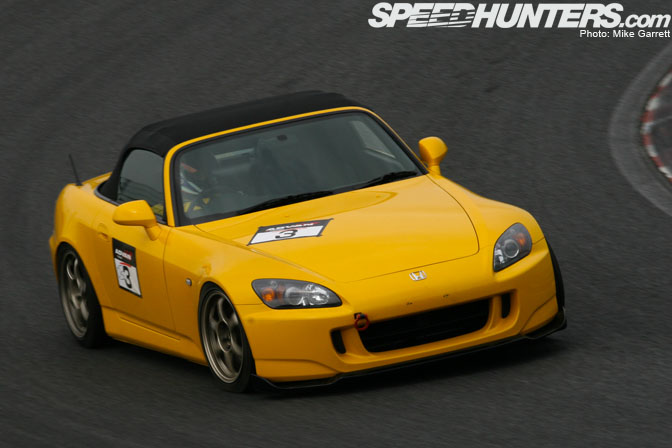 And lastly here is another AP1 S2000 running through the first hairpin. This car had a scary spin early in the event, but the driver was able to bring the car to a stop before it hit anything. Then he just kept on running like nothing happened.
More HKS Hiper Meeting coverage from Tsukuba is coming tomorrow, so keep an eye out for it.
-Mike Garrett