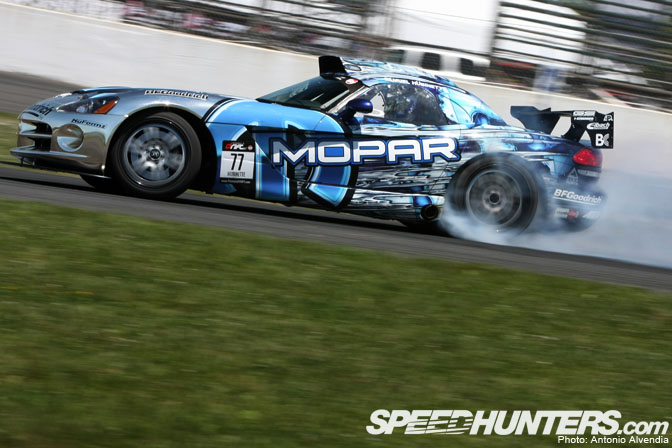 Right now, I'm sitting in my hotel room in Frankfurt Germany, with the air conditioning turned up so cold I think my laptop might have icicles forming on it soon – just the way I like it! Walking through the airport in Frankfurt, I saw quite a few people who sort of look like Samuel Hubinette! After all, he looks very European (obviously – he's from Sweden!), even though the car he drives in Formula D competition is straight up American muscle.
So to keep within the theme of all the drifting related content we've been posting up this month, I thought I'd put up some photos of Samuel Hubinette and his 2007 Dodge Viper SRT-10.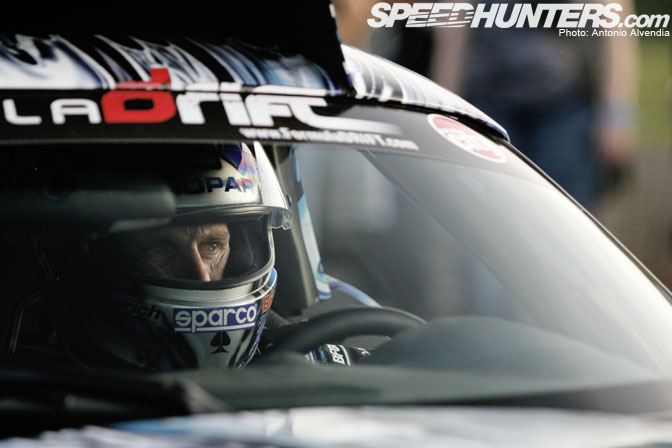 Some of you might know Samuel Hubinette from drifting videos circulating on the internet, in which he usually closes out his interviews with a peace sign, yelling "drift ya later dude" into the camera. LOL! Seriously though, Samuel Hubinette is quite a talented driver – he was the first champion of Formula Drift, winning the series championship in overall points, driving his menacing Viper Competition Coupe in the inaugural year of Formula D competition – 2004.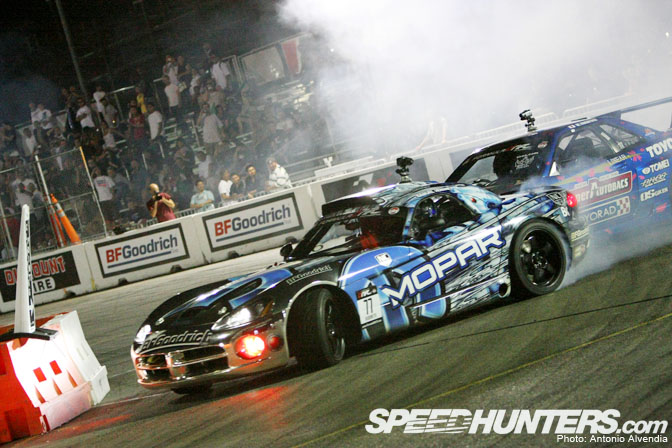 For the 2008 Formula D series, Samuel Hubinette returned to Formula D competition driving a Dodge Viper – however this time, it's not a Comp Coupe, it's a 825 horsepower (to the flywheel) Viper SRT-10, with 700lbs of torque (again, to the flywheel).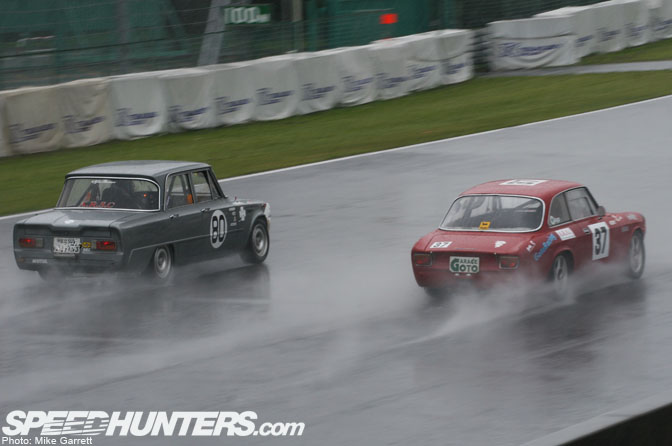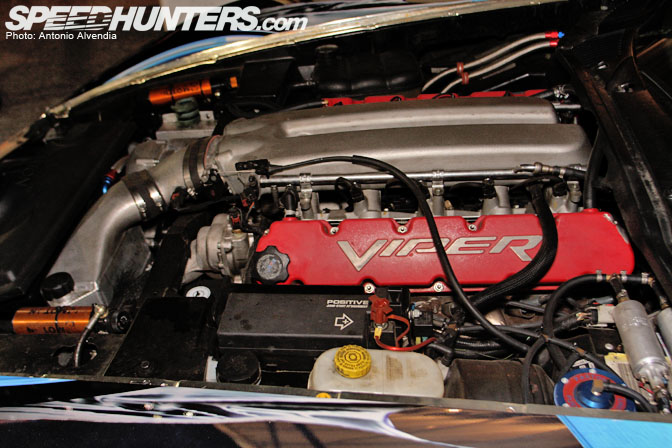 Eight hundred twenty five horsepower may sound insane to you – I know I personally wouldn't know what to do with that much horsepower! I'm sure many of you are wondering about the engine modifications, so let's run down some of the car's specs real quick:
ENGINE
CNC-ported heads by SRT
BC Solid lifter
conversion
BC Stage-III Viper cam
BC 7/16 4130 chrome-moly
push rods
BC Conical
springs/titanium retainers
BC Stainless steel
valves
BC Stainless steel 1.7
ratio rocker assembly
BC 4340 chrome-moly
Pro-Series H-beam con rods with ARP 625-Plus fasteners
JE Forged aluminum 10:1
pistons with 9310 wrist pins
BC 4340 Billet crank
Modified Mopar Comp.
Coupe ECU by GS Motorsports of Sante Fe Springs, CA
42lb/pr hr Mopar
injectors
Mopar Comp. Coupe underdrive
crank pulley
Mopar Comp. Coupe
high-volume fuel pump
High-volume Mopar Comp.
Coupe power steering pump
Setrab heat exchanger
for power steering fluid
Paxton NOVI 2000
Centrifugal Supercharger with 8-lbs of boost
Paxton water-to-air
Charge cooler
Paxton Fuel Control Unit
Paxton dual high-flow
additional fuel pumps
Paxton stand-alone
timing control computer
Paxton high-flow racing
bypass valve
Nuformz solid motor
mounts
Mopar plug wires
Custom Nuformz
10-in-to-1 exhaust with X-pipe
DRIVETRAIN
Tilton 7.25-inch
Carbon/Carbon 3-disc clutch
Modified by
Nuformz Tilton hydraulic throw-out bearing for Carbon/Carbon clutch
Modified by Nuformz
Tilton flywheel with an added weight ring
Mopar Comp. Coupe Tremec
T56 6-speed transmission modified by Anaheim Gear out of Anaheim,CA
Custom 4130 chrome-moly
5th & 6th gear lock out by Nuformz
Mopar Comp. Coupe clutch
master cylinder fire-wall reinforcement
Custom locking
differential by Traction Products of Huntington Beach, CA
Rear end setup by
Unitrax
934 CVs, custom 4340
chrome-moly stub axles, drive flanges and 300M 33-splined axles by Mark
Williams of Louisville, CO
Custom broached Comp.
Coupe rear hubs for larger 35-splined stub axles
Mopar Comp. Coupe Tilton
rear end cooler kit
3-inch ARP 1/2-20 wheel
studsF&R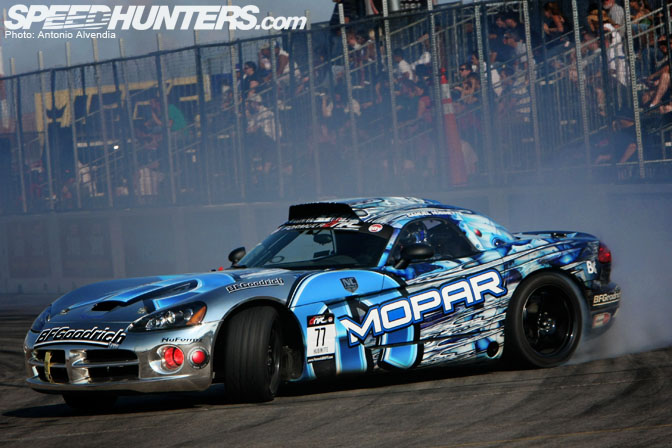 Samuel's Viper has also been lightened by using alot of carbon fiber components – Autoform
doors, hood, deck lid, and a carbon fiber hardtop
roof with a custom drifting roof scoop by California Custom Paint
& Body. Up front, the SRT10 uses a carbon fiber front splitter from a Viper Comp Coupe. On the rear, you can also find a custom carbon fiber rear
package tray by SRT, as well as an APR wing (they sometimes run the car with the wing off).
When I asked Nuformz's Shaun Carlson to send me a spec sheet for the Viper, he certainly didn't leave out the details, and made sure to give props to all the "little guys" who have helped them out, not just the big sponsors. Here's some more details on the car's exterior paint and graphics, which certainly get the car noticed on the track – that is, if the loud roar of the V10 engine and the thick gobs of smoke billowing out of the rear fenderwells didn't get your attention.
ChromeFX chrome paint by
the Alsa Corp: complete paint job
including body work and the application of the chrome done by Jesse Nevarez of
California Custom Paint & Body in Ontario, California.
Custom Wrap by
Competition Graphics in Farmington Hills, MI: wrap applied by Josh
Daley of Daley Visual located in Rancho Cucamonga, CA
Formed Lexan side and
rear windows by Pauly Rivera of Nuformz, out of Ontario, CA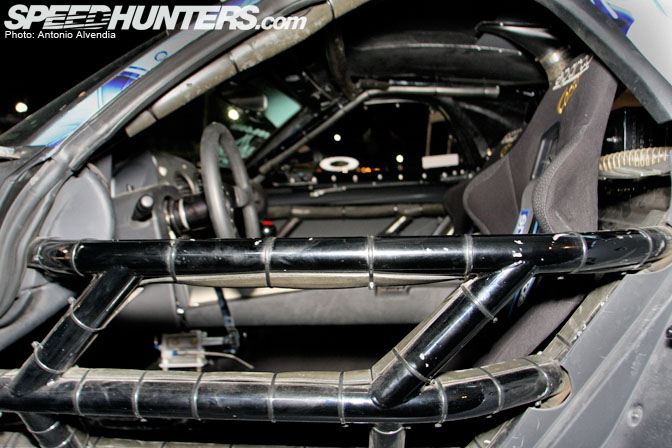 When you open up the carbon fiber doors and look inside the car, you can't help but notice the custom 1.75-inch 4130
chrome-moly Tig-welded roll cage with NASCAR-style door bars by Pauly of
Nuformz. I know the car looks a bit dirty in this photo, but there was a bunch of dust blowing around at the Formula D Las Vegas event, and the flash really brings it out and makes it look dustier than it really is.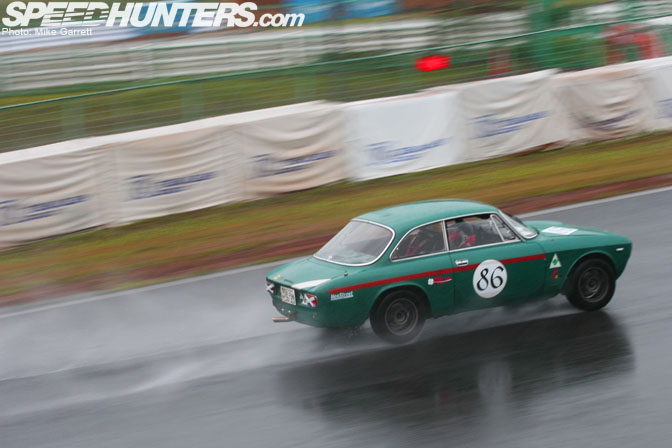 Standard safety equipment inside – Sparco Corsa
carbon-fiber racing seats and Sparco 3-inch 5-point
seat belts.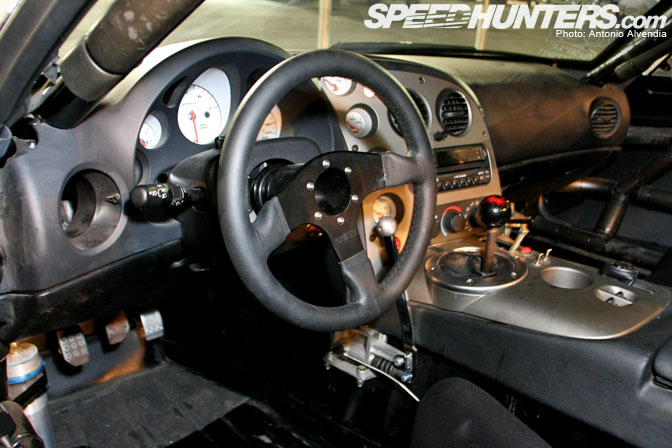 Not much attention to aesthetic detail in the interior of this Viper, but oh well. It's a race car I suppose. Check out the horn button-less Sparco steering wheel. The car also has a Sparco Halon fire
extinguisher system with five nozzles installed, as well as a Parker Pumper fresh air
system to keep Samuel cool inside the Viper!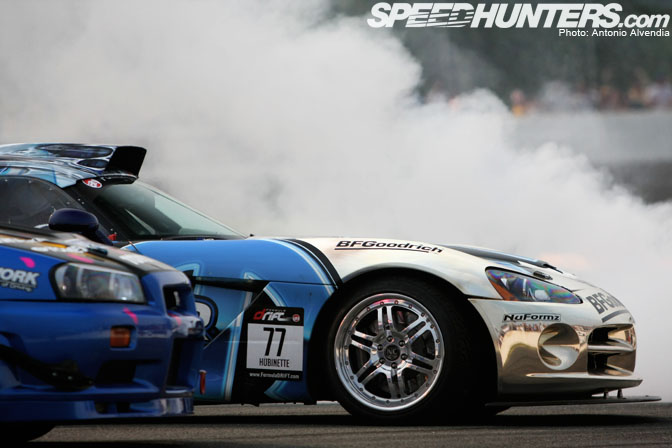 Samuel has a new wheel sponsor for this season, which is why you might have noticed that his car is equipped with 18×10 (front) and 18×13 (rear) custom NC Forged lightweight wheels. However, he still rocks BF Goodrich G-Force T/A tires, which give him the control he needs when he's drifting at high speeds – not to mention all the smoke they generate when he's accelerating!
Behind the wheels, you can catch a small glimpse of the Mopar Competition Coupe parts installed onto this Viper SRT10 – Brembo 2 piece 14 inch slotted rotors and 4 piston calipers, Goodridge brake lines, and a Tilton brake proportioning valve.
I saw some Vipers out at the race track here in Germany the other day – they were part of a racing school experience, and alot of Germans were coming by to take photos with the cars. I thought it was kind of funny, cause I didn't think much of those Vipers – they just looked normal and kind of boring actually. Just imagine how crazy the German car fans would go if they saw Samuel piloting his Formula D competition Viper at one of their tracks! Mopar seems like they have some pretty deep pockets… anyone else think they should ship one of Samuel's Vipers out to Europe to have him do some drifting demos out here? I know I do!
-Antonio Alvendia