Adding Spice
Let's face it; a sense of individuality is what everyone is trying to achieve with their car. It doesn't really matter the vehicle, the discipline, or the scene – we all do what we do to stand out. Some more than others of course, but to have a car that's a little bit more unique than the next one out there, to you and me – that's what it's all about. It's what makes us steal a few glances every time we walk away after parking it, it's what makes us grin when we see it for the first time in the morning, or when we floor it for a split second during the daily commute.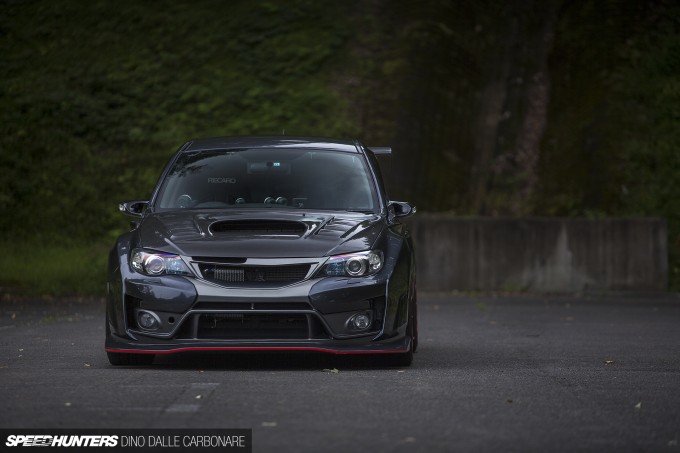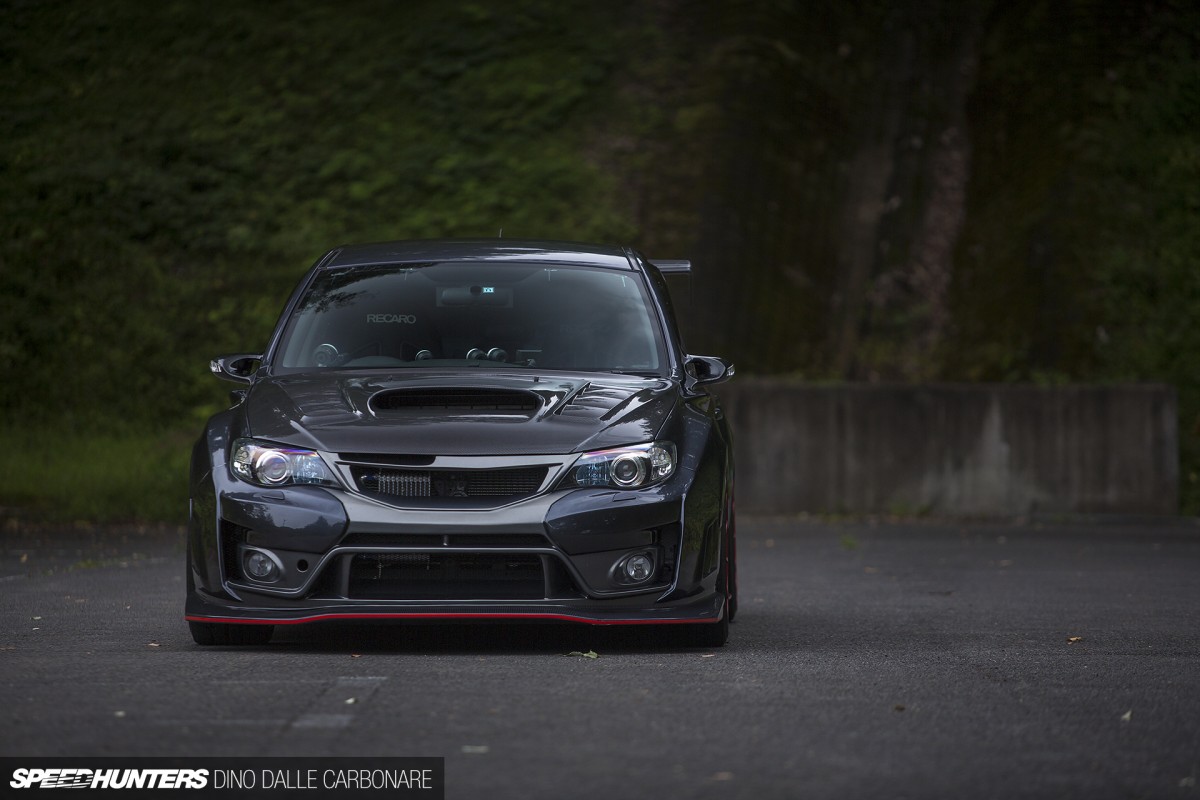 And seeing as most of us can't just walk up to Horacio Pagani and spec-up a custom Huayra, we have to make the most of what we have. There is nothing wrong with that though, especially when we have companies like Varis at our disposal. As we learned during our recent factory tour, these guys take pride in coming up with some of the most unique and recognisable aero solutions out there, all meticulously hand-made to guarantee quality.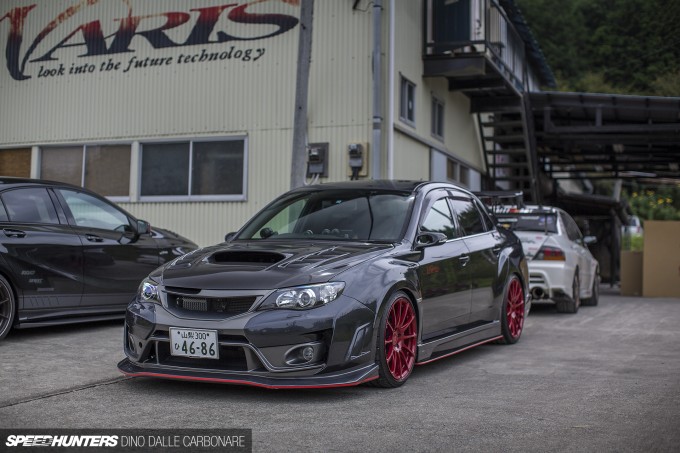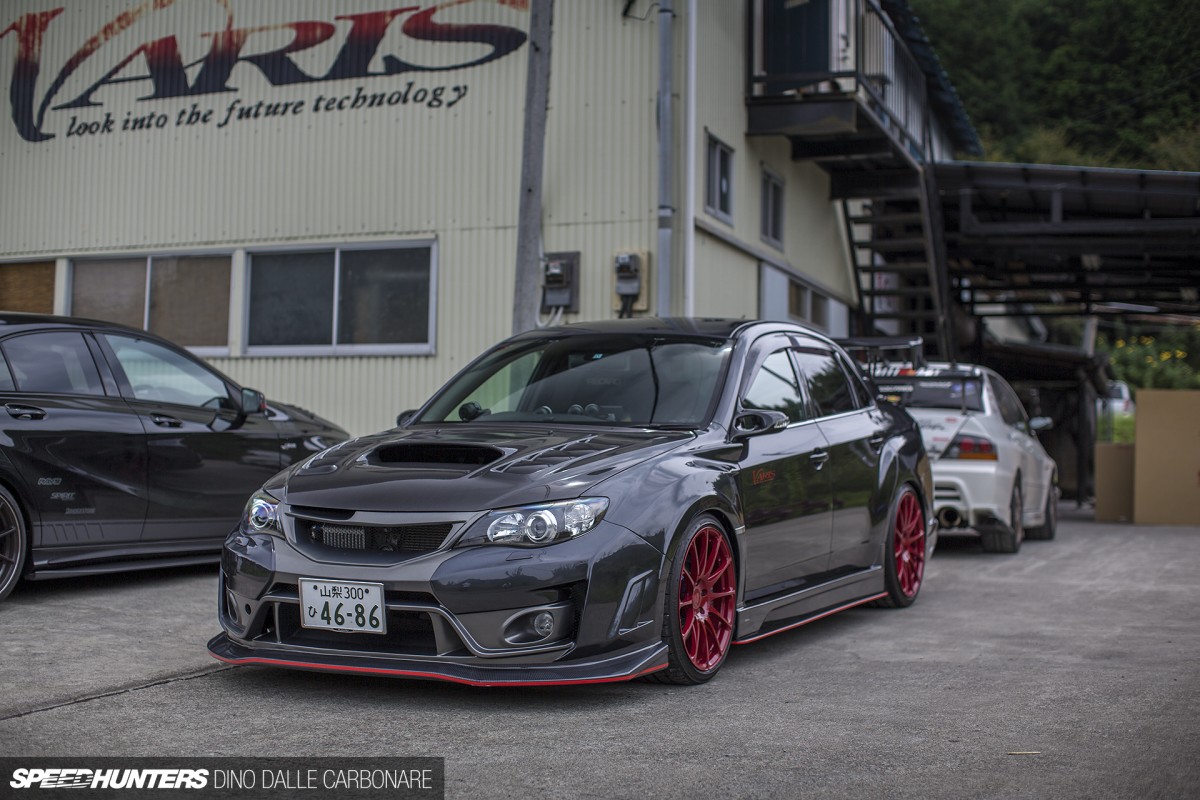 After spending some time with Varis's Mercedes AMG A 45 demo car, we drove back to the factory and swapped cars, picking up another turbocharged AWD beast: this GVB Subaru Impreza STI.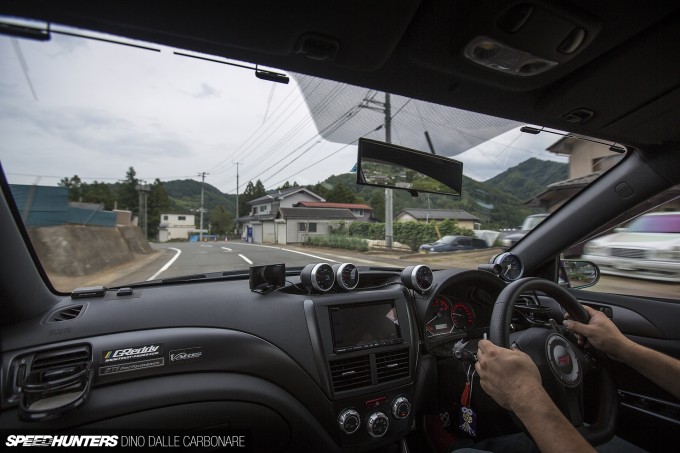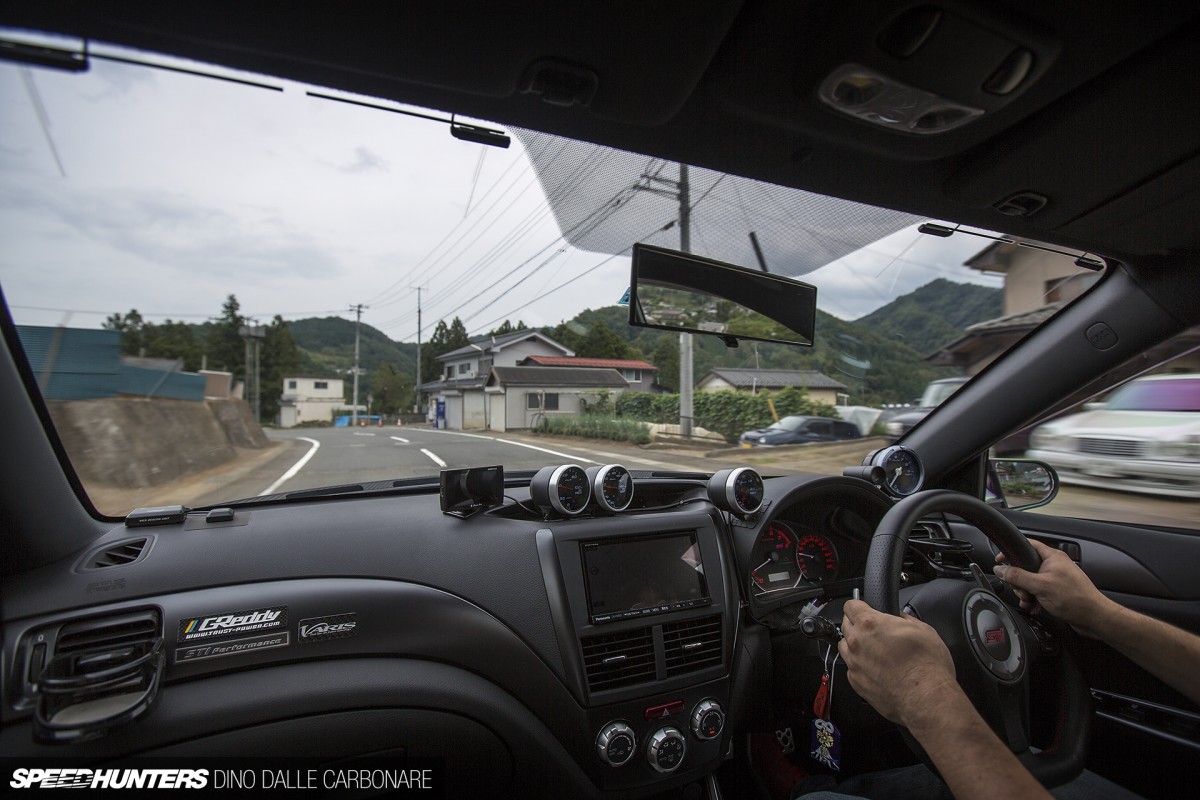 Yahagi-san at Varis already had a location picked out for me, about 10 minutes drive down the road. As I sat supported by the Recaro buckets, I couldn't help but make some comparisons to the Impreza's German cousin we were driving moments before. There's no hiding the fact that Imprezas – despite the recipe being pretty tried and tested – still feel just right. The smooth EJ20 up front provides strong acceleration whenever it's needed, despite the fact that this car is an automatic transmission variant. It's not the enthusiast's choice that's for sure, but as Yahagi said, it does make it easier to drive around town and on longer journeys when they need to travel to remote locations for shows and events.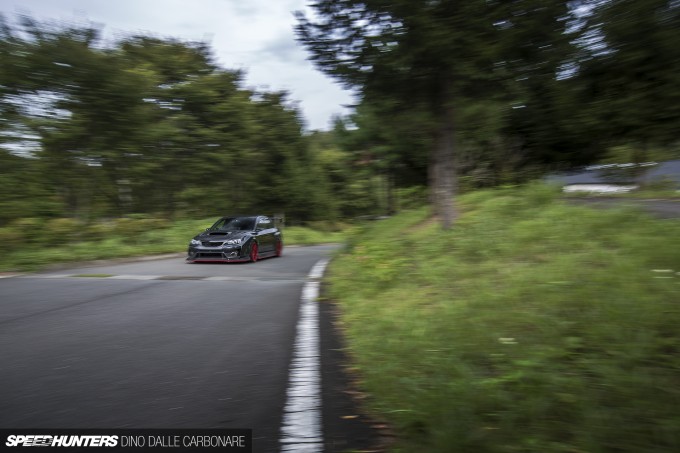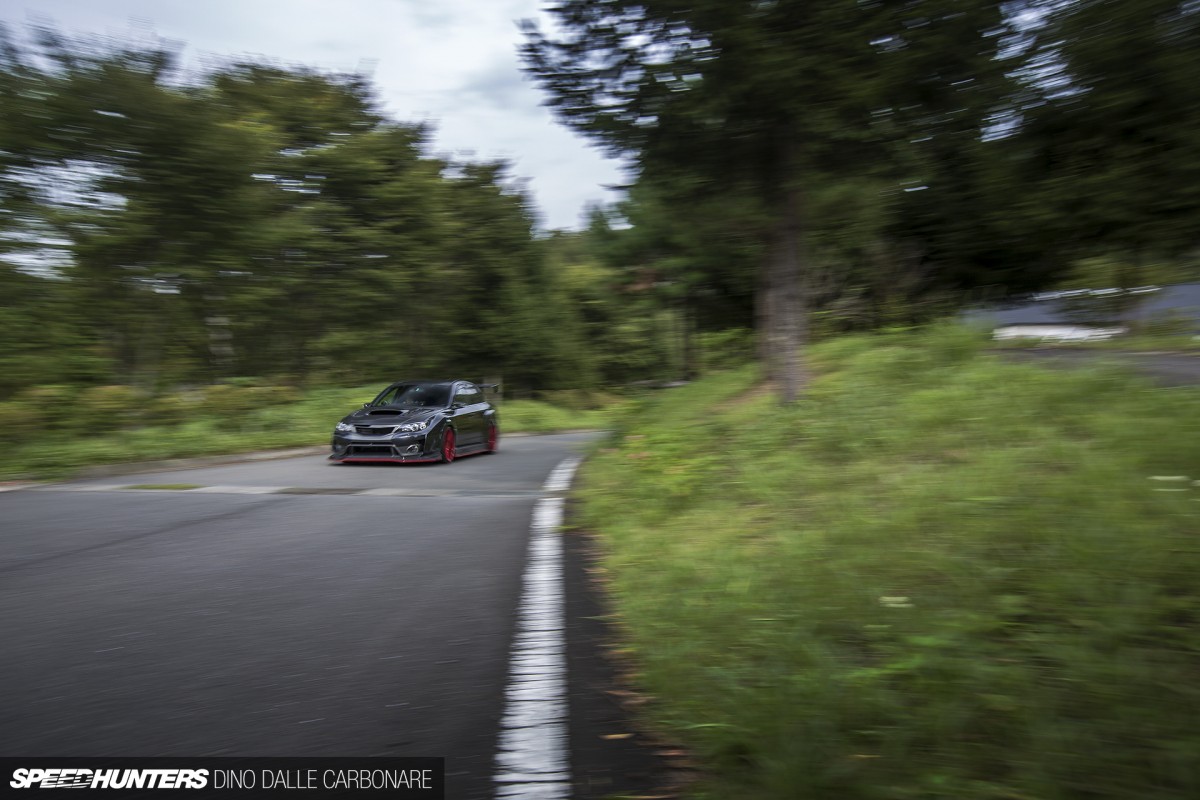 Compared to the more expensive AMG, the Impreza feels a little down on quality; the plastics that surround you are hard and cheap to the touch despite the actual design being pretty nice all round. There is definitely less refinement, more road noise – it's all a little bit more raw – not necessarily a bad thing if you're like me. The instant shifts of the A45′s twin-clutch transmission make the Impreza's five-speed torque converter feel like it's from another time. But that's okay, as we all know most of us would have just opted for the sleek six-speed manual. And manuals are better than anything else out there, right?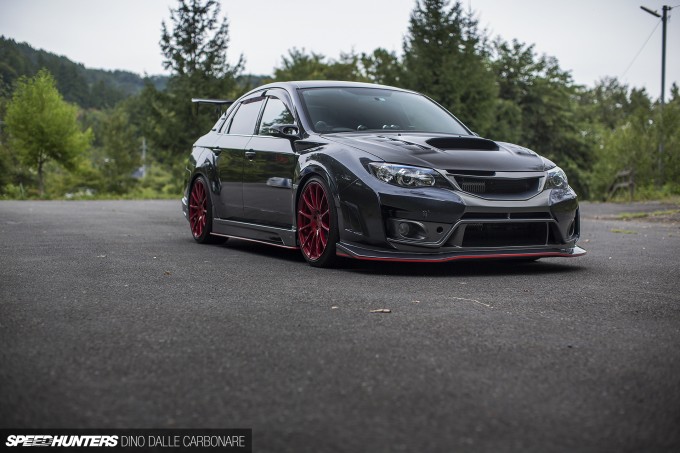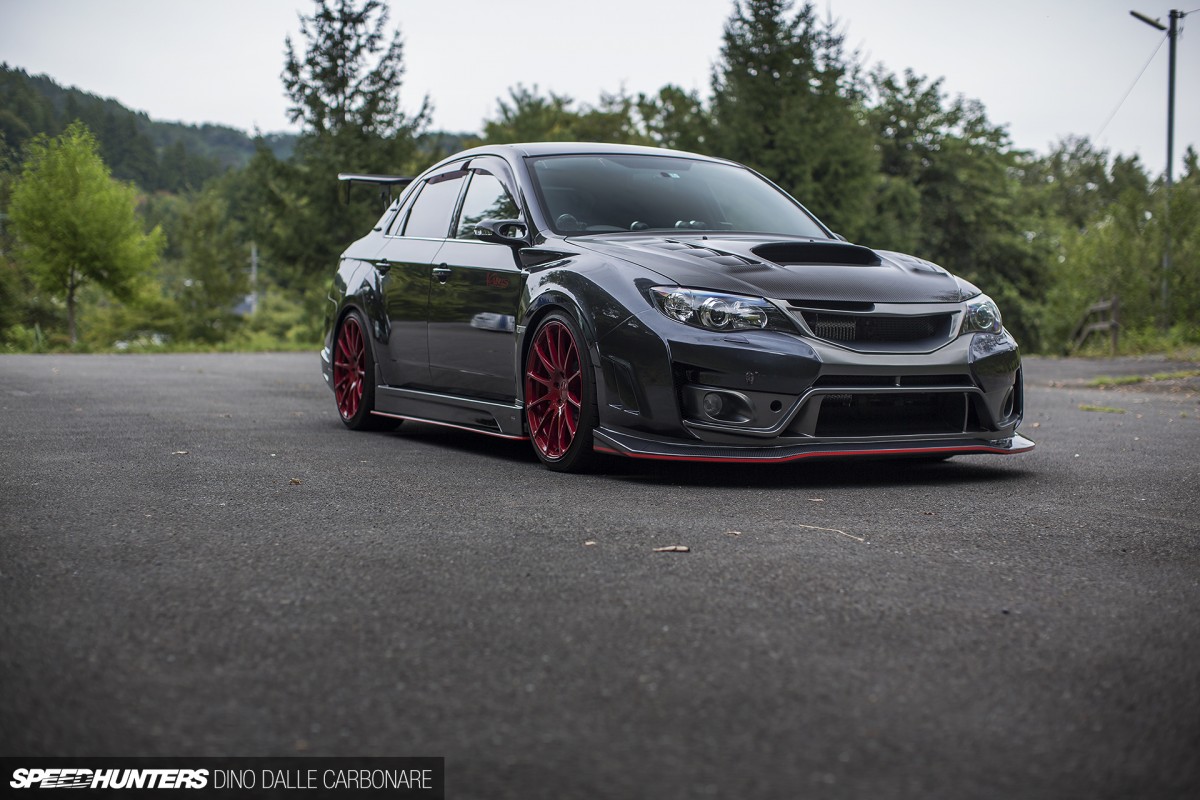 The all-new Impreza was being delivered at Varis that same night, ready to be pulled into the clay modeling bay, but in no way did it feel like I was shooting an old car. Quite the contrary actually; the GVF's four-door sedan shape is still a very much a contemporary machine.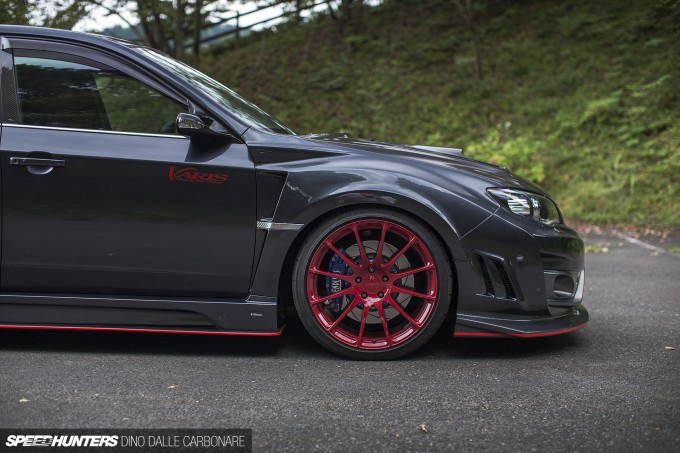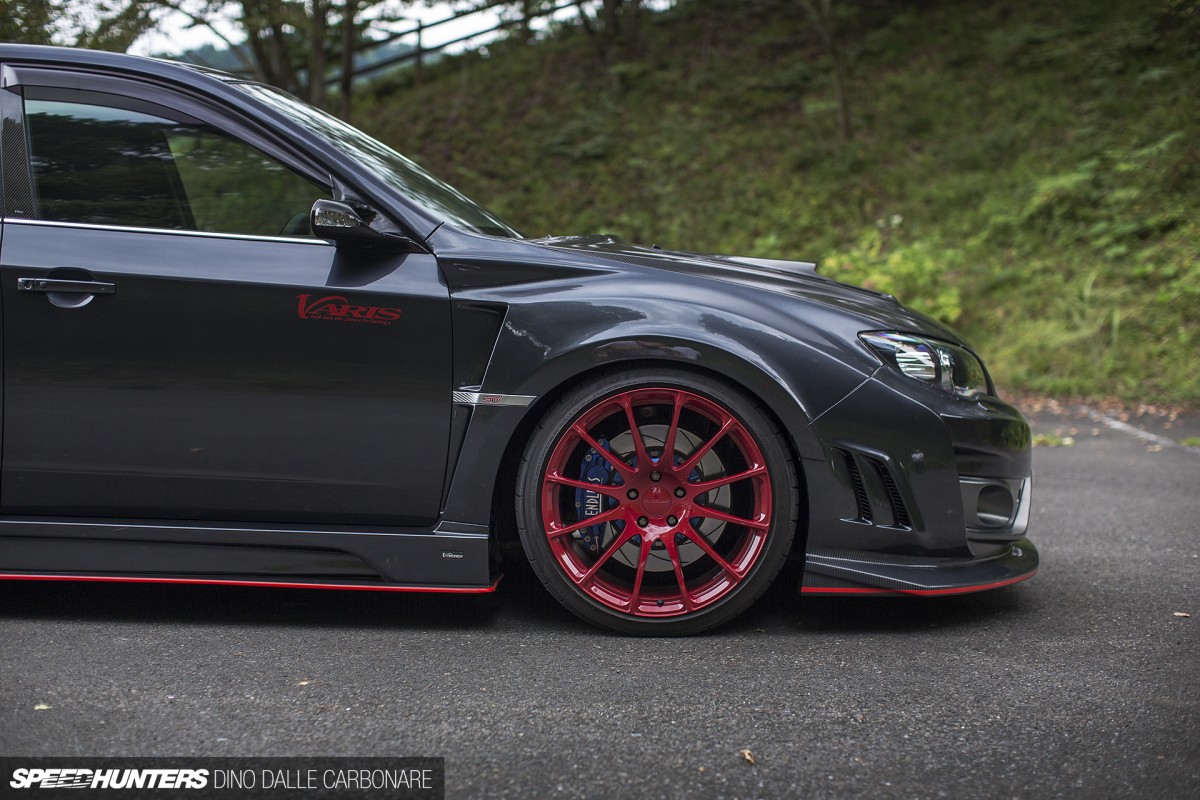 In fact, Varis are actually going to be developing an even more extreme kit for this generation of the car, ready to be shown at next year's Tokyo Auto Salon. In a way, that means that the kit featured on this car will eventually become the entry-level wide body conversion. But there is nothing entry-level about it – this is a pretty wild upgrade that does a great job of taking the Impreza's stock lines and treating them to a hefty dose of steroids.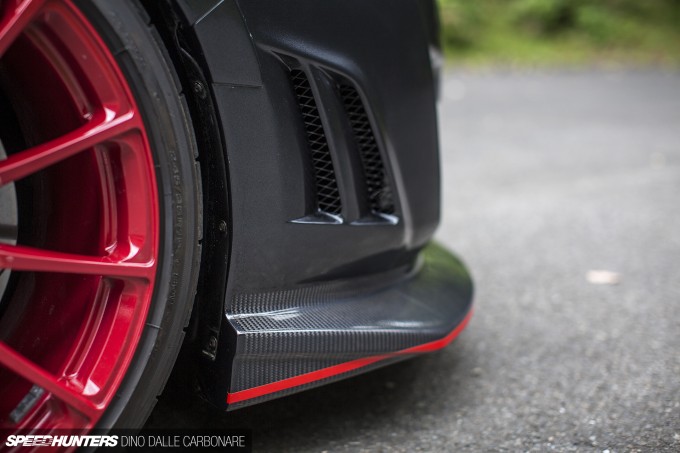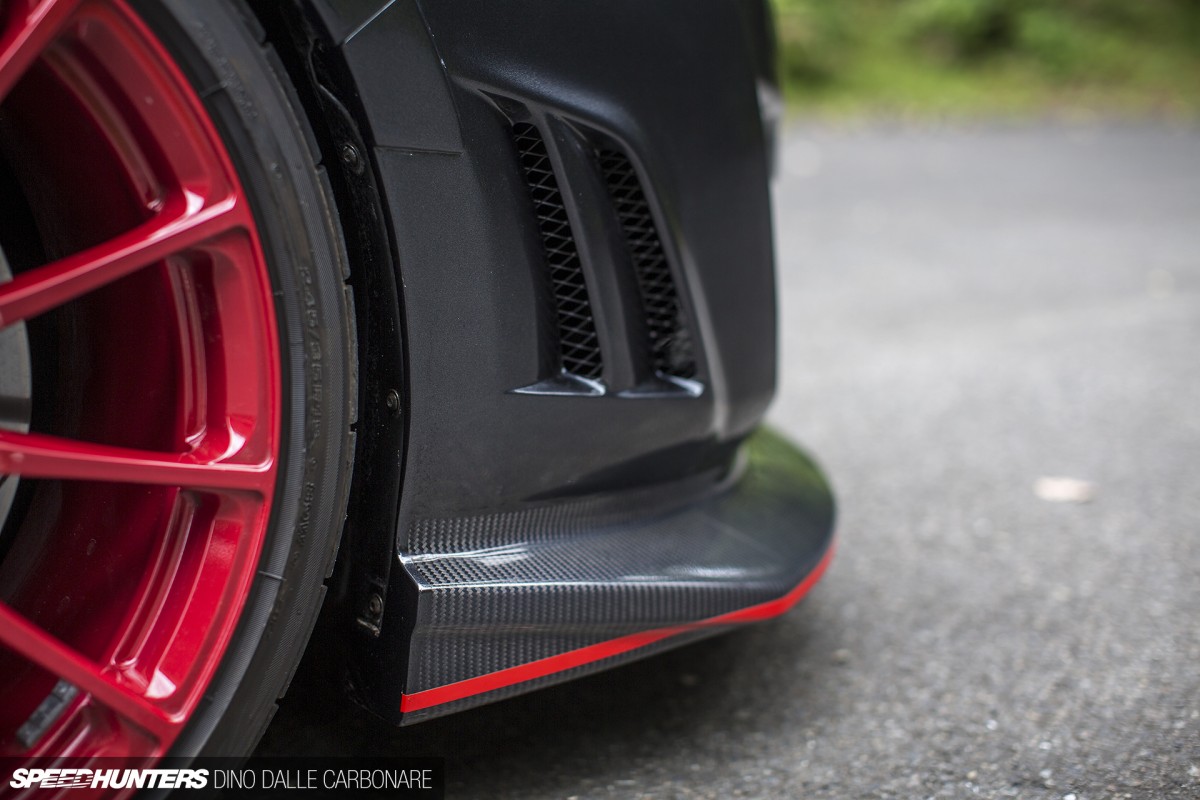 The Version 2 front bumper starts things out rather well, and like all Varis bumpers it's always the carbon fiber lip spoiler that most customers like.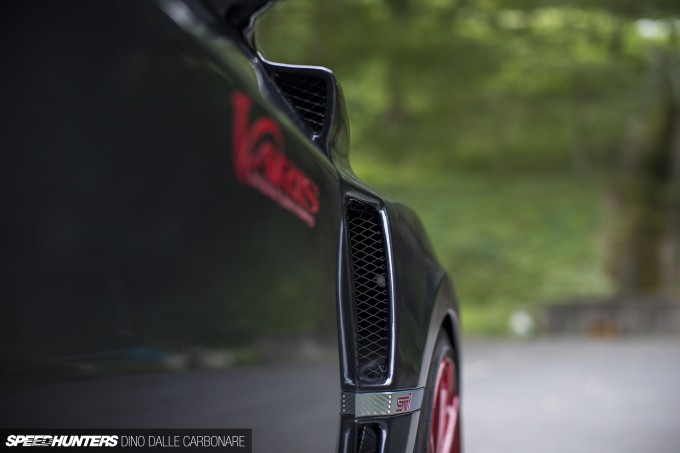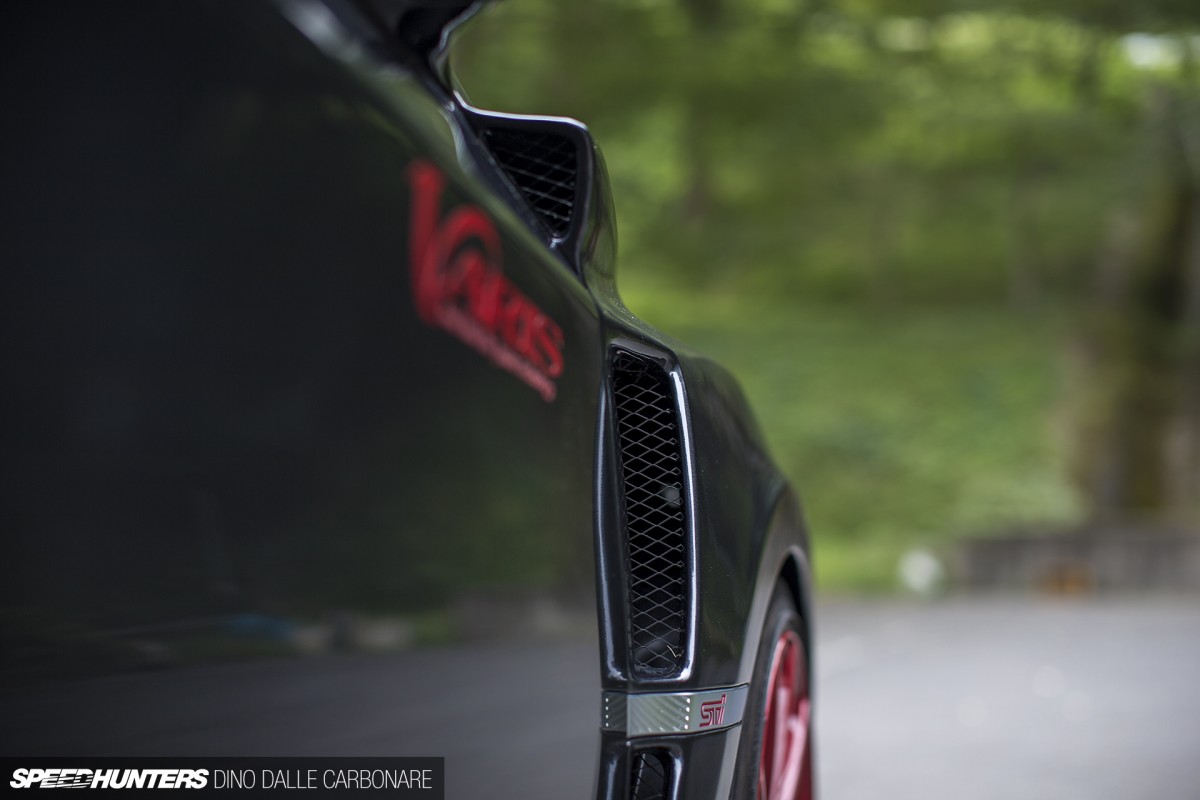 From here the newfound girth is transferred onto the front fenders, which end up with a triplet of air outlets right along the door line. It may be a subtle widening, but it allows for much more hot air to be drawn out from the engine bay and brakes.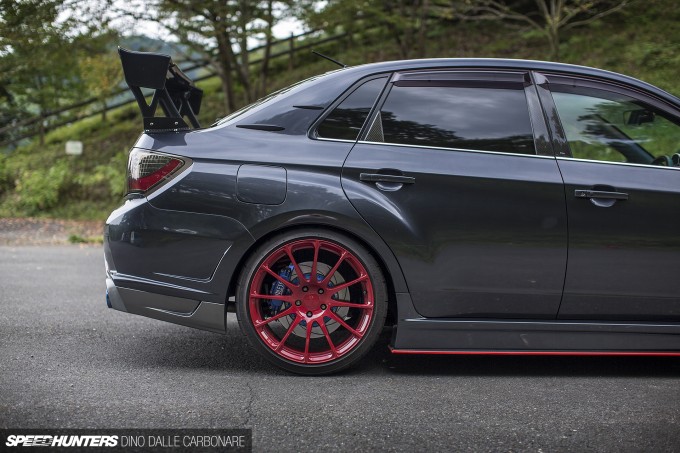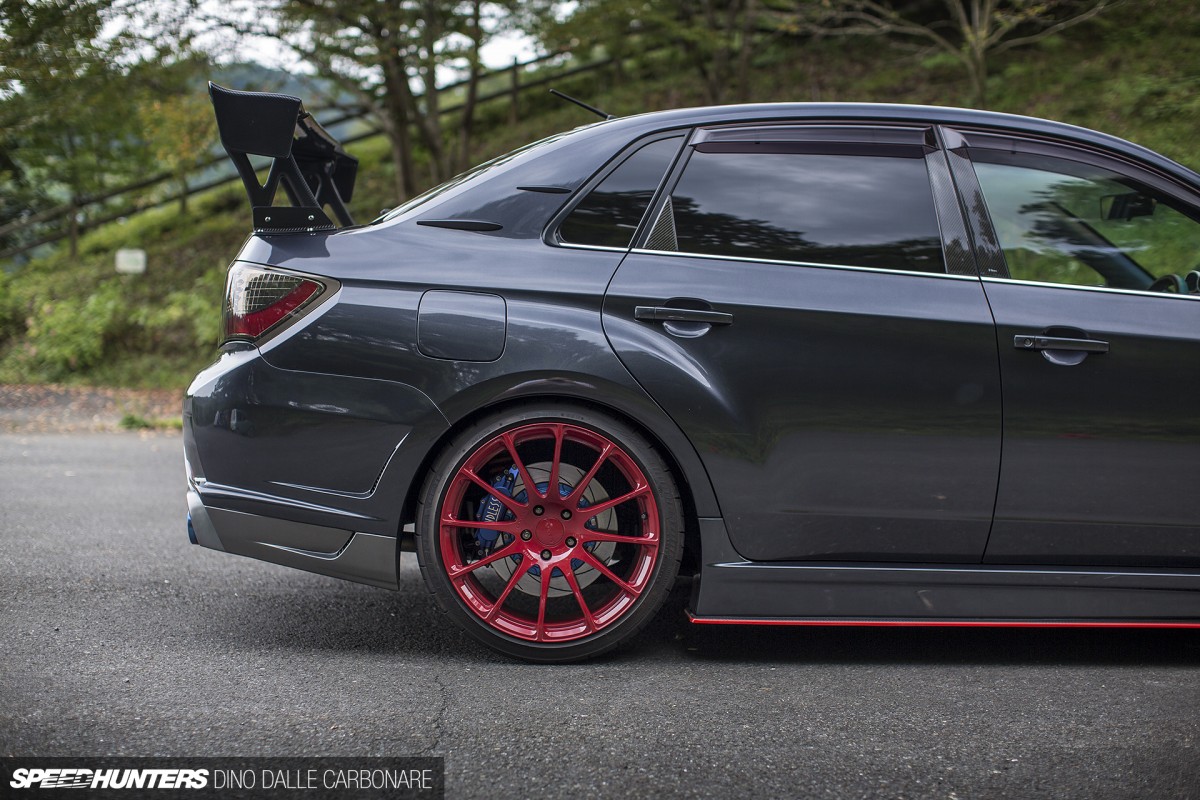 Seeing as the STI's rear already comes with visually blistered fenders, Varis concentrated on the surrounding bits to help tie it all in together.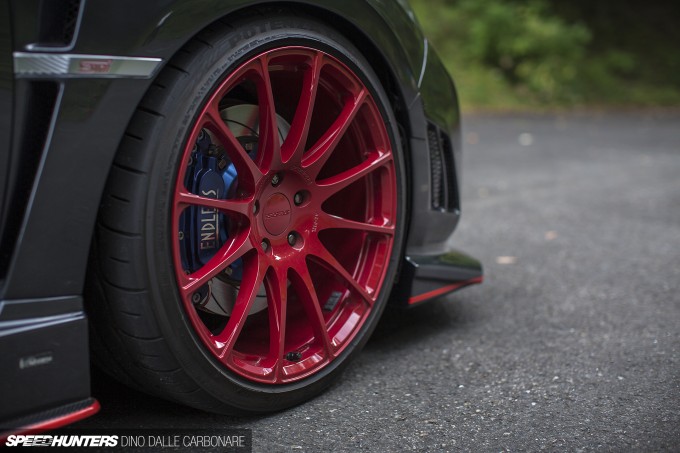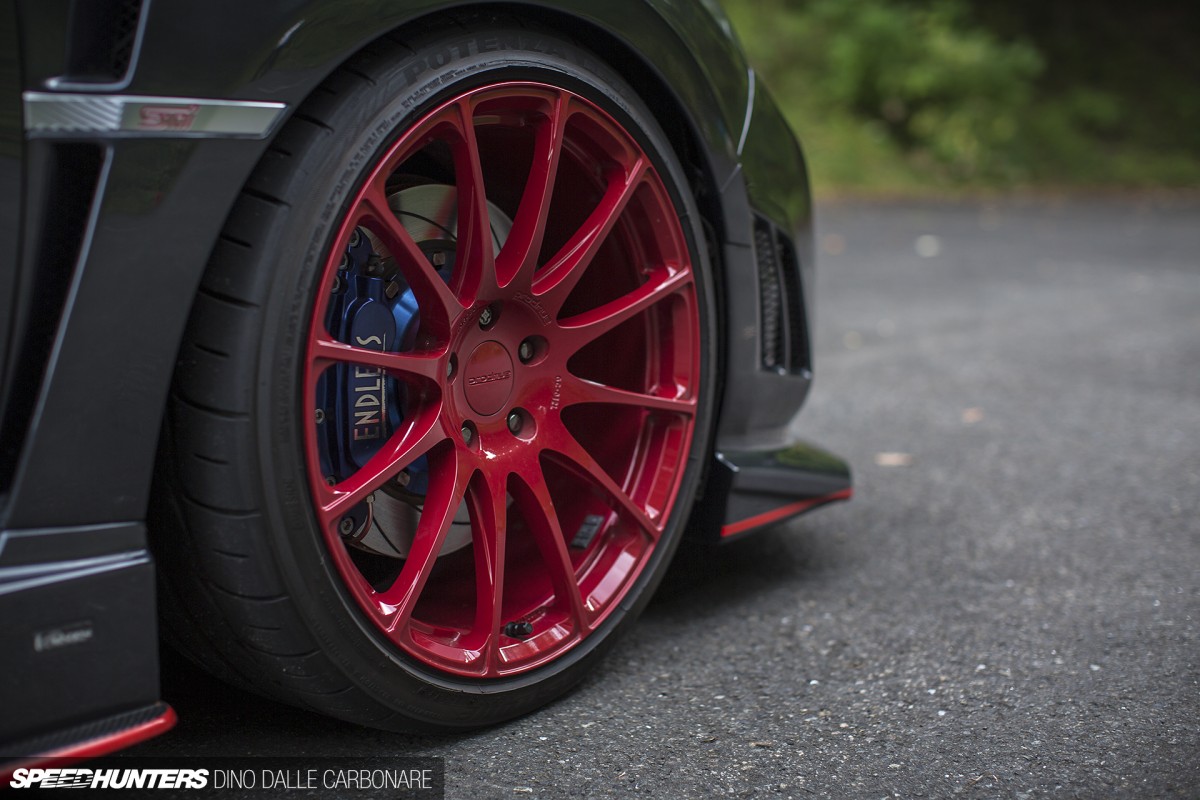 The thin red stripe running along the lower edges of the car is there to match the 19×9-inch Prodrive GC-012L wheels – a subtle multi-spoke rim design finished in a not-so-subtle color. But as you know, we love red wheels here at Speedhunters!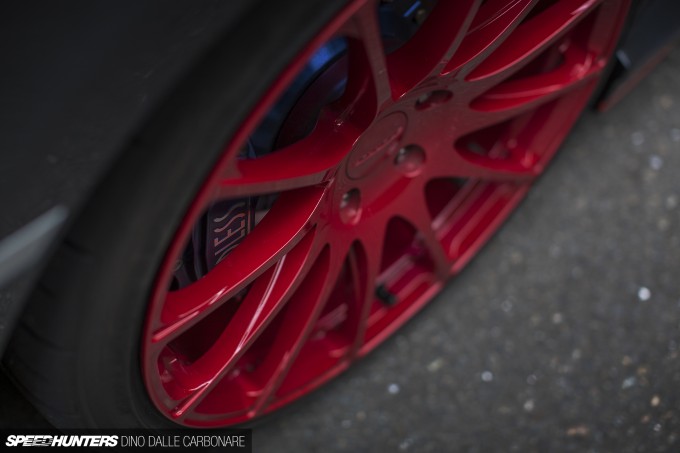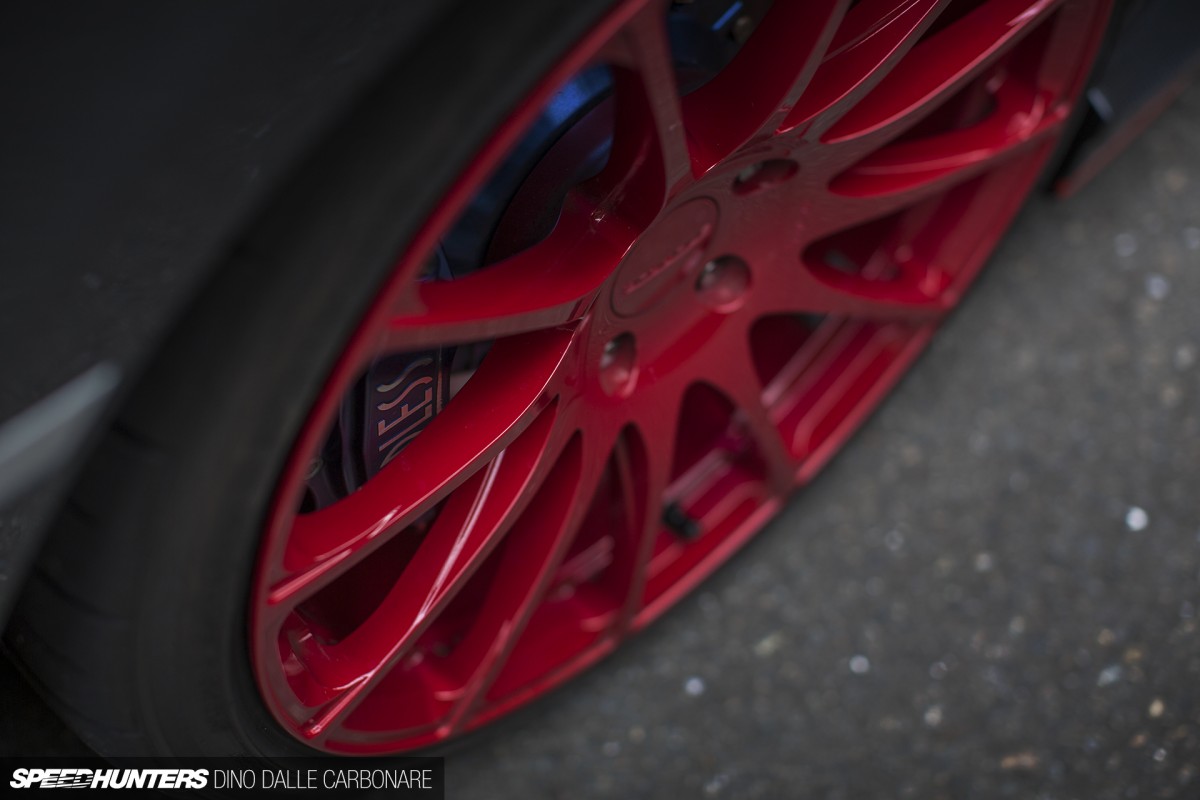 A few millimetres from the inner section of the spokes are Endless six-pot front calipers and big two-piece floating rotors, which have replaced the gold Brembo brakes the GVF comes with from factory. These front stoppers are matched with Endless four-pot calipers in the rear. Seeing as the car gets driven hard around the Yamanashi mountain roads – and at times put to the test by journalists – no chances were going to be taken.
#WeHaveBoost!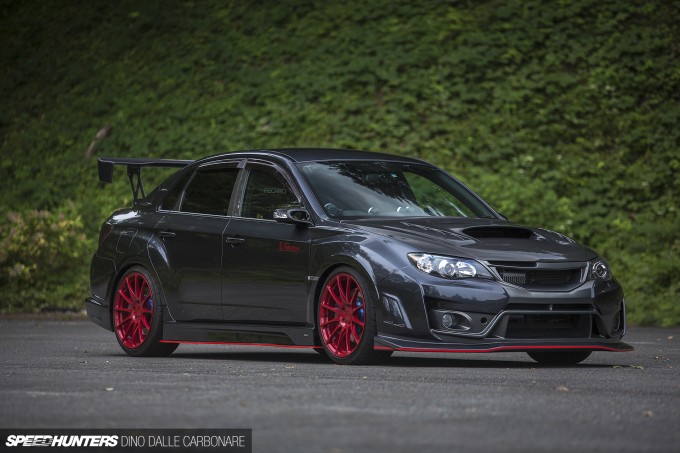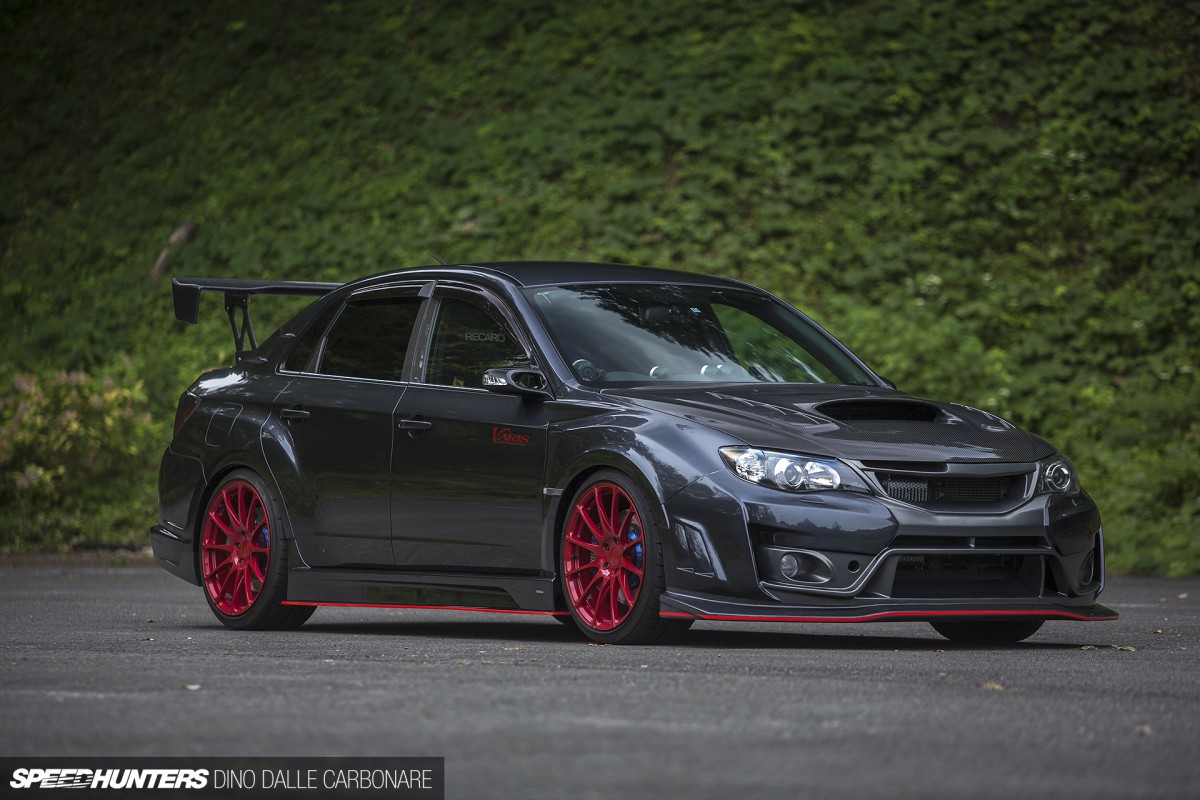 Varis opted to paint the front bumper in two tones of metallic silver – the lighter hue highlighting the complex design of the center section, helping emphasise to the grille area and the additional openings that have been worked in.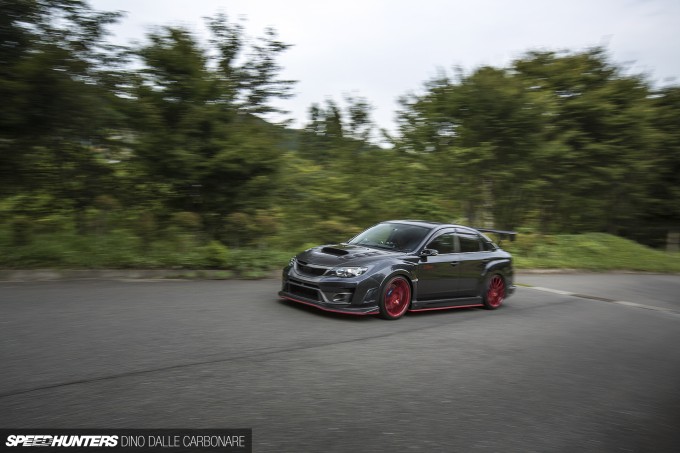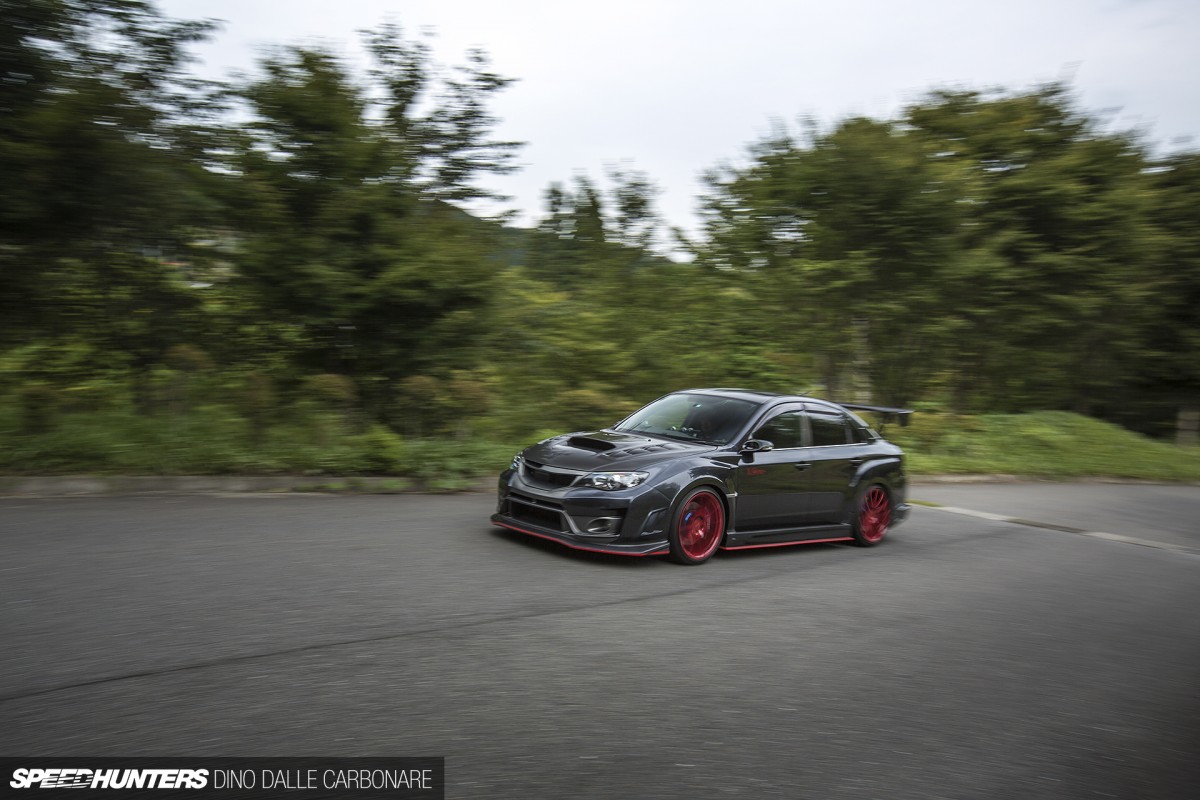 The idea there is to increase airflow towards the engine in general, and also allow the option for a front-mounted intercooler to be added in a more serious build.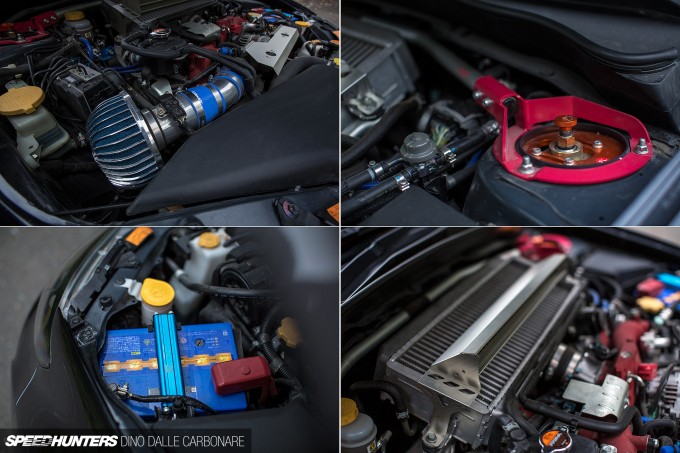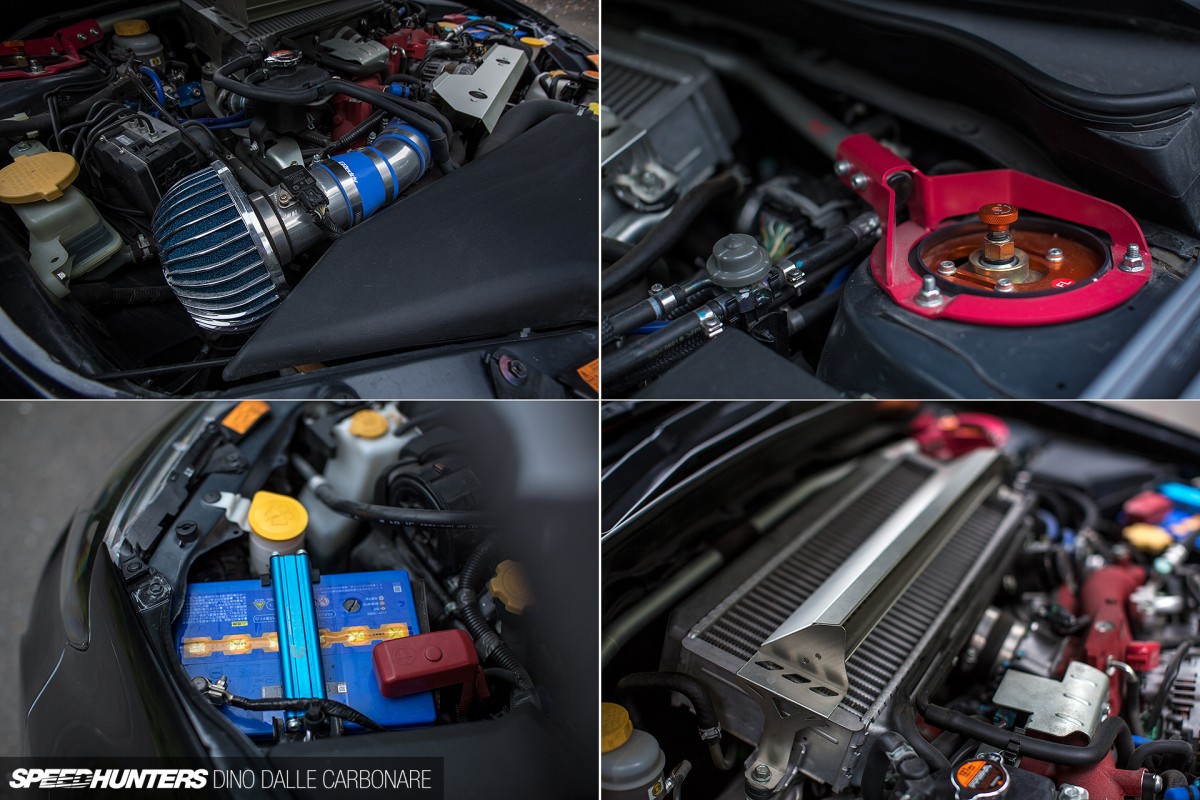 The Varis demo car is running a few simple upgrades to get the most out of the engine, which as we all know comes slightly muffled and suffocated from factory. That's why the stock airbox has been removed and replaced by a Trust Airinx sponge pod filter plumbed into a better-flowing Trust aluminium intake pipe. The more interesting additions are the ones you can't see, and they come in the form of an upgraded JUN turbo actuator to help manage boost faster and more precisely, as well as a Prova blow-off valve to make the dumping of unneeded intake pressure a little more dramatic. These minor upgrades are matched with a full HKS exhaust system, which includes a stainless manifold, to liven up the boxer's burble. It is, however, the JUN ECU re-map that maximises all these upgrades. Set up with more boost and a remapped fuel/ignition curve, the ECU helps release close to 50 extra horses.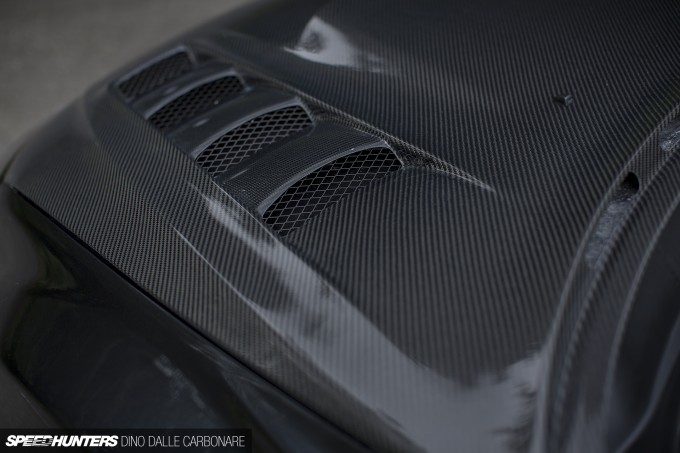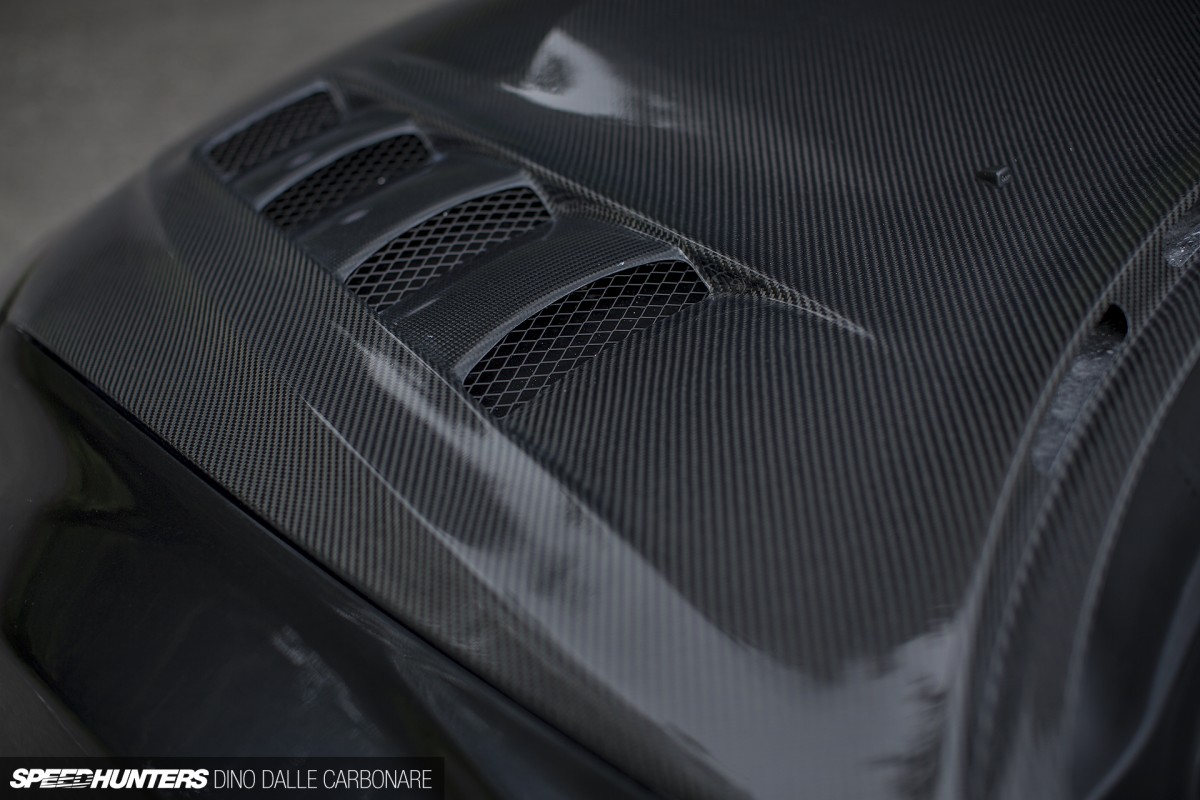 If there is more air going in through the front, it has got to somehow make its way out too, and that's where these side louvered openings on the Varis carbon bonnet come into their own. Of course, the centre scoop is there to feed the factory intercooler, which itself has been fitted with a Zero Sports baffle to direct more air towards it.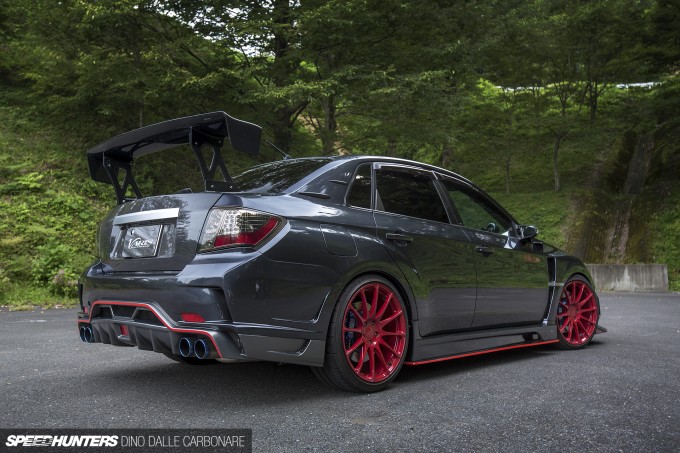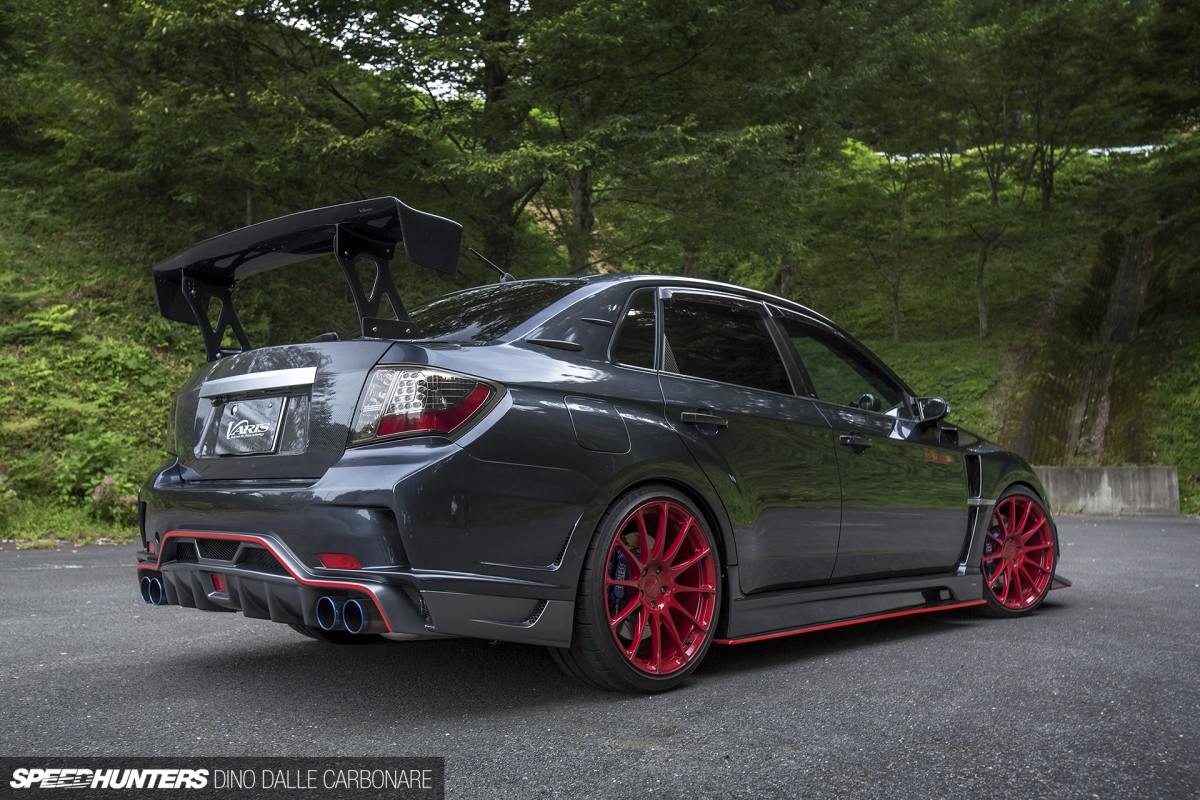 One of the things I personally like about the GVF is the lack of a rear spoiler. But you weren't going to expect a company that produces carbon GT Wings to not have one fitted to their demo car, right?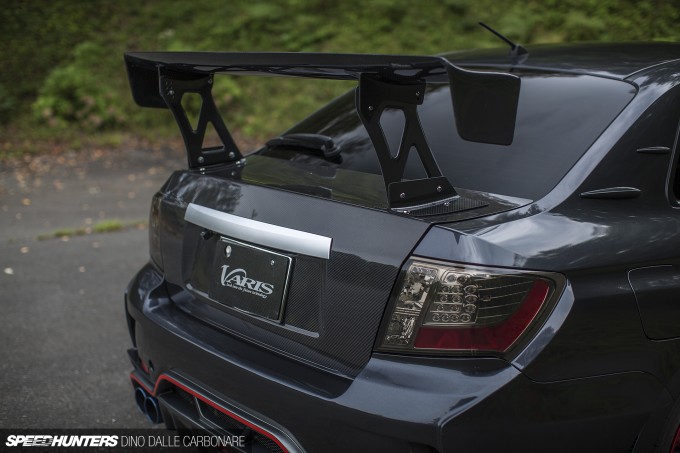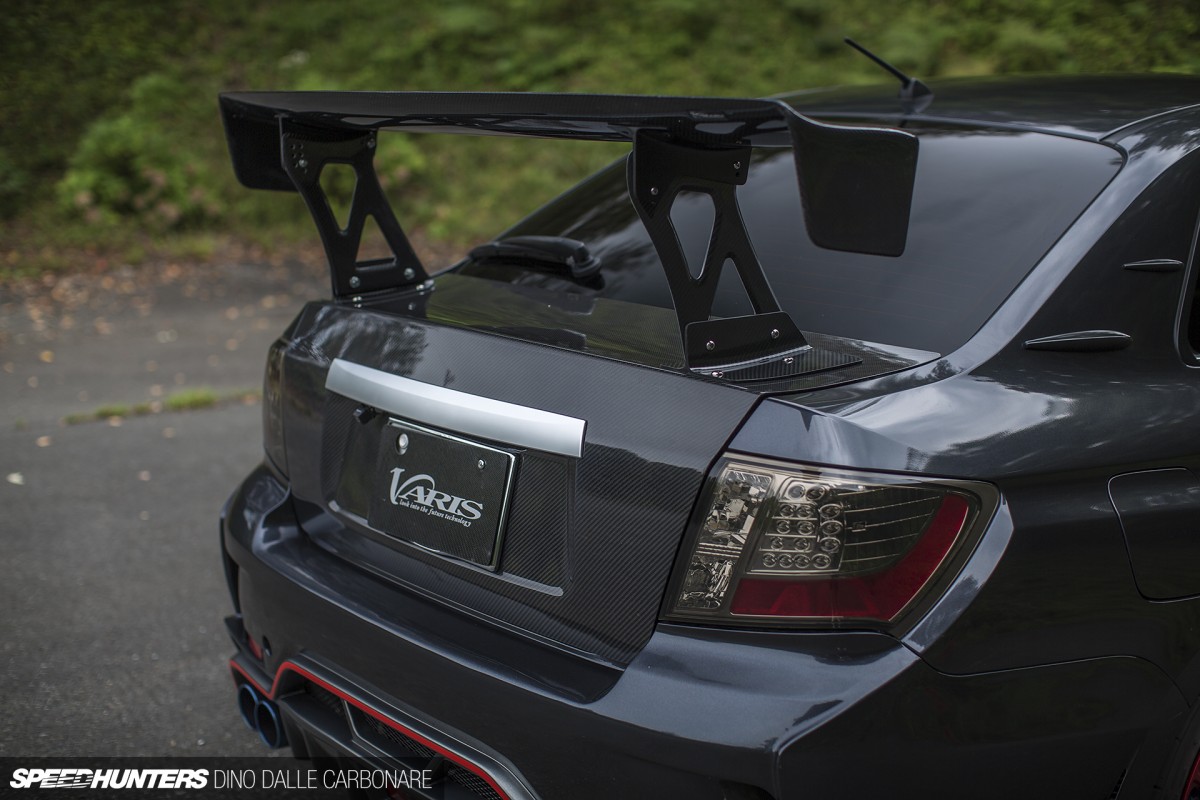 The adjustable wing is fixed atop a carbon fiber trunk lid, which helps shave a little weight over the stock steel item.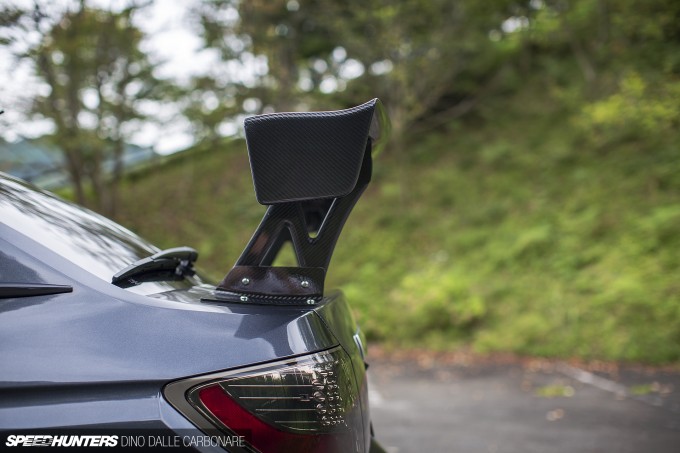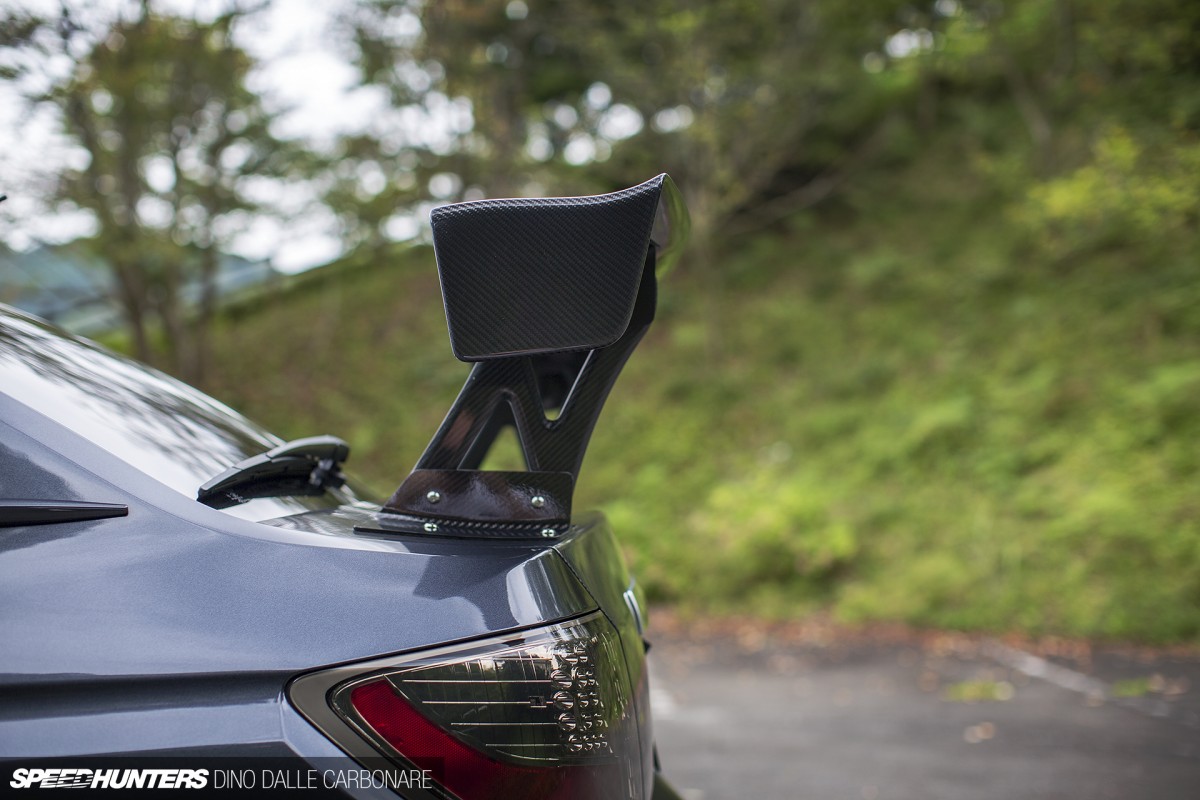 The wing is mated to the same carbon fiber wing stays we saw being made in the Varis workshop. It's great seeing parts being created and then seeing how they are used on a car all in the space of a few hours.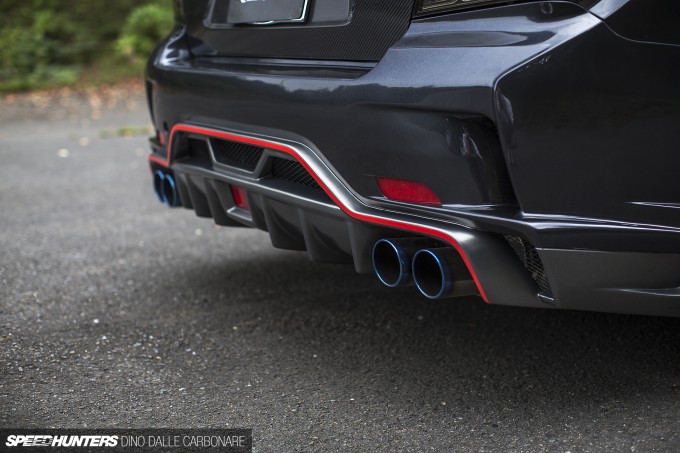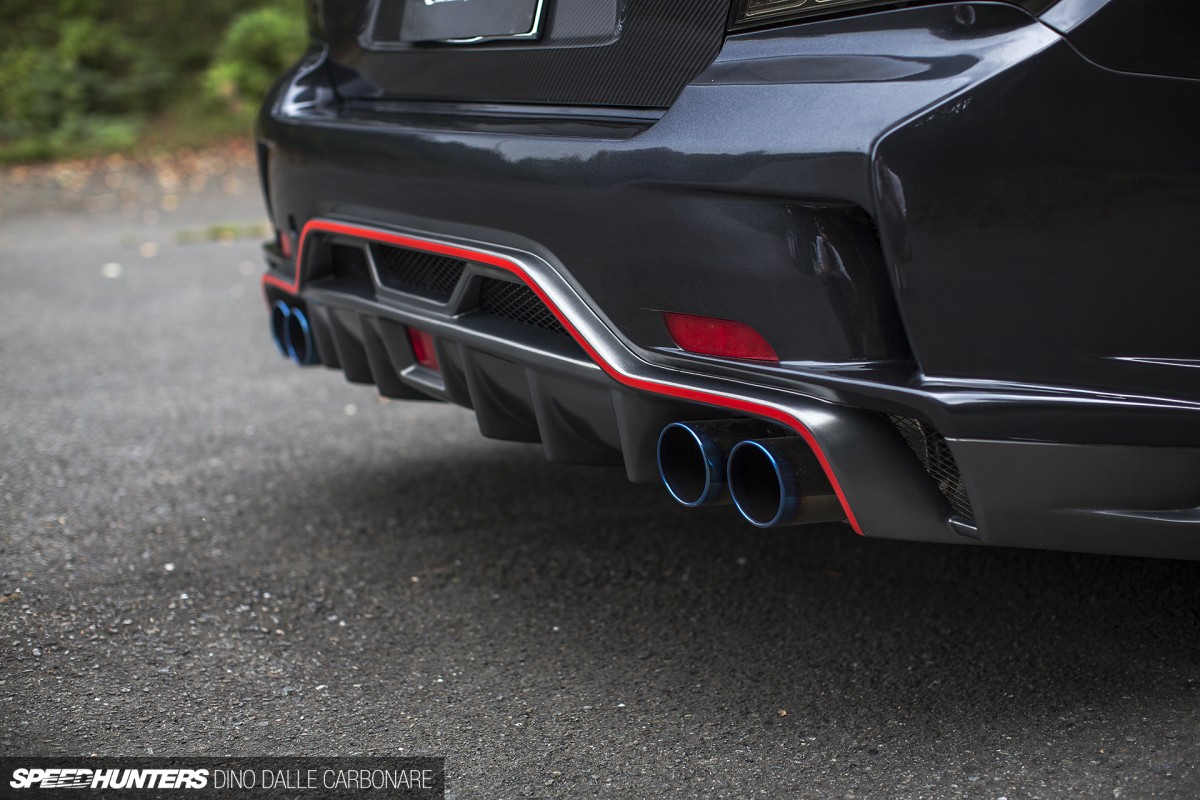 The rear bumper design echoes the shape we saw up front – the two-tone silver making an appearance again to help make the diffuser section more visible. Outlets and vents are there to channel more air out from under the car, helping to marginally cut down on drag.
Varis Has Got You Covered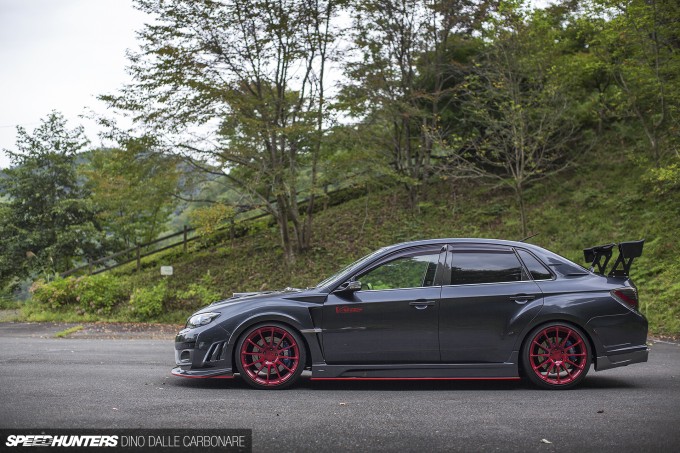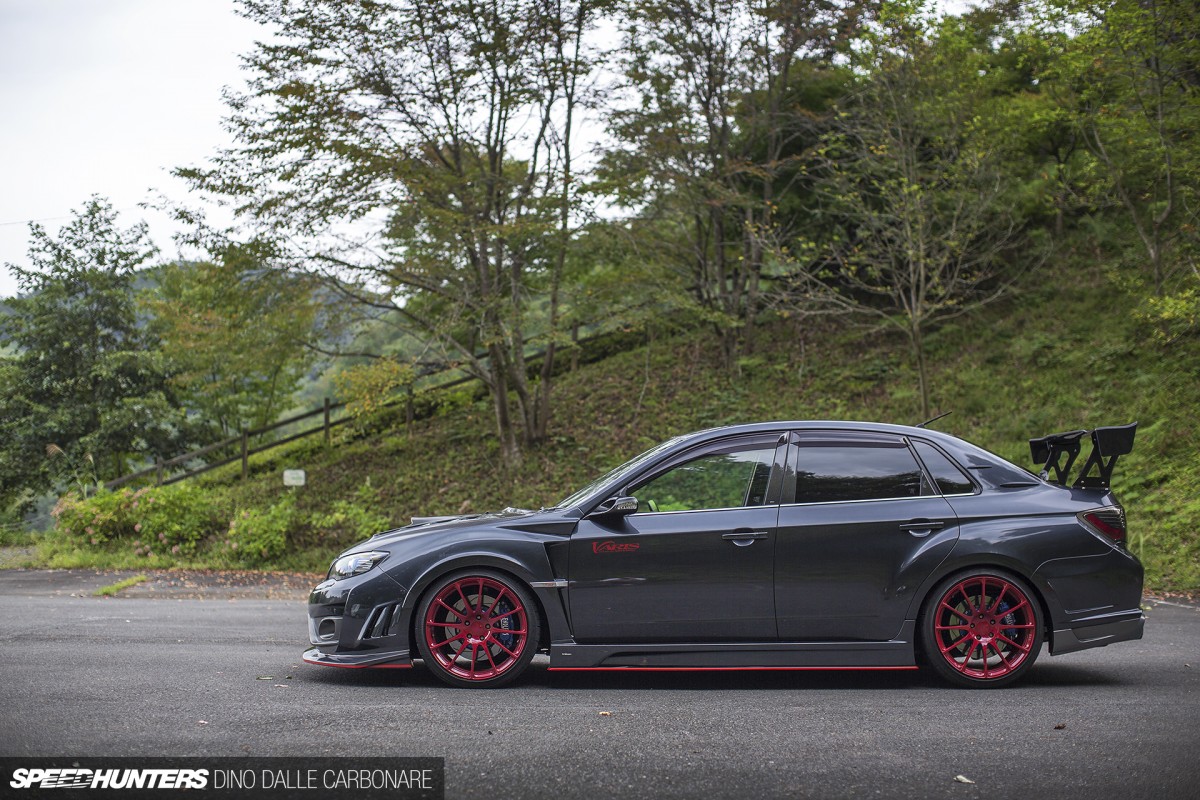 As a whole it combines to make an extremely imposing expression of what an STI sedan should look like. I don't know about you, but to me that's a pretty mean profile right there!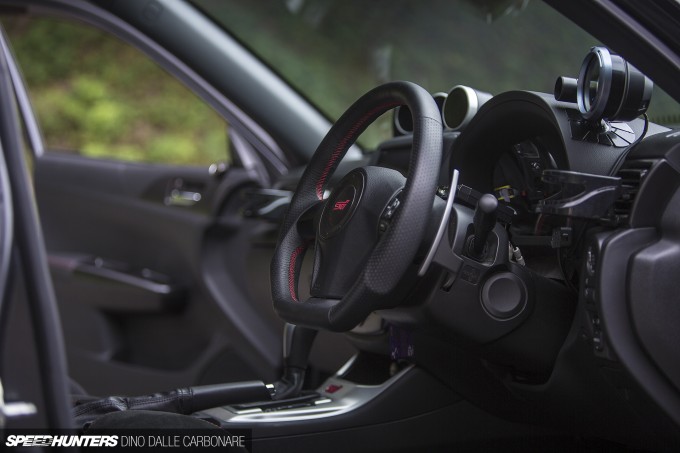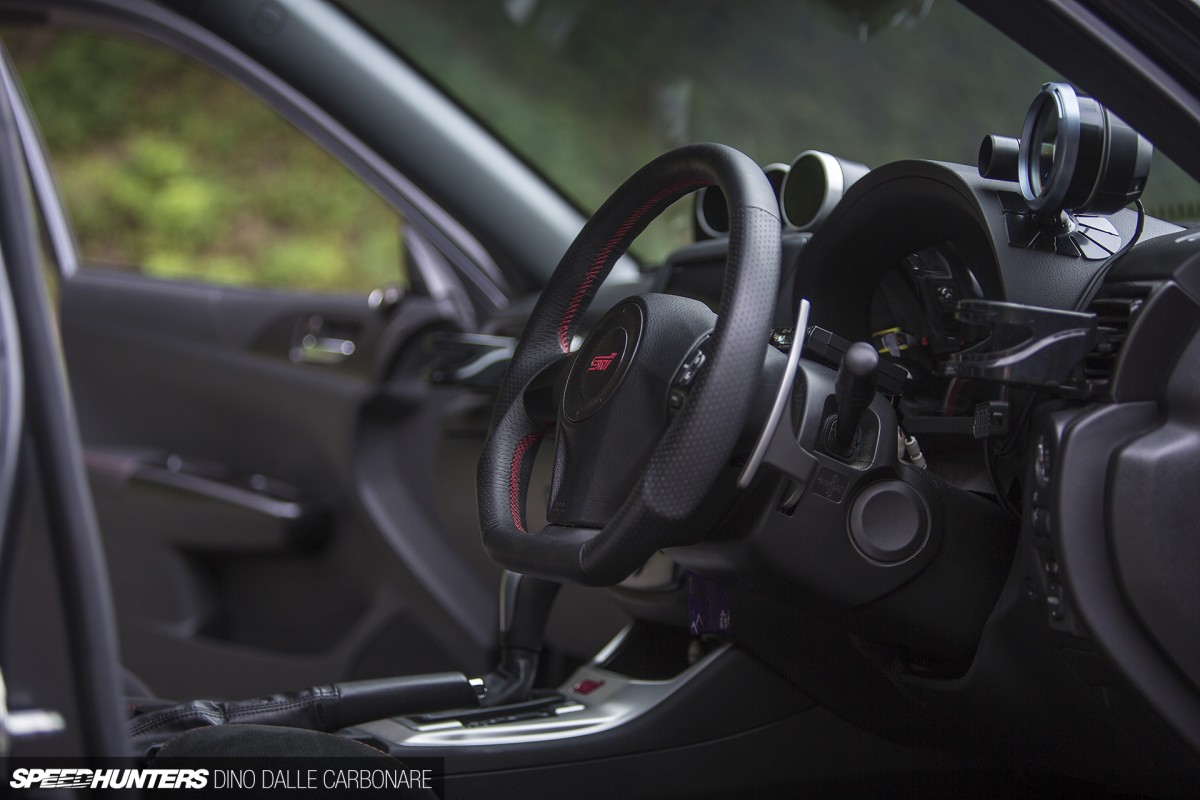 Unlike Varis's A 45 AMG, some attention has also been given to the interior. The auto version of the GVF has paddles that let you fiddle around with the gears, giving you a little more control than in full-auto mode – especially when looking for a bit of engine-braking. The response isn't of the greatest, but if you want a self-shifting STI that's the only choice you have right now. Let's just be glad it isn't a CVT as fitted rest of the new Impreza range!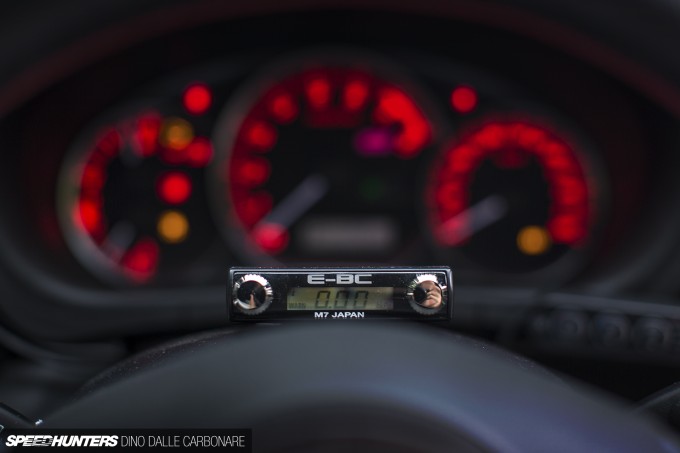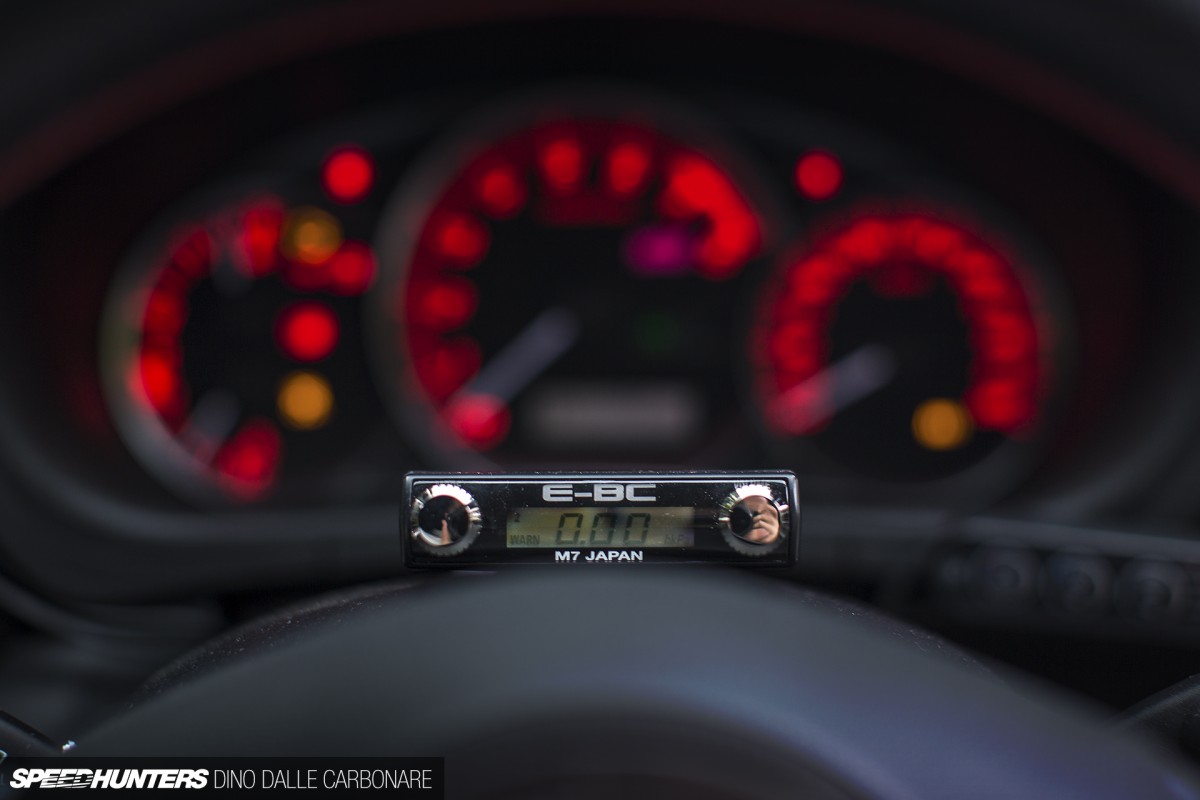 When the car was at JUN for the engine work an M7 boost controller was added and set up to provide the fullest possible boost curve, and hold a couple of different preset pressures. For easy consultation and access it's been fitted on the steering column trim.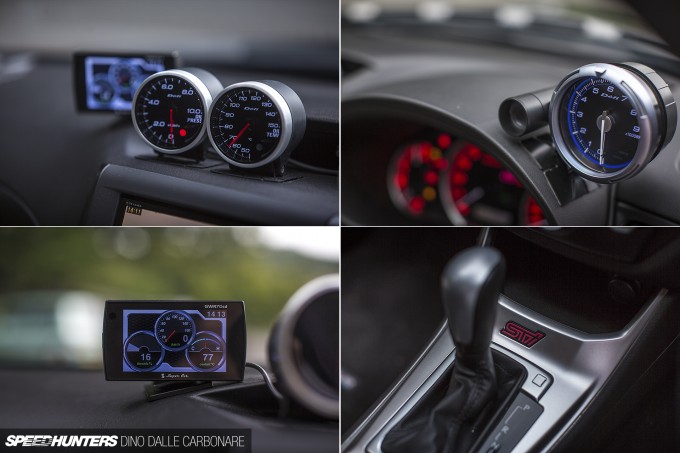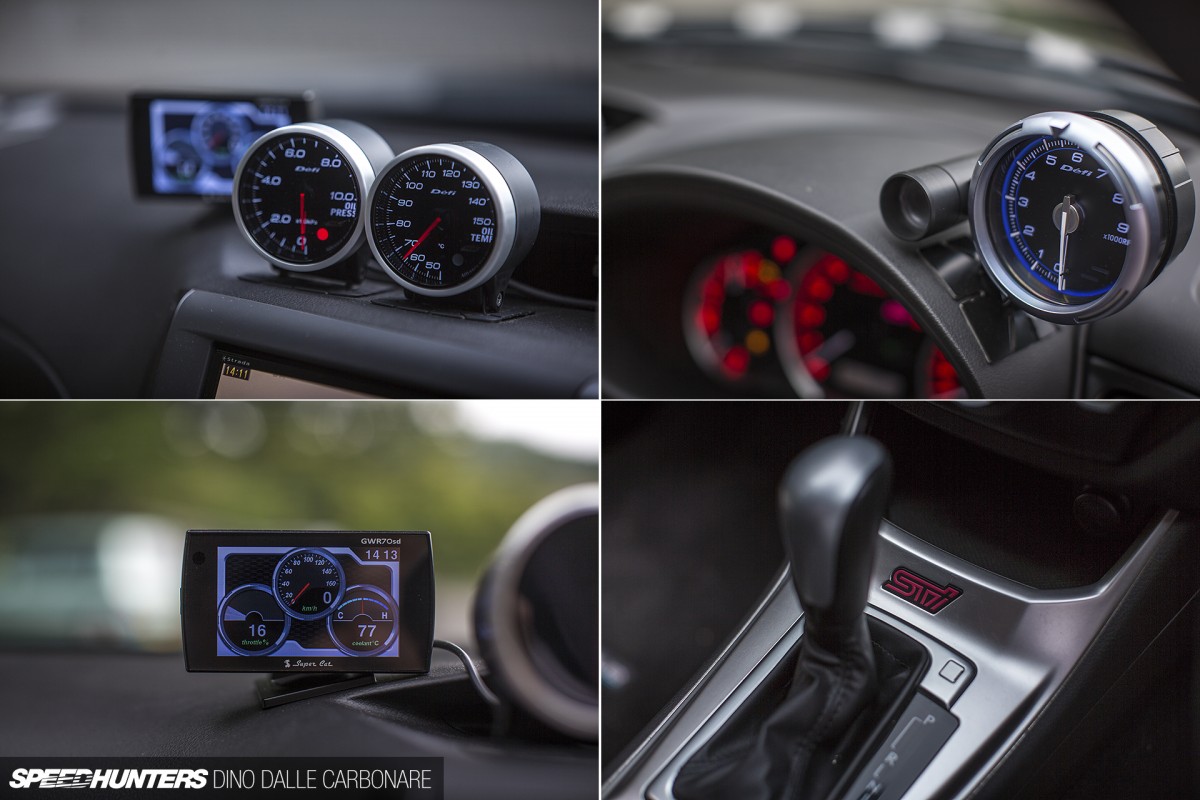 Alongside the auxiliary Defi gauges scattered around the dashboard, Varis has also taken full advantage of the cool options modern-day JDM radar detectors have. The Yupiteru Super Cat is connected to the OBD-II port and displays a bunch of engine parameters on its LCD display. Pretty cool stuff!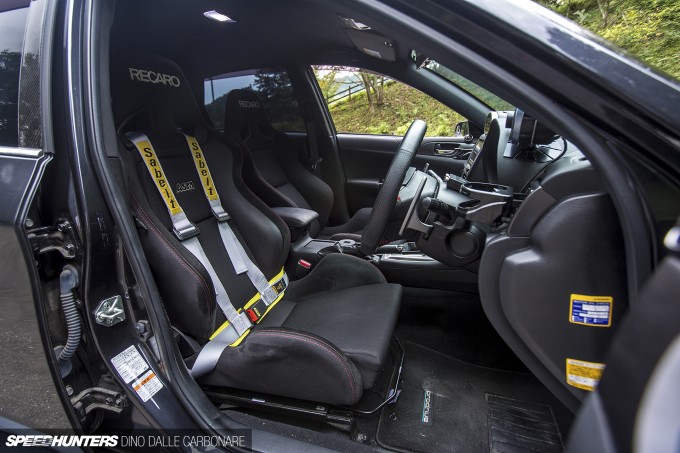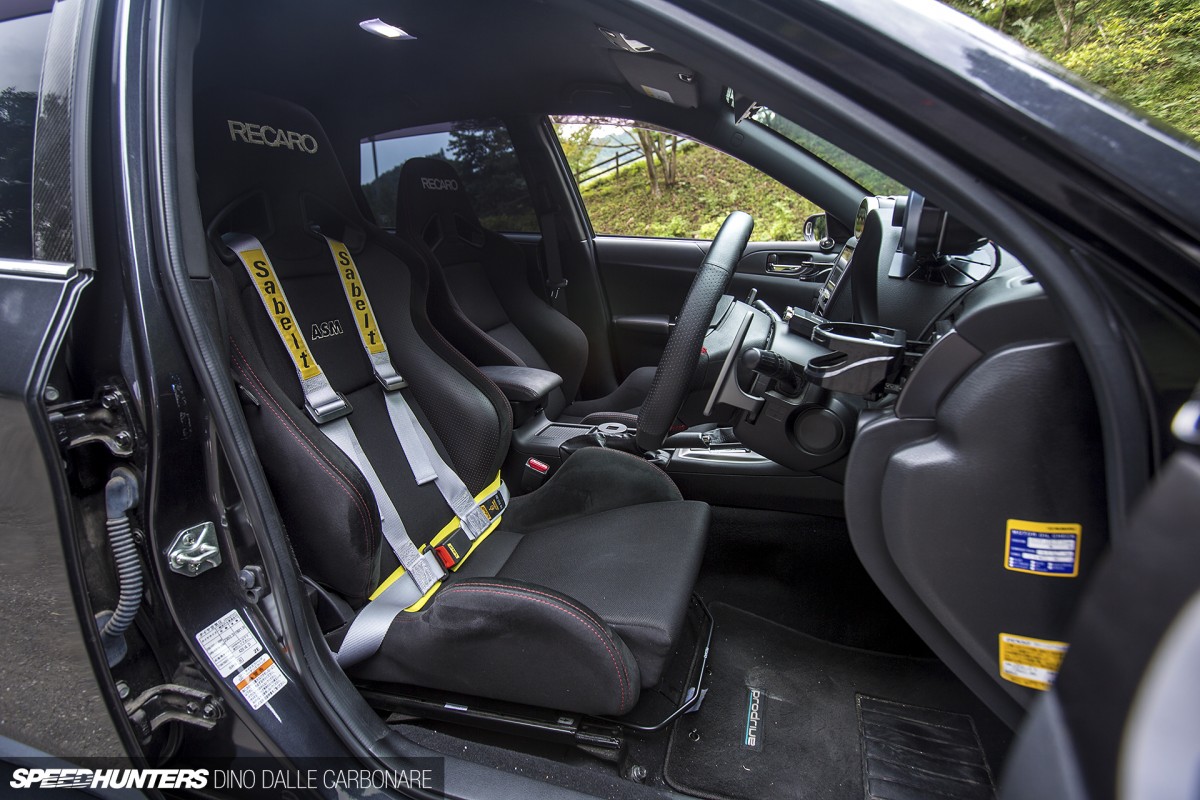 Those supportive Recaros I was enjoying so much through the corners are actually limited edition items from ASM Yokohama – the people behind that very fast time attack S2000 we see every year at the Tsukuba Super Battle.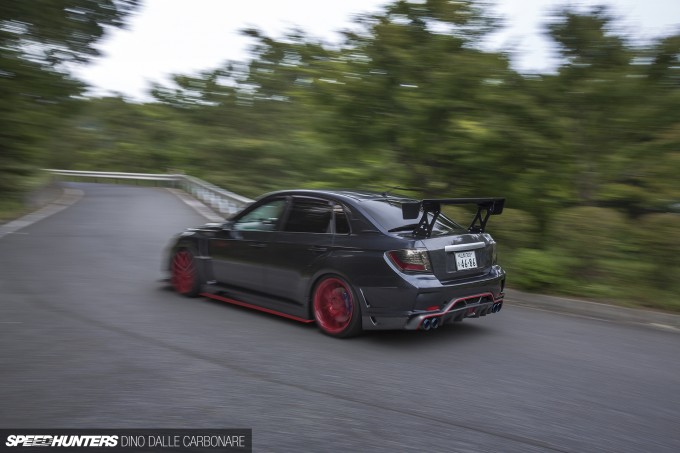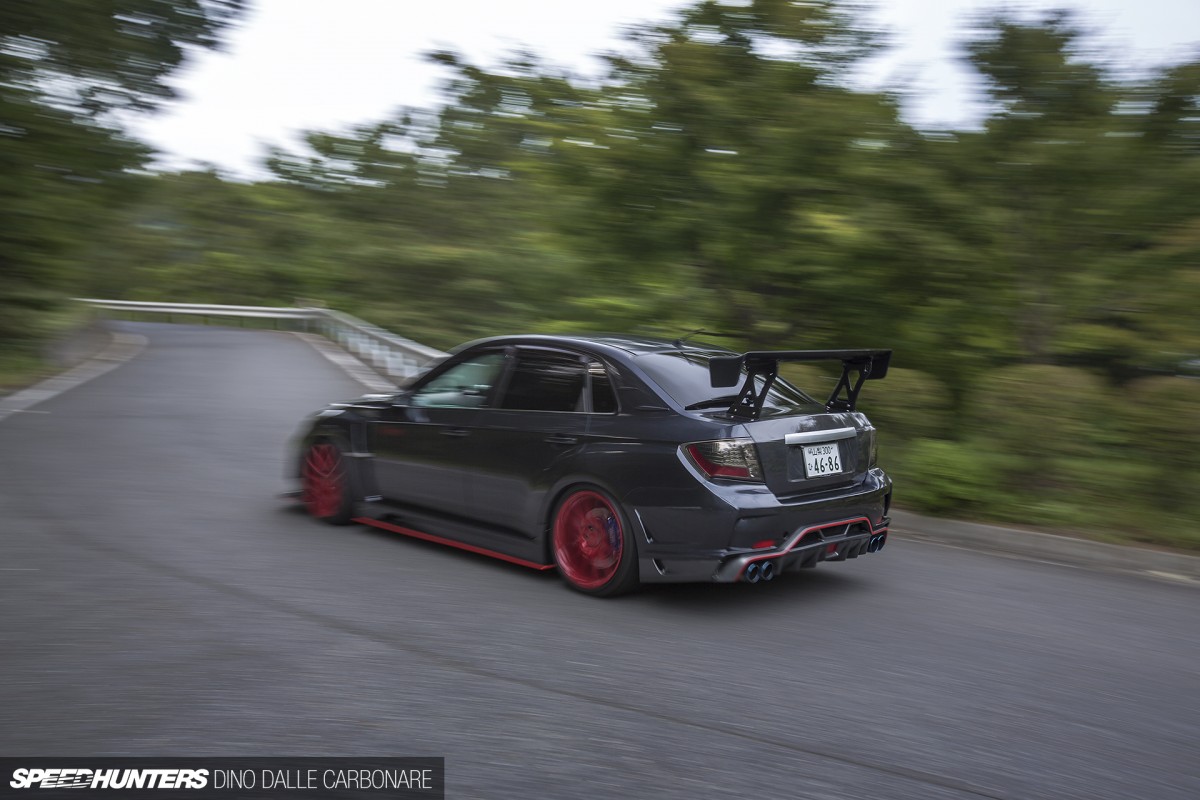 Doing something different and standing out from the crowd with your car doesn't have to be a hard, life-long battle when you have companies hell-bent on helping you create your very own bespoke creation. If you've got a Subaru WRX and you want something different, taking a leaf out of Varis's book might not be a bad idea.
Dino Dalle Carbonare
Instagram: speedhunters_dino
dino@speedhunters.com
Varis's GVB Subaru Impreza STI 
Engine
Subaru STI EJ20, 2.0L boxer four, Trust Airinx aluminium intake pipe and pod filter, JUN upgraded actuator, Prova blow-off valve, Zero Sports intercooler baffle, Zero Sports heat shield, HKS exhaust manifold, HKS front pipe, HKS Legamax Premium exhaust system, Cusco battery holder, Blitz oil cooler, JUN ECU and tuning
Driveline
Subaru STI 5-speed automatic transmission, all-wheel drive
Suspension / Brakes
Aragosta Type-R fully adjustable suspension system, Endless 6-pot front calipers, Endless 4-pot rear calipers, Endless slotted 2-piece floating discs, Endless MX72 brake pads, Endless mesh lines
Wheels/Tyres
Prodrive GC-012L 19×9-inch +45 wheels, Bridgestone Potenza RE-11 245/35R19 tyres
Exterior
Varis full aero – Version 2 front bumper with integrated carbon fiber lip, carbon fiber bonnet, Version 1 side skirts, carbon fiber trunk lid, rear bumper, carbon fiber 1430 Euro-Edition GT-Wing, carbon pillar garnish
Interior
ASM Recaro limited edition bucket seats, Sabelt harnesses, M7 Boost Controller, Defi gauges (oil temp., oil press., boost, tachometer), Defi shift light, Yupiteru Super Cat radar with ODBII display option, JDM air-vent mounted cup holder